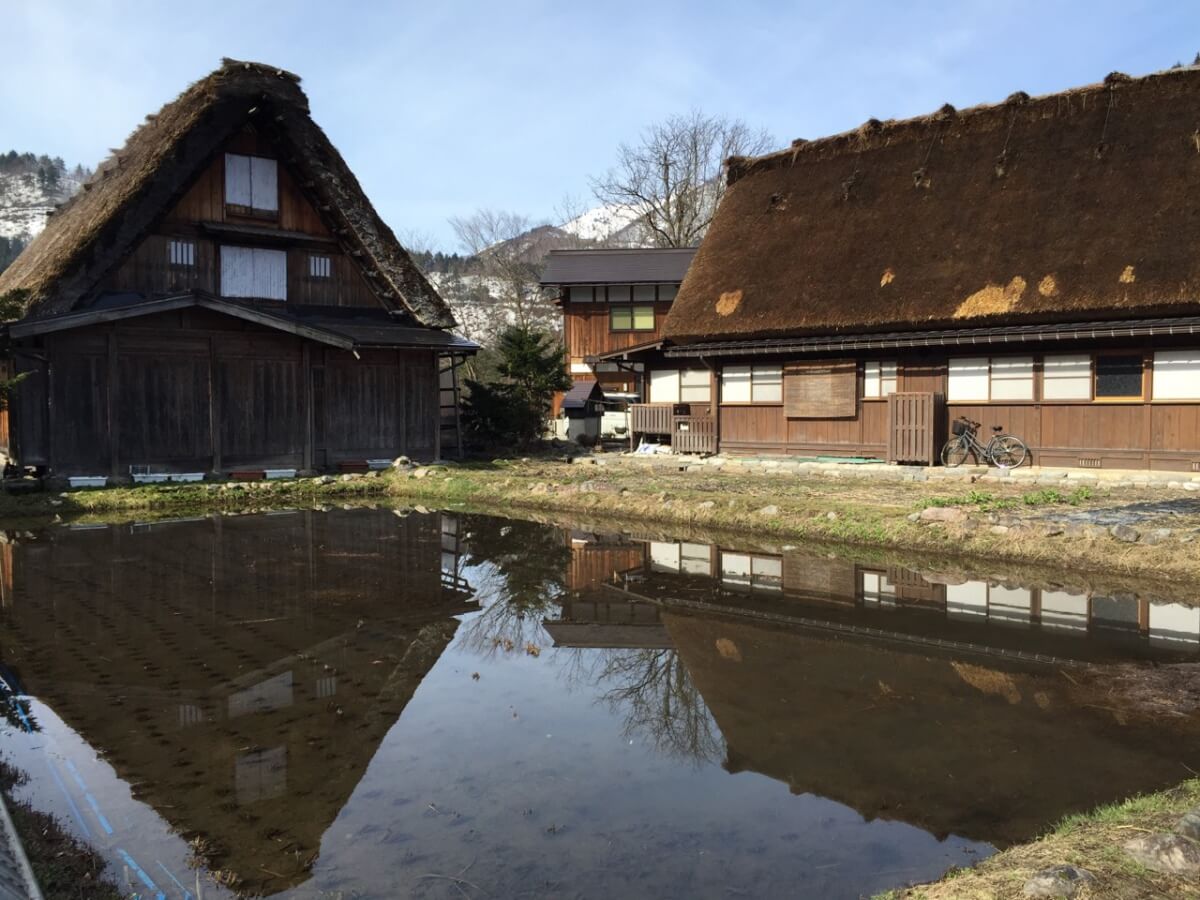 Shirakawago is one of the places that in my travel bucket list. The reason is that it has declared as a World Heritage Site. When I visited there, there is out of my imagination. The view from the lookout was breathtaking, and the town itself has so much charm. I just added into a fairy-tale world.:D
I was really excited when I saw Shirakawago at first sight. I went there in April. Thus, I don't expected that I could still enjoy the snowy site. I thought that the lovely house resembling two hands joined in prayer. Just like pray people to respect and protect this unique village. To be honest, the whole place is very touristy and crawling with tourist, nevertheless it is still an awesome place to visit. Although you can see commercial souvenir stores ,You still surround by the snowy mountains. I felt blue water under the bridge, around, freshly windy air. I thought that an authentic souvenir shop was not out of tune with this fairy-tale village. Actually, I was happy to see souvenir shop. I really want to buy something to keep memory in my heart. I bought a magnetic refrigerator in symbol wooden house.
This original community with around 700 inhabitants. These villages are well known for their houses constructed in the architectural style known as Gassho House. There is a website to introduce why this kind of structure is so special.
http://shirakawa-go.org/english/e_world.html
I went to The Kanda House(神田家). Through right up to the top floor to see the supports and to know how it was constructed. How can it withstand and shed the weight of the region's heavy snowfalls in winter?? However I just knew it but not understood. @@ That house is more than 300 years ago still exist until now. The whole place was very unusual! I really astonished by ancient knowledge.
I was not just stay for few hours. I even stayed for one night. If you are looking for a stuffy trip which is full of abundance places, then you would be disappointed to stay here one night. This is not your tour! However, I usually enjoy relaxing trip. Walk around and eat local food while having a wonderful time of inspirational sightseeing.
The food was nicely garnished and arranged. Main course come with Hida beef and smoked river fish. Hida beef(飛騨牛) is local and famous beef. WOW~ It was incredible, highly marbled beef. I felt that it almost melt in my mouth while releasing a really fantastic flavor. They provided local rice. Local is best! I even ate 2 bowls of rice. I was so happy to enjoy fantastic local meals.
Great overnight stay at Gassho-zukuri Shirawakago. Inside this house it just like other Japanese style hostel. I could not see Gassho structure inside the building. The following picture is dining room. It really great with a clear creek.
Budget
per night 8700yen (include dinner and breakfast).
Book a hotel in Japan
[PR]