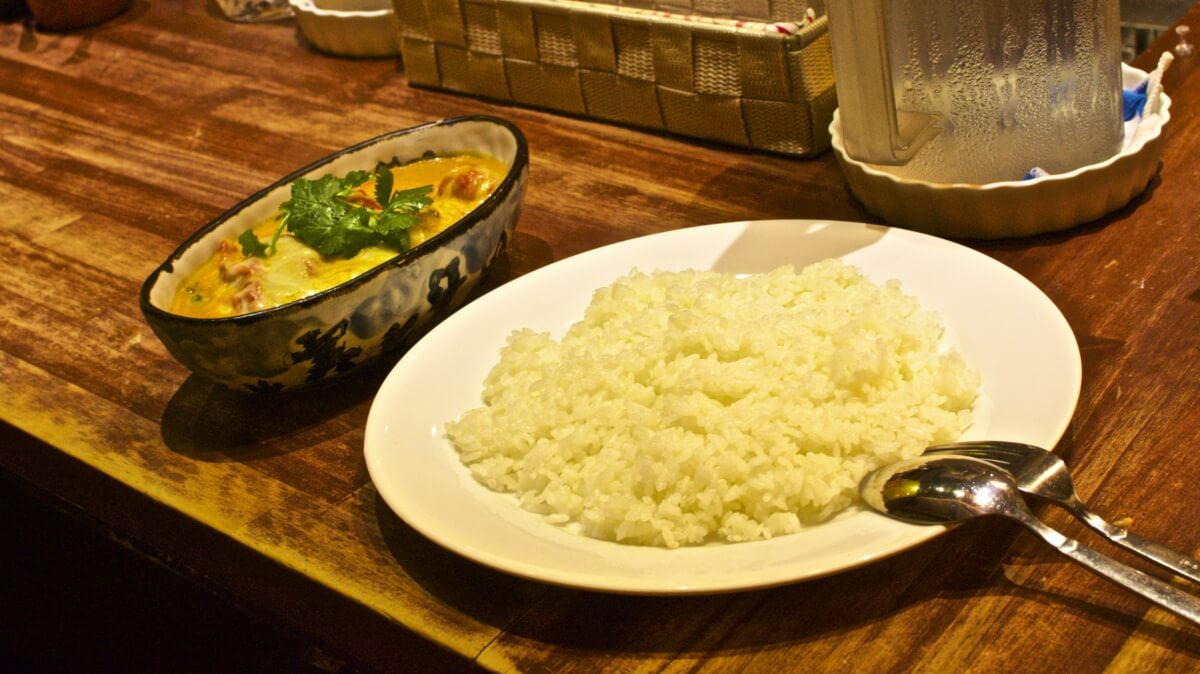 Hidden in the back streets of Waseda, discover the true meaning of Japanese curry at Yamituki Curry. This tiny restaurant's meals are simply delicious and very affordable.
A little bit farther out from Waseda University than most small restaurants, Yamituki is a lot less frequented by students but nonetheless loved by the locals. I discovered the curry shop through a Japanese friend of mine who refused to let me go to the big curry chains (Coco's, Gorilla etc.). Since then I have not returned to a franchised curry restaurant.
As opposed to many of the smaller restaurants, Yamituki does offer an English menu and the possibility to sit before you order, as there is no ticket vending machine here. The staff is very friendly and extremely helpful, most of the time during lunch hours they have an English-speaking member on shift due to the amount of foreign students living in the dorm across the street.

The best time to go is definitely towards the end of their lunchtime specials. By that time most of the rush will have gone but the low prices will have remained. For a mere 730¥ you are served a salad, a curry of your choosing and a large serving of rice. This may sound pretty standard, but the curries are amazing. The curry here is purely Japanese, sweeter and less spicy than Indian curry, its focus is mainly a pleasant taste and not an overwhelming spice. The menu changes seasonally so in the fall you have pumpkin curries and in the spring a many more vegetable choices.
Without the hint of a doubt I recommend an unorthodox choice : the cheese curry. Now, you can actually order the cheese as an extra topping on any curry. But if you want to stick to the menu choices the tomato eggplant and cheese curry is absolutely amazing. At first I did have my doubts on whether or not I was making a huge mistake, but the palate does not lie, and it was good. Another detail is not to be intimidated by their spiciness scale. You can easily enjoy a 'spicier' curry without breathing fire; I guess it all depends on your resistance to spicy foods and how you enjoy your curry.

From the outside it may look a little shabby, a faded yellow flag, bamboo panels, with maybe 10 seats inside surrounding a counter. There may be a little queue if you arrive at the wrong time. But if you are craving a Japanese curry I would not recommend going anywhere else.
Book a hotel in Japan
[PR]