This time, one of our staff who love Udon introduce his favorite.
There is no Michelin-Starred udon restaurant yet, but there is one which is a regular restaurant to be listed on Bib Gourmand which is a major candidate for the first Michelin-starred udon restaurant.
And we went to Kamachiku "釜竹" , one of the Bib Gourmand Udon restaurants which were listed on Michelin Guide Tokyo in 2015-2019.
Here is the report of us going to Kamachiku in 2017!
Where is Kamachiku "釜竹"
Kamachiku is located only 3 minutes away from Nezu station (Tokyo metro Chiyoda line).
The buildings are surrounded by bamboo trees.
There might be a long line in front of the restaurant on the weekend. If you can, we would recommend you to go there on the weekdays!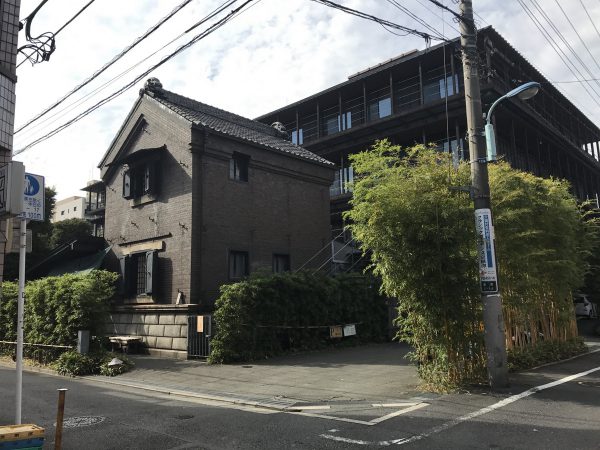 You can find it in the middle of quiet residential area and you might easily pass through without noticing since there is no sign board "Kamachiku". So if you don't know, it is a bit difficult to spot this restaurant.
There is a only small sign board "根津釜竹" in Japanese.
After you check the sign board, let's walk into the restaurant!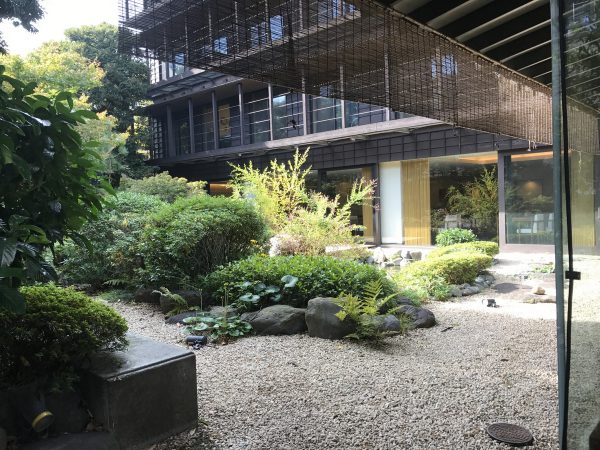 There is a beautiful garden faced to the restaurant.
The restaurant consists of two buildings, one is the renovated stone warehouse which was originally built in 1910 and the modern style building where you can enjoy the beautiful view of the garden.
What's recommended in Kamachiku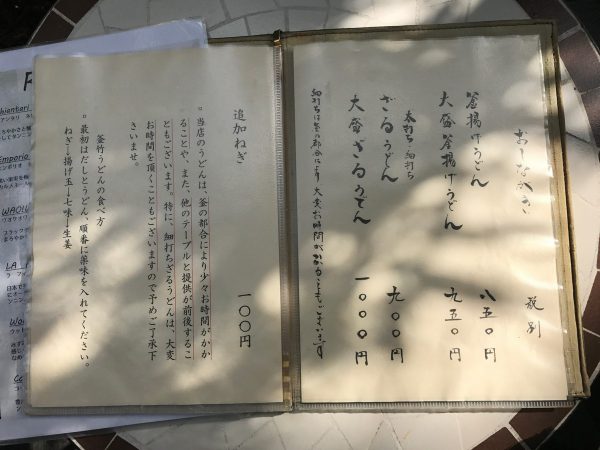 They have two main menus, Kamaage Udon (釜揚げうどん) and Zaru Udon(ざるうどん),
and also have the option for the large size(大盛) with 100 yen extra.
Kamaage Udon: Udon noodles pulled straight from the pot and eaten by dipping in dashi soup
Zaru Udon : Chilled udon noodles topped with shredded seaweed
On the menu, it says you can order additional green onions too but in our opinion, the original portion is enough. Let's see how much we'd get later.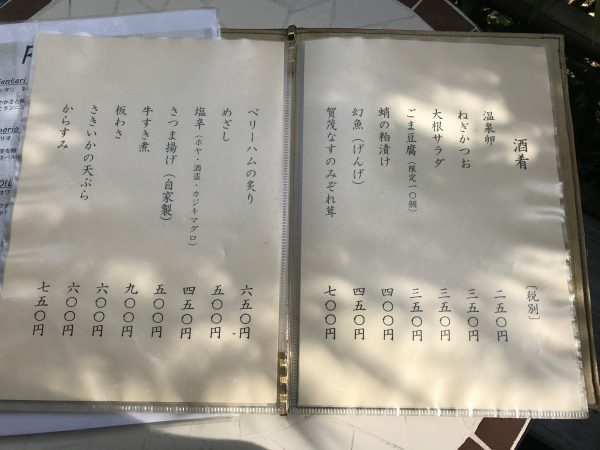 On the next page, you can see the side dish menu.
You can also check the English menu on their website from here.
Salad, tempura, satsumaage (deep-fried minced fish and vegetables), gyusukini (simmered beef) etc, all the menu look so good!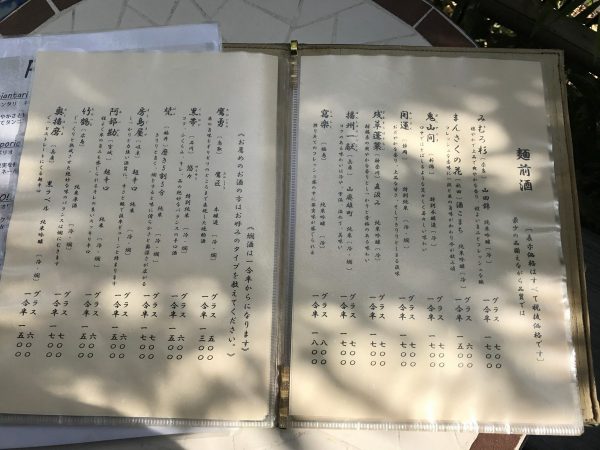 They also have lots of drink menu, including Japanese Sake, Shochu, wine, beer etc.
How to eat Kamachiku's Kamaage Udon
After we ordered large size Kamaage Udon, we waited our cuisine while seeing beautiful garden.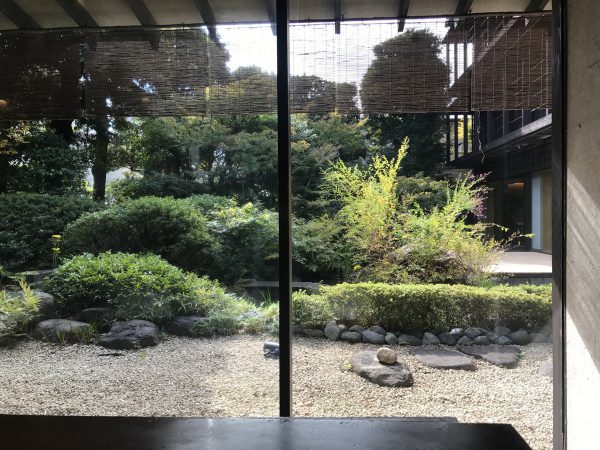 At first condiments were served.
Green onions, Shichimi(a mixture of red pepper and other spices), Tenkasu (crunchy bits of deep-fried dough produced as a byproduct of Tempura) and ginger.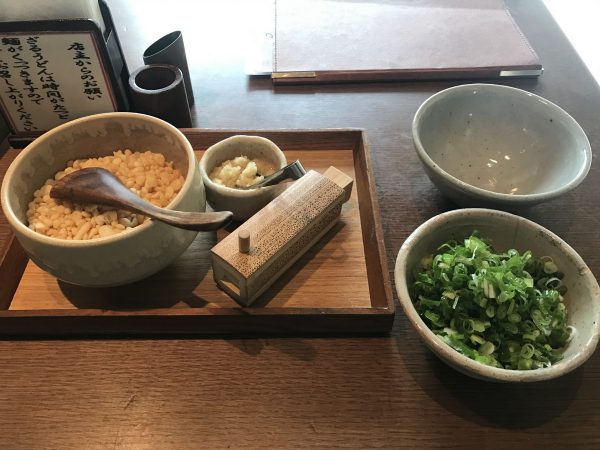 There are lots of green onions. This is why we said additional green onion would not be necessary.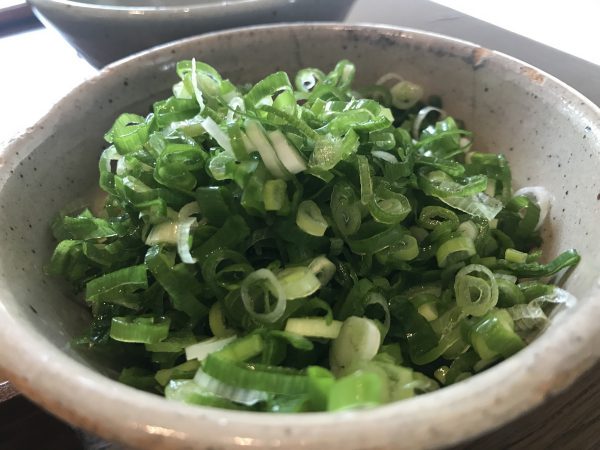 After that udon noodle in hot water and dashi (Japanese broth) soup were arrived to the table!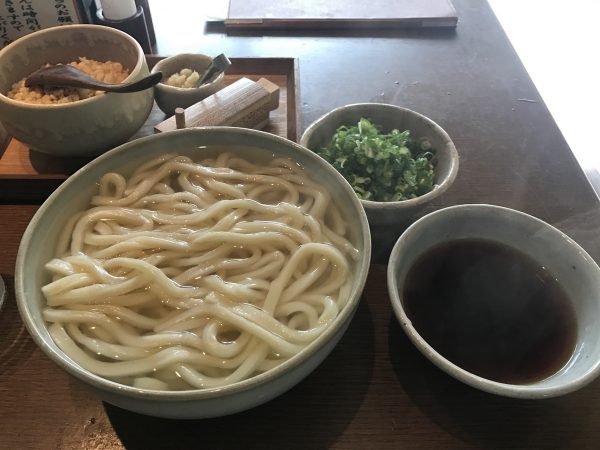 This is Udon! It's hot and beautiful!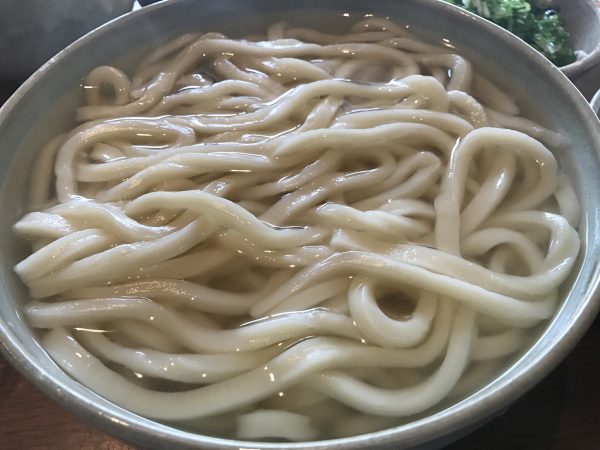 Here is how to eat udon at this restaurant.
1. Eat Udon with dashi soup
First, please eat udon with dashi soup without any additional condiments.
Enjoy the flavor of Udon and dashi soup made with Katsuobushi(dried bonito) and kelp.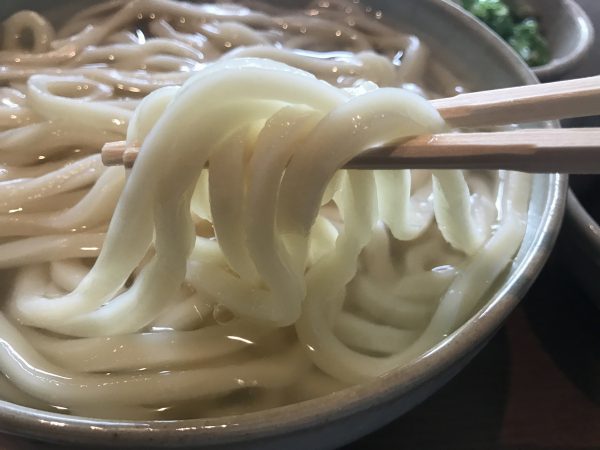 2. Add green onions into dashi soup
Secondly, please add green onions into dashi soup, and eat with them.
Enjoy how they changed the flavor and texture.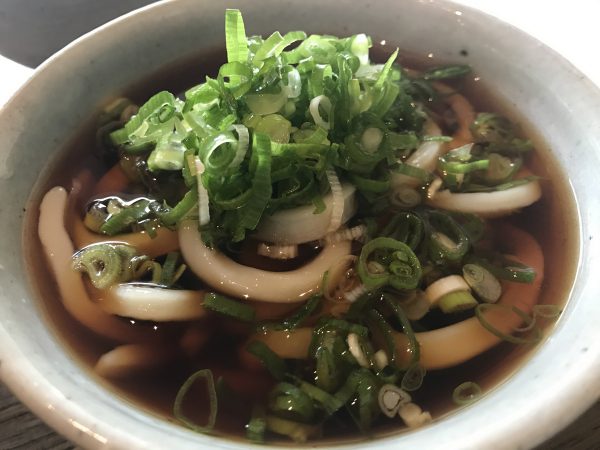 3. Add tenkasu into them
Thirdly, please add tenkasu into them.
Tenkasu is crispy but texture are gradually changed while it soaked up the soup!
Green onions and tenkasu is best match with Udon noodles.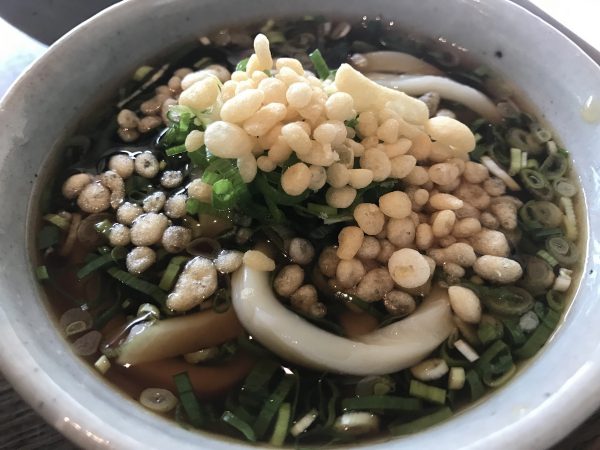 4. Add Shichimi into them
If you like spicy food, add shichimi into them.
Shichimi contain red pepper, Japanese pepper, black sesame seed, seaweed etc.
It's spicy, so please be careful not to add too much!
If you don't like spicy food, it's better to avoid it.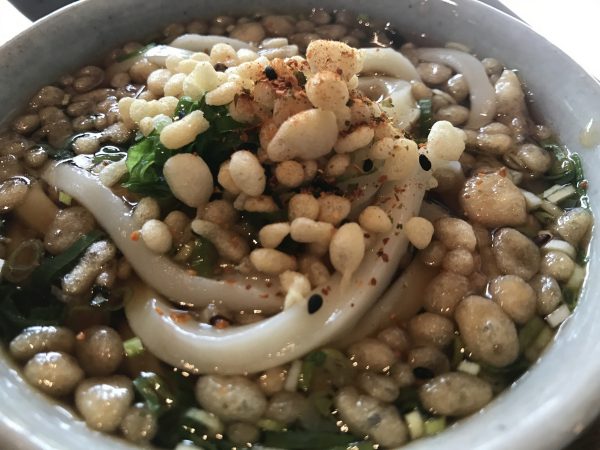 5. Add ginger into them
If you like ginger, please add grated ginger at last.
Enjoy refreshed flavor toward the end!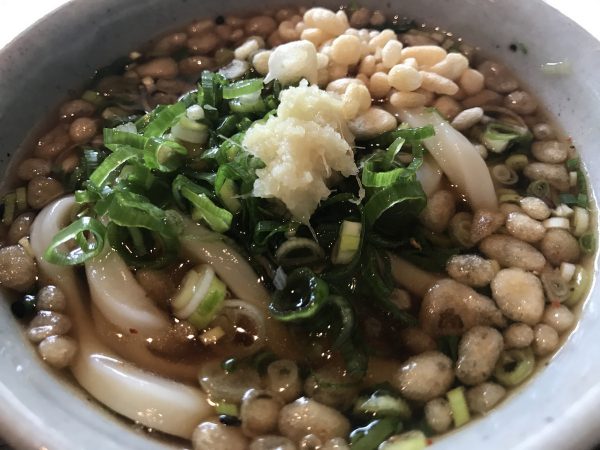 You can enjoy 5 flavors in 1 dish. Did you know you can have more than one flavor with udon? This was very satisfying meal with Kamachiku.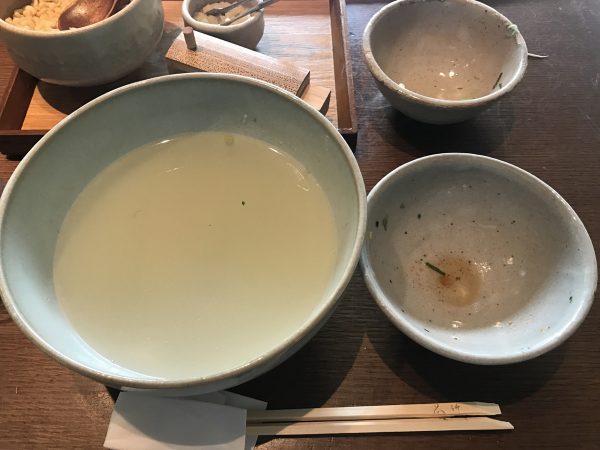 Don't miss Kamachiku when you come to Japan, this is beyond a great experience.
Information
Opening hours : Tuesday – Saturday 11:30 am ~ 2:30 pm (L.O. 2 pm) / 5:30 pm ~ 9 pm (L.O. 8:30 pm)
Sunday 11:30 am ~ 2:30 pm (L.O. 2 pm)
National Holidays 11:30 am ~ 2:30 pm (L.O. 2 pm) / 5 :30 pm ~ 9 pm (L.O. 8:30 pm)
*It is all hand-made, so they will close when all the udon is served. We recommend you to go there early!
Closed : Sunday evenings, Mondays
Follow us on Instagram or Facebook for more travel inspiration. Or tag us to get featured!
Happy travelling!
Other articles you might like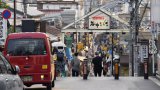 Experience Traditional Tokyo: One Day in Yanesen Area
Yanesen is an area in Tokyo with met Edo style buildings and a traditional atmosphere. The areas of Yanaka, Nezu and Sendagi are dotted with shrines, temples an...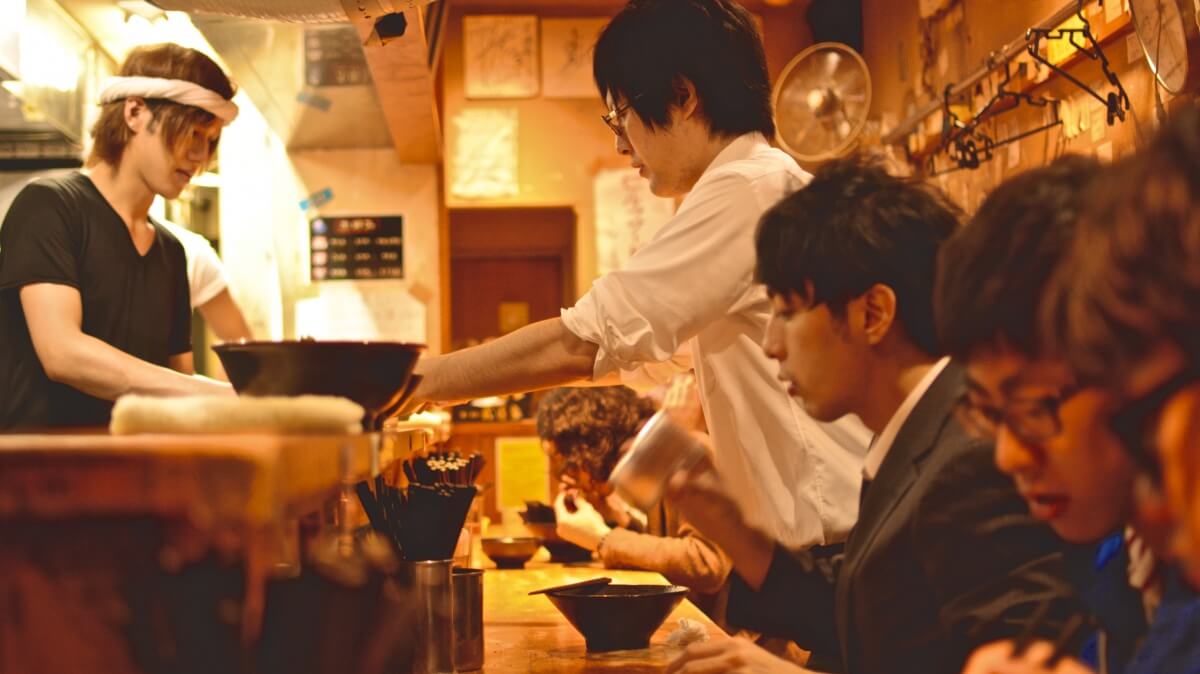 Complete Guide for The Michelin-Starred Ramen Restaurants in Tokyo
Did you know that the only ramen restaurants to receive a Michelin star, are all located in Tokyo? In this article, we introduce the 3 restaurants that have received this prestigious ranking! Even though it is Michelin starred ramen, the price is only about 1,000 yen! Let's go try some!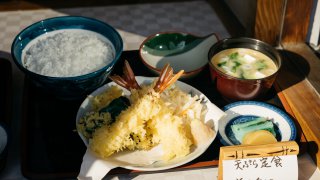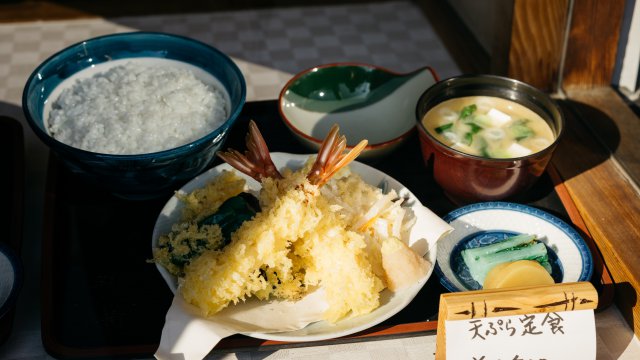 What to Eat in Japan: Ultimate Guide to Japanese Local Food on Each Location
Each region has speciality food. Here we introduce what to eat in Japan on each locaton! Try some local foods while you are in Japan and see the uniquness of this country. If you are wondering what to eat in Japan, this articles is a perfect guide to you.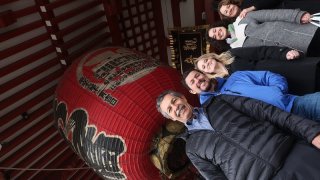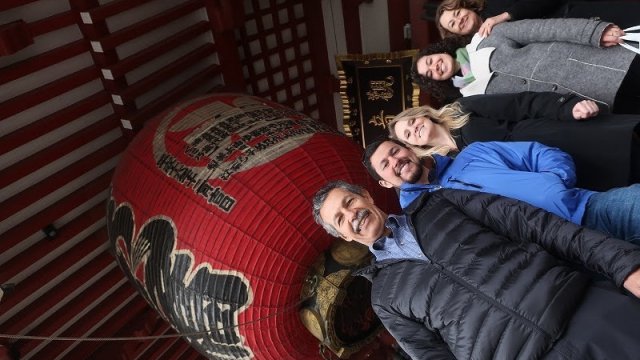 10 Best Tokyo Food Tours You Must Take on Your Japan Trip
Here we listed up the best Tokyo food tours for you. From Tsukiji Fish Market tours to Izakaya bar hopping tour at night, we have listed a variety of Tokyo food tours you can enjoy during your stay in Japan.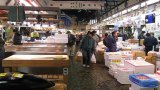 Ultimate Itinerary for 1-Day trip to Tsukiji Market in Tokyo!
If you are interested in Japanese food culture, you should definitely visit one of the biggest food market, Tsukiji Market in Tokyo! In this article, we will sh...