VIDEOS in 2019 of normal 2 day tour without Fukushima Daiichi Nuclear Power Plant visit
On March 11, 2011, the Great East Japan Earthquake happened. It was a magnitude 9.0–9.1 and the most powerful earthquake ever recorded in Japan.
The earthquake triggered a powerful Tsunami that reached a maximum of 40.5 meters and traveled up to 10 km inland. At present, more than 15,000 people are counted as dead and over 2,500 people as still missing. Even worse, we lost control of the Fukushima Daiichi nuclear power plant.
On this tour, we visit the coastal area of Fukushima for 2 days. We hope you can get a real perspective of the damage caused by the disaster and the effect it had on Fukushima. This is a once in a lifetime opportunity and can have an important impact on your life.
HIGHLIGHTS
We visit three types of areas along with the coast while explaining the past, present, and future of Fukushima more deeply.
We will visit the area affected by the Tsunami. You will understand how people reacted and a get a sense for the area's past, present, and future.
We will visit the restricted area where people are not allowed to live, because of the high level of radiation. This will help you better understand the people's plight of the affected areas.
We will visit the area where people are trying to rebuild their community. People are trying to bring back hope for their future and for their former home. This area may bring you to hope for the future.
We will visit Fukushima Daiichi Nuclear Power Plant.
How far from Tokyo to Fukushima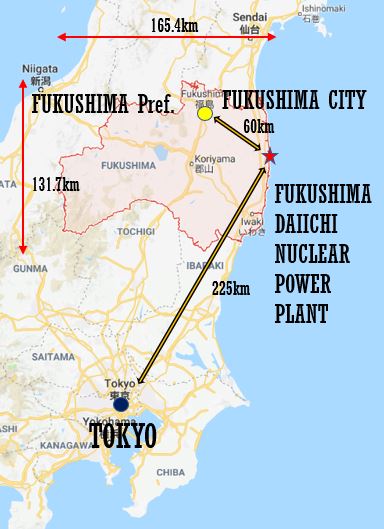 • Fukushima disaster area is about 200-250 km away from Tokyo in a straight line
• We need about 7 hours for round trip to Fukushima from Tokyo by van or bus.
*REF] Fukushima tour, 1-day vs. 2-day? What's the difference


Where we can go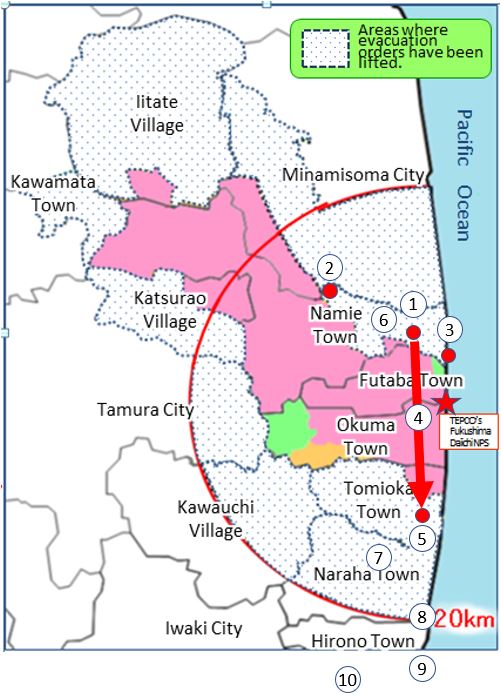 • We will go 3 different areas.
-Fukushima Daiichi Nuclear Power Plant
– Explore Futaba town (④) and Namie town(②③) where evacuation orders have been lifted in 2017 and 2020.
– Visit Naraha town where evacuation orders have been lifted in 2015 (⑦)
• Itinerary sometimes will be changed due to availability of locals and traffic jam. Please understand that we don't go all place at every time
• Please note that we don't have special permission to enter the exclusion zone except Fukushima Daiichi Nuclear Power Plant.
Please note that we couldn't take any photo in the exclusion zone.
*If you want to go other place and meet locals, please book normal 2 day tour or private tour.
Tour Schedule as of 2020
We could operate the tour every day if we have at least 8 guests.
(!): we decide to operate the tour.
2 days tour (Fukushima Daiichi Nuclear Power Plant visit)
[February 2021]
・7th(Thu.)-8th(Fri.)
・20th(Sat.)-21st(Sun.)
Canceled due to extension of state of emergency
2 days tour
Undecided
1 day tour
Undecided
Tour Description
SAFETY GUIDANCE
Before The Tour
①Check the body temperature, and be sure it is lower than 37.5℃(99.5℉)
During The Tour
②Keep the Social Distance from each other *as much as possible
③Bring a portable sanitizer *recommended
④Wear the mask
⑤Wash and Sanitize your hand frequently
①
  ②
 ③
④
⑤
Please check the details before joining the tour.
The Safety Guidance for COVID-19
TOUR TIME

Day1
8:00 AM –
Day2
– 8:00 PM (2 days)

[SAMPLE ITINERARY]
DAY1
– 7:50 am Meet up at Tokyo station Marunouchi North Exit.
– 8:00 am Depart from Tokyo Station.
– 11:30 am Arrive at the "Fukushima" Area.
• Lunch.
• Tomioka town where people are trying to rebuild their community.
• Fukushima Daiichi Nuclear Power Plant
– 5:00 pm Check-in hotel in Iwaki city (30km away from the nuclear power plant)
(free time: there are public bath. If you don't have any tatoo, you can enjoy Onsen. If you have, you need to cover them.)

DAY2
– 9:00 am Depart from accommodation and Explore coast area
• Visit Ukedo area attacked by Tsunami
• Explore boarder area of NO GO zone (We couldn't enter inside)
• Visit farm which have cows survived the disaster.
• Through route 6 in NO GO Zone.
– 4:30 pm Depart from the "Fukushima" Area.
– 8:00 pm Finish the tour at Tokyo Station.

*Itinerary will be changed depends on the condition of disaster area.
DEPARTURE RETURN LOCATION

Tokyo Station / Tokyo Station
TOUR LANGUAGE

English and Japanese
PRICE (PER PERSON)

35,000 yen / Person (until January 2021 for residents in Japan)
*Capacity: Maximum 15 (If you want more people to go, please let us know.)(Original Price: 49,000JPY. Go To Campaign Discount: 14,000JPY)
Original price: 49,000JPY (non-residents in Japan / after February 2021)
RETURN TIME

Approximately 8:00 PM
INCLUDED

・English and Japanese Speaking Guide
・Transportation Service (Van)
・Accommodation (Single room.)
NOT INCLUDED

・Other Expenses
・Lunch and dinner (You can buy during the tour)
REMARKS

【General】

Minimum number of participants: 8
– (We will let you know at least 2 weeks before the tour if the tour will be held).
All payment is expected before the tour.
Due to coronavirus if we couldn't do the tour, you can change the tour date until March 2021 without any fee. If you would like to get refund, we charge 5% as transaction fee.

【Notes on Radiation】

We receive lots of question "Is it safe?".
During the tour we have Geiger counter and we could know how much radiation we are exposed.
We estimate that we will be exposed to about "0.01-0.02" mSv of radiation by this trip. If you come to Tokyo from New York by plane, you would be exposed to about 0.1-0.2 mSv of radiation (Round trip). This means that the radiation exposure for the tour is about over 5-10 times smaller than the round-trip flight from New York to Japan.

【Special tour: access to Fukushima Daiichi Nuclear Power Station】

We could NOT take any photos at Fukushima Daiichi Nuclear Power station
We need to share our ID. So please send your ID (passport) after you book the tour.
Only 18 years old or more are acceptable. If you are less than 18 years old, you couldn't book.
TEPCO don't charge any fee to enter Fukushima Daiichi Nuclear Power station. So we also don't charge any extra fee to join this special tour. They would like to tell about status of decommissioning.
Create account
Sign in
Edit My Profile
Booking history
Subscribed items
| ID | Booking Date | Calendar | Status |
| --- | --- | --- | --- |
We sent a verification code to the following address.
Please enter a verification code.
VIDEOS