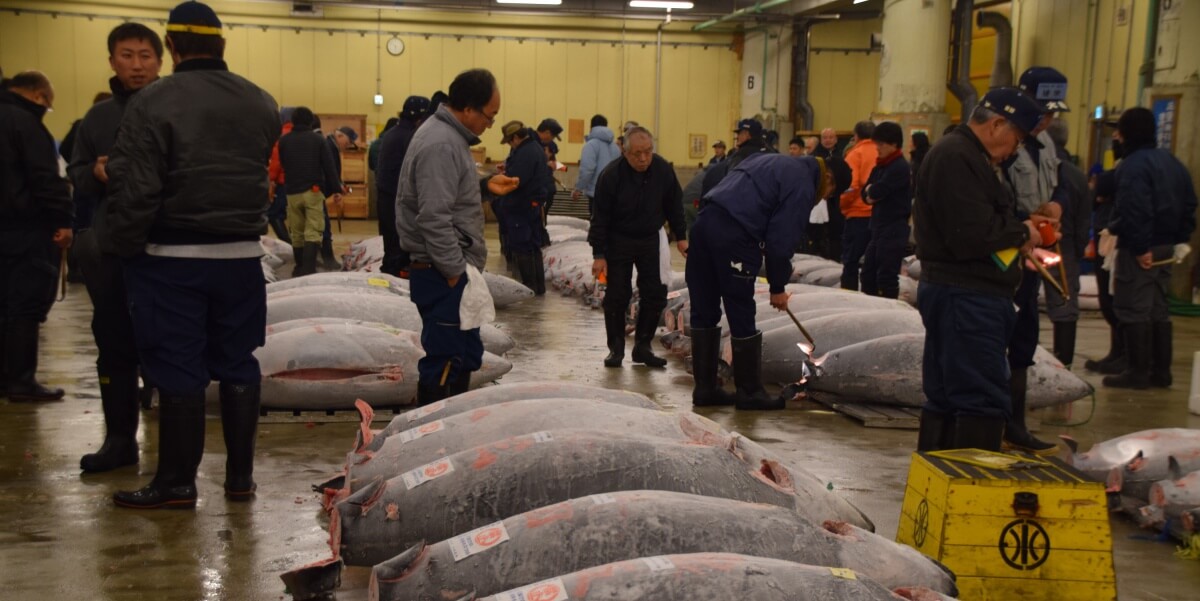 (Add on Oct. 2018)
Tsukiji inner market was closed on 6th Oct. 2018.
If you would like to see tuna auction, please check this post about Toyosu new market.
Tsukiji outer market is remaining.
============
Tuna auction in Tsukiji fish market is well known as one of the must see in Tokyo and Japan!!
But it's so popular that it's a bit difficult to enter it.
We want to introduce some tips to watch the auction.
1.General Information
[What is auctioned?]
-Tourists could see only frozen tuna auction.
-There are many auctions in Tsukiji market not only tunas, but also sea urchin, oyster, living fish etc. As for Tuna, fresh tunas and frozen tunas are auctioned.
[Date]
-Tuna auction is held on the day that the market is opened.
-It's basically everyday except Wed. and Sun. But there is irregular.
I recommend to check whether it opens or not before you visit.(http://www.shijou.metro.tokyo.jp/calendar/2017/)
*Sorry it's only in Japanese.
[Auction Time]
-First group 5:25-5:50
-Second group 5:50-6:15
[Who]
-Only 120 people could enter the auction. (Each group is 60 people.)
[Where]
-Tsukiji fish inner market (business area)[/vc_column_text][/vc_column][/vc_row]
2.How to watch the auction
As we said, only 120 people could enter it.
It's not allowed to get reservation or get seats for others. So we just have to go proper time!!
When and where?
[WHEN?]
The answer is "it depends on season"…
Actually 120 people are almost foreign travelers.
So it depends on tourist season.
April(cherry blossom season) and October(Autumn leaves season) are really busy.
Last year, normal closed time was 3:00-3:30am.
But sometimes it was closed before 3am.
We recommend to go there around 2:00-2:30am.
[WHERE?]
The reception of tuna auction is at "Osakana Fukyu Center(Fish Information center)".
You may see people in a line and waiting when you get there.
3.Time table
Here is timetable after you get to Fish Information Center.
[2:00-2:30am] Arrive at Fish Information Center and que up.
[About 3:00am] Reception opens and you are given bibs and explanation paper. Then you are lead to one big room.
[3:00-5:25am] We are packed in one room. (There are no enough space for one person.)
*We can go out only for restroom and can't leave the building.
*Nothing is held there. Just wait.
*We have to sit on the floor or just stand up there.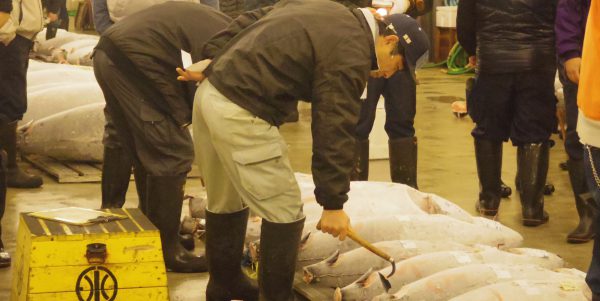 [5:25-5:50am] First group can watch auction. (Second group have to wait more.)
*5:25-5:30 : Move to auction room
5:30-5:40 : Watching inspection
5:40-5:45 : Watching auction
5:45-5:50 : Move to the end place.
[ 5:50-6:15am] Second group can watch auction.
*5:50-5:55 : Move to auction room
5:55-6:00 : Watching inspection
6:00-6:10 : Watching auction
6:10-6:15 : Move to the end place.
4. Tips
Here are five tips to enjoy the auction more!!!
#1 Better to go first day or second day in Japan.
*Because you might be in heavy jet-lag and could wake up late at night in Japan time!
#2 Bring some items to kill time(about 3 hours).
*For example Wifi device, PC, game, playing cards etc.
#3 Bring some snack
*We can't leave the room, so we recommend to buy some snack to eat.
(There is bending machine for drinks.)
#4 We recommend to enter second group.
[Pros]
*Tunas are bigger than first group.
*Auction time is longer.
*We could see easily. (Wide view)
[Cons]
*After the auction, restaurants becomes more busy. So have to wait longer minutes.
(First group ends earlier, so you could go in to the restaurant easily.)
*Waiting time is shorter.
#5 After auction, eat sushi breakfast.
There are many restaurants in inner market, so let's enjoy Sushi breakfast!!!
5.Other tuna auction area
If you definitely want to see tuna auction and don't want get up very very early, you could see it in other places.
-Miura fish market
It takes about 2 hours from Tokyo.
-Kyoto fish market
It's close to Kyoto station.(10 minutes by taxi)
-Osaka fish market
It's close to Osaka station.(15 minutes by taxi)
Are you become excited about tuna auction?
If you are interested in going with our knowledgeable and friendly guide, please feel free to contact us.
(https://japanwondertravel.com/products/tsukiji-fish-market-tuna-auction-tour)
Hope you will enjoy special tuna!!
Book a hotel in Japan
[PR]