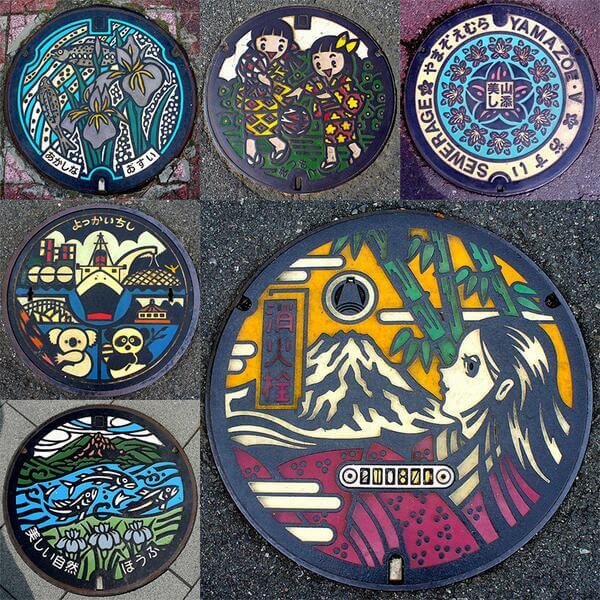 Usually, people don't care a bit about manhole covers. It's because manhole covers always look like this.
source: http://www.photos-public-domain.com/2011/01/26/manhole-cover/
But the situation situation is different in Japan. When it comes into Japanese hands, even manhole covers can be art!
A manhole cover in Osaka depicts Osaka castle

source: https://twitter.com/Osaka_Tabilog/status/433410244387950594/photo/1
Manhole cover in Takamatsu depicts famous battle in history

source: http://ekikaramanhole.whitebeach.org/?p=96
Manhole cover decorated in vivid colors

source: http://www.i-turn.jp/hanadokei-perk-flower-clock-matsumoto.html
Sometimes you can find covers which is uniquely designed. Isn't that beautiful?
An Eccentric manhole cover in Yokohama

soure: https://twitter.com/momokuno/status/514648124539691009/photo/1
And of course, this is Japan. Why don't you make it with Anime characters?
Detective Conan Manhole cover

source: https://twitter.com/isao_takeda/status/511024231962779648/photo/1
Doraemon faced manhole cover

source: http://mlog.qelf.net/2010/03/blog-post_3381.html
There are so many different design because these manhole covers are made by each local government. Therefore, you can find "local manhole covers" which took the design from regional features.
As these designs are impressive, some manhole covers have become goods.
A uniquely-designed-manhole-cover style coaster

source: https://twitter.com/sayakaiurani/status/568291666638929920/photo/1
A manhole cover key ring

source: http://gamon.exblog.jp/i2/
And some people enjoy making ink rubbings of manhole covers.
Making an ink rubbing

source: https://twitter.com/sakai_suichan/status/494310190074691585/photo/1
A manhole ink rubbing

source: http://d.hatena.ne.jp/suidouya24/20100809
When you are in Japan, pay attention to your step and enjoy Japan in a different way which many tourists miss!
Top photo source: https://twitter.com/selommortty/status/452179872203284481/photo/1
Book a hotel in Japan
[PR]