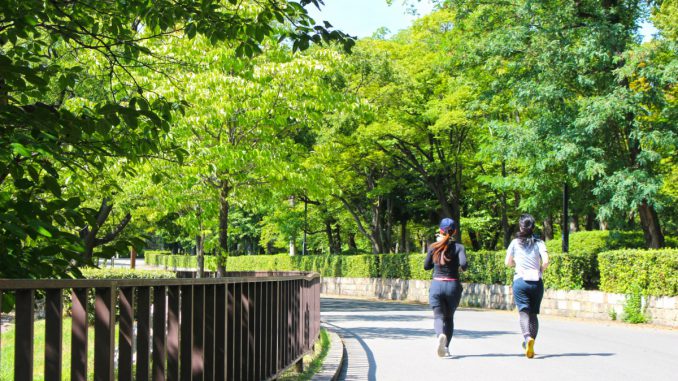 [vc_row][vc_column][vc_column_text]Do you consider yourself a runner? Are you a big believer in keeping fit?
Or are you simply someone who enjoys gazing at mother nature?
Regardless of your answer, and contrary to what most are unaware of, there are a pocketful of beautiful destinations to exercise.
Here's our top five recommendations. 
#01. Around Imperial Palace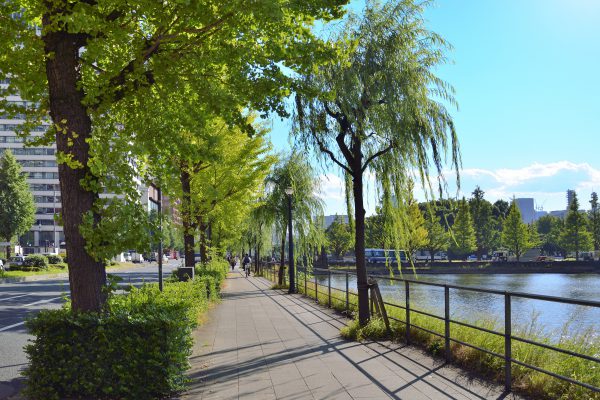 Around Imperial palace is #1 famous running course in Japan.
In 2007, Tokyo Marathon have started. After that running is more popular than before.
Near Imperial palace, in not only day time but also early morning and late evening, there are so many runners.
Please run counterclockwise around Imperial Palace which is rule.
The distance of 1 circle is about 5km. There is no signal during running.
There are so many running station around Imperial palace. So it's easy to run around here.
If you would like to stay near Imperial palace, we recommend Palace hotel.
It's just in front of Imperial palace and there are so many guests who run near the hotel, so they prepare water for their guests.
Running station information
adidas RUN BASE TOKYO
Marunouchi Bike & Run

Address: 1-5-1 Marunouchi, Chiyoda, TOkyo 100-6590
Price: 900JPY for locker and shower, 200JPY for rental shoes, 200JPY for each rental wear
(in Japanese)http://n-p-d.co.jp/bike-run/index.html
What you can see Imperial Palace
#02. Sumida river side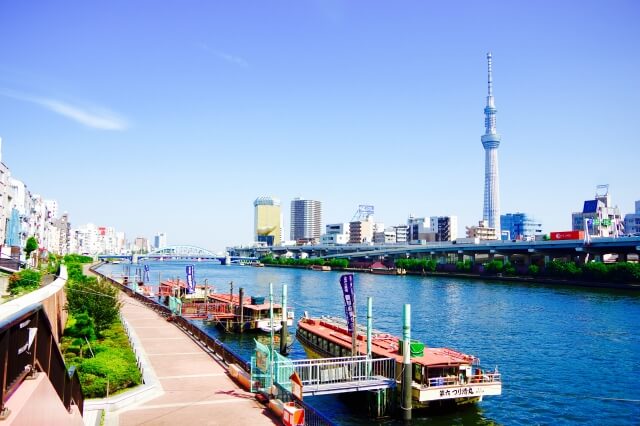 Along Sumida river is also famous running course.
There is Sumida river terrace along the river for pedestrian and runners.
Sumida river terrace is located both side of the river
between near the mouth of a sumida river, Tsukiji and Shirohige bridge which is north to Asakusa.
It's about 8-9km.
It's almost flat so easy to run.
If I say bad point of this course, there are some tributary inflow to Sumida river.
At that point Sumida river terrace is divided. We need to walk up stairs and down.
Over all great!
Running station information
ASICS connection Tokyo

Address:1-23-8 Azumabashi, Sumida, Tokyo
Price: 600JPY for locker and shower, 300JPY for rental shoes
#03. Jingu Gaien / Yoyogi park

Jingu Gaien and Yoyogi park area is huge green area.
Now New National Stadium for 2020 summer olympic game is under construction at here
Not only National Stadium, but also Jingu Stadium (for baseball), Chichibunomiya Rugby Stadium, Tokyo Metropolitan Gymnasium and Sports Complex are there.
It's also great to run around Jingu Gaien or Yoyogi park.
#04. Odaiba, Tokyo water front area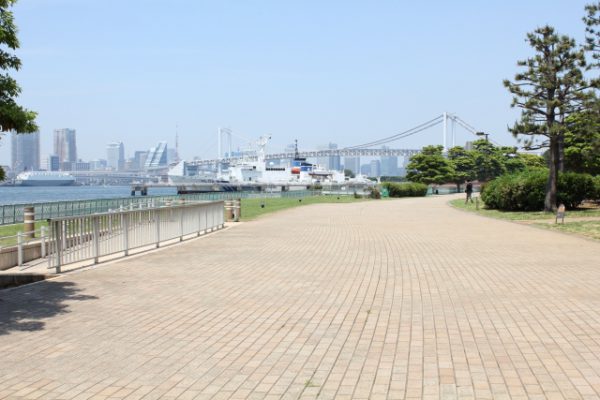 Odaiba is water front area of Tokyo.
It's not easy to access Odaiba, but if you stay at Odaiba, it's good place to run.
There are running station near Odaiba so it's another option.
You can feel modern water front aspect of Tokyo at Odaiba
Running station information
JOG port Ariake

Address: 3-7-26 Ariake, Koto, Tokyo
Nearest station is Kokusai tenjijo seimon station
Price: 700JPY for locker and shower
(in Japanese)https://jogport.com/
Things to do in Odaiba after running
#05. Komazawa Olympic Park
Komazawa Olympic park is not park for 2020 summer Tokyo Olympic but 1964 summer Tokyo Olympic.
They have running course so it's comfortable to run in the Komazawa Olympic Park.
[/vc_column_text][/vc_column][/vc_row]
Book a hotel in Japan
[PR]