"The whole town is your restaurant"
Eating at one of the restaurants listed in the Michelin Guide is a great experience. But how about all the other delicious things? Just imagine… if the entire town was one big restaurant and we give you our best recommendations, wouldn't that be amazing!
What we provide is an awesome experience, visiting different places in town and tasting different types of food, while getting in touch with the Japanese culture, history, and the local people. Our local Japanese guides will also tell you more about how you can prepare your own favourite Japanese dish at home.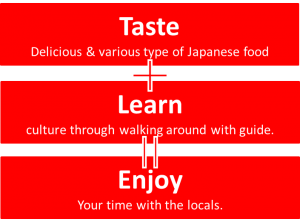 Food Drink Tours of Japan Wonder Travel
Food and drinks are like a mirror and reflect who the Japanese are. In Japan, there are many delicious foods and drinks that will overwhelm your taste buds. Next to the famous typical Japanese specialties like sushi and ramen that are available everywhere, every prefecture has its own culinary highlights. Food and drinks are embedded in the Japanese culture and they are very proud of them.
When travelling, everyone wants to have a local experience. Visit local sights, eat local food, drink local drinks… To live like a local! But, where to go, what to order and how to enjoy? For tourists this can be quite the challenge. Also, because restaurants can be difficult to visit and menus can be hard to read. Let us help you!
We want you not to only enjoy touristic meal but we want you to fully experience Japanese food and drinks, to enjoy "Japan one step deeper". It will make your travel more special and satisfying!
The goal of our Food Drink tour is to give you an inspiring culinary experience. Introducing you to Japanese food and drink, whilst explaining more about the food culture and traditions.
With a Japanese guide, you will walk around the (market) streets where local vendors sell their specialties. See some tuna cutting at Tsukiji market or stroll around in Nishiki Market, nicknamed 'Kyoto's Kitchen,' Get introduced to new flavours, food you have never seen before and things you may have never heard of. The guide will explain to you to process of making Japanese dishes and you will taste food and drinks that local people eat often.
Our Food and Drink tours
We offer daily food and drink tours in both Tokyo and Kyoto. Every tour is different, depending on the catch day, the season or the weather. This makes the experience also very special.
Our top 3 food drink tours in Tokyo
Tokyo Fish Market Tour @Tsukiji – Enjoy Local Food and Drink
Tokyo Sushi Making Experience+ Tsukiji Fish Market Explore Tour
Tokyo Local Street Food and Drink Tour @Sunamachi
Our top 3 food drink tours in Kyoto
Kyoto Food and Drink Tour @Nishiki Street & Gion
Kyoto Food and Drink Tour @Arashiyama
Kyoto Pontocho Backstreet Food and Drink Hopping Tour [Evening Tour]
But there is much more and we are always happy to customise a tour to your preferences. For more information and booking, check the link from here.
Experience the culinary highlights live like a local!