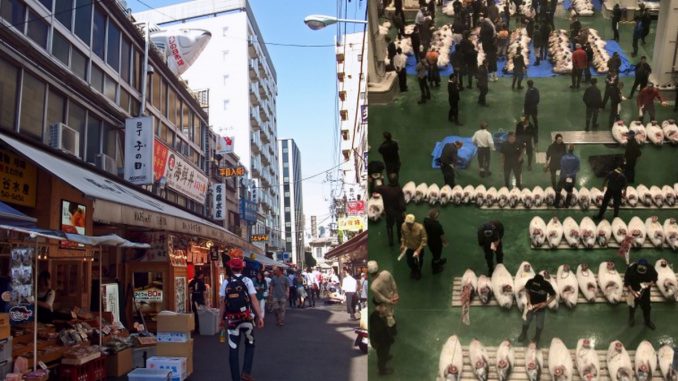 What was Tsukiji fish market?
If you are interested in Japanese food, you might hear about Tsukiji. Tsukiji was the biggest fish market in the world!
That's "kitchen of Japan" and almost all popular Sushi chef in Tokyo go and pick freshest seafood at there! The traditional atmosphere of the market have attracted both foreigners and Japanese locals for more than 80 years.
The Tsukiji market were divided to three parts.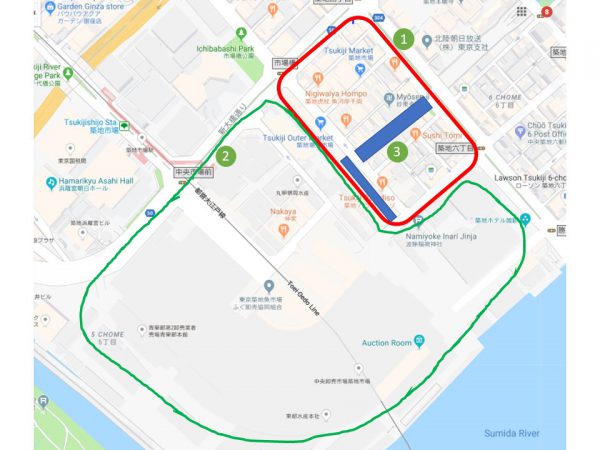 Tsukiji inner market (Inner business area)
Tsukiji outer market (Consumer area)
Tsukiji Uogashi street area (Mini wholesale area to connect Tsukiji and Toyosu)
As we have said in this blog, only #1 area has been moved to Toyosu, 3km away. Tsukiji inner market was huge area where famous Tuna auction was take place, but #2 and #3 are still at Tsukiji.
One of the biggest misunderstanding is everything would be gone in Tsukiji. Actually even some Japanese people think about that.
Why the relocation take place?
Actually Tsukiji market was 83 years old. Tokyo Metropolitan Government decide to relocate because of reasons as follows.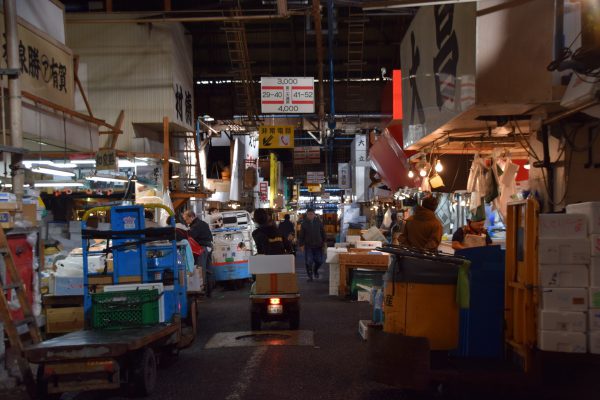 At first, the market was too old and the buildings are dangerous against earthquake. Then it's difficult to keep the seafood products fresh since there are no air condition system. And it's not efficient that the gathering and delivering fishes are take place at the same area.
That's why Tokyo Metropolitan Government office decided to make new, clean, modern building at Toyosu. (At first there is a plan to revise, rebuild Tsukiji, but it's very difficult and expensive.)
What you could see/experience at Tsukiji now?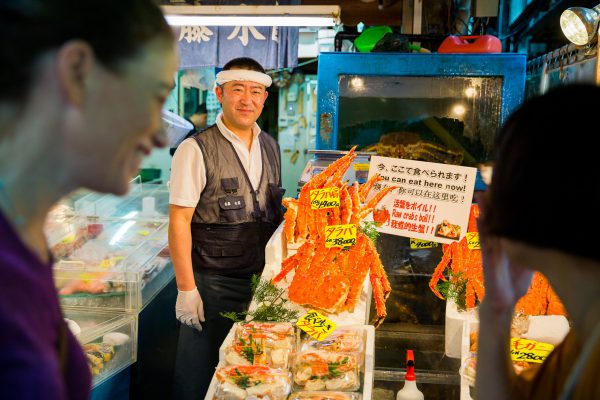 (Tsukiji outer market)
After relocation, are there nothing we could see/experience?
That's not true!!
Let's check out remained area #2 Tsukiji outer market and #3 Tsukiji Uogashi street.
In Tsukiji outer market(#2), you could find over 400 shops all related with food including kitchen tool. So you could try many types of Japanese food and drink everywhere. The variety of food is amazing! We believe you enjoy it. Then there are many kitchen goods shops such as Japanese knife as well. Many professional chef still come to outer market, always the best quality things are treated.
Additionally Tsukiji Uogashi street(#3) is there. At this building, there are over 60 wholesaler from Toyosu inner market. At there, freshest seafood are sold for both professional and consumers. Sometimes you could see Tuna cutting show there. That's actually fun to see hundred kinds of fishes!!
Which market to go Toyosu or Tsukiji?
At last, let's think about which market is worth to visit?
Both market have advantages. Please check the list below.
Location
Tuna auction
Special Sushi
Various Japanese food
See many fishes
Communication with local
Toyosu market
△
〇
(5:30am-6:30am)
◎
△
×

*Could not enter wholesale area

△
Tsukiji market
◎
×
〇
◎
〇
◎
From this chart, we recommend to visit based on your request.
#1 Definitely want to see auction
>> Visit Toyosu market and could see the auction in the very early morning. (Please check our blog) How about eating Sushi after that?
#2 Be interested in Japanese food and culture in Japan
>> Visit Tsukiji fish market and try many food there.
#3 Who have time and try to see new market
> Visit both Tsukiji and Toyosu market. (Between both market is difficult.)
If you want to know more about markets.
There are some food tours available.
–Tsukiji market tour
–Toyosu and Tsukiji market tour
If you are interested in, please let us know!!
Book a hotel in Japan
[PR]