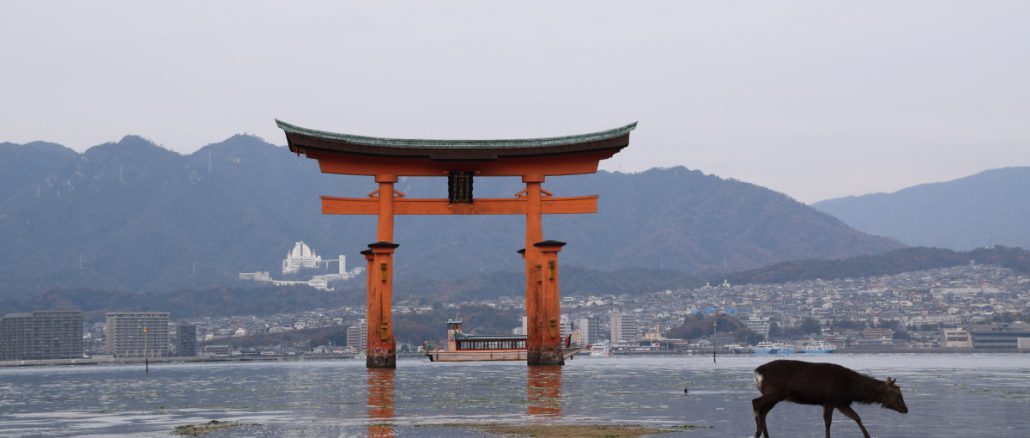 Have you heard "Hiroshima"?
Many visitors visit Tokyo, Mt. Fuji, Kyoto, Osaka and Hiroshima, so called Golden Route.
There are two famous world heritage sites in Hiroshima.
Itsukushima shrine in Miyajima
Atomic bomb dome
BUT Hiroshima is far away from Kyoto and Osaka.
If you don't enough time to stay in Hiroshima, how about day trip from Kyoto or Osaka?
It's also a good 1 day trip destination from Kyoto or Osaka.
1. How to get Hiroshima from Kyoto or Osaka?

Hiroshima is located 100-120 minutes away from Kyoto and 80-100 minutes from Osaka by bullet train.
If you have JAPAN RAIL PASS, you could take bullet train for free.
But be careful that you couldn't take Nozomi and Mizuho bullet train with JAPAN RAIL PASS.
There is not so many other bullet train. If you take local train, it takes 5-6hours!
Please check time table of bullet train if you would like to go with JAPAN RAIL PASS!
If you don't have JAPAN RAIL PASS, we recommend you should take Nozomi and Muzuho bullet train.
It's easy to go to Hiroshima from Kyoto and Osaka.
2. Suggested Hiroshima Itinerary
7:20:Kyoto station
7:35:Osaka station
Let's take bullet train in the early morning.
We recommend to arrive at Hiroshima at around 9-10am.
If so, you need to take bullet train at around 7-8am at Kyoto or Shin-Osaka.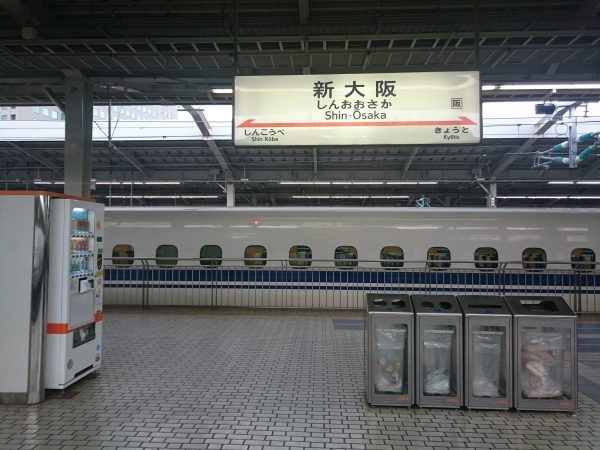 9:05:Hiroshima station
Arrive at Hiroshima station.
Hiroshima city is 10th biggest city in Japan.
Next you should take JR Sanyo-honsen line to Miyajimaguchi station.
You can also go to Miayajima by Hiroshima Electric Railway.
It's cheaper than JR but it takes longer. So we recommend JR line to go Miyajima.
10:00:Arrive at Miyajimaguchi
After you arrive at Miyajimaguchi station, then walk to ferry port.
There are 2 companies operate ferry to Miyajima, JR and Matsudai kisen.
If you have JAPAN RAIL PASS, let's take JR ferry.
If not, both are okay. Price is 180 yen (adult) for 1 way trip.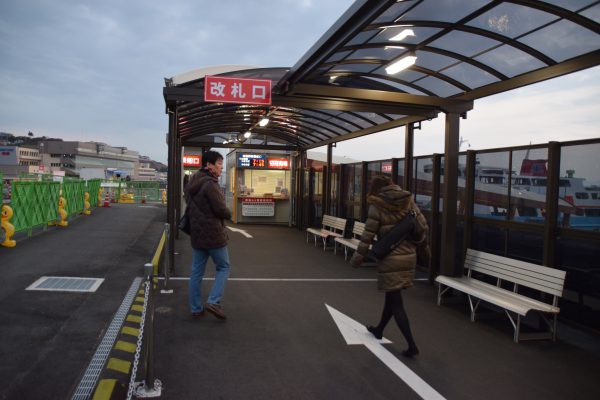 10:30:Exploring Miyajima including Itsukushima shrine
It's about 10 minutes by ferry from Miyajimaguchi to Miyajima.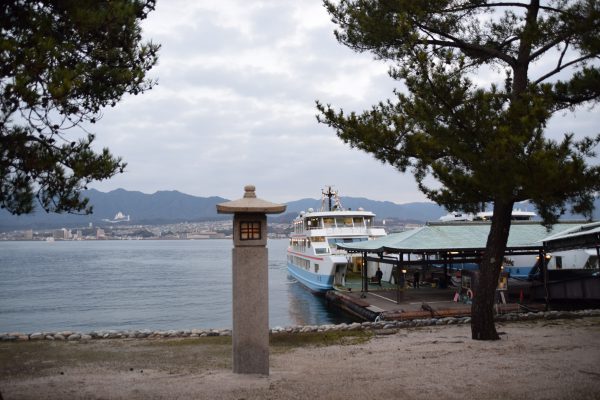 You can easily find a red torii gate of Itsukushima shrine.
At low tide, you can walk to bottom of red torii gate.
Please check tide time in Miyajima before you visit Miyajima.
(If you would like to go to Miyajima in the afternoon, let's visit atomic bomb dome in the morning.)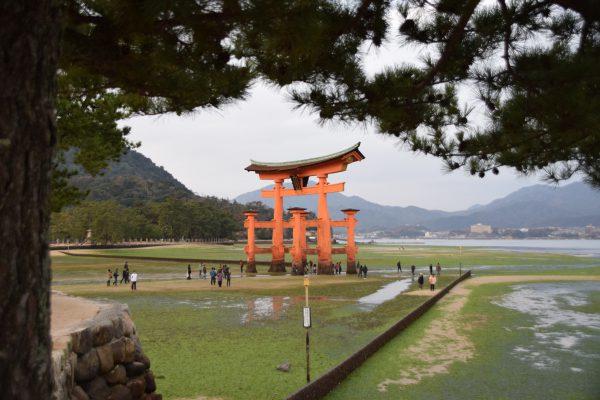 Deer are also there in Miyajima, not only Nara.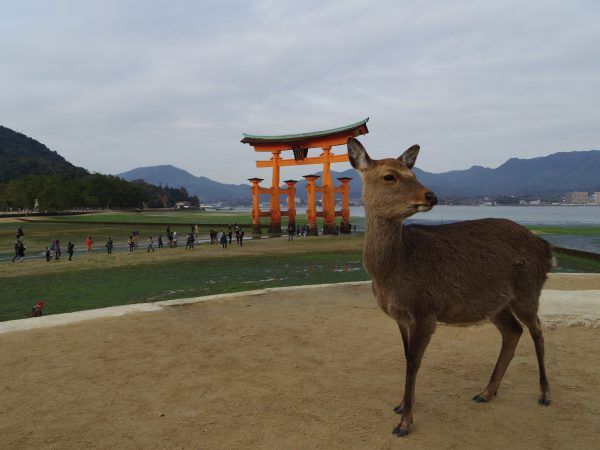 If you have enough time, you can see both high tide and low tide.
If you wait for 2-3 hours, the water come.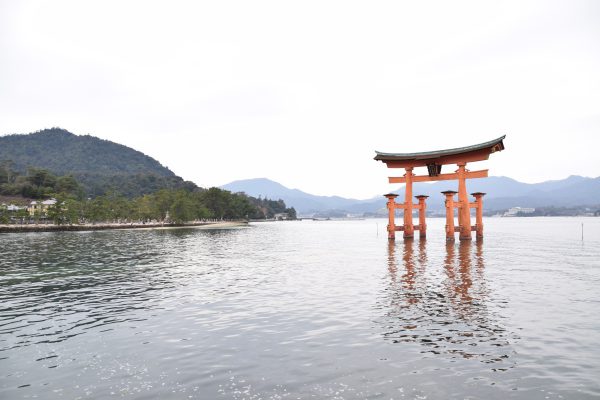 After you enjoy red gate in Itsukushima shrine, let's explore inside of the island.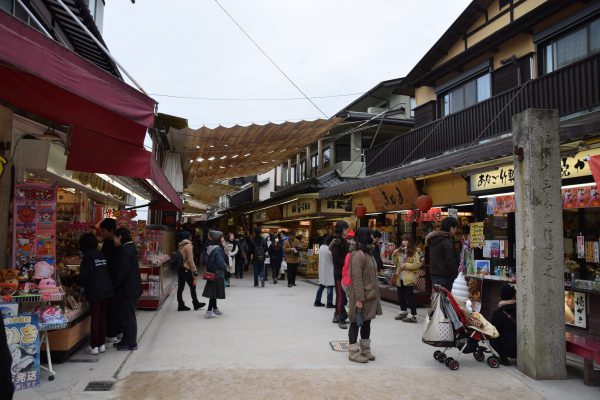 Oyster is one of the famous food in Miyajima.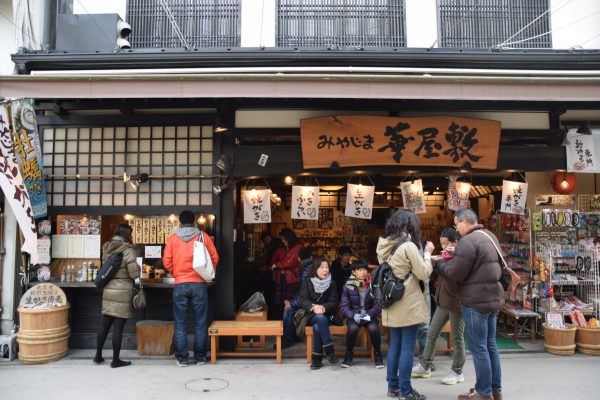 Momiji-manju is also famous sweets which includes red bean jam. Yummy!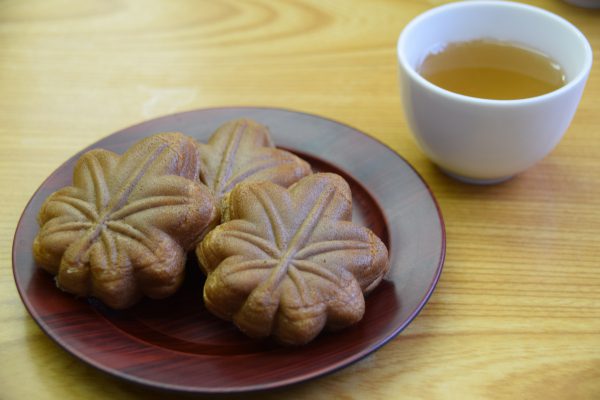 There is Miyama in Miyajima where is great trekking spot.
If you have enough time (you could stay at Hiroshima), we recommend staying at Miyajima and trekk to Miyama.
13:45:Depart from Miyajima
After you enjoy Miyajima, let's go back to Miyajimaguchi by ferry.
Then take Hiroshima Electric Railway to Atomic bomb dome from Hiroden-Miyajimaguchi station.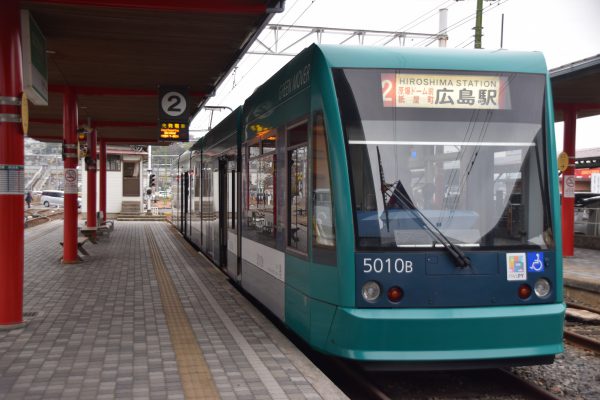 15:00:Arrive at Atomic bomb dome and exploring Peace Memorial Park
Arrive at world heritage site Atomic bomb dome.
On 6th August, 1945, first atomic bomb was dropped.
Pray for peace at Hiroshima Memorial Peace Park.
16:30:Depart from Atomic bomb dome
17:00:Hiroshima station
19:00:Osaka or Kyoto
3. Recommended Guide Tour
4. Recommended Hotel in Hiroshima
Other activities
Watching Japanese baseball games
Sake brewery tour
Wearing Kimono & experience tea ceremony
You may also like below articles
Cherry blossom forecast 2019 and recommended viewing spots in Japan
1 Day trip to Kobe from Kyoto or Osaka. Suggested Itinerary [HIGHLIGHT 7 hours]
Book a hotel in Japan
[PR]