When you travel in Japan between Tokyo and Kyoto or Osaka, or any other big destinations throughout the country, we recommend you to take the bullet train. Riding the Shinkansen is a fun and unique experience, moreover the bullet train is fast, reliable, and comfortable. In addition, the network of the Shinkansen covers most of Japan, connecting Hokkaido in the north, to Kyushu in the south. So when you are traveling through Japan, the Shinkansen is great in discovering all the beautiful places Japan has to offer. Let's have a look at why riding the Shinkansen in Japan is a must and all the great experiences you can have while on it!
Most Popular Tour This Month in Tokyo!
▼Join Our Exclusive Sumo Morning Practice Tour
[Audio Guide]Tokyo Sumo Morning Practice Tour: Watch Real Sumo Wrestlers Train
Embark on an unforgettable journey into the world of sumo wrestling with our exclusive Tokyo Sumo Morning Practice Tour at Arashio Stable. While witnessing the ...
What is the Shinkansen?
The Shinkansen (新幹線) is Japan's famous high speed train also known as the bullet train. Japan was the first country to start building the railway lines for high speed travel and the name Shinkansen was chosen because is it Japanese for 'new trunk line' or 'new main line'. The first line connected Japan's two largest cities of Tokyo and Osaka. Nowadays the Shinkansen network reaches from Hokkaido all the way down to Kagoshima, so it is a great way to take some weekend trips and discover Japan conveniently. But what makes this train so special?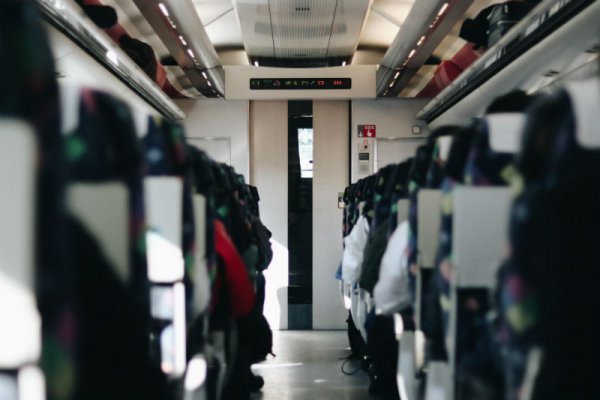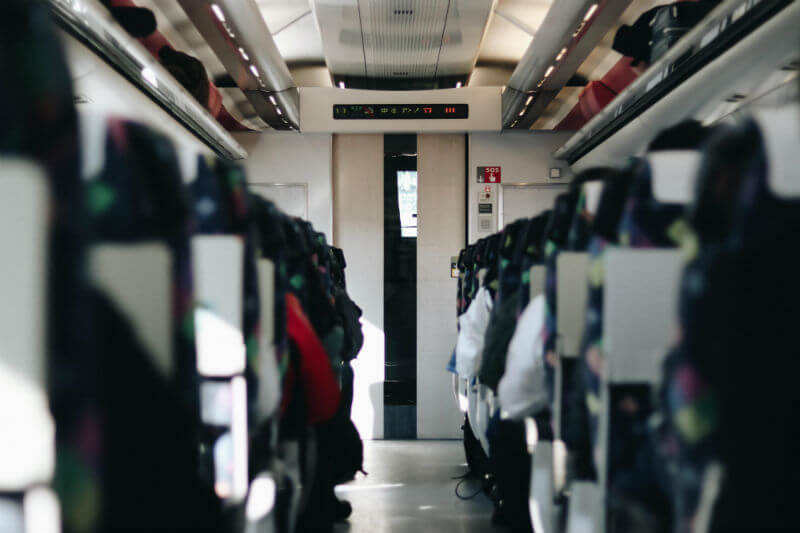 Speed
The train moves like a bullet – hence the nickname. The shinkansen high-speed trains are the fastest way to discover all of Japan, reaching a maximum speed of 320 km/h (199 mph)! You can travel the ~500 km between Kyoto and Tokyo in 2-2.5 hrs, depending on which train you take.
Comfortable
The train is very quiet and comfortable, with the seats being quite spacious so you can relax while you take in the beautiful surroundings. Also, free Wi-Fi is available on Tokaido, Sanyo, and Kyushu line. The speed is not enough to stream movies, but will get you online.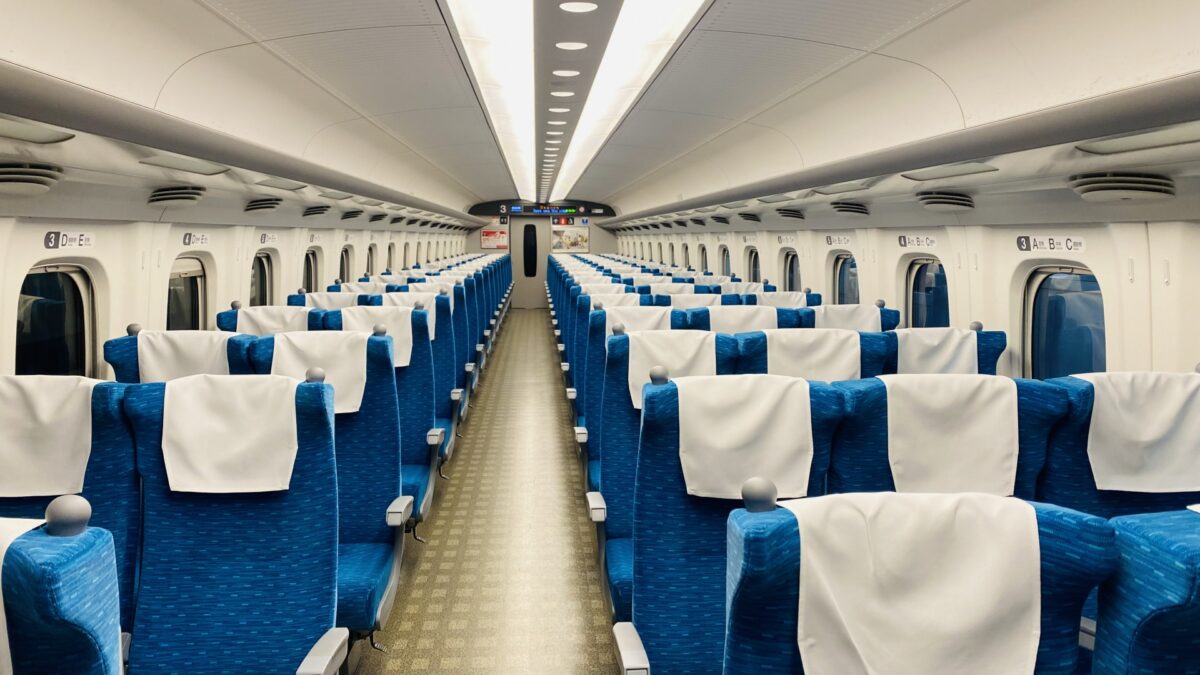 Stunning scenery
The Shinkansen rides through the center of Japan and many beautiful, typical Japanese things can be seen during the train journey like colorful flower fields, the cityscapes, untouched nature, tea cropping, small local towns etc.
Shinkansen network and lines
There are 7 total Shinkansen Lines that are all run by a JR company. The oldest and most famous line is the Tokaido Shinkansen (Tokyo, Yokohama, Nagoya, Kyoto, Osaka), which is operated by JR Tokai (also called JR Central). The Tohoku Shinkansen connects Tokyo to Aomori, Yamagata and Akita, and the Joetsu Shinkansen connects Tokyo to Niigata. The newest addition to the Shinkansen network is the Hokkaido Shinkansen, which connects Hakodate in Hokkaido to Tokyo. In the south, the Tokaido Shinkansen turns into the Sanyo Shinkansen that runs between Osaka and Fukuoka. From Fukuoka, the Kyushu Shinkansen connects to Kagoshima.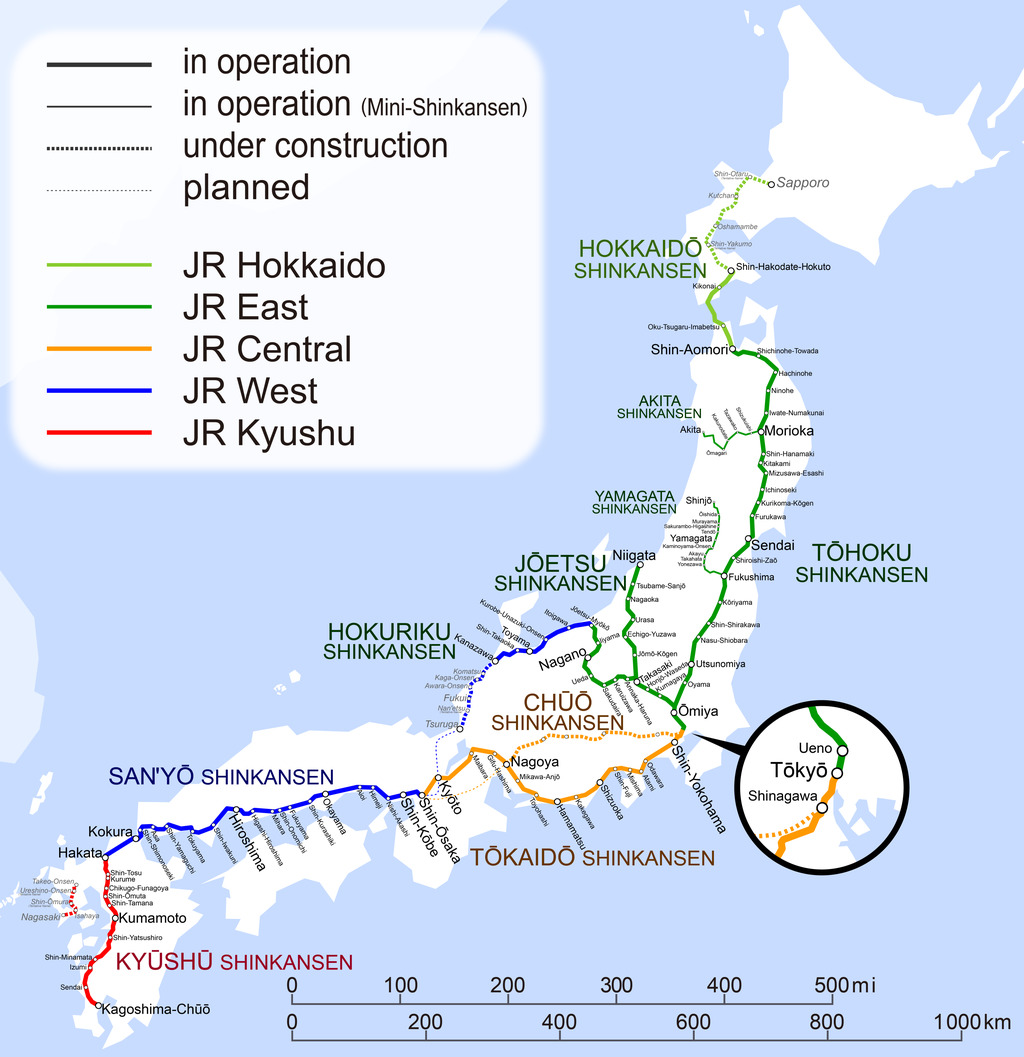 1. Spot Mt. Fuji
Mount Fuji is one of the most famous places of Japan. During the climbing season in summer, thousands of people climb up to the summit of Mount Fuji each year. But even if you don't go to visit the iconic mountain, you should still be able to see it in the far distance during your travels. For example when you travel between Tokyo and Kyoto by Shinkansen, you don't want to miss it!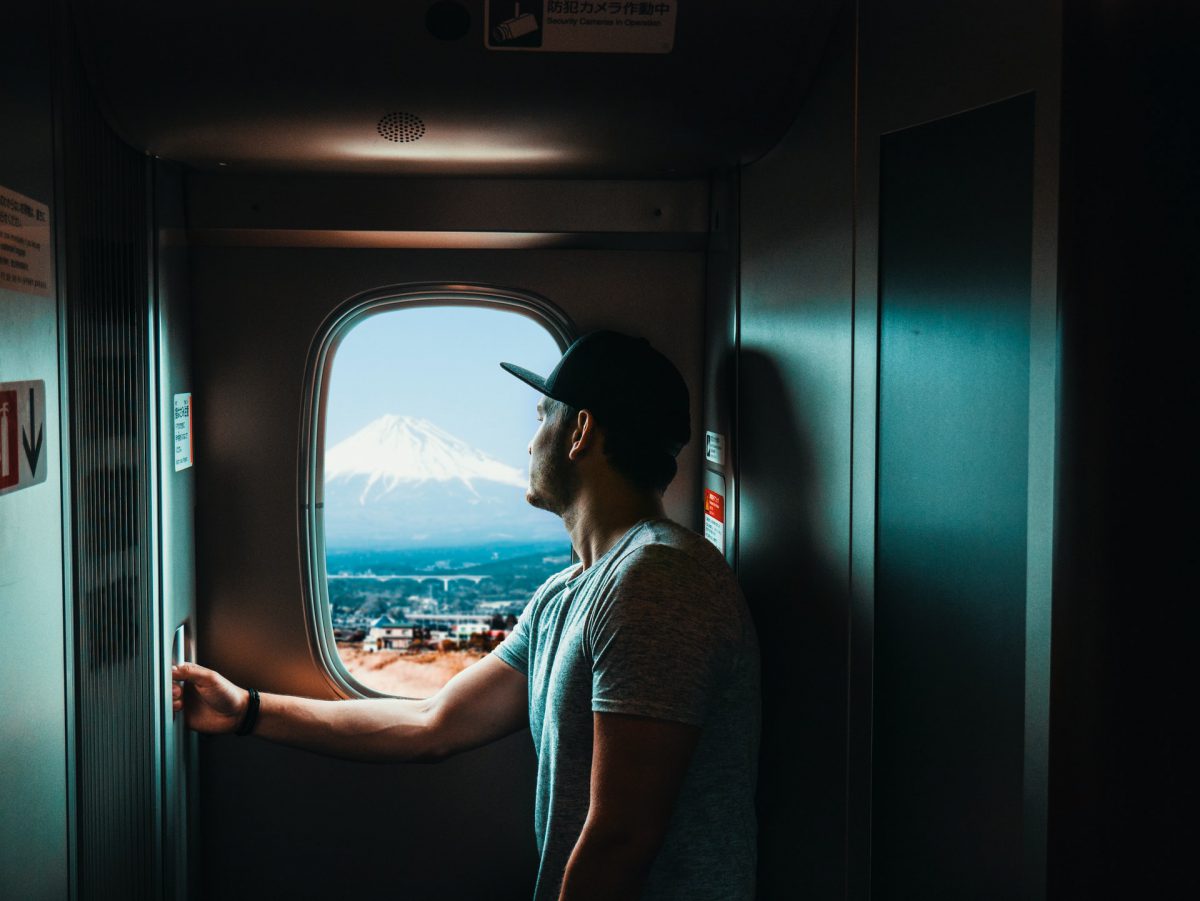 Reserve the Mt. Fuji side seat
When travelling to Kyoto, Mt. Fuji is located on the right side and travelling to Tokyo, it's visible on the left side. For the best view, always reserve the E seat (if you are a group of two, you should book D & E). We'll explain later why it is always the E seat!
Watch the time!
Travelling with the Bullet Train is very relaxing and you might become sleepy, but don't fall asleep or you'll miss the sight of Mount Fuji. Or set the alarm, just to be sure. You will get to see the view of Mt. Fuji after 40 minutes from Tokyo Station, and it will be visible for about 10 minutes! On the way to Tokyo, the mountain will be visible about 85 minutes from Kyoto station. Pay attention though, this time you can only see it for 3 minutes!
When you do fall asleep or you want to see more of Mount Fuji, there are many great viewing spots. Read our top spots: Best viewing spots to see Mt. Fuji
2. Enjoy Ekiben
Have you heard of a Bento box? It's a lunch box for Japanese people and there is a special lunch box that people take on trains; the ekiben! Ekiben comes from Eki (station) and Ben refers to Bento (lunch box). It's fun to bring and eat Ekiben on the train. At Tokyo Station you can buy all types of Ekiben. Especially near the ticket gate of Tokaido Sanyo Shinkansen, there are a plethora of Ekiben shops, like Ekiben Matsuri, Ekibenya Odori, Ekibenya. At Ekibenya Matsuri you can get an Ekiben that is shaped like the train itself, and the box can be saved and reused!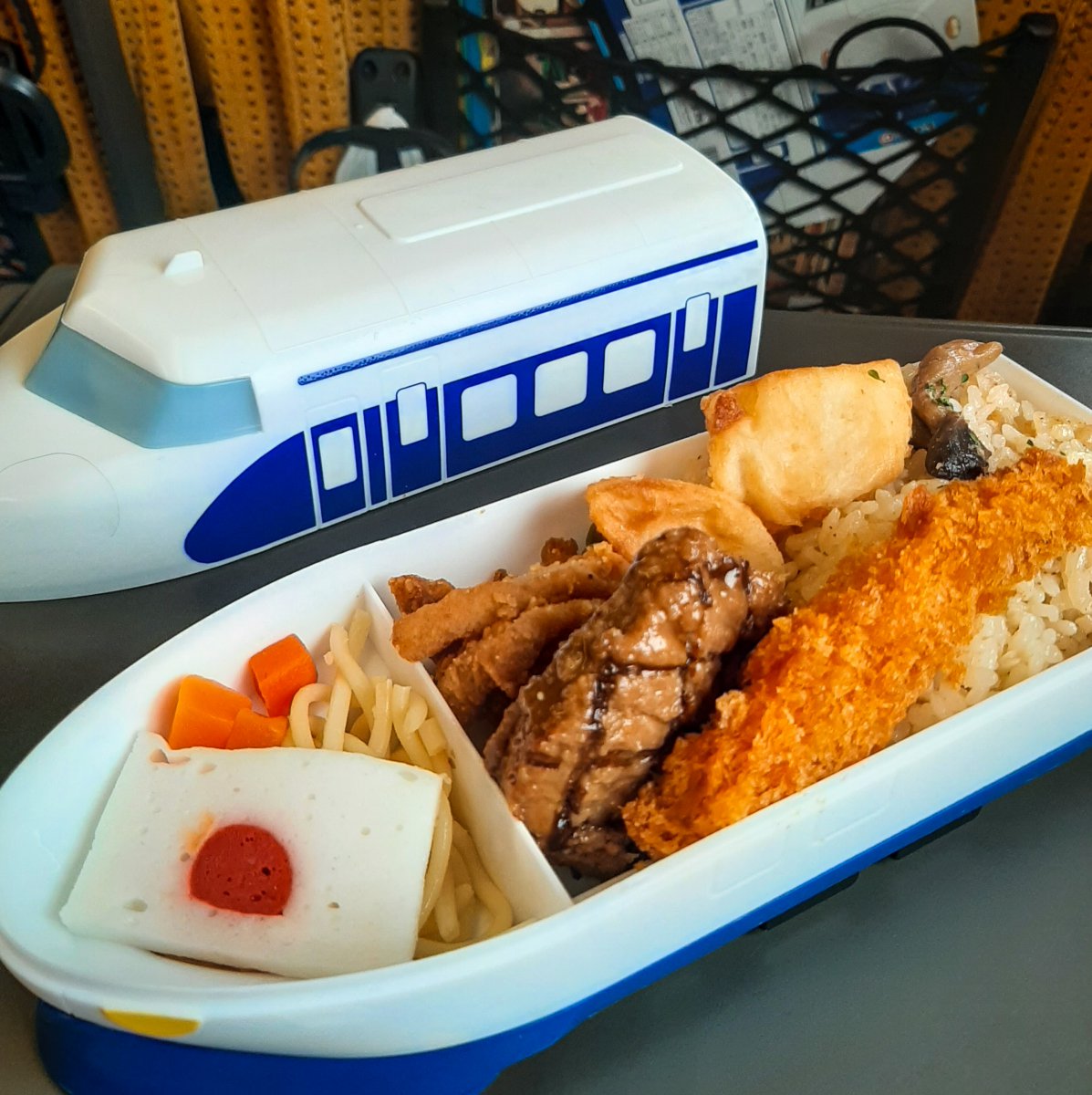 3. Hop on & hop off the Shinkansen
With train lines reaching all the way from Hokkaido to Kagoshima, there are many fun things to see and do on the way. When time permits, you can make one or more stops on the way. For example get off at the area of Mt. Fuji and discover the many fun things to do and see near Mt.Fuji area while travelling between Kyoto and Tokyo by bullet train.
There are several options when it comes to Shinkansen discount tickets available to internationals. International travellers can purchase the Japan Rail Pass also known as JR Rail Pass. With this ticket you can travel freely for a designated period of time (7, 14 or 21 days) on all Shinkansen (except Nozomi) and JR trains. You can make reservations free of charge with this pass, making it also easy to hop on and off the train as you please. Other tickets that are available to anyone with a foreign passport are the JR East Pass (Tohoku) and the JR East Pass (Nagano, Niigata) that offer 5 days of unlimited travel on trains and Shinkansen in the area covered. Check the regional Japan Railway website for the discount pass in the area you are traveling too!
4. Get a Sneak peak of Japan's most spectacular castle
While riding the Shinkansen between Kobe and Okayama you can spot one of Japan's finest castles – Himeji Castle. This spectacular castle is located on top of a hill and is known for its well size and beauty and large castle grounds.
When traveling from Kobe towards Okayama, the castle is visible on the right sight and from on the left side when travelling in the direction of Kobe. So similar to the Shinkansen seat to see Mount Fuji, you'll have to reserve the E seat or D & E when you travel in a group.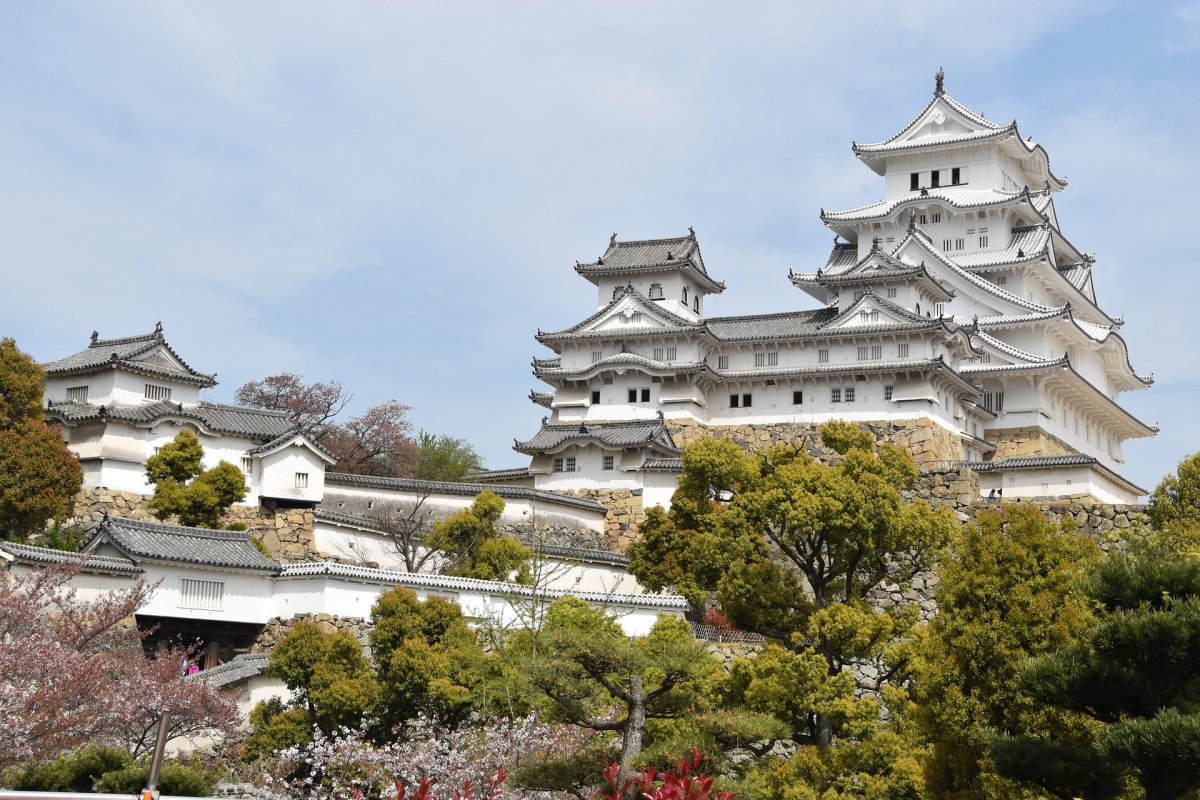 5. Access the ski slopes in Yuzawa
Something that can only be done in Yuzawa, Japan is accessing the ski slopes directly from the Shinkansen! Gala Yuzawa is one of the best ski resorts in Japan located near Tokyo. From the centre of Tokyo you can travel to Gala Yuzawa in just under 1.5 hrs. The station is directly connected to the gondola giving you access to the ski slopes. Anyone with a foreign passport can purchase the Tokyo Wide Pass and travel 3 days of unlimited on trains and Shinkansen in the area covered! With the Tokyo Wide Pass, you will also get a discount on the ski lift pass.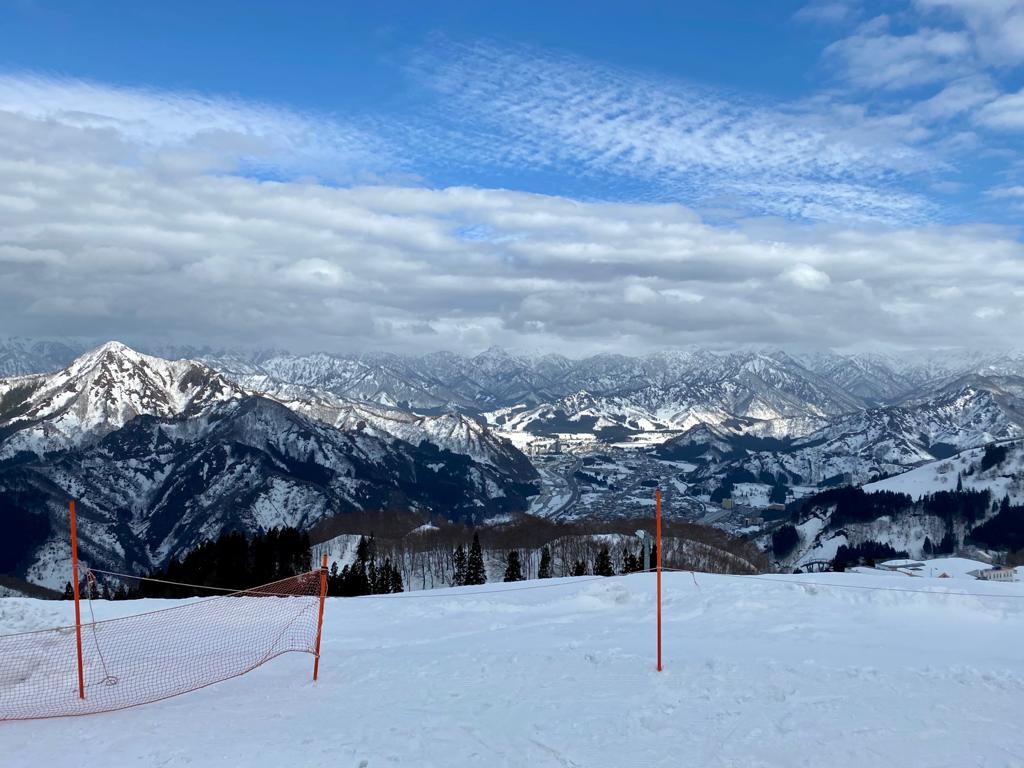 6. See Themed Shinkansen
By now you probably have realised that the Shinkansen is not just a means of getting from point A to point B, but it is a fun and unique experience of travelling in Japan and a ride one the bullet train is an exciting experience in itself. There are also some fun themed Shinkansen trains that are fun to spot or ride as well. Some of them operate for only limited like the Pixar Shinkansen in 2020 or the 'world's fastest art gallery' known as the Genbi Shinkansen that ran for 5 years (2015-2020) between Niigata and Echigo Yuzawa.
Hello Kitty Shinkansen
The Hello Kitty Shinkansen (ハローキティ新幹線 ) is a regular Kodama service that runs from Hakata (Fukuoka) to Shin-Osaka departing at 6.32 am and arriving at 11.12 am. It does a return trip, departing from Shin-Osaka at 11.32 am and arriving in Hakata at 4.11 pm.
Doctor Yellow Shinkansen
The Doctor Yellow Shinkansen (ドクターイエロー) is so named because it literally diagnoses any problems with the track and overhead wires as it speeds along the tracks. The schedule for Doctor Yellow is not made public so sighting is based purely on luck. It is therefore considered to bring good luck if you spot the yellow Shinkansen!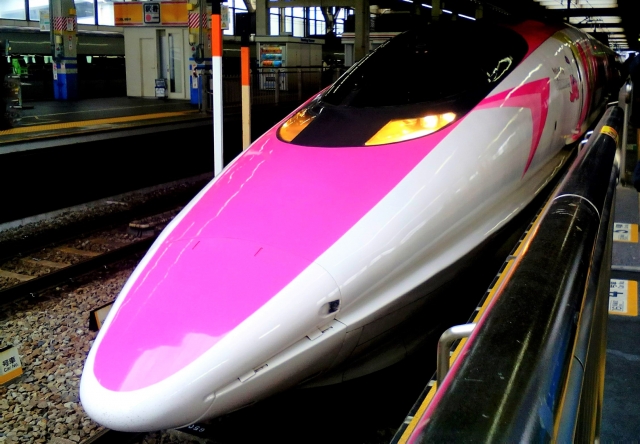 7. Ride the most expensive Shinkansen
There are three types of Shinkansen cars; the ordinary normal cars, the slightly more expensive and comfortable green cars, and lastly the Gran Class, the ultimate luxury car. The Gran Class seats are offered on some of the Tohoku and Hokkaido Shinkansen, Hokuriku Shinkansen and, Joetsu Shinkansen.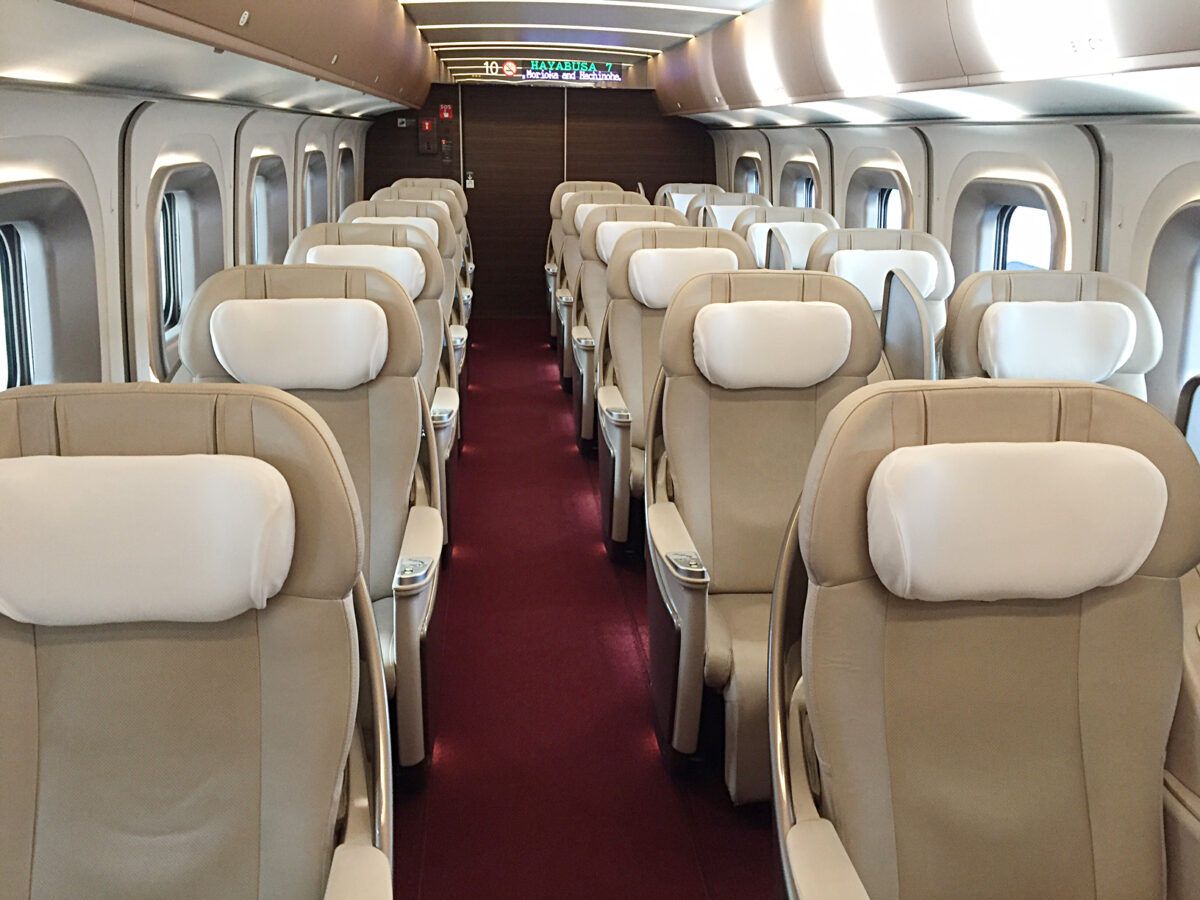 The private cabin can only seat 18 persons and travelling in these cars is like travelling first class on an airplane. The huge, comfortable chairs can recline to 45 degrees and come with a seat warmer, blanket, warm towel, slippers and even an eye mask. Your host(ess) will also bring you a light meal with locally sourced delicacies. A ticket to the Gran Class will add a premium to your ordinary ticket, from Tokyo to Hakodate a standard ticket is priced at ~¥22,690 whereas the Gran Class seats cost ~¥38,280. It may cost a lot of money, but a comfortable journey is guaranteed.
8. Witness The Shinkansen kiss
Morioka in the northern Tohoku region is one of the few places where you can spot a romantic joyful moment: the kissing red Komachi and green Hayabusa trains. In the nose of the bullet trains there is a hidden robotic looking arm that is used to connect the different trains to each other, in this case the trains between northern Honshu and Tokyo. The red Komachi train which runs between Tokyo and Akita and Hayabusa connecting Tokyo and Hakodate in Hokkaido.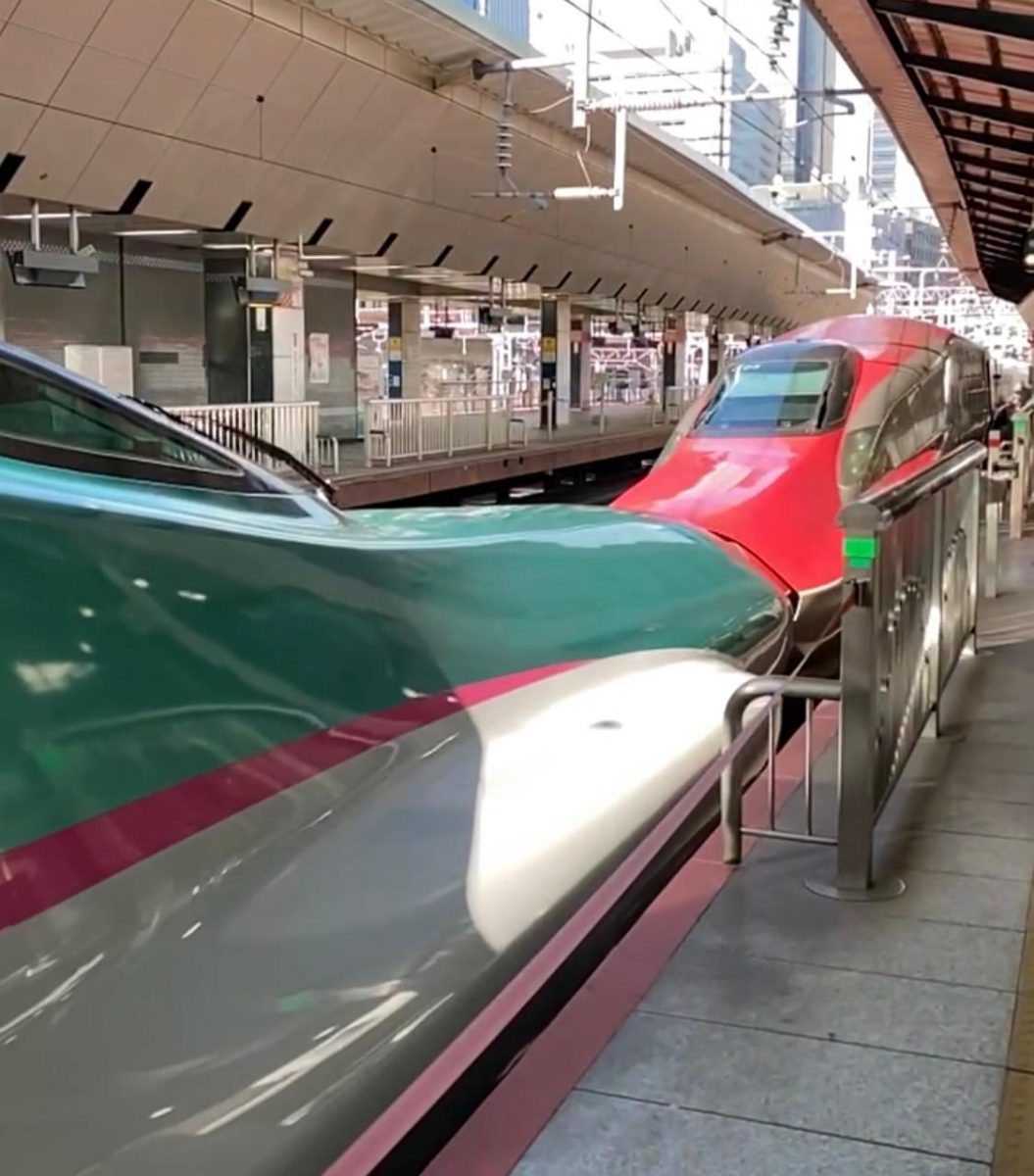 9. Flip the bullet train seats around
Reservations are not required for the Shinkansen as there are some unreserved seats in each train. However, the Shinkansen can get fully booked in busy seasons like Golden Week, Obon, or New year's holidays, but most of the time, the train tickets can still be reserved until an hour or even less before the departure. If you are traveling together with a group, reservations are highly recommended, especially if you want to sit together. When you are a bigger group, it is also possible to flip the seats.
When we mentioned to always reserve the E seat to spot Mount Fuji or Himeji Castle, it may have crossed your mind that it is strange to reserve seat E coming from either side. This is because the seats of the Shinkansen are not fixed to the floor; they can be flipped! So when you are traveling in a group of 4 or 6 people for example, you can ask for the seats in subsequent rows and flip the seats to still be able to face each other. Note that while flipping seats is possible, this is not something that is often done and people might look at you in a funny way.
*During the pandemic, please note that flipping seats are not allowed anymore.
10. Find a secret Ghibli spot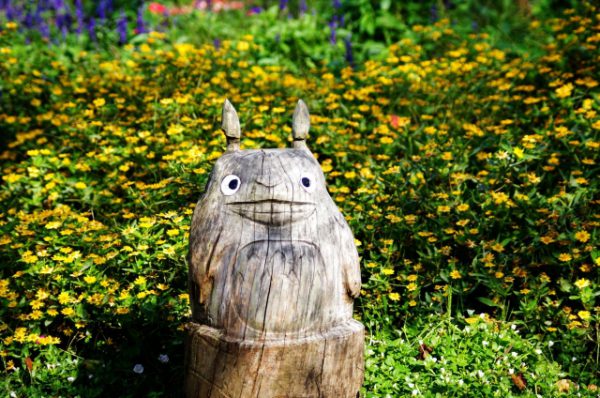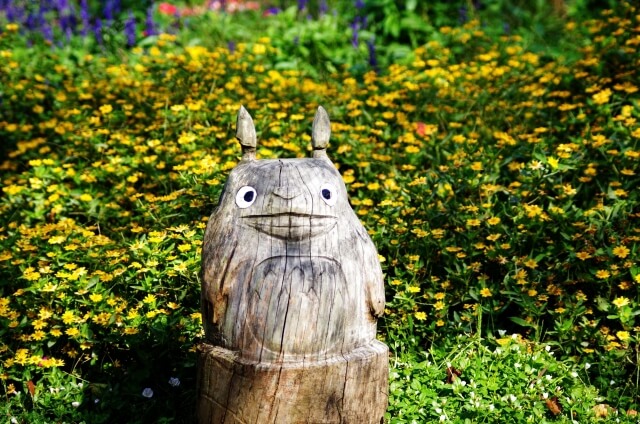 Have you seen the Ghibli movie "My neighbor Totoro"? If you can, spot Totoro in the forest during your travel, you are very lucky! When travelling to Kyoto, Totoro will appear on your left side a few minutes before Maibara station. It is easier to spot Totoro when you travel back to Tokyo, Totoro will be visible on your right side a few minutes after Maibara station.
When you are a Ghibli fan and are interested in going to the museum, read our article about how to get tickets! Despite the fact it is difficult to get the tickets, we're positive you will succeed when you are on time. How to Get Tickets for Ghibli Museum and Ghibli Park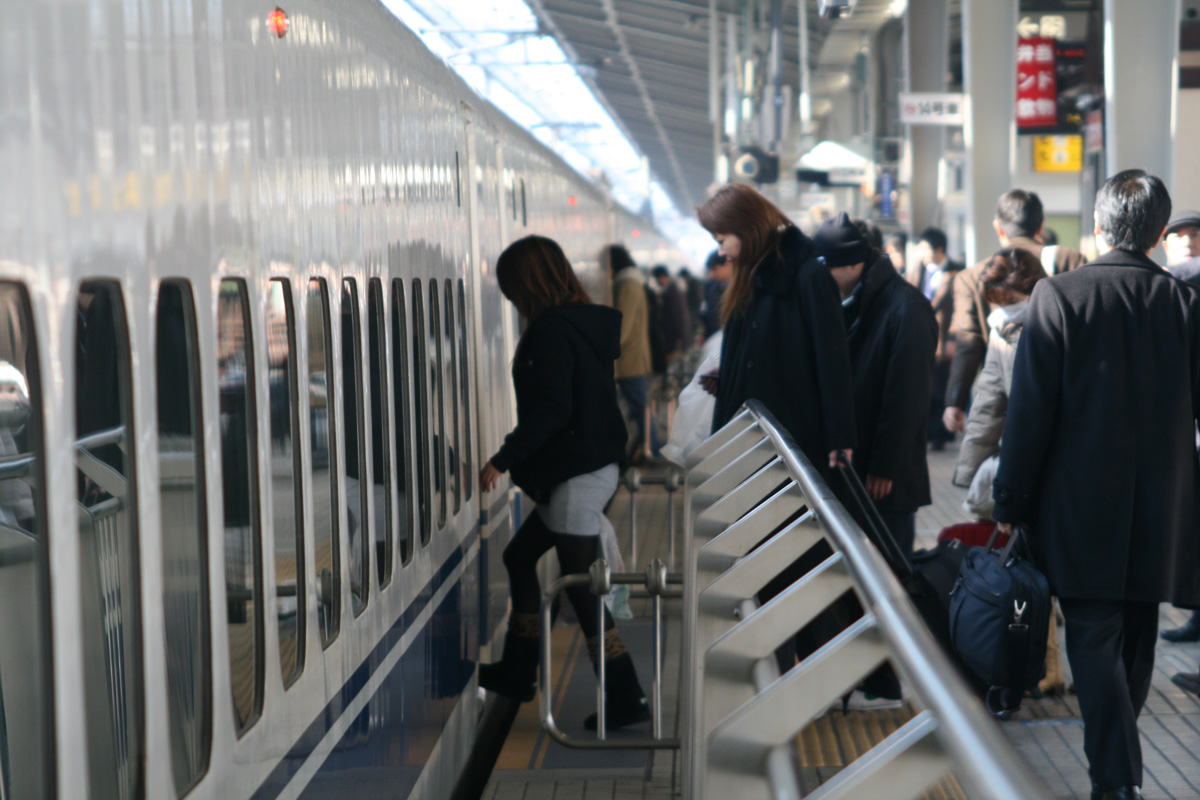 Shinkansen bullet trains are the fastest and most convenient way of discovering Japan. They are a joy to travel on and can bring you from Hokkaido all the way down to Kagoshima. Riding the Shinkansen is the perfect, most comfortable way to hit all the highlights of Japan. Especially if you are an international tourist, it will save you time and money! We hope you have a chance to ride the renowned shinkansen during your next trip to Japan, and can do all of the must do's while you're at it!
Get your Shinkansen passes
Various JR Passes are available online for international tourists (or expats) only. These unlimited travel passes allow you to travel with Shinkansen and other JR trains and buses around the area.
It will make your trip stress-free and save you money!
Japan Wonder Travel Tours
Japan Wonder Travel is a travel agency that offers guided tours throughout Japan.
From private walking tours to delicious Food and Drink tours, we can help you organize the best tours just for you! If you want to explore Japan and learn more about the history and backstories of each area you are visiting, our knowledgeable and friendly English speaking guides will happily take you to the best spots!
In addition, we can provide you with any assistance you may need for your upcoming trip to Japan, so please feel free to contact us if you have any questions or need some help!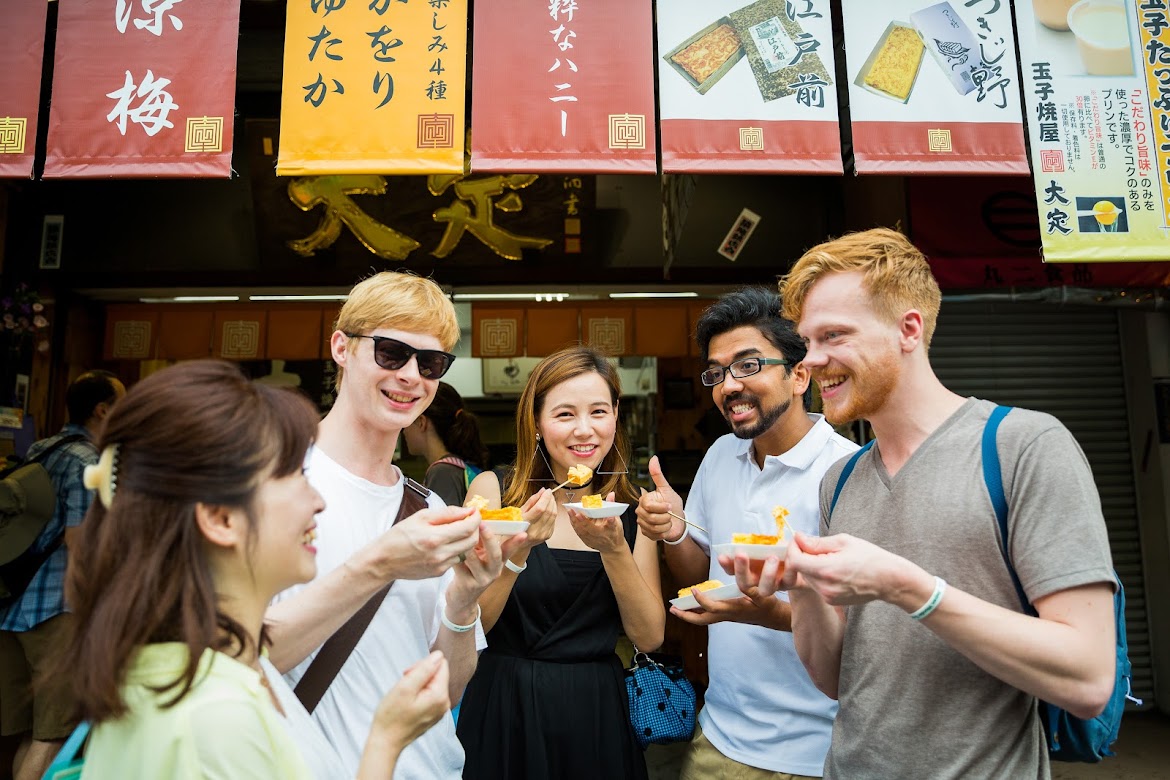 ▶Tokyo 1–Day Highlights Private Walking Tour (8 Hours)
There's no better way to explore an area than taking a tour with a knowledgeable local guide. You will have the chance to learn about the history and interesting background stories of Tokyo, as well as discover some hidden gems which can be hard to do without a guide.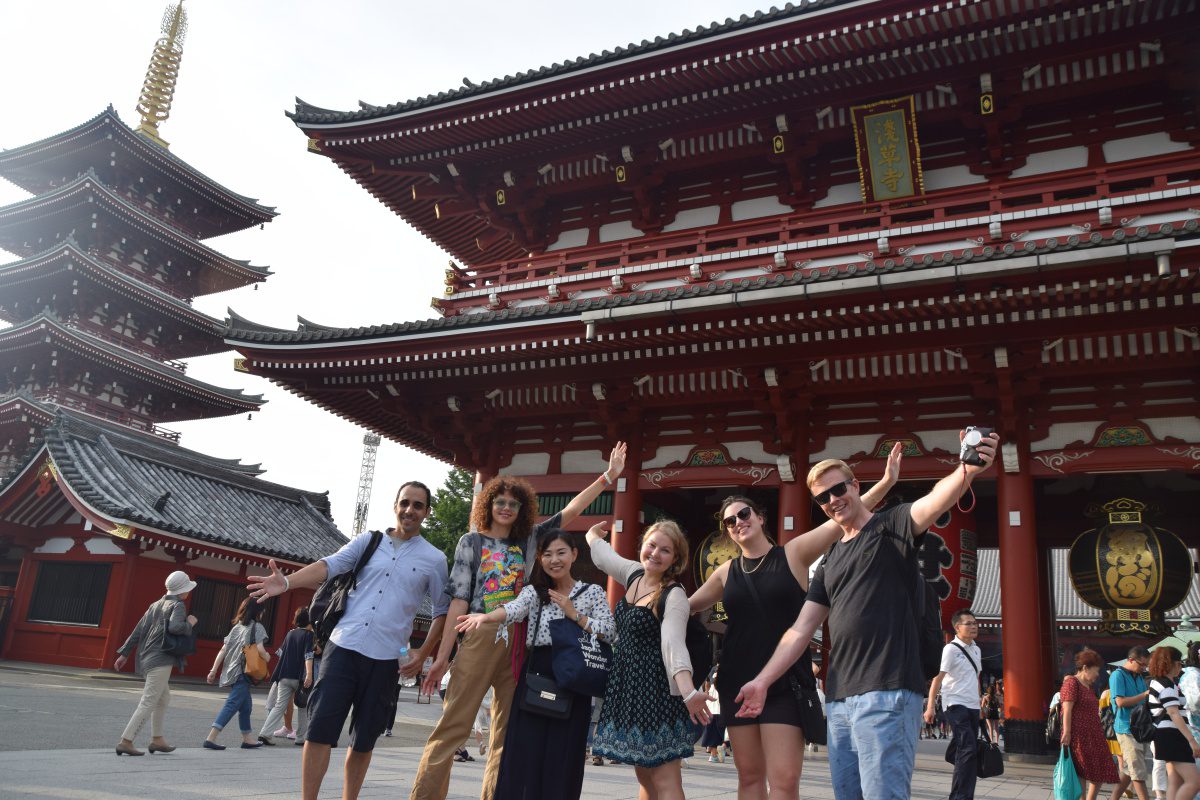 ▶Kyoto Private Full Day Walking Tour
On this full-day private tour of Kyoto, you will be able to see the highlights of Kyoto in just one day and at the same time develop a deeper understanding of both the culture of the area and Japan as a whole.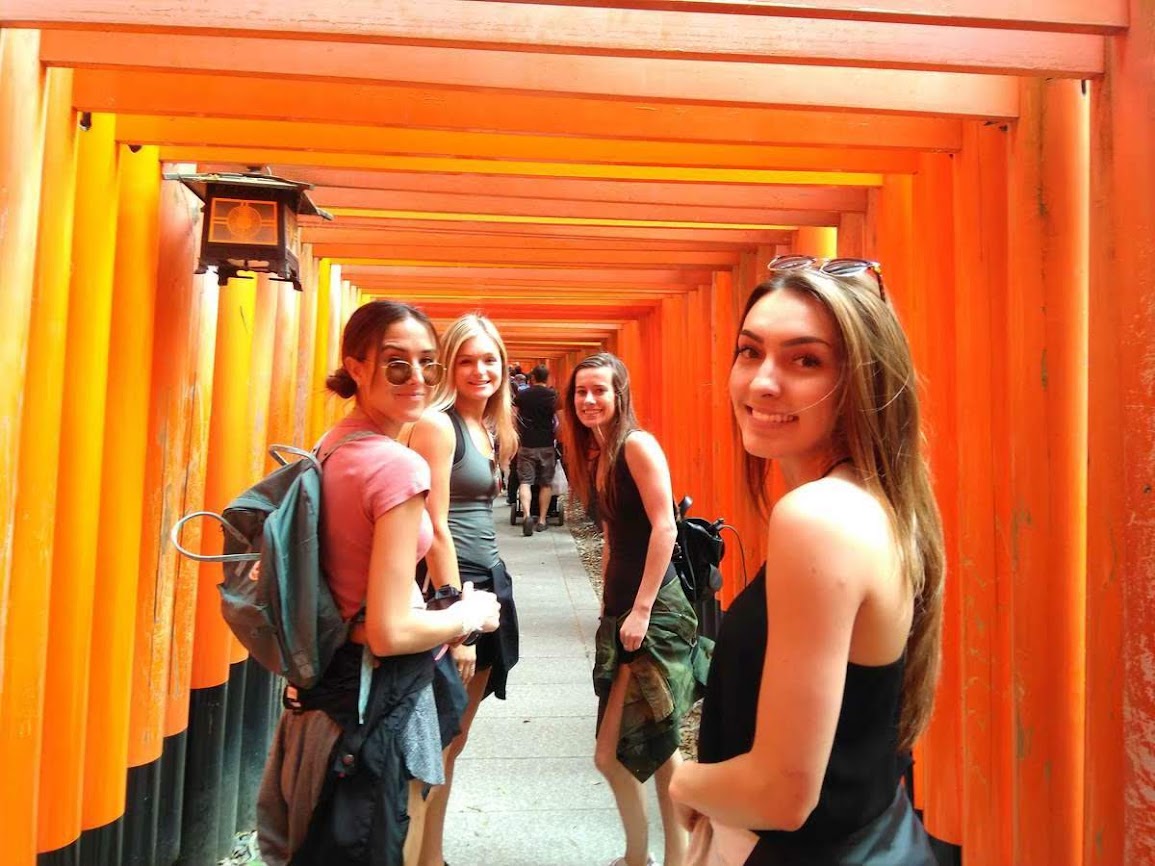 Find the other Tours
▶Tour Packages
If you want to make travel easier, we suggest you look into tour packages.There are a wide range of tour packages out there to suit the accomodate for each traveler needs. Click the button below to find the best tour package from various Tour Operators!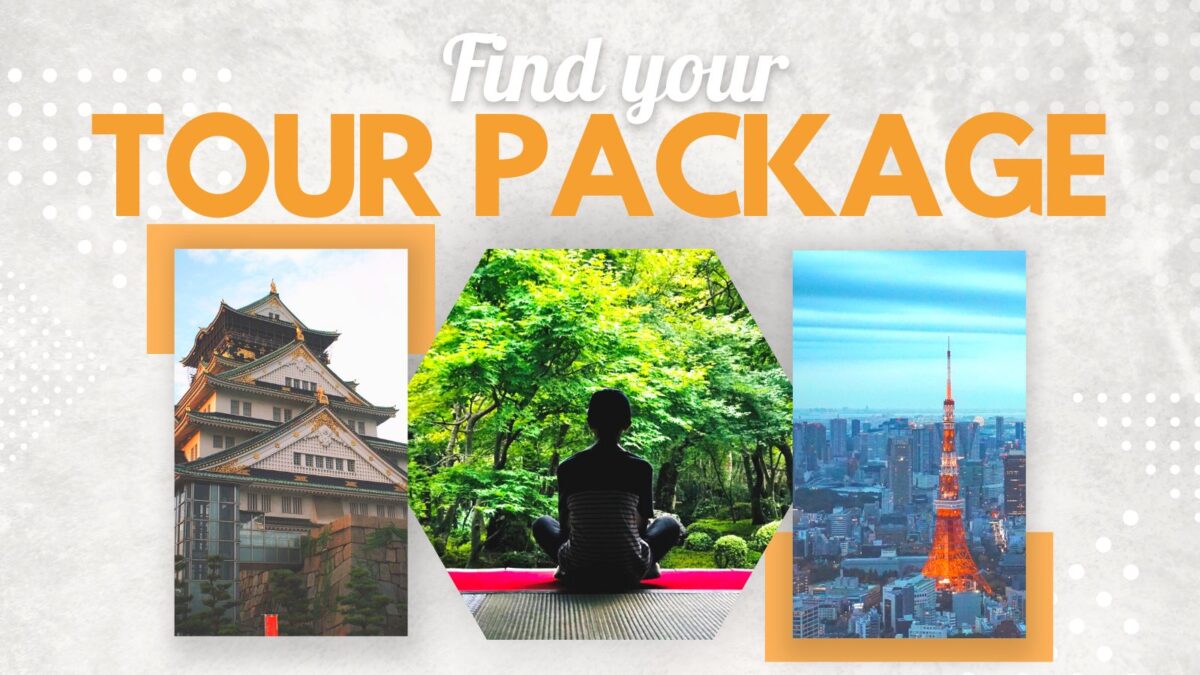 Follow us on Instagram, Facebook, Twitter, and TikTok for more travel inspiration. Or tag us to get featured!
Happy traveling!
Stay informed of the best travel tips to Japan, the most exciting things to do and see, and the top experiences to have with the Japan Wonder Travel Newsletter. Once every two weeks we will introduce you to our latest content.
Other articles you might be interested in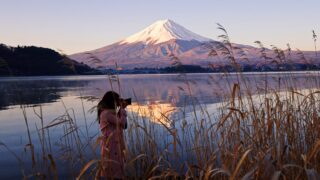 Kawaguchiko: Best Things to Do around Mt.Fuji
From Kawaguchiko you can see the great Mt. Fuji and the area is easy to access from Tokyo. In this article, we will tell you what to do in Kawaguchiko and the i...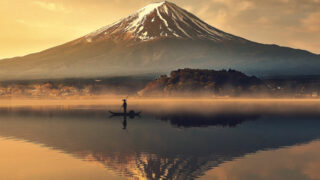 How To Travel To Kawaguchiko, Mt. Fuji area
Lake Kawaguchiko is popular destination from Tokyo. With many different options getting there, it is the easiest accessible lake of the Fuji Five lakes. In this...
---
This post may contain some affiliate links. When you click through and make a purchase we may receive some commission, at no extra costs to you.