Hiroshima is one of the most famous places in Japan next to Tokyo, Kyoto, and Osaka because of its turbulent history and beautiful nature. The city of Hiroshima is one of the destinations of the Golden Route, a popular choice of (first-time) visitors in Japan. The Golden Route stretches from Tokyo to Kyoto and loosely follows the old Tokaido Road. Other destinations included are Hakone, Nara, and Osaka. The city is beautifully located, surrounded by mountains on one side and the water of Hiroshima Bay on the other side.
Besides its beautiful location, Hiroshima is also a famous place in history, being one of the two cities where atomic bombs were dropped during WWII. Traces of the tragedy are found and honored everywhere in the city center.
Hiroshima is not far away from Kyoto or Osaka and even a one-day trip from both Kyoto or Osaka to Hiroshima is easy enough to do and worth your time, though you can easily spend multiple days in the bustling city.
Must-visit spots in Hiroshima are Itsukushima Shrine in Miyajima and Atomic Bomb Dome in the Peace Memorial Park. We make a one-day itinerary for you around those spots!
Recommended article about Miyajima:
How to get to Hiroshima from Kyoto or Osaka?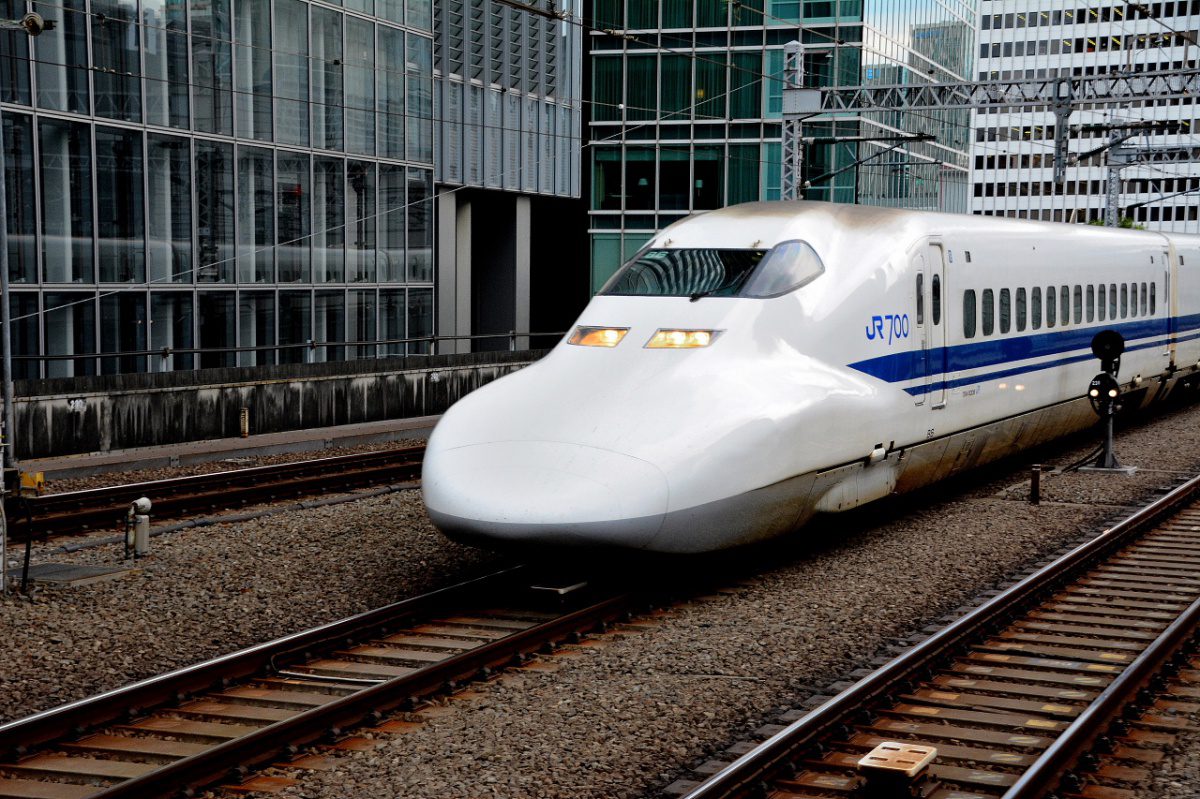 Hiroshima is located only 100-120 minutes away from Kyoto and 80-100 minutes away from Osaka by Japan's well-known Shinkansen, also known as a bullet train. 
If you have Japan Rail Pass, you can board the Shinkansen without any additional costs. However, please note there are Shinkansen you can't take with Japan Rail Pass such as Nozomi or Mizuho. Besides these two, you can pretty much take all other bullet trains. Also, you take local trains but this will add another 5-6 hours, so we would recommend to take the Shinkansen to save your time – and have more time for exploring Hiroshima.
If you don't have Japan Rail Pass and you can take any Shinkansen, then we recommend you to take Nozomi or Mizuho Shinkansen, because it is easy to go to Hiroshima from Kyoto and Osaka without any transit.
Suggested itinerary Hiroshima & Miyajima
7:20 Take shinkansen from Kyoto station
7:35 Take shinkansen from Shin-Osaka station
To make the most out of your one-day-visit to Hiroshima, we recommend you to arrive there around 9~10 am so let's take Shinkansen around 7-8am from Kyoto or Shin-Osaka Station.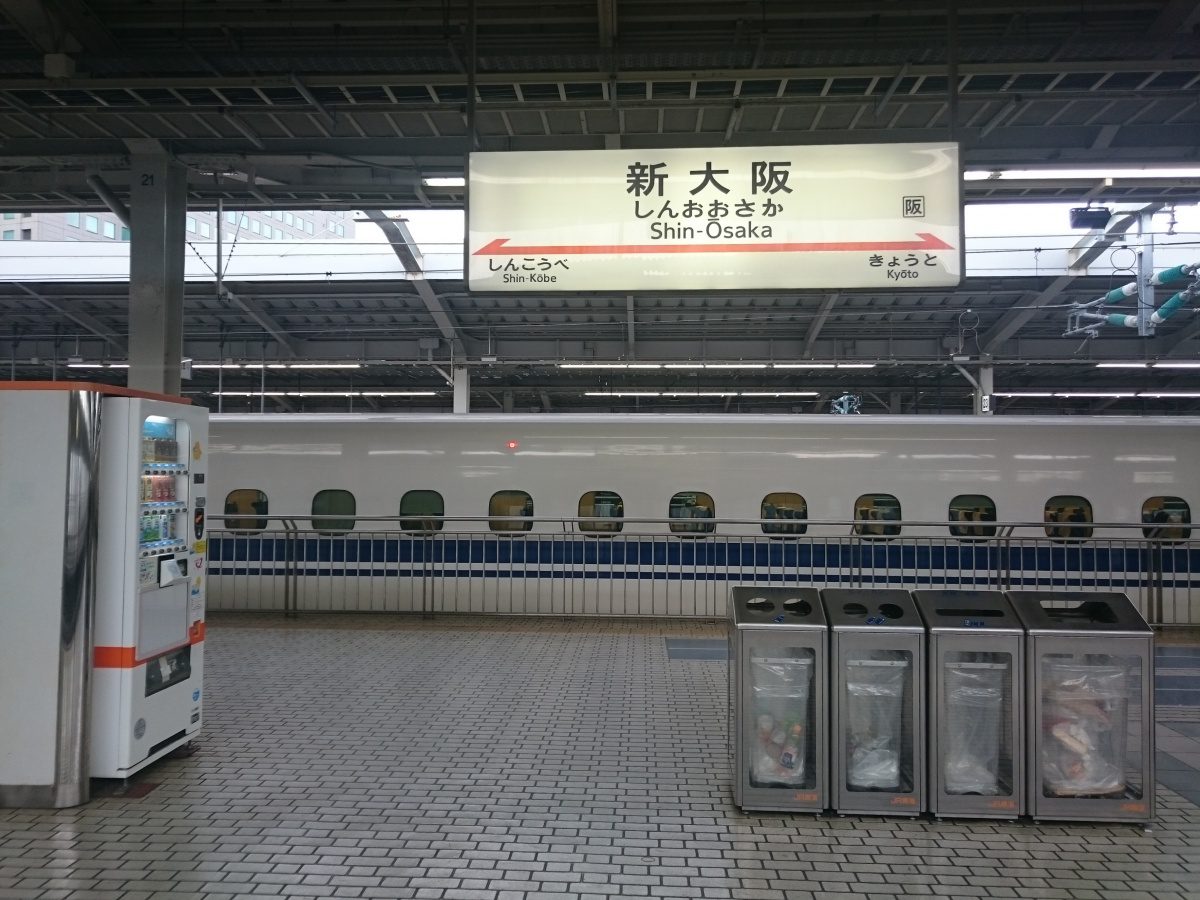 9:05 Arrive at Hiroshima Station
First destination would be Miyajima! Once you are arrived at Hiroshima station, take JR Sanyo-honsen line to Miyajimaguchi station (approx. 25 min.) You can also go to Miyajima by Hiroshima Electric Railway which is cheaper than JR but it takes longer. We recommend you to take JR line if you can, especially when you have the JR Rail Pass since it covers this train.
10:00 Arrive at Miyajimaguchi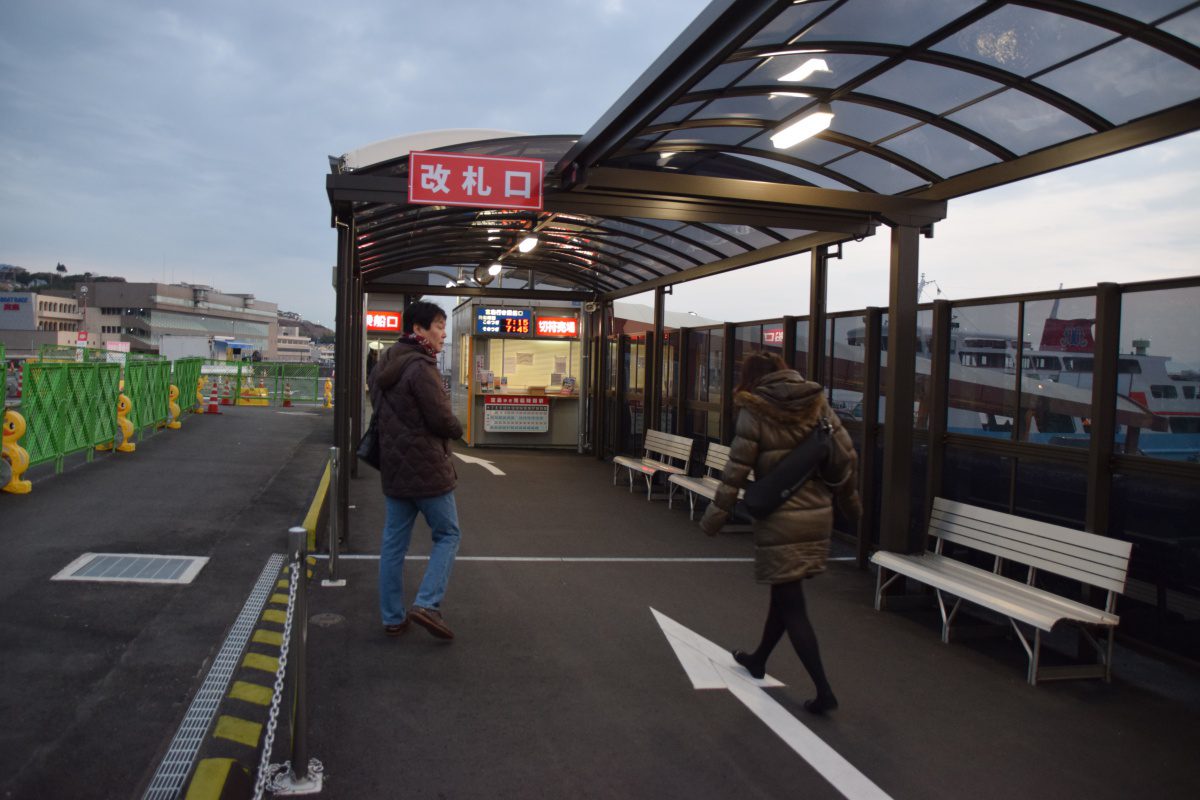 Miyajima is an island so we have to take ferry to get there. After you got to Miyajimaguchi station, walk to the ferry port. There are 2 companies operating ferries to Miyajima: JR and Matsudai Kisen. If you have Japan Rail Pass take JR ferry because it is included already. If not, you can choose either one and the price is ¥180 yen (adult) for a one way trip.
The fastest way to get to Miyajima is to take the Hiroshima World Heritage Sea Route by ferry (¥2,000 for a roundtrip) connecting the Peace Memorial Park and Miyajima island directly. This option is more expensive, but you can easily get Miyajima from downtown Hiroshima in 45 minutes without any transfers. So when you do a day trip to Hiroshima, this will earn you some extra time to use for sightseeing.
10:30 Start exploring Miyajima including Itsukushima Shrine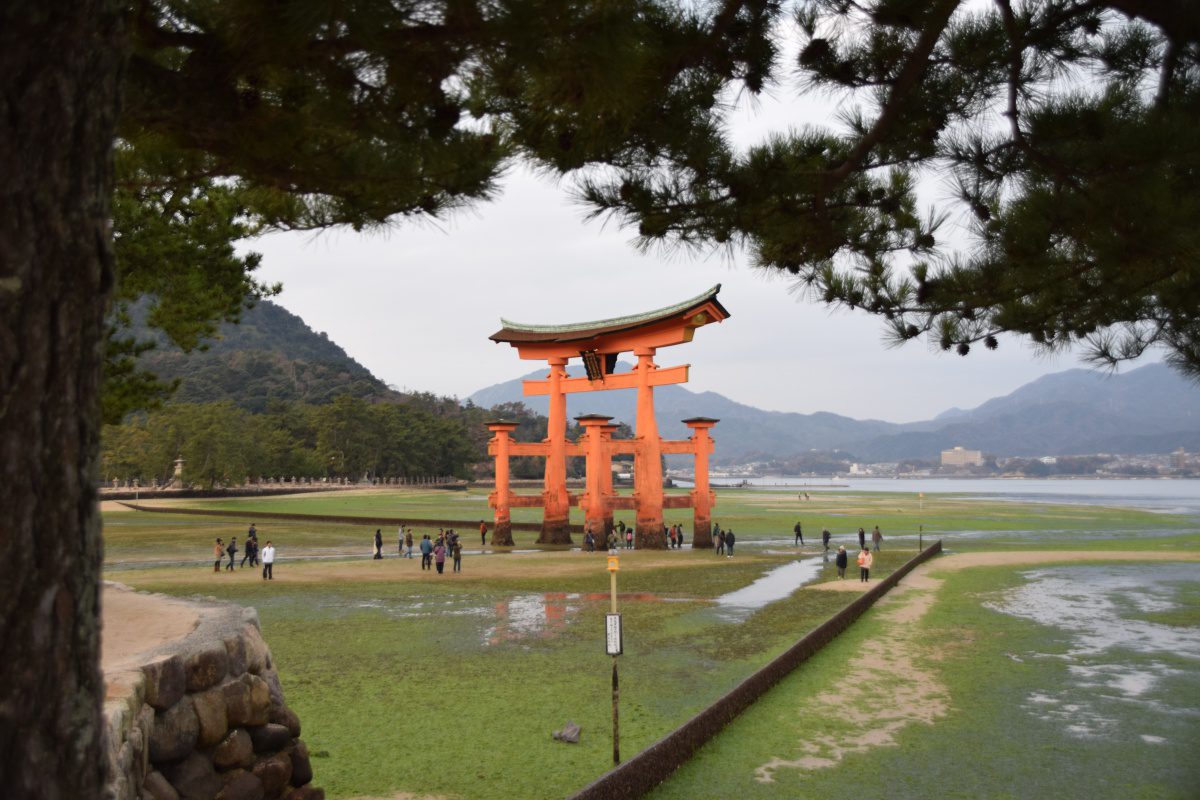 The ferry will take you in about 10 minutes to Miyajima. Soon after your departure, you will spot the famous red torii gate which looks like it is floating in the sea when it is high tide. At low tide, you can walk to the bottom of red torii gate!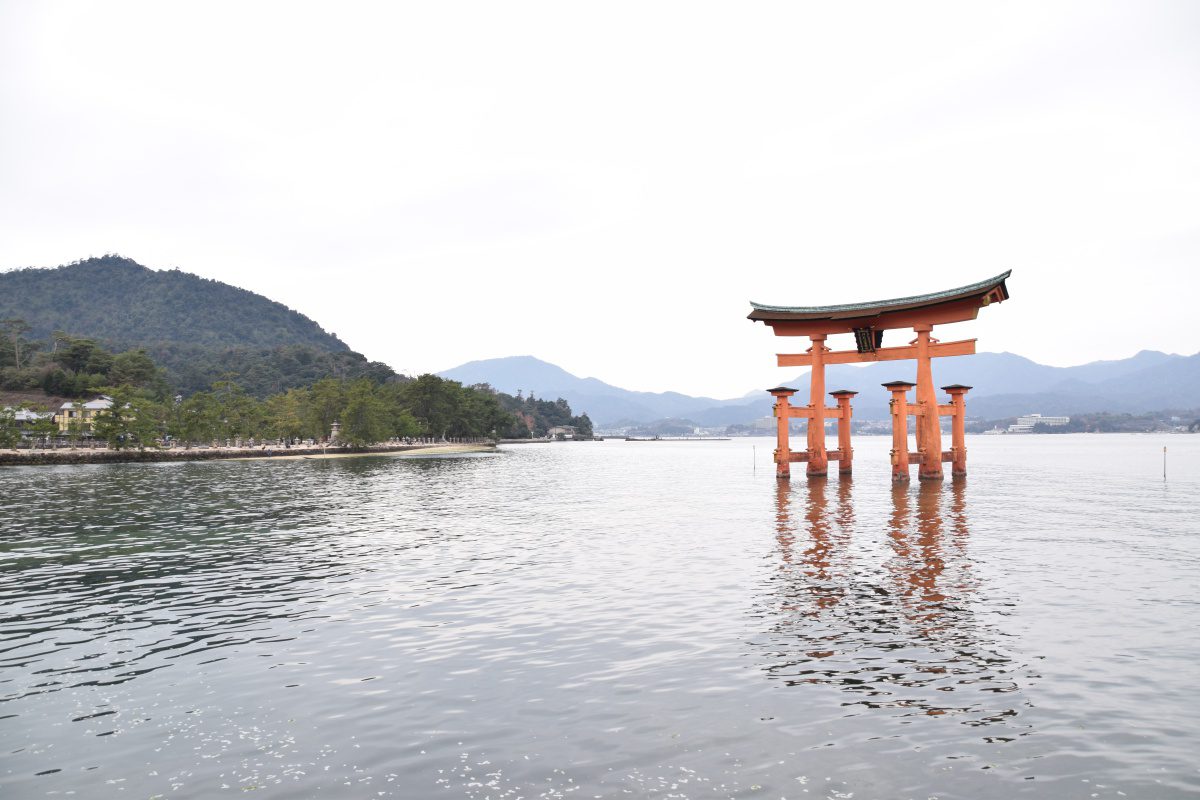 If you have enough time, we recommend you to see both high tide and low tide. If you wait for 2-3 hours, the water will come up. Check the tide time in Miyajima before you visit and see which time is the best to visit depending on your preference. We suggest you to get there when the tide is high so that it looks like the gate is floating and isn't surrounded by people.
After your arrival in Miyajima, the many deers on the island will give you a friendly welcome. You might know Nara Park is famous for its cute free roaming deer, but here on Miyajima you can spot them everywhere too! They aren't shy of people and will come and greet you. Be careful with your food around these curious creatures, they will try to get some from you.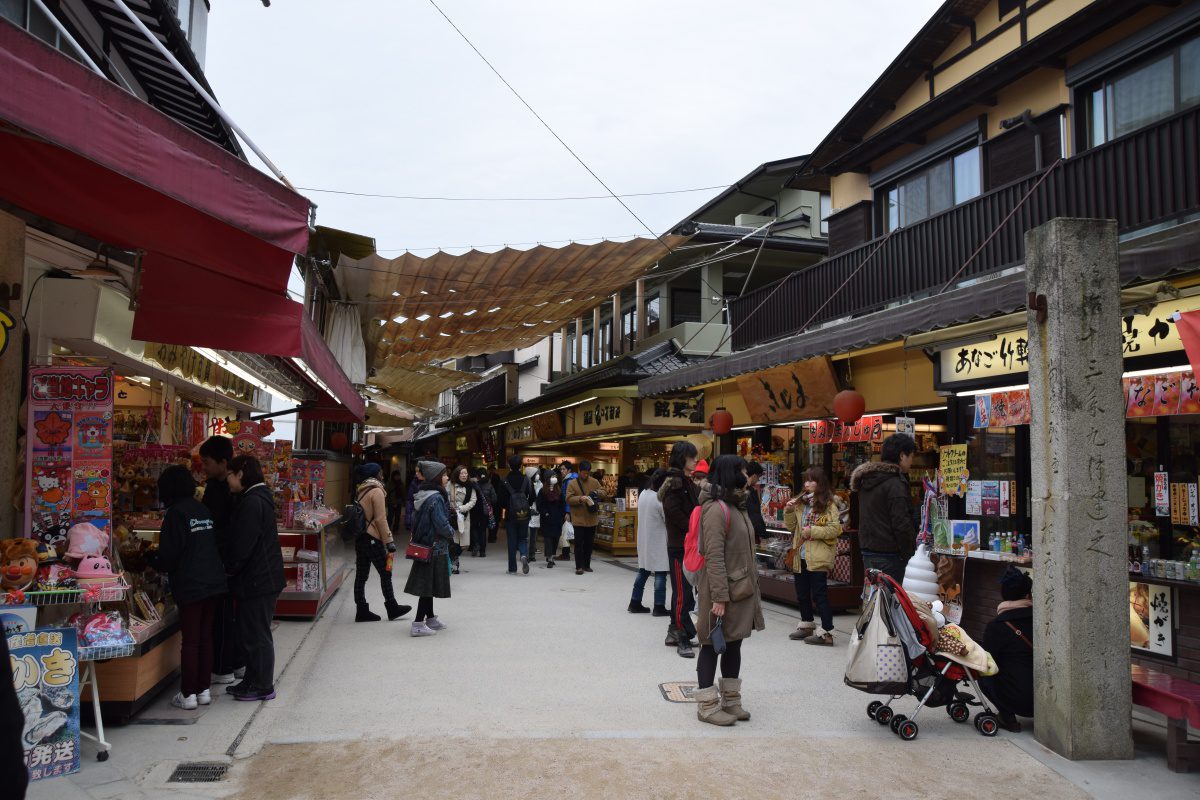 While waiting for the best tide, let's take a walk around island. From the ferry terminal to the shrine follow the Omotesando shopping street, this busy street is the busiest place in Miyajima for souvenir shops and restaurants. The area is very popular for its lemons and oysters, you will see them for sale everywhere. As well as the delicious local snack Momiji-Manju, don't forget to try these local delicacies of Hiroshima.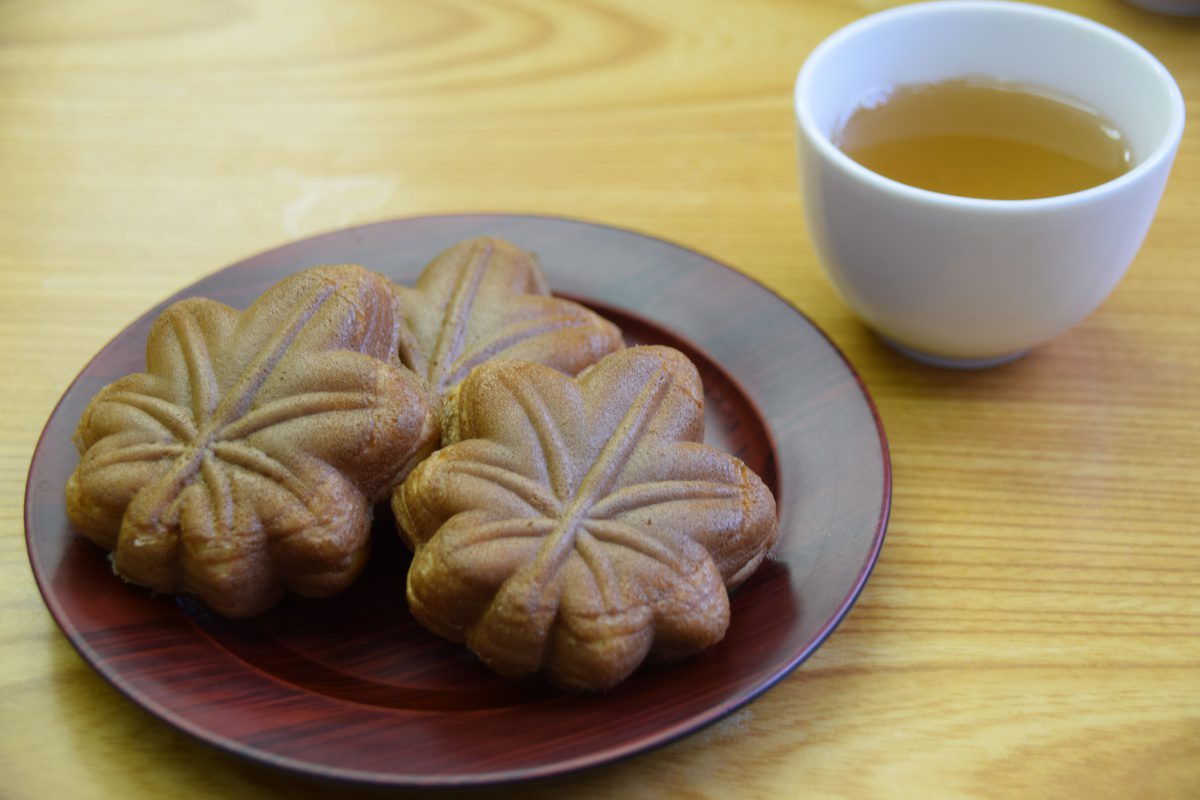 Momiji-Manju is a maple leaf shaped Manju which is Japanese sweets filling of red bean paste. There are more fillings like custard, matcha, chocolate or cheese to choose and also there are fried ones too, something for everyone!
If you have more time and can stay in Miyajima, we recommend you to go hiking in Miyama. There are several hiking trails leading up to the highest point of the island Mount Misen or you can get there by cable car ( ¥1,010 for one way, ¥1,840 round trip).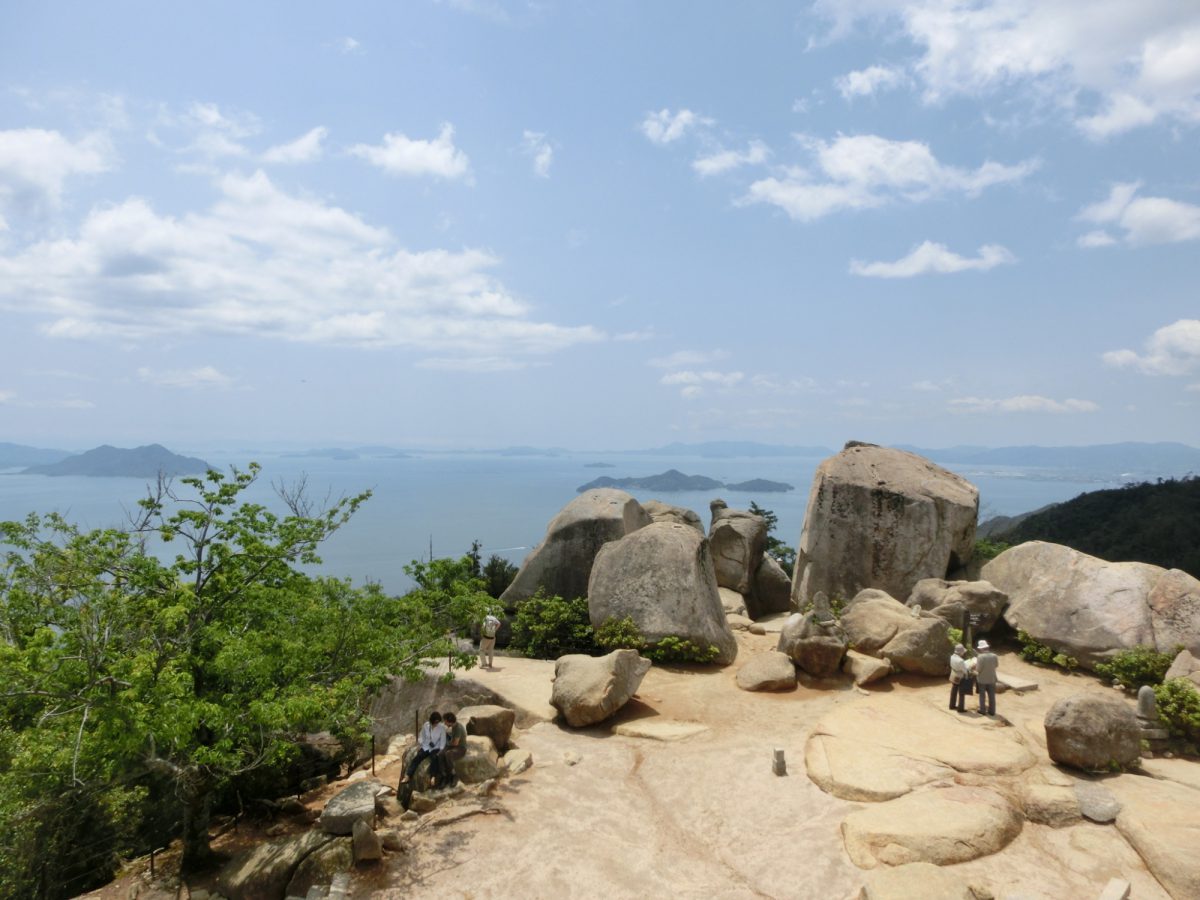 13:45 Leave Miyajima
Next stop is the Atomic Bomb Dome. To get to this impressive building, take a ferry back to Miyajimaguchi station and then take Hiroshima Electric Railway to Atomic Bomb Dome from Hiroden-Miyajimaguchi station.
15:00 Arrive at Atomic Bomb Dome and Explore Peace Memorial Park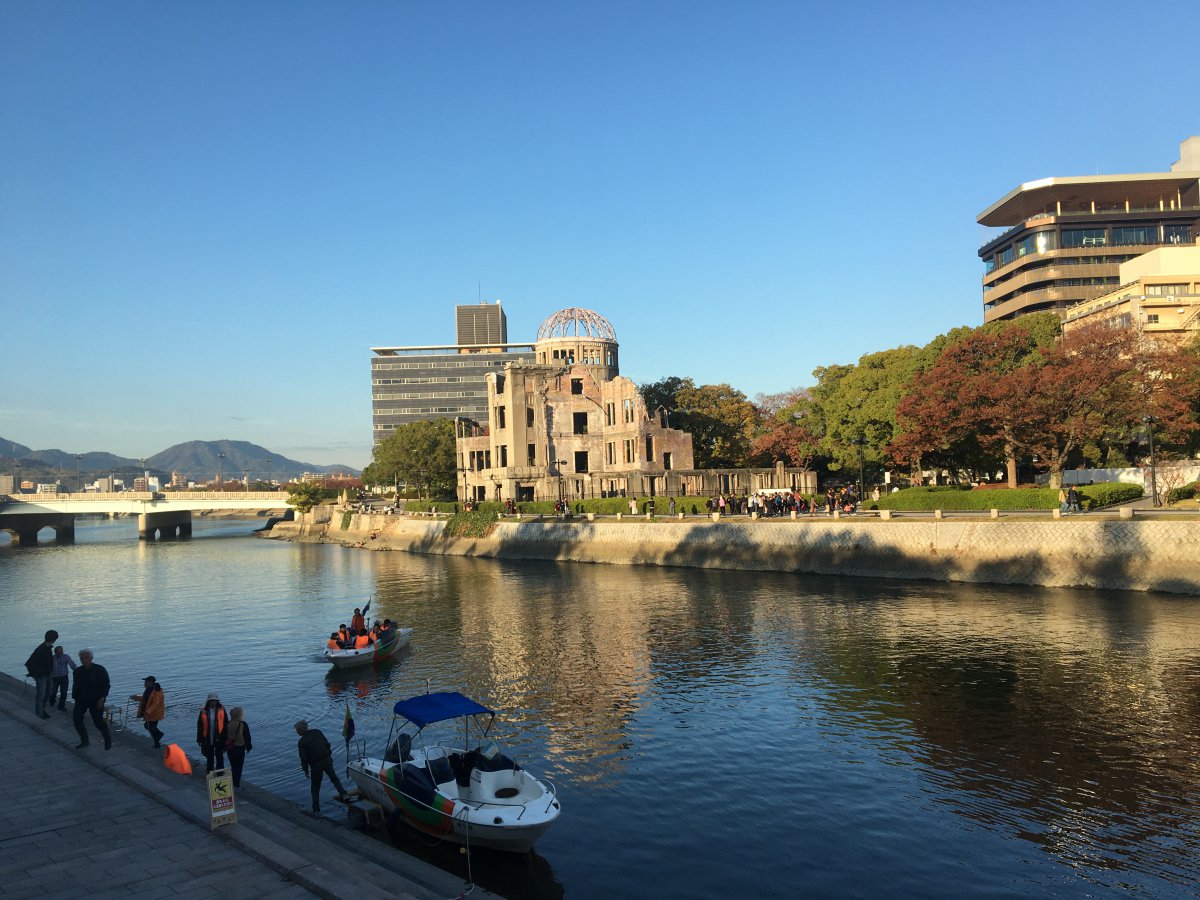 The famous A-Bomb Dome is one of the few remaining structures after the first ever atomic bomb was dropped in Hiroshima in 1945. The A-Bomb Dome is registered as World Heritage Site and is an impressive reminder of the tragedy of 1945, when two atomic bombs were dropped in Japan.
The A-Bomb Dome and the city of Hiroshima serve as a reminder to all of us today, that we should never experience such tragedy again. Each year on August 6 at 8.15, the exact time the atomic bomb was dropped in 1945, a memorial service is held at the Memorial Park. Hiroshima wants us never to forget about the disaster of 1945 and pray for world peace. As the city's slogan goes: Never Hiroshima again!
When time permits, we definitely recommend a visit to the Peace Memorial Museum. It tells the story in an impressive and memorable way. It will be life changing experience and something important you will remember from the trip. The entrance fee of the museum is set at ¥200.
To make most out of your limited time in Hiroshima and still learn about the turbulent history of the city, we recommend you join a guided tour.
Hiroshima Private Tour [Customizable 7 Hours]
【General】 ・This tour contains a lot of walking.So we recommend you to come with comfortable walking shoes. 【Pricing & Payment】 ・All payment is expected before ...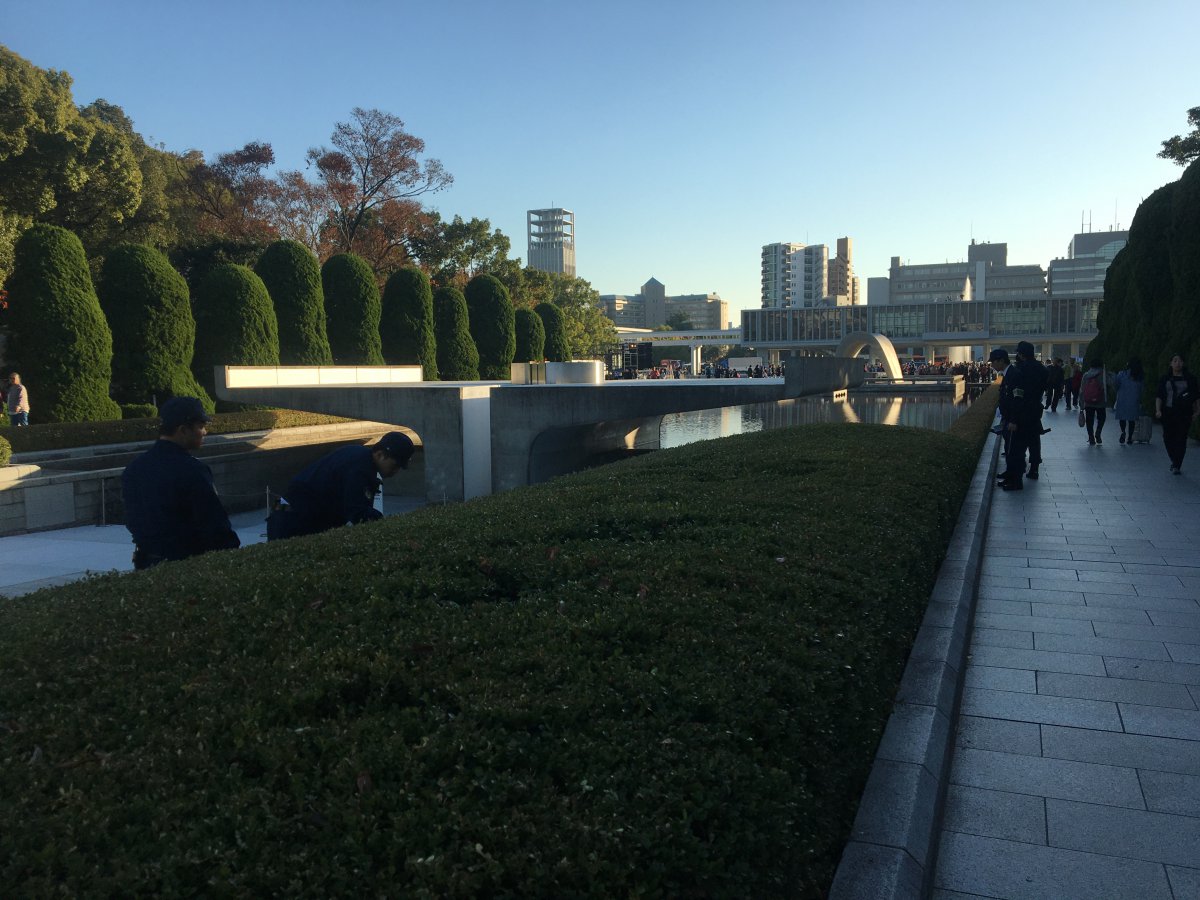 16:30 Leave Hiroshima
Walk or take train back to Hiroshima station and from there take Shinkansen to go back to Osaka or Kyoto. If you take Shinkansen around 5pm, you will be back in Osaka or Kyoto for dinner.
Recommended hotels in Hiroshima
Other activities
We hope you liked our suggested one-day trip itinerary to Hiroshima! Of course, you can switch the places around and adjust the timing of the trip. When you want to visit Miyajima in the afternoon, you can go to the atomic bomb dome in the morning. If you have any questions about planning, you can always reach out to us. We will happily assist you to make your Japan trip special!
Follow us on Instagram, Facebook and Twitter for more travel inspiration. Or tag us to get featured!
Happy travelling!
Other destinations to visit near Hiroshima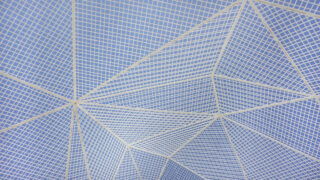 How To Get To Naoshima Island – The Contemporary Art Island
Noashima is the famous art islands located in between Kyoto and Hiroshima. When you are looking for a cultural getaway, this is a great option! In this article ...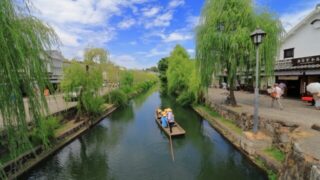 Best Things to Do in Okayama – Easy Access to Naoshima
Okayama is located in the Chugoku region. When you go to Naoshima, Okayama is a good place to stop. In this article, we introduce the best things to do in Okaya...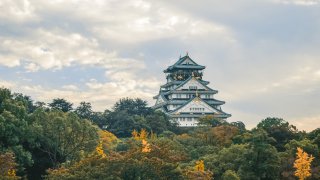 Best Things to do in Osaka – An Overview Per Area
Osaka is a great city, right in the middle of Japan. It is known for its vibrant atmosphere, rich culture and delicious food. In this article we will highlight the best places to visit in each area.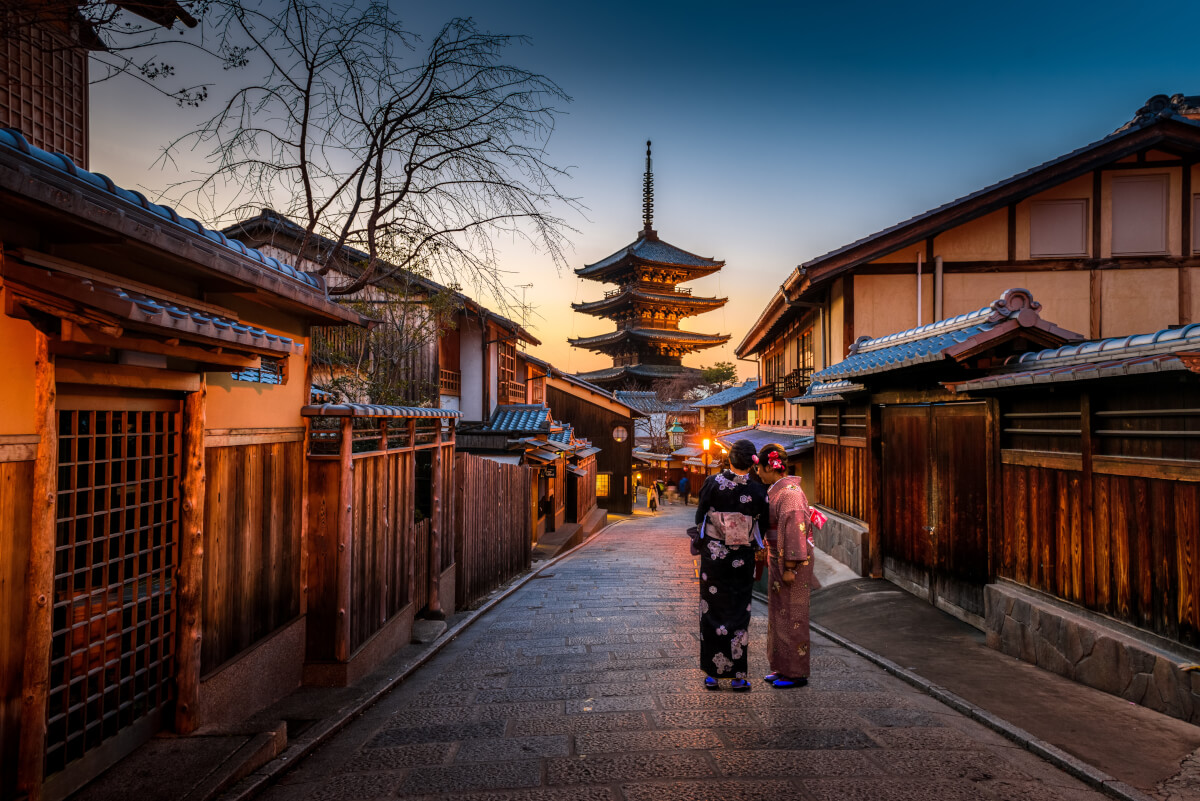 20 Popular Tourist Attractions in Kyoto – An Overview Per Area
Japan's former capital city offers a unique opportunity to experience the old, traditional culture of Japan in harmony with the fast modern life. In this article we will tell you the best places to visit per area!
---
This post contains some affiliate links. When you click through and make a purchase we may receive some commission, at no extra costs to you.