If you come to Japan during the foliage season, Kyoto is one of the famous autumn spots that is worth a visit. In ancient days, autumn leaves viewing had been appreciated for its beauty among the aristocrats. Today, many tourists flock to Kyoto to enjoy the beautiful scenery of the historical town colored with red and yellow leaves in autumn.
Here is the complete guide to the autumn leaves viewing in Kyoto, enjoy the stunning view of mountains with colorful Maple, Ginkgo, and other trees!
When is the autumn foliage season in Japan?
The best timing of the autumn foliage, when it starts coloring and ends, depends on the region. If you want to know when is the best foliage season in Japan, check this autumn leaves forecast.
▶Autumn leaves forecast in Japan
The sakura season starts in the region with a warm climate but the autumn foliage season is the opposite. It starts from the north (Hokkaido) and the latest is the south (Kyushu region).
In Kyoto, normally leaves start to change their color in late October. Hence, the best time to view autumn leaves, also known as koyo, is from mid-November to early December. Around this time, it is widely known as the best time to travel in Kyoto, and that makes it the busiest time for tourists in Kyoto.
If you want to specify the peak season of the spot you want to visit, we recommend visiting the Kyoto City Official Travel Guide. From the website, you can find out the best timing of the foliage leaves in each spot. Also, it mentions special events such as fall festivals and light-up events.
Top 10 spots for viewing the foliage leaves in Kyoto
1. Jojakko-ji Temple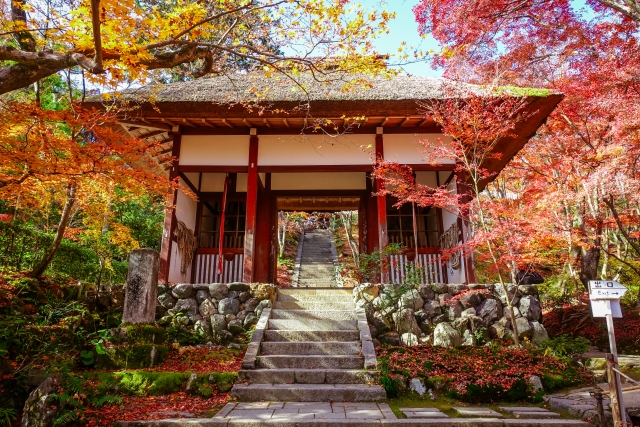 Jojakko-ji temple is not registered as a UNESCO World Heritage Site, but it certainly is one of the most beautiful temples in Kyoto throughout the year. There is a thatched roof gate, fresh green mos, a bamboo pathway, a great mountain view, and 200 maple trees. In spring and summer, you will feel as if you are in a completely different world because everything is covered with green in the temple. Only in mid-November and early December, when the maple leaves change their color, will you see the breathtaking contrast of red maples and green moss. If you come to Kyoto in November, this place is a must-visit!
Jojakko-ji Temple
¥500 yen per adult
By foot, it takes approx. 20 min. from JR Saga-Arashiyama Station, and approx. 10 min. from Arashiyama Bamboo Forest.
2. Togetsu Bridge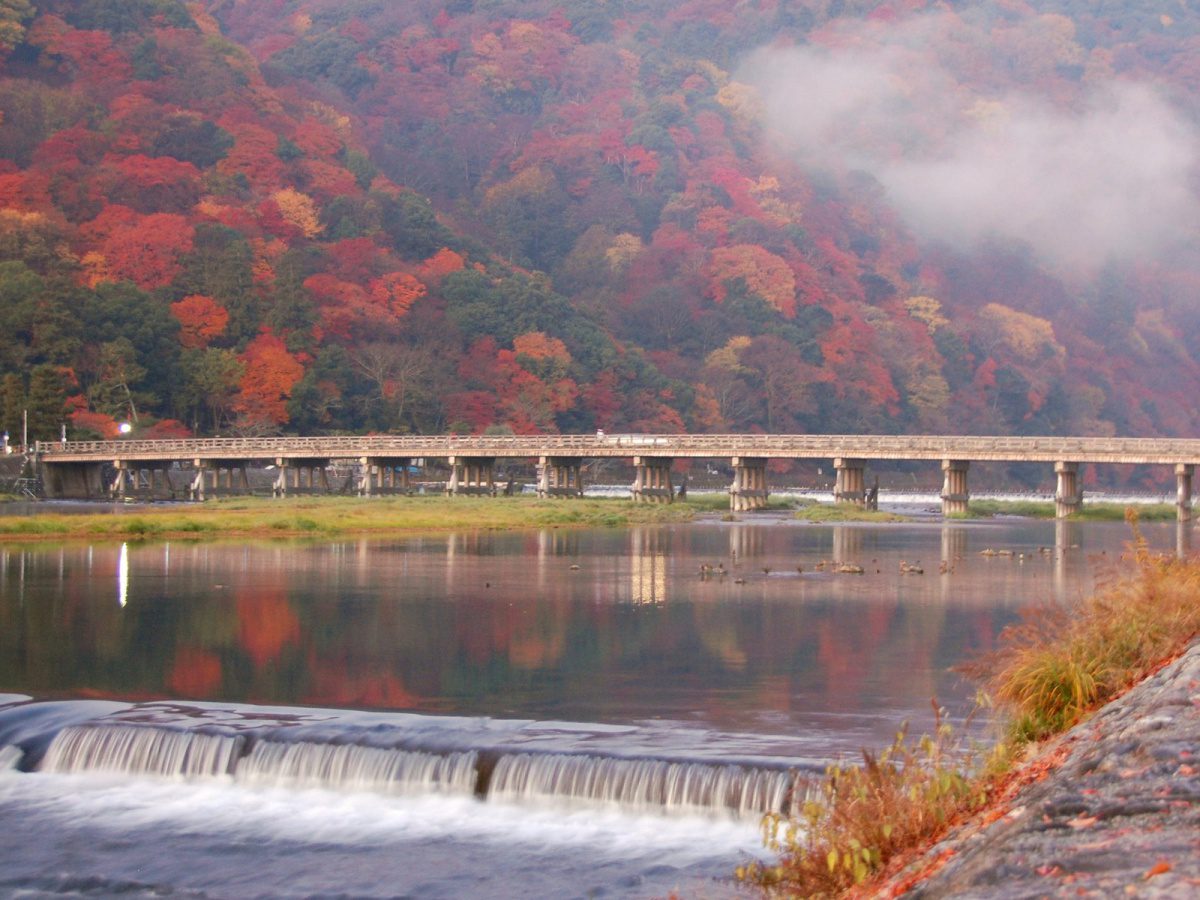 You might have seen a picture of a grand bridge across the river in Kyoto. That is Togetsukyo Bridge, the iconic bridge of the Arashiyama area. In the peak time of foliage, the whole mountain looks like big mosaic artwork. One of the best ways to enjoy the view is from the traditional boat called Yakatabune, or you can rent a rowboat.
After you enjoy the view, head to another attraction in the Arashiyama area, Monkey Park, if you have time.
3. Daikaku-ji Temple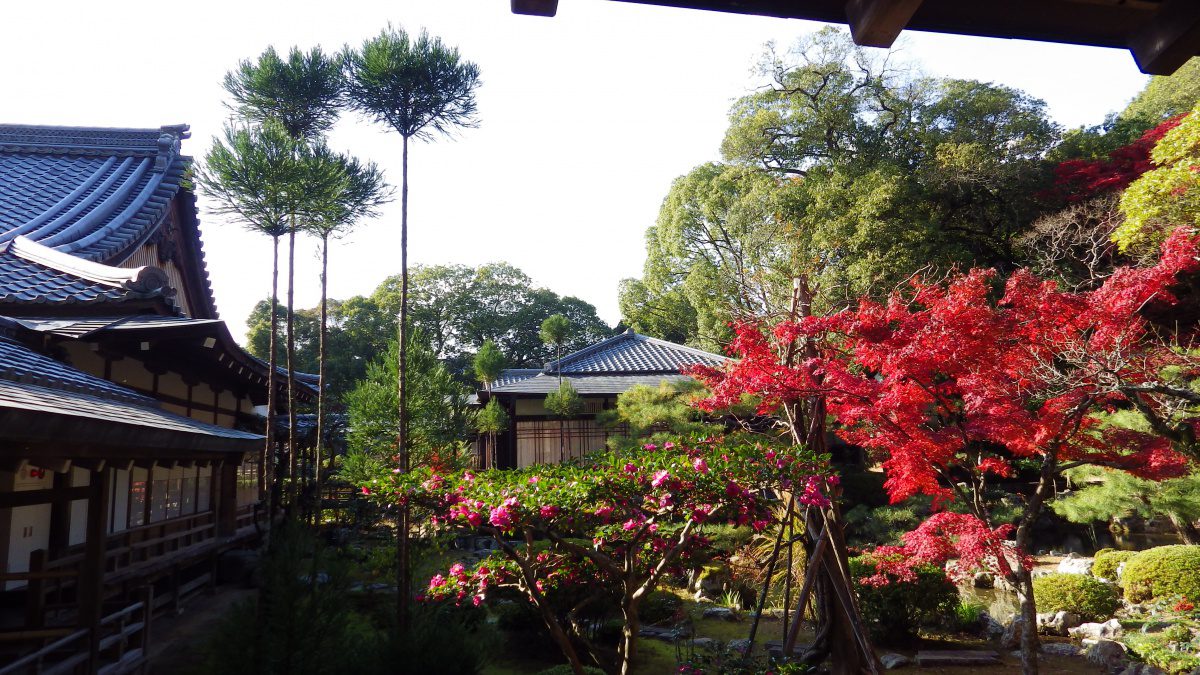 If you walk northwards for approximately 20 min from JR Saga Arashiyama Station, you'll find Daikaku-ji near a big pond. Daikaku-ji is featured in the Tale of Genji, the first novel in Japanese literature. Today, the temple is known as one of the places to feel the ancient court atmosphere and it is often used for Japanese historical movies. Since Daikaku-ji is not close to other popular tourist spots, it is less crowded than other big temples (such as Kiyomizu temple, Golden Pavilion, etc). The reflection of foliage leaves and red pagoda in the pond is called Deep Crimson Mirror.
Daikaku-ji Temple
¥500 yen per adult
Recommended time is 17:30~20:30 because of the illuminations.
4. Kitano Tenmangu Shrine
Kitano Tenmangu Shrine is mostly known for its 2,000 beautiful plum trees in early March, but also it is the spot to view foliage in late autumn. From late October to early December, their Foliage Garden is open. In this garden, hundreds of maple trees line up along the river. In the evening until 8pm, the garden is lit up beautifully and you can see the combination of the vermillion bridge and bright red maple leaves. Also, you can see the road covered by foliage like a koyo carpet.
Kitano Tenmangu Shrine
Free entrance to the shrine, Foliage Park ¥700.
From Tokyo Station take a bus for 40 minutes.
5. Genko-an Temple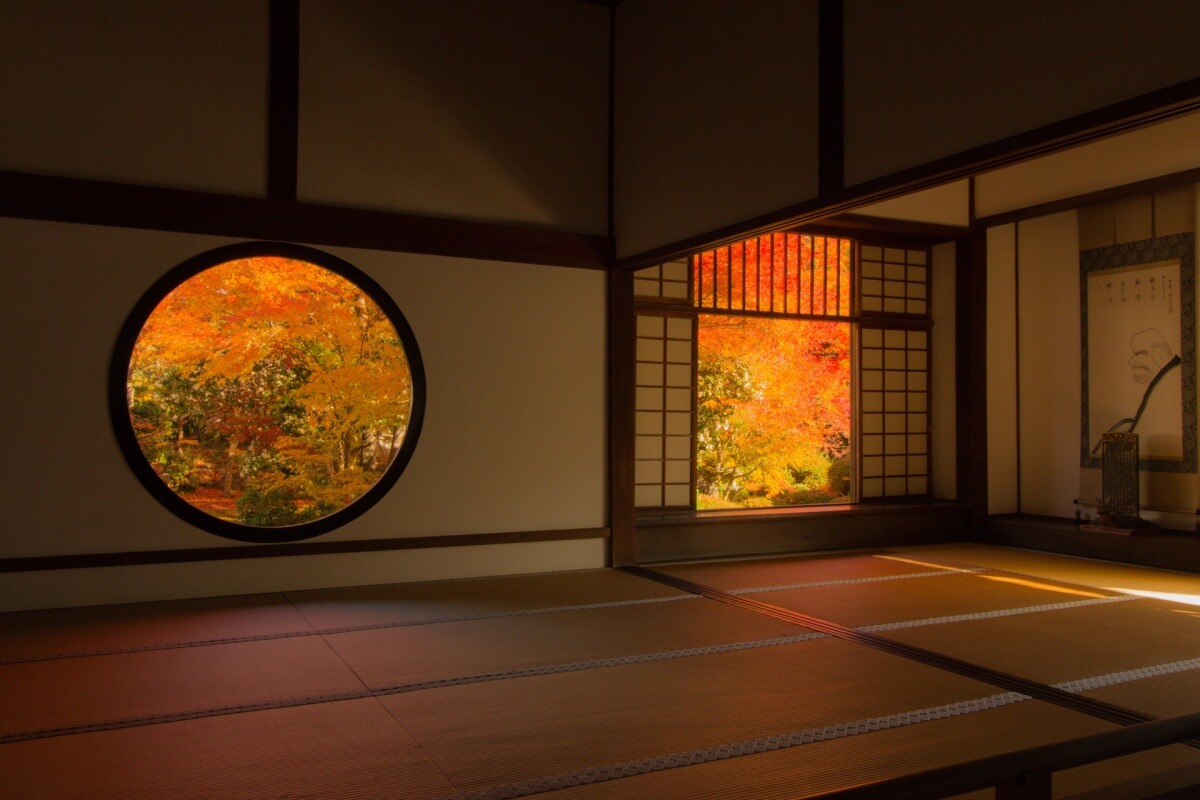 If you are a first-timer in Kyoto, you should visit Kinkaku-ji Temple (Golden Pavilion). And then, we recommend heading north. After about a 30-minute walk, you will arrive at Genko-an Temple. It's a tiny Zen temple with a round and square window called The Window of Enlightenment and The Window of Confusion. Through these windows, you can enjoy the view of the small garden with autumn foliage. This is the place where you can forget about the big crowds of tourists.
Genko-an Temple
¥500
6. Eikando Temple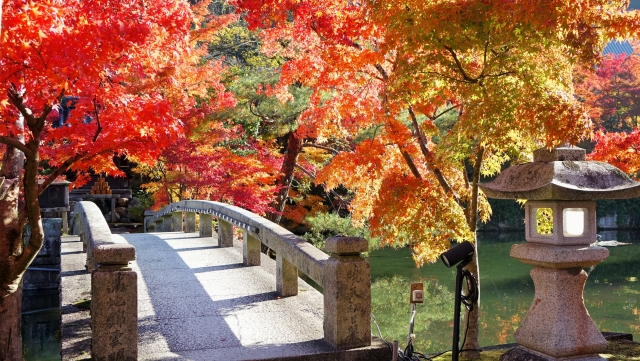 Eikando is famous for having the best of the best foliage views in Kyoto. That's why in November, many people from all over Japan come to enjoy the view of Eikando Temple. In the evening, their 3,000 maple trees are lit up. It might be crowded, but it is worth a visit. Since Eikando is located beside the end of Philosopher's Path (another scenic place in Autumn), it's nice to enjoy Eikando and Nanzen-ji after strolling Philosopher's Path.
Eikando Temple
¥600
7. Nanzen-ji Temple
Nanzen-ji is one of the most important Zen temples in Japan, constructed in the 13th century. This huge temple has many attractions. The first one is Sanmon Gate. You can go up to the deck and overlook the surrounding forests and mountains. The second feature is the ruin of the aqueduct from the 19th century. It was built when Kyoto city started the Industrial Revolution. The third and last one is their diverse Zen Garden. In Nanzen-ji, you can enjoy various styles of gardens (and if you like, have matcha tea here).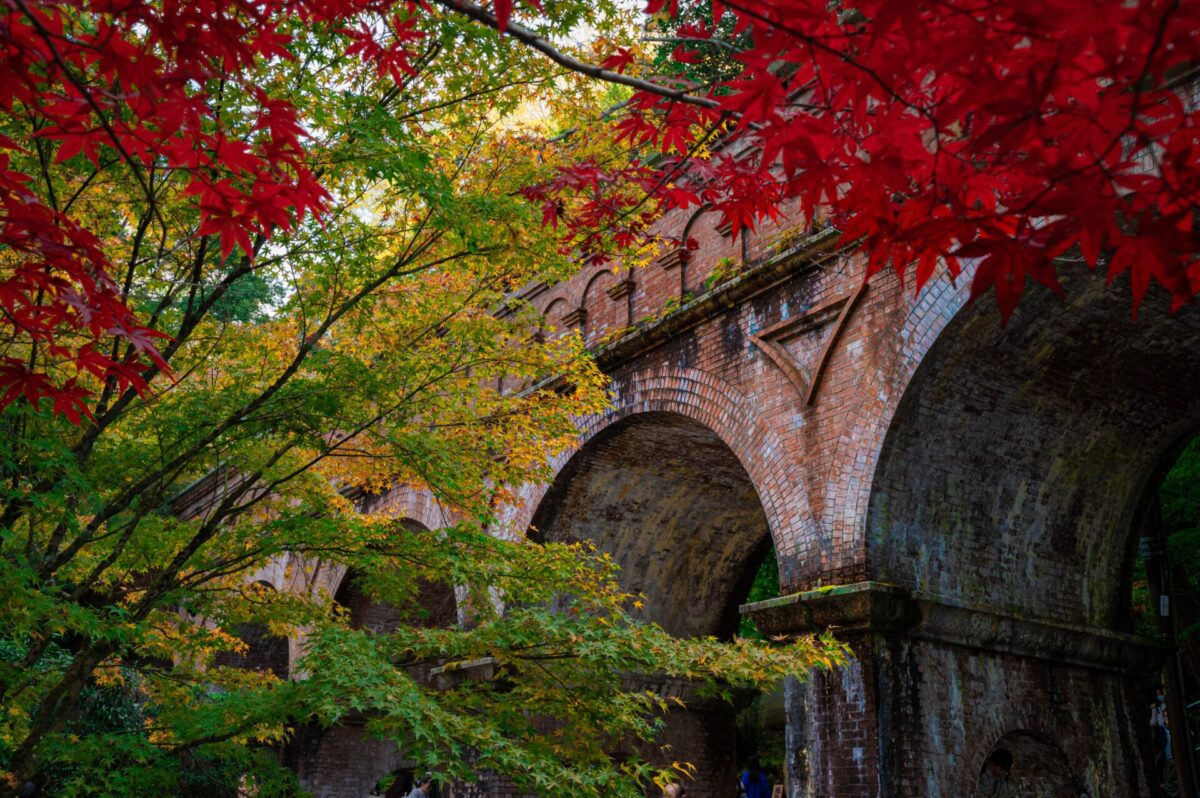 Nanzen-ji Temple
¥500 yen
8. Kiyomizu-Dera Temple
As you might know, Kiyomizu-Dera Temple is one of the most popular spots for tourists in Japan. It's the most crowded spot with many attractions. There are a lot of places to visit and keep visitors entertained throughout the year. The most famous tourist spot is its wooden stage which is just behind the main hall. The best time to see the autumn foliage from the main hall is in late November, if you have a chance, try to see the sunset on the stage which makes the scenery more magical with autumn colors.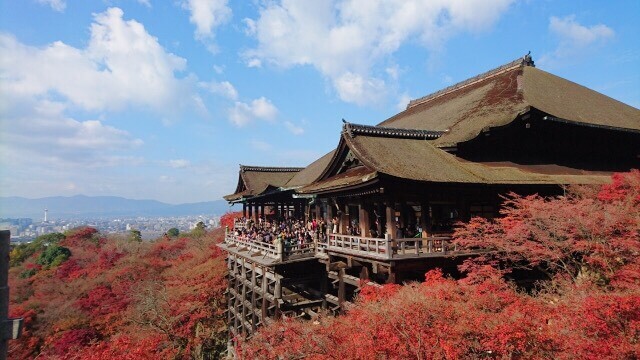 Kiyomizu-Dera Temple
6am – 6pm (extended opening times in summer).
¥400
9. Tofuku-ji Temple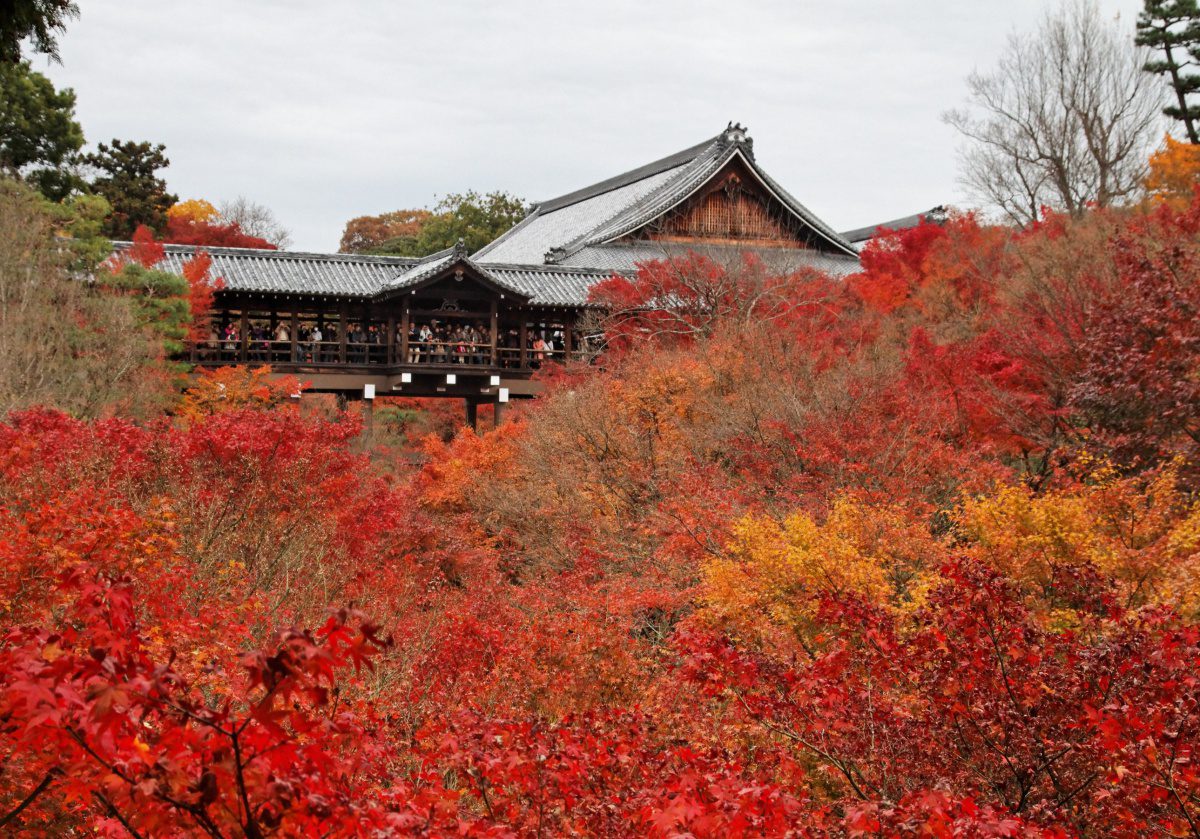 As well to Eikando Temple, another major attraction during the foliage season is Tofuku-ji Temple. There are 2,000 maple trees that change their color to red in November. Since the size is big, there are many autumn color viewing points. The most well-known viewpoint is the Tsutenkyo bridge.
Tofuku-ji is located in southeastern Kyoto, close to Fushimi Inari Shrine (the shrine famous for its ten thousand of vermilion gates). So, maybe it is a nice plan to visit Tofuku-ji before/after Fushimi Inari Shrine.
Tofuku-ji Temple
¥400
10. Bishamondo Temple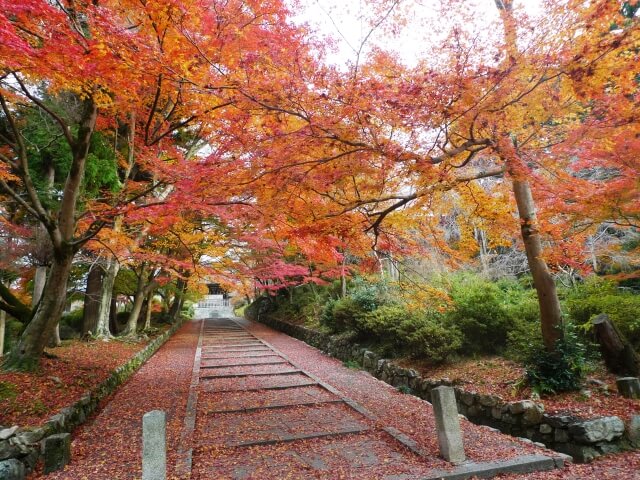 The location of Bisyamondo Temple is far-eastern Kyoto (The closest station is JR or Keihan Yamashina Station). Not very well-known, but Bisyamondo is also highly recommended to enjoy the autumn foliage view. If you come to Bishamondo during the peak of the foliage season, it will be entirely filled with red autumn colors! Being away from the center and due to the low awareness, it is a true hidden gem.
Japan Wonder Travel Tours in Kyoto
When you are visiting Kyoto and you need some help organizing your trip, you came to the right place. We're happy to help you make your trip to Kyoto the best trip ever. We can advise you on where to go or even better, show you around with a local, English speaking guide. Let us help you create safe, comfortable, and unforgettable memories in Kyoto!
▶Kyoto Private Full-Day Walking Tour
On this full-day private tour of Kyoto, you will be able to see the highlights of Kyoto in just one day and at the same time develop a deeper understanding of both the culture of the area and Japan as a whole.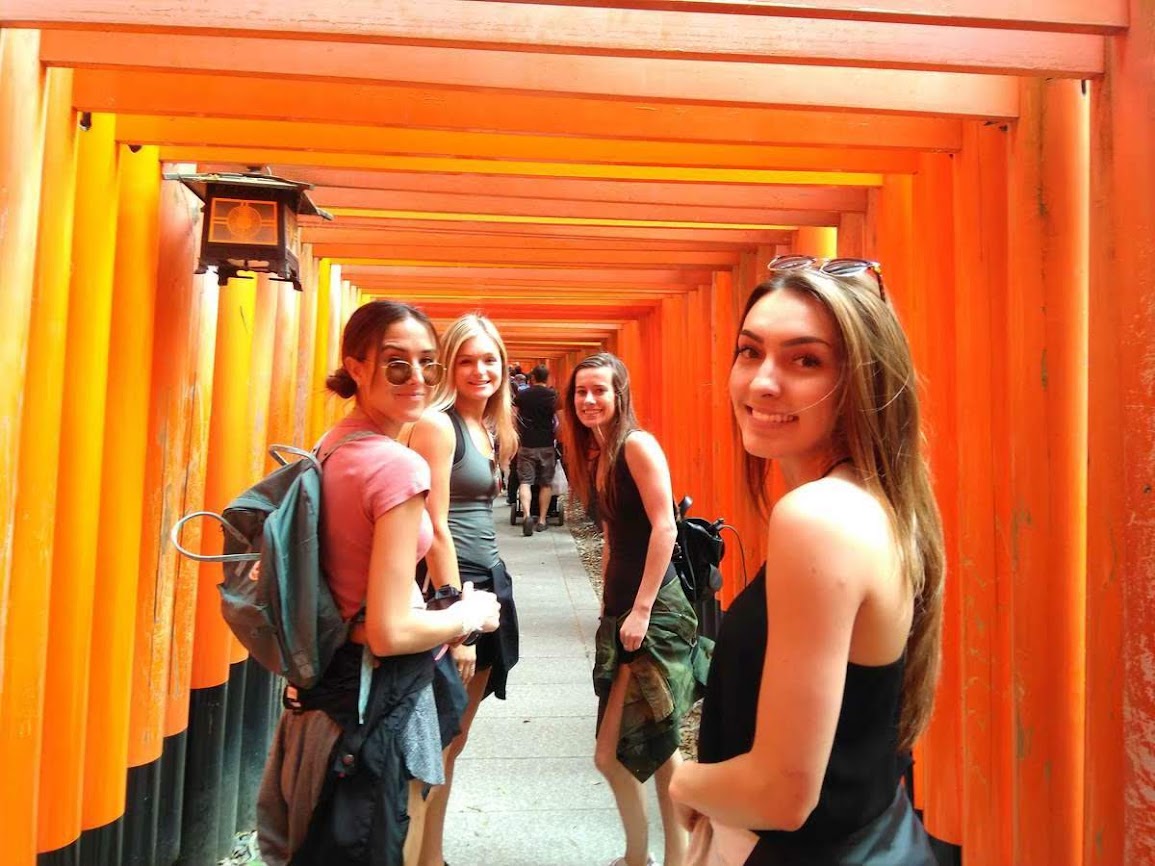 ▶Total Kyoto Experience
If you only have a day or two in Kyoto, we offer a full-day tour of the city, enabling you to immerse yourself in and fully enjoy the entire city of Kyoto in just 10 hours!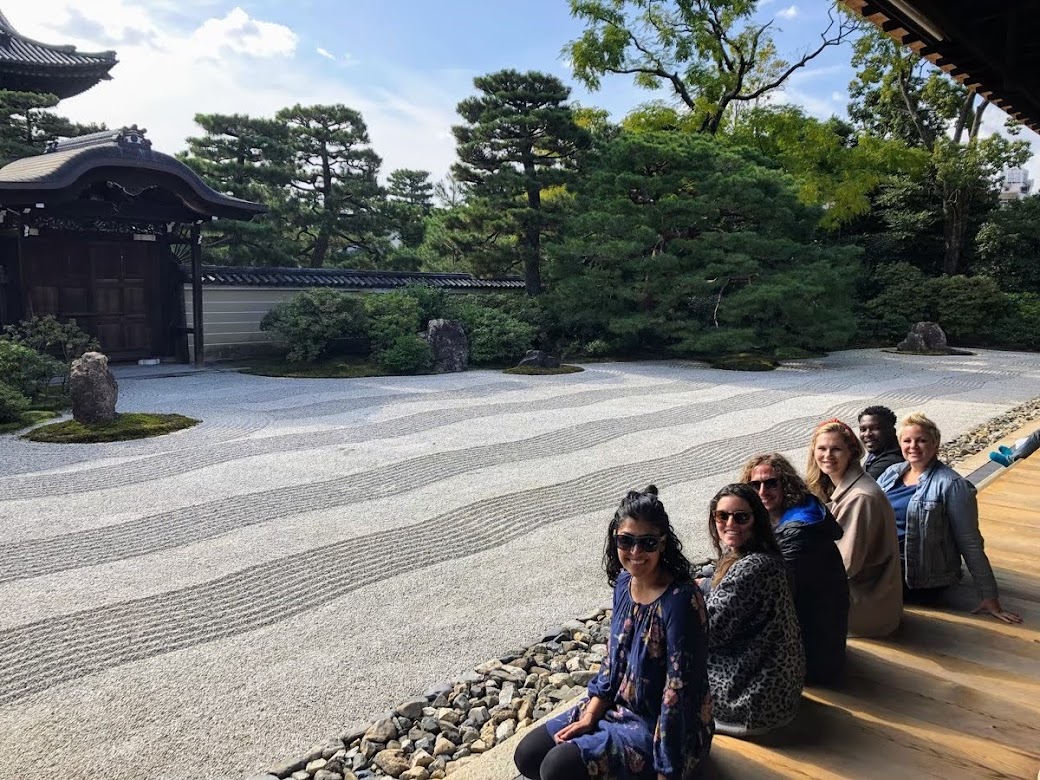 ▶Kyoto Food and Drink Tour @Nishiki Street
If you're looking to learn more about the culture and the local cuisine of Kyoto, this is the perfect tour for you! Take part in this Kyoto food and drink tour and explore the 400-year-old market and the famous surrounding areas.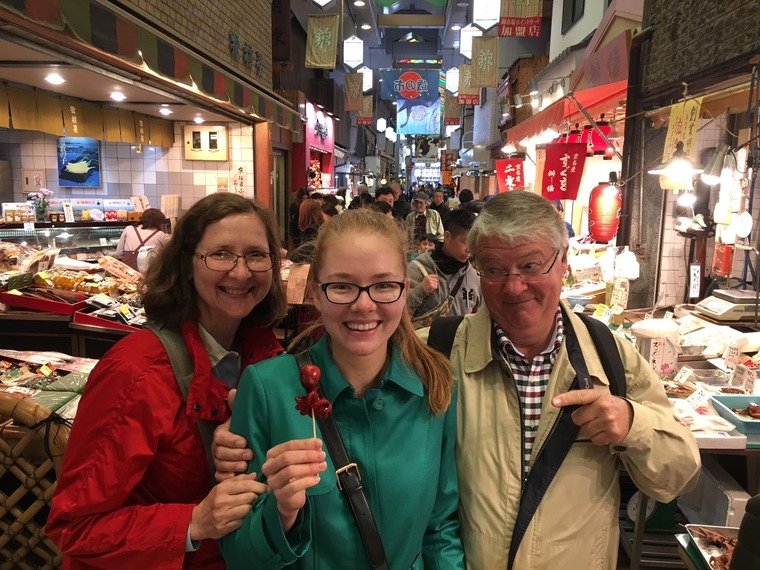 Find the Other Tours
▶Tour Packages
If you want to make travel easier, we suggest you look into tour packages.There are a wide range of tour packages out there to suit the accomodate for each traveler needs. Click the button below to find the best tour package from various Tour Operators!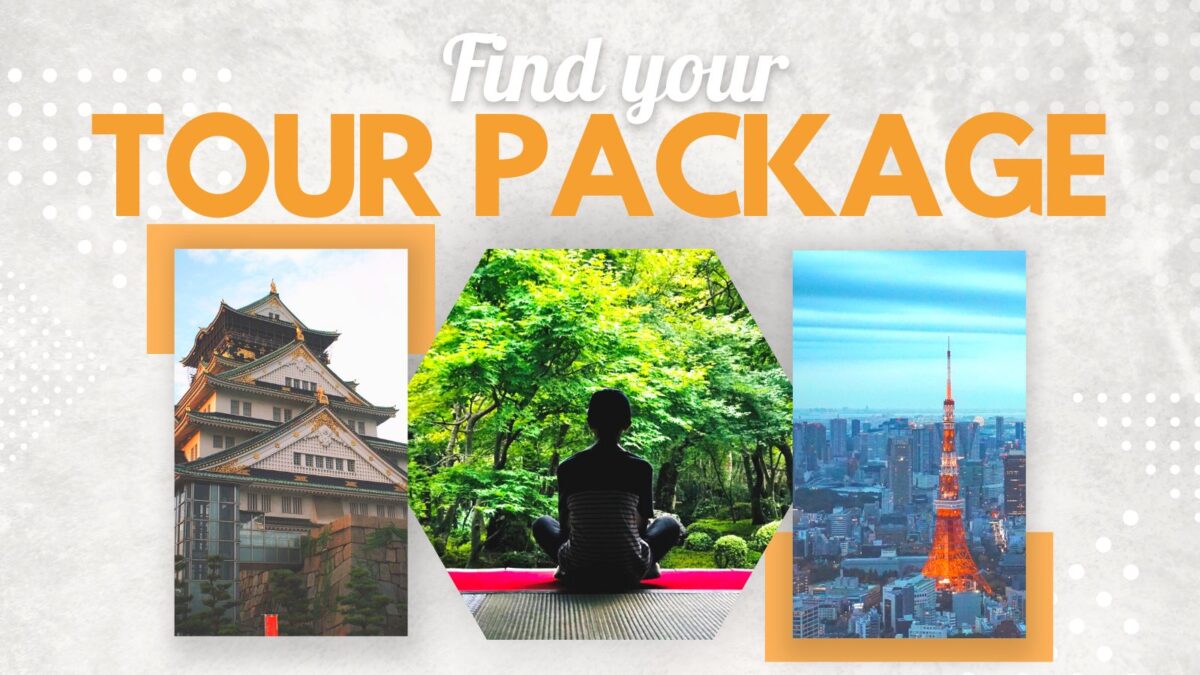 We hope you will have a wonderful time in Kyoto. Where in Kyoto would you like to go and see the beautiful autumn colors?
Follow us on Instagram, Facebook and Twitter for more travel inspiration. Or tag us to get featured!
Happy traveling!
You may also like below articles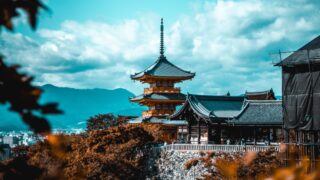 25 Best Things to do in Kyoto
Kyoto is one of Japan's most historic cities in the entire country. From temples to shops to scenic views, there isn't anything this city doesn't have. Here are some of the best things to do in Kyoto.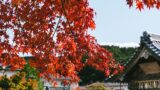 Autumn in Japan 2023: Fall Colors 'Koyo' Forecast and Viewing
In autumn, colorful foliage known as koyo can be enjoyed throughout Japan. In this blog, we will give you an introduction to the expected schedule for the best time to see the autumn leaves all around Japan for 2023!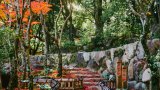 10 Best Autumn Destinations in Japan 2023
Here are the best autumn destinations that you can enjoy colorful leaves and the beautiful scenery that you can only see during the season.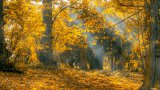 11 Best Places to See Autumn Leaves in Tokyo 2023
The most fun, beautiful, and healthy activities in autumn is going out to enjoy "color change of leaves," koyo in Japanese. We've carefully selected some special spots around Tokyo.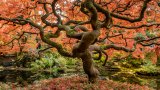 20 Places to See Autumn Leaves in Japan 2023
Autumn season is coming and it's time to enjoy the autumn colors around Japan! Let's start planning where to go, here are the list of the best places for autumn color viewing in Japan.