If you are thinking about visiting Kyoto, Arashiyama is a must-go. It's located on the western outskirts of Kyoto and it has a lot of tourist spots and experiences that you can't have anywhere else in Kyoto. For example, explore the famous bamboo forest, rent a boat sail on the Katsura River, and visit some of the most beautiful zen gardens, temples, and shrines. Even if you are not strongly interested in typical Japanese tourist spots such as temples or shrines, you can have a great time there while surrounded by plenty of nature. There are several great hiking options suitable to all levels of hikers. The area is beautiful all year around but hugely popular during the cherry blossom and fall color seasons. In this article, we will tell you how to get there and places to visit in order to make the most of your time in Kyoto!
▼Check out the best tour in Arashiyama
Kyoto Food and Drink Tour @Arashiyama
Our Arashiyama food walking tour takes you on an intriguing, fun, and informative adventure where you will get to taste street food around the Arashiyama area! ...
How to get to Arashiyama
There are two ways to get to the Arashiyama area from the center of Kyoto; you can use public transportation or if you are feeling more adventurous you can rent a bicycle and cycle to Arashiyama in about 30 minutes.
Getting to Arashiyama by train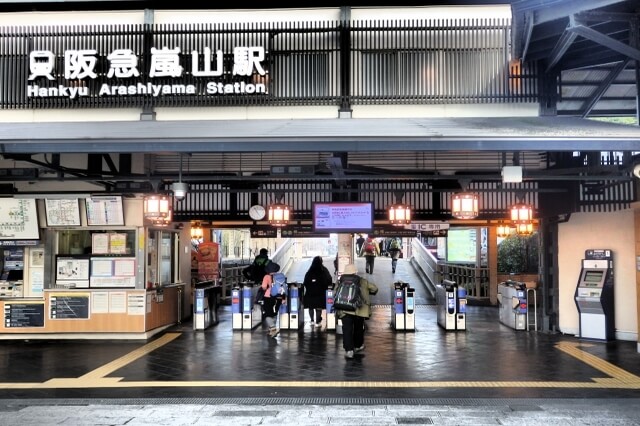 The fastest way to access Arashiyama is by train, and if you have the JR Pass it is also the cheapest. If you want to use JR, you can take the JR Sanin-honsen Sagano Line from Kyoto Station. There is no need to change trains, as it goes directly to JR Saga-Arashiyama Station from where you can start exploring the Arashiyama area. It takes around 16 minutes and costs ¥240 per adult.
If you prefer to take the subway, you can take Karasuma Line from Kyoto station and transfer to the Hankyu Electric Railway Kyoto-honsen at Shijo station. You need to continue your journey and change again from Katsura Station to Arashiyama Line to get to Arashiyama Station. It may sound complicated as you need to change trains. However, Arashiyama Station is slightly closer to the main tourist attractions than JR Saga-Arashiyama Station.
Getting to Arashiyama by bicycle
From the center of Kyoto, you can also travel to Arashiyama by bicycle. The trip takes about 45 minutes which is a bit long, but one of the most convenient and enjoyable ways to discover the area around Arashiyama. There are quite a few interesting spots scattered along the foot of the mountain and cycling through the rural area is a great way to discover a larger part.
Keinawa cycling course connects Wakayama, Kyoto, and Nara prefectures. You can cycle smoothly without stopping at the traffic lights on this route to Arashiyama.
If you don't want to cycle all the way from the center of Kyoto, you can also rent a bicycle near the train stations in Arashiyama.
Booking a cycling tour beforehand is also a good idea so that not only can you rent a bicycle but you can explore the area with a fun and knowledgeable native English-speaking bilingual guide!
1. Kimono Forest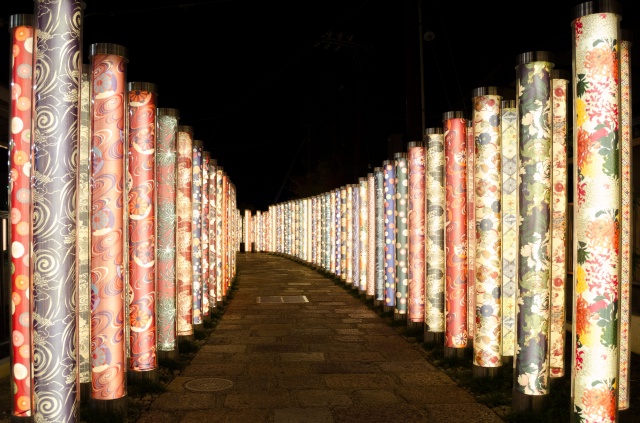 Arashiyama Kimono Forest near Arashiyama Station is a colorful art installation, made of about 600 backlit pillars adorned with vibrant kimono textiles. It is a wonderful surprise for tourists, especially at night when the pillars are illuminated. You can walk through the Kimono Forest free of charge. It is a perfect place to come after a day of exploring all the interesting sights in Arashiyama and unwind while you soak your tired feet in the free boot bath that you will find on the central platform of the station.
Enjoy the Kimono Forest to the fullest with renting a Kimono!
2. Togetsukyo Bridge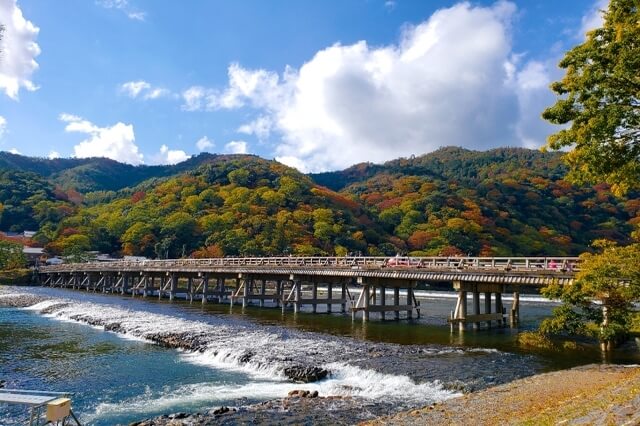 Togetsukyo Bridge is a 155-meter-long bridge which is built over the Katsura River. It is often referred to as an iconic structure in the Arashiyama area, and you can find photos of it in almost all Japanese travel guidebooks. Wood is used for some parts of the bridge, including the handrails, and other fundamental parts such as piers are made of reinforced concrete in order to strengthen the durability. It is only a couple of minutes' walk from Hankyu Railway Arashiyama station. Once you cross over the bridge, you can start exploring the main sightseeing street and spots in Arashiyama.
The history of Togetsukyo Bridge dates back around 1,200 years ago when the first one was built by a Buddhist monk. The name of the bridge is sometimes translated as "Moon Crossing Bridge", as Emperor Emeritus Kameyama (in the Heian period) described the scenery as if the moon was moving across the bridge.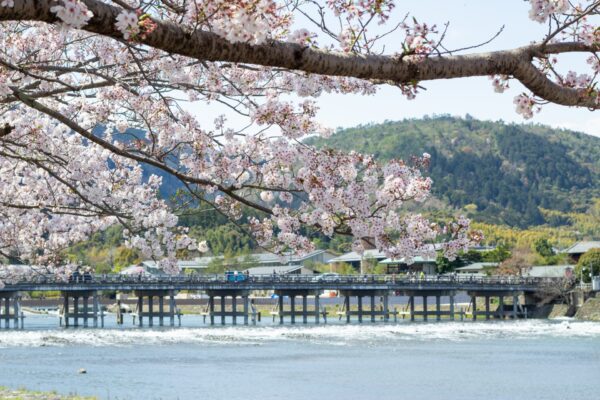 The mountain standing in the back is called "Arashiyama Mountain", and we recommend you take some time to look for a perfect location to take photos of the bridge and the mountain altogether before you rush to cross the bridge! From the bridge, you can take only photos of the mountain, and it looks less impressive compared to the combination of the bridge and the mountain! As the seasons change, the mountain offers different appearances with several plants such as cherry blossoms in spring and colored leaves in fall.
3. Arashiyama Bamboo Groves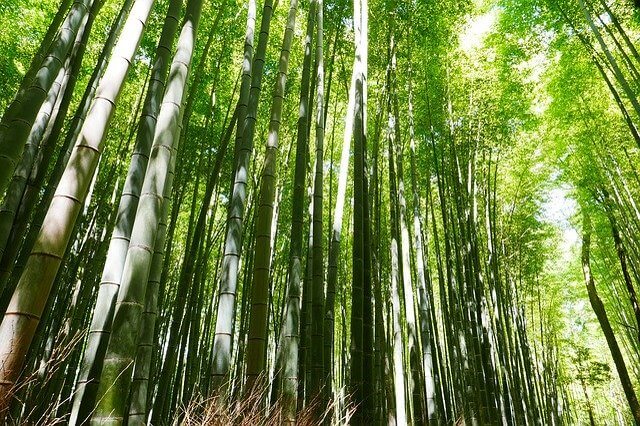 This is probably what many tourists are fascinated with and draws the most visitors to Arashiyama. The Arashiyama Bamboo forest is one of the main tourist hotspots and an iconic highlight in Arashiyama. The bamboo grove is a 400-meter-long narrow street surrounded by bamboos. This area was once used as a residential villa for nobilities in the Heian period. If you take a close look, you will quickly realise that all the bamboos are well taken care of. They are tall and growing straight towards the sky, so you can feel the sunlight shining through the bamboo, a peaceful atmosphere. It is also relaxing to stop and listen to the sound of all bamboos moving softly in the wind. As it easily gets packed with tourists in daytime, it is better to arrive early in the morning to avoid the crowds.
▼Recommended tour in Arashiyama
Kyoto Food and Drink Tour @Arashiyama
Our Arashiyama food walking tour takes you on an intriguing, fun, and informative adventure where you will get to taste street food around the Arashiyama area! ...
4. Tenryuji Temple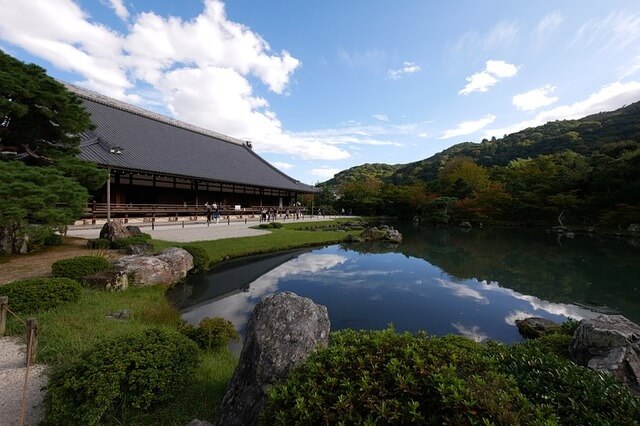 Tenryuji Temple is one of the most famous Zen temples in Kyoto. It was established by Ashikaga Takauji, who opened the Muromachi Shogunate, in 1339 in order to comfort the spirit of Emperor Godaigo. During the Muromachi period, it was ranked first among the major five Zen temples in Kyoto called "Kyoto Go-zan". As the main buildings were repeatedly destroyed by fire several times in the past, most buildings that we can see today were rebuilt later during the Meiji period. It is a part of the UNESCO World Heritage Sites in Kyoto. It is also widely known for its scenic garden where you can walk around while enjoying the seasonal plants throughout the year.
8.30am – 5pm
Admission fee ¥500 (garden only), ¥800 (garden and buildings), ¥500 (Dharma hall)
5. Arashiyama Monkey Park Iwatayama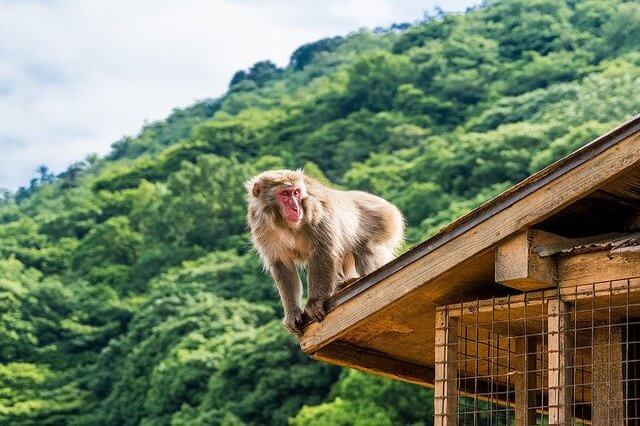 If you feel a little tired of historical sites, the monkey forest can be a welcome change in scenery for you. Arashiyama Monkey Park Iwatayama is a commercial park located on Mt. Iwatayama. First, you need to walk up the 120 stairs to reach the designated rest place, where approximately 120 Japanese monkeys (also called "Japanese macaque monkeys") live in wild. They are well-tamed, but you should keep in mind that they are still wild monkeys. There are in fact several strict rules that you need to follow while you are there, mainly for safety. Remember that it is advisable to keep a considerable distance from them while enjoying watching them roaming around the area. You can also buy some food and feed them by hand from a building located on the top of the mountain. Another big bonus is the view of the whole city of Kyoto, truly breathtaking!
9am – 4pm
Admission fee ¥550
6. Toei Kyoto Studio Park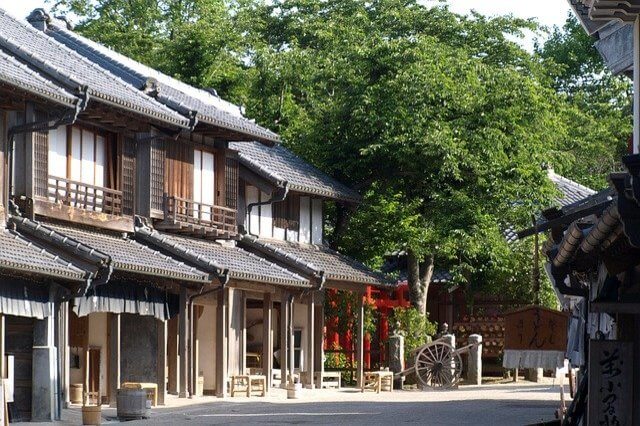 Toei Kyoto Studio Park (also known as "Uzumasa Eigamura") is a unique theme park. It is accessible by train from the main Arashiyama district and it takes only 30 minutes. The park features a number of reproductions of Japanese traditional buildings, and it is sometimes used for the purpose of filming movies or dramas relevant to Japanese history. Everything looks real, and it makes you feel as if you were back in the Edo period. Before entering the park, you can dress up in Japanese traditional costumes, which include samurai and ninja. Just walking around the park and watching people working there in a traditional outfits can be an unforgettable memory! They also provide exciting shows and performances featuring ninja or famous anime characters.
9am – 5pm
Admission fee ¥2,400 (adult)
7. Katsura Imperial Villa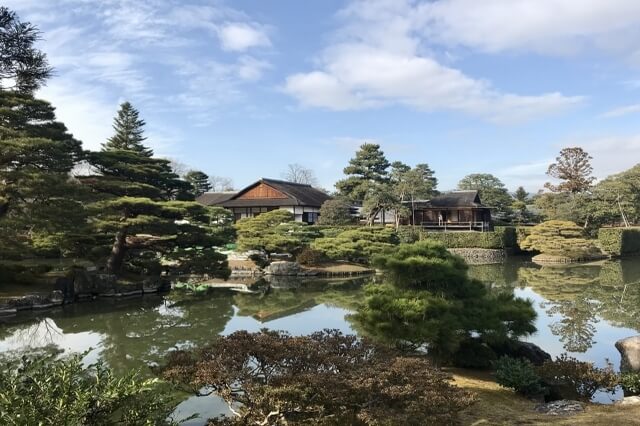 Katsura Imperial Villa is a villa comprising several traditional buildings and stunning gardens which were constructed in the 17th century. It was originally used as a private villa for the "Hachijo-no-miya" family who were the official members of the Imperial family. The vast gardens are recognized as a masterpiece of Japanese gardens, and the whole villa complex has been preserved as it was for centuries without being destroyed. All visitors are required to apply in advance to get permission to enter the villa.
8. Otagi Nenbutsuji Temple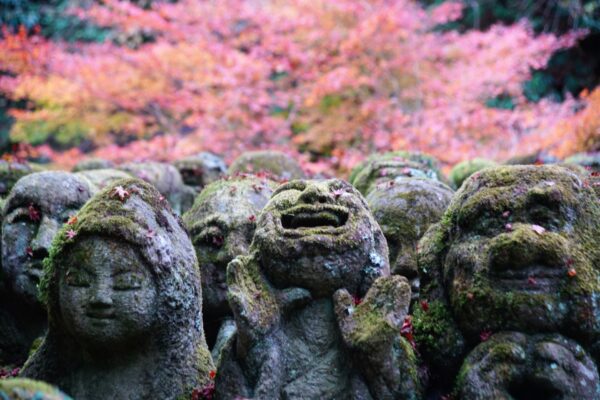 Otagi Nenbutsuji Temple is renowned for its 1,200 Rakan statues, symbolizing Buddha's followers. These statues were crafted by devotees, and each one has a distinct face, some of them even have playful accessories like a soccer ball, a music player, a facemask, or a sake cup. People created these statues to honor their loved ones, and their cheerful expressions bring a smile to the faces of visitors. The temple is especially popular during autumn when visitors come to admire the colorful foliage.
9. Sagano Scenic Railway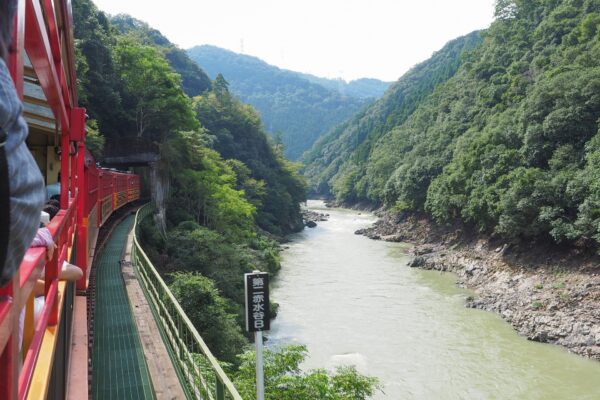 The Sagano Scenic Railway is a charming train that travels along the Hozu River. It's a slow ride that covers 7.3 km in 25 minutes, providing ample time to take in the breathtaking scenery that changes with the seasons. This is the perfect way to appreciate the natural beauty of Kyoto. The 5th car is an open-air carriage that lets you feel the breeze as you enjoy the view.
Adults ¥880 Children ¥440
10. Okochi Sanso Villa
Okochi Sanso Villa was once the home of movie star Okochi Denjiro during the Showa Period. He built both the stunning garden and villa, overlooking the picturesque views of Mt. Hiei, Arashiyama, and Hozu Gorge. Admission to the villa also includes a serving of matcha and sweets at the on-site cafe, where you can relax after exploring the garden and villa.
Adults ¥1,000 Children ¥500
Japan Wonder Travel Tours in Kyoto
When you are visiting Kyoto and you need some help organizing your trip, you came to the right place. We're happy to help you make your trip to Kyoto the best trip ever. We can advise you on where to go or even better, show you around with a local, English speaking guide. Let us help you create safe, comfortable, and unforgettable memories in Kyoto!
▶Kyoto Private Full-Day Walking Tour
On this full-day private tour of Kyoto, you will be able to see the highlights of Kyoto in just one day and at the same time develop a deeper understanding of both the culture of the area and Japan as a whole.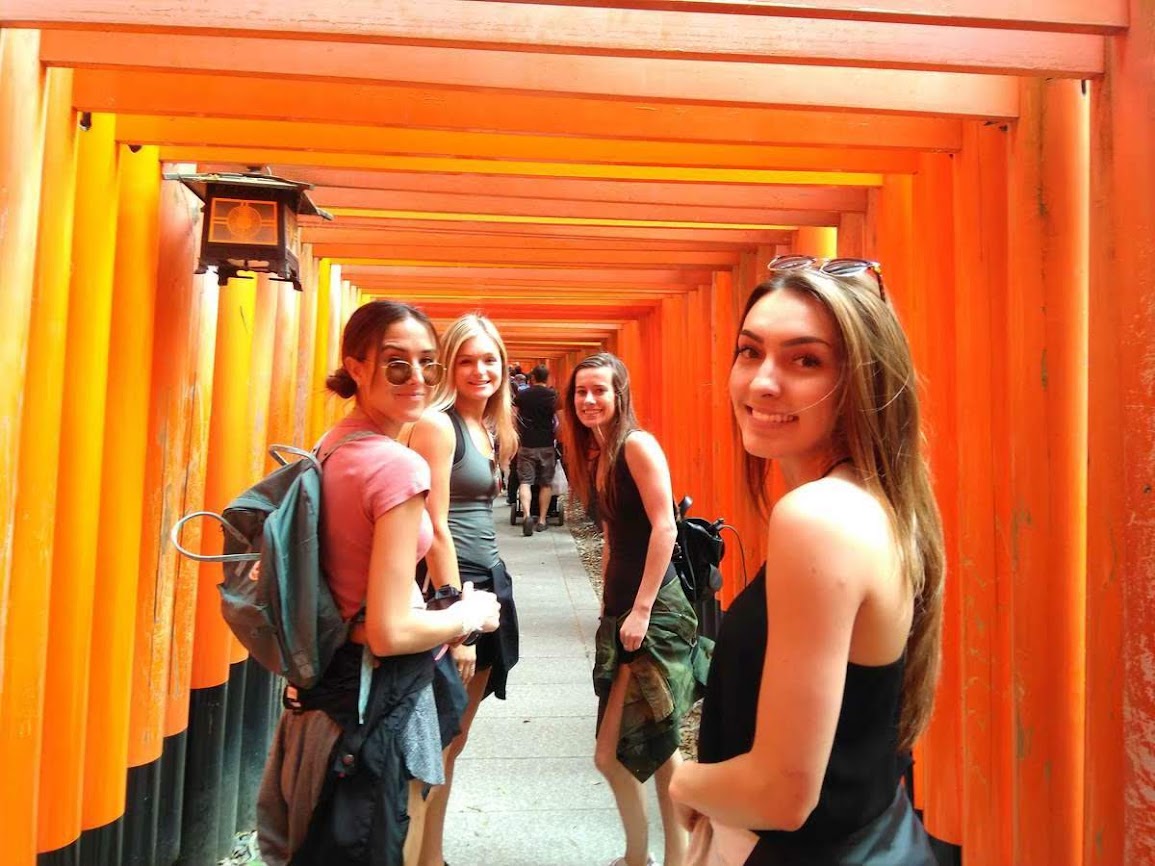 ▶Total Kyoto Experience
If you only have a day or two in Kyoto, we offer a full-day tour of the city, enabling you to immerse yourself in and fully enjoy the entire city of Kyoto in just 10 hours!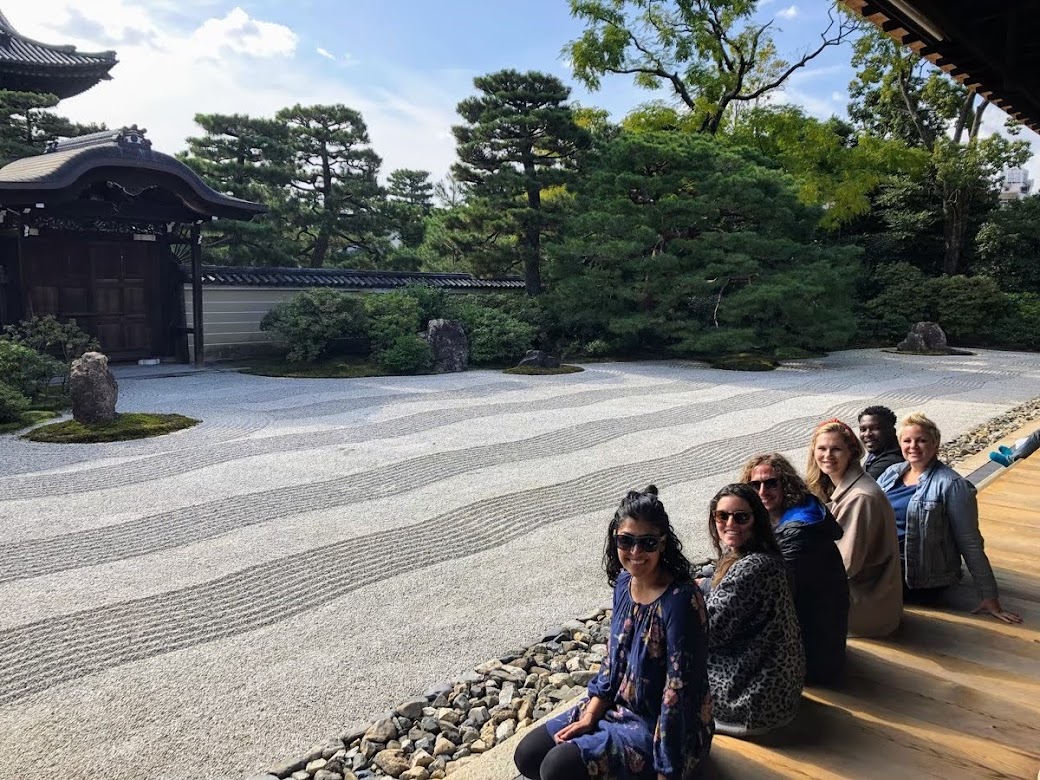 ▶Kyoto Food and Drink Tour @Nishiki Street
If you're looking to learn more about the culture and the local cuisine of Kyoto, this is the perfect tour for you! Take part in this Kyoto food and drink tour and explore the 400-year-old market and the famous surrounding areas.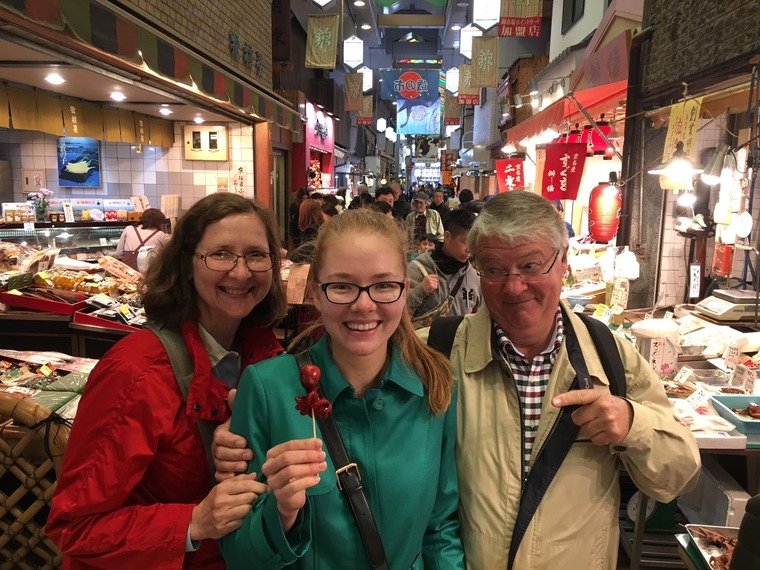 Find the Other Tours
▶Tour Packages
If you want to make travel easier, we suggest you look into tour packages.There are a wide range of tour packages out there to suit the accomodate for each traveler needs. Click the button below to find the best tour package from various Tour Operators!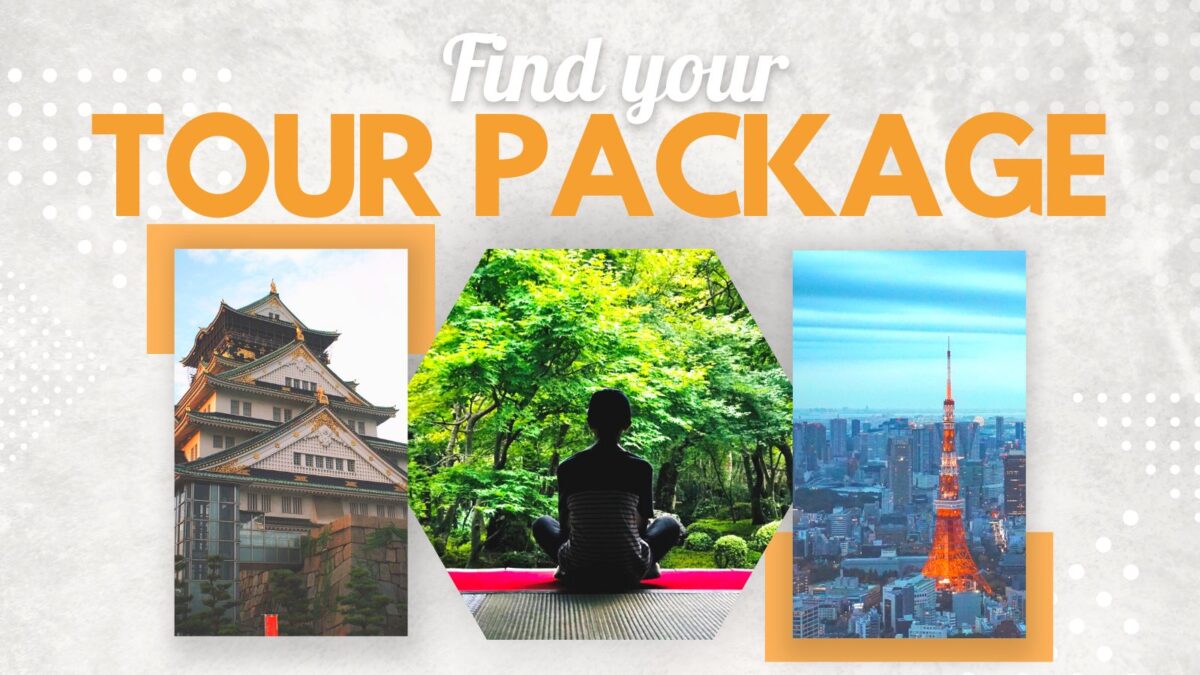 Where to stay in Arashiyama
Nagi Kyoto Arashiyama
Walking distance from the main touristic area in Arashiyama, spacious rooms with comfortable atmosphere
Suiran Kyoto
Only a couple of minutes walk to Tenryu-ji temple which is registered as UNESCO world heritage site, luxurious rooms in quiet location
Ranzan
Located in the central Arashiyama area, recommended to stay in a Japanese style room with the view of the garden
Each tourist spot featured above has respective characteristics and gives you an opportunity to discover a new aspect of Kyoto which you have probably never expected before. It will surely become one of the highlights of your stay in Kyoto, and also a part of unforgettable memories in your lifetime!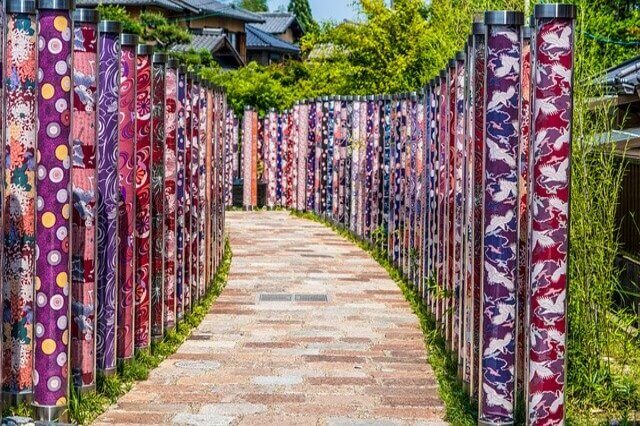 Follow us on Instagram or Facebook for more travel inspiration. Or tag us to get featured!
Happy traveling!

Articles you may also like
---
This post may contain some affiliate links. When you click through and make a purchase we may receive some commission, at no extra costs to you.