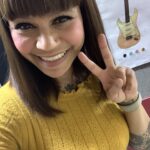 Writer's Profile
Misty Fujii is a Canadian who moved to Osaka, Japan in 2019 and married her Japanese sweetheart. In 2022 they had a baby and moved to Fukui for the clean country air. She is a DJ who teaches English part time and writes in order to share Japan with the world. She gets excited about collecting vintage vinyl records, food of all countries, travelling and renovating her traditional Japanese house.
This post may contain some affiliate links. When you click through and make a purchase we may receive some commission, at no extra cost to you.
One of the best things about traveling to Kyoto is that there is so much to see and do for everyone, from solo travelers to families. Hotels are no exception, with many different kinds of hotels suited for all purposes. Suppose you're coming with a family, especially children, if that's the case then it's essential to book somewhere that is a good size and has all the right amenities. It can be hard to narrow down your best options, so we've picked ten of the best family-friendly accommodations that you'll find in Kyoto.
1. MIMARU KYOTO SHINMACHI SANJO
An excellent option for groups of travelers is an apartment-style hotel. Mimaru Kyoto Shinmachi is popular due to its proximity to Kyoto Station and attractions like the Kyoto Imperial Palace. Located right by Karasuma-Oike Station, this hotel offers spacious accommodations for families. Rooms come equipped with everything a family may need, like bunk beds, fully equipped kitchens, and even a Pokémon-themed room designed with kids in mind! There's even an onsite play area that entertains kids while parents can enjoy all the complimentary coffee they want in between sightseeing.
2. Cross Hotel Kyoto
Situated in the Kawaramachi Sanjo area, Cross Hotel Kyoto is right in downtown Kyoto, making it incredibly convenient to go just about anywhere. The rooms are spacious, so you won't feel cramped traveling with children. Baby beds are provided upon request, as are kid's amenities like slippers and pajamas. If you have children under elementary school age, they can enjoy a complimentary breakfast every morning. The onsite restaurant and bar are a popular addition to the hotel and welcome children to make your stay that much more enjoyable.
3. RIHGA Royal Hotel Kyoto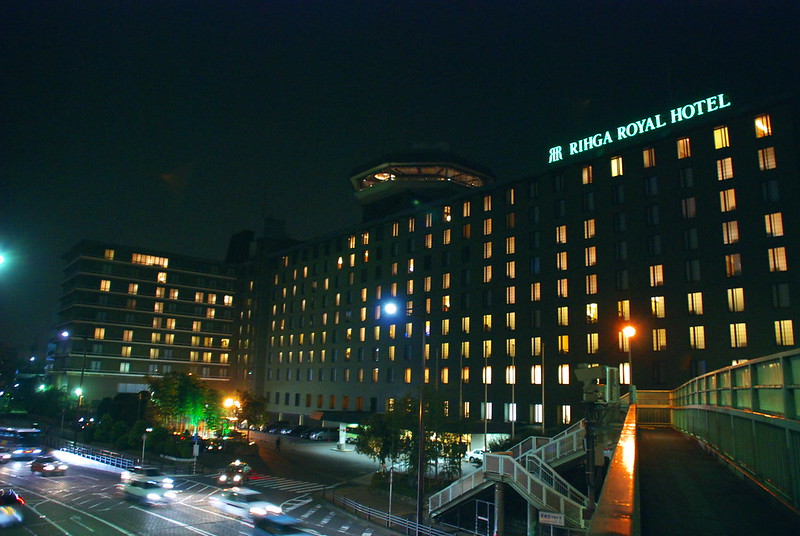 You won't have to venture far to find the RIHGA Royal hotel since it's within walking distance of Kyoto Station, making it a very convenient location within the city. The hotel is large, with multiple onsite restaurants, including the only revolving restaurant in Kyoto! Even picky eaters should be satisfied, with the options ranging from western-style to traditional Japanese food. Rooms are above average, and the family rooms have four beds, ensuring that there is enough space for the whole family. The onsite pool is a fun place to spend time when you aren't exploring nearby attractions like Kyoto Aquarium, Kyoto Railway Museum, or temples and shrines.
4. Hotel Granvia Kyoto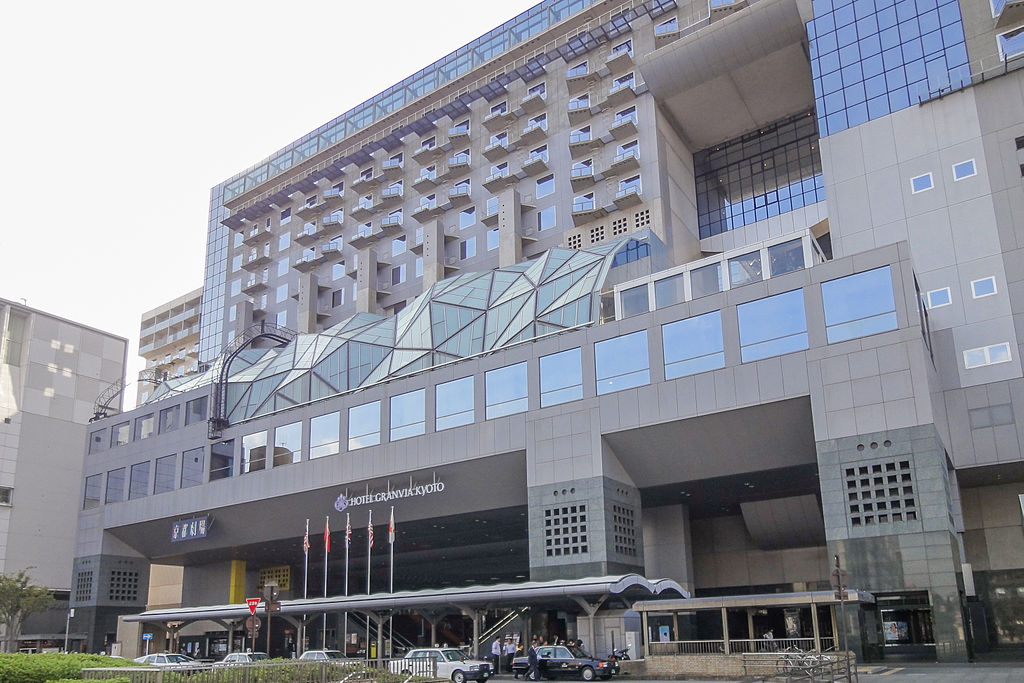 This hotel is so close to Kyoto Station that you don't even have to venture outside to get to it! Hotel Granvia states that they warmly welcome small children and offer up top-tier amenities for them alongside the adults they're traveling with. Kids can expect slippers and summer-style kimonos to lounge in during their stay. There are family rooms and cribs available on request, so you can travel without worrying about bringing your own. Several restaurants welcome children and have menus prepared just for them. Furthermore, Hotel Granvia has partnered with Universal Studios Japan and offers one-day passes for guests – a perfect family day out!
5. Hotel Okura Kyoto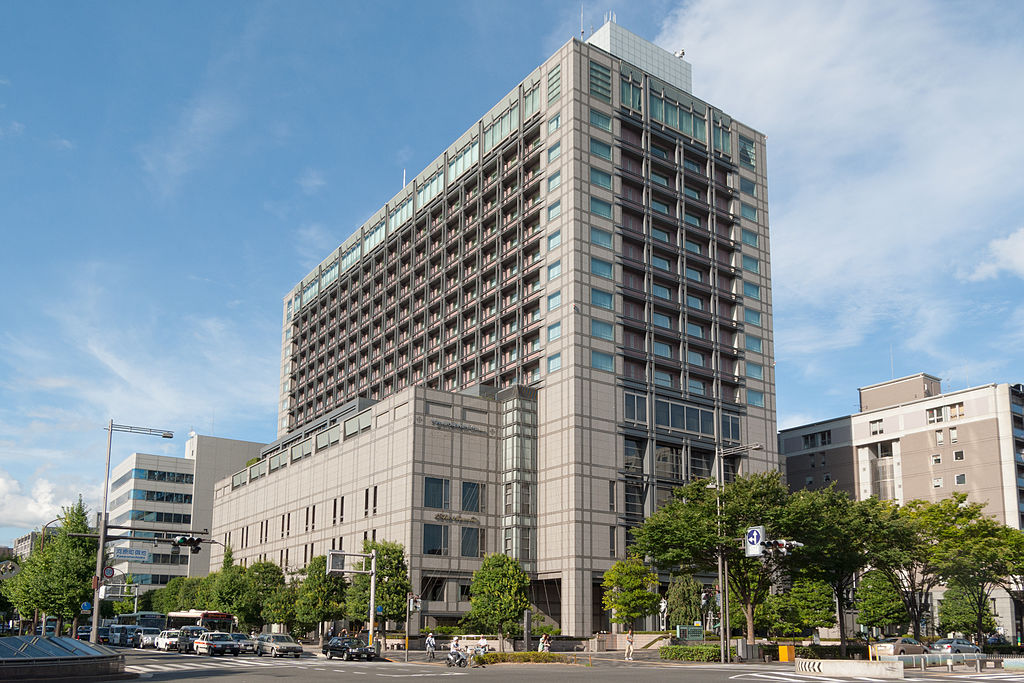 Directly connected to the Kyoto Shiyakusho-mae station, Hotel Okura is the perfect base for sightseeing excursions at many of the most interesting places in Kyoto. Many rooms offer incredible high-rise views of the city and Higashiyama mountains, plus the family rooms are spacious enough to feel comfortable. The hotel provides baby cribs upon request, has a comfortable baby nursing room, and will heat any food with a microwave as needed. Something that sets this hotel apart is the onsite babysitting services with experienced staff, which is perfect if you want to have a child-free break.
6. Roku Kyoto (LXR Hotels & Resorts)
Family-friendly and luxury unite at this LXR hotel from the famous Hilton brand. Nestled among the mountains and nature in the Kita ward, this resort-style hotel is close to the popular golden Kinkaku-ji temple. The location may not be central, but it's the perfect place to relax, recharge and keep the whole family happy with a pool, onsen, spa, activities, and more. Rooms range from suites with private gardens and hot spring baths to poolside rooms with terraces. While none are family specific, they don't need to be since they are all large. Roku Kyoto is wonderful to bring kids to; the hotel provides toys, a crib (if requested), offers in-room babysitting, and supervised activities just for kids!
7. The Westin Miyako Kyoto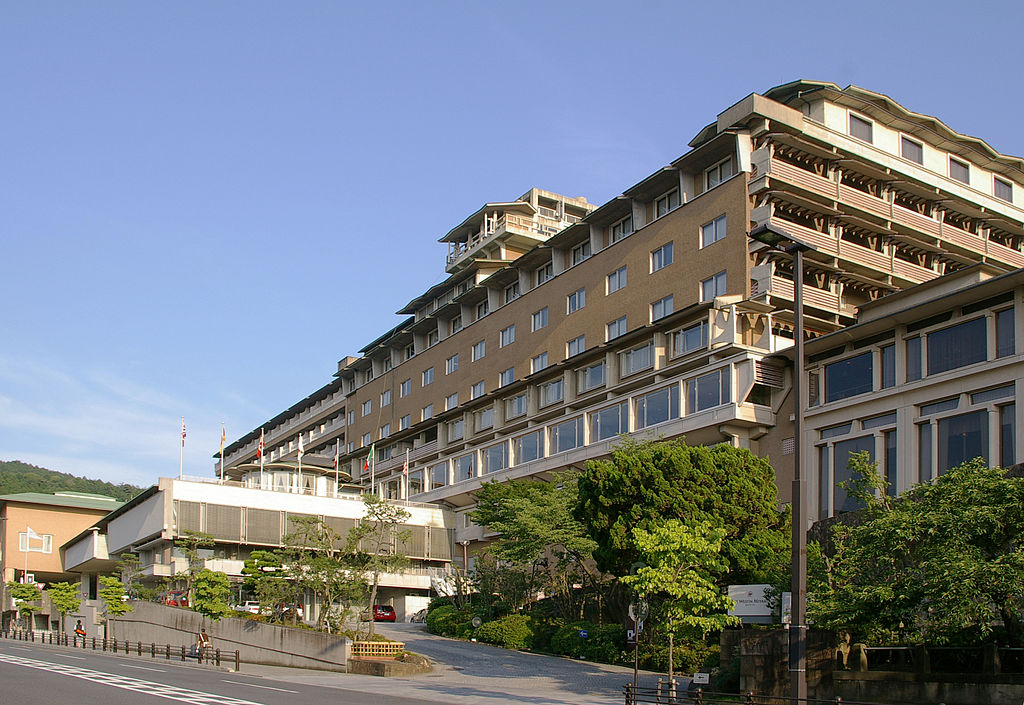 This resort-style hotel is close to the Gion district with geisha, teahouses, temples, and an authentic taste of old Kyoto. A free shuttle escorts guests to and from JR Kyoto station and downtown, making it easy to get to some of Kyoto's top sights. Well-appointed rooms offer large spaces and Westin's signature cloud-like "Heavenly Beds." At the resort, you can relax at the indoor pool, spa, restaurants, tea house, and gardens, registered in Kyoto as Special Places of Scenic Beauty. The hot spring onsite will help you unwind, and in-room babysitting is a great way to take advantage of some well-deserved time for yourself.
8. The Ritz-Carlton Kyoto
Another trusted hotel name, the Ritz-Carlton Kyoto, has arguably the best location out of every hotel in Kyoto. Overlooking the Kamo-gawa River in the popular Kawaramachi area, the location and its luxury are hard to beat. Rooms are airy and large, and there are amenities galore, starting from the three-story waterfall that leads into the pool. The hotel is exceptional for families thanks to the Ritz Kids experiences. With activities like kids' night, a fun learning experience held every evening, caregivers can take a break and enjoy a quiet dinner.
9. ANA Crowne Plaza Hotel Kyoto (an IHG Hotel)
Take in the view of Nijo Castle at the ANA Crowne Plaza Hotel, as many of the rooms overlook this UNESCO World Heritage Site. This hotel is located right by the Nijojo-mae Metro station and it's within walking distance to many Kyoto sites or just a short shuttle bus away. The hotel has several restaurants, a pool, and a spa to make your stay comfortable and convenient. The rooms are big, and many have tea corners or separate living areas, so there is room for the whole family to stretch out. Many reviews praise this hotel for being family-friendly and the staff who go above and beyond to make children feel welcome.
10. Four Seasons Hotel Kyoto
Aiming to inspire the whole family, Four Seasons Hotel Kyoto is an urban resort for families. The entire hotel has a zen vibe with a gorgeous pond garden, tea house, and spa. This hotel goes above and beyond to provide a safe and comfortable family stay with bed rail guards, in-room baby bottle sterilizers, and activities like family swim time. The hotel also offers exceptional services to children with their own bath amenities and yukata robes, memorable experiences like koi fish feeding, pizza making, and tents for indoor kids camping in some of the suites. What's also unique is that while most hotels allow kids under the age of 12 to stay for free, the Four Seasons allows kids under 18 to room with their caregivers at no extra cost.
Thanks to hotels that pride themselves in being family-friendly, a trip to Japan is a wonderful place to travel for parents and children. Without worrying about suitable accommodations, you can spend more time enjoying sightseeing and activities in Kyoto, creating perfect family memories.
Japan Wonder Travel Tours in Kyoto
When you are visiting Kyoto and you need some help organizing your trip, you came to the right place. We're happy to help you make your trip to Kyoto the best trip ever. We can advise you on where to go or even better, show you around with a local, English speaking guide. Let us help you create safe, comfortable, and unforgettable memories in Kyoto!
▶Kyoto Private Full-Day Walking Tour
On this full-day private tour of Kyoto, you will be able to see the highlights of Kyoto in just one day and at the same time develop a deeper understanding of both the culture of the area and Japan as a whole.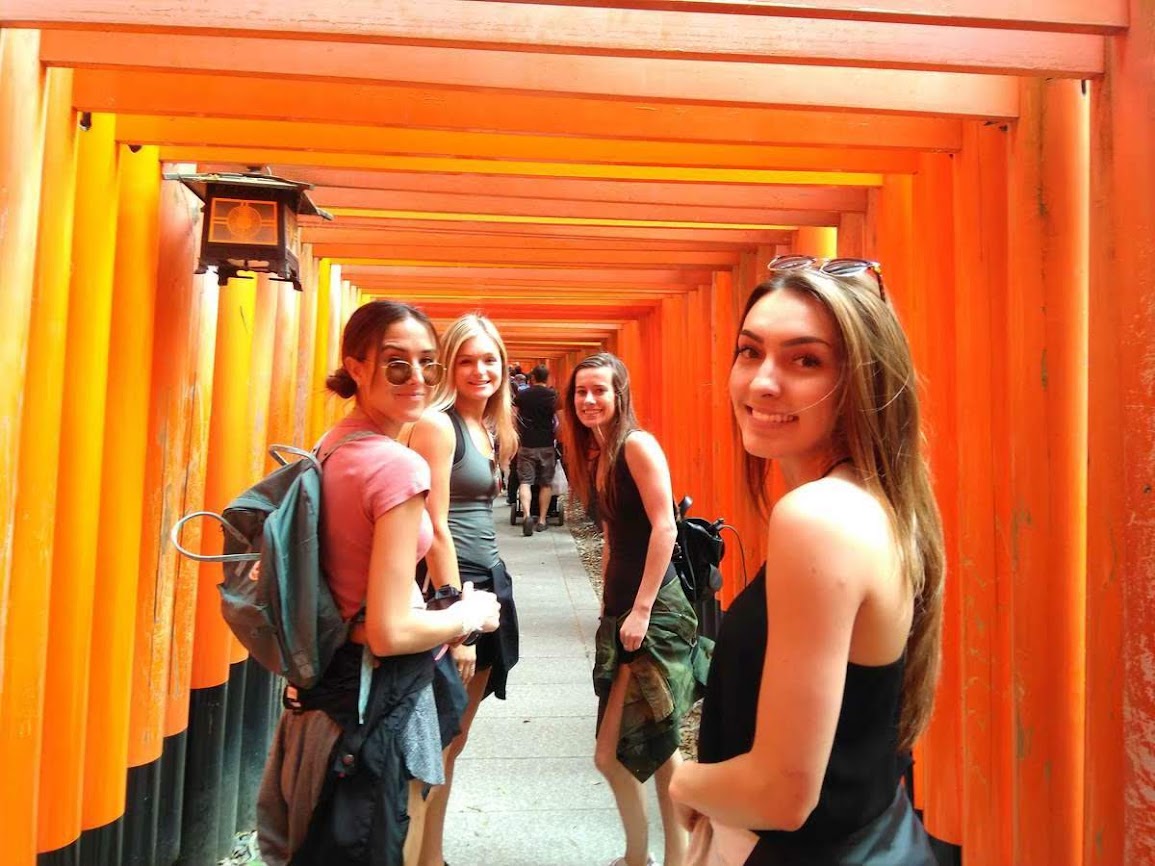 ▶Total Kyoto Experience
If you only have a day or two in Kyoto, we offer a full-day tour of the city, enabling you to immerse yourself in and fully enjoy the entire city of Kyoto in just 10 hours!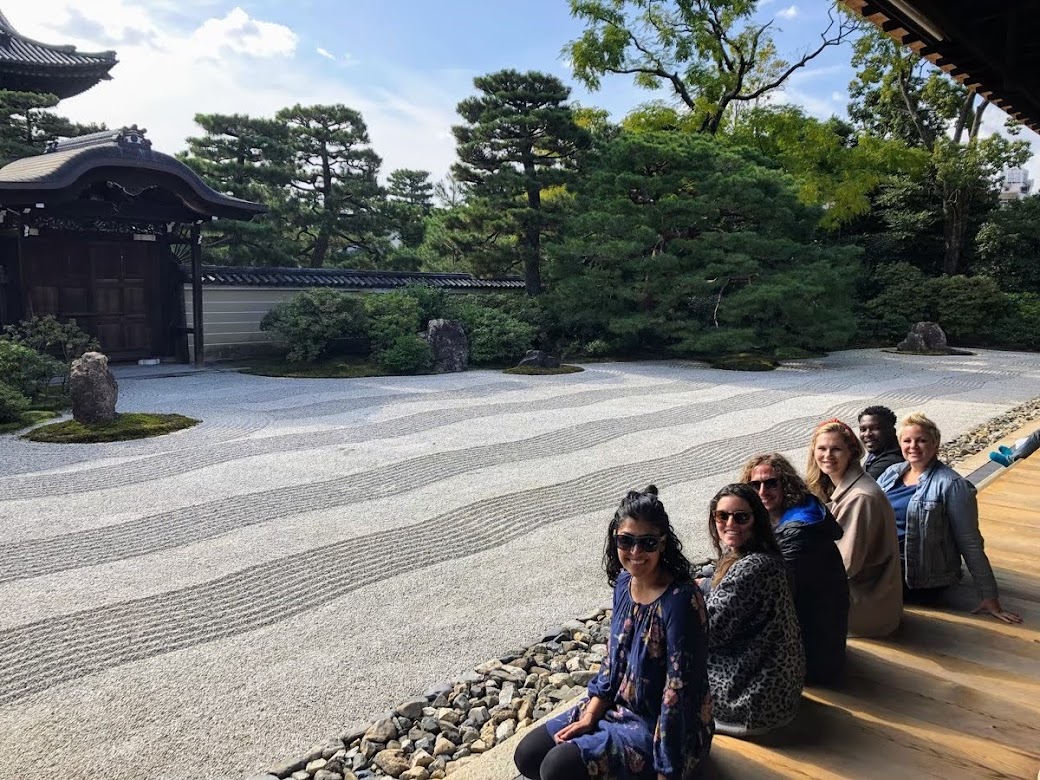 ▶Kyoto Food and Drink Tour @Nishiki Street
If you're looking to learn more about the culture and the local cuisine of Kyoto, this is the perfect tour for you! Take part in this Kyoto food and drink tour and explore the 400-year-old market and the famous surrounding areas.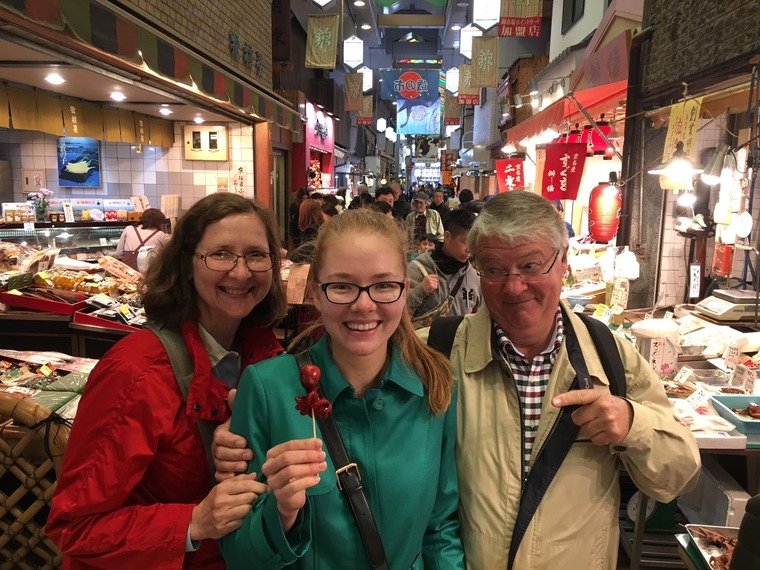 Find the Other Tours
▶Tour Packages
If you want to make travel easier, we suggest you look into tour packages.There are a wide range of tour packages out there to suit the accomodate for each traveler needs. Click the button below to find the best tour package from various Tour Operators!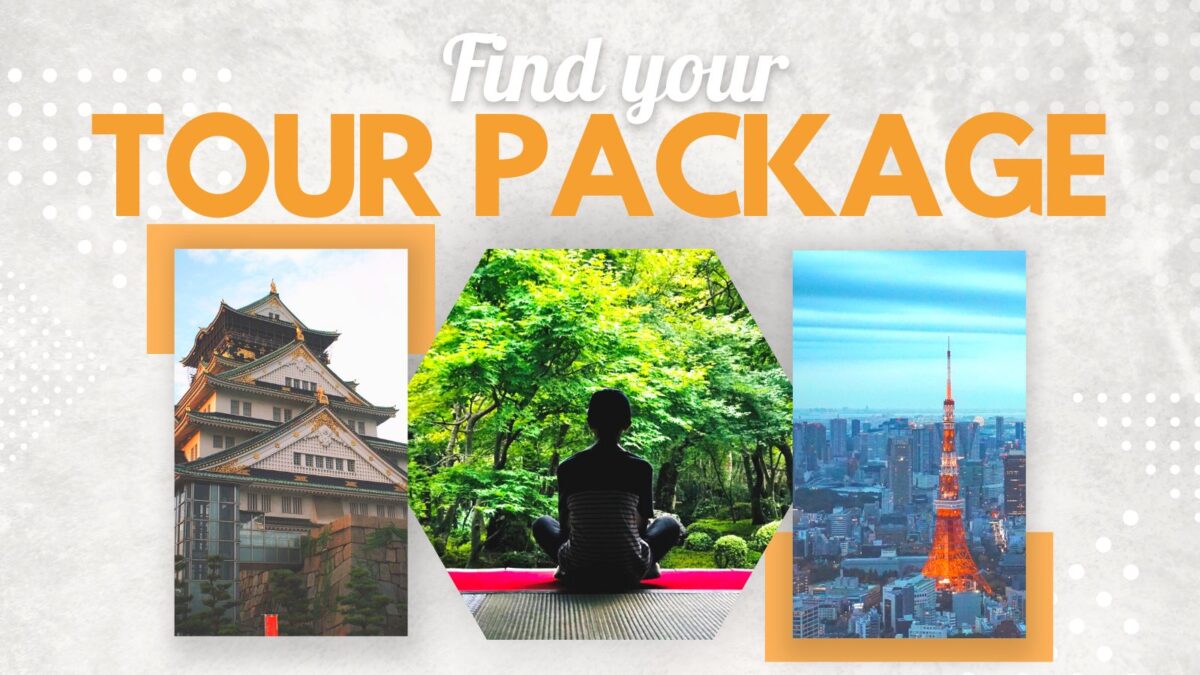 Follow us on Instagram, Facebook, Twitter, and TikTok for more travel inspiration. Or tag us to get featured!
Happy traveling!
Stay informed of the best travel tips to Japan, the most exciting things to do and see, and the top experiences to have with the Japan Wonder Travel Newsletter. Once every two weeks we will introduce you to our latest content.
Other articles you might be interested in