Rokurinsha (六厘舎) is one of the most famous Ramen restaurants in Japan, known to be Tokyo's best Tsukemen. During lunch time, over 30-40 people make a queue in front of Rokurinsha and sometimes you need to wait more than one hour! For those who don't want to wait that long, we write this article.
Why Rokurinsha?
Rokurinsha serves Tsukemen style Ramen which is consisting of noodles and soup served separately. Rokurinsha offers Tsukemen with rich soup and think noodles that customers can enjoy until the last drop of the soup! 11 years ago, they won a gold prize for Tsukemen Award at Ramen of The Year by "Tokyo 1 week". After that, it is said that the head restaurant of Rokurinsha had to close due to complaints from neighborhood because of its popularity.
Where's Rokurinsha?
There are 5 branches in Tokyo. Tokyo station, Ueno, Skytree, Haneda airport and Osaki.
We will introduce the restaurant in Tokyo Station, which is located in Tokyo Ramen Street, an underground floor of Tokyo station near Yaesu South Exit.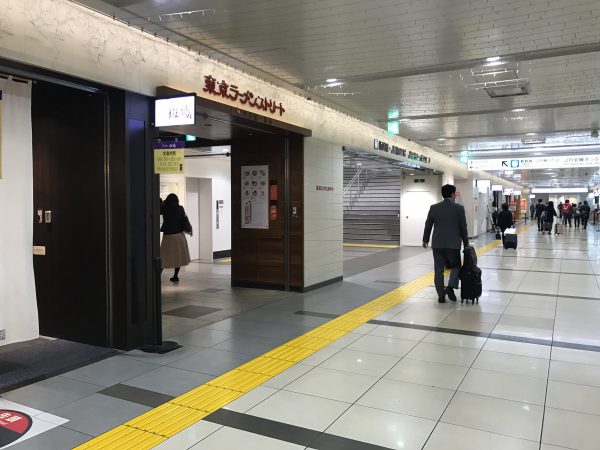 There are 8 Ramen restaurants in this area. Many restaurants open at 10:30am.
(Rokurinsha and Soranoiro also open at 7:30am to 9:30am )
How to enjoy Rokurinsha without long waiting
If you try to get there by 10:30am on the weekdays, the opening time, usually there will be less people at the Ramen Street.
But in most cases, Rokurinsha is already full by then. Many people would wait in line before it opens. When our staff went there, 4 people waited outside of the restaurant. But 4 people is actually not bad and it won't take long. So it's too early to give up when you see some people waiting in line.
Buy a voucher at tickets vending machine
It turned out, our staff only waited for 15 minutes. Ramen is a fast food, and people likely eat it quickly and quietly. Before you wait in line, you can buy a ticket from a vending machine to order. There are pictures so you can understand what's available even though you can't read in Japanese.
Their most popular menu is on the upper left, 特製つけめん(Tokusei tsukemen), Tsukemen with all toppings.
Enjoy Tsukemen
When you seated, you will get a paper apron and water. It's better to put on a paper apron as everyone does, since you will have a high chance of getting some spots when you slurp the noodles!
Our staff ordered 味玉つけめん(Ajitama tsukemen), tsukemen with seasoned egg.
Look at this thick noodles! Take some noodles and dip them in rich soup, and it tastes delicious! To change the teste, add the original Shichimi-Pepper (seven spices).
Don't miss the final soup
After you finished the noodles, it's not done yet. It's hard to drink a thick soup but you can ask a staff for additional soup to make it thinner. And they will ask you if you want to add Yuzu powder, and our recommendation is say YES. Yuzu will add more fresh flavors to the soup.
Tips: Queue after 11:00am
After 11am, 30 minutes after its opening, there are much more people waiting outside. You can check the waiting time on the foot. That proves, if you visit there at 10:30, you will have less waiting time! If you don't want to wait so long, try to make it at its opening time for brunch.
Follow us on Instagram, Facebook and Twitter for more travel inspiration. Or tag us to get featured!
Happy travelling!
Stay informed of the best travel tips to Japan, the most exciting things to do and see, and the top experiences to have with the Japan Wonder Travel Newsletter. Every week we will introduce you to our latest content.
Other articles you might like