Did you know that Tokyo has over 200 Michelin starred restaurants? As of 7 March 2019, Tokyo has a total of 308 Michelin stars distributed on 230 restaurants. In fact, Tokyo has the most Michelin stars in the world! Most of the Michelin star restaurants are known to be very expensive but in Tokyo you can eat Michelin star ramen for around ¥1,000!
Since 2019, Tokyo has two ramen restaurants that both got 1 Michelin star. In this article, we would like to introduce you these 2 Michelin star ramen restaurants in Tokyo to make your food experience in Japan even better.
1. Nakiryu (鳴龍)
This was the second ramen restaurant in the world (!) to receive a Michelin star ramen restaurant. Nakiryu received their star in 2017 for its dandanmen. The restaurant operates on a first comes, first serves base, so you might have to wait for a long time. Be patient and be prepared for some of the of the best ramen you will ever eat.
Nakiryu is located between JR Otsuka station and Tokyo Metro Shin-Otsuka station. It is not hard to find the exact location when you are in the neighbourhood; there is always a long line for the restaurant.
The restaurant opens its door at 11.30am, but when we visited the place around 11:25 on a weekday, there were already 45 people waiting. We ended up waiting for 2,5 hrs in total. We would actually recommended you to go around 12.30pm – 1pm, as it was a less busy at that time.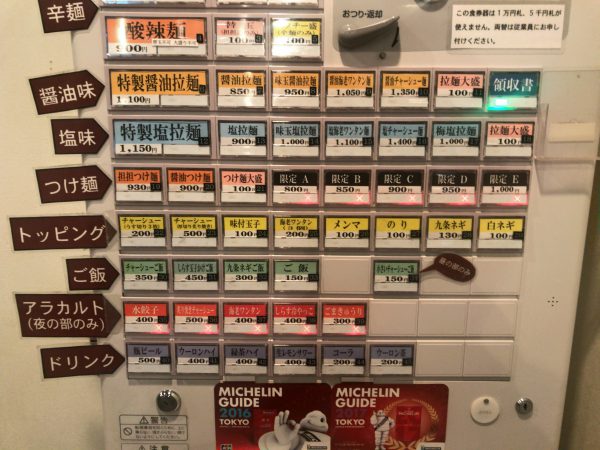 Once inside you buy your tickets at the vending machine. All the button are in Japanese, but the restaurant will give you a menu written in both Japanese and English so it is easy to order. After you have decided and bought a tickets, pass the tickets to the staff and take a seat while you wait for your food. They allow only one bowl per person and you cannot order more so be careful! Though, your choice shouldn't be too difficult, right?
We highly recommend you to order dandan noodle, the dish that received the Michelin star. If you like spicy taste, we recommend you to add Sichuan pepper. Be careful though, it is very spicy so don't add too much!
The delicious side dish (picture on the right) is also MUST-eat! It is a small size rice with roasted pork "小さなチャーシューご飯" and costs ¥150.
Nakiryu (Japanese only)
2-34-4 Minamiotsuka Toshima, Tokyo
Wed. – Sun. 11.30am – 3pm & 6pm – 9pm
Mon. 11.30am – 3pm
2. Konjiki Hototogisu (金色不如帰)
The 3rd Michelin starred restaurant to join this elite group of Michelin-starred restaurants in world in 2019, is called Konjiki Hototogisu. Konjiki Hototogisu means golden little cuckoo and the restaurant serves unique and delicious ramen.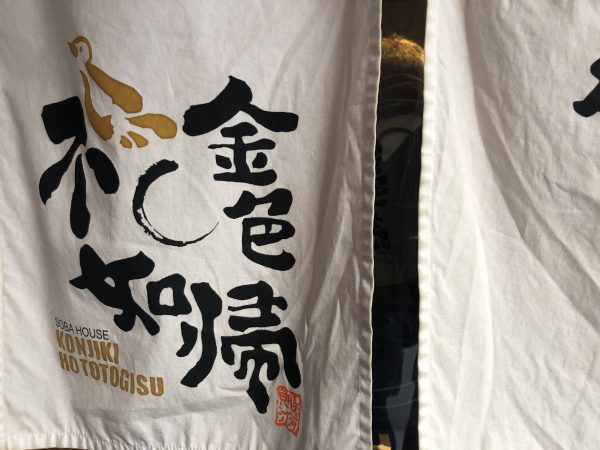 Konjiki Hototogisu is located near Shinjuku Gyoen station but you can walk there from Shinjuku station as well. There is always a long line, so again it is easy to spot the place from a distance.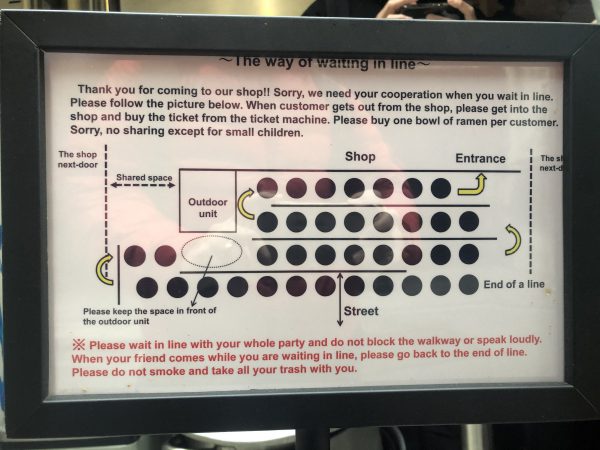 When we went to the restaurant it opened at 11.30am for lunch. We arrived at 11.10am on a Thursday and already 21 people waited in line. Today, they have changed their opening times and they open at 11am.
You can choose of three types of noodles:
1. Shio Soba (recommended): Salt flavoured noodle
2. Shoyu Soba(signature): Soy sauce flavoured noodle
3. Tsuke Soba: dipped style soy sauce noodle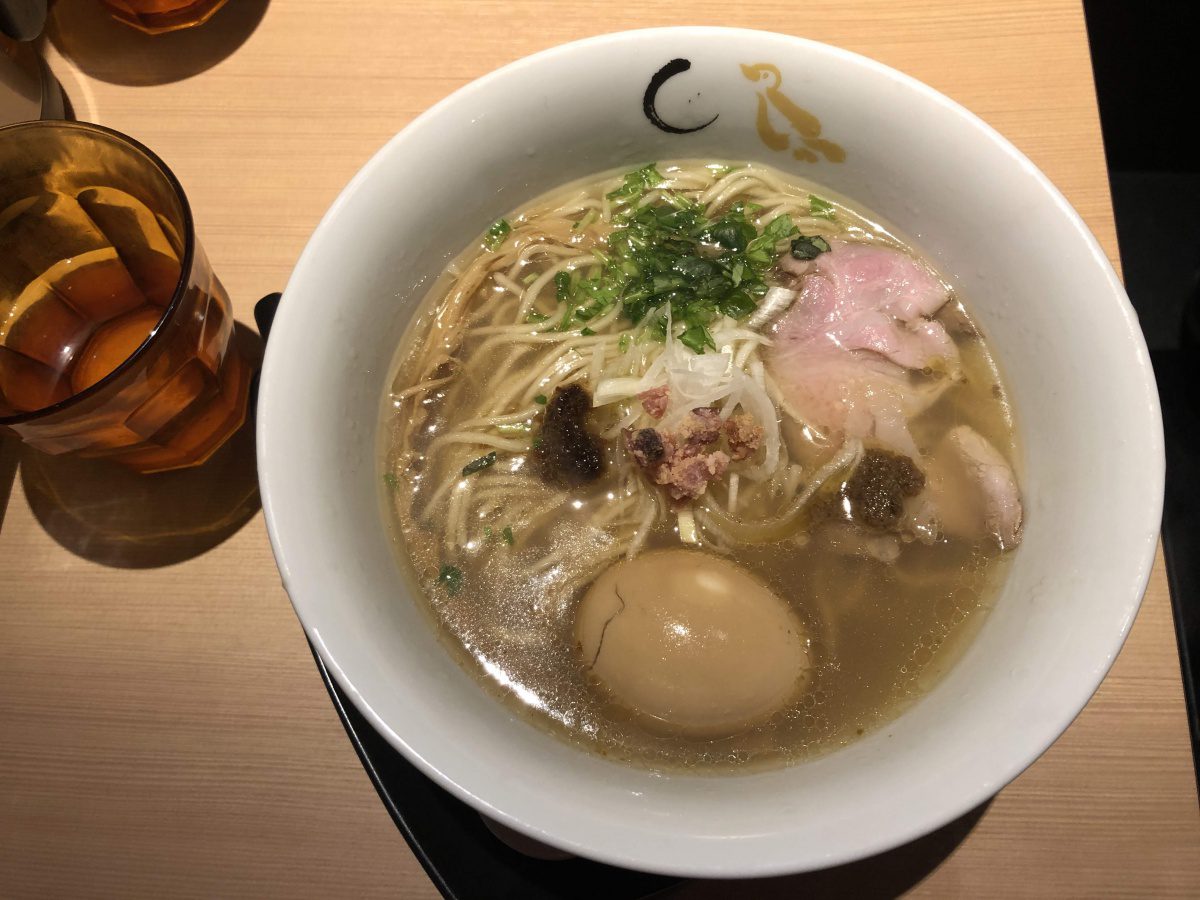 Their signature dish is Shoyu Soba, but most people (including ourselves) recommend you get the Shio Soba instead. Shio Soba is topped with house made porcini duxelles sauce and white truffle oil. For the soup, they use Hamaguri clam, pork bone and Japanese broth. There are some small dishes you can enjoy with ramen as well.
The restaurant only has seven counter seats, and, as mentioned before, the queue can get pretty long. So be prepared and be patient, it is 100% worth the wait. Especially since a bowl of Michelin-quality ramen here will only set you back ¥900!
Sobahouse Konjiki Hototogisu
2-4-1 Shinjuku, Shinjuku, Tokyo
Weekdays 11am – 3pm & 6.30am – 8pm
Weekends closed
The very first ramen restaurant to receive a Michelin star: Tsuta (蔦)
In 2015, the ramen restaurant Tsuta wrote history when it became the first ramen restaurant in the world! This small ramen joint out in Sugamo was already very popular in the pre-Michelin-star-era, with queues of at least one hour. After they got their Michelin star, the waiting time increased to 3-4 hours!
In november 2019 Tsuta closed its door to reopen again after one month in Yoyogi-Uehara with a renewed concept. At the time of writing, we haven't been able to visit the new shop, but we are told that it is bright, spacious and contemporary, with a relaxed atmosphere. The new place offers more seats and operated also with a first comes, first serves concept. What stayed the same, and what also made Tsuta unique, is the use of truffle powder and oil. As you can tell from the ingredients they use, it is not just a your ordinary ramen dish but a sophisticated cuisine.
Japanese Soba Noodles tsuta
3-2-4 Nishihara, Shibuya, Tokyo
11am – 5pm
Closed on Thursday
Let's enjoy Ramen in Tokyo!
When you are a ramen-lover, and have some time, it would be a great experience to have a Michelin-starred Ramen in Japan. Which Michelin ramen place interests you? If you are out of time, or just can't be bothered to wait in line for some time, don't worry: There are over 30,000 ramen shops around Japan! There are so many great ramen shops where the locals eat on the daily basis too. Perhaps, maybe you'll find them as good as the three restaurants above !
Enjoy ramen in Japan!

Follow us on Instagram or Facebook for more travel inspiration. Or tag us to get featured! 
Stay informed of the best travel tips to Japan, the most exciting things to do and see, and the top experiences to have with the Japan Wonder Travel Newsletter. Every week we will introduce you to our latest content.
More things to do for food lovers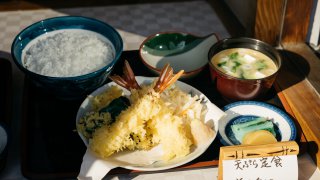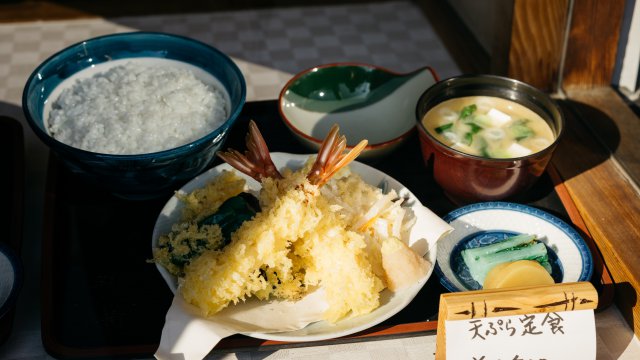 What to Eat in Japan: Ultimate Guide to Japanese Local Food on Each Location
Each region has speciality food. Here we introduce what to eat in Japan on each locaton! Try some local foods while you are in Japan and see the uniquness of this country. If you are wondering what to eat in Japan, this articles is a perfect guide to you.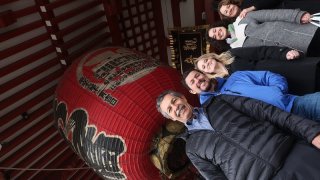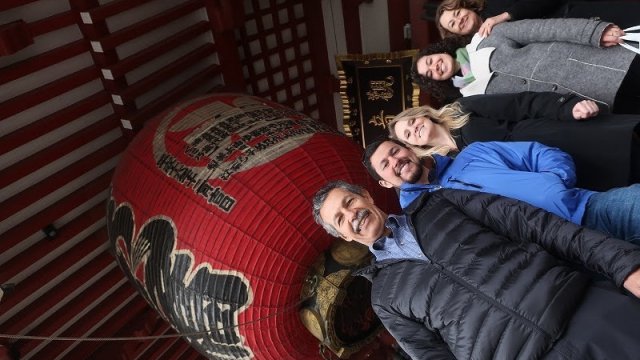 10 Best Tokyo Food Tours You Must Take on Your Japan Trip
Here we listed up the best Tokyo food tours for you. From Tsukiji Fish Market tours to Izakaya bar hopping tour at night, we have listed a variety of Tokyo food tours you can enjoy during your stay in Japan.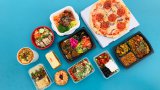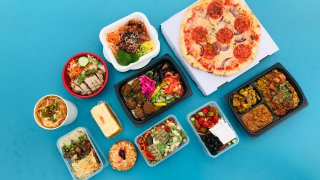 10 Fancy Takeout Restaurants in Tokyo - Bring a Chef's Meal to Your Table
We spend a lot of time these days at home so isn't it nice if you can enjoy the restaurant taste at home sometimes? In Tokyo, it is easy to access to various kind of international foods. Here we listed 10 popular restaurants you can take away to your home!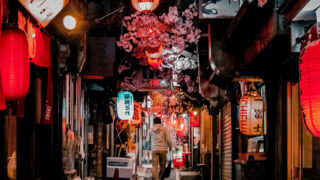 The Best Izakaya Alleys In Tokyo To Get A Local Experience!
When in Japan, you should not miss out of the local izakaya experience. We have selected the 5 best izakaya alleys for you in Tokyo, KANPAI!