Japan is one of the major whiskey production countries. The Suntory's honored whiskey Yamazaki gets more and more recognition from worldwide whiskey fans. The Yamazaki distillery is located in Osaka. The other famous brand Nikka Whiskey Distillery stands in Yoichi, Hokkaido.
There are also several whiskey factories accessible from Tokyo. We will introduce four distilleries and one tasting place in this article.
1. Suntory's Hakusyu Distillery
Morio City of Yamanashi prefecture is home to Suntory's proud whiskey brand Hakusyu.
The factory is located in a huge forest at the bottom of Mt. Kaikomagatake. The pure water comes from the layered ancient gigantic rocks. Thanks to the forest its taste is described with a nature-related phrase "the fragrance of the forest". This distillery tour takes you to the huge copper pot stills and the barrel cellars. Tasting the component whiskies at the tour end would make you feel good!
Major Product: single malt Hakusyu whiskey
The whiskey is a light and mild taste.
【Information】Suntory's Hakusyu Distillery
Address: 2913-1 Torihara, Hakushu-cho, Hokuto-shi, Yamanashi Prefecture
Website (English): http://www.suntory.com/factory/hakushu/
Tour Fee: 3,000 yen / 5,000 yen
Duration: Varies depending on the tour
If you are planning to visit Suntory's Hakushu Distillery from Tokyo, we recommend a private tour. This tour includes pick-up and drop-off, and you can enjoy the comprehensive factory tour!
▶Suntory whisky distillery tasting day tour for VIP from Tokyo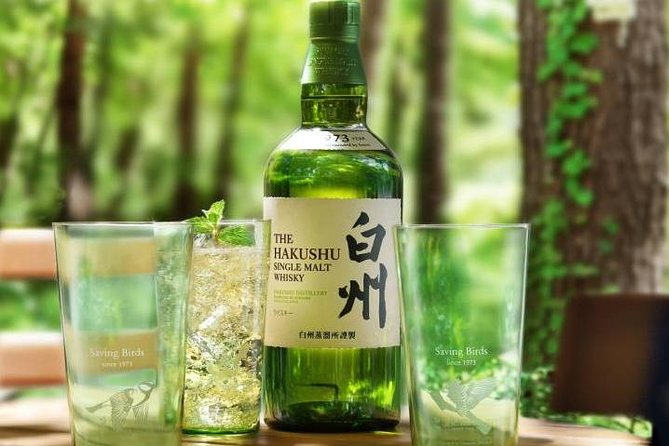 2. Kirin's Fuji Gotemba Distillery
Kirin is one of the major beer and other beverage suppliers in Japan. Their whiskey factory is located at the bottom of Mt. Fuji. The production water is from underground streams of the mountain. The average temperature of around 13 degrees Celsius (a relatively low temperature in Japan) allows the whiskey to be slowly maturated in the barrels. Their special theater gives you an introduction at first and then you will explore the factory with a guide.
Main Products: Fuji Sanroku 50%, Fuji Sanroku Single Malt 18 years old
The whiskey is a mild and sweet flavor.
【Information】Kirin's Fuji Gotemba Distillery
Address: Shibanuta 970 Gotemba, Shizuoka Prefecture
Closed: Mondays, Year End/ New Year's holidays
Website(Japanese text only): http://www.kirin.co.jp/entertainment/factory/gotemba/tour/
Contact Number: 0550-89-4909
Fee: Free of Charge *whiskey tasting is up to twice.
Tour Duration: 70 min
3. Hombo Mars Distillery
Hombo Brewing is a Japanese shochu maker (local distilled alcohol mainly made of wheat and potatoes) from Kagoshima on the island of Kyushu. The brewing established a base for whiskey and brandy production. The distiller is located at 798 meters above sea level near the Japanese central Alps. This location is under 15 degrees Celsius during winter periods and the climate is suitable for making Whiskey. Their beer factory also stands next to the whiskey factory and tour participants can taste both its whiskey and beer.
Main Product: Mars Amber
The whisky has a full and balanced flavor.
【Information】Hombo Mars Distillery
Address: Miyatamura 4752-31, Kami-inagun, Nagano Prefecture
Closed: Weekends, National Holidays, Year End/ New Year's holidays
Website(Japanese text only): https://www.hombo.co.jp/factory/shinshu.html
Contact Number: 0265-85-0017
Tour Fee: Free of Charge *Charged for some whiskey tasting
Tour Duration: 30 min
4. Chichibu Distiller
Chichibu Distiller is the only company that focuses exclusively on the production of whiskey. Their major product Ichiro's Malt is becoming a world-famous whiskey brand as it is a handicraft whiskey being carefully and gently malted. The home of the whiskey is located in Chichibu city, in Saitama Prefecture, approximately one hundred away from the center of Tokyo. The place is extremely cold during the winter being under zero degrees in the evening and early morning. (The summer is hot and humid there, though.) Thanks to this environment, the whiskies grow rich flavor despite their short aging periods. The guided tour is not held on a regular basis. The factory may open to the public during the whiskey festival of Chichibu.
Main Product: Ichiro's Malt Malt & Grain White Label
The whiskies have a fruity and well-balanced taste.
【Information】Chichibu Distiller
Address: Midorigaoka 49, Chichibu, Saitama Prefecture
Contact Number:0494-62-4601
5.(A liquor in Tokyo, paid tasting available) Liquors Hasegawa Honten
The Liquor offers paid tasting. It would be a convenient place for people who would like to try two different brands of Japanese whiskey before purchasing. The shop stands at the underground of the busy Tokyo station and is popular among tourists. Then, the tasting is limited up to five times a day and two times in each visit. You would be encouraged to have a quick drink. Yet, you can experience a variety of kinds of whiskey for reasonable prices.
【Information】Liquors Hasegawa Honten
Address: Yaesu Chika 1st Street, Yaesu 2-1, Chuo,Tokyo
Business hours: 10:00 – 20:00
Closed: Year End/ New Year's holidays
Contact Number: 03-3271-8747 or 03-3271-3317
*Confirm the availability of your desired whiskey via the contact number as the stocks are changing every day.
Website (Japanese text only): http://www.liquors-hasegawa.com/hpgen/HPB/entries/60.html
Map of Whiskey Places in East Japan