What is special about Pontocho?
In Kyoto, it's quite difficult to choose a restaurant because there are many good restaurants.This time we would like to introduce "Pontocho Alley", one of the best areas to eat out in Kyoto.
"Pontocho" is located within Hanamachi district in Kyoto,known for geiko and maiko and is home to many geiko houses and traditional tea houses.
(Both geiko and maiko are known as a geisha by Western people)
Like Gion district, "Pontocho" is also famous for the well-preserved traditional architecture and entertainment.
The name "Pontocho" is said to be a portmanteau of the Portuguese word "ponte (bridge)" and the Japanese word "cho" meaning town, block or street.
"Pontocho Alley" is one of the Kyoto's most atmospheric dining areas.
It is a narrow alley running from Shijo-dori to Sanjo-dori, one block west of Kamogawa River.
The alley is packed with restaurants on both sides offering a wide range of dining options from inexpensive yakitori (chicken skewer) to traditional and modern Kyoto cuisine, foreign cuisine and highly exclusive establishments that require the right connections and a fat wallet.
Most of the restaurants along the eastern side of the alley overlook Kamogawa River.
From May to the end of September, most of them build temporary platforms over the flowing water where patrons can dine out in the open air which is known as "kawayuka".
If you come to Kyoto in summer season , you should try to get there!
In this article, we are sharing our picks of 10 best restaurants in Pontocho Alley, Kyoto to have the most wonderful food experience.
10 Best Restaurants in Pontocho
1. Kyo no Yakinikudokoro "Hiro" Pontocho
Hiro is a Yakiniku restaurant serving only the best selected Wagyu beef.
The restaurant is run by the famous beef shop in Kyoto and has several branches in central Kyoto including in Pontocho Alley.
Chefs and waiters can speak English.
You can enjoy authentic Japanese beef in here.—————————————————-
・Dinner : 5,000 yen-8,000 yen / per person
・Open : 17:00~0:00(L.O 23:00)everyday open
・Tel : 075-223-1129 (+81-75-223-1129)
・Address : 176, Zaimokucho, Nakagyo-ku, Kyoto-shi, Kyoto,604-8017
Website :http://www.yakiniku-hiro.com/english/reservation_pontocho.html
2. Yamatomi
Yamatomi is an authentic Kyoto cuisine restaurant, offering 100 or more kinds of a-la-carte dish from 500yen. The ingredients are fresh with many varieties such as seafood, shrimp, beef, vegetables, sausages.
Yamatomi is the restaurant at which a tourist can also drop in freely.
This long-established restaurant have been serving locals and tourists for over 50 years.
The specialties of this restaurant are Tetsu-pin-age (spitted cutlet),Yuba (soy milk skin), Tofu, Namafu (Raw wheat gluten) and Oden (Japanese pot).
Dishes are delicious and reasonable!
—————————————————-
・Price : 2,000 yen-5,000 yen / per person
・Open : 12:00~14:00 , 16:00-23:30
・Tel : 075-221-3268
・Address : 226 Nabeyacho, Nakagyo-ku Kyoto
Website : http://www.kyoto-yamatomi.com/
3. Kushiemon
Kushiemon is one of the best located restaurants in the Pontocho area.
It's located on the second floor, so guests can see Kyoto's main river "Kamogawa" while having a meal.
You can enjoy "kushikatu (deep fried seasonal food)"and some side dishes.
—————————————————-
・Dinner : 3,000 yen-5,000 yen / per person
・Open : 【weekday】 15:00~23:00 (L.O.22:00)
【Sat・Sun・Holiday】 12:00~23:00 (L.O.22:00)
・Tel : 075-221-6477
・Address : 227 Nabeya-cho, Pontocho-dori Shijo-agaru Higashi-gawa , Kyoto
4. Uryu Pontocho Hana
Uryu Pontocho Hana serves authentic Kyoto cuisine with finely selected ingredients.
You can enjoy "Hamo"(dagger tooth pike conger) and "Puffer fish" in here.
Hamo is Kyoto specialty and it's a typical dish of Kyoto cuisine.
Enjoy "Kaiseki"meal in the elegant and historic dining space.
—————————————————-
・Lunch : 2,000 yen-3,000 yen / per person
・Dinner : 6,000 yen-12,000 yen / per person
・Open : 11:00-15:00, 16:00-22:00
・Tel : 075-252-1144
・Address : 141 Wakamatsucho Nakagyo-ku, Kyoto
Website : http://c-and-d.net/uryu/
5. Ukiya pontocho
Ukiya is second to none for Soba which is the famed buckwheat noodle from Japan.
Ukiya's soba is freshly made by hand (teuchi) every morning.
The signature dish at the restaurant is Uki Soba, an unique and original Soba dish which is served with whipped raw egg (namatamago) and natto! For deluxe option, try Ukiten Soba, which is served with Tempura ('ten' in Ukiten means tempura).
There are also Tempura dishes served with a bowl of rice, and Soba noodles with many other toppings!
You can enjoy Kyoto's noodle here!
—————————————————-
・Lunch&dinner : 1,000 yen-2,000 yen / per person
・Open : 11:30~16:00 , 17:00~20:30(L.O), Monday holiday
・Tel : 075-221-2978
・Address : Ponto-cho Sanjo sagaru ishiyamachi 125, nakagyo-ku, Kyoto
Website : http://www.ukiya.co.jp/shop/ponto/
6. pontocho Robin
Robin is a Japanese restaurant serving a la carte dishes and multi-course meals.
The chefs use seasonal ingredients, and diners enjoy painstakingly prepared cuisine and Kyoto-brewed sake.
Highly recommended dishes are the multi-course meals filled with the delicious and alluring Japanese cuisine including sashimi and grilled fish using fresh seafood, and assortments of beautifully colorful small dishes.
A la carte items include meat dishes prepared with Japanese beef.
This restaurant provides an atmosphere worthy of the city of Kyoto, with genuine Japanese cuisine.
Diners in search of such a traditional place should definitely check out Pontocho Robin.
—————————————————-
・Lunch : 3,000 yen-4,000 yen / per person
・dinner : 15,000 yen-20,000 yen / per person
・Open : 11:30~14:00 , 16:30~23:00(L.O)
・Tel : 075-222-8200
・Address : 137-4, Wakamatsucho, Nakagyo-ku Kyoto-shi, Kyoto
・should try : Grilled Japanese Beef with Salt / ¥3,600 (+tax)
Website : http://www.robin-kyoto.com/
7.Kyoto-Style Beef Cutlet Katsuushi
Kyoto Katsugyu is a franchised restaurant specialized in Gyukatsu dish (beef cutlet), and has numbers of branches across Japan.
The shop uses carefully selected beef including Wagyu Beef, which is breaded and then deep-fried to be crispy outside and juicy inside.
You can also pick a part of beef from rib, sirloin, fillet and tongue. Gyukatsu dishes are served with a bowl of rice, miso soup and condiments.
—————————————————-
・Price : 1,000 yen-2,000 yen / per person
・Open : 11:00~22:00(L.O21:30)
・Tel : 075-251-7888
・Address : 188 Zaimokucho, Nakagyo-ku Kyoto
Website : http://katsugyu-kyoto.com/
8.Nagamegawa Ponto-cho "Hana"
At Hana, you can enjoy authentic "Kaiseki" meal of Kyoto with a pleasant view of Kamogawa River.
The chef presents his reliable cooking skills as well as his originality in dishes filled with the best ingredients of the season.
Guests can choose from both a casual lunch set or full dinner course.
They also offer a large selection of Sake which you should also check out.
On the list, there are various kinds of locally brewed sake from Kyoto, mainly from Fushimi, which is Kyoto's most well-known sake production area.
A combination of Nagamegawa's dishes and a glass of sake will make your dining even more memorable.
—————————————————-
・Lunch : 3,000 yen-4,000 yen / per person
・Dinner : 5,000 yen-8,000 yen / per person
・Open : 11:30-14:00 (L.O.), 17:00-21:00 (L.O.) everyday open
・Tel : 075-255-5544
・Address : 232-8 Nabeya-cho, Pontocho-dori Shijo-agaru Higashi-gawa (8th building), Kyoto
Website :http://c-and-d.net/nagame/
9.Yuzugen Pontocho
Yuzu is Japanese citrus which is commonly used for Japanese dishes and beloved by Japanese people.
If you are curious about how Yuzu could be incorporated into a cuisine, Yuzugen doesn't disappoint you!
Yuzugen is the restaurant specialized in Yuzu, and serves various types of dishes using Yuzu such as hot pot dish, Gyoza, Ramen, etc.
Let's try and feel Japanese citrus flavor!
—————————————————-
・Price : 2,000 yen-5,000 yen / per person
・Opening hours :Weekdays 17:00 – 23:00(Last order 22:30)
Weekend 11:30 – 15:00(Last order 14:30)
Holidays 17:00 – 23:00(Last order 22:00)
・Tel : 075-254-0806
・Address : 212 Nabeyacho, Nakagyo-ku Kyoto
・shold try : Yuzu Ramen
10.Yasube pontocho (Okonomi-yaki)
Okonomiyaki is a Japanese savory pancake containing a variety of ingredients.
The name is derived from the word okonomi, meaning "how you like" or "what you like", and yaki meaning "grill" (cf. yakitori and yakisoba).
Okonomiyaki is mainly associated with the Kansai or Hiroshima areas of Japan,but in Yasube Pontocho, you can enjoy it with Kyoto style.
We recommend here if you feel hungry after drinking!
—————————————————-
・Price : 1,500 yen-3,000 yen / per person
・Opening hours :16:30-23:30 【Sun,holiday】 15:00-23:30
・Tel : 075-221-2613
・Address : 142 Umenokicho, Nakagyo-ku Kyoto
Recommended Pontocho Tour
If you wish to have an authentic food/drink experience in Kyoto, we highly recommend you to join a food tour which is becoming extremely popular among tourists today!
You can walk with local English speaking guides and they will show you some hidden spots where only locals would go. The knowledgeable guide will tell you some histories behind Kyoto and it will help you understand the city more and enjoy some delicious foods and drinks!
So much Fun! Thank you for showing us your beautiful city and the secret local spots to enjoy local food and drinks. We had a great time thank you Elie!

by Tour De Asia (06/06/19)
Tatsuya starts off with an introduction of Kyoto culture and some basic Japanese words we can use. We were introduced to hidden markets, bars and eating establishments that you would only know of from local knowledge. We fired so many random questions to Tachi about Japanese food, culture, lifestyle and words and he answered everything in his friendly, bubbly demeanour. He is a great guide that I wish I could bring along to every other city I visit in Japan.

by Robbie (12/20/18)
If you are interested in this tour, check out the link below and find more details!
▶ Kyoto Pontocho Backstreet Food and Drink Hopping Tour [Evening Tour]
You will get to know how locals actually enjoy their night life in Kyoto.
You may also like below articles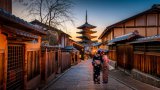 Things to Do in Kyoto at Night – Local Nightlife Spots
Do you know what you can do at night in Kyoto? In this article, we suggest some local night spots. Let's keep exploring this beautiful town until the middle of ...
https://blog.japanwondertravel.com/japanese-strange-and-weird-cafes-in-kyoto-osaka-11504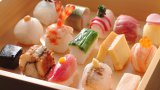 10 Best Sushi in Kyoto
Kyoto is one of the best cities in Japan to hunt for the high-quality and authentic Sushi dishes. From Michelin Star restaurants to 100 yen budget Sushi, we hav...
https://blog.japanwondertravel.com/the-best-15-craft-beer-shops-map-in-kyoto-11100
https://blog.japanwondertravel.com/6-things-to-try-for-enjoying-tokyos-nightlife-10733