Nagano prefecture is located north west of Tokyo, in the centre of Chubu region. The large prefecture is well known for its beautiful nature that includes mountains, forests and highlands. In 1998, the Winter Olympics were organised in Nagano, boosting the areas' popularity amongst snow activity lovers. Nowadays it is a popular destination for snow activities and hot springs in winter time, but also for hiking in summer time. Nagano city can be reached from Tokyo in under 2 hours per Shinkansen. If you love nature and outdoor activities, this will be one of your favourite areas. Let's discover some of the highlights!
Best places to visit in the other prefectures of Chubu region.
*If you already live in Japan, you can travel cheap with the Go To Travel Campaign
▷How to Travel Cheap with the Go To Travel Campaign
Nagano City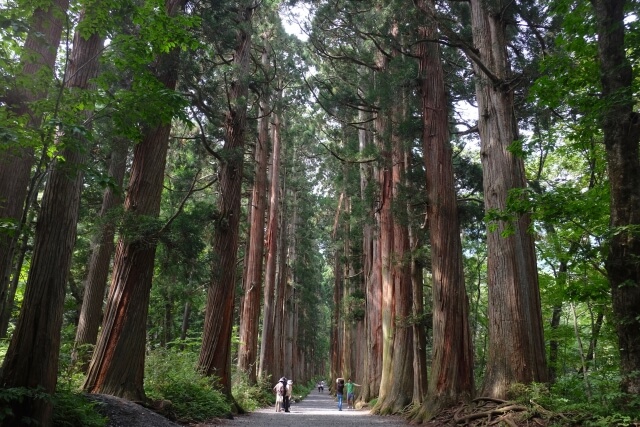 Nagano City is the prefectural capital, well known as the host of the Winter Olympics in 1998. It is the most developed city in Nagano and has many interesting places closely located to visit. Zenkoji Temple, one of the most important and popular temples of Japan, is one of the most famous places in Nagano. Togakushi Shrine is another great place to visit too. The Togakushi shrine consists of three shrines, connected by beautiful hiking trails that are surrounded by nature. The area is also famous for the Kids Ninja Village, a ninja school that is also popular amongst adults! Lastly, a trip to Nagano City could also never be complete without trying some of the local specialities; soba noodles. Make sure you enjoy this signature dish for lunch or dinner, or both!
Snow Monkey Park
Have you ever seen a monkey taking a bath? In Japan, you can see the famous snow monkeys relaxing in an onsen in winter season! In north Nagano, up in the mountains about 50 minutes from Nagano city, the Japanese Macaques survive the tough winters by grouping around natural hot springs. It is an very fun thing to observe, and many people see a visit to the snow monkeys as one of the highlights of their trip to Japan!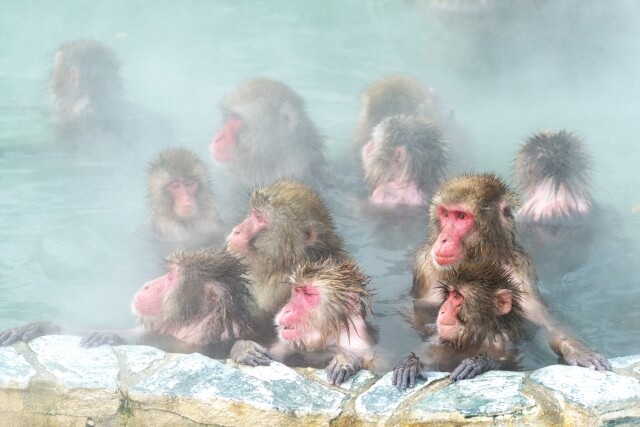 The Snow Monkey Park is the place where the monkeys bathe in the hot springs during the winter season. The mountainous area is the natural habitat of the Macaques. During the cold winters, the monkeys stay alive by seeking shelter in the onsen, where the wild animals can be spotted at close distance without fences. The Snow Monkey Park is also called Jigokudani Yaen-park and is located in the valley of the Yokoyo river.
Zenkoji Temple
Zenkoji Temple is a famous Buddhist temple located in Nagano city, the prefectural capital of Nagano. The temple was built in the 7th century and is visited by about 6 million people annually. The temple is home to Japan's oldest Buddhist statue brought into Japan when Buddhism was first introduced in the 6th century. The statue is hidden though, every six years a replica of the statue is displayed for a few weeks, attracting many people from all over Japan. The main hall, which was reconstructed in 1707, is said to be one of the oldest wooden cultural structure in the east of Japan!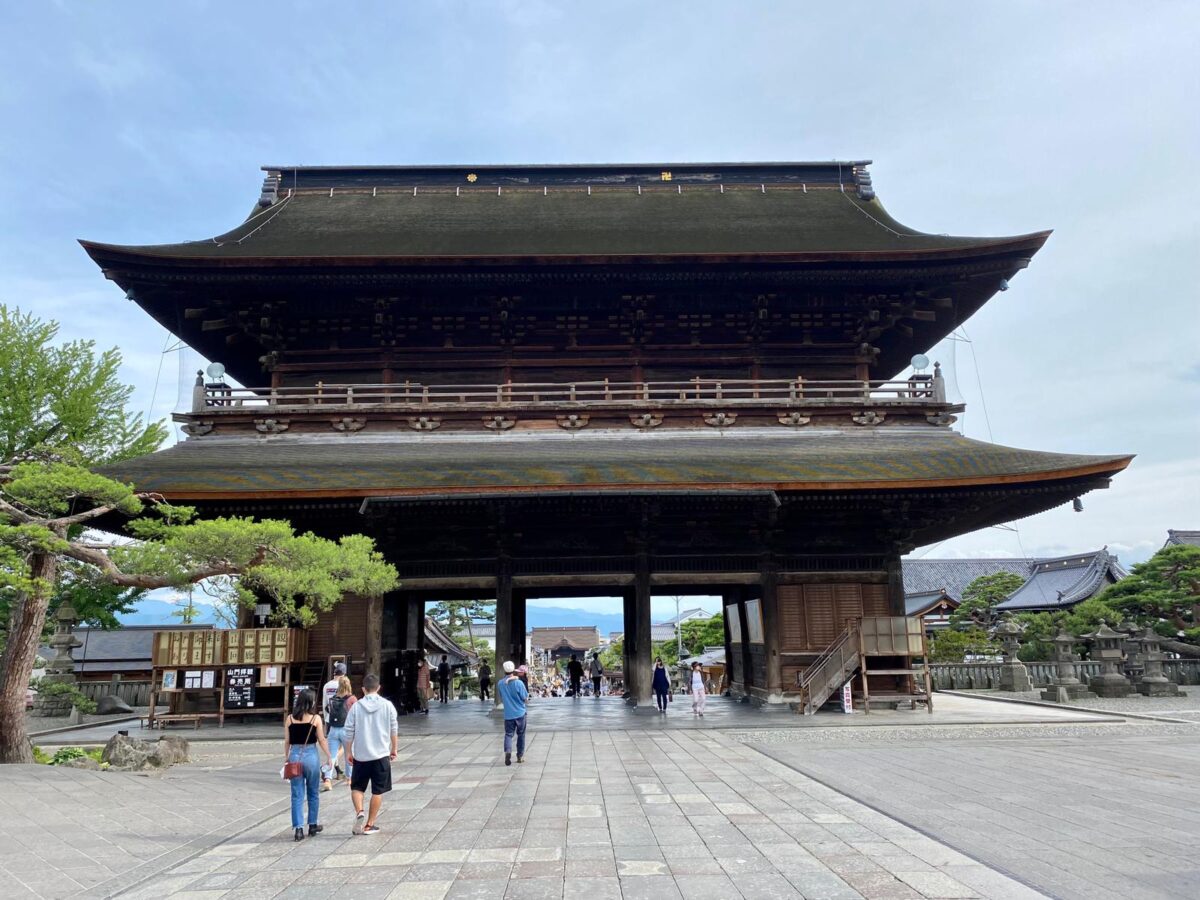 Shukubo
On either side of the streets leading to the main entrance, you have the opportunity to have another traditional, local experience: staying overnight at Buddhist temple lodgings called shukubo. Shukubo are still very popular both for visiting pilgrims as well as tourist. You can have a traditional experience staying at the Shukubo regardless of your religion!
Matsumoto Castle
Matsumoto Castle is one of the most famous historical sites in Nagano and one of the 12 original castles in Japan. The nearby town a smaller sized city with a traditional atmosphere with several fantastic food options. The history dates back to the 16th century making it the oldest surviving castle tower in the nation. The five-story main tower is thought to be built during the Azuchi Momoyama to the Edo era, and is designated as National Treasure along with other four castles such as Himeji Castle in Hyogo and Inuyama Castle in Aichi. The black and white exterior creates a stunning view with the natural surroundings and the Northern Japan Alps in the background! The black walls also earned the castle's nickname: Karasujo (Crow Castle).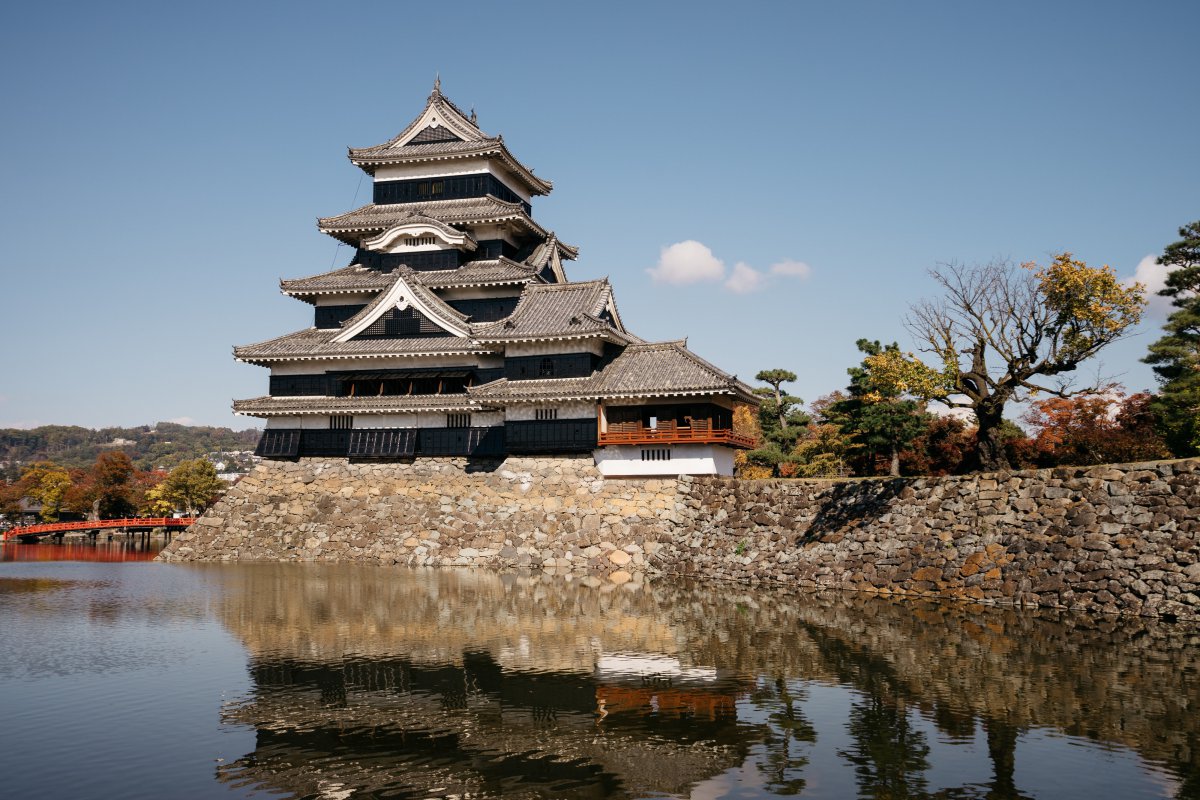 Matsumoto castle
8.30am – 5pm
¥700 (adults)
When you enter the castle grounds, look for the free guided tours, local volunteers often offer frequent tours in English.
Yudanaka and Shibu Onsen area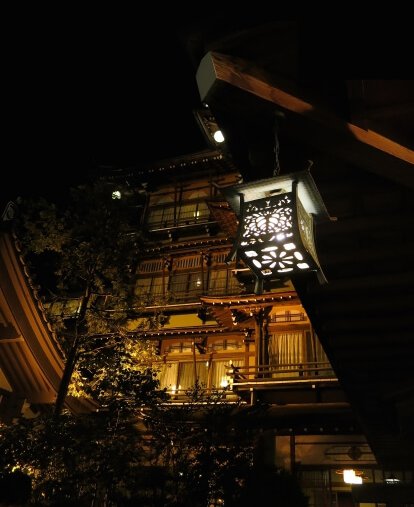 Yudanaka and Shibu Onsen area lies approximately 10 minutes away from the Snow Monkey Park by car, alternatively you can take the train to Yudanaka station. After your visit to the snow monkeys, follow their example and relax in one of the onsen of Shibu Onsen. In total there are nine different onsen and it is said that a visit to all nine onsen will bring good fortune! There are some traditional ryokans in Shibu Onsen, so you can stay overnight as well.
Snow resorts in Nagano
When you visit Nagano to see snow monkeys, you will probably plan your visit in the winter season, when there is snow. Which brings us to the next place to visit: The mountains of Nagano also known as the Japanese Alps. The mountainous area offers great possibilities for winter sports. With 9 of the 12 tallest mountains in Japan, the region of Nagano offers winter sport options for everyone. Skiing in Japan has become a very popular activity, because of its great quantity of high quality of snow.
Hakuba
Next to Hokkaido, Hakuba is very popular ski resort in Japan considered as the best ski resort in the mainland. Hakuba comprises several smaller ski resorts in the area, offering various courses with spectacular scenery of Japan Alps and fine powder snow.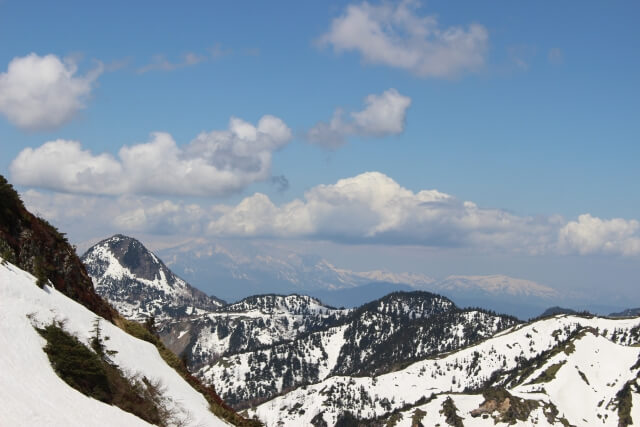 Shiga Kogen
About 25 minutes from the Snow Monkey Park you will find the famous ski resort Shiga Kogen. Shiga Kogen is Japan's largest ski resort, made out of 18 smallers resorts, that has some of the best and most reliable powder in Japan. This is because of the topography and elevation of the resort in combination with the cold temperatures. These circumstances give very dry powder snow that stays on the ground for longer and in better condition than most others resorts.
Nozawa Onsen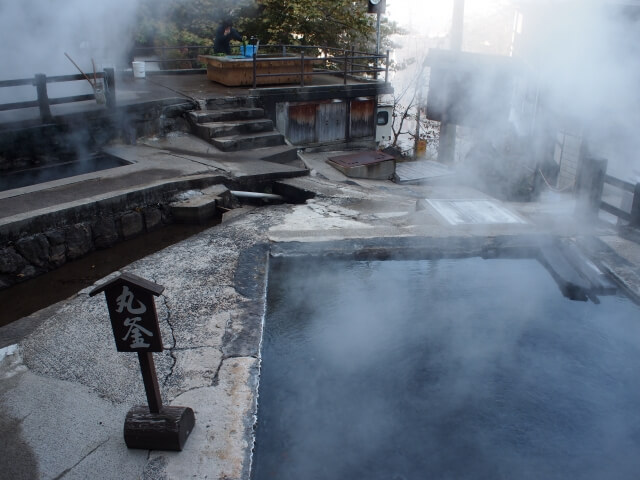 Nozawa Onsen is a hot spring and ski resort village near Nagano. The nostalgic town is famous for its many different types of onsen, in total 13, which have been maintained by the local community since the Edo Period and are freely open to the public. The ski area comprises about 50km of ski slopes, making it a great weekend trip from Tokyo. The village is especially popular amongst international travellers because of its snow quality, its traditional cute centre and because English speaking travellers are well catered for.
Lake Suwa
Lake Suwa is the largest lake in Nagano area which boasts a number of tourist attractions around. The lake itself is beautiful and worth a visit, but we highly recommend you explore other enjoyable spots nearby depending on your interests. If you prefer to go somewhere associated with history, Suwa Taisha or Suwa Grand Shrine could be a perfect option for you! It is a main shrine of the more than 10,000 Suwa shrines located in Japan. The grand shrine mainly consists of four complexes that can be found around the lake. Each of them maintains a sacred atmosphere, and offers a valuable experience for visitors.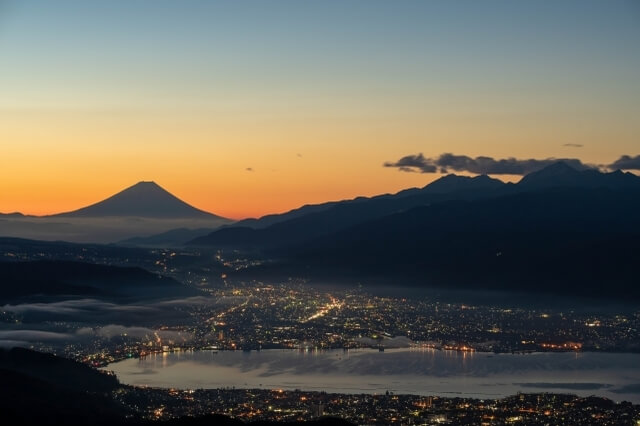 Another spot is Tateishi Park that offers a panoramic view of the lake and the city of Matsumoto! As the scenery looks similar to a scene from the famous movie Kimi no Nawa (English title Your name), it became a popular place among movie fans as a real-life anime location for the movie!
Kiso valley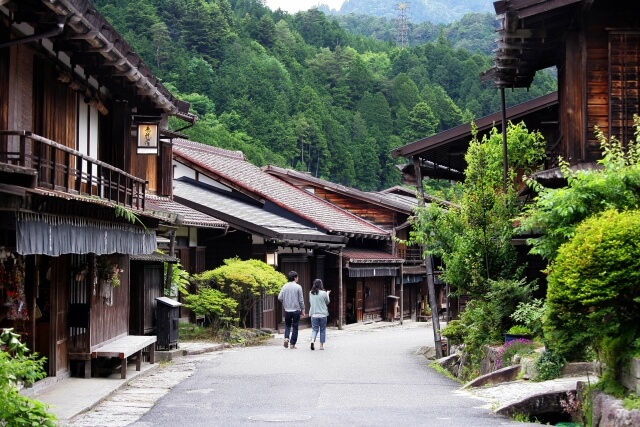 Kiso Valley is known as a historic preservation area that is great for a weekend trip from Tokyo. In the Edo period (1603 – 1868), the Nakasendo road was one of the two roads connecting Edo (Tokyo) and Kyoto. Because of restrictions by the shogunate, people usually travelled this road by foot, causing villages where travellers could eat and rest, to pop up every few kilometers. Some towns along the Nakasendo ("path through mountains'), such as Magomejuku & Tsumagojuku, were preserved to look as they did during the Edo Period (1603-1868).
Juku refers to places that served as post towns (also known as post stations) offering accommodations and other service for travellers. Most buildings are currently used as inns or restaurants to welcome tourists from all over the world as well. The trail between the two towns is about 6 km in length and takes 2 hrs to complete. Alternatively, when you start in Magome and end in Tsumago you can walk a further 90 minutes to Nagiso. Buses also make the journey between Magome, Tsumago and Nagiso and back.
Daio Wasabi Farm Azumino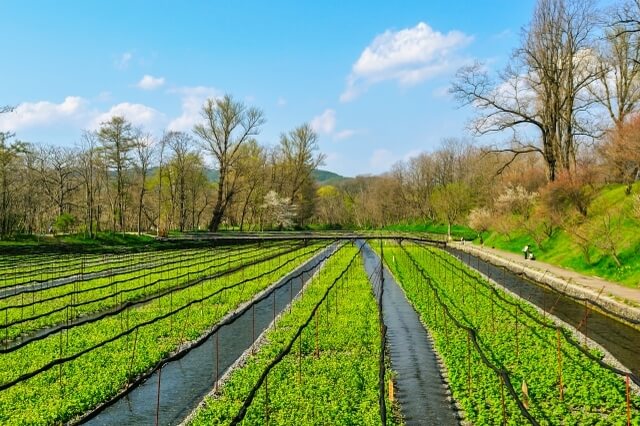 Wasabi is known as a condiment that is often used in Japanese traditional cuisines such as sushi or sashimi. We usually use the stem part which is carefully grated into a paste. The spicy flavour directly stings your nose, and sometimes brings even tears! It may sound strange at first, but once you get used to it, you can't enjoy Japanese food without it! Azumino city is a famous producer of wasabi in Nagano, and Daio Wasabi Farm produce one of the most tasteful wasabi in Japan! They use clear water from the Northern Alps to grow Wasabi and sell a variety of wasabi-flavoured products such as wasabi soft serve ice cream! There are other enjoyable activities around the farm such as rafting in a peaceful river and spiritual spots.
Hotels Around Snow Monkey Park
These are recommended hotels located in the area around Snow Monkey Park. While it is possible to do a day trip from Tokyo, we recommend you stay at least one night to discover the area. If you stay at Shibu Onsen area, make sure to check these accommodations! These traditional Japanese ryokan all offer free pick-up and/or transportation to the Snow Monkey Park and several onsen, both indoor and outdoor.
Japan's pride are not just the urban areas like Tokyo and Kyoto, that are popular among tourists. Nagano gives you an opportunity to immerse yourself into the nature and history of Japan which are hardly to be found in developed areas full of skyscrapers and busy people. A visit to the Snow Monkey Park and seeing the Japanese Macaques relax in the onsen is considered by many a must do, or even a highlight of their trip to Japan. We recommend you make most out of your visit to Nagano prefecture and stay overnight and visit the highlights mentioned in this article. Combine the outdoor activities with a relaxing moment at the onsen, followed by a traditional local soba noodles meal!
Follow us on Instagram or Facebook for more travel inspiration. Or tag us to get featured!
Happy travelling!
---
This post may contain some affiliate links. When you click through and make a purchase we may receive some commission, at no extra costs to you.