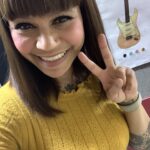 Writer's Profile
Misty Fujii is a Canadian who moved to Osaka, Japan in 2019 and married her Japanese sweetheart. In 2022 they had a baby and moved to Fukui for the clean country air. She is a DJ who teaches English part time and writes in order to share Japan with the world. She gets excited about collecting vintage vinyl records, food of all countries, travelling and renovating her traditional Japanese house.
This post may contain some affiliate links. When you click through and make a purchase we may receive some commission, at no extra cost to you.
Japan's northernmost island is a beautiful place to visit all year round. With scenic beauty and high-energy activities like skiing, hiking, and mountain climbing, it's the perfect place to unwind in some onsen. Thanks to so many volcanically active areas all over Japan, the country is well known for its incredible hot springs, and Hokkaido is no exception! You'll be able to bathe in some of the most breathtaking landscapes like mountains, forests, national parks, and in many different water types such as alkaline, iron, and thermal hot springs. If you're in Hokkaido, you'll want to try one of the onsen there, and with so many to choose from, we've narrowed it down to ten of the best.
1. Jozankei Onsen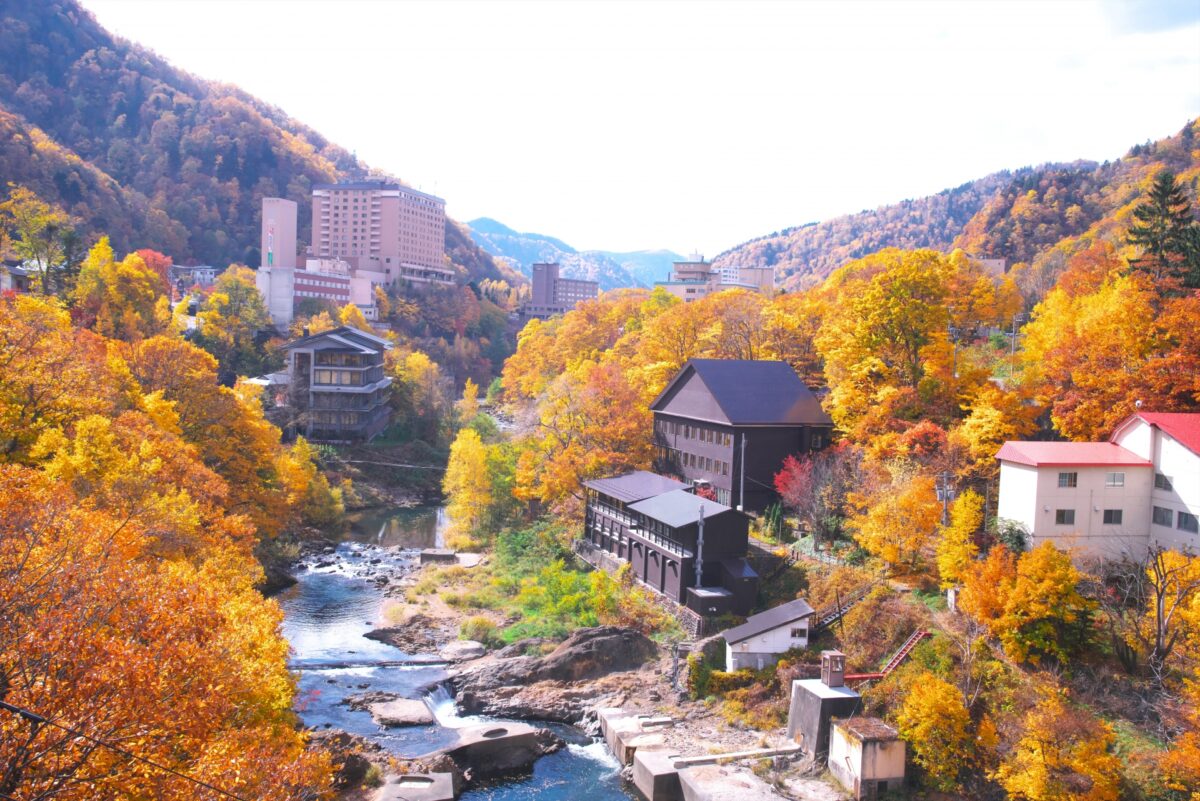 We start off on our onsen journey with this historical hot spring located an hour south of Sapporo and easily accessed by bus from Sapporo station. In 1886 a Buddhist monk was led to this verdant spot by the Indigenous Ainu people in a lush ravine with trees, perfect for admiring the four seasons. The onsen area has around 18 hotels, all with access to the healing waters and several foot baths around the town. If you want to avoid staying in a hotel, the onsen waters can still be accessed on a day pass. The water you'll find here is transparent with sodium chloride and a little salt, which is said to help with ailments like anemia, neuralgia, shoulder joint pain, and more. The salt prevents sweat from evaporating, so you'll stay warm from the inside.
2. Noboribetsu Onsen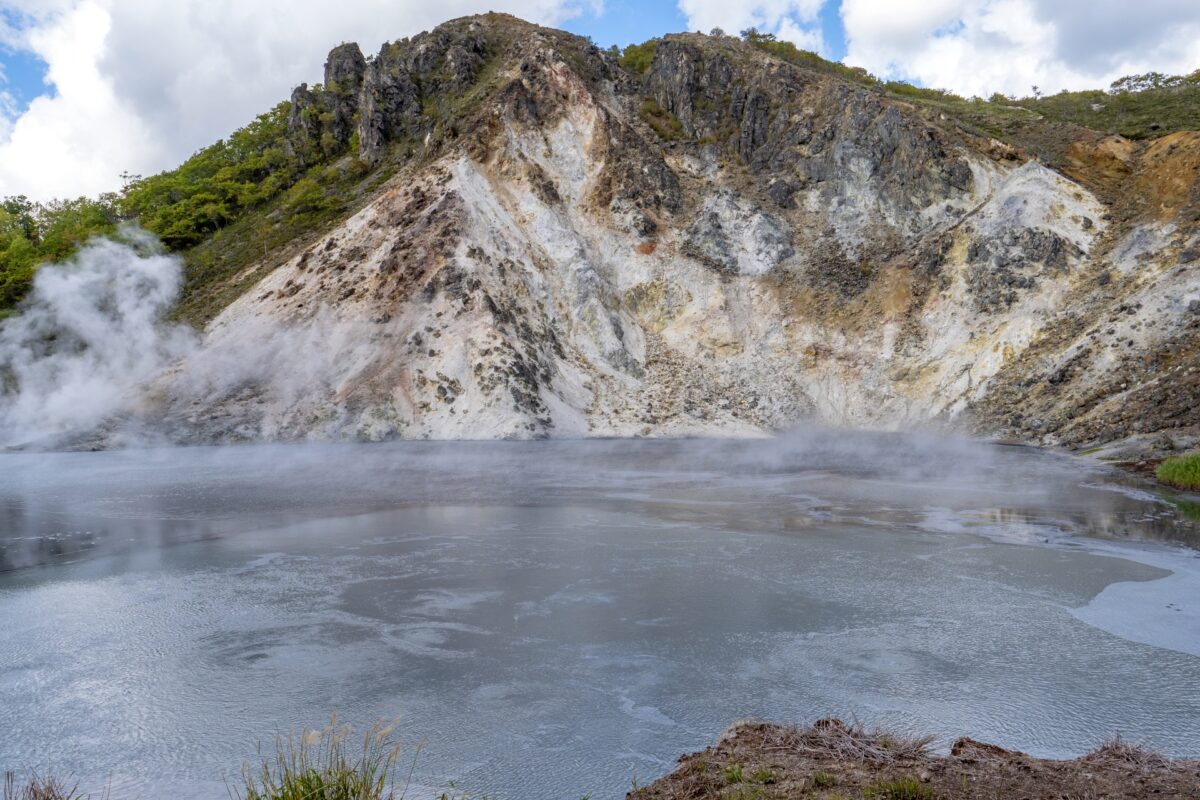 It's rare to find an onsen area with many different types of hot springs, and Noboribetsu Onsen offers just that. Created by volcanic activity 10,000 years ago, Hokkaido's most popular onsen has ten different healing waters, including the more common sulfur and saline springs. But you'll also find iron springs with reddish-brown water, radium springs offering a calming effect, and even hot springs for beauty, among many others. While visiting, take a walk around the town and explore Jigokudani (Hell Valley), where demons supposedly boil the waters of the hot springs. From Sapporo, it takes about two hours to reach Noboribetsu by train, bus, or car.
3. Lake Toya Onsen (Toyako Onsen)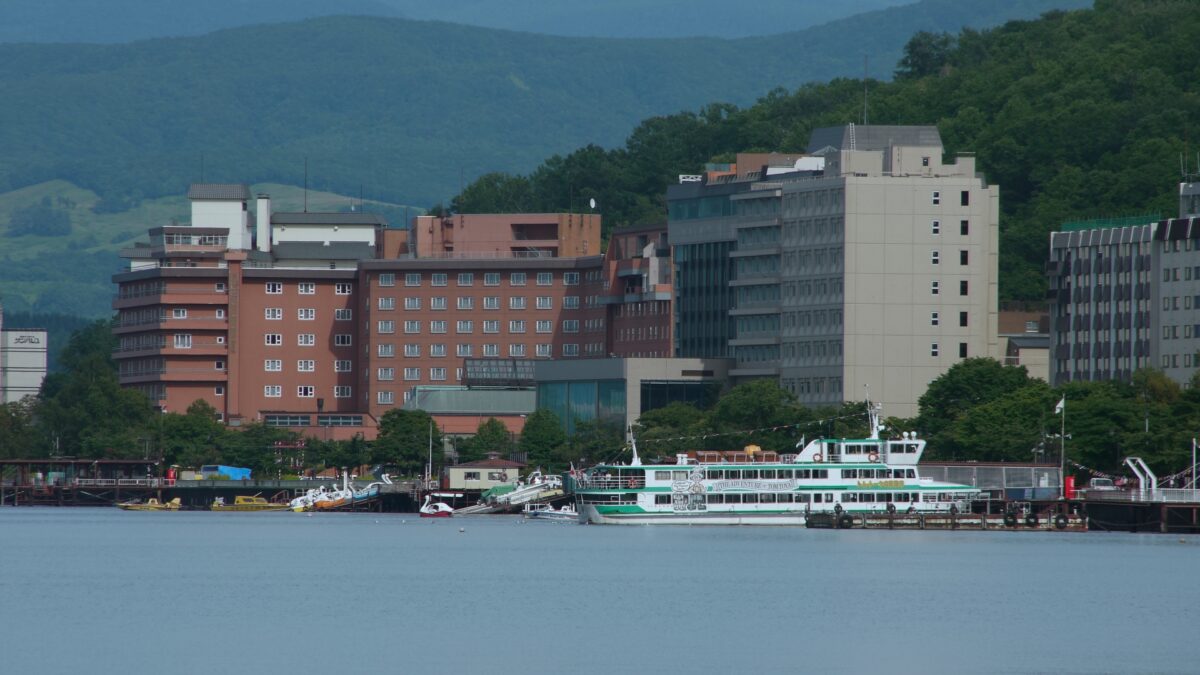 While Noboribetsu may be Hokkaido's most popular and diverse onsen, Lake Toya (Toyako) is said to be the most beautiful. The hot springs offer incredible views of Lake Toya and the surrounding mountains and are located two hours from Sapporo by car or train. The hot springs formed after a volcanic eruption in 1910, you can even take a walking trail to see the aftermath of it in between soaks in the waters. The baths are full of sodium, calcium, bicarbonate, and sulfate, making them ideal for treating fatigue, nerve and joint pain. The quaint town offers many things to do, such as a cruise, walking around the lake to see the many sculptures placed there, taking a ropeway to the top of Mt. Usu, and more.
4. Yunokawa Onsen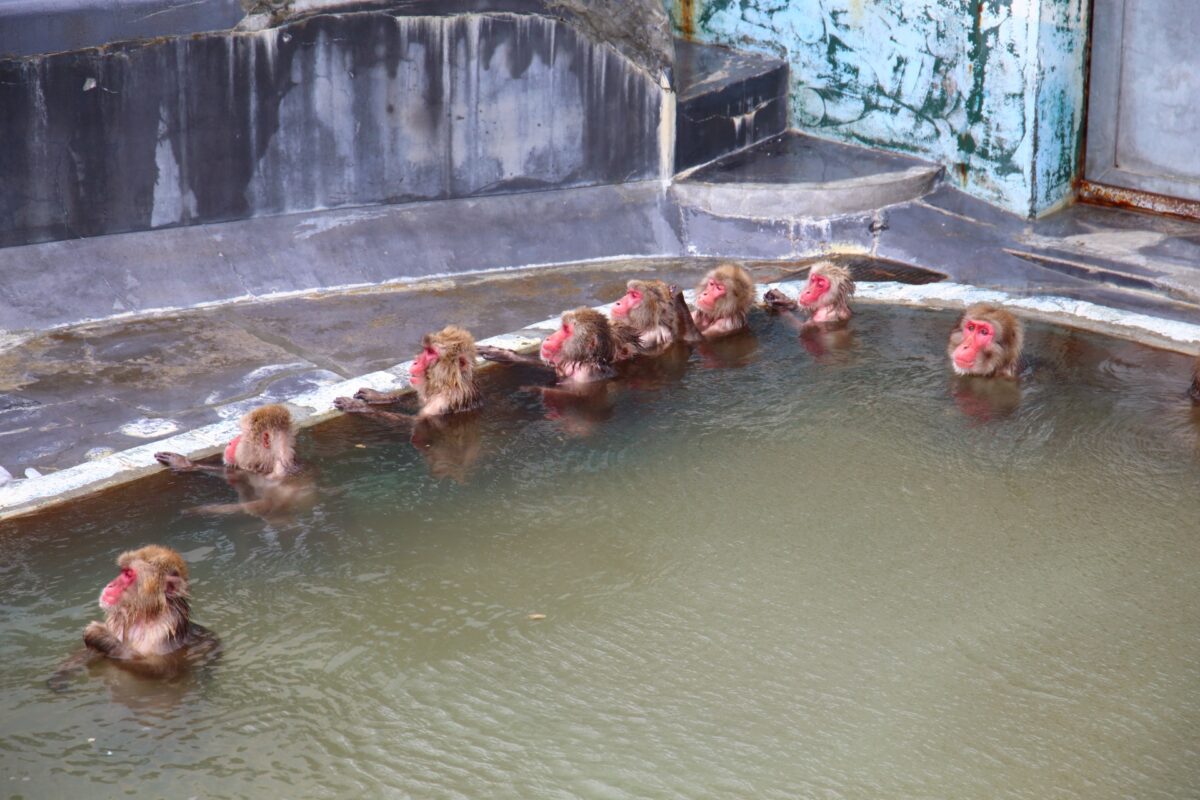 Dating back to 1653, this oceanside hot spring 15 minutes outside of Hakodate City has a lot of history. It was credited for healing the ninth head of the Matsumae clan, Takahiro, along with injured soldiers during the Hakodate War. Benefiting countless people ever since it was discovered, this exceptionally hot onsen has been one of Hokkaido's most popular. There are plenty of attractions in the town, like Kosetsuen Garden, Shinoritate Castle Ruins, and a tropical botanical garden where you'll find Japanese monkeys taking a leisurely soak in their own hot spring bath. For humans, the 65-degree hot springs are ideal for helping stiff shoulders, bruises, sprains, and more with its water full of natrium calcium chloride. You'll instantly feel revived, soaking in a bath while overlooking the ocean.
5. Tokachigawa Onsen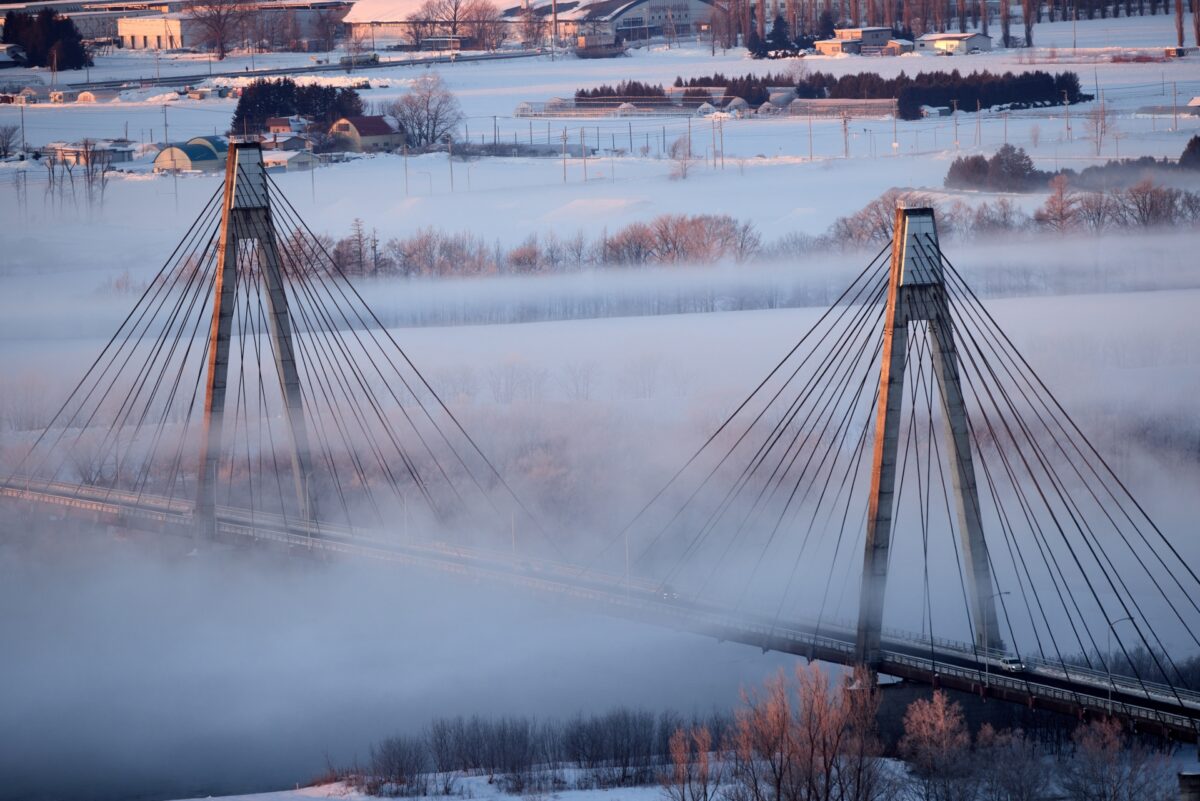 Tokachigawa Onsen is unique in that it isn't a mineral hot spring like most but rather an alkaline moor-based hot spring! The source of the water comes from the Tokachi River in Otofuke Town. Located a three-hour train ride from Sapporo and about 20 minutes by car from JR Obihiro Station, the hot springs are renowned for their skin-softening properties. The water is a reddish brown since it is derived from native plants accumulated with the groundwater there. Every season is beautiful; depending on when you go, you can experience fireflies in the summer, snow in the winter, and the beautiful colors of leaves and flowers in autumn and spring.
6. Kawayu Onsen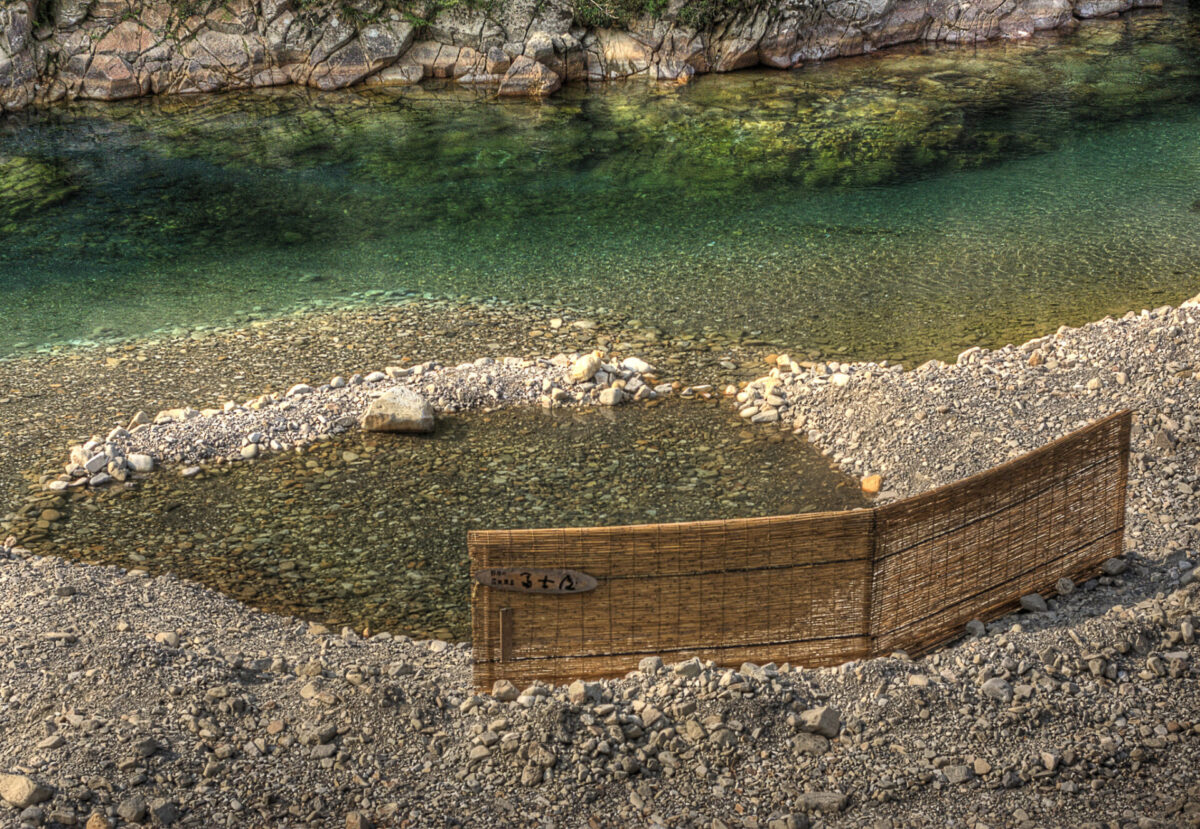 Witness volcanic smoke rising from Io-zan (sulfur mountain), the source of the hot spring, with 100% of the water coming from here. This hot spring is in a small town; visitors come for the acidic waters and because of its proximity to two famous lakes, Lake Mashu, and Lake Kussharo. The sulfur smell permeates the air indicating how effective the baths are; they are perfect for neuralgia, chronic dermatitis, and many other ailments. In addition to the baths found within the ryokan here, the town also has a large foot bath, Eco Museum Center, and Sumo Museum. You can get there by bus from JR Kawayu Station.
7. Sounkyo Onsen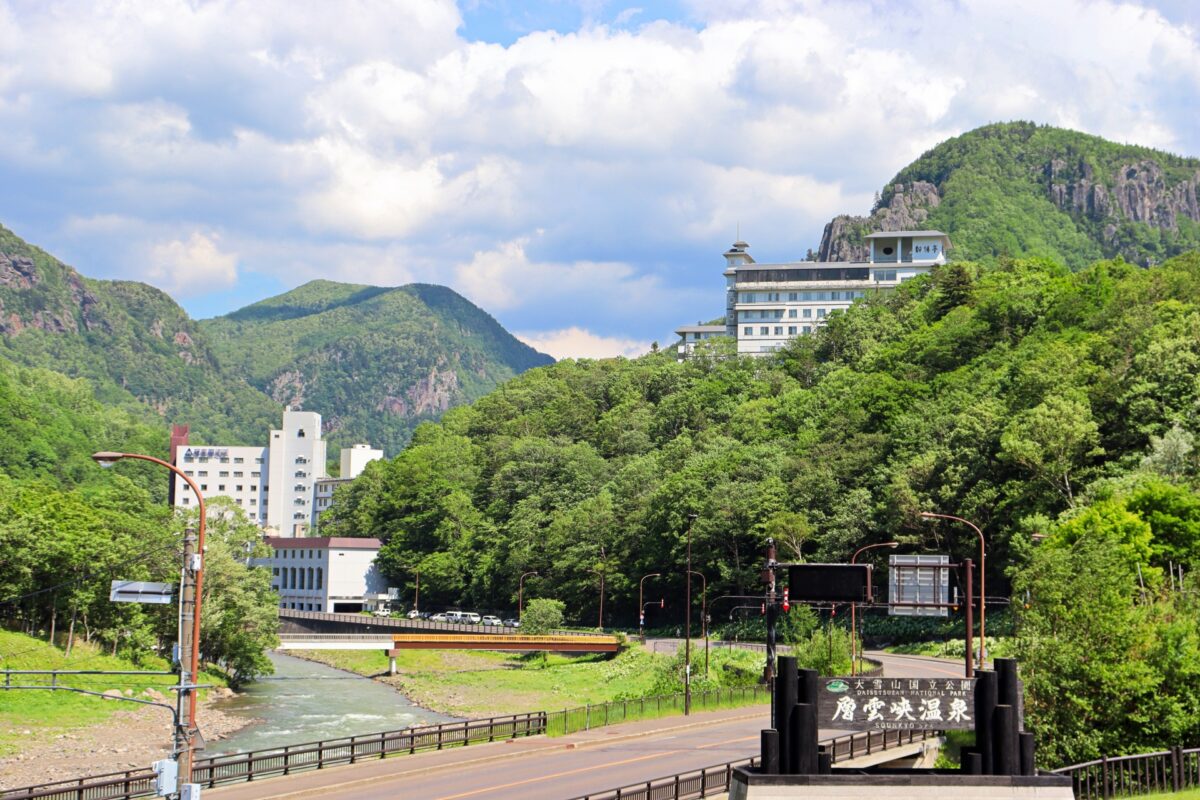 Surround yourself with picturesque nature from the base of this mountain onsen. The thermal hot spring lies in the Daisetsuzan National Park, where you can soak in the waters while soaking in the beauty in one of Hokkaido's most scenic locations. The best views come from the many ryokans, and many make their baths available to both staying and non-staying guests. The area also offers hiking tours, has two beautiful waterfalls, and a ropeway that takes you up to Mount Kurodake. The fall season promises incredible views of the changing leaves, and winter is when the town hosts the Sounkyo Ice Waterfall Festival. You can get here by bus from Asahikawa Station, which takes about 2 hours, or take a JR train to Kamikawa Station and a 30-minute bus from there.
8. Akanko Onsen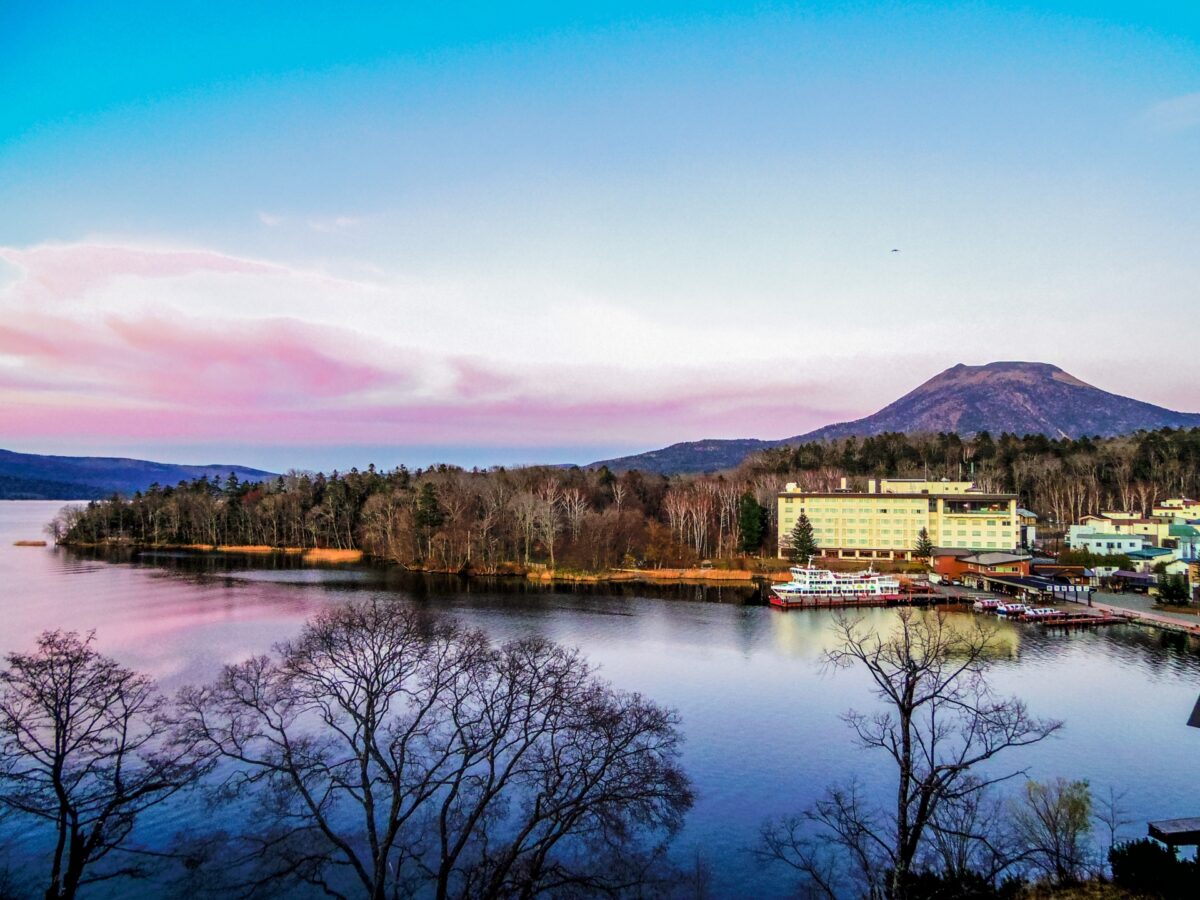 This Eastern Hokkaido onsen is rich with the beauty of nature and indigenous Ainu culture. This hot spring town is lively, with shops and opportunities to see traditional Ainu performances. Located beside Akan-Mashu National Park, you'll see caldera lakes, including Lake Akan, where algae balls called marimo grow. The marimo is so well-loved that they've become mascots of the area! There are hotels with hot spring access that overlook Lake Akan, Mount Oakan, and Mount Meakan while you soak. The waters here are thermal hot springs suitable for neuralgia, poor circulation, and more. There is plenty to do in the area, like nature hikes to see small boiling springs, an eco-museum, the Ainu Living Memorial Hall, and so much more. You can get here by car in 90-minutes from JR Kushiro Station.
9. Lake Shikotsu Onsen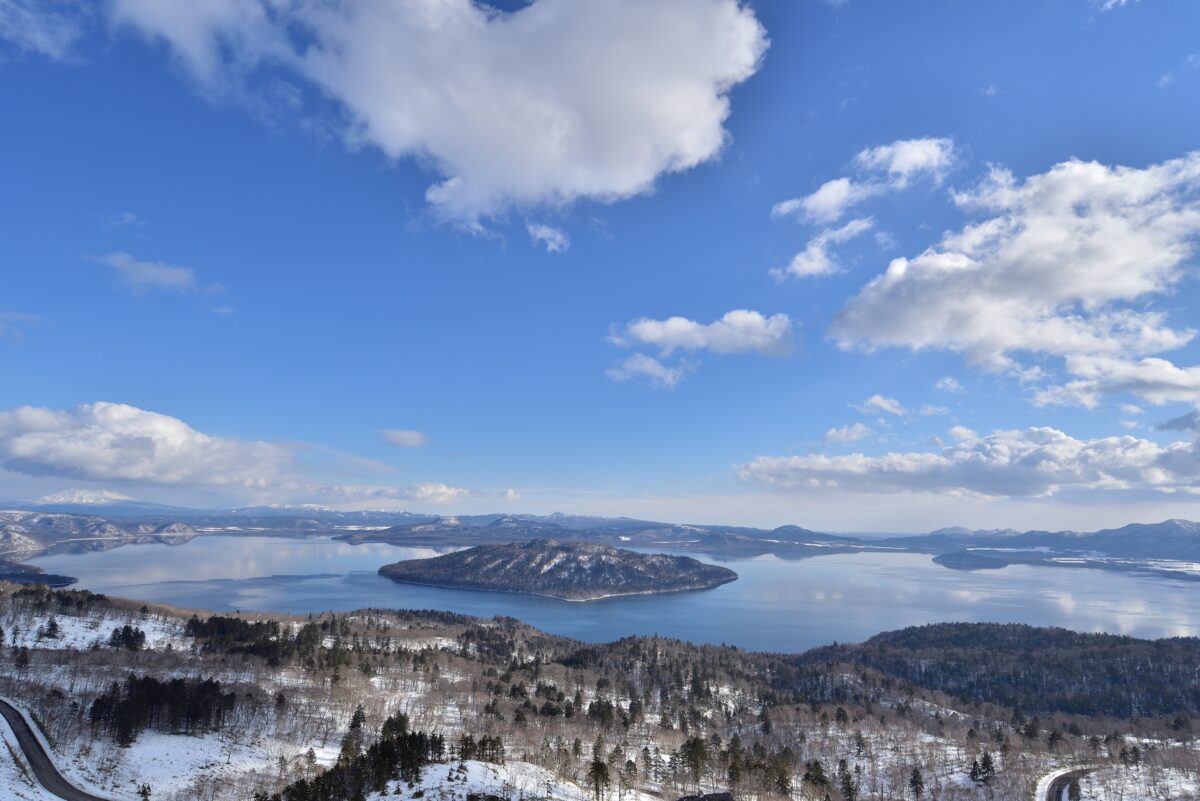 Known for some of the most transparent waters in Japan, you can relax in this onsen's healing baths while admiring the mountainous landscape. Aside from a small town geared toward tourists, much of this area remains untouched and brimming with nature. The onsen water here will make your skin remarkably smooth thanks to its hypotonic low alkaline properties. Along the shores of the lake, visitors can take cruises, rent boats or scuba gear to enjoy the crystal clear waters and enjoy nature hikes, including catching views atop the steep but climbable Mount Tarumae. A car is recommended for sightseeing, but the onsen can easily be accessed by bus from Shin-Chitose airport or 30 minutes by car from New Chitose airport.
10. Utoro Onsen(Shiretoko)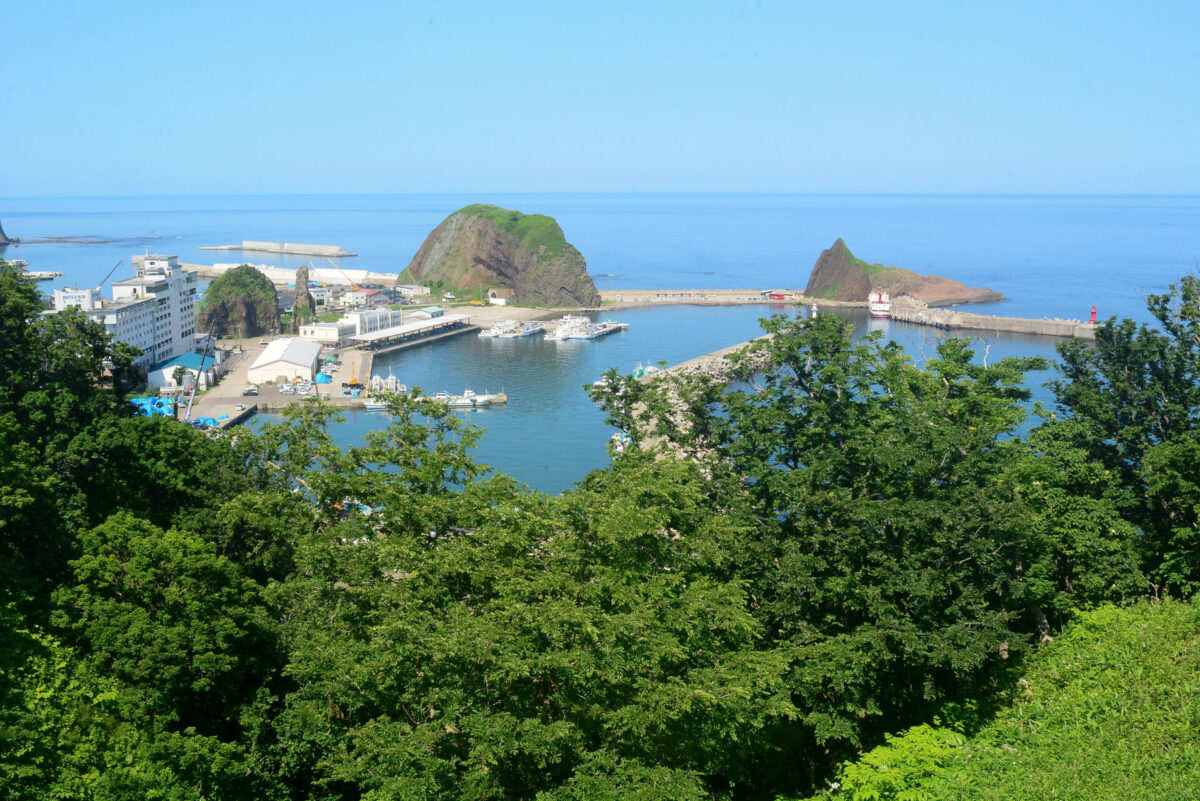 Rich in hot springs, the Shiretoko Peninsula is located above the world-famous Kuril Volcano Belt and has bountiful nature. Utoro Onsen is unique for its brown hot spring water full of iron and sodium, which is ideal for weary travelers. You'll be able to rest in many open-air onsens overlooking the Sea of Okhotsk, which is especially beautiful during the sunset. The town is primarily a small fishing village, but the hot spring area has plenty of large ryokan to make your stay a comfortable one. Utoro is accessible from JR Shiretoko Shari Station via the Shiretoko Airport Liner bus.
With so many onsen to choose from in Hokkaido, you can easily unwind and take in some of northern Japan's most beautiful nature and sights. Any of these hot spring towns would make a superb stop during your Hokkaido trip and is well worth including in your itinerary.
A Comprehensive Map of Onsen Spots Featured in this Article
Where to stay in Hokkaido
While you're up in Hokkaido soaking in the onsen, you'll need somewhere to stay for the night. Of course, some of the onsen will be able to provide lodging as well, but for those that don't or if you're just looking to go for a day soak, we have some great accomodation options for your stay up north. Have a look below.
Japan Wonder Travel Tours
Japan Wonder Travel is a travel agency that offers guided tours throughout Japan.
From private walking tours to delicious Food and Drink tours, we can help you organize the best tours just for you! If you want to explore Japan and learn more about the history and backstories of each area you are visiting, our knowledgeable and friendly English speaking guides will happily take you to the best spots!
In addition, we can provide you with any assistance you may need for your upcoming trip to Japan, so please feel free to contact us if you have any questions or need some help!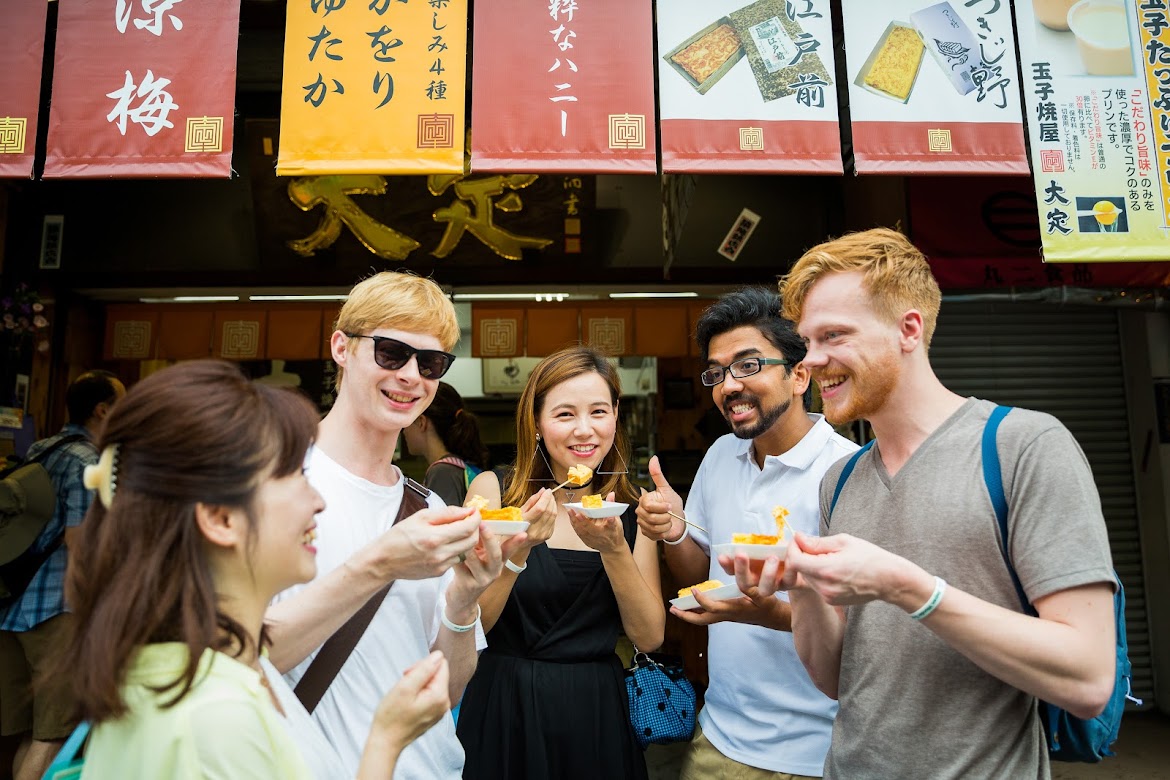 ▶Tokyo 1–Day Highlights Private Walking Tour (8 Hours)
There's no better way to explore an area than taking a tour with a knowledgeable local guide. You will have the chance to learn about the history and interesting background stories of Tokyo, as well as discover some hidden gems which can be hard to do without a guide.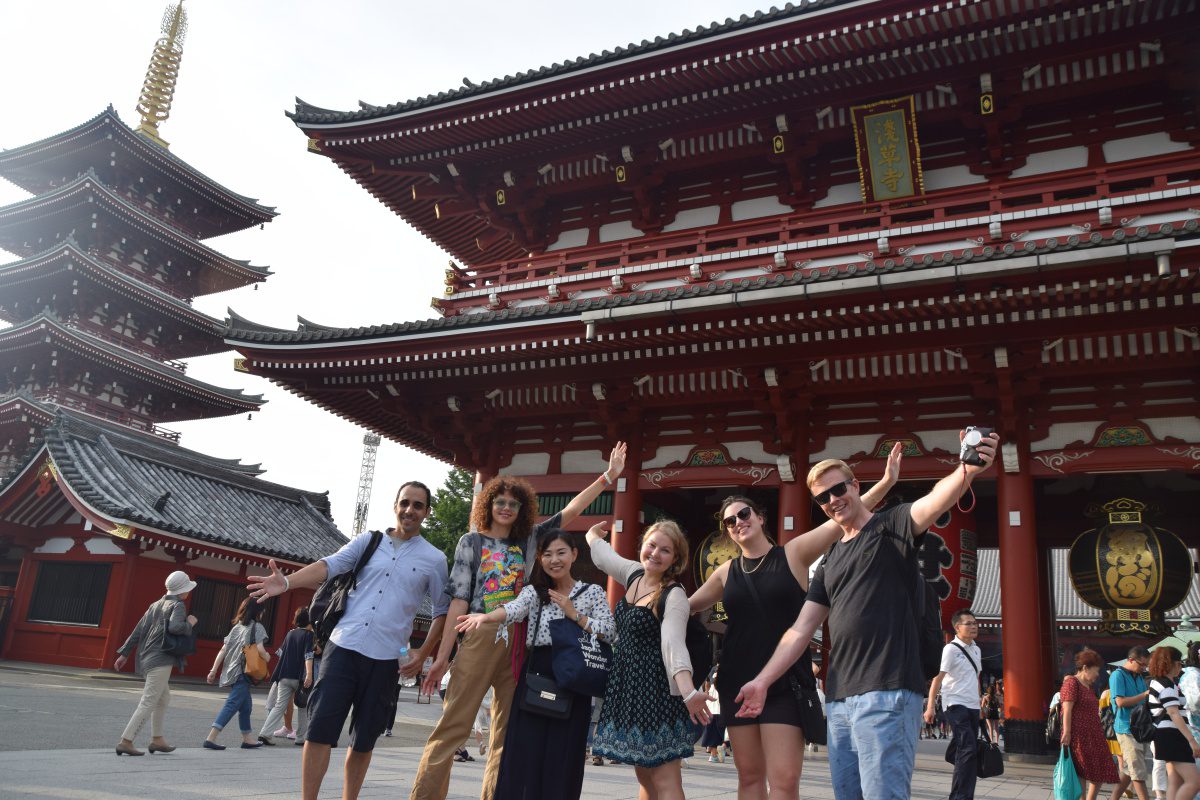 ▶Kyoto Private Full Day Walking Tour
On this full-day private tour of Kyoto, you will be able to see the highlights of Kyoto in just one day and at the same time develop a deeper understanding of both the culture of the area and Japan as a whole.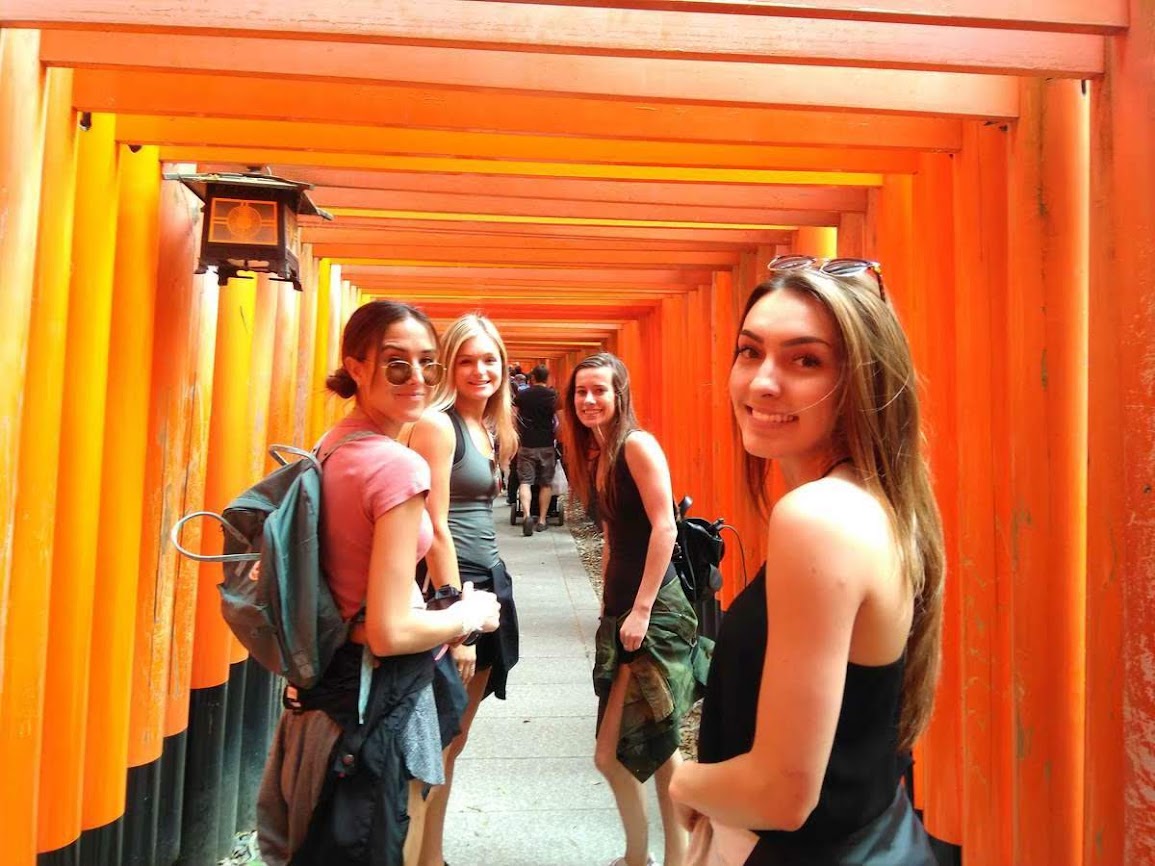 Find the other Tours
▶Tour Packages
If you want to make travel easier, we suggest you look into tour packages.There are a wide range of tour packages out there to suit the accomodate for each traveler needs. Click the button below to find the best tour package from various Tour Operators!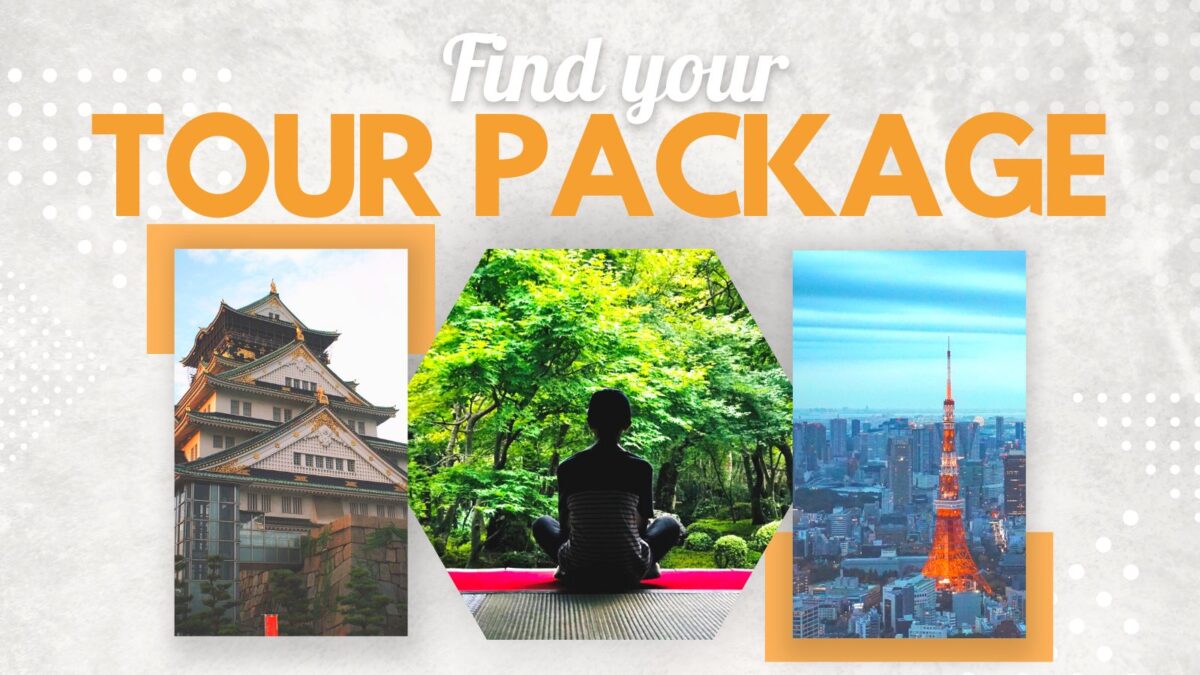 Follow us on Instagram, Facebook, Twitter, and TikTok for more travel inspiration. Or tag us to get featured!
Happy traveling!
Stay informed of the best travel tips to Japan, the most exciting things to do and see, and the top experiences to have with the Japan Wonder Travel Newsletter. Once every two weeks we will introduce you to our latest content.
Other articles you might like