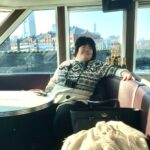 Writer's profile
Mao Goto is a Japanese freelancer who was born in Hayama, Kanagawa prefecture, and raised in Tokyo. Since 2016 she lives in the Taito Ward, home to a lot of Japanese culture hotspots such as Asakusa, Akihabara, and Ueno. She has been interested in the field of English education in Japan and got her Master's degree in March 2020. A lover of photography, travel, sweets, and cross-stitch. Contact her via Facebook.
This post may contain some affiliate links. When you click through and make a purchase we may receive some commission, at no extra cost to you.
Kyoto is one of Japan's ancient historical capitals. It is a well-known tourist destination attracting millions of travelers from all over the world with its beautiful scenery and abundance of traditional cultural elements. Surrounded by a rich abundance of nature it is an elegant place that boasts of its history and natural beauty; showing its unique splendor during each of the four seasons. In spring, visitors to Kyoto can enjoy the cherry blossoms, and in the fall, they can see the leaves turn a plethora of magnificent autumnal colors. The mysterious reds and yellows of the autumn foliage dress the city beautifully and soothe the hearts of visitors. Kyoto's many historical buildings, such as Buddhist temples and Shinto shrines, with their beautifully maintained gardens, combine with the beauty of the autumn leaves to create a wonderful landscape. Kyoto's charms do not end there, however, as a variety of autumn-only sweets, festivals, and other delights await fall visitors and locals alike! If you plan to visit during this season continue reading to discover 10 recommended activities to try during Kyoto's autumn.
1. Gion Odori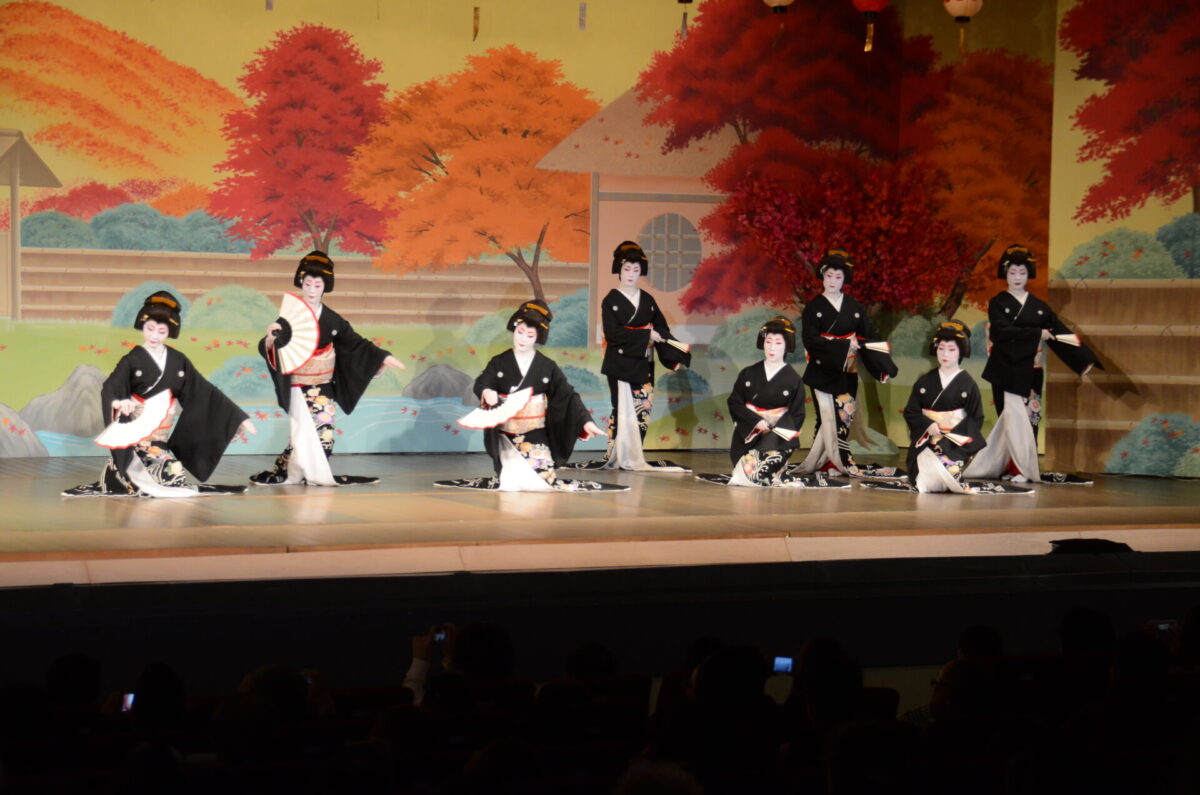 Gion Odori is the iconic autumn performance of the Geiko (geisha) and Maiko (apprentice geisha) held in Gion's Higashi district. While you can sometimes see geisha out on the streets of Gion, coming to an event such as this is a significantly more polite way to view and take photos of the geisha in action. First held in 1894 the performance is one of Kyoto's running shows and quintessential aspect of Kyoto's cultural arts. At this event, Kyoto's geiko and maiko perform a well-mastered and elegant dance over the course of a one-hour performance. The performance is held in mid-November but tickets open up to purchase in mid-August, so be sure to pick some up! In addition, tickets with tea are available, so you can enjoy a cup of delicious Japanese tea while watching the elegant dances of the geiko and maiko.
▼ Want to have the real deal? Meet some Geiko (Geisha) and their apprentices (Maiko) and explore the Gion area with us!
Kyoto Maiko & Geisha Performance and Cultural Walking Tour in Gion
Take an adventure on this Kyoto Maiko tour where you will meet real Maiko and Geisha and get a feel for their lifestyle. Stroll the streets of Gion in Kyoto, ta...
2. Arashiyama Momiji Festival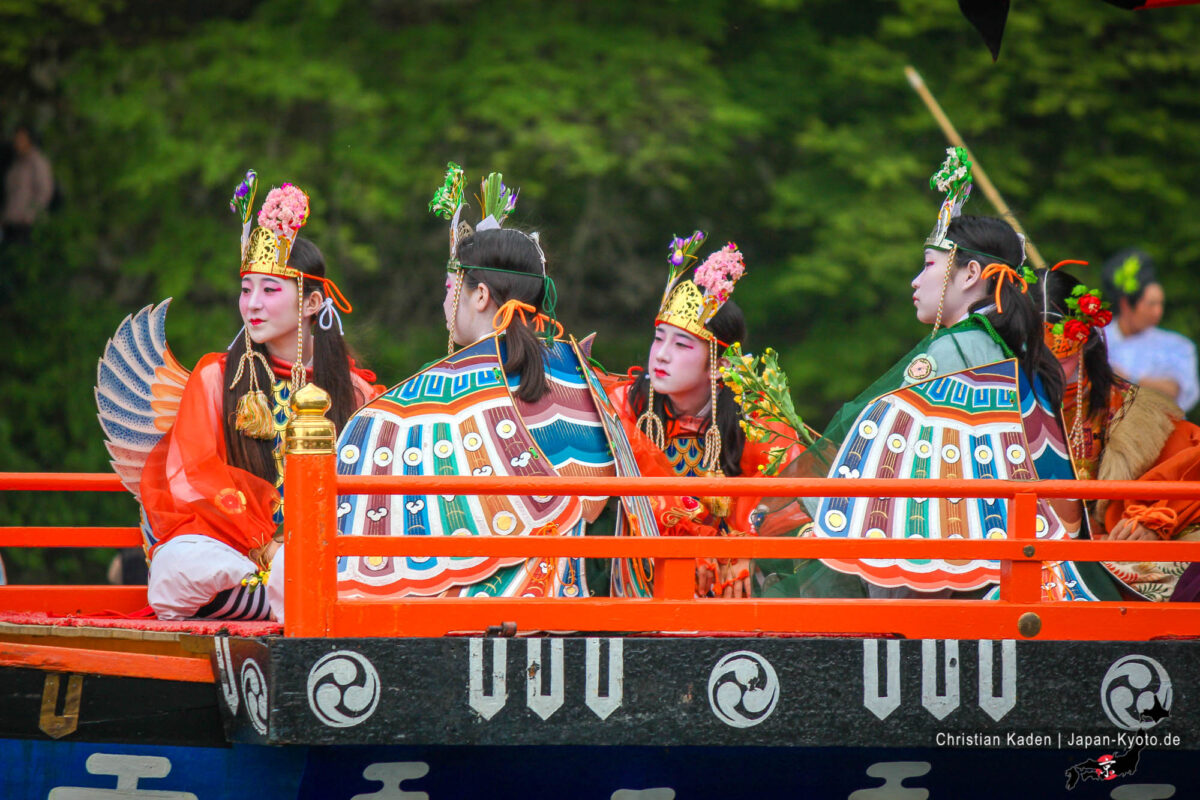 Arashiyama, Kyoto's famous bamboo forest is well known for its spectacular fall scenery, attracting many visitors as a famous autumn foliage viewing spot. This area is especially popular on the second Sunday of November when the Arashiyama Momiji Festival is held. The festival traces its roots back to a noble custom of the Heian Period (794-1185). At the time Kyoto's elite would visit the bamboo forest to take in the red maple leaves and dappled sunlight filtering through the fall canopy. At the Arashiyama Momiji Festival, colorful boats are floated on the Ooigawa River serving as floating stages for traditional performing arts in dedication to the fall festivities. Visit the Arashiyama Momiji Festival, one of the most popular autumn festivals in Japan, to take in the beauty of autumn leaves and enjoy Kyoto's performing arts tradition.
3. Jidai Festival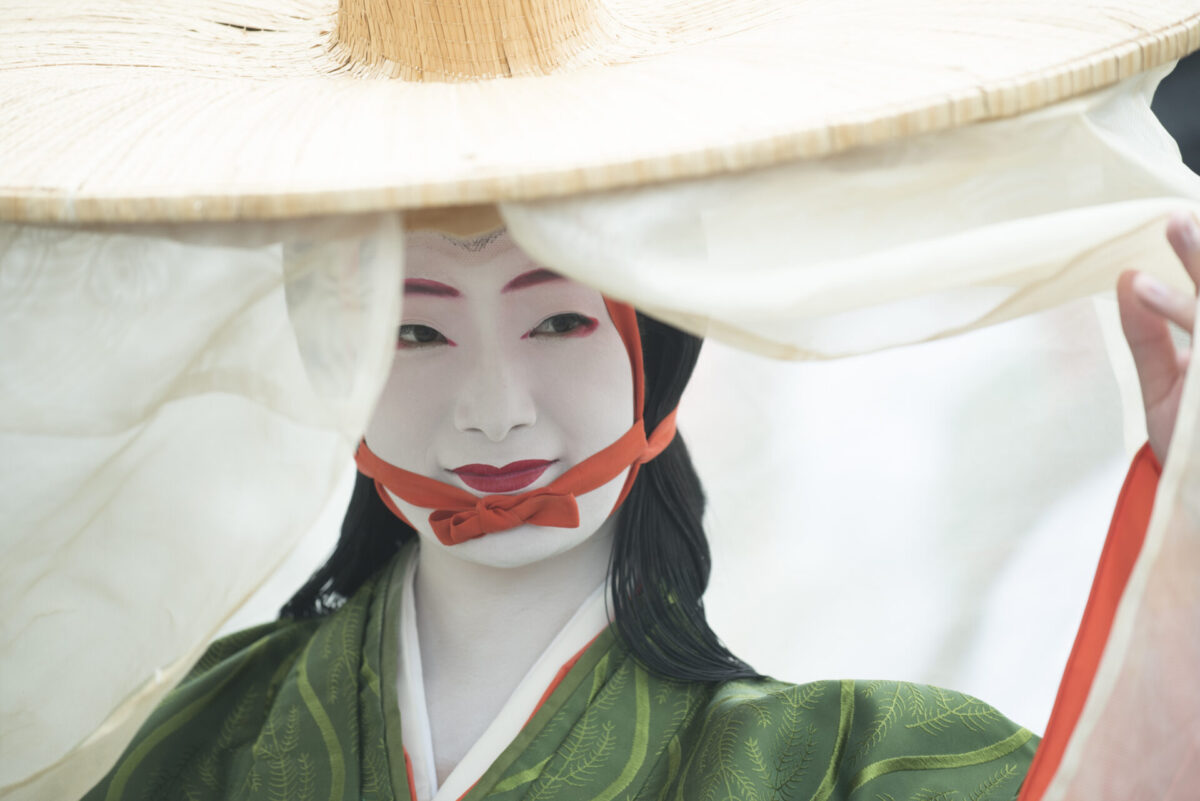 The Jidai Festival, Japanese for "Festival of Ages", is a festival and parade held on October 22, the anniversary of the founding of Kyoto. The festival features a 2-hour, 2-kilometer procession in which around 2000 participants are dressed in accurate costumes from almost every period of Japanese history and proceed from the Imperial Palace to the Heian Shrine. The festival began in the Meiji era to commemorate the 1,100th anniversary of the relocation of the capital to Heian-Kyo. It is the grand festival of Heian Jingu Shrine, tracing the history from the Meiji Restoration period to the Heian-kyo Capital era. This pageant recreates cultural dress of a variety of time periods, giving visitors the feeling of stepping back through the course of time, and is a must-see if you're in Kyoto in late October.
4. Shichi-go-san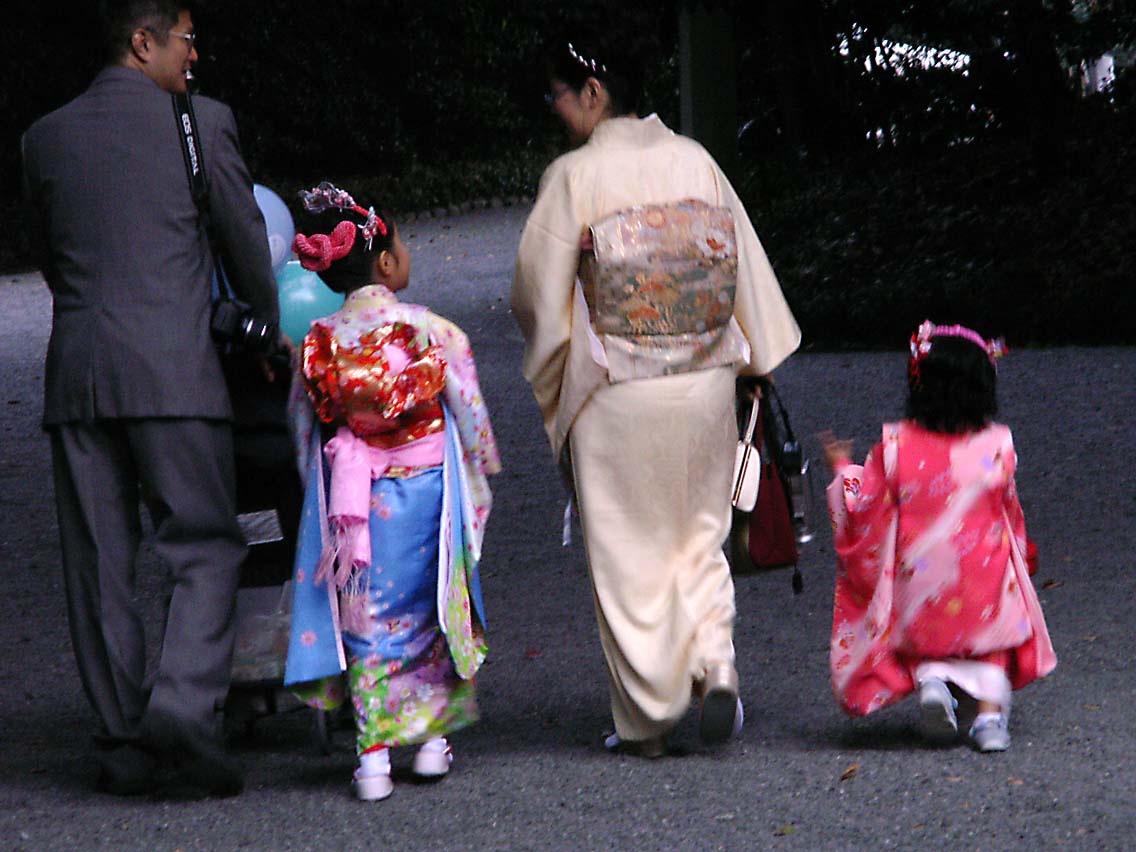 Shichigosan is a traditional Japanese event to pray for the safe upbringing and healthy growth of children. Shichi-go-san literally means seven, five, and three years old. As the name suggests, it is characterized by celebrating children who are 3, 5, and 7 years old. However, the ages of celebration differ for boys and girls. Boys generally celebrate Shichigosan at the ages of 3 and 5, and girls at 3 and 7. Beginning in the Heian period (794-1185), the tradition began as a rite of passage ritual for the elite that spread to ordinary people. Shichigosan is generally celebrated on November 15, and on this day children wearing beautiful kimono are often seen at Japanese temples and shrines.
5. Seasonal Autumn Food and Drinks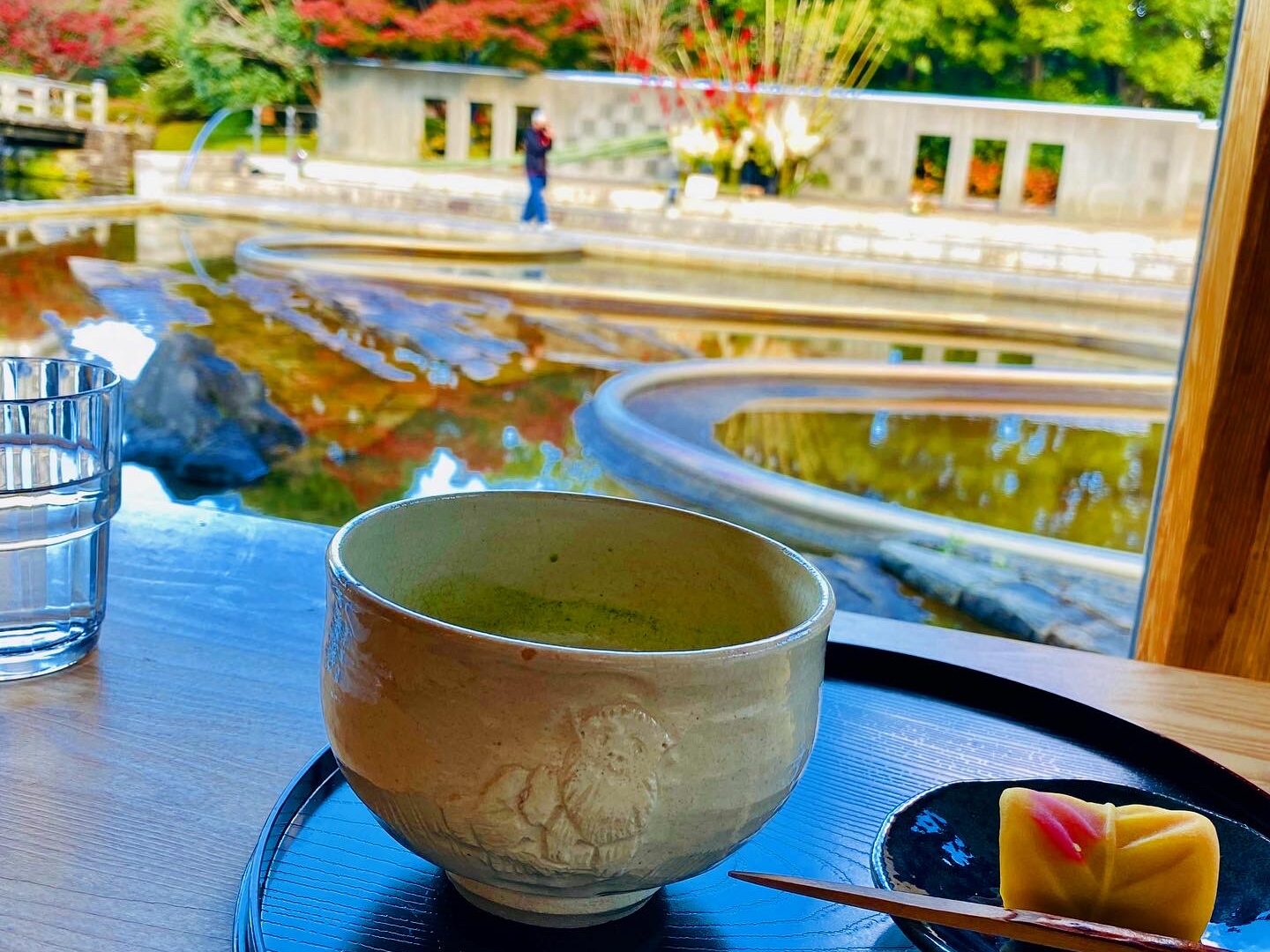 During Kyoto's Autumn, the leaves are in full bloom and stunning autumn foliage can be enjoyed in many places. While admiring these fall colors, indulging in food and delicious drinks can be a great way to enhance the experience. Particularly recommended fall treats are the matcha green tea and wagashi (Japanese sweets) sets offered by many temples during this time of year. This combination is a luxurious way to enjoy the beauty of autumn leaves while savoring the aroma of matcha green tea and the sweet flavors of wagashi. While this combination is a unique way to experience Kyoto fall there are other Kyoto sweets not to be missed. Sweets using autumnal ingredients such as Japanese chestnut parfait and pumpkin cake are offered only during this season. Make sure to sample these exquisite sweets if you stop by Kyoto during the fall season.
6. Bishamondo Temple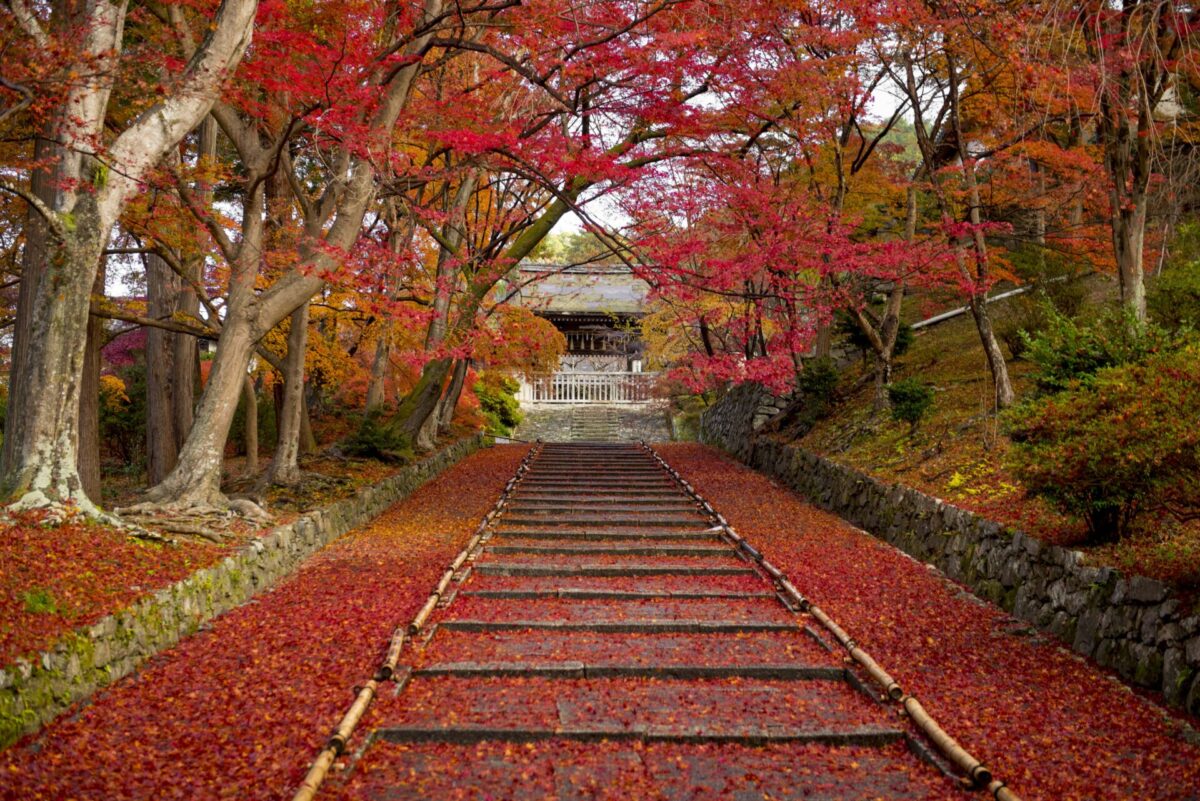 Bishamondo is a temple dedicated to Bishamonten, one of the Seven Gods of Good Fortune, and is one of the most precious temples in Kyoto. The fusuma-e (sliding door paintings) inside Bishamondo are famous for their use of "reverse perspective representation" tricking the viewer into feeling they are standing in the middle of all of the paintings creating an unusual visual experience. Because of this the fusuma depicting an old man and a desk is so mysterious that the direction of the desk changes depending on the angle of view, surprising visitors. Viewing these sliding door paintings is a novel and enjoyable experience. In autumn, the stone steps along the approach to Bishamondo are beautifully covered with autumn leaves. The scenery here is stunning and is sure to be a great Instagram hit.
Official Website: Bishamondo Temple
7. Kurama Fire Festival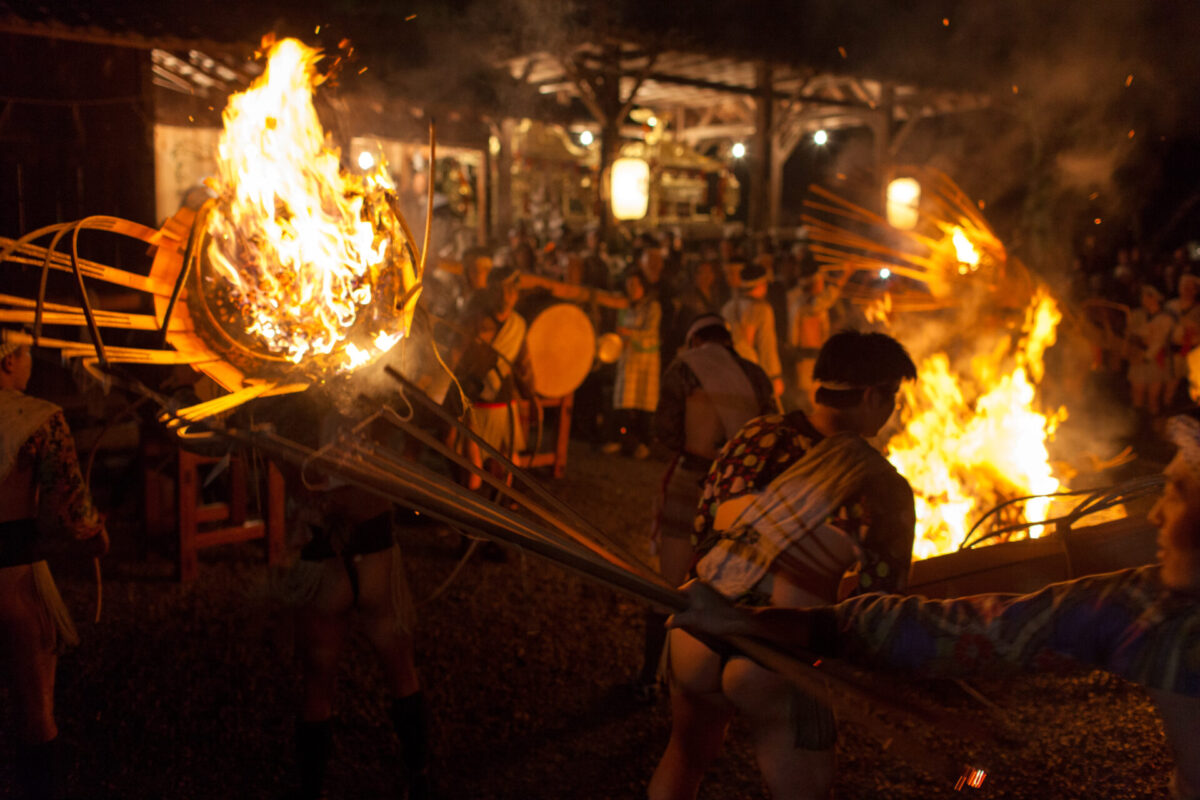 The annual festival of Yuki-jinja Shrine in Kurama is one of the three Great Festivals of Kyoto (京都三大奇祭) and is a wonderful event that the local populace holds very dear. Held in the mountainous village of Kurama this festival honors the spirits of the shrine in a flaming spectacle and is considered a rite of passage for the youth. A young boy carrying a torch leads a procession of young men carrying large burning torches through the village, repeatedly shouting "Sairei, Sairairyo (サイレイ、サイリョウ)" as they go. The sight of the young men's big torches blazing upwards, scattering sparks of fire as they make their way toward the shrine is truly a magnificent, powerful, and fantastic sight. These torches are piled together to form a massive bonfire with the festivities lasting till midnight. While the tradition was originally just for boys, girls have since been allowed to participate. We recommend getting to the village early if you want to guarantee a good viewing spot as this festival is a regional favorite.
8. Kiyomizudera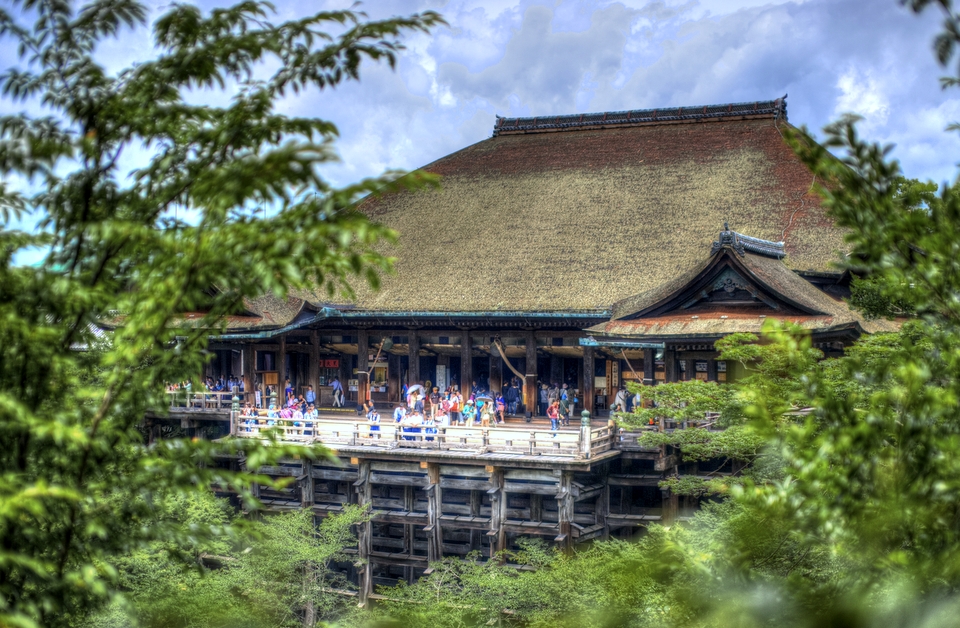 Kiyomizu-Dera Temple is counted as one of the most symbolic temples of Kyoto and is a must-see sightseeing spot when visiting. The Fall season is especially notable due to the foliage. About 1,000 trees turn hues of red, orange, and yellow at the shrine with the best time to view the autumn leaves from late November to early December. The sight of autumn leaves coloring the temple grounds and surroundings is truly breathtaking. The temple is also illuminated during special nighttime viewing hours, offering a different perspective of the autumn leaves. The fantastic sight of the temple's autumn foliage illuminated by the lights makes a visit to Kiyomizu-dera Temple at night well worthwhile.
9. Go hiking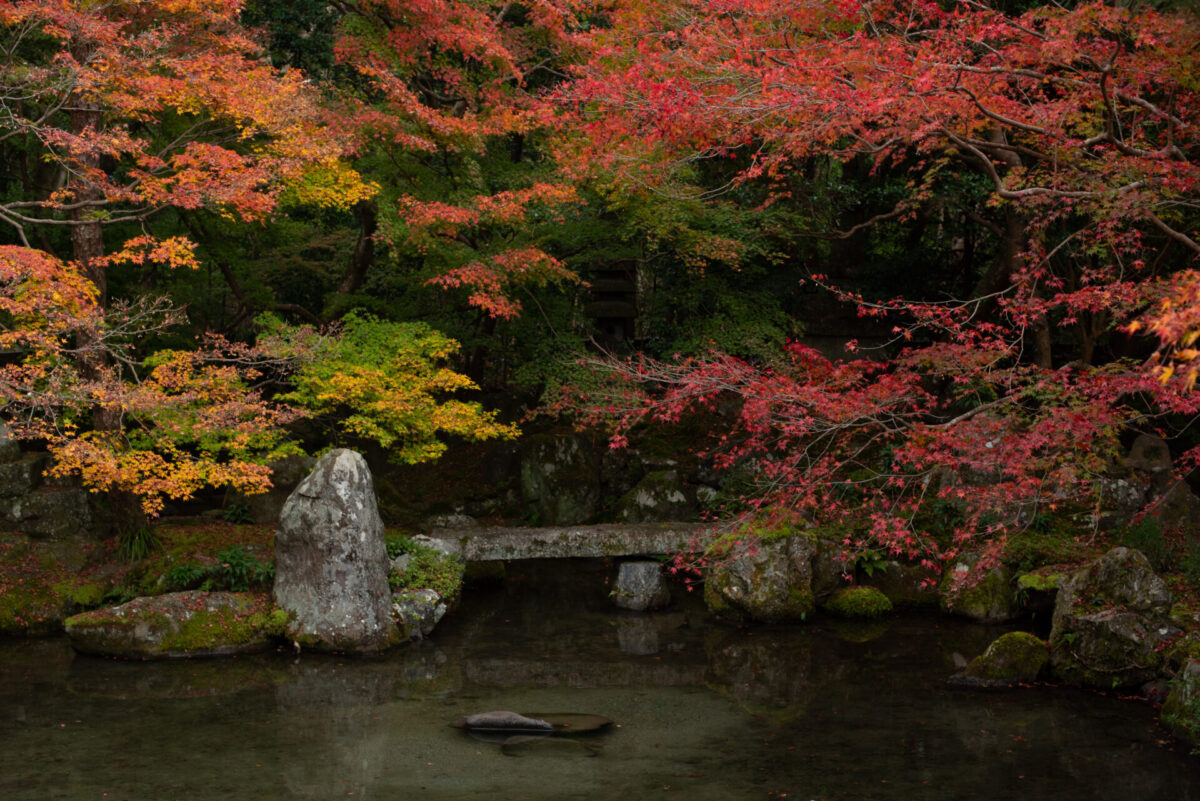 In addition to enjoying the autumn leaves at temples, hiking in the mountains of Kyoto is a well-recommended fall activity. Kyoto is surrounded by magnificent valleys and ranging mountains spreading out all around it, and in the fall, visitors can enjoy the vibrant gradients of red, yellow, and green foliage in the mountainous scenery. If you choose to take a fall hike, you will be greeted with a peaceful and enchanting experience where you can admire the beauty of nature and the delightful colors of autumn leaves simultaneously. The Kiyotaki River Valley is an especially recommended trailhead. It is known as a famous autumn foliage viewing spot and is a popular hiking trail. The paths are well maintained, making it a place that can be enjoyed by people of all levels, from beginners to experienced hikers.
10. Visit a Fall Illumination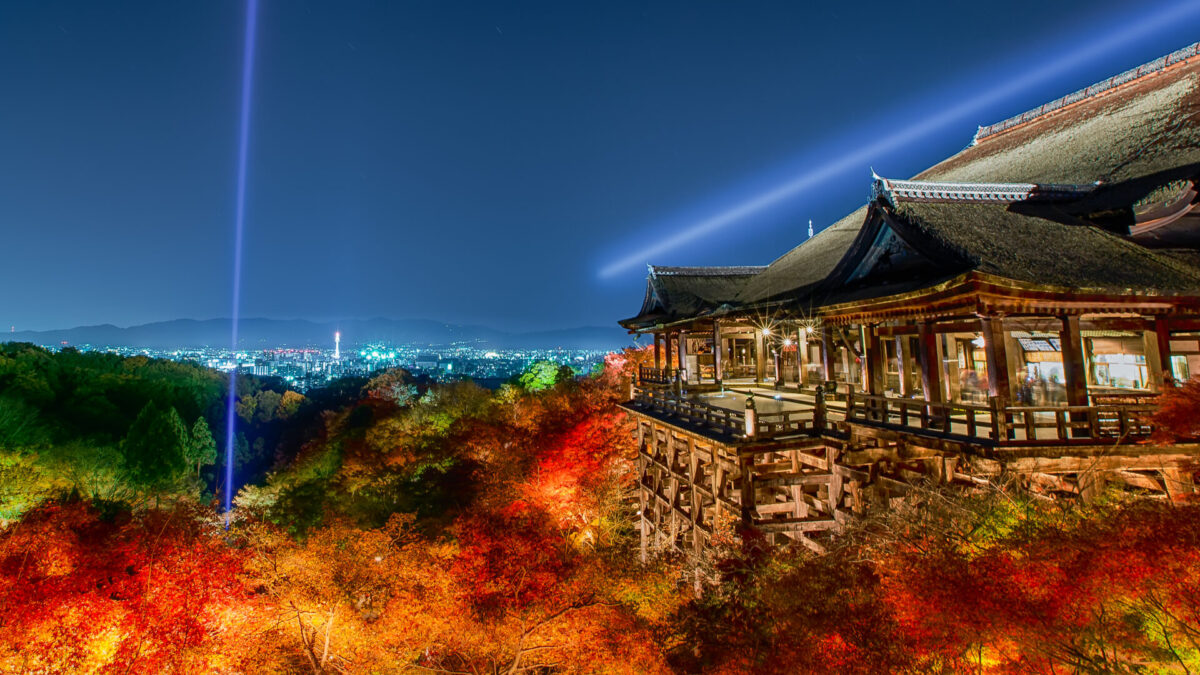 Kyoto in autumn is a popular destination for visitors due to the mesmerizing display of fall foliage and the range of special nighttime illumination viewing events held throughout Kyoto and other parts of Japan. One such event takes place at Kiyomizu-dera Temple where the beautiful autumn leaves are illuminated, providing a breathtaking sight for visitors to the temple grounds. The combination of the illuminated garden and Kyoto's fall foliage at night creates an unforgettable experience that captures the hearts of many tourists and locals alike. Make sure to take in the different atmospheres of the fall foliage during both day and night to fully appreciate the beauty of Kyoto in autumn.
Have you considered any of the 10 recommended Autumn activities in Kyoto that we introduced in this article? It's difficult to put into words the charm of Kyoto, where the rich history and culture leave a profound impression on visitors. Taking a leisurely walk through Kyoto's historic streets during the autumn season and participating in local activities is an excellent way to fully appreciate the city's charm. Why not make some unforgettable memories in this lovely city, with its breathtaking autumn foliage and traditional culture, during your visit to Japan this year?
Get yourself wrapped in a Kimono and get the real Japanese experience!
Japan Wonder Travel Tours in Kyoto
When you are visiting Kyoto and you need some help organizing your trip, you came to the right place. We're happy to help you make your trip to Kyoto the best trip ever. We can advise you on where to go or even better, show you around with a local, English speaking guide. Let us help you create safe, comfortable, and unforgettable memories in Kyoto!
▶Kyoto Private Full-Day Walking Tour
On this full-day private tour of Kyoto, you will be able to see the highlights of Kyoto in just one day and at the same time develop a deeper understanding of both the culture of the area and Japan as a whole.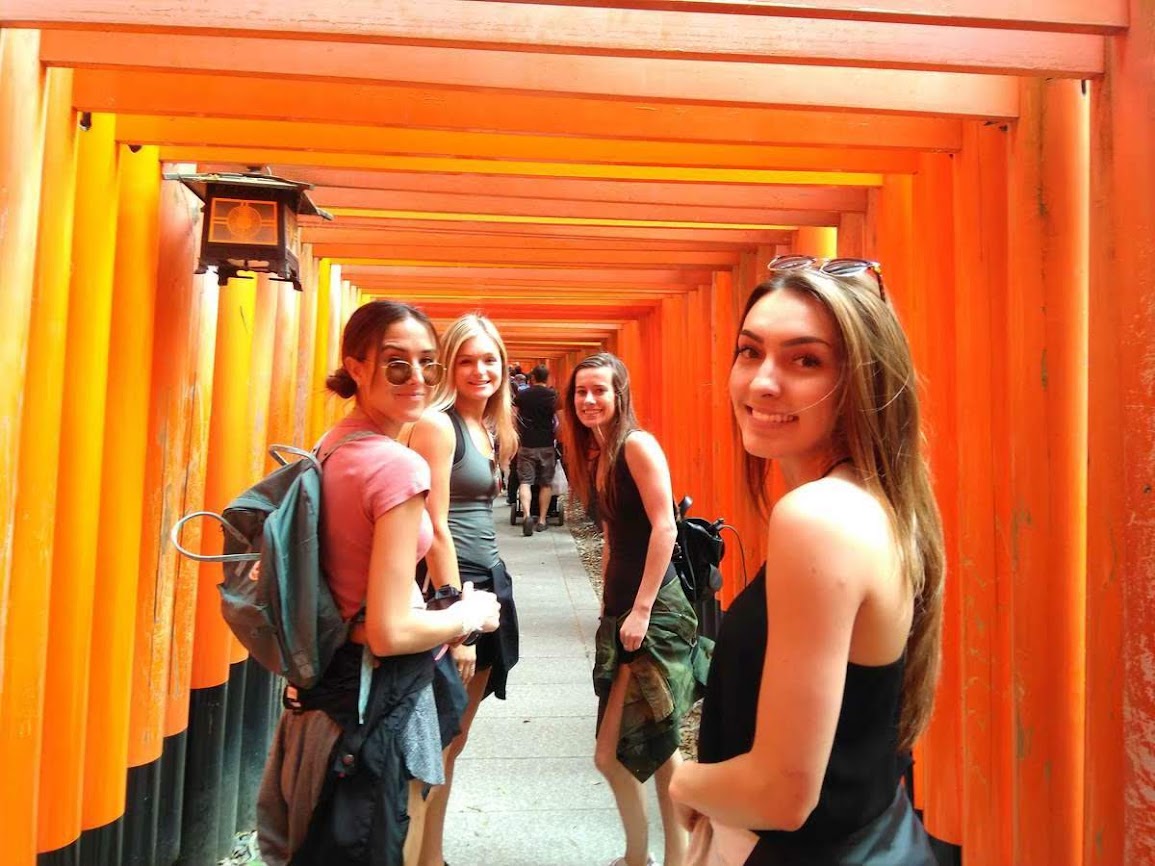 ▶Total Kyoto Experience
If you only have a day or two in Kyoto, we offer a full-day tour of the city, enabling you to immerse yourself in and fully enjoy the entire city of Kyoto in just 10 hours!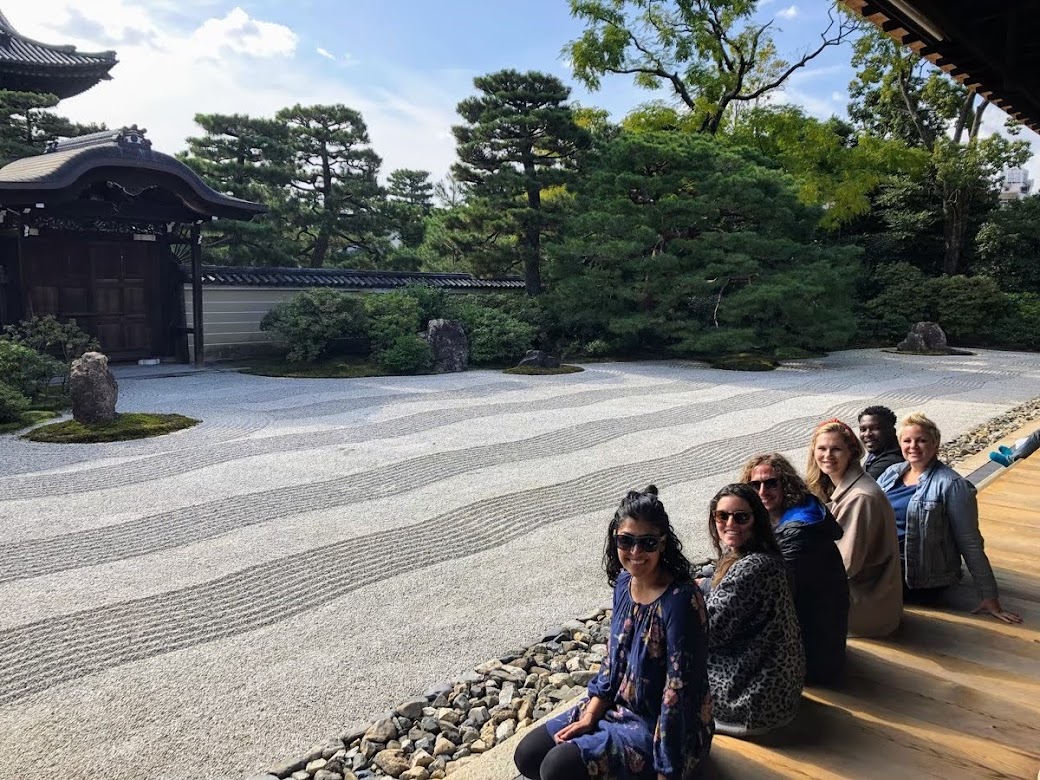 ▶Kyoto Food and Drink Tour @Nishiki Street
If you're looking to learn more about the culture and the local cuisine of Kyoto, this is the perfect tour for you! Take part in this Kyoto food and drink tour and explore the 400-year-old market and the famous surrounding areas.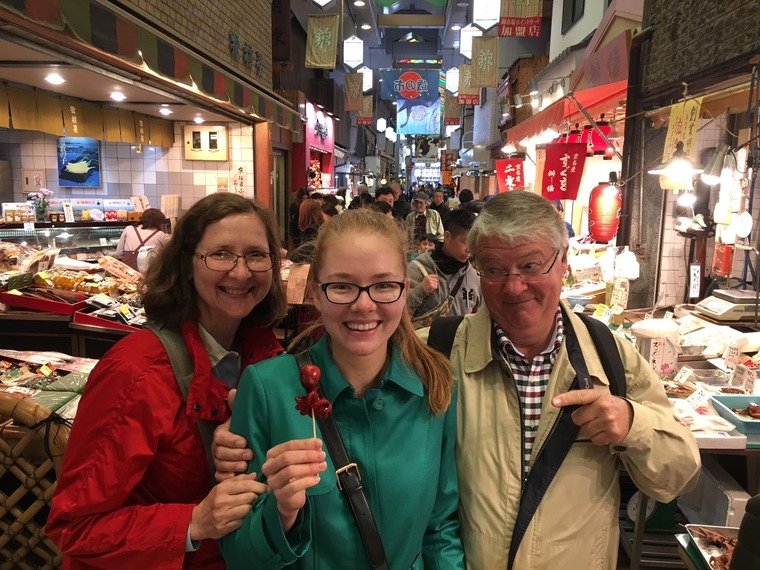 Find the Other Tours
▶Tour Packages
If you want to make travel easier, we suggest you look into tour packages.There are a wide range of tour packages out there to suit the accomodate for each traveler needs. Click the button below to find the best tour package from various Tour Operators!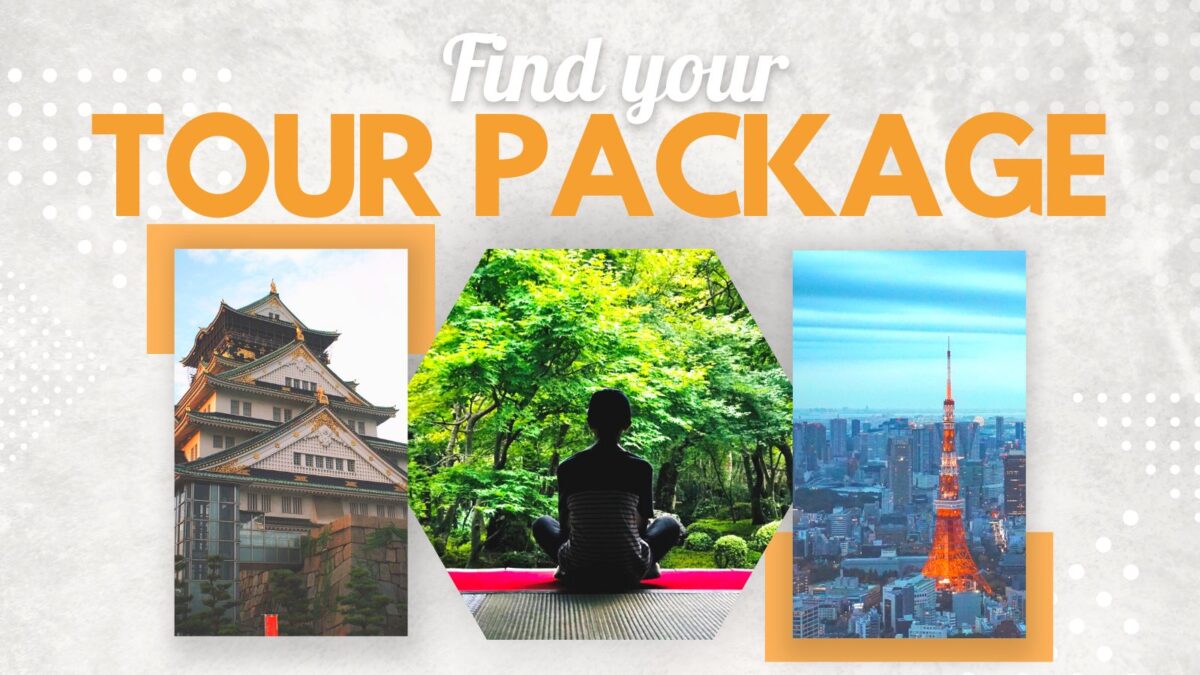 Follow us on Instagram, Facebook, Twitter, and TikTok for more travel inspiration. Or tag us to get featured!
Happy traveling!
Stay informed of the best travel tips to Japan, the most exciting things to do and see, and the top experiences to have with the Japan Wonder Travel Newsletter. Once every two weeks we will introduce you to our latest content.
Other Articles You May Enjoy: