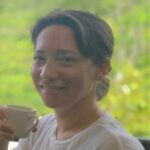 Writer's profile
Stefanie Akkerman moved from the Netherlands to Japan in 2013 with her Japanese husband and son. She jumped into the niche of Dutch tour guiding in Tokyo and Kamakura in 2015 and occasionally writes articles about all the great sights and activities Japan has to offer. She loves (Japanese) food, and to work that all off she goes diving, snorkeling, cycling, or hiking.
This post may contain some affiliate links. When you click through and make a purchase we may receive some commission, at no extra cost to you.
One of the best parts about being in Japan during the early spring is that you will be able to catch one of the highlights of the year: the sakura season. The pinnacle of the cherry blossom season in Japan usually falls between late March and early April in places like Tokyo and Kyoto, although in the south of Japan the blooms pop up earlier while in the northern part of Japan the blossoms come later. But if you are in Kyoto during the peak blooming period, you're definitely in for a treat as there are not many things that are more beautiful than a mass of pink flowers with a background of traditional Japanese sights. Here are the 10 best cherry blossom viewing spots in Kyoto!
1. Hirano Shrine
Hirano Shrine is a Shinto shrine in the north-west part of Kyoto with a large shrine complex that boasts many cherry trees. The shrine has a very long history that dates back to the 10th century with a cherry blossom festival that has been held since that time as well. As the shrine is located close to a university, you will see a lot of college students enjoying their hanami picnic here.
Opening hours: 6am – 5pm
Entrance fee: free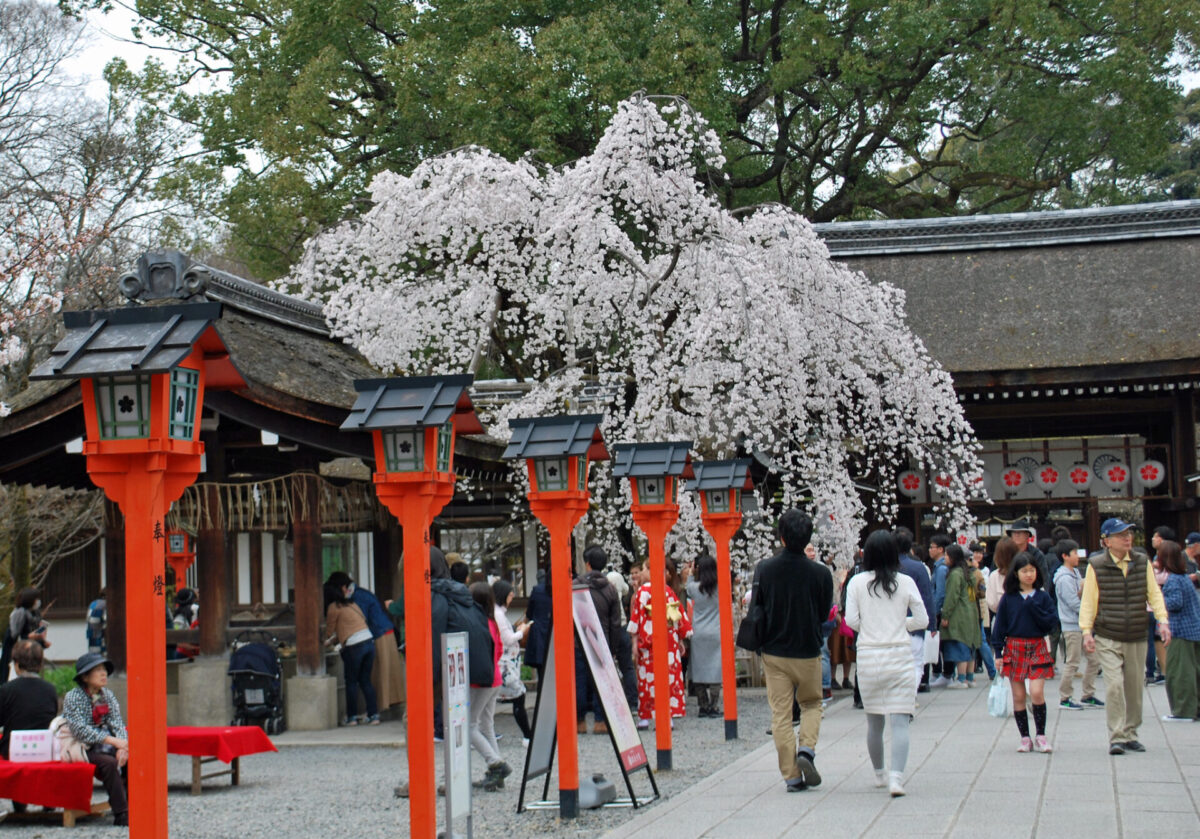 Opening hours: 6am – 5pm
Entrance fee: free
2. Philosophers Path
One of the most scenic walks in Kyoto during the cherry blossom season can be experienced on the Philosophers Path, a picturesque road that can be enjoyed in all 4 seasons and is especially breathtaking during the full bloom of the sakura. Take a leisurely stroll along the 2-kilometer long path's small babbling brook for around 30 minutes while taking pictures of the prettiest spots to enjoy Kyoto's blooming seasons to the max.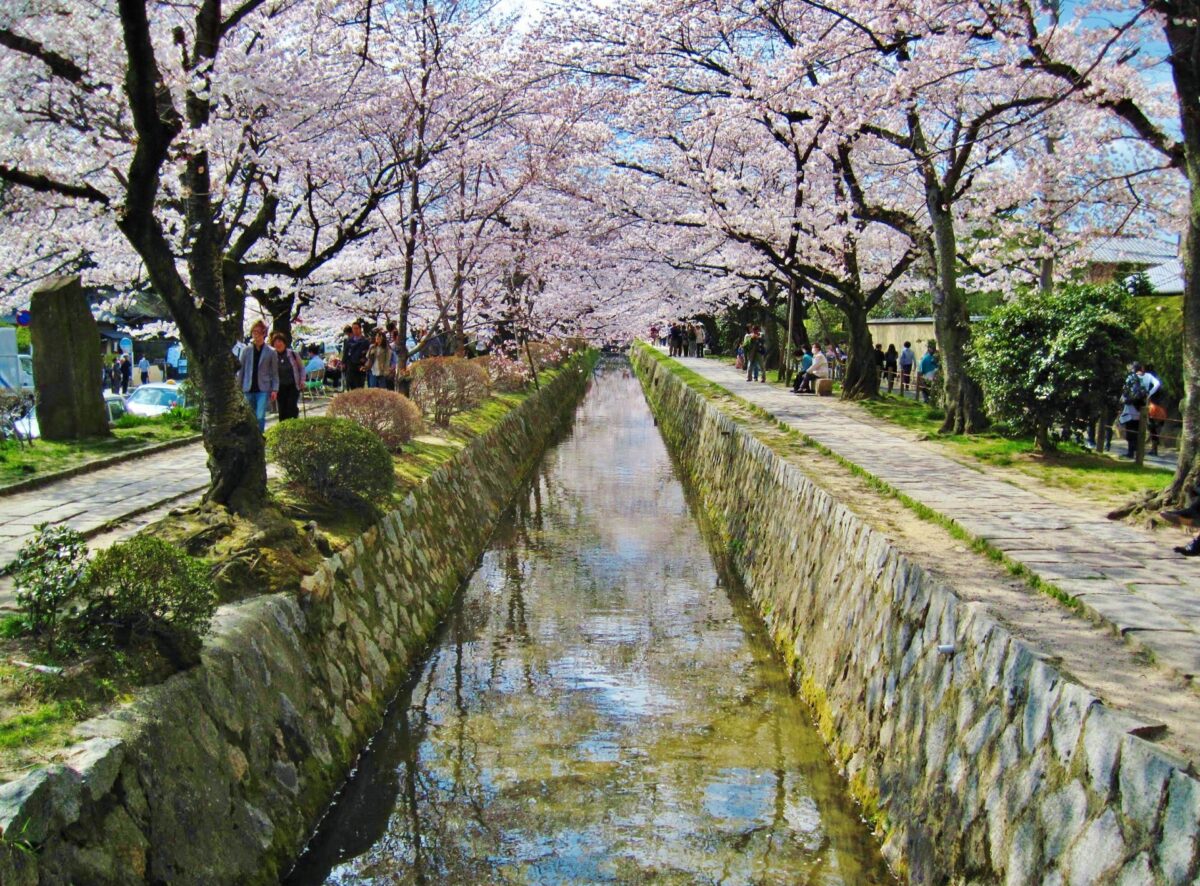 Opening hours: Open 24 hours
Entrance fee: free
3. Maruyama Park
Situated in the Higashiyama area of Kyoto near many of the city's most famous attractions, every year Maruyama Park erupts in a very large-scale picnic party come sakura time. This is the most popular spot in Kyoto to do hanami picnics for locals and tourists alike, so expect large crowds and a jolly atmosphere. In the evening, they light up a part of the park for an even more magical atmosphere that you definitely want to experience at least once in your life.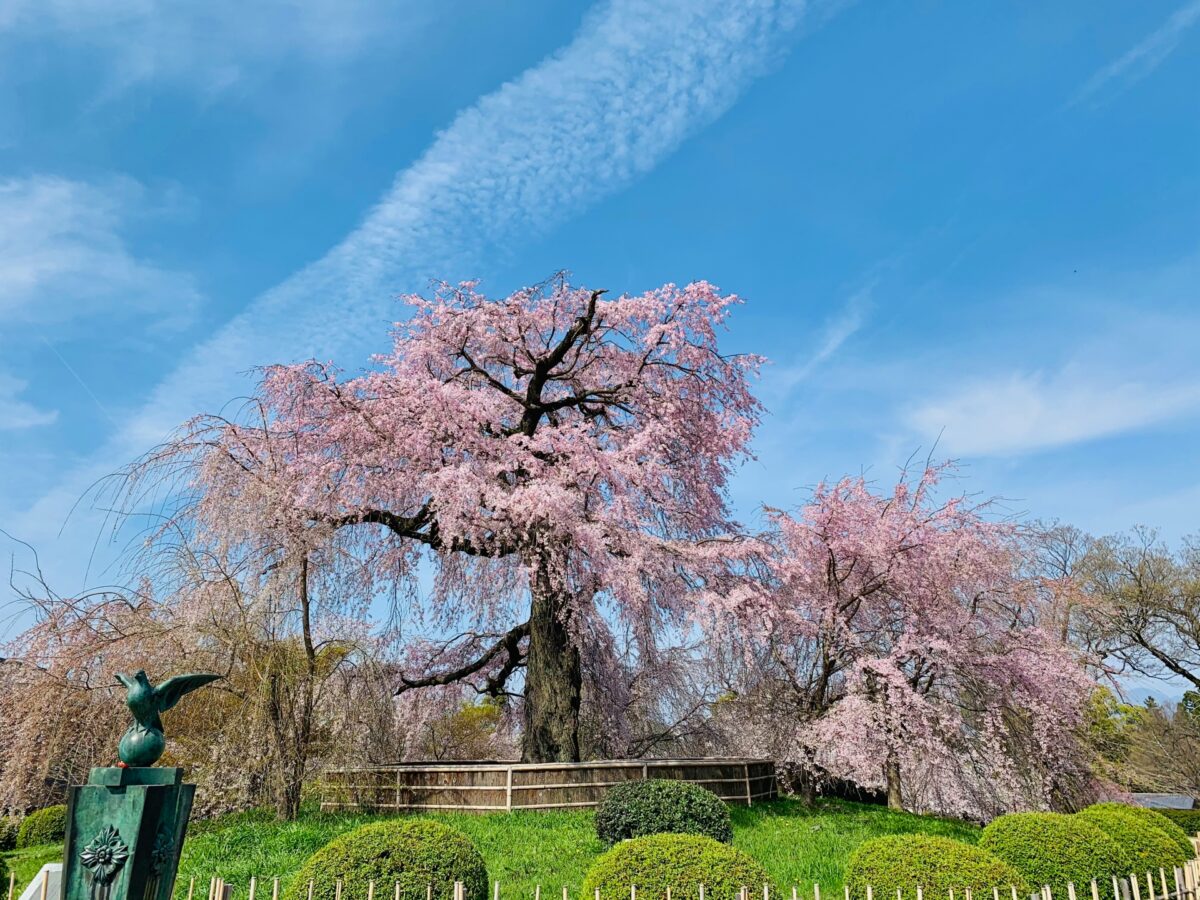 Opening hours: Open 24 hours
Entrance fee: free
4. Arashiyama
Arashiyama on the eastern side of Kyoto is especially famous because of the magical bamboo grove, but the area is large and also has plenty of other (natural) beauty spots. When you come here during the sakura blooming period, you can enjoy the blossoms set against a background of the river, mountains, and traditional bridges which surely creates beautiful photographs. Don't skip the Tenryu-ji temple that has a garden that looks like a pink sea with around 200 cherry trees.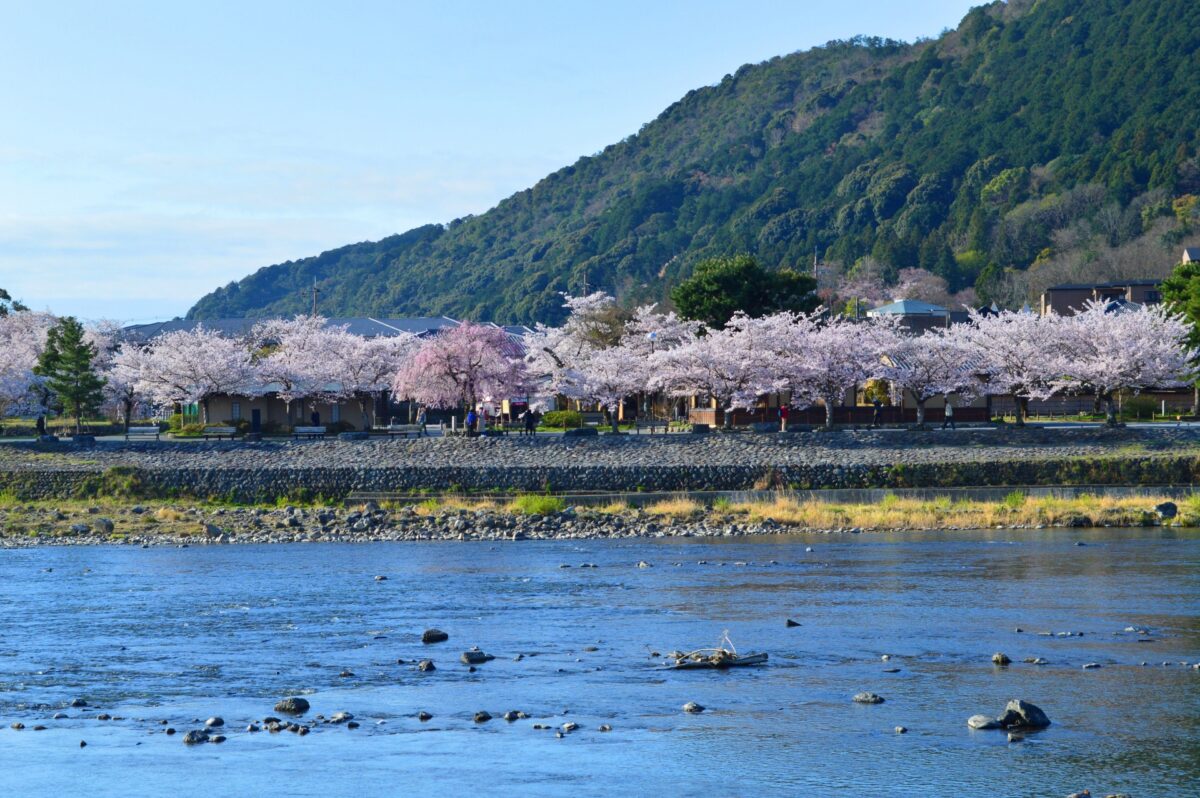 Opening hours: Open 24 hours, light-up until 10pm
Entrance fee: free
5. Nijo Castle
As one of the most historically important places in Kyoto, Nijo Castle is a must-see no matter when you come, but if you are lucky enough to be here during the cherry blossom season you should get ready for some stunning scenery. With more than 400 cherry trees of 50 different varieties spread all over the grounds you will be treated to pink blooms no matter where you look. But the literal highlight of the cherry blossom viewing in Nijo Castle happens between 6pm and 9pm, when they are specially opened for a breathtaking illumination event.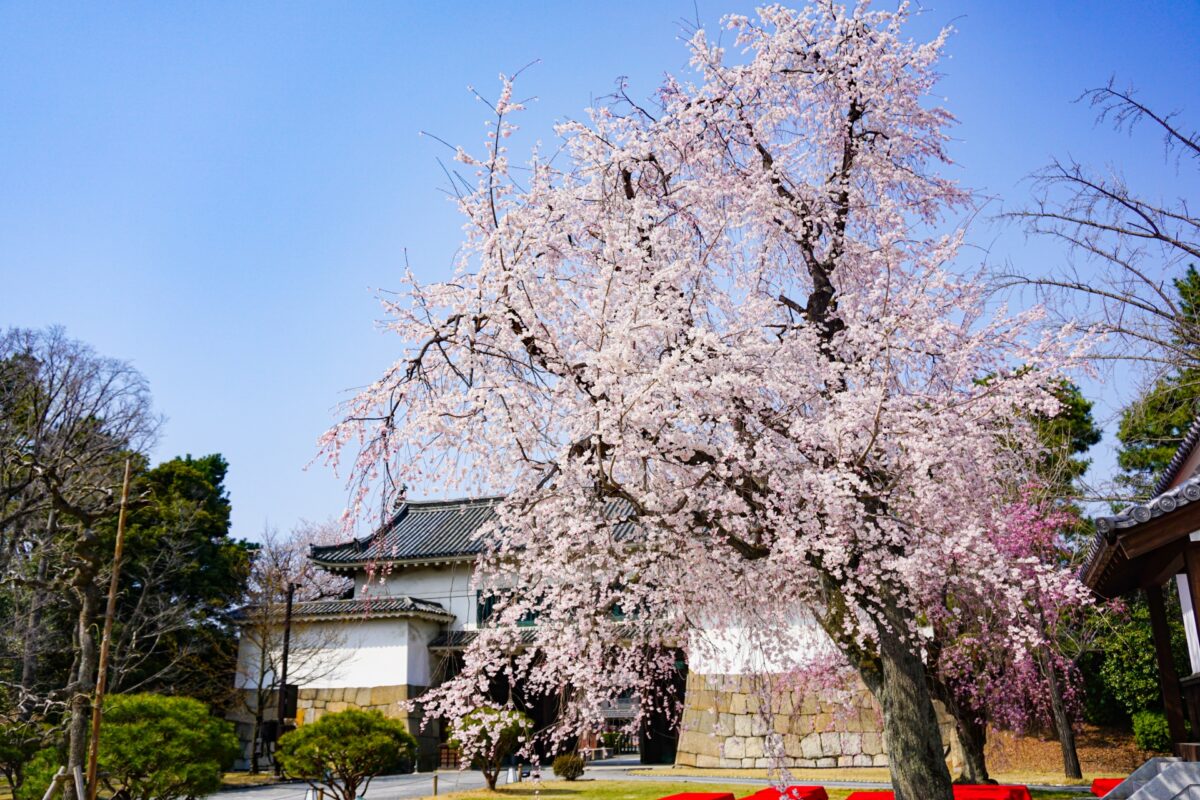 Opening hours: 8:45am – 4pm, during the cherry blossom season they are also open between 6pm – 9pm for their illumination
Entrance fee: 1300 yen
6. Kiyomizu Temple
The impressive Kiyomizu temple is one of the most popular sightseeing destinations in Kyoto for a good reason: the views from the temple's terrace are truly amazing. Now imagine these incredible views with a sea of pink below you, and you can imagine why exactly it is this sight that is featured on many commercial posters for Kyoto! You can also admire the blossoms after dark during their night illumination event, which is just as if not even more magical.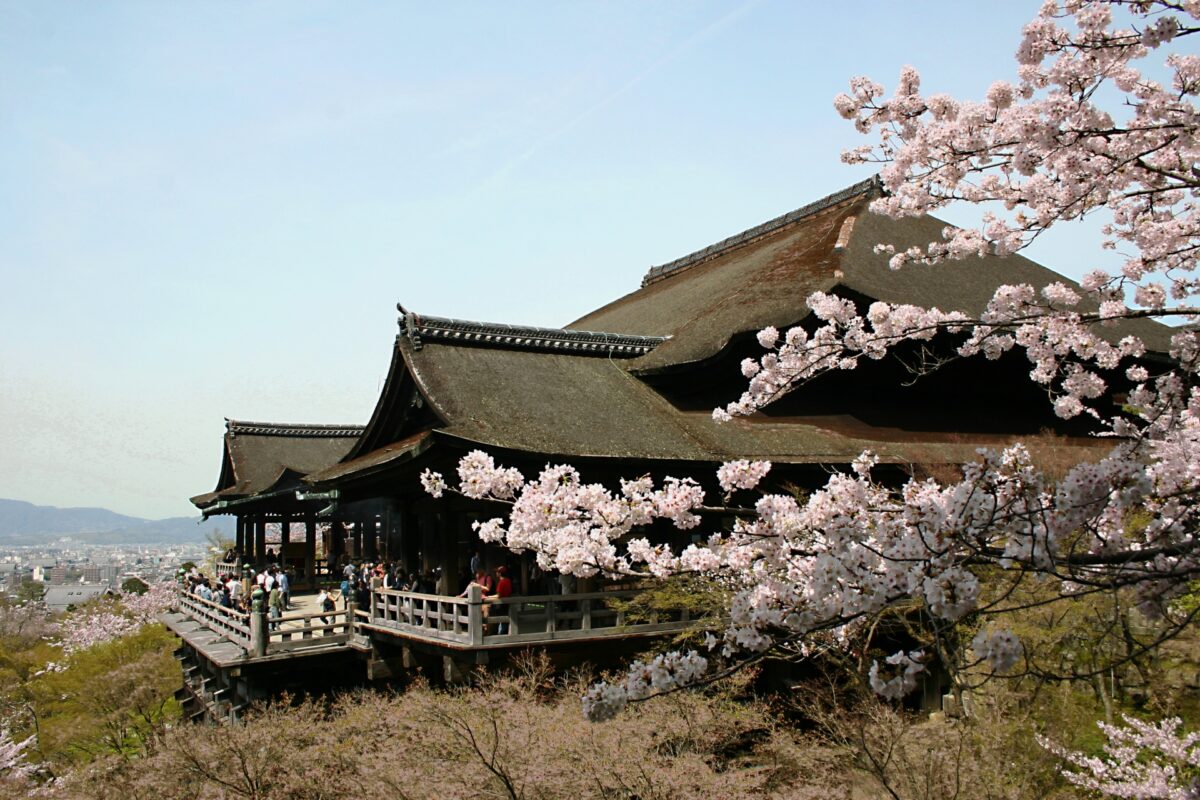 Opening hours: Usually open from 6am – 6pm, extended to 9pm when they have an illumination (separate entrance ticket)
Entrance fee: 400 JPY
7. Keage Incline
Within easy walking distance of the earlier-mentioned Maruyama Park, Keage Incline is a popular spot to take a scenic walk all year round. But it is during the sakura blooming time that it becomes truly astonishing. This old railway track is lined by cherry trees forming a tunnel of pink when they are in bloom which feels like a dream to walk through. The Keage Incline isn't as crowded as many other spots as it is located a bit out of the city center, so if you prefer to enjoy the blossoms without the crowds, this is a great spot. Nanzenji-temple is also located nearby so don't forget to visit this amazing temple.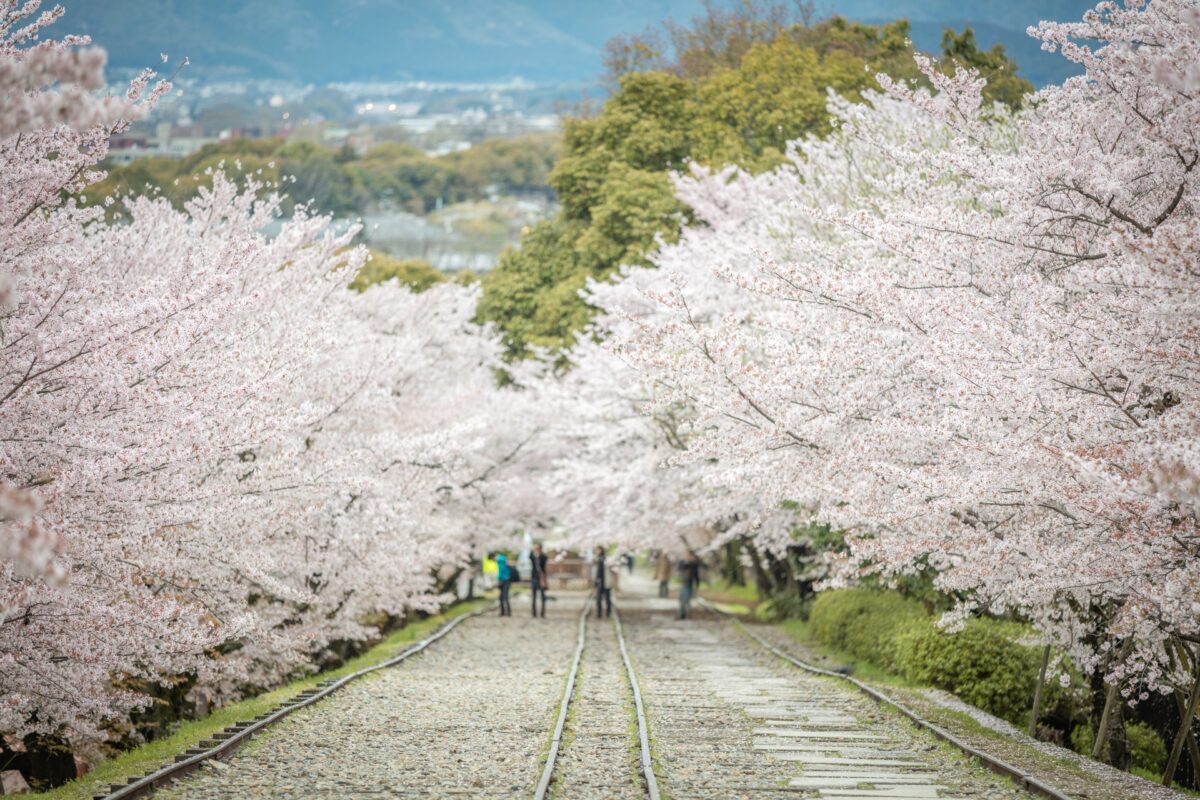 Opening hours: Open 24 hours
Entrance fee: free
8. Daigoji Temple
The Daigoji Temple is one of the UNESCO registered World Heritage Sites in Kyoto, and is seen as one of the most important temple complexes in Japanese Buddhism. Hanami parties have been held here for a long time, including a party held by famous warlord Hideyoshi Toyotomi. It is no wonder that he chose the grounds of the Daigoji to hold a party, as there are around 1000 trees with various types of blossoms blooming here in the spring. Visitors especially love the cherry blossom tunnel at the entrance of the grounds and the very large tree in front of the Reihokan Museum.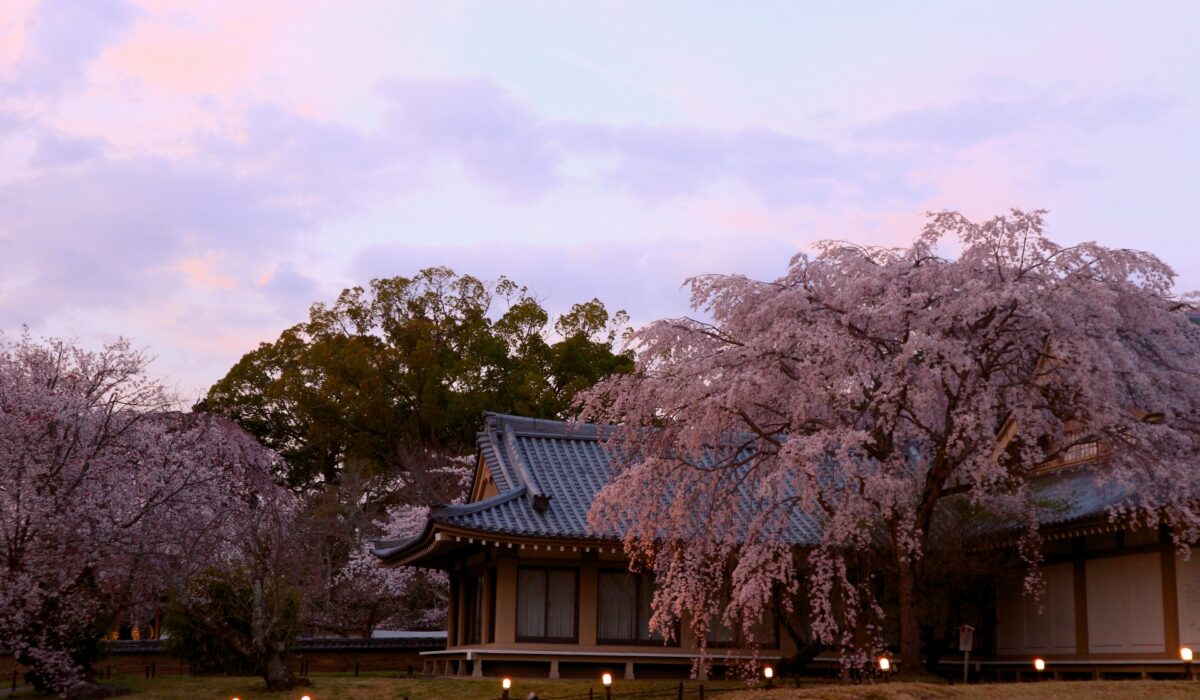 Opening hours: 9am – 4pm
Entrance fee: 800 yen, 1500 yen during cherry blossom season
9. Kyoto Botanical Gardens
The Kyoto Botanical Gardens are a joy to visit year round with over 12,000 different kinds of plants and trees that display various sceneries throughout the seasons. The cherry blossom period is an especially good time to visit, as there are a whopping 140 different species of cherry trees in the garden which also means that you can enjoy the cherry blossom season for a longer time than elsewhere. Most years, there are cherry trees in bloom until late April, while in most of Kyoto arriving in mid April already spells the end of the season. Come to the botanical gardens to enjoy the blossoms in relative peace and quiet, and see them beautifully illuminated in the evening at the height of the season.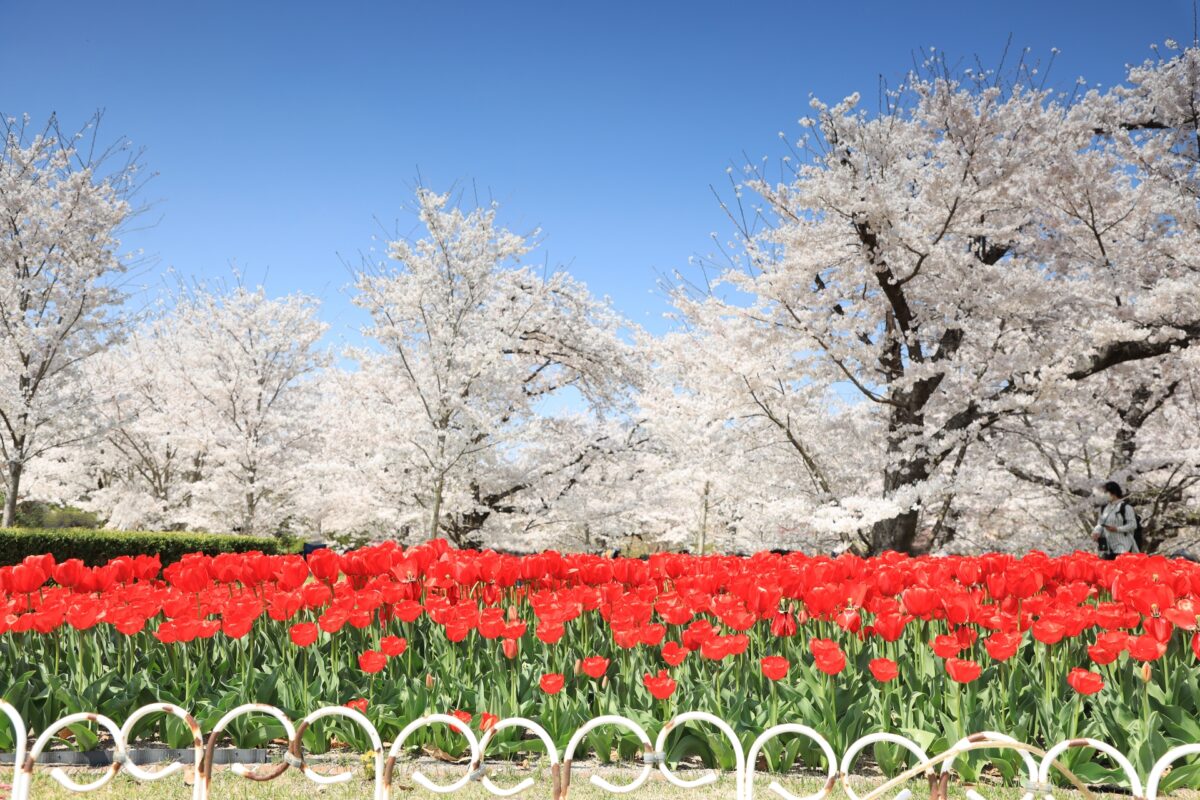 Opening hours: 9am – 5pm (light-up event from late March to early April until 9 pm)
Entrance fee: 200 yen
10. Yawaragi Road
For this one you will have to go quite far outside of Kyoto's central area with the romance train from Arashiyama to JR Kameoka station first and then with a bus to the Nana Tanigawa bus stop, but trust us when we say that it is worth the trek. The Yawaragi Road, or Yawaragi no Michi, is one of the most impressive cherry blossom tunnels in Japan with around 1500 blooming cherry trees along a riverside road of around 1 kilometer long. Next to the river is also the Sakura Park with another 280 trees where locals like to enjoy a BBQ while admiring the flowers, and the famous power spot Izumo-Dai-Jingu shrine is a 25-minute walk from here. After the sunset, there are various light-up events in the area so visiting here can also be a nice evening activity.
Opening hours: Open 24 hours
Entrance fee: free
Japan Wonder Travel Tours in Kyoto
When you are visiting Kyoto and you need some help organizing your trip, you came to the right place. We're happy to help you make your trip to Kyoto the best trip ever. We can advise you on where to go or even better, show you around with a local, English speaking guide. Let us help you create safe, comfortable, and unforgettable memories in Kyoto!
▶Kyoto Private Full-Day Walking Tour
On this full-day private tour of Kyoto, you will be able to see the highlights of Kyoto in just one day and at the same time develop a deeper understanding of both the culture of the area and Japan as a whole.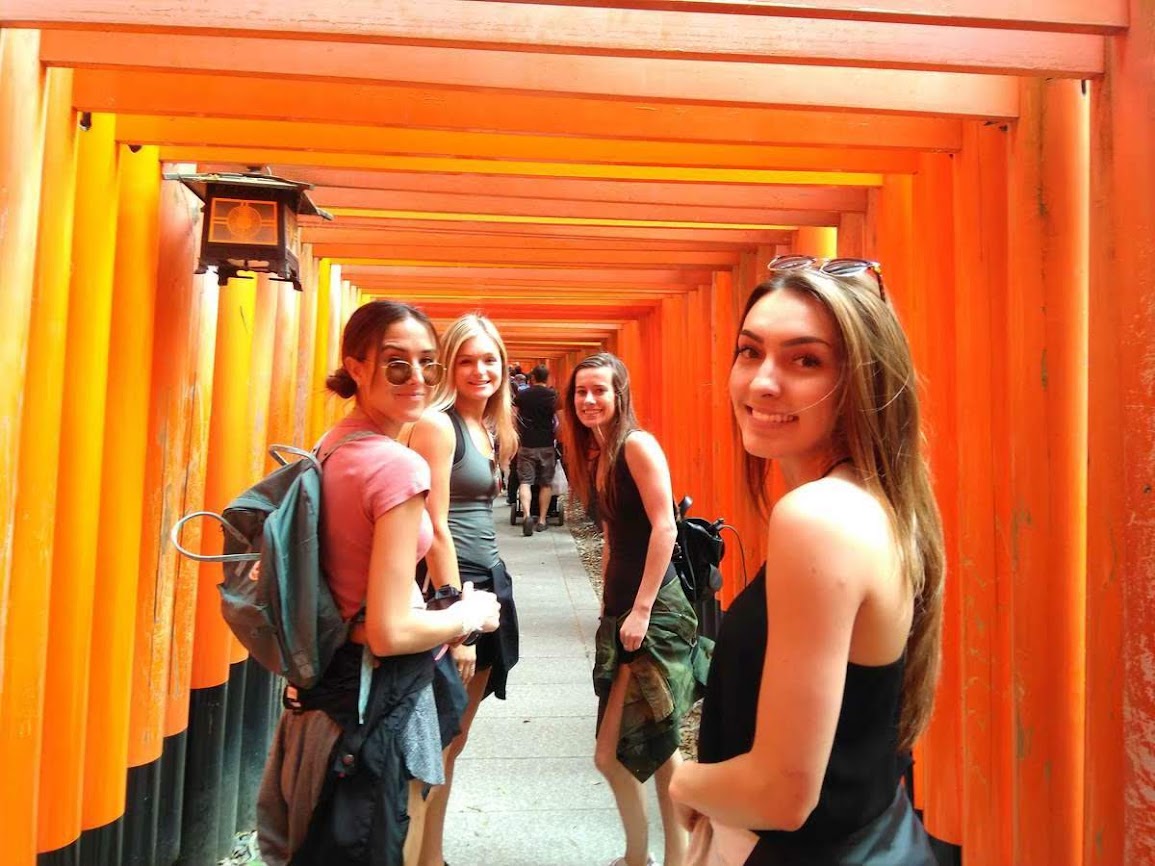 ▶Total Kyoto Experience
If you only have a day or two in Kyoto, we offer a full-day tour of the city, enabling you to immerse yourself in and fully enjoy the entire city of Kyoto in just 10 hours!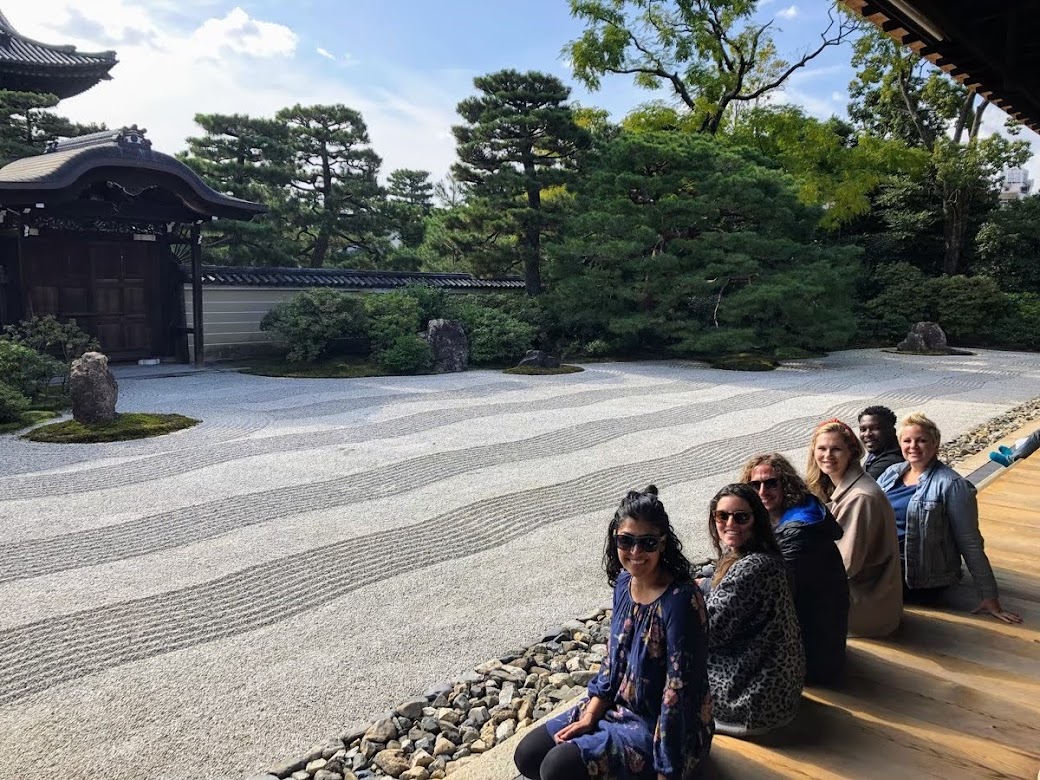 ▶Kyoto Food and Drink Tour @Nishiki Street & Gion
If you're looking to learn more about the culture and the local cuisine of Kyoto, this is the perfect tour for you! Take part in this Kyoto food and drink tour and explore the 400-year-old market and the famous Gion district.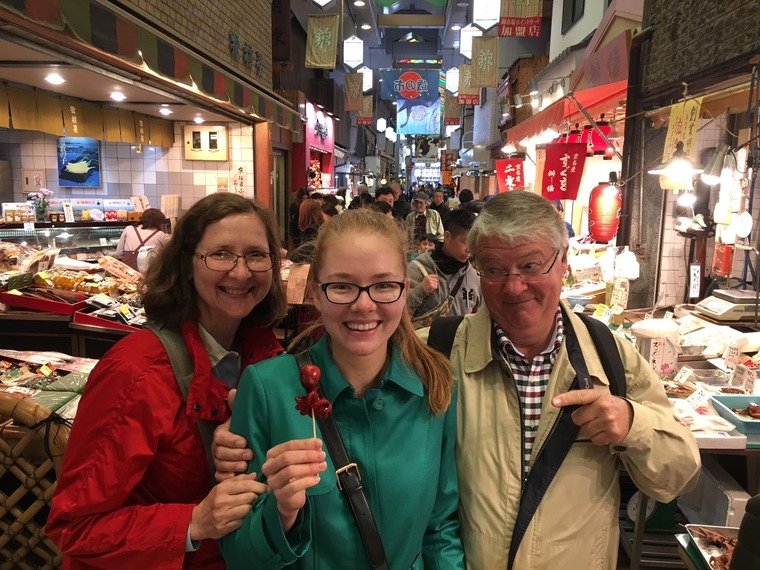 Find the Other Tours
▶Tour Packages
If you want to make travel easier, we suggest you look into tour packages.There are a wide range of tour packages out there to suit the accomodate for each traveler needs. Click the button below to find the best tour package from various Tour Operators!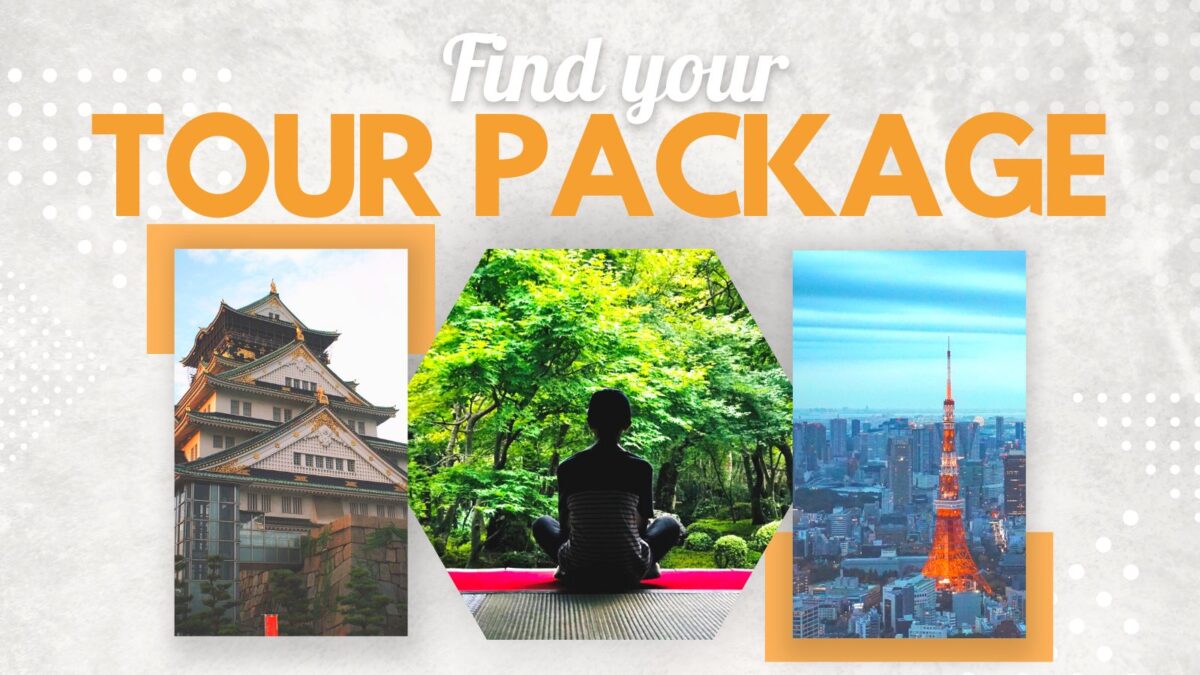 Follow us on Instagram, Facebook, Twitter, and TikTok for more travel inspiration. Or tag us to get featured!
Happy traveling!
Stay informed of the best travel tips to Japan, the most exciting things to do and see, and the top experiences to have with the Japan Wonder Travel Newsletter. Once every two weeks we will introduce you to our latest content.
Other articles you might be interested in