Buddhism was originally started by Buddha, the founder of Buddhism who lived in India over 2,000 years ago. It was later brought to Japan in the 6th century and started to spread around the country. The indigenous religion of Japan is Shintoism but over the years these two influenced each other significantly and you can find many places in Japan where Buddhism and Shintoism are fused together. Today, you can easily find the presence of Buddhism here and there in Japan. Buddhist temples are symbolic tourist attractions where visitors can learn about the religion by exploring historical structures and sacred sites. It is also where you can take a glimpse of the Buddha statue, which is often regarded as an objection to respecting an embodiment of Buddha. In this article, we will introduce the 10 famous Buddha statues in Japan!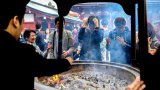 Buddhism in Japan - Brief History and Best Buddhist Temples to Visit
Buddhism is one of the two main religions in Japan. Here will explain how it got introduced in Japan and its influence on the daily lives of people in Japan.
1. Nara Daibutsu
Nara Daibutsu is one of the most famous buddha statues in Japan. It is kept at Todaiji, the historical temple located in Nara prefecture. It was established by the emperor Shomu in the early 8th century, and designated as UNESCO World Heritage Site as a part of "Historic Monuments in Ancient Nara". Nara Daibutsu is a symbolic statue that attracts a number of visitors as a National Treasure which was built almost 1,300 years ago. It stands 15 meters and welcomes visitors with a peaceful smile. The statue is kept inside a grand wooden building, one of the biggest wooden structures in the world!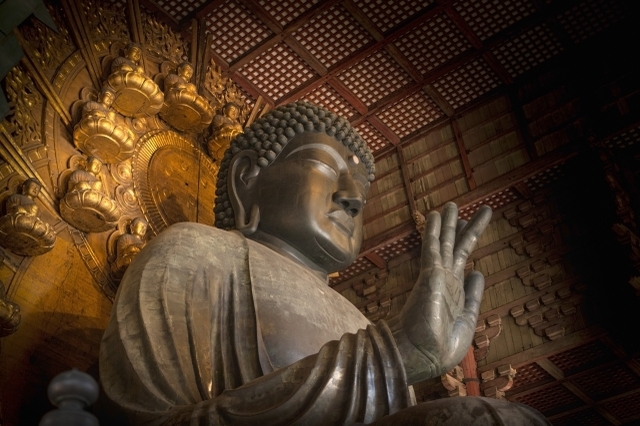 7.30am – 5.30pm (Apr. to Oct.)
8am – 5pm (Nov. to Mar.)
Admission fee ¥600 (adult)
▶Recommended Tour: Nara World Heritage Private Walking Tour from Kyoto (Customizable, 8 hours)
2. Ushiku Daibutsu
Ushiku Daibutsu is a bronze buddha statue that is located in Ushiku city, Ibaraki prefecture. It is known as the tallest bronze Buddha statue in the world with a height of 120 meters, which is officially on the list of Guinness World Records. The construction was completed in 1992, which indicates that the statue is relatively new compared to other historical ones. Visitors can enter the statue where you can learn about the construction process with informative exhibits. Enjoy the panoramic view from the observation deck which stands 85 meters above the ground.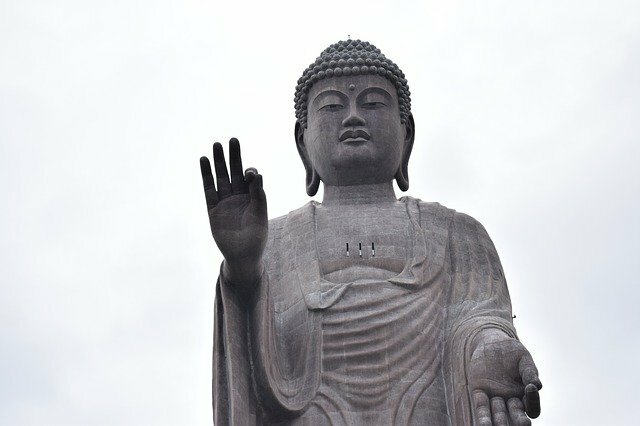 9.30am – 5.30pm (Mar. to Sept.)
9.30am – 4.30pm (Oct. to Feb.)
Admission fee ¥800 (adult)
3. Kamakura Daibutsu
Kamakura Daibutsu is an iconic buddha statue located in Kamakura city, Kanagawa prefecture. It draws a number of tourists all year round as one of the most popular tourist attractions in the city full of historical spots. You can spot the impressive statue at Kotokuin, a Buddhist temple that belongs to the Jodo Sect. Although the origin of the temple still remains unclear, it is believed that the 11.3-meter statue was built around the 13th century. During that period, Kamakura flourished as the political and economical center of Japan under the influence of the Kamakura Shogunate which ruled the country from 1185 to 1333. As the inside of the statue is empty, you can explore the small space.
Taking guided tours in the area will be a great idea to understand the background of the city and learn its history. There are also many fascinating tours such as a tour guided by local high schoolers. Spring is definitely the best season to visit Kamakura there when the cherry blossoms in the temple are in full bloom.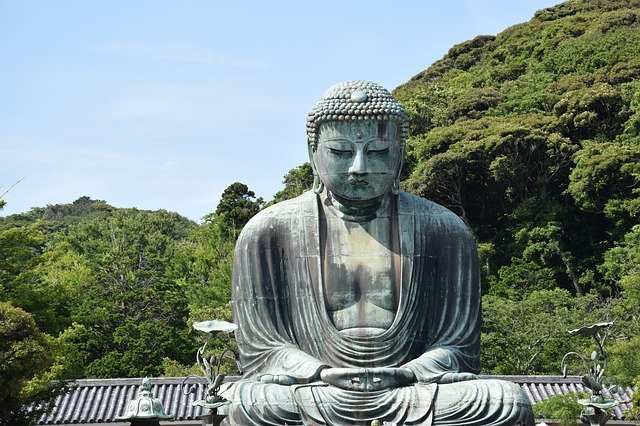 8am – 5.30pm (Apr. to Sept.)
8am – 5pm (Oct. to Mar.)
Admission fee ¥300 (adult)
4. Takaoka Daibutsu
Takaoka Daibutsu fascinates visitors with its handsome appearance. It is located in Daibutsu-ji Temple which is about 10 minute's walk from JR Takaoka station in Toyama prefecture. Along with Nara Daibutsu and Kamakura Daibutsu, it is claimed as one of the three greatest Buddha statues in Japan. The history dates back about 800 years ago when the original one was built by Minamoto no Yoshikatsu. It has been repeatedly reconstructed because of serious damage by fire over centuries. The current construction was started in 1907, and it took 26 years to finally complete the beautiful statue. Inside the statue, you will discover impressive Buddhism paintings and the head of the previous statue preserved in a good condition!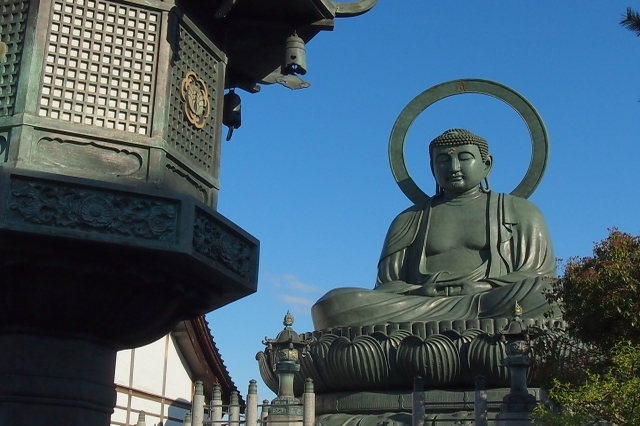 6am – 6pm
No admission fee
5. Fukuoka Buddha
Fukuoka Buddha is a wooden Buddha statue that is located in Tocho-ji temple in Fukuoka prefecture. It is the largest wooden buddha statue in Japan which was made in 1992. The 10.8 meters statue weighs about 30 tons and fascinates visitors with its sacred atmosphere. According to historical records, the temple was founded by Kukai, a notable Japanese monk who lived in the 8th to 9th centuries. He opened the temple in 806 soon after coming back from China, hoping to spread the influence of esoteric Buddhism to the eastern regions of Japan. It also served as a family temple of the Kuroda family, which governed the area as a feudal clan during the Edo period.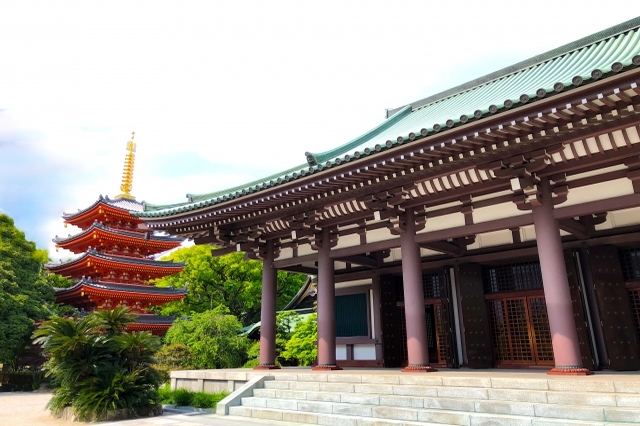 9am – 5pm
No admission fee
6. Nihonji Daibutsu
Nihonji Daibutsu is situated in Nihonji Temple in Chiba prefecture. The construction of the temple dates back to 725, when Gyoki, a Buddhist priest opened it following the official order by the emperor Shomu. The Buddha statue stands 31 meters, which makes it the tallest sitting Buddha statue in Japan! It was originally carved from a giant rock in 1783 and later restored in 1969 as it had been eroded by rain over centuries. Nihonji Temple stands on the southern side of Mt. Nokogiri, where visitors can take a relaxing stroll in the vast temple ground rich in nature.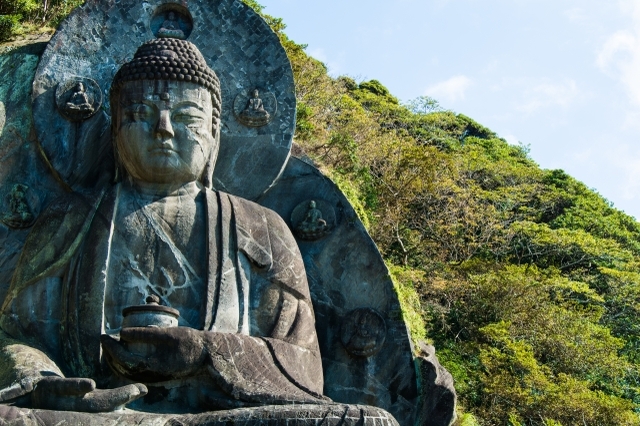 8am – 5pm (Apr. to Oct.)
Admission fee ¥700 (adult)
7. Showa Daibutsu
Showa Daibutsu is a bronze Buddha statue located in Seiryuji temple in Aomori prefecture. Built in 1984, it stands 21.35 meters by itself, making it the tallest bronze sitting Buddha statue in Japan. Another highlight is the beautiful five-story pagoda, which is known as the 4th tallest five-story pagoda in Japan with a height of 39.35 meters. Many visitors enjoy walking around the sacred temple ground and the peaceful surroundings as well.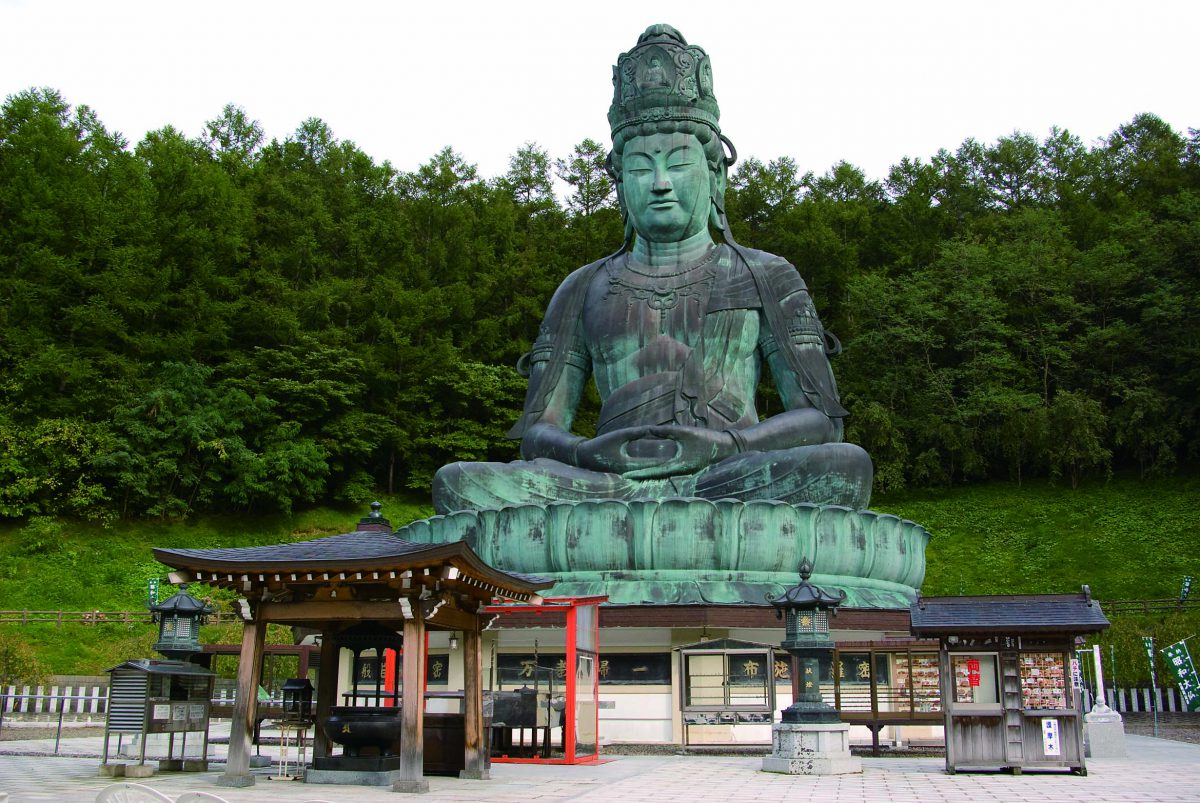 8am – 5.30pm (Apr. to Oct.)
9am – 4.30pm (Nov. to Mar.)
Admission fee ¥400 (adult)
8. Tokyo Daibutsu (Jorenji Temple)
It might surprise you that you can also find a beautiful buddha statue inside Tokyo! Tokyo Daibutsu is a bronze buddha statue located in Jorenji temple, Itabashi city. The 12.5 meters tall statue was completed in 1977 with a strong hope for a peaceful future without any disastrous tragedies that Tokyo has experienced in the past. Jorenji is a Jodo Sect Buddhist temple that dates back to the 14th century. There are historical structures that have been standing there for centuries in harmony with the peaceful surroundings. It is one of the best 10 scenic spots located within the city borders, though a bit bar out.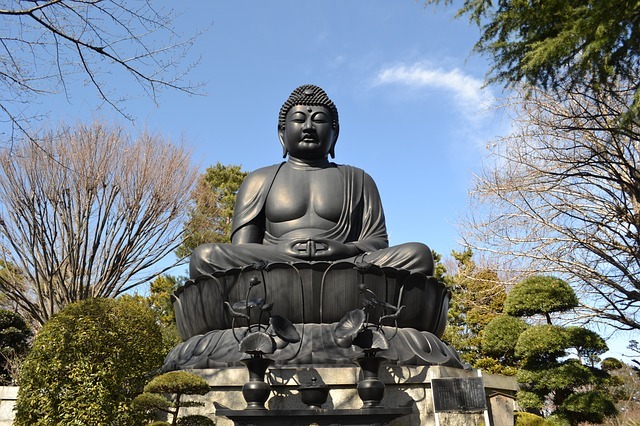 9. Hill of the Buddha
Hill of Buddha is a popular tourist attraction in Sapporo that newly opened in 2015. It was designed by Tadao Ando, a world-famous Japanese architect involved in a number of masterpieces and stunning structure designs. It is located in the part of Makomanai Takino Cemetery and features a giant buddha statue that is half underground. Only the head of the statue can be seen from the distance with beautiful hillside slopes full of seasonal plants and flowers all year round. Summer is the perfect season to get a glimpse of the unique landscape created by the contrast of purple lavenders and the impressive statue. There is a sacred gateway leading to the bottom of the statue that allows you to see the entire statue!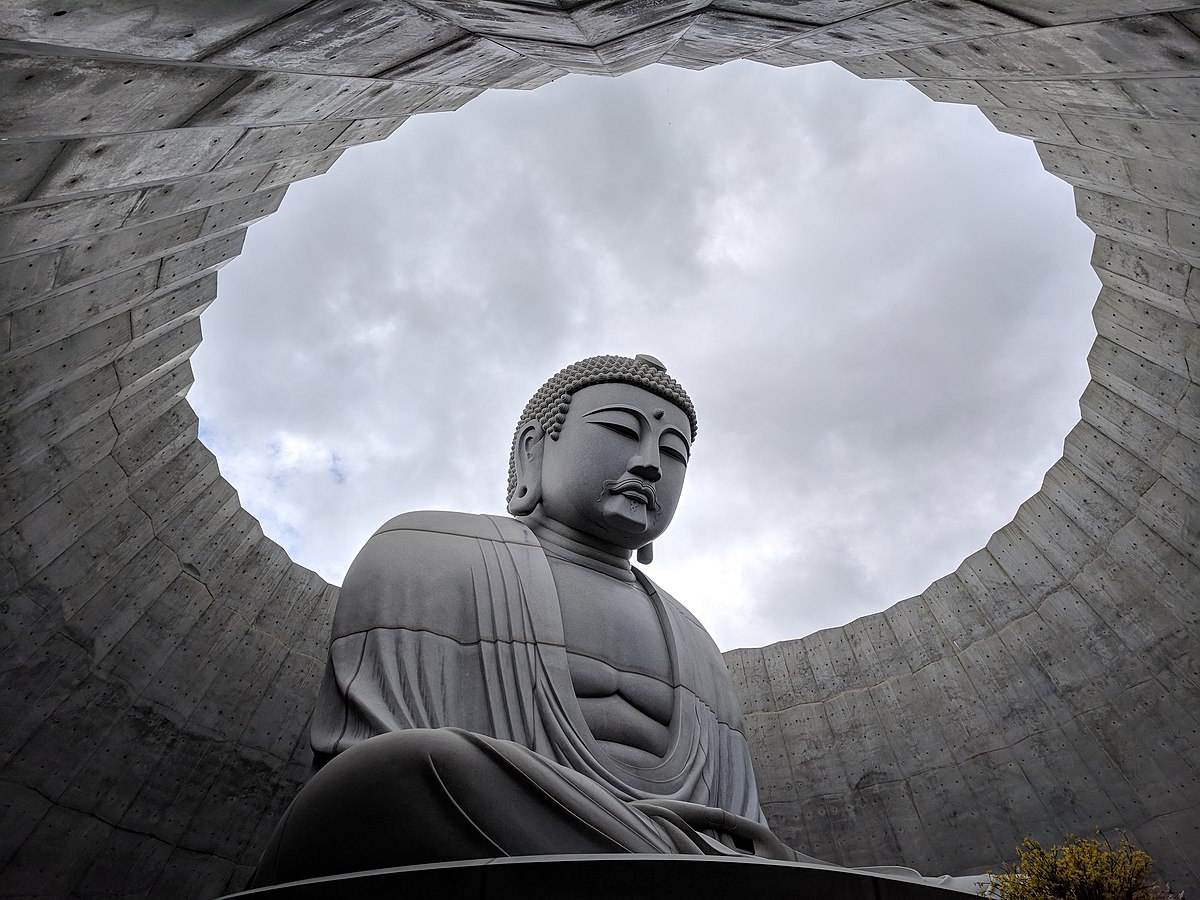 9am – 4pm (Apr. to Oct.)
10am – 3pm (Nov. to Mar.)
No admission fee
▶Recommended tour: Hill of the Buddha, Lake Shikotsu, and Hokkaido Ballpark
10. Gifu Daibutsu
Gifu is a mountainous prefecture that is located in the Chubu region in Japan. It is home to Gifu Daibutsu, a wooden buddha statue that is kept at Shoboji temple. It was completed in 1832 after 38 years of construction. The 13.63 meters statue is stored in a historical wooden hall that features Chinese architectural style. It is officially designated as a prefectural important cultural property as well. A huge ginkgo tree is used as a main column for the structure, and other natural materials such as timber, bamboo, and cray all make up the beautiful statue. Japanese lacquer and gold leaf are used to create a gorgeous appearance that embraces the hall with a spiritual atmosphere.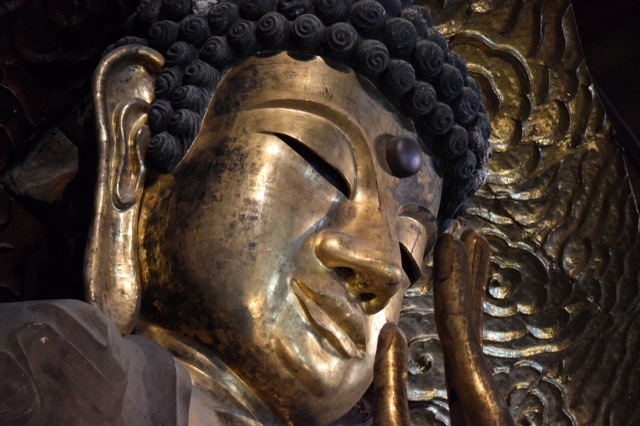 9am – 5pm
Admission fee ¥100 (adult)
Japan Wonder Travel Tours
Japan Wonder Travel is a travel agency that offers guided tours throughout Japan.
From private walking tours to delicious Food and Drink tours, we can help you organize the best tours just for you! If you want to explore Japan and learn more about the history and backstories of each area you are visiting, our knowledgeable and friendly English speaking guides will happily take you to the best spots!
In addition, we can provide you with any assistance you may need for your upcoming trip to Japan, so please feel free to contact us if yu have any questions or need some help!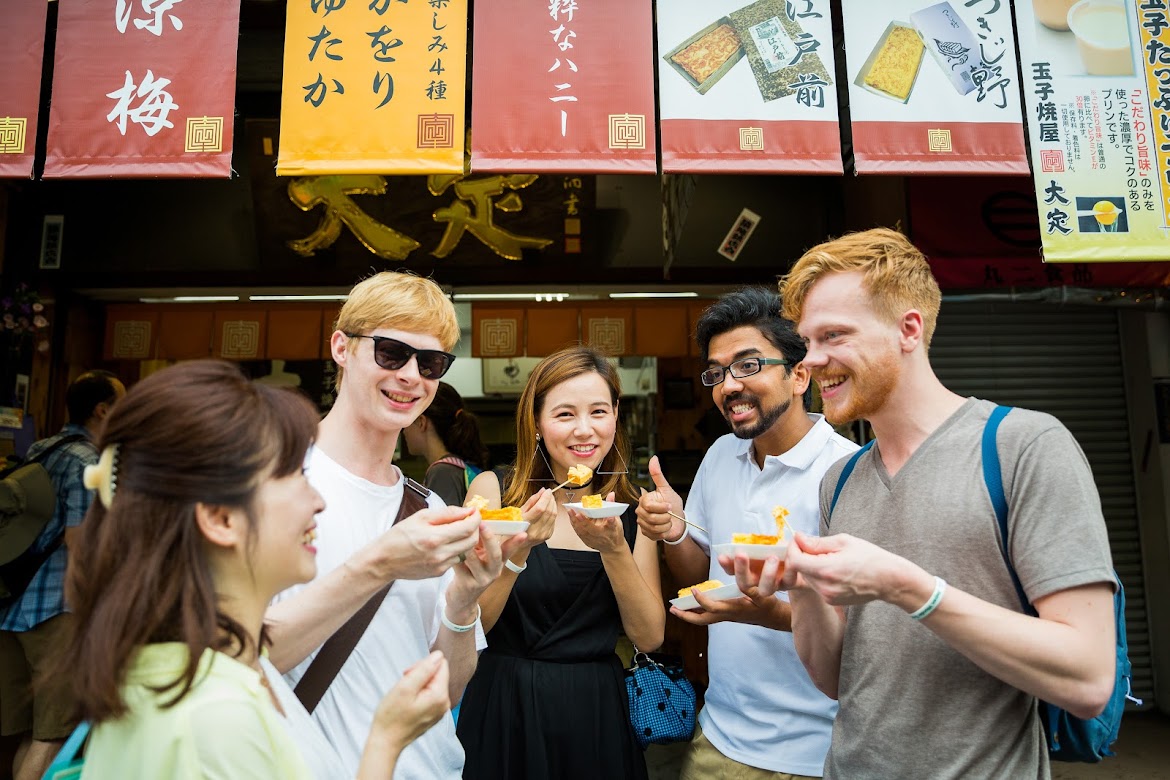 ▶Tokyo 1–Day Highlights Private Walking Tour (8 Hours)
There's no better way to explore an area than taking a tour with a knowledgeable local guide. You will have the chance to learn about the history and interesting background stories of Tokyo, as well as discover some hidden gems which can be hard to do without a guide.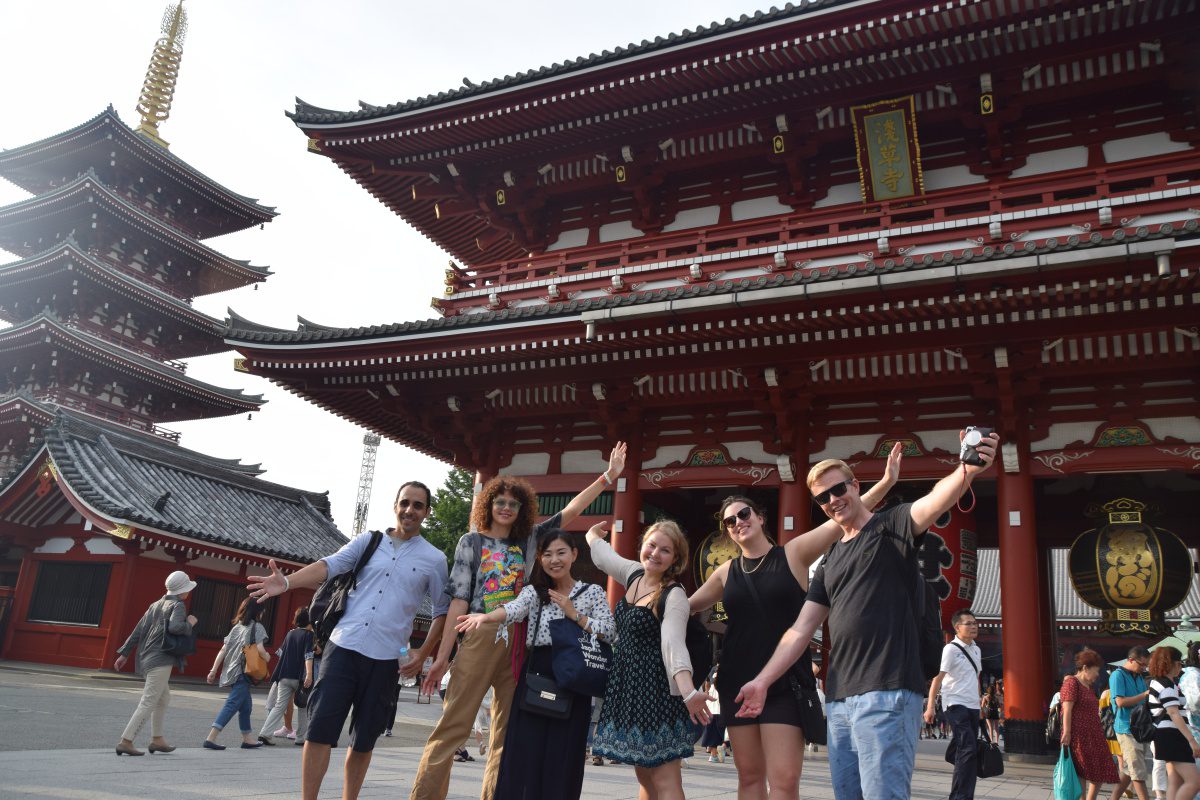 ▶Mt. Fuji Day Trip Bus Tour from Tokyo
Experience the breathtaking views of Mt. Fuji by visiting the highlights of the area on our guided sightseeing bus tour! Departing from Shinjuku in central Tokyo, you can travel comfortably to all of the best spots in the area by bus.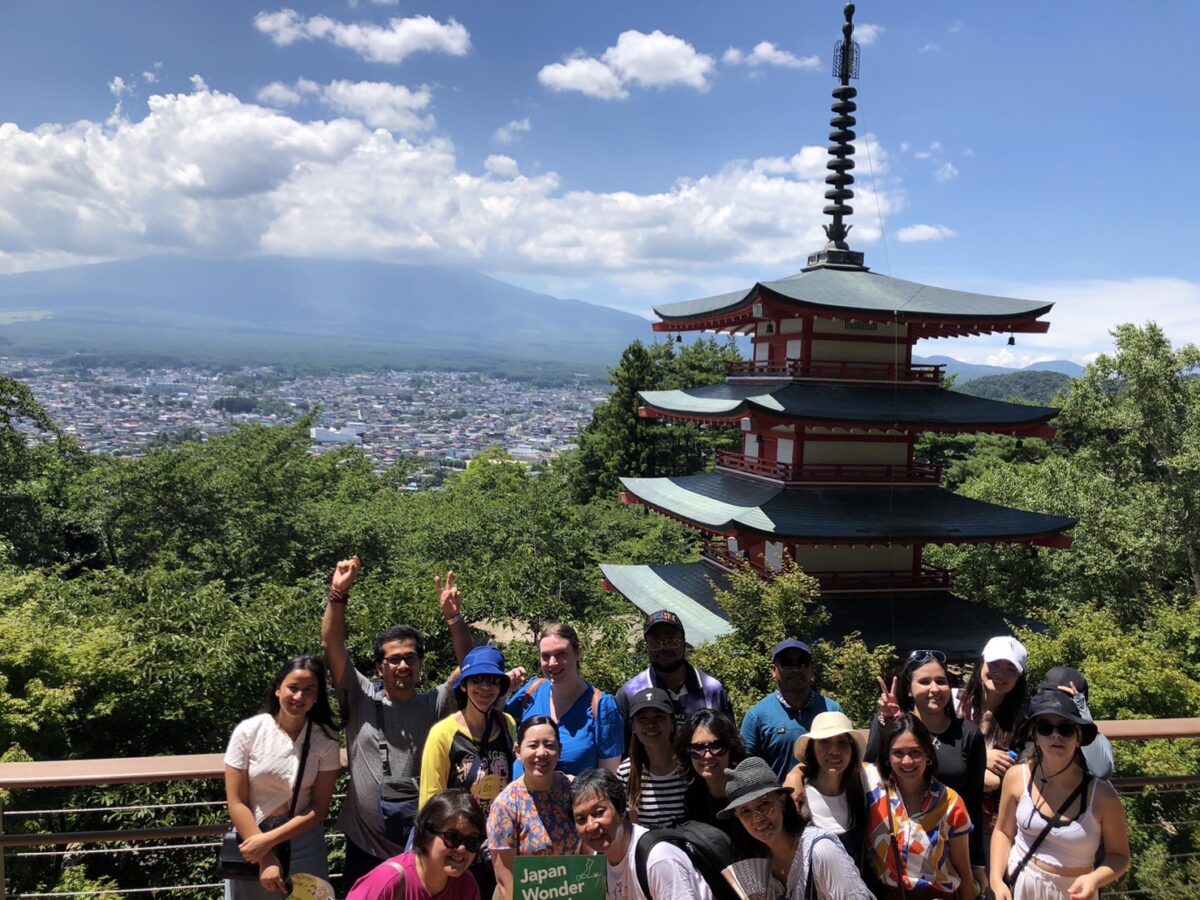 ---
Visiting temples is always a great way to understand Japan from the cultural aspects. You can also explore the historical spots more deeply with a better understanding of the historical backgrounds and basic knowledge about the buddha statues. Besides the 10 famous buddha statues we introduced above, there is a countless number of other statues waiting for your visit to beautiful temples around Japan!
Follow us on Instagram or Facebook for more travel inspiration. Or tag us to get featured!
Happy traveling!
Stay informed of the best travel tips to Japan, the most exciting things to do and see, and the top experiences to have with the Japan Wonder Travel Newsletter. Once every two weeks we will introduce you to our latest content.
Other articles you might like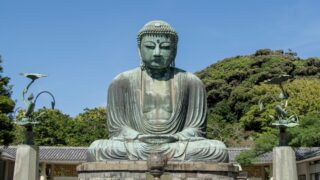 Religion in Japan
Do you know what different religions there are in Japan? Let's learn about what people believe in in Japan.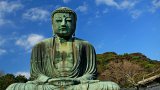 All About Buddhist Temples in Japan
We provide an overview of Buddhist temples in Japan and their characteristics, next we will introduce some of the most famous Buddhist temples in Japan!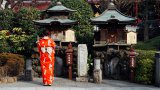 An Overview of Shintoism and Buddhism in Japan - Differences and History
Shinto and Buddhism are the two main religions of Japan that peacefully coexist. In this article we will explain the differences between the two and how to recognize a shrine from a temple.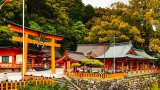 Shinbutsu-Shugo: The Mix of Shintoism and Buddhism in Japan
Japan is home to 2 main beliefs; shintoism and Buddhism, in this article we explain the concept of Shinbutsu-Shugo, how these have grown together and where you can see the mixture of the two.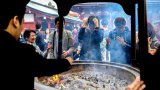 Buddhism in Japan - Brief History and Best Buddhist Temples to Visit
Buddhism is one of the two main religions in Japan. Here will explain how it got introduced in Japan and its influence on the daily lives of people in Japan.