Halloween is a yearly celebration on October 31th, when people all over the world dress up in 'scary' costumes and enjoy a great time. Japan is no exception to this, Halloween has become a very popular event ever since Disneyland Tokyo organized the first Halloween party in 2000. Nowadays, it is one of the biggest events, celebrated each year on October 31th.
Halloween in Japan is celebrated a little differently than in other countries, the costumes and parties play a big part, but there is no trick or treating and many other Halloween traditions are not cared about. In Japan, Halloween is more celebrated among the adults that like to dress up and party. Nevertheless, many stores will offer limited editions of their goods and colourful Halloween decorations. In this article, we will help you understand how you can enjoy Halloween in Japan!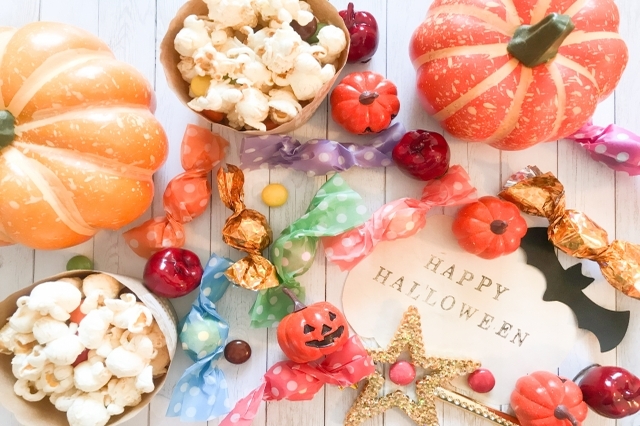 How to spend Halloween in Japan
In Japan, Halloween is more an event that is celebrated for and by the adults that want to dress up in costumes. October 31 is the main date for the parties, but you will find that events are being organized throughout September and October. Tokyo, Osaka and Kanagawa are the main cities hosting Halloween events including parties, flash mobs and parades.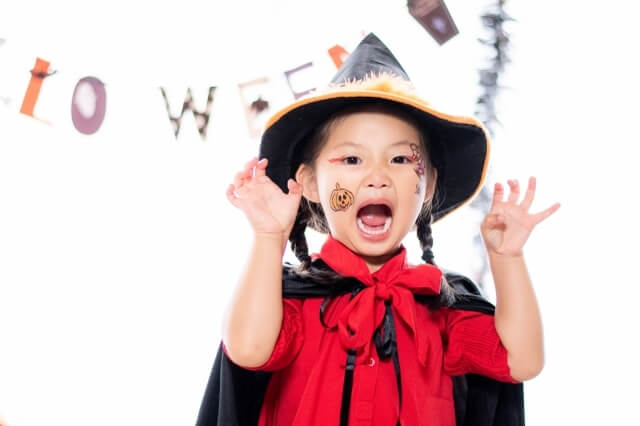 Halloween in Japan is spent with family or friends and some people hold a home party and invite their friends. But most people go out and join parties in nightclubs, bars, theme parks or just outside. Dressing up in a special themed costume is one of the main reasons for the party and some people go full on, with not only clothes but also matching accessories. In schools, especially kindergartens or elementary schools, special events are often organized for the children such as drawing pictures associated with Halloween, making a cute costume, or having a party with hand-made treats and ornaments.
Where to buy Halloween costumes?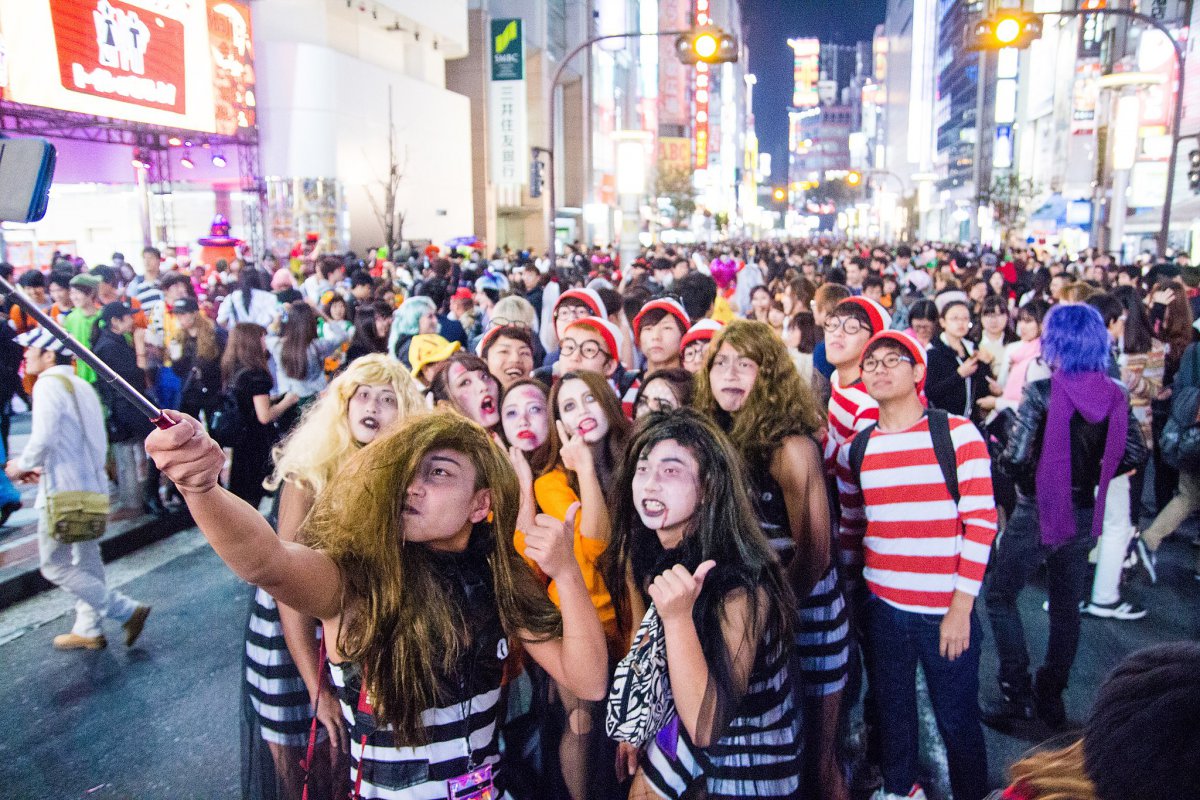 There are a wide range of costumes, some people dress up traditionally like witches and wizards, ghosts or mummies, whereas others wear a costume featuring their favorite manga or anime character. Or any famous characters from TV shows, movies and games, including Minions, Super Mario and Star Wars figures. Some of the Halloween costumes also tend to be more kawaii (cute) instead of scary. Especially in the otaku areas like Akihabara in Tokyo, you will see more anime figures instead of monsters.
Daiso and Donki (Don Quijote) are two popular stores where people will go shopping for all kinds of Halloween merchandise at a reasonable price. Don Quijote features a variety of Halloween costumes that are also available online. Tokyu Hands or Loft also sells various kinds of Halloween costumes and accessories. At those stores, Halloween make-up items are available as well to complete your horror looks!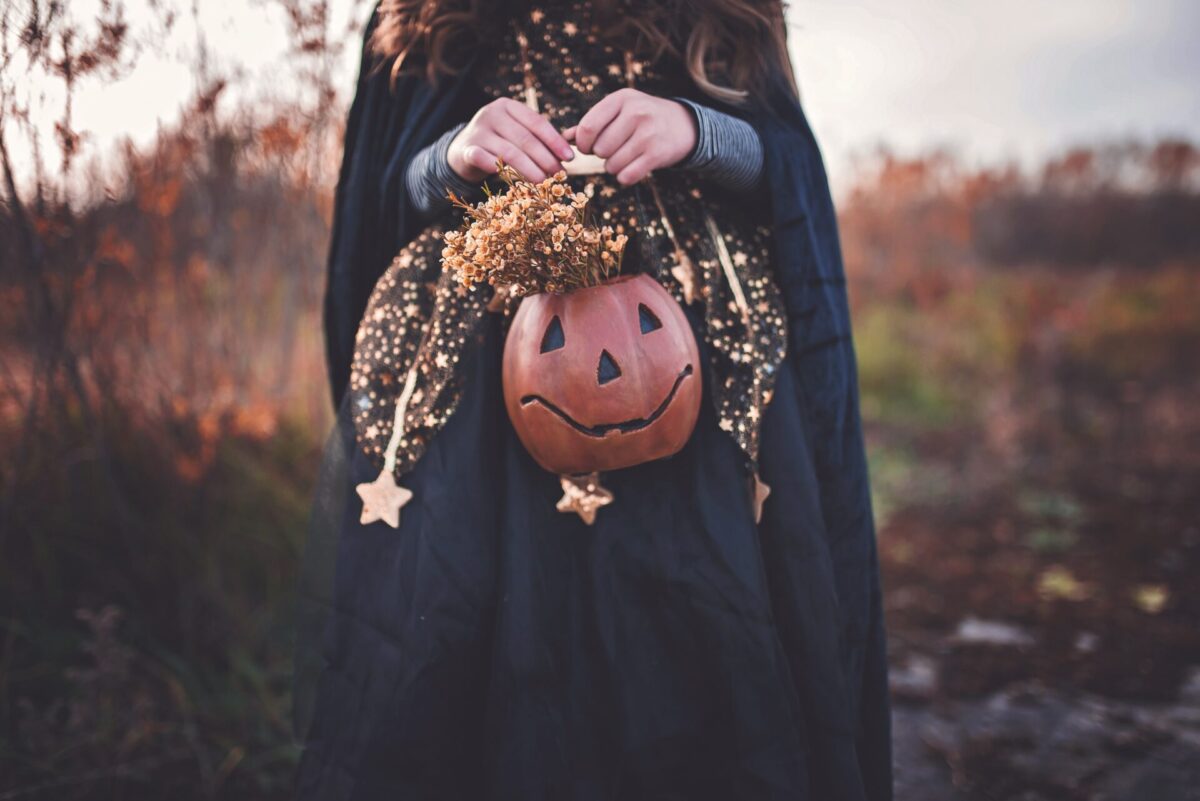 Where to go for the best Halloween parties in Japan?
Tokyo, Osaka and Kanagawa are the main cities hosting Halloween events including parties, flash mobs and parades. In Tokyo, Halloween has become increasingly popular, especially among young adults who flock to public areas such as Shibuya Crossing to show off their costumes. A huge number of people go down to the crossing to join the crowds and the festivities. People take pictures with friends in the most amazing costumes, go partying in nightclubs, or just walk around the area to enjoy the lively atmosphere. People will wear the most amazing costumes featuring popular anime or manga characters, scary monsters or others. Recent years have been quite eventful and TV shows report about the lively chaos. After a truck was turned over in 2018, the Shibuya Crossing has become an alcohol free zone during Halloween, so be sure to keep your alcohol out of sight.
One of Japan's largest Halloween events is the Kawasaki Halloween Parade. Kawasaki has been hosting the Halloween parade since the late '90s and has become hugely popular. The more than 2.500 parade participants draw large crowds of Halloween (over 100.000) partygoers each year. The city of Kawasaki is in a festive mood during the Halloween Parade. The whole month of October Kawasaki is beautifully decorated and organizes events like movie marathons and fairs.
*Kawasaki Halloween Parade is no longer active as of August 2021
If you enjoy Halloween in a different way with your kids or partner, join special events or parades at famous theme parks such as Tokyo Disney Resort or Universal Studio Japan. Tokyo Disney Resort, located in Chiba Prefecture, is the most visited theme park in Japan, and organizes exciting events suitable and enjoyable for all generations. Disney's Halloween takes place from the mid-September to the end of October and entertains visitors with Halloween-themed parades, shows, and other events. After the sun has set, the Disney's characters transform into scary versions of themselves and haunt the streets of Tokyo Disneyland and Tokyo DisneySea. There are also special food and products available that you can get only during the Halloween season.
Universal Studio Japan (also known as "USJ") is another popular theme park located in Osaka. If you are looking for a more thrilling experience for adults, this is a great place to go! During the Halloween Horror Nights season, there are a number of events including Zombie de Dance and Street Zombies with terrifying zombies ruling the streets around the huge park. The zombies will chase and scare you! In addition, some popular rides and attractions such as the Space Fantasy the Ride turn into Halloween versions!
What to eat at Halloween in Japan
In Japan, pumpkin is considered as food rather than an ornament for Halloween. The sweet taste of the pumpkins can be used for several kinds of dishes including traditional Japanese cuisine and even sweets. You can easily find the Japanese pumpkins at grocery stores for a reasonable price, but if you are looking for an orange version to carve out, expect to pay a higher price.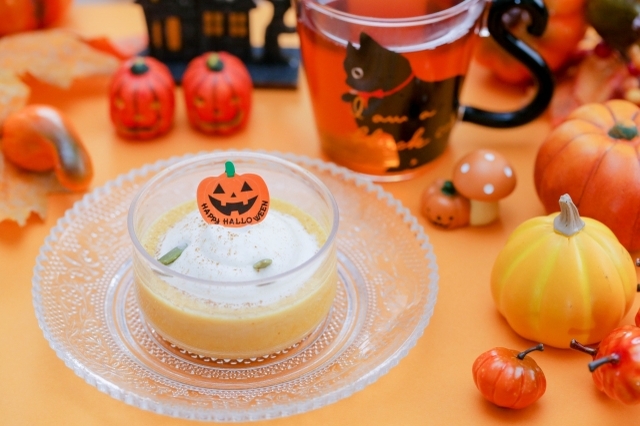 During the Halloween season, many shops release new products to take on the competitive market. Many people spend more money than usual on buying these special limited edition products to hold a party or have a luxurious meal at home. For shops it is a perfect time to launch some special themed products and you will see attractive Halloween products such as cakes and sweets. Pumpkin tart and pumpkin soup are also popular and are relatively easy to make on your own with simple ingredients!
Halloween events in 2021
All the Halloween events in 2020 were cancelled due to Covid-19, but what can we expect for 2021?
We will update the events information accordingly once an official announcement has been made. Here are the popular Halloween events that are held in 2021 in Japan!
Universal Studios Japan Horror Night
Finally for the first time in 2 years, the Halloween tradition, Halloween Horror Night, comes back to Universal Studio Japan this year! This year it features not only zombies roaming the street but also the terrifying maze of the world of Japanese horror anime GeGeGe no Kitaro where you will encounter horrifying Japanese Yokai. Other Halloween attractions are the horror theatre Sherlock Holmes ~Cursed Rose Sword~ and the live performance of NO LIMIT! Halloween Festa featuring adorable Minions in Halloween costumes. To prevent the spread of Covid-19, each day they have a limited number of entrances to the park. So better check the availability and purchase the ticket beforehand especially during the Halloween season! ▶Check the availability
NO LIMIT! Halloween at Universal Studio Japan
Date: September 10th (Fri) – November 7th (Sun), 2021
*From September 11th Halloween Horror Night will start
Disney Halloween at Tokyo Disney Resorts
This year you can celebrate Halloween at Tokyo Disneyland! While Universal Studio offers Halloween events for adults, Tokyo Disneyland offers kid-friendly events .
The biggest Halloween event at the park is Mickey and Friends Greeting Parade (Halloween Version) that will be held once a day. Mickey and other friends wearing ghost costumes will greet you happily (and in a little spooky way?). There will be Halloween themed merchandise and food and drink as well as the easy-to-put costume at the park to get you into the Halloween spirits.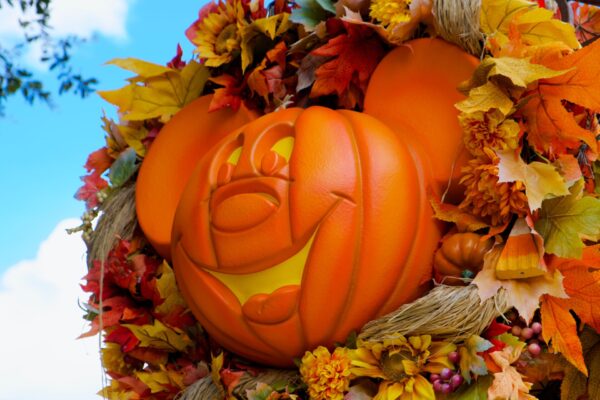 It's not allowed to wear full costumes if you are over 12 years old, but if you want to enjoy the park with full costumes, book Halloween Morning Passport (October 25th – 29th). It allows you to enter the park 8am-10am and during that time it opens only for Halloween cosplayers! You can also get the souvenir gift and get access to see the limited Halloween parade with villains that you can only see in the morning.
Halloween at Tokyo Disneyland
Date: September 15th (Wed) – October 31st (Sun)
▶Reserve the ticket
Halloween Morning Passport
Date: October 25th (Mon) – 29th (Fri) ¥13,000
▶Book ticket (website available in Japanese)
Ikebukuro Halloween Cosplay Festival
Ikebukuro Halloween Cosplay Festival has been officially announced to be held this year! If you are interested in serious and amazing cosplays, head to Ikebukuro for Halloween. It's the biggest Halloween event in Japan where many enthusiastic cosplayers and cameramen come together. Generally there are some cosplay runways, games and competition that everyone can enjoy. If you are a fan of Japanese anime, manga and games, take a look at this event to enjoy Halloween in Japan!
Ikebukuro Halloween Cosplay Festival
Date: October 30th (Sat) and 31st (Sun) 10am – 6pm
Place: Ikebukuro area
Tama Center & Sanrio Puroland
Starting from October 22nd (Fri), Halloween decorations will be displayed at Tama Center in Tama City in Tokyo. From the same date, the winter illumination will start which allows you to enjoy the Halloween decorations and shining illuminations together. The decorations include the unique pumpkin displays that local children made.
Halloween in Tama Center
Date: October 22nd (Fri) – 31st (Sun)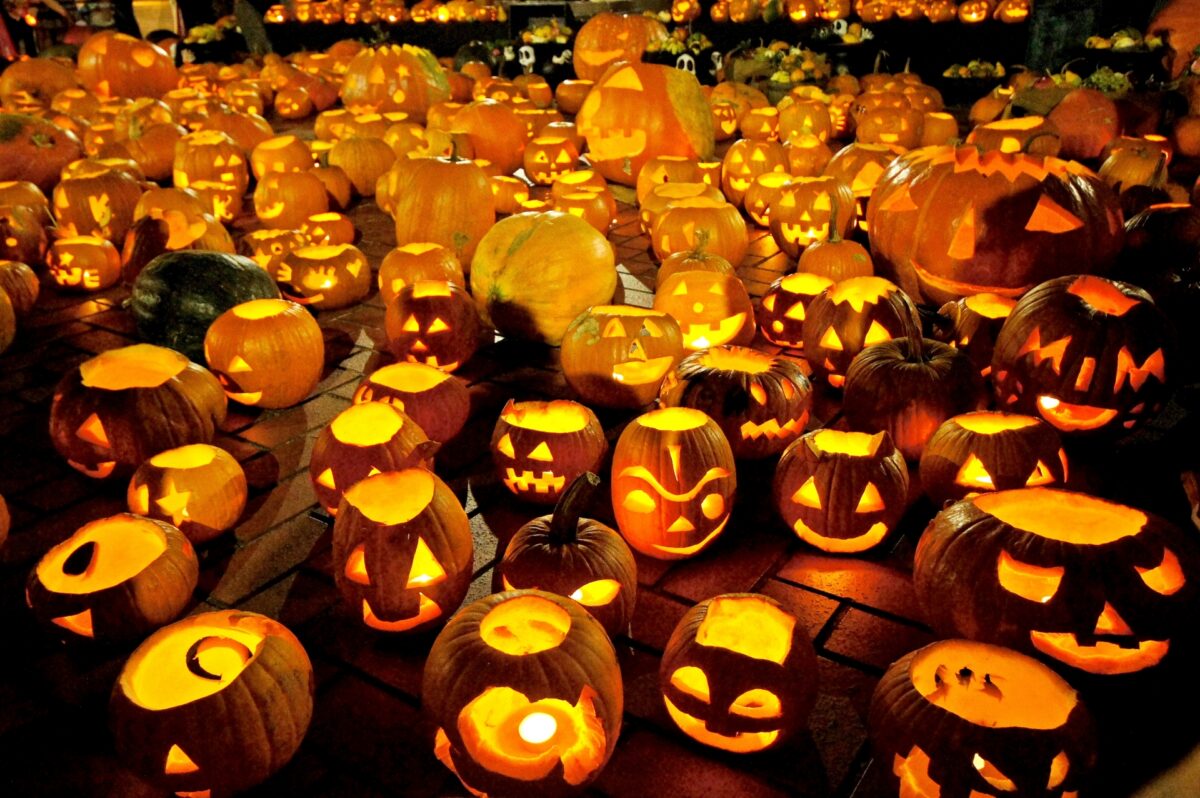 Sanrio Puroland is a popular theme park featuring Sanrio characters (Hello Kitty, Gudetama, Pompompurin etc) located in the Tama Center area. During this Halloween season, the theme park turns pumpkin themed and they will host a Pumpkin Party on the live show where cute characters dance in Halloween costumes! At a popular greeting attraction, you can take pictures with your favorite character in adorable Halloween attire. Halloween decorations at the entrance is a perfect spot to take a cute Halloween photo!
Puro Halloween at Sanrio Puroland
Date: September 10th (Fri) – October 31st (Sun)
Yomiuri Land
One of the biggest theme parks in Japan, Yomiuri Land features covid conscious Halloween events this year. From October 9th (Sat) to 31st (Sun), the discount campaign is held that allows visitors free access to the entrance, 1,000 yen discount on one-day pass and 200 yen discount on after pass (valid after 3pm). To join the campaign, wear your own decorated mask and at least one Halloween costume/accessories/ item with you. You must decorate your mask by yourself, and please note that if you just wear a patterned mask already printed on, it's not applied to the campaign.
There are also stamp rally for children, photo spots and Halloween themed slightly grotesque food to enjoy. Intravenous drip which looks like real blood and french fries with blood needles are on sale at FOOD STATION BANDY'S.
Yomiuri Land
Date: October 2nd (Sat) – 31st (Sun)
Huis Ten Bosch
Huis Ten Bosch is a Dutch theme park in Nagasaki. This Halloween, hundreds of Jack-o'-lantern decorations that can be enjoyed both in day and night, illuminations, Halloween foods, and a Halloween House which is fully decorated with skeletons, pumpkins and ghosts are anticipated. If you wear Halloween costumes (at least two items), you will get a 500 yen discount on a one-day passport. Buy a Halloween basket (800 yen) and go explore the theme parks, you can do trick-or-treating at the certain stores in the park!
On October 31st (Sun), a Halloween costume contest will be held. It will be judged during the Halloween parade. If you would like to attend, the entry is until October 24th!
▶Halloween Costume Contest
Halloween at Huis Ten Bosch
Date: September 11th (Sat) – November 3rd (Wed)
Japan Wonder Travel Tours
If you need some help to organize your trip to Japan, don't forget our private tours with local guides. We'd like to make your trip to Japan a safe, comfortable, and unforgettable memory!
Kyoto Private Full Day Walking Tour
Join our private tours and explore the highlights in Japan with our friendly English speaking guide.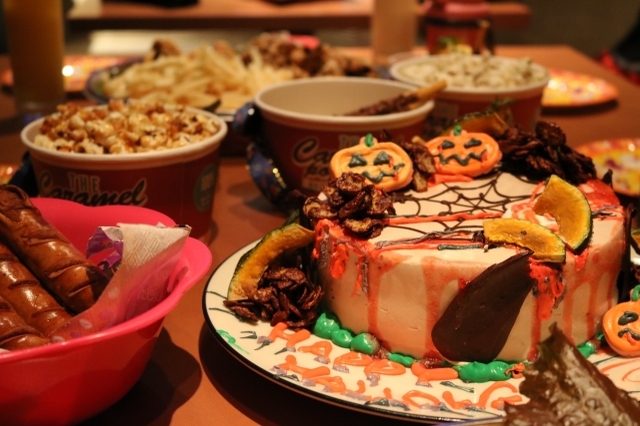 Halloween is one of the biggest events in autumn in Japan. The party celebrations differ slightly from other (Western) countries and are mostly geared towards (young) adults who like to dress in their favorite character costume. There is a range of special events organized throughout the months of September and October since it was first introduced in Japan in the '70's. Especially after Disneyland hosted the first Halloween party in 2000, Halloween has become increasingly popular. In spite of the differences among countries on how to celebrate it, Halloween is an enjoyable festival for everyone regardless of age or religion. Even if you don't want to dress up, watching others in their creative costumes is still fun to do!
Follow us on Instagram or Facebook for more travel inspiration. Or tag us to get featured!
Happy travelling!
Stay informed of the best travel tips to Japan, the most exciting things to do and see, and the top experiences to have with the Japan Wonder Travel Newsletter. Every week we will introduce you to our latest content.
Other articles you might enjoy
---
This post contains some affiliate links. When you click through and make a purchase we may receive some commission, at no extra costs to you.