Hongwanji Temple is a Jodo Shinshu Buddhist temple located just down the road from the infamous Tsukiji fish market in central Tokyo. This temple was originally located closer to the historical Asakusa district, but that temple burned down in the 1600's. A new temple was constructed in the current location, only to be destroyed in the Great Kanto earthquake of 1923. The current structure was built in the 1930's and is heavily influenced by the style of temples across India, making it stand out even more in the bustling concrete jungle that is central Tokyo. 
Tour Itinerary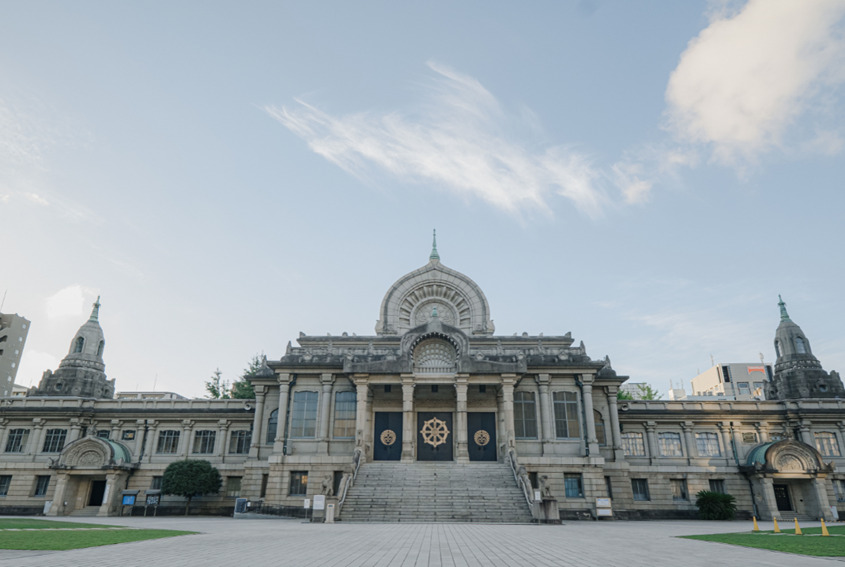 This tour starts early in the morning, at 6am, and finishes at 9:30am. You will have the unique opportunity to change into traditional clothes, participate in a Buddhist ceremony and listen to a traditional concert. Additionally, you will be able to work alongside the temple's Buddhist priests as they polish sacred temple relics and wares. Afterwards, you will be rewarded with an elaborate 18-dish breakfast from a popular restaurant that is closely associated with the temple. 
Tour Highlights
Just over 3 hours long, this tour offers a once-in-a-lifetime chance to fully immerse yourself in the daily rituals of practicing Buddhist priests at the Hongwanji temple.
Explanation and Change Into Traditional Samue Clothes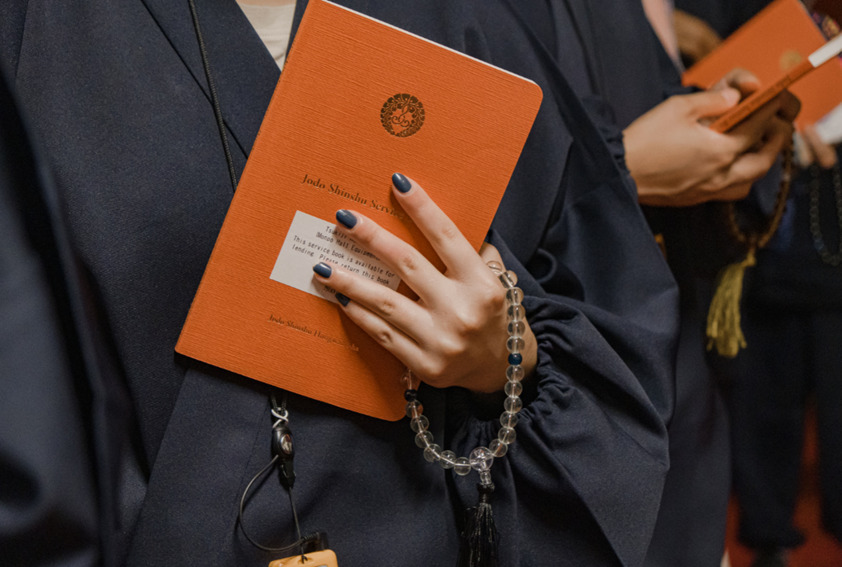 After meeting at Tsukiji Hongwanji Information Center bright and early, your group will be guided through the temple to a private chamber. Along the way, you will learn about the temple's extensive history and peak around different areas, typically restricted to ordinary visitors. In this chamber, you will be provided a samue outfit, complete with a pair of socks. Samue is a traditional garment worn by Buddhist priests. It is a robe-like top with a pair of loose pants, revered for its light and airy design that keeps you cool during the hot summers. 
Buddhist Service and Talk From The Buddhist Priests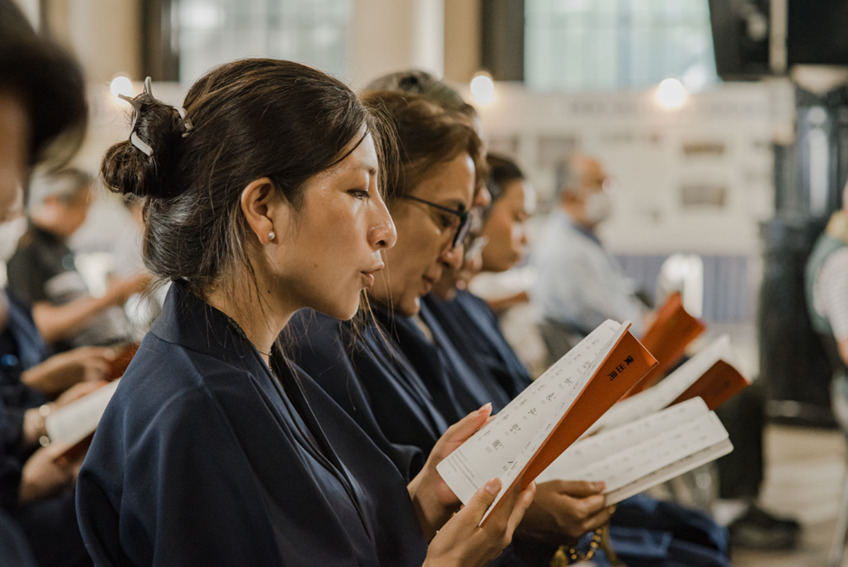 Dressed to impress, you will return to the main hall and participate in the morning service in an area reserved exclusively for the priests and special guests. You will be provided with a service book that has a wealth of information about the temple and the religion. The book also includes the chants that you will be performing. The book is written in both English and Japanese. It will prove handy when following along with everyone's chanting. You will see temple members joining the service as usual, some of which are dressed in suits, stopping here before heading off to their offices. 
Exclusive Tour of the Inner Sanctum and Incense Burning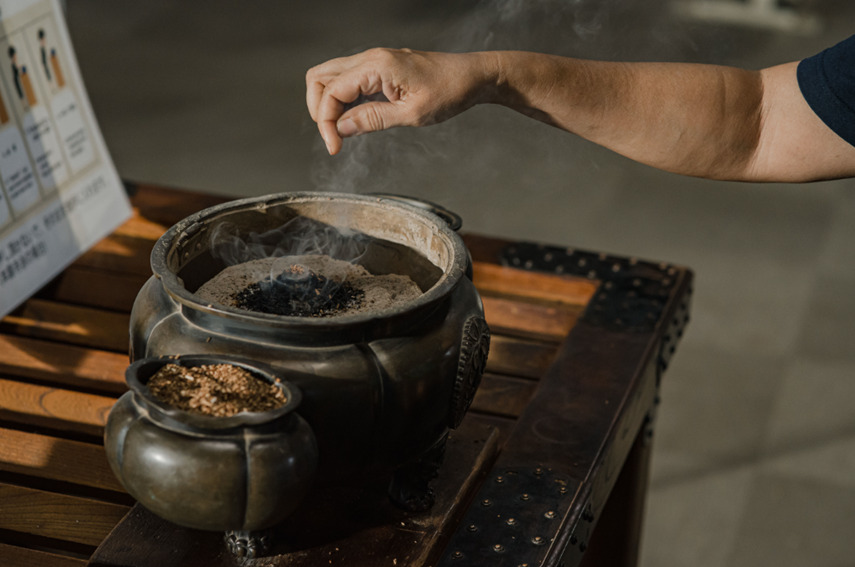 After the service concludes, you are able to do an incense offering to Buddha by putting chopped up incense on top of charcoal. After this, you will carry on through the temple, following your guide. The temple is full of twists and turns and different corridors, something you cannot typically see. A priest will explain each room you pass through as well as its purpose. The temple has a rich history and has some walls that are made from materials that have been preserved by the temple for hundreds of years.
Polish Buddhist Ritual Items with the Priests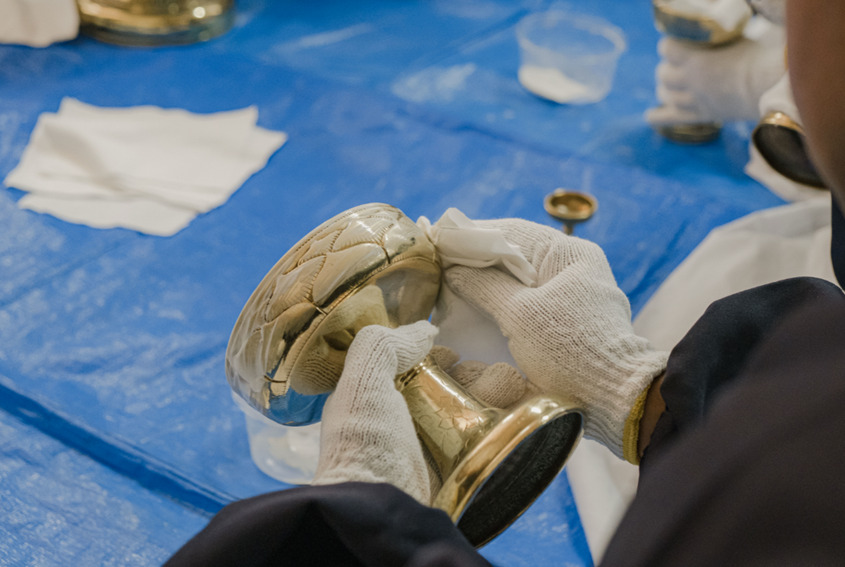 You will be taken to the very back of the temple to see, and polish precious Buddhist tools together with the Buddhist priests. There will be many ceremonial bowls and dishes spread out on a white cloth. These are ancient artifacts and must be cared for properly. But don't worry, you will be able to join together with the priests who will show you exactly how to clean these priceless artifacts. Gloves, cleaning cloths and cleaning solution is provided. You will see the best way to polish these items to preserve their holy shine. This is an eye-opening experience that most people not on the path to priesthood get to experience.  
Special Live Gagaku Performance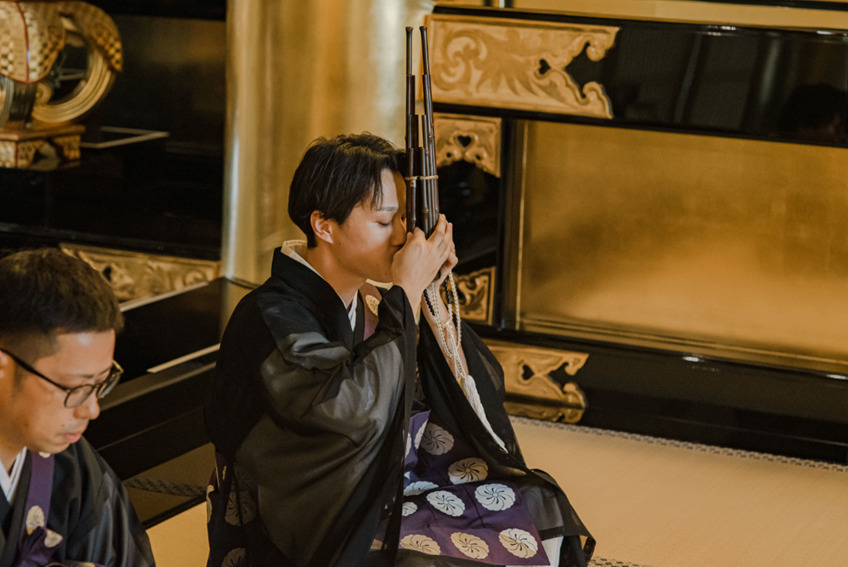 After your work is finished, you will be taken to another chamber. Here you will have the pleasure to witness a live gagaku performance from a few priests. Gagaku is a word used to describe traditional Japanese court music and performance used to entertain the imperial family and their guests. Each priest is skilled in a different wind instrument. These include a hichiriki (similar to a modern oboe), a ryuteki (a transverse flute) and a sho, which is a very small mouth organ. Before the concert, each instrument will be described in detail with its history, an explanation on how to use it and a short demonstration. Afterwards, they will play in unison, filling the room with sound and bringing about tranquil images of a more peaceful time. 
18-Dish Buddhist Associated Breakfast From Tsumugi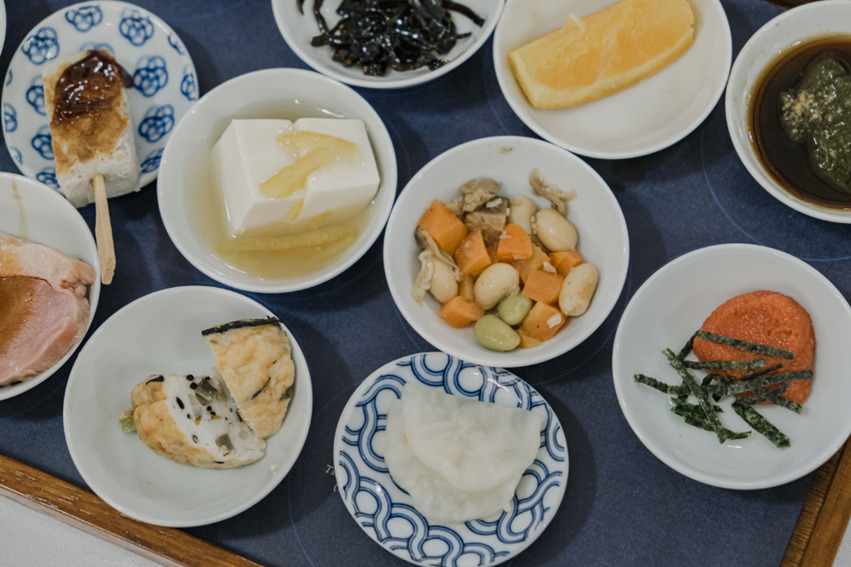 After such an exciting morning everyone will surely have worked up an appetite. You will be taken to another chamber with tables and chairs. It's finally time to enjoy breakfast as the priests do. This meal is prepared by Tsumugi, a restaurant located next to the temple, and also where you can find the temple information center and a small shop. They are most famous for their breakfast dishes, most of which are influenced by the Buddhist traditions and beliefs of the temple. Your 18-dish breakfast will include a bowl of porridge, a bowl of miso soup and 16 other dishes of various ingredients such as duck, yam, tofu, yuzu, matcha jelly and a Japanese-style omelet. If you're wondering why there are 18-dishes, it is inspired by the 48 Great Vows of the Amitabha Buddha. The different flavors are pleasing and you will certainly leave with a happy tummy.
How To Book the Tour
If you are interested in learning more about Buddhism, temples or priests, this is a wonderful tour that will take you behind the curtain and give you glimpses into a world that seems so mysterious and elusive to those on the outside. A truly remarkable experience. Have a look below to book the tour!
Book here!
Japan Wonder Travel Tours in Tokyo
Japan Wonder Travel is a travel agency that offers guided tours throughout Japan.
From private walking tours to delicious Food and Drink tours, we can help organize the best tours just for you! If you want to explore Japan and learn more about the history and backstories of each area you are traveling in, our knowledgeable and friendly guides will happily take you to the best spots!
In addition, we can provide you with any assistance you may need for your upcoming trip to Japan, so please feel free to contact us if you have any questions or need some help!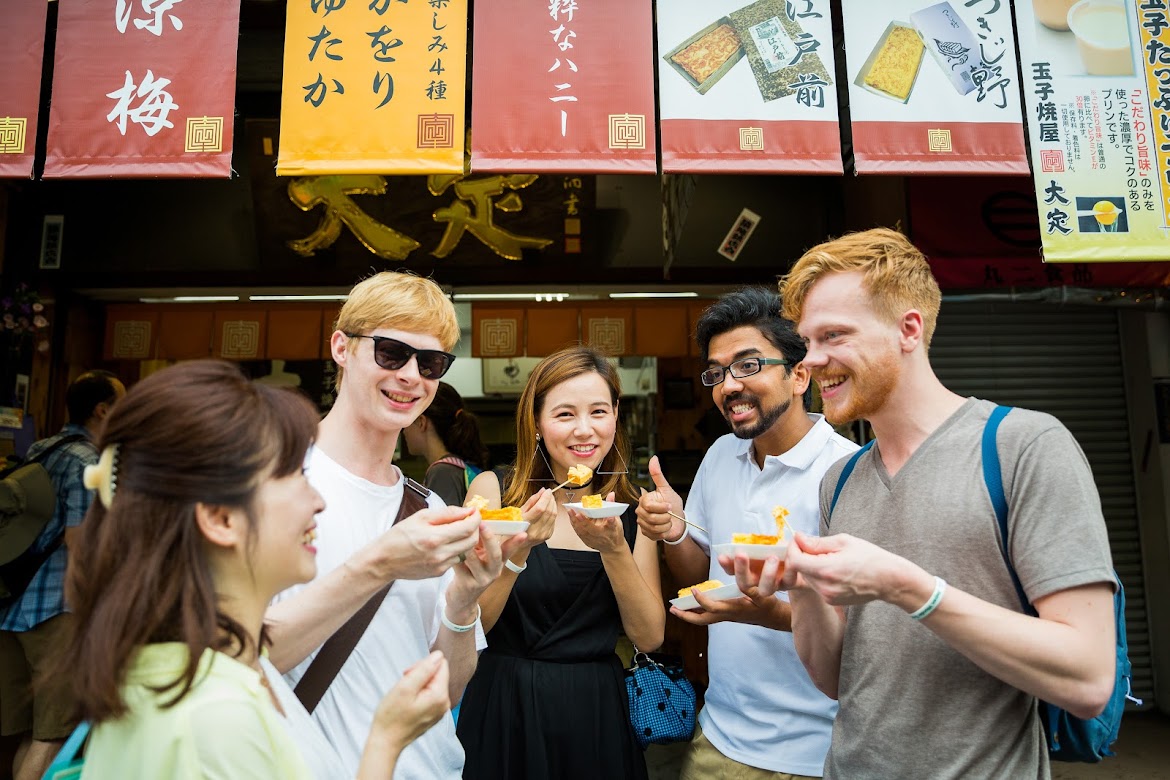 ▶Tokyo 1–Day Highlights Private Walking Tour (8 Hours)
There's no better way to explore an area than taking a tour with a knowledgeable local guide. You will have the chance to learn about the history and interesting background stories of Tokyo, as well as discover some hidden gems which can be hard to do without a guide.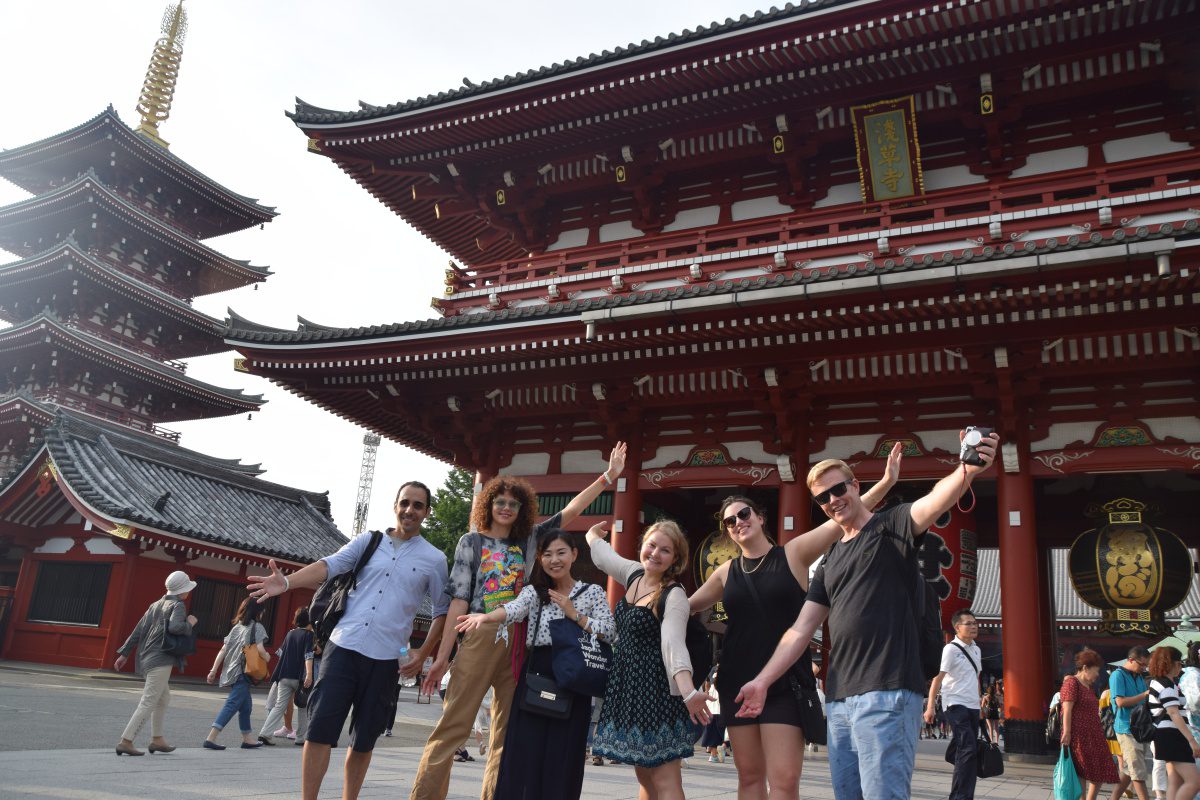 ▶Shinjuku Bar Hopping Tour: Experience Tokyo's Nightlife in Izakaya
Check out the best spots in Shinjuku while bar hopping through the lively and vibrant area. Try some delicious local food and drink as you explore the narrow yet photogenic alleys that the town has to offer. Experience Japanese izakaya culture and drink in Shinjuku like the locals!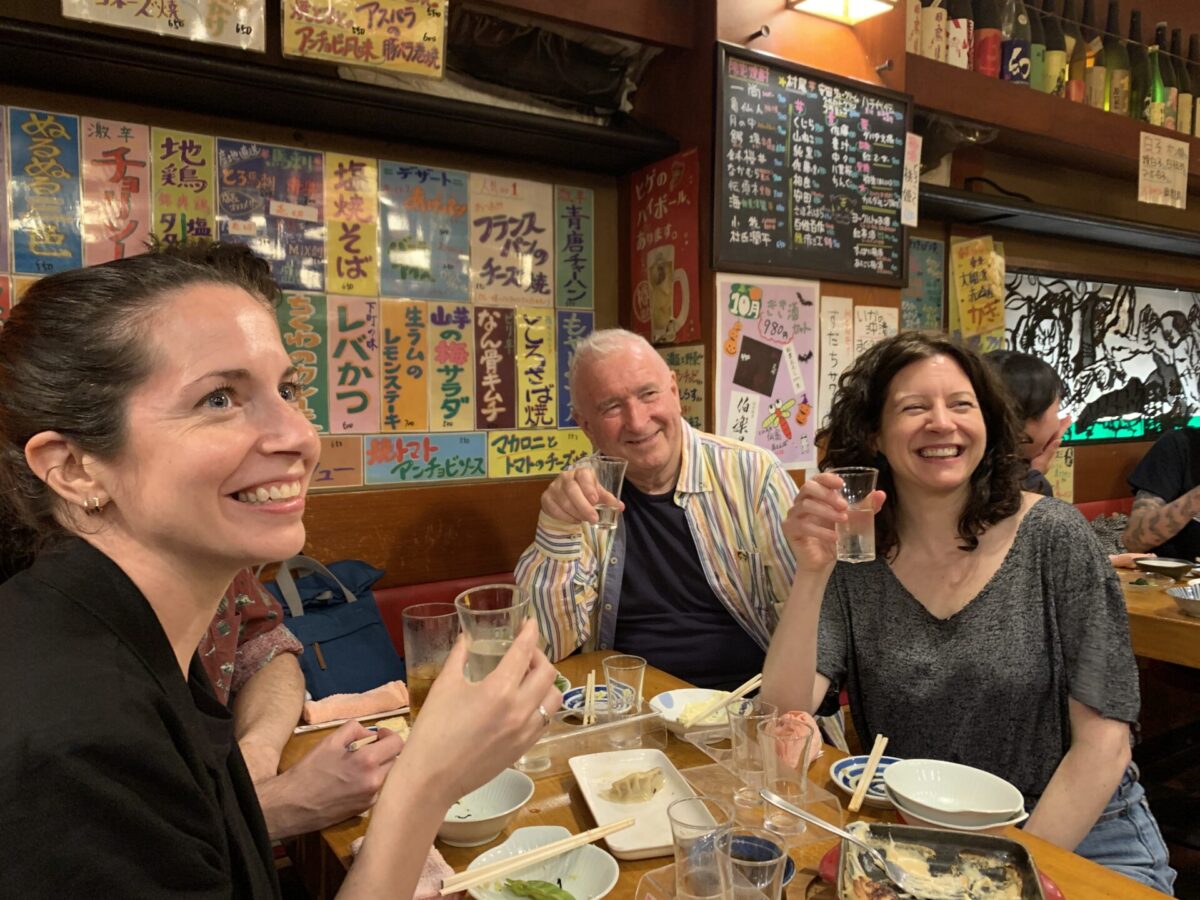 Find the Other Tours
▶Tour Packages
If you want to make travel easier, we suggest you look into tour packages.There are a wide range of tour packages out there to suit the accomodate for each traveler needs. Click the button below to find the best tour package from various Tour Operators!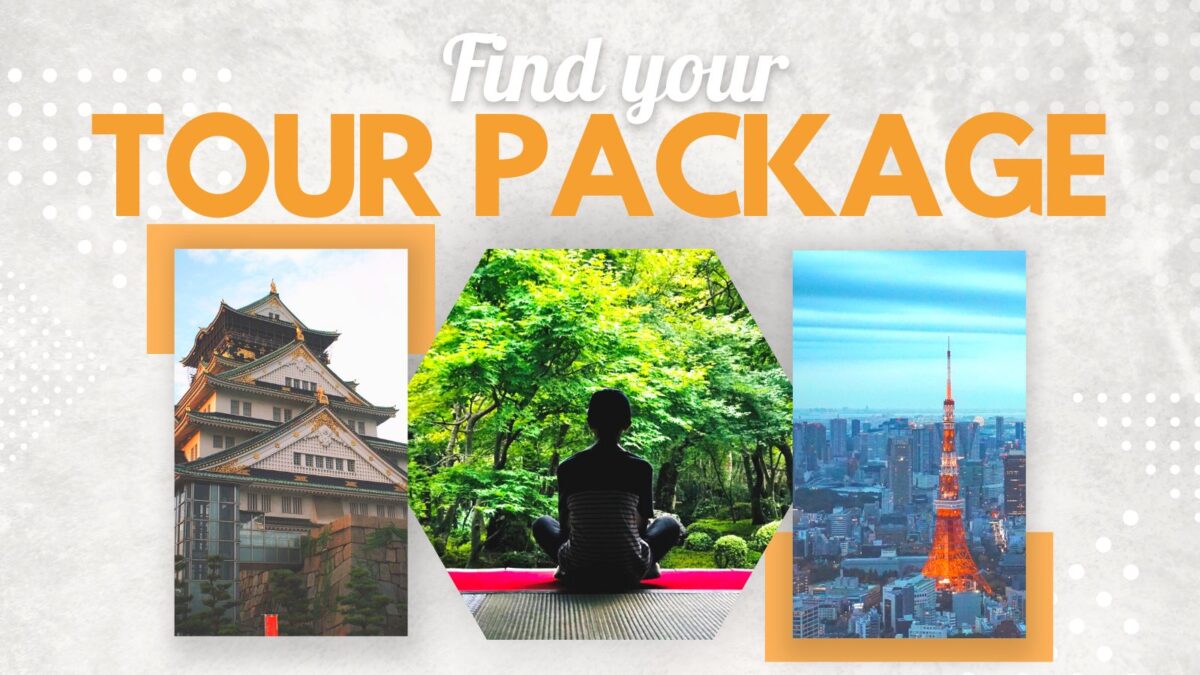 Follow us on Instagram, Facebook, Twitter, and TikTok for more travel inspiration. Or tag us to get featured!
Happy traveling!
Stay informed of the best travel tips to Japan, the most exciting things to do and see, and the top experiences to have with the Japan Wonder Travel Newsletter. Once every two weeks we will introduce you to our latest content.
Other articles you might be interested in