Tsukiji is one of the biggest fish markets in Japan. It is located in central Tokyo, and there are about 400 shops lining the streets selling fresh foods and kitchen utensils. Tsukiji is the best place to learn Japanese culinary culture and the history of Tokyo. In this article, we will tell you about everything you need to know about Tsukiji Fish Market as well as the best suggestions with our complete guide!
▼Book Our Tsukiji Tour for the Best Experience!
Tokyo Fish Market Tour @Tsukiji - Enjoy Local Food and Drink
JoinourTsukijiFishMarketTourforanauthentictasteofJapanesecuisineinTokyo.Indulgeinstreetfoodandsavordelicioussushiatalocalrestaurant,allwhilelearningaboutJapanes...
Is the Tsukiji Fish Market still open?
Some of you might have heard the rumor that the Tsukiji Fish Market is now gone. But actually, only a part of the Tsukiji Fish Market, which is called the 'inner market', has moved to Toyosu and the rest of the market remains the same. The new market in Toyosu is about 10 minutes away by car, and if you use a bus and walk combined, you will reach there in 20 minutes.
Previous Inner Market
At the former inner market of Tsukiji, the famous tuna auction used to be held in the early morning. You can see this tuna auction in the Toyosu Market now, although you'll need to win a lottery to watch the auction at the observation deck.
Tsukiji Outer Market
The 'outer market' of Tsukiji, on the other hand, is still intact and you can find about 400 vibrant shops in the streets. The Tsukiji Market still attracts many locals and tourists as well as the wholesalers for fresh and seasonal foods every day. It gets quite busy especially for the new years holidays as it is the best place for preparing all the important ingredients for the New Year's celebration.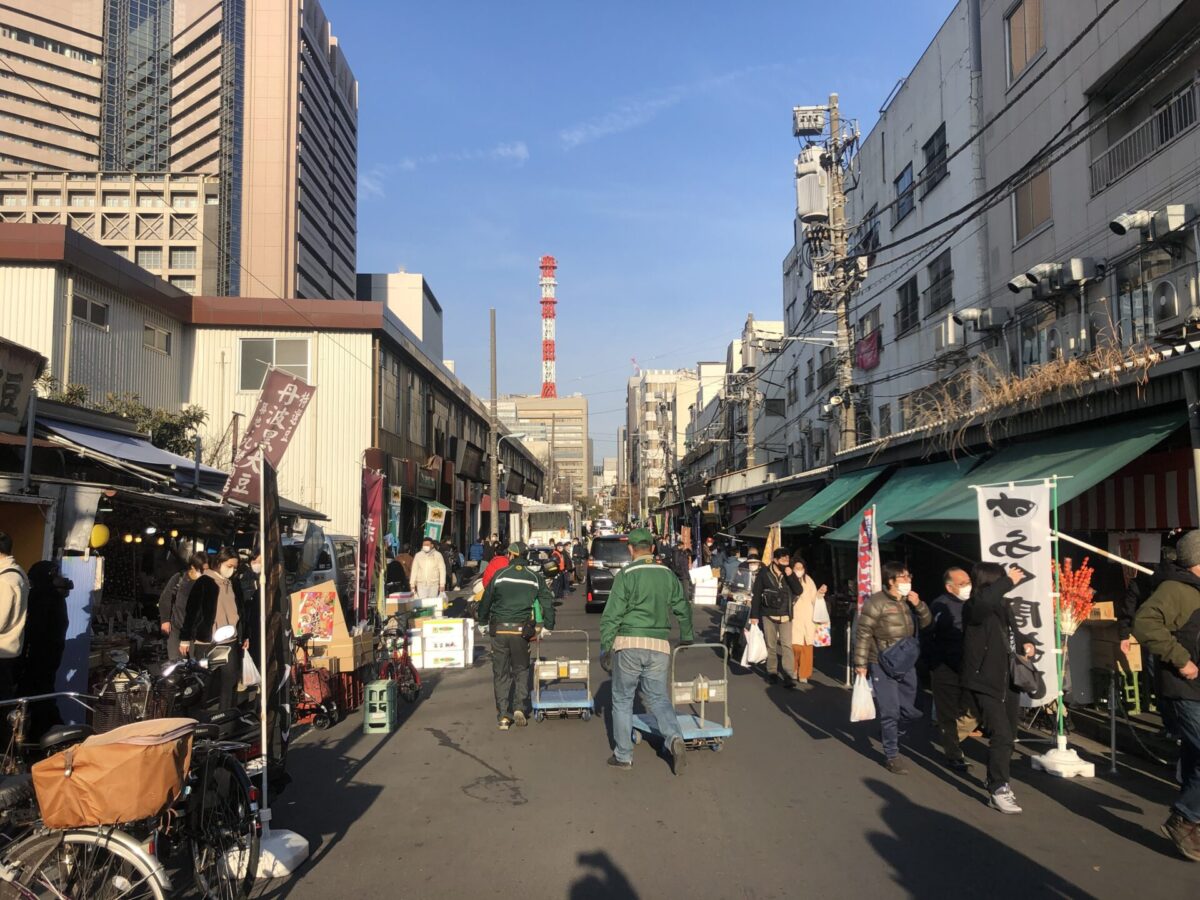 When is the best time to visit Tsukiji?
Most of the shops and restaurants at Tsukiji Fish Market will open in the early morning and will be closed in the early afternoon. To get the most out of it, the best time to visit Tsukiji is in the morning. Before 9am, the wholesale market Tsukiji Uogashi opens for wholesalers and professionals, so if you want to walk around this wholesale market, we recommend you to visit there after 9am. Due to the fact that there are so many stores, business hours tend to vary from store to store so please check for yourself before visiting the market.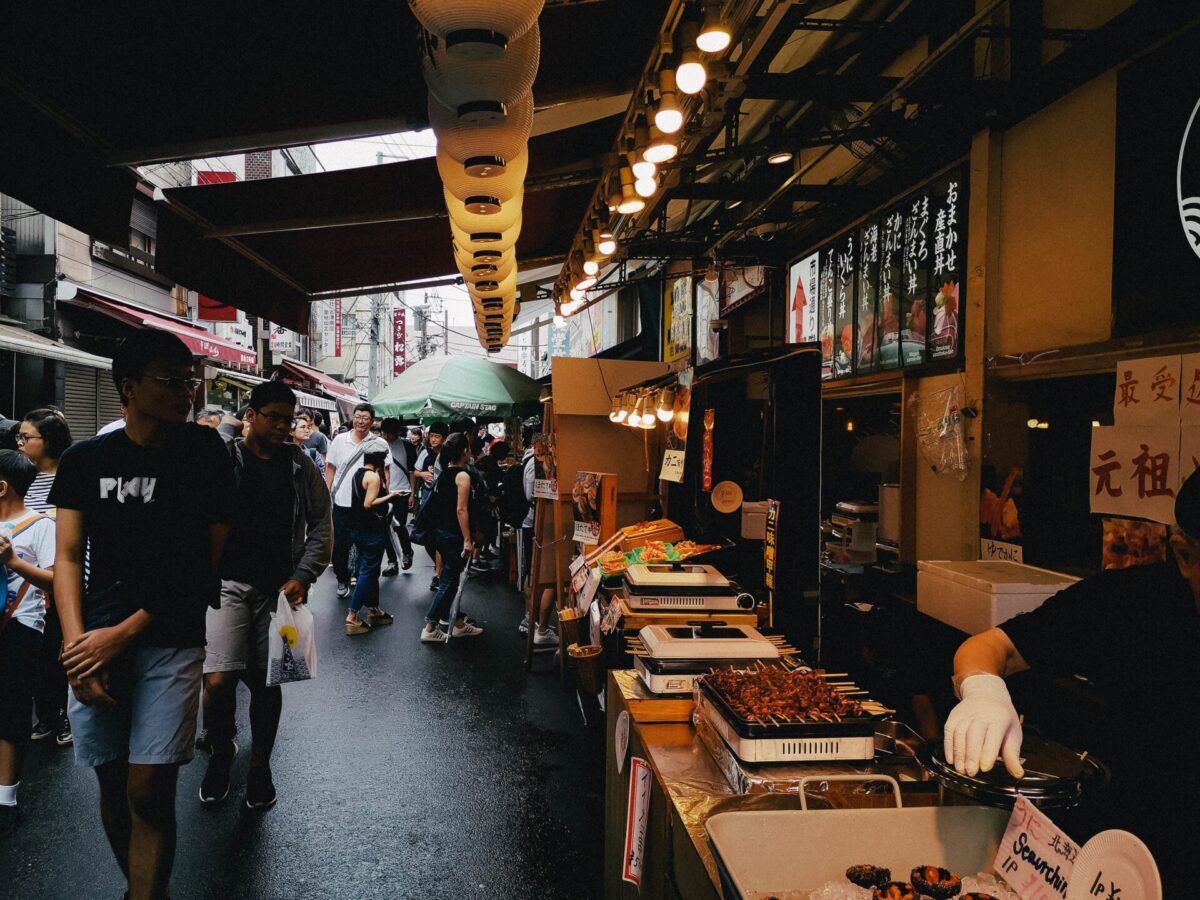 How to get to Tsukiji Fish Market
To get to Tsukiji Fish Market, there are two ways.
Take the Toen Oedo Line and get off at Tsukiji Shijo Station, walk for 1 minute from A1 Exit
Take the Hibiya Line and get off at Tsukiji Station, walk for 1 minute from 1 or 2 Exit
If you take our Tsukiji Fish Market Tour, you can visit the market at the perfect time! The knowledgeable guide will lead you through the rows of stores and show you the best spots in Tsukiji.
Tokyo Fish Market Tour @Tsukiji - Enjoy Local Food and Drink
JoinourTsukijiFishMarketTourforanauthentictasteofJapanesecuisineinTokyo.Indulgeinstreetfoodandsavordelicioussushiatalocalrestaurant,allwhilelearningaboutJapanes...
A brief history of Tsukiji
The history of Tsukiji Fish Market dates back to the Edo period in Nihonbashi. The fish market emerged when the Tokugawa Shogun invited some fishermen from Osaka in order to offer the seafood to the Shogunate and allowed them to sell what was left at the market. The fish market developed as the town of Edo grew bigger. The turning point of the market is the Great Kanto Earthquake in 1923 which destroyed the whole market. It moved temporarily to Tsukiji and that's when Tsukiji Fish Market started.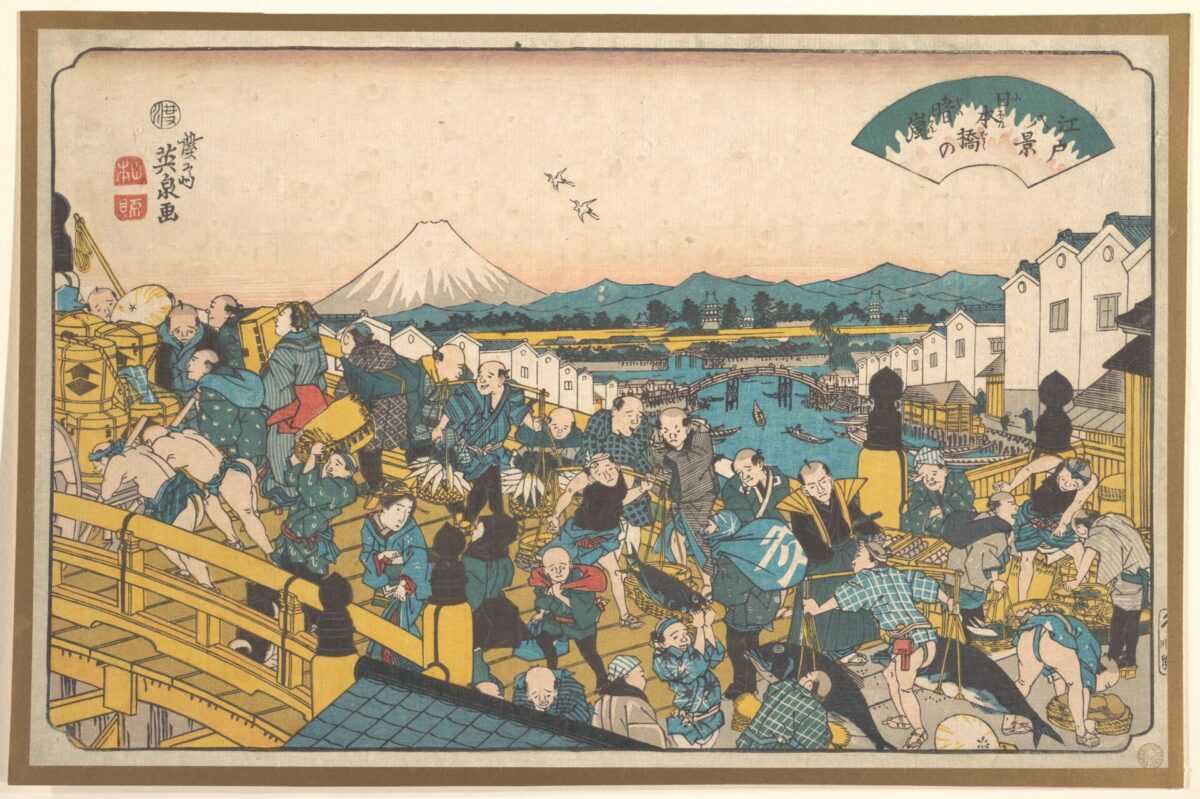 Things to do in Tsukiji Fish Market
Have a fresh, delicious breakfast at Tsukiji
It is said that breakfast is the most important meal which helps you get ready for the day. Isn't it a great idea to have some breakfast before you start exploring the market? In order to make the most of your limited time in Tsukiji, you should be an early bird and get to the fish market before it gets crowded with other tourists! Some shops open at 6:00 am or earlier, and they offer a reasonable, amazing Japanese-style breakfast. Here are our recommendations for a delicious breakfast.
Sushizanmai
If you want to try some fresh sushi or sushi bowls for breakfast, visit Sushizanmai which is open 24 hours! You can get a satisfying sushi breakfast at a reasonable price.
Business hours: Open 24 hours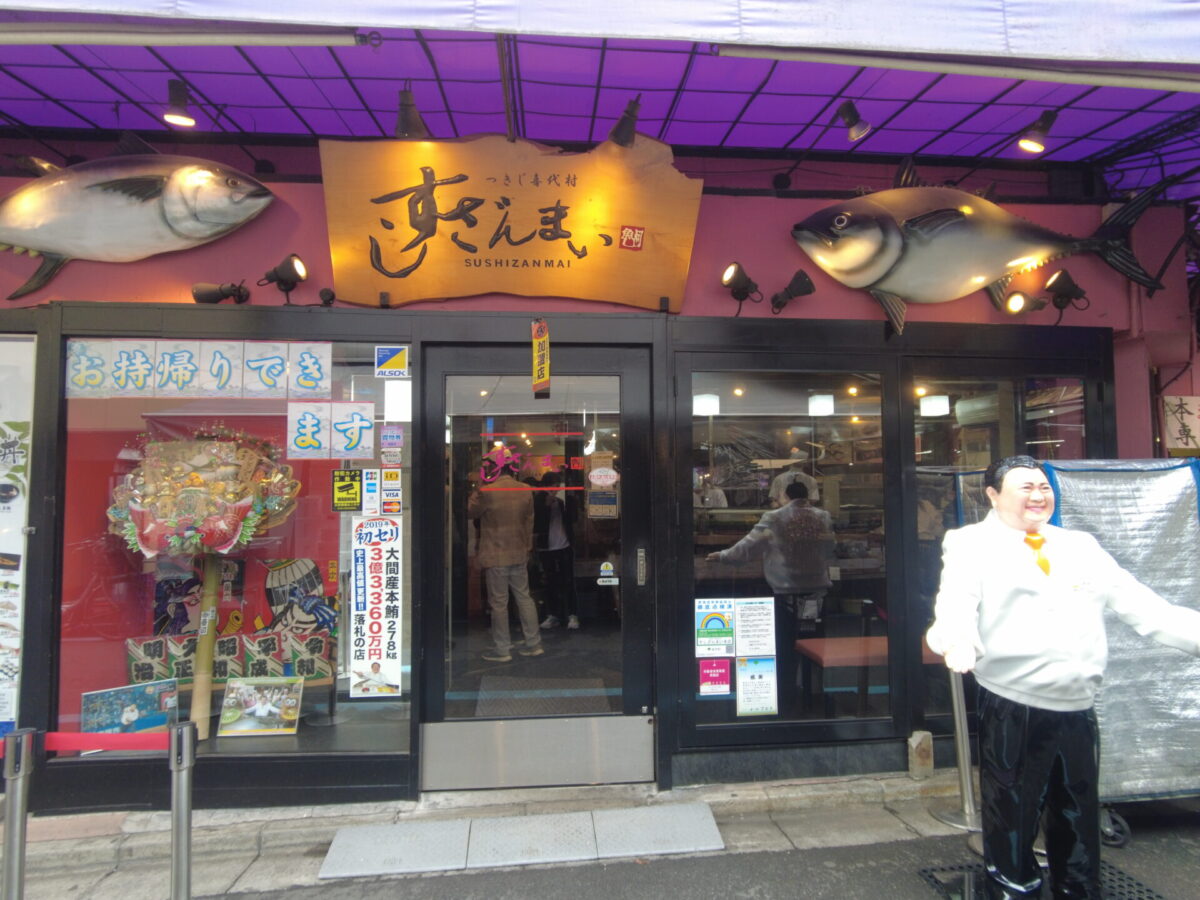 Kitsuneya
Opened in 1947, this small standing style restaurant is very popular and there is always a long waiting line. The most popular dish is Horumon-ni, the beef intestines simmered in miso. If you wake up hungry, and you are up to some big breakfast, try this restaurant!

Business hours: 6:30am – 1:30pm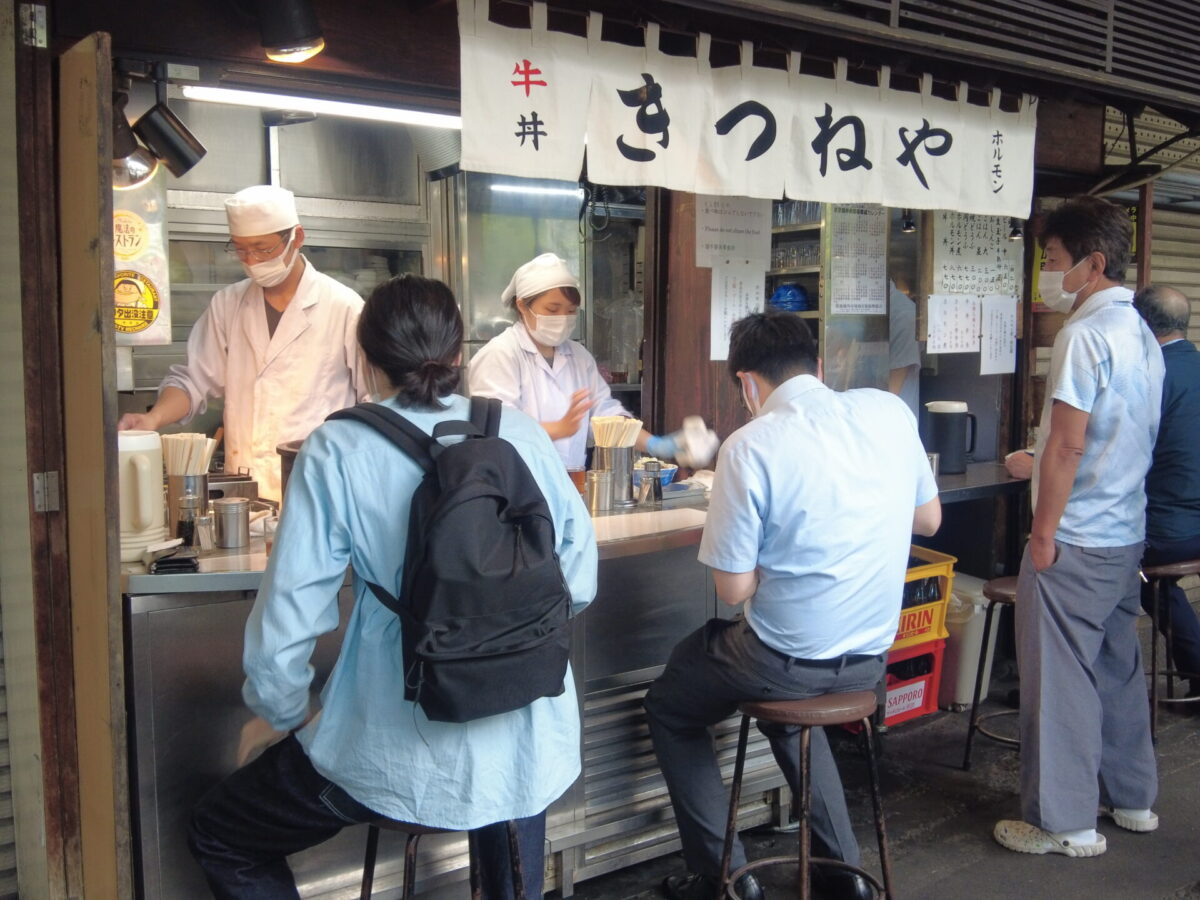 Yonemoto Coffee
You can find a fair amount of coffee shops in Tsukiji, but Yonemoto Coffee has been loved by locals for over 60 years. It is known as the spot where John Lennon used to visit many times he came to Tokyo. Visit this place if you need some coffee and light meals such as sandwiches to fuel your body at the beginning of the day.
Business hours: 4:30am – 3:30pm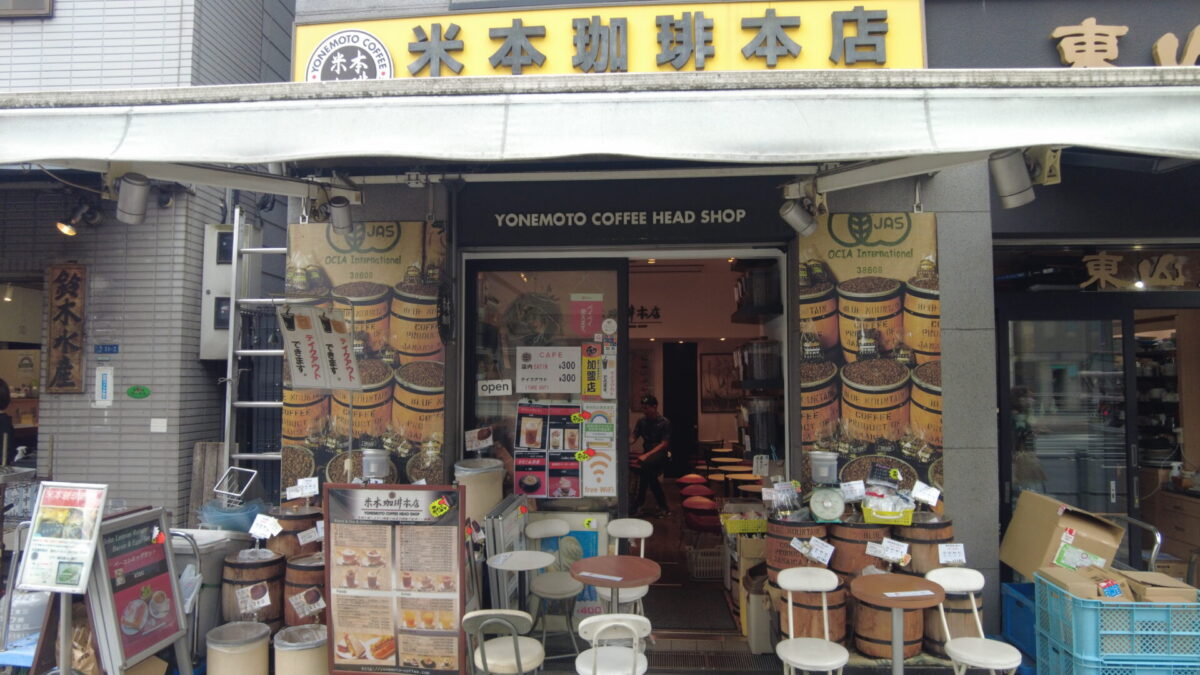 Marutoyo
Marutoyo is an Onigiri (rice ball) shop in Tsukiji. Their onigiri is big with plenty of fillings! If you only know some onigiri from a convenience store, it will be a pleasant surprise for you. If you are wondering where to eat, there is an information center nearby with some chairs to sit down on.
Business hours: 3am – 3pm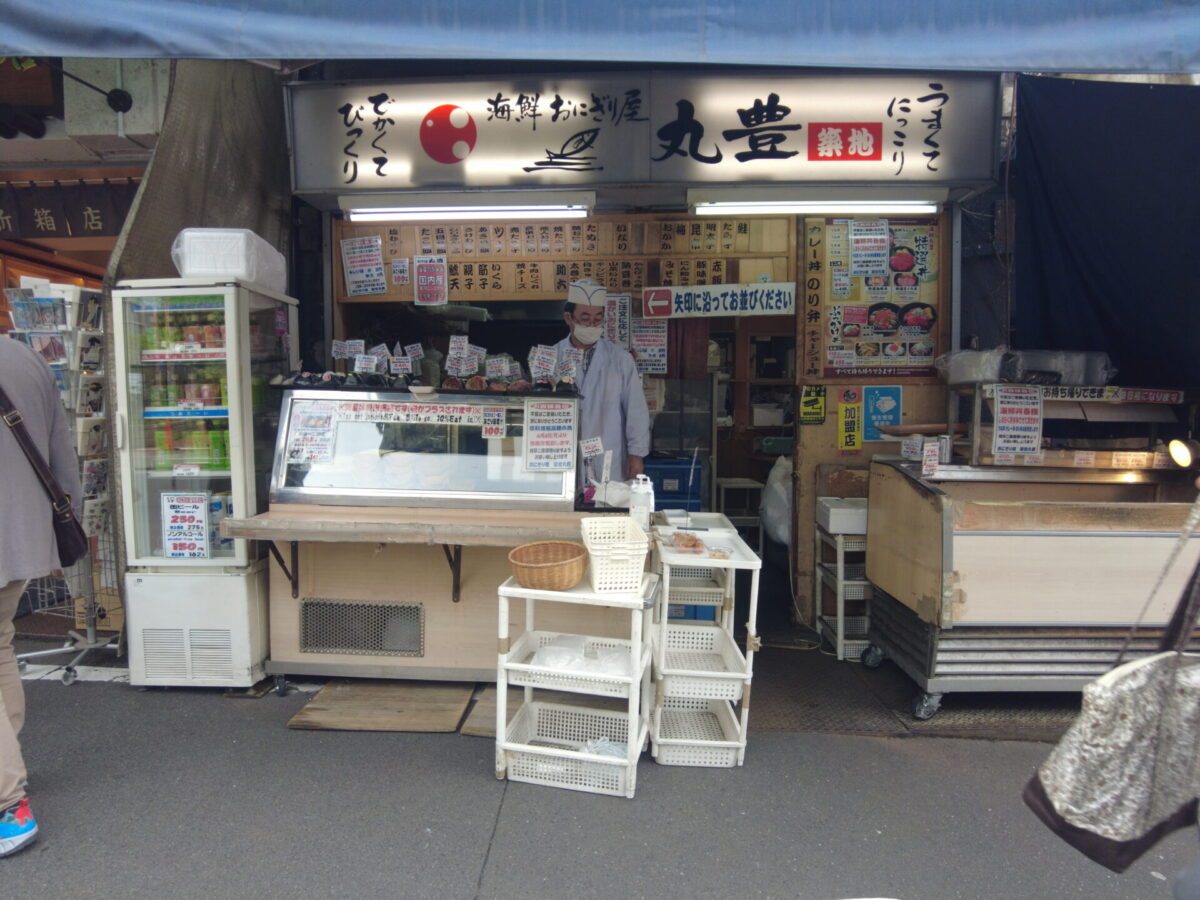 Recommended article:
Walk around the market to learn about Japanese culinary culture
After enjoying an early breakfast, taking an easy, relaxing stroll around the market might be a good option to get some exercise. You can enjoy watching the energetic and friendly people working there. They sell a large variety of stuff including fish, seafood, fruit, and other well-selected domestic foodstuffs. The market is full of small shops and restaurants, and it is the perfect place for trying many Japanese foods and learning about Japanese culinary culture.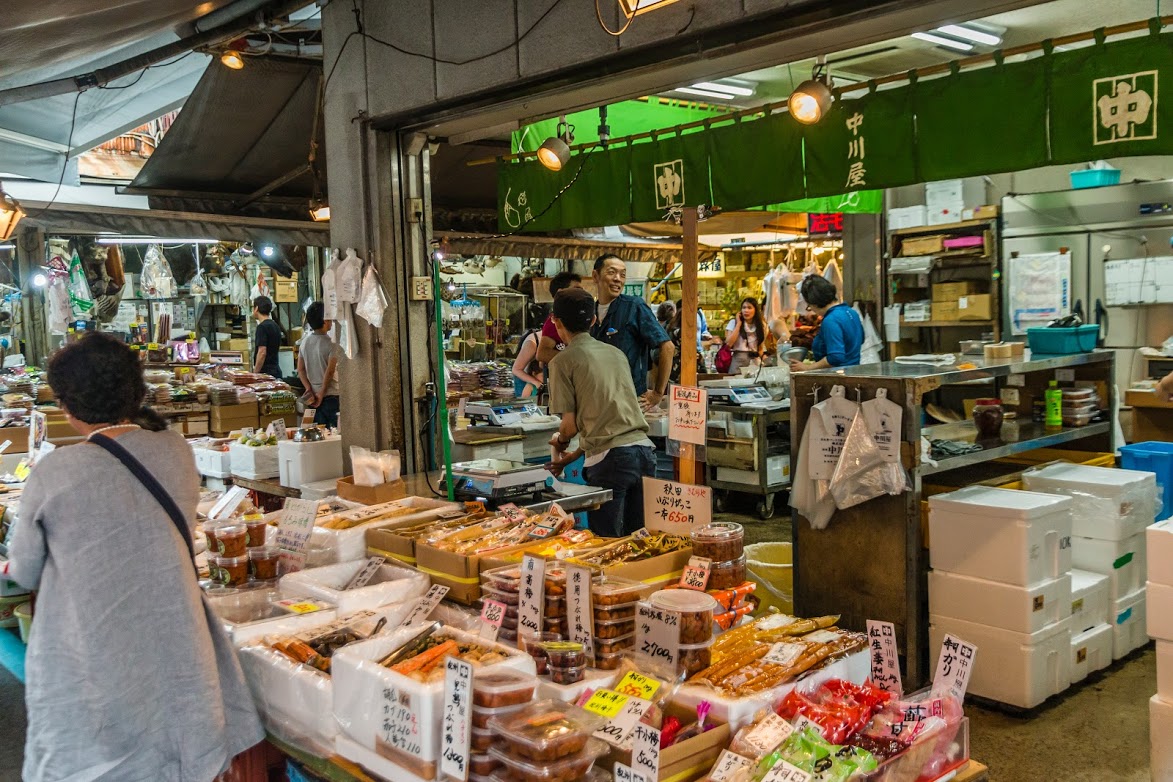 Check out the wholesale market, Tsukiji Uogashi
Tsukiji Uogashi is a shopping complex that consists of two buildings where about 60 wholesale and retail shops are located.
Walk through the shops selling seafood, meat, fruit, and vegetables on the first floor, and on the third floor is the food court where you can eat not only sushi but noodles, bowls and Japanese-western fusion food, and so on.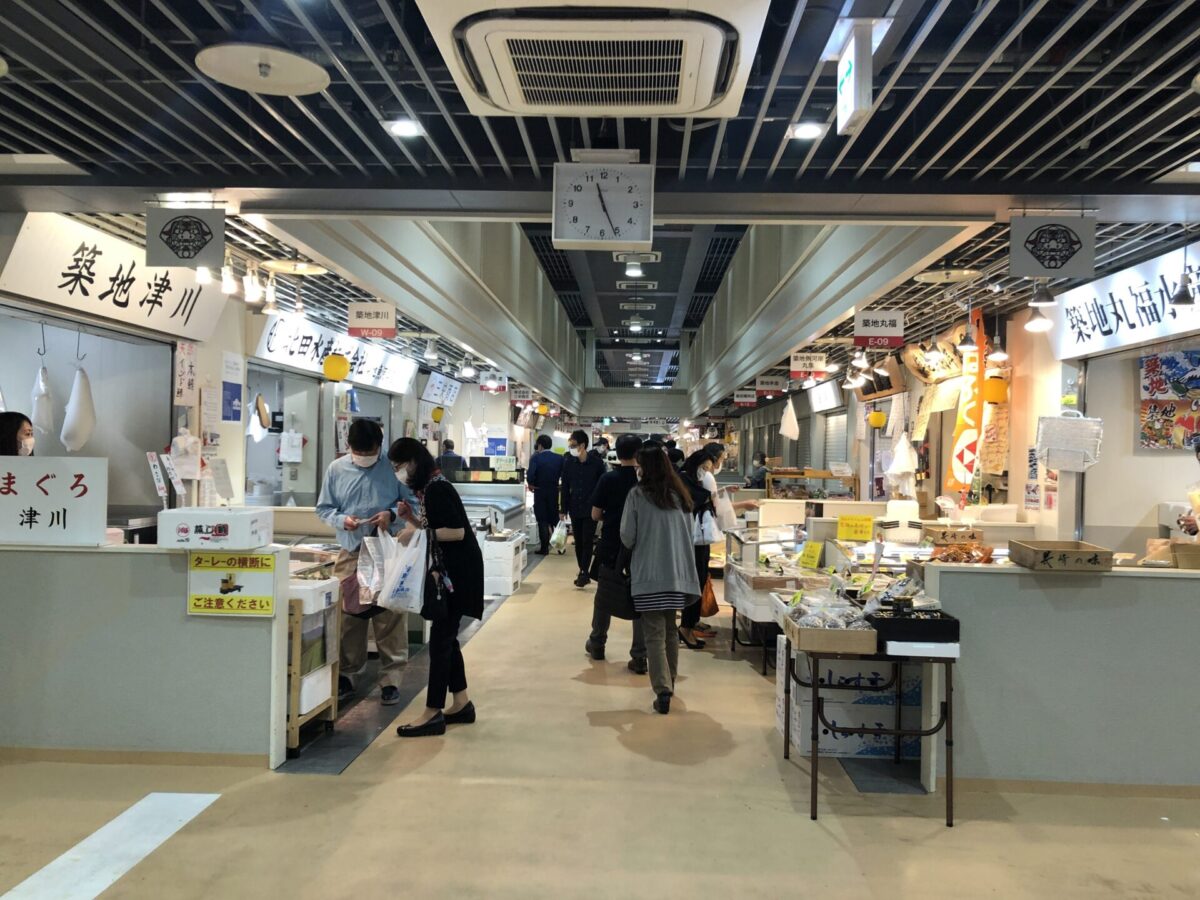 Join Tsukiji Food and Drink tours
It's fine just to walk around and wander on your own, but the best way to enjoy the whole market is to take a guided tour. You can discover things that only locals know, find some interesting ingredients, and learn the history of the Tsukiji Fish Market. We can assure you that it will be a totally different experience with and without a guide. If you want to explore Tsukiji with a knowledgeable guide, book a tour now!

▶Tokyo Fish Market Tour @Tsukiji – Enjoy Local Food and Drink (3 hours)
▶Tsukiji Spot Tour (90 minutes)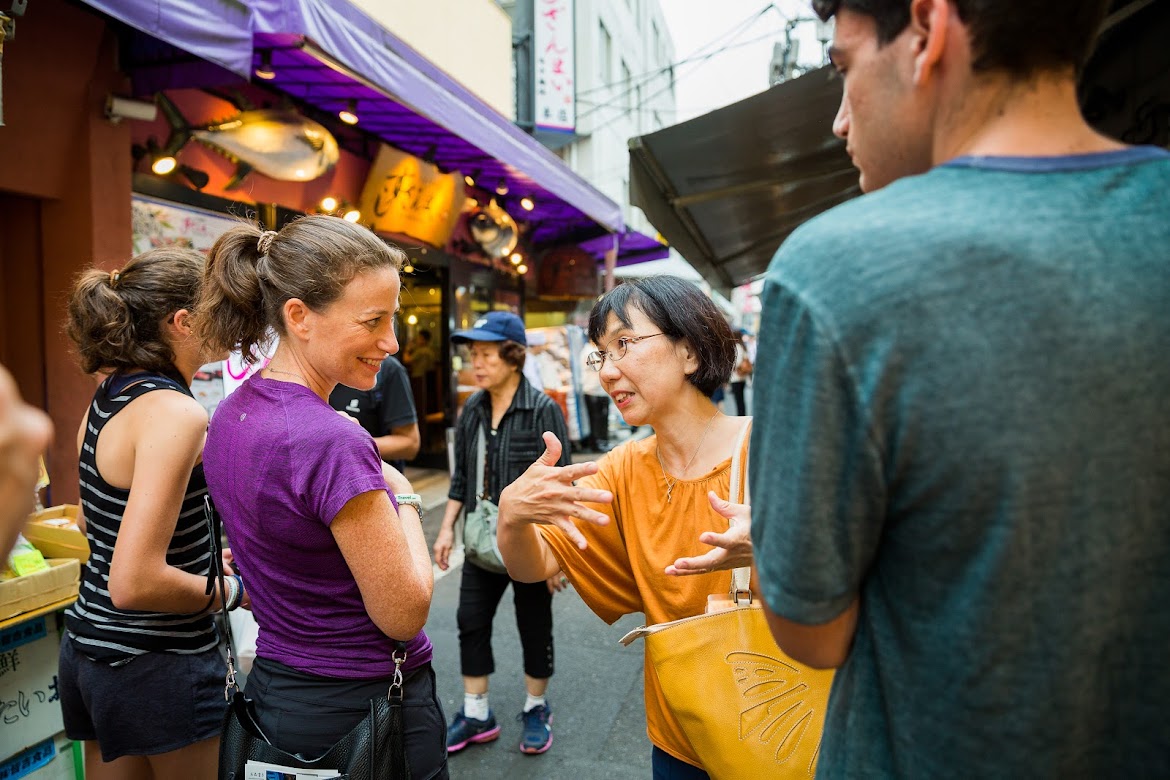 Visit Namiyoke Shrine
Did you know that the Tsukiji area was once under the sea, and reclaimed from Tokyo bay later in the Edo period? Namiyoke Shrine has been visited and respected by many people since its opening. The name of the shine consists of two words: "Nami" means Waves, and "Yoke" means Prevention. Altogether, it means the shrine saved the people who were suffering from the damage and problems caused by the sea. Even today, it is loved and visited by many people who wish to go through difficulties in their lives with the power of the historic shrine.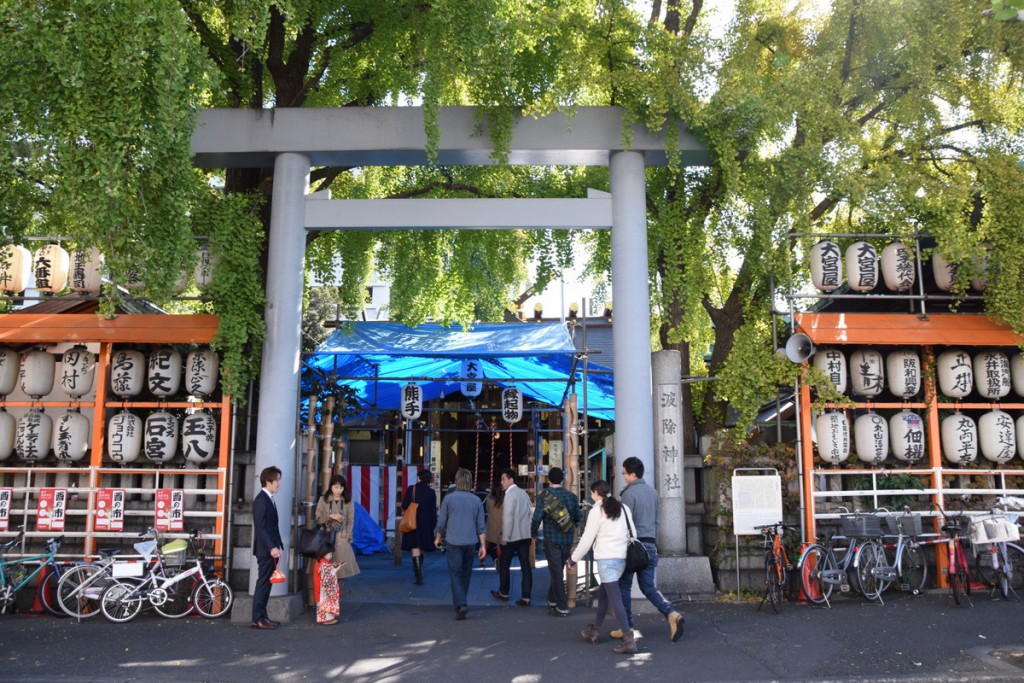 Every year in June, Tsukiji Shishi Matsuri has been held since the shrine opened about 360 years ago. It's a summer festival warding off evil spirits by carrying a big head of a lion and parading around the area.
There are two big lion heads enshrined at the shrine, and you can see them on a usual day as well. When you look at these heads, you'll recognize the difference; the male lion has golden teeth and the female lion has teeth painted in black. This is from an old custom where black teeth are a symbol of a married woman which was common in high society in the Edo period.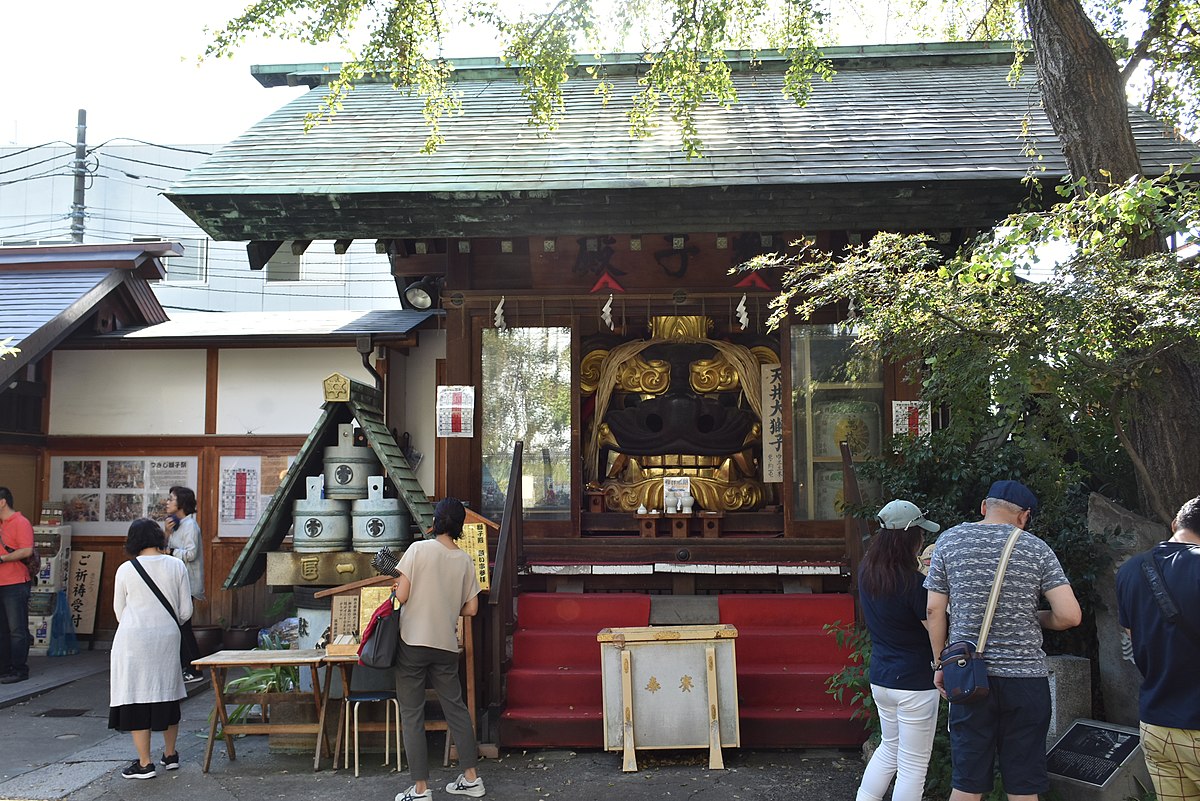 Walk to Tsukiji Honganji Temple
Only a couple of minutes' walk takes you to the exotic, unique temple called Tsukiji Honganji Temple. It was originally established in 1617 and has been destroyed by fire twice in its long history. In 1934, it was rebuilt with the current unique design which incorporated ancient Buddhist architecture style in India. Just taking a glance at it, you can feel the mysterious atmosphere. Make sure to bring your camera with you and take some pictures of the entire building!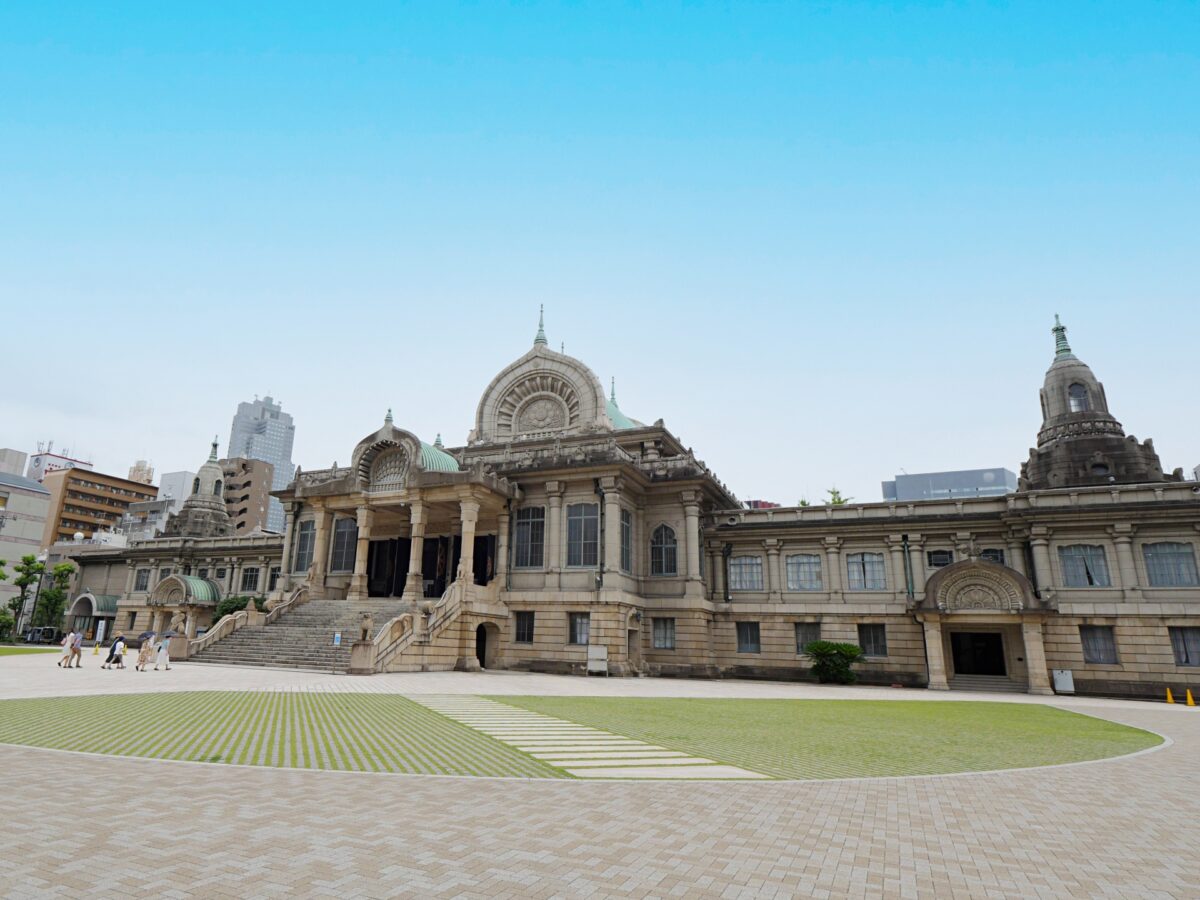 Let's learn how to make sushi on your own!
Now you have seen fresh seafood and real wasabi root, and a big sword-like knife to cut tuna while walking around the market, it's time for you to try to be a sushi master! You can learn how to make sushi, one of the most popular Japanese foods, from a professional sushi chef! Of course, no skill or experience is required. All you need is a passion and interest in sushi! If you want to join the sushi making class, here you can book the popular tour.
▶Tokyo Sushi Making Experience Tsukiji Fish Market Explore Tour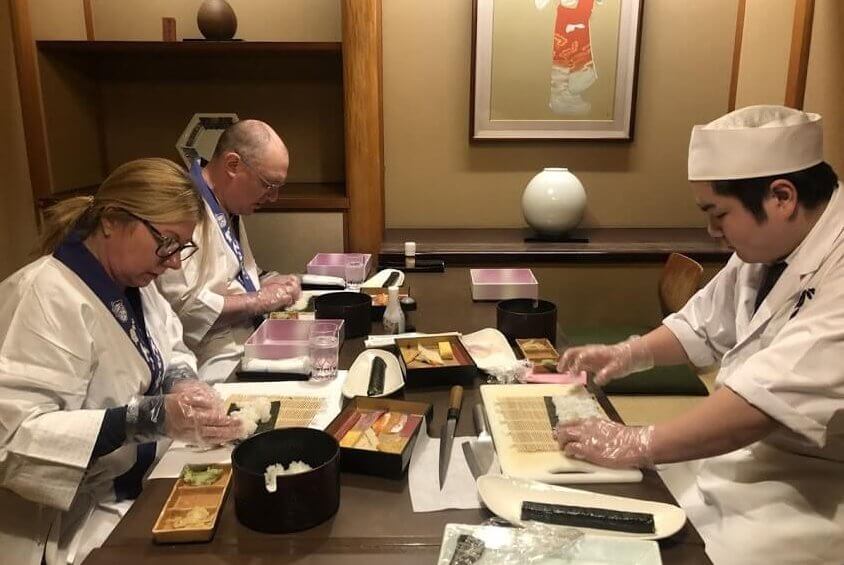 If you want to see the tuna auction, visit Toyosu Market
The inner market has been replaced by the Toyosu market, and so has the popular sightseeing spot, the tuna auction. If you want to watch the tuna auction, you will need to get up early and head to Toyosu before exploring Tsukiji Fish Market.
If you win the lottery ticket, you can get special access to the observation space to have a closer look at the auction, but don't worry. You can still watch the auction without a ticket from the second-floor big window.
Check these articles for more information about Toyosu;
▶Ultimate Guide for Toyosu "New Tsukiji" Market
▶How to Apply Special Tuna Auction Tour in Toyosu market in Tokyo
Since the auction starts early in the morning around 5:30am, we recommend you to stay at the hotel nearby. Here is the list of the hotels you can stay close to the market and get ready for the early morning auction!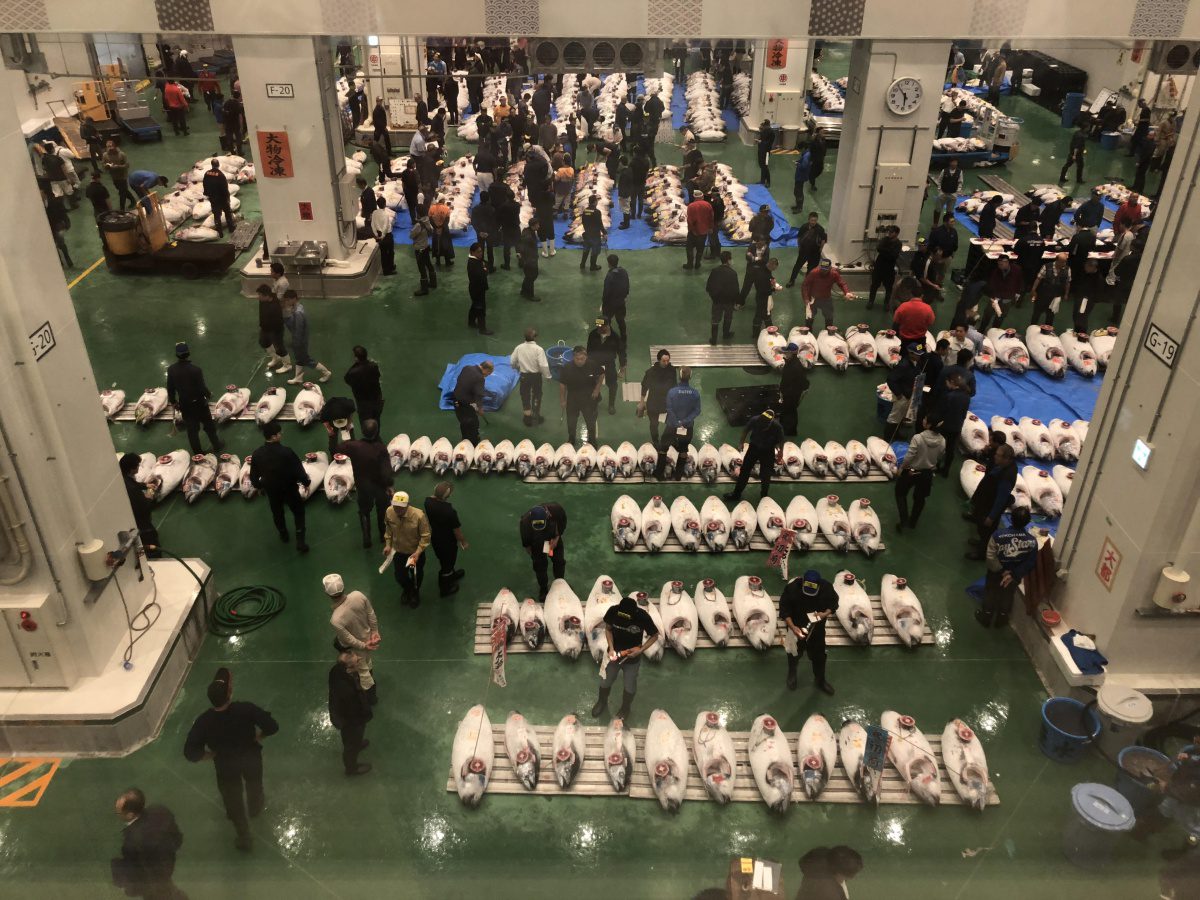 Extra: Get some good souvenirs near Tsukiji Market
Do you want to know what could be the best, most memorable souvenir for your family or friends from Japan? If you have no idea, here is our suggestion for you! "Senjyafuda" is a wooden name tag with your name translated into Kanji on it! Some people carry them as a lucky charm, wishing for a bit of good luck in their future. The name of the shop is "STOCKPLUS", and they are located right next to Higashi-Ginza station (Exit6). For more details, please visit their website! (English is available)
【Website】https://senjafuda.com/langs/en
Japan Wonder Travel Tours
Our tour started from here, Tsukiji. We have a strong connection with local stores and people, so you can get one and only experience with a knowledgeable guide.
Tsukiji is a small area, but there are many things to see and enjoy. It is quite easy to walk around the area but is so easy to spend a lot of time at each unique spot. Even after changes occurred due to the transition of the inner market to Toyosu, it is still worth visiting, and the people working there know how to welcome tourists with a warm hearts. We hope you learned a thing or two with our complete guide and that you have the chance to visit the one and only Tsukiji Fish Market soon!
Follow us on Instagram, Facebook and Twitter for more travel inspiration. Or tag us to get featured!
Happy traveling!
Stay informed of the best travel tips to Japan, the most exciting things to do and see, and the top experiences to have with the Japan Wonder Travel Newsletter. Once every two weeks we will introduce you to our latest content.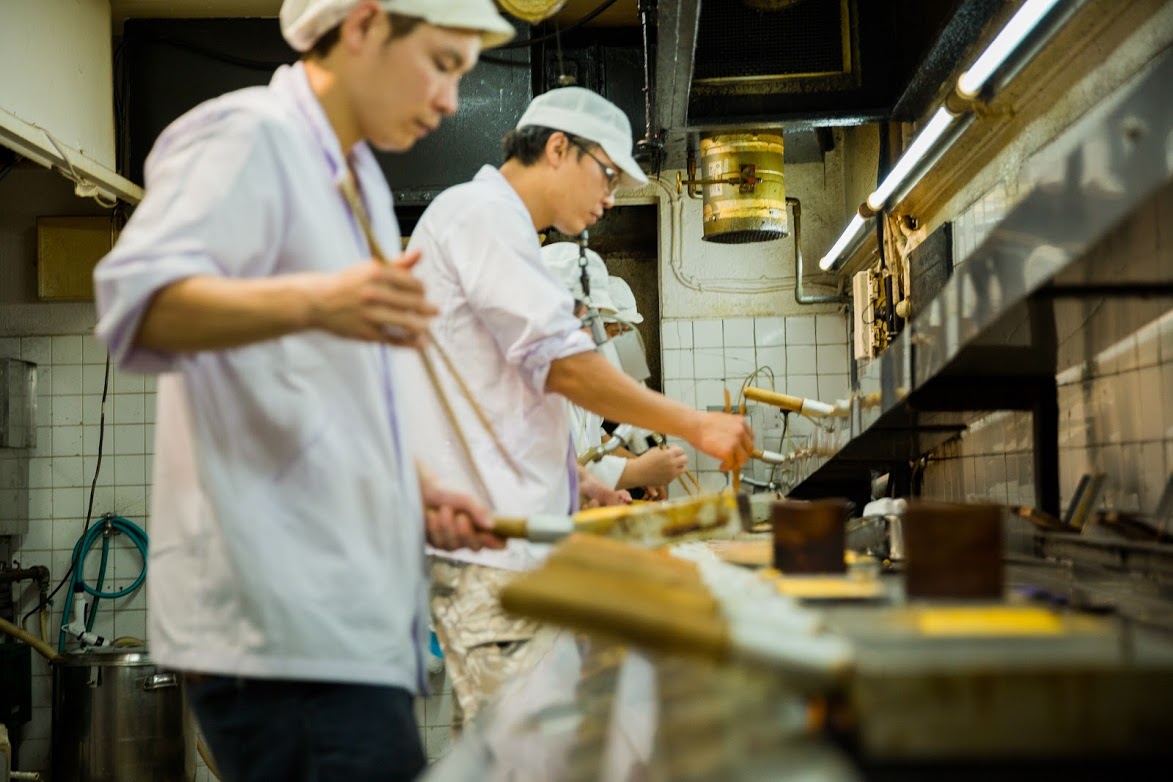 Other articles you might like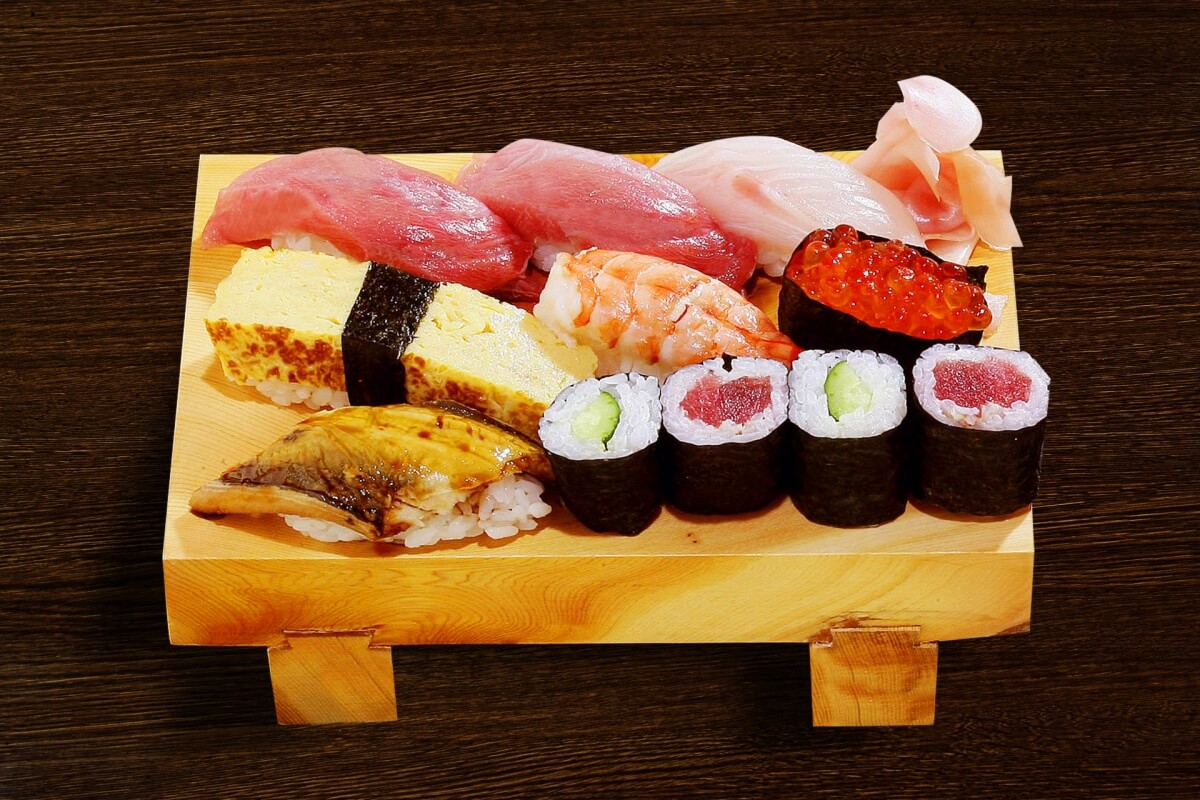 The Complete Sushi Guide; History, Etiquette and Sushi Making Classes in Japan
What is the history behind sushi? How many different types they have? Here we will introduce some of the basics about sushi in Japan. Also we listed up the best sushi making classes in Japan so that we can learn how to make sushi by yourself!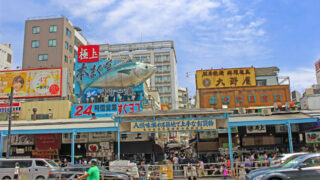 15 Best Foods to Try at Tsukiji Fish Market
The lively outer market in Tokyo's Tsukiji area is one of the best places to sample some of Japan's freshest fish and seafood, but there are many other delicious foods to try!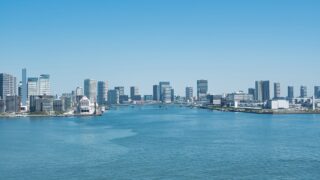 Toyosu Fish Market Ultimate Guide
Tsukiji inner market has relocated to Toyosu market since 2018 but what is new and what is the difference between them? In this article, we hope we can give you the answers to all your questions!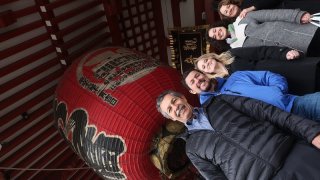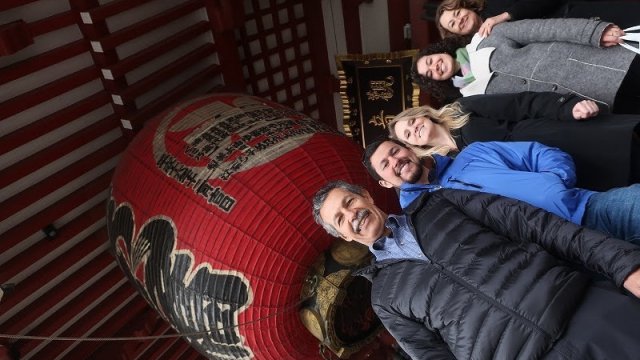 10 Best Tokyo Food Tours You Must Take on Your Japan Trip
Here we listed up the best Tokyo food tours for you. From Tsukiji Fish Market tours to Izakaya bar hopping tour at night, we have listed a variety of Tokyo food tours you can enjoy during your stay in Japan.