Enoshima is a small island located in the Sagami Bay, Kanagawa prefecture. It is a perfect day trip destination from Tokyo an can be reached from central Tokyo in about an hour. The rocky island offers a number of exciting attractions and scenic spots for tourists and is a great place to escape the hustle and bustle off the big city, especially in summer. Enoshima is also close to Kamakura, one of the most popular tourist destinations in Japan full of historical spots and beautiful nature. In summer, Enoshima attracts tourists with exciting firework festivals and refreshing outdoor activities while enjoying the rich marine life of the beautiful sea. In this article, we will give you a quick run down of the island and useful tips to make your trip to Enoshima an unforgettable one!
How to get to Enoshima Island
Enoshima can easily be reached from central Tokyo by train. There are two train stations located within walking distance from the island: Enoshima Station (20 min) and Katase-Enoshima (15 min).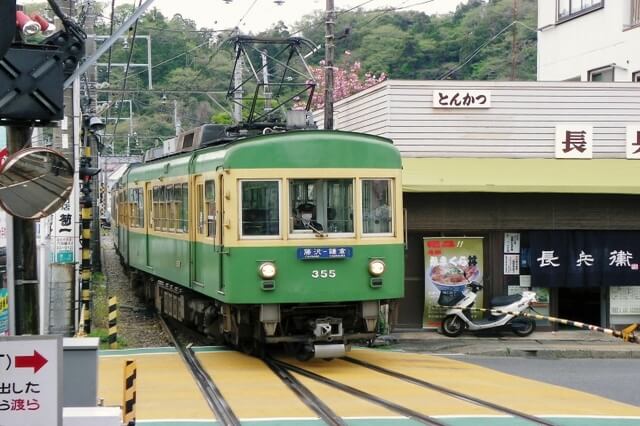 Odakyu Line (from Shinjuku station)
From Shinjuku station, taking the JR Shonan-Shinjuku Line or the Odakyu Romancecar, a limited express train by Odakyu Line is the easiest way to get to Enoshima. Transfer at Fujisawa to the Odakyu Enoshima line that will take you to Katase-Enoshima Station or the Enoden Line connecting to Enoshima Station.
Time: 60-70 min
Fare: ~¥1,150 (one way)
If you are planning on taking the Odakyu Odawara Line, make sure to check Enoshima-Kamakura Free Pass. It is a convenient combo ticket that includes:
Round-trip fare from Shinjuku Station to Fujisawa Station
One-day unlimited rides on Enoshima Line (Enoden), which connects Fujisawa with Kamakura, and Odakyu Enoshima.
The Enoden Line is the main transport in Shonan and Enoshima area. Travel along the coastline and combine your visit to Enoshima with a Kamakura, the popular former capital city with many historical and cultural attractions and a beautiful scenery. Kamakura is the last stop on the Enoden Line, 45 minutes from Fujisawa Station.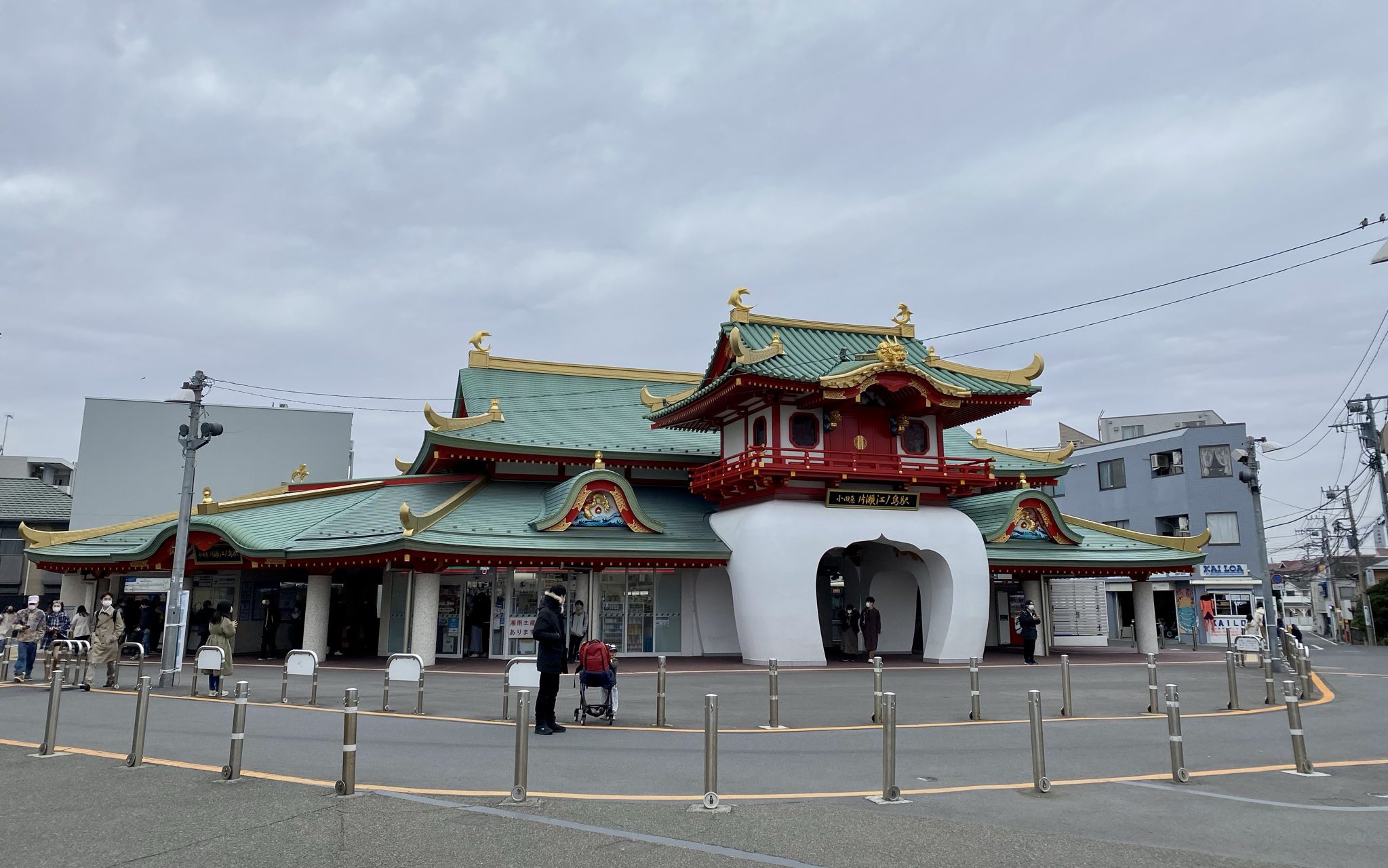 JR Line (from Tokyo or Shinagawa station)
From Tokyo or Shinagawa station, take the JR line to Fujisawa Station where you need to transfer to either Enoden, serving Enoshima station, or Odakyu Line to the Katase-Enoshima Station.
Time: 60-70 min
Fare: ~¥1,000 (one way)
Another option is taking JR from Tokyo to Ofuna station, where the Shonan Monorail can take youto to Shonan Enoshima Station in less than 15 minutes!
Time: 55 min
Fare: ~¥1,100 (one way)
From Enoshima Station follow the main street towards to coastline, the street is lined by restaurants, cafes and shops. You can find plenty of terrace restaurants offering a riverview or oceanview near the coastline. Enoshima is connected to the mainland by bridge that takes 10 minutes to cross. In summer time you will spot many water sport fans near the bridge that come to the area for the great conditions. Enoshima was also selected as the venue for 2020 Tokyo Olympics sailing competition.
The best places to visit in Enoshima
There are a number of spiritual spots and historical structures that you can visit on your way up to the highest point of the island. The island is not well accessible for wheelchairs as there are many steps to take to reach the several highlights of the island. If you have some waking difficulties or prefer to save some energy, you can take the convenient escalators (¥200) which take you to the top in 5 minutes! But we recommend you to take the pathways to the top and enjoy the lookout points and interesting spots along the way. Exploring the surroundings gives you a peaceful experience in sacred atmosphere in nature.
There is also an Enopass available, a combi-tickets that includes admissions to Enoshima's main attractions (Samuel Cocking Garden, Sea Candle, Iwaya caves) as well as the use of the escalators. The ticket costs ¥1,000 and is available at the tourist desk and the escalator ticket office.
1. Benten Nakamise Dori Street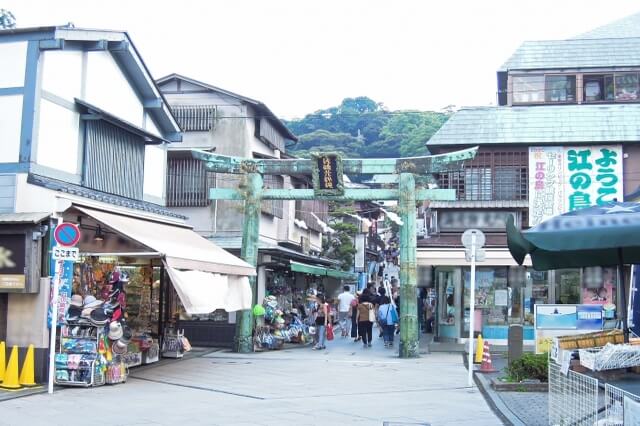 As soon as you have crossed the bridge and you will be welcomed by the first large torii gate of Enoshima. Pass through it and you will find yourself in Enoshima's main shopping street Benten Nakamise Dori. The street is lined with restaurants and shops selling souvenirs and local specialties. Before visiting Enoshima Shrine, check the lively street full of stalls and vendors selling fresh local snacks. There are around 200 small shops offering delicious dishes and small gifts as souvenirs along the gentle slope. Benten Nakamise Dori street is the approach to the Enoshima Shrine that enshrines Benten, a popular goddess of good fortune, wealth, music and knowledge.
2. Enoshima Shrine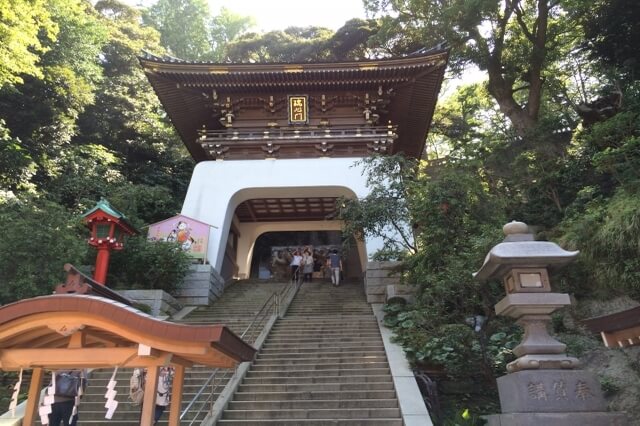 Several shrine buildings together form Enoshima Shrine, an iconic historical spot in Enoshima thought to be established in 552. Enoshima is one of the three great Benten shrines along with Tsukubusuma Shrine in Shiga Prefecture and Itsukushima Shrine in Hiroshima. There are three shrines separately located in the island, Hetsunomiya, Nakatsunomiya, and Okutsunomiya, and each of them is dedicated to three female deities.
3. Iwaya Caves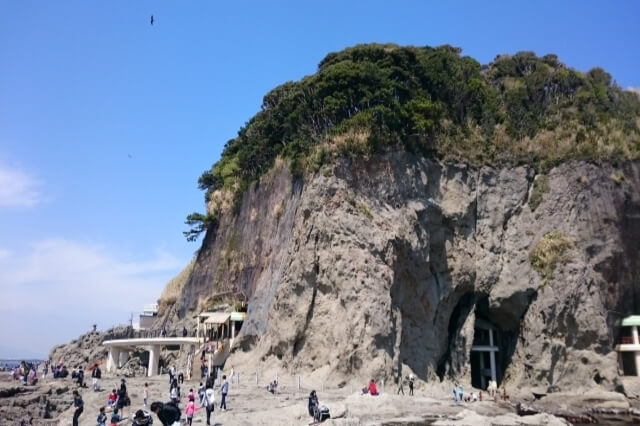 Iwaya Caves is one of the popular tourist attractions located on Enoshima. The two caves were naturally created by erosion of waves over centuries. It was once a religious training spot for practicing monks and nowadays there are a number of exhibits and spiritual spots inside.
Iwaya Caves
9 am – 5 pm
Admission fee: ¥500
4. Sea Candle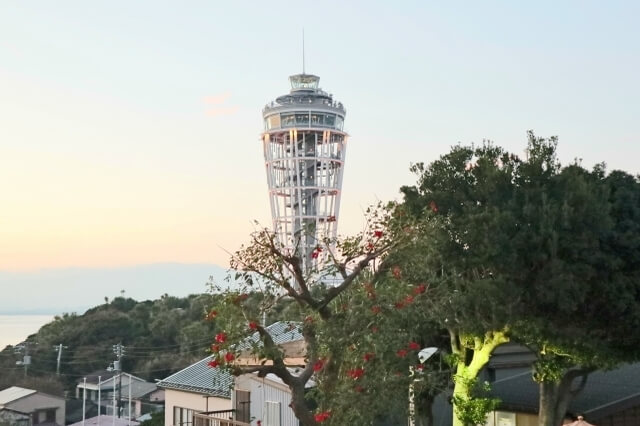 The Sea Candle is a 60-meter tall observatory located in Enoshima Samuel Cocking Garden. The iconic landmark of Enoshima, located at the highest point of Enoshima, is actually a lighthouse observation tower. From the top you have a stunning view of the Sagami Bay. It has two types of observation decks: the lower indoor deck at 41-meter and the open-air deck on the upper floor approximately 120 meters above sea level. In the winter evening, the iconic structure form the centerpiece of the Enoshima Winter Illumination: the Jewel of Shonan.
Sea Candle
9am – 8pm
Admission fee ¥500 (adults)
5. Samuel Cocking Garden
After enjoying the panoramic view at Sea Candle, walk among seasonal flowers at a lovely garden of Samuel Cocking Garden. It is a beautiful botanical garden with a large collection of seasonal plants and flowers including some tropical plants. The small park is built on the former site of the residence of Samuel Cocking, a British merchant in 1880s. The garden opened for the public in 2003. As the garden is designed in a combination of Japanese and Western styles, it offers an unique scenery different. During the the illumination event Shonan no Hoseki, thousands of lights illuminate the garden at night.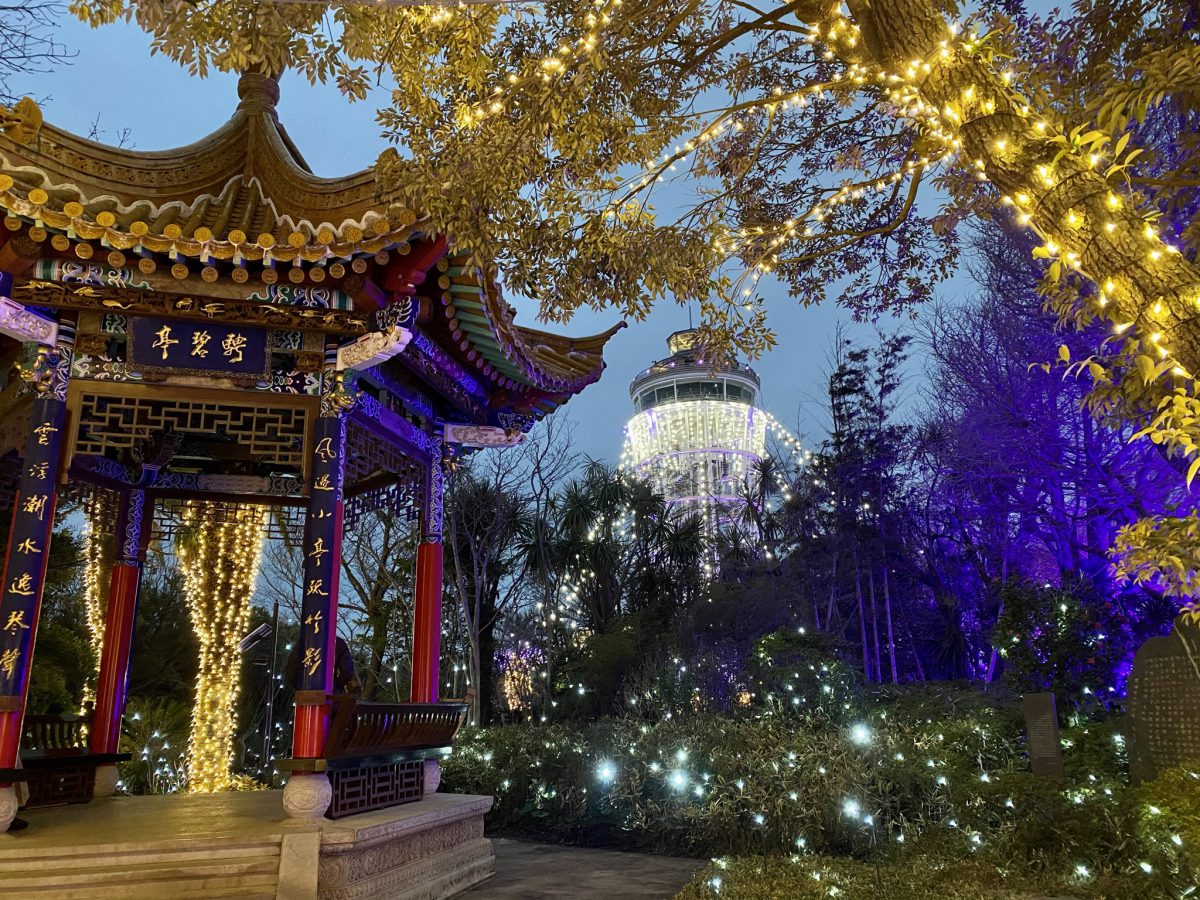 Samuel Cocking Garden
9am – 8pm
Admission fee ¥200 (adults)
6. Love Bell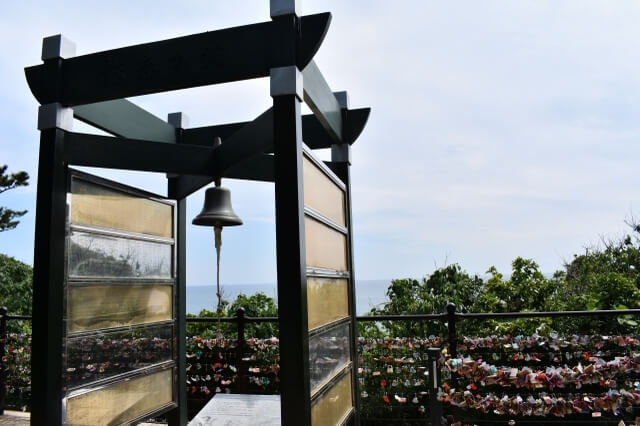 Couples on a date will want to make a visit to Love Bell,situated on Lover's hill on the southwestern side of the island. It is said that if you ring the bell with your partner, then your relationship will last forever! You can find thousands of padlocks around the bell with names on it. They were brought by couples hoping for the eternal love. It also offers a panoramic view of the Sagami Bay, there is even a photo stand for your camera so you can take the perfect, romantic picture.
7. Enoshima Island Spa
After a full day of exploring you can relax in the Enoshima Island Spa, a spa facility which offers luxurious services including body massage and hot spring experience. The hot springs are 100% natural and some are located outside, offering amazing views! There are also restaurants where you can enjoy special dishes featured with local ingredients.
Enoshima Spa
12 pm – 8.30 pm ※closed on Thursday
Admission fee ¥3,175 (adult)
8. Enoshima Aquarium
located on the mainland near Enoshima, Enoshima Aquarium is a large aquarium home to much of the locally caught marine life. The family friendly aquarium is also a great alternative on a rainy day or to escape the summer heat.
Enoshima Aquarium
9 am – 5 pm
Admission fee ¥2,500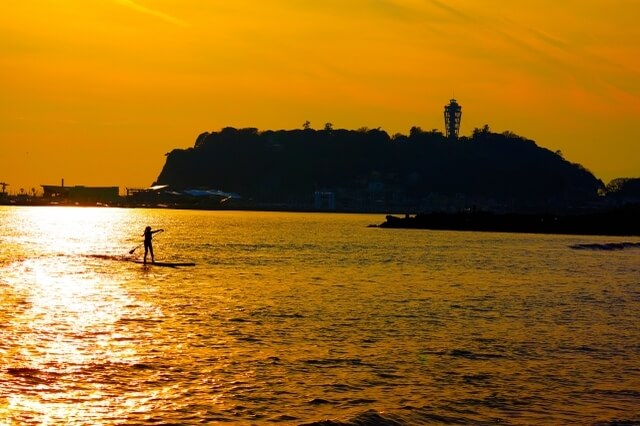 9. Beaches
The mainland near Enoshima offers some of the closest beaches to Tokyo. The easy accessible beaches can get overcrowded with beachgoers looking to escape the city on the warm summer days. Especially in July and August these beaches can get extremely packed.
What to eat in Enoshima
Surrounded by the beautiful sea, Enoshima offers special dishes with fresh seafood. Whitebait, Shirasu in Japanese, is a tiny white fish and Enoshima is widely known for its delicious shirasu. You can eat it as raw or cooked with rice in a bowl. You can also try it on pizza, pies or even ice cream. Don't forget to try traditional Japanese sweets such as Monaka and Dango. Monaka is made of crispy wafers with azuki bean paste sandwiched between them. Dango is a Japanese dumpling balls made of rice flour, with sweet syrup poured over it. Refreshing shaved ice is also a perfect option for summer!
When is the best time to go to Enoshima?
Many people visit Enoshima in summer to escape the summer heat in the city and enjoy the beachlife along the Shonan Coast. The summer season is also the time when many festivals are held. During every night in August, Enoshima is illuminated by a large number of lanterns or can join Tenno Festival, a famous summer festival annually held in the mid-July. Spring and autumn are also great for a visit to enjoy some seasonal benefits such as flowers blooming in spring and a popular fireworks festival called Fujisawa Enoshima Fireworks Festival which is annually held in October! In winter, from November till mid-February, Enoshima hosts the popular Shonan no Hoseki, one of the three most impressive illumination events in Japan.
Where to stay
Modern Ryokan kishi-ke ―They offer the new travel experience, not only eat and sleep at the ryokan but you can learn the local culture while your stay. Enjoy their beautiful breakfast and Zen atmosphere in the place, and the additional experience such as tea ceremony is available.
8 Hotel ― It is like a beach house, artists related to this area designed each room and you can enjoy the unique arts while your stay everywhere at the hotel! This hotel is mixed of art, music, food and fashion and aimed to be the center of Shonan Beach Culture.
Guest House Kamejikan ― Being close from the beach, you can spend relaxing time at this guest house which was renovated from about 100 years old traditional house. Enjoy the conversation with staffs and owners who had very interesting life experiences!
Japan Wonder Travel Tours
Japan Wonder Travel is a travel agency offering guided tours in Japan. 
From private walking tours to delicious Food and Drink tours, we will organize the best tours for you! If you want to explore Japan to learn more histories and backstories of the area, our knowledgeable and friendly guide will happily take you to the best spots! 
Also, we can provide you with any assistance for your upcoming trip in Japan, so please feel free to contact us if you have any questions/need some help! 
▶Kamakura Private Walking Tour
Let's explore the Kamakura area which is full of historical sites and nature with a local guide. This tour includes a visit to Tsurugaoka Hachiman Shrine, walking through Komachi shopping street, seeing Great Buddha, etc.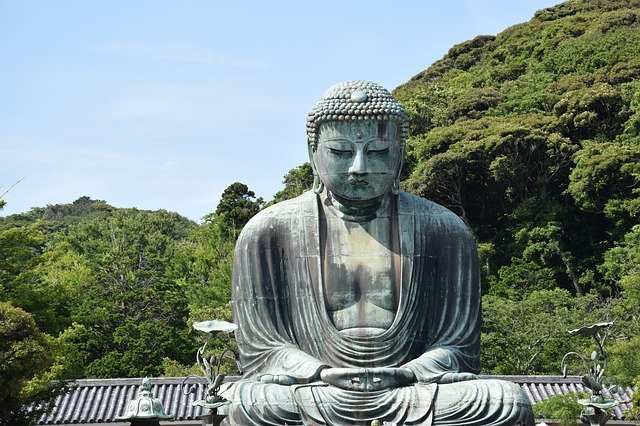 ▶Kamakura Local Student Tour (6 Hours Private Customizable Tour)
"We are students from a local school in Kamakura!! We would love to show you around our favorite places which are both sightseeing spots and backstreets based on your request! Let's talk and walk!!
Kamakura has many historically significant Buddhist temples and Shinto shrines, feel what it was like to be Samurai at the historic sites, such as Tsurugaoka Hachiman Shrine, Hasedera Temple and the Great Buddha! Of course, we will lead you to the local recommended spots, too!!"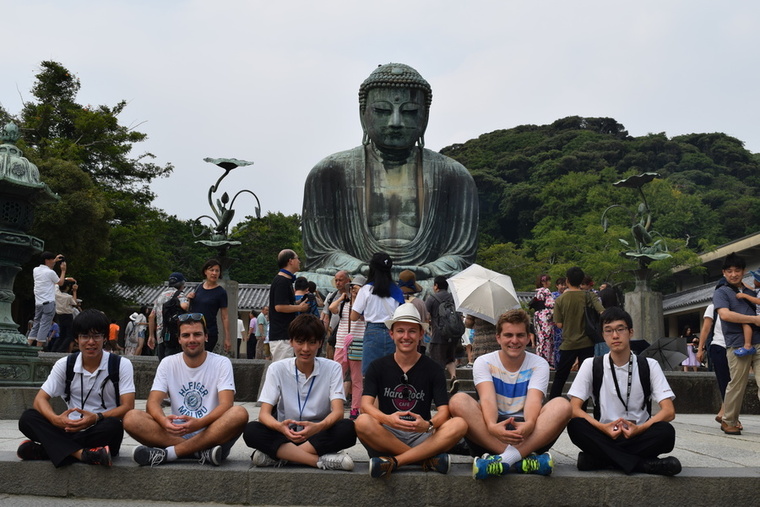 Follow us on Instagram, Facebook, Twitter, and TikTok for more travel inspiration. Or tag us to get featured!
Happy traveling!
Other articles that you might like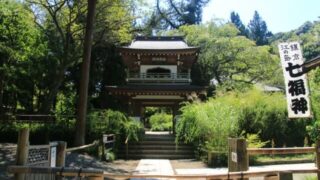 Day Trip to Kamakura – Hidden Places In Kamakura
Kamakura is a great day trip from Tokyo, located less than an hour away. In this article we will talk about some off the beaten places that are less known to th...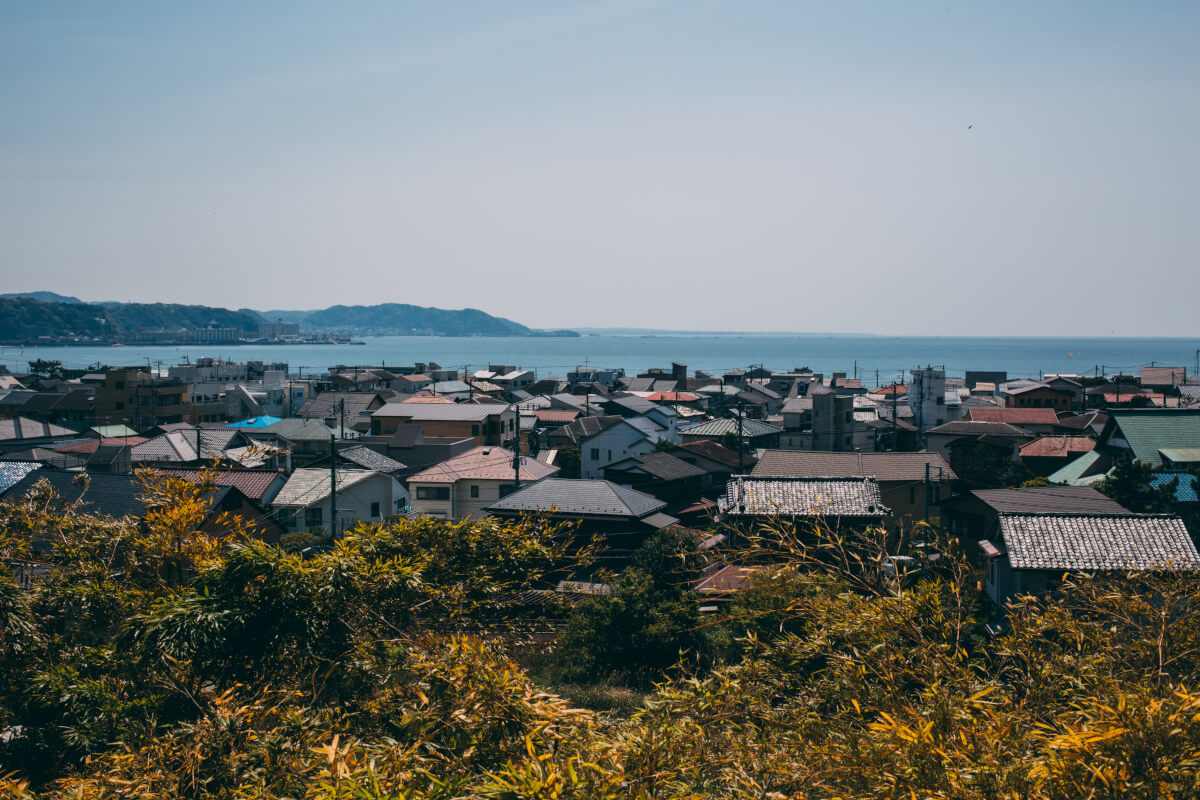 Day Trip To Kamakura From Tokyo
The former shogun capital city of Kamakura makes a great day trip from Tokyo. The coastal town is located about 40 km south and has many interesting sights including the Big Buddha, shrines and stunning nature. Here we list the best places to visit in Kamakura!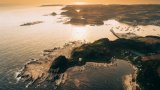 Best Things to do in Kanagawa
Kanagawa prefecture has popular tourist attractions such as Yokohama, Kamakura, Hakone, Yokosuka etc, we introduce the best things to do in Kanagawa!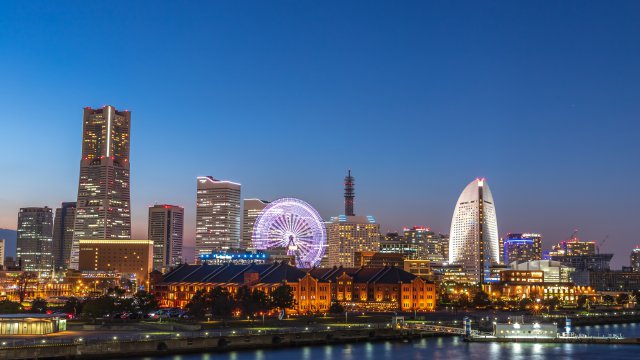 Best Things to Do in Yokohama
The port city of Yokohama is an amazing day trip destination from Tokyo and has numbers of tourist attractions. In this article we will highlight your best options!
---
This post may contain some affiliate links. When you click through and make a purchase we may receive some commission, at no extra costs to you