This post may contain some affiliate links. When you click through and make a purchase we may receive some commission, at no extra cost to you.
In Japan, people often eat warm foods to keep their bodies warm during such severe cold weather. Hot udon and soba noodles are typical examples, but there is one food that is a staple of the Japanese diet this time of year. It is nabe. A large earthenware pot placed in the center of the dining table and hot nabe dishes shared with family and friends is the standard way to spend winter. Nabe dishes are well-known as a standard winter dish in Japan, and many restaurants now offer them as well. Nabe dishes are very nutritious and warming, as they contain a variety of vegetables, meat, and seafood. In this article, we will introduce 10 nabe dishes that are commonly eaten in Japan.
1. Yosenabe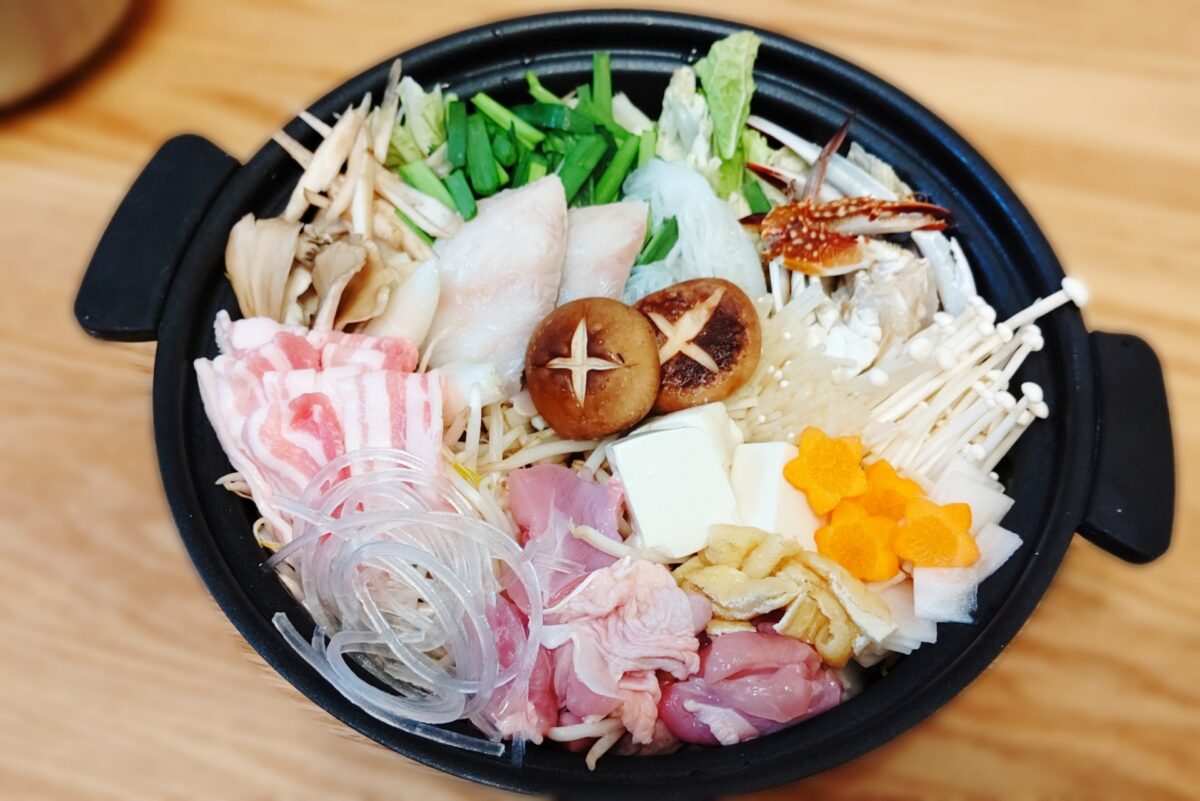 Yosenabe is a classic nabe dish consisting of vegetables, seafood, and other ingredients simmered in a refreshing Japanese dashi broth. The dish is completed by simmering Chinese cabbage, Japanese leeks, and seafood in a pot of dashi broth full of flavor from kombu (kelp) and dried bonito flakes. The simple ingredients and dashi broth allow you to directly taste the flavor of the light dashi broth.
2. Chanko nabe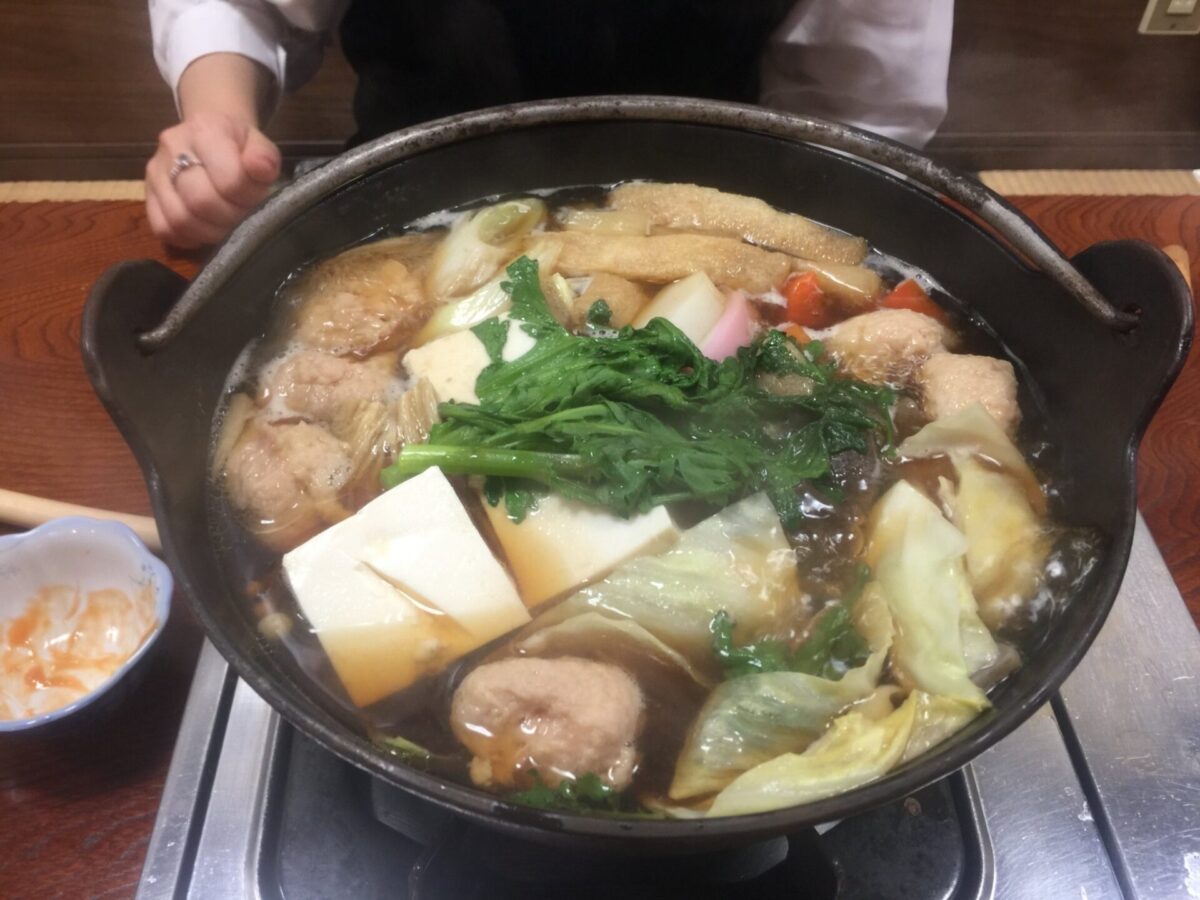 Chanko nabe is a well-known nabe that sumo wrestlers eat on a daily basis to build up their strength. The taste of chanko nabe varies from one sumo stable to another, with some adding their own secret seasonings and others passing down traditional flavors. Since chanko nabe stock became available in supermarkets, it has become a common dish in Japanese households. Chanko does not have a fixed flavor, but rather a variety of flavors such as soy sauce, salt, and miso. When cooked with vegetables, chicken, white fish, and other ingredients, chanko nabe is a nutritious dish that is sure to please any taste buds.
3. Mizutaki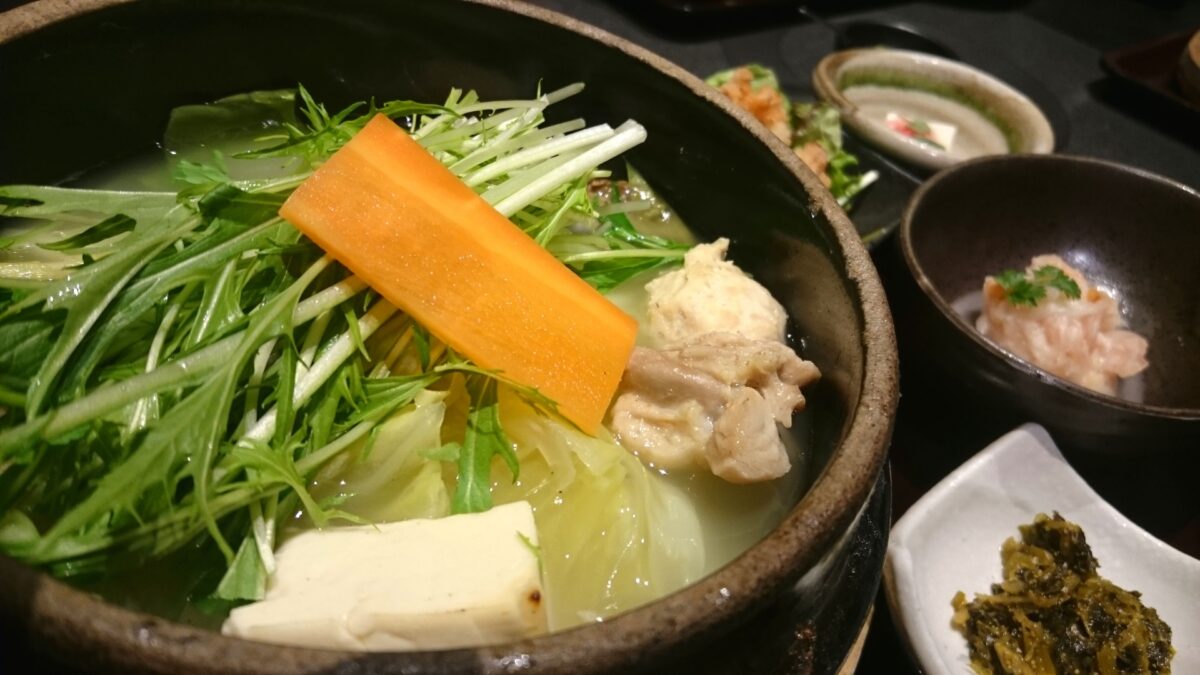 Mizutaki is such a famous nabe that it is listed as a staple dish in Fukuoka. Chicken bones are cut into pieces, placed in a pot with water and simmered for a long time. The chicken bones release a good soup stock, which forms a cloudy white soup. Add cabbage, tofu, and other ingredients and simmer for a long time to complete the dish. Mizutaki is usually served with ponzu (Japanese sauce made from ponzu citrus juice), which is very refreshing and gives the chicken a rich flavor.
4. Shabu-shabu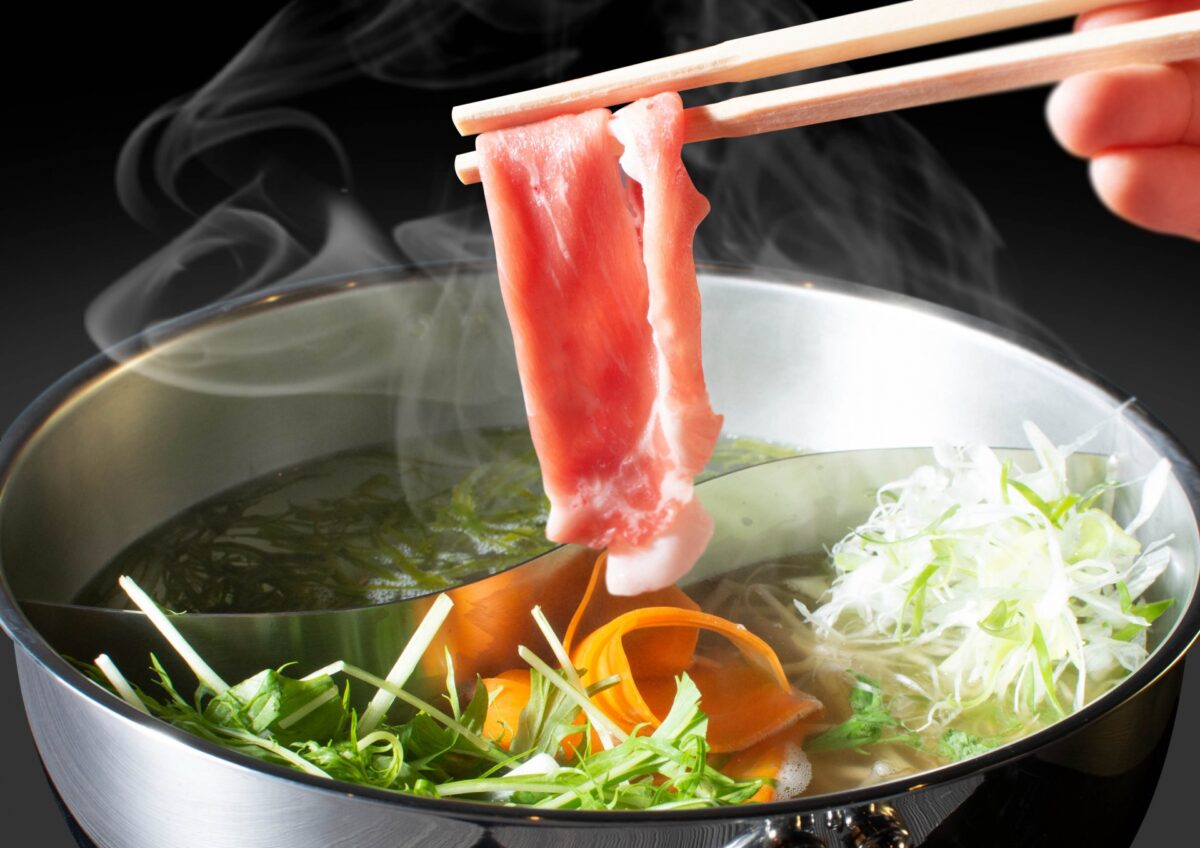 For shabu-shabu, fill an earthenware pot with water containing dried kelp and bring to a boil, then add thinly sliced pork or beef and heat gently. Once cooked, mix it with ponzu and gomadare (sesame sauce) and eat. By boiling the meat to remove excess fat, the original flavor of the meat can be enjoyed. Finally, add udon noodles and simmer until cooked through. Then, season the soup with salt and pepper or Japanese bonito broth to taste. The soup is great with the flavor of the meat locked in!
5. Tonyu nabe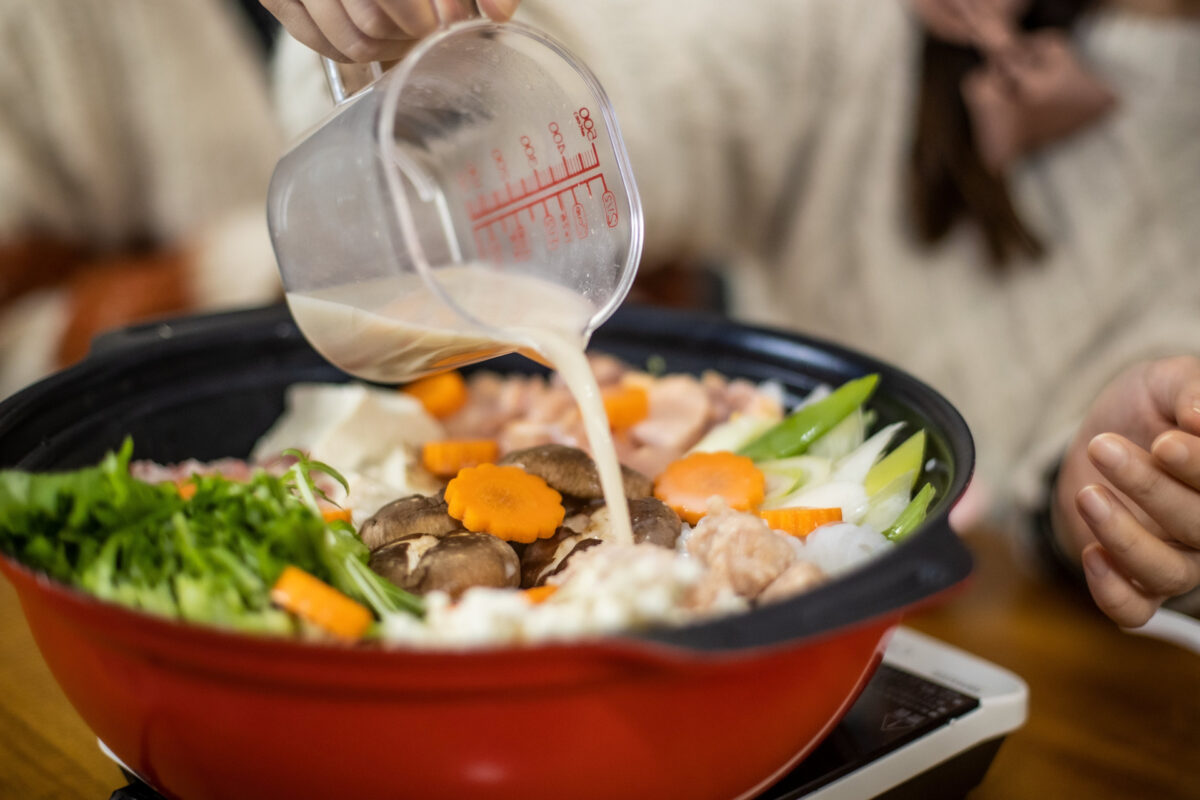 This nabe based from soy milk is especially recommended for those who are looking to improve their skin and stomach conditions. Since soy milk alone has a very light flavor, it is often combined with kombu dashi or Japanese bonito broth to bring out the best flavor. Vegetables, fish, meat, and of course, gyoza (dumplings) are often added. The taste of vegetables fully absorbed in the sweetness and flavor of soy milk will make you feel relaxed.
6. Sukiyaki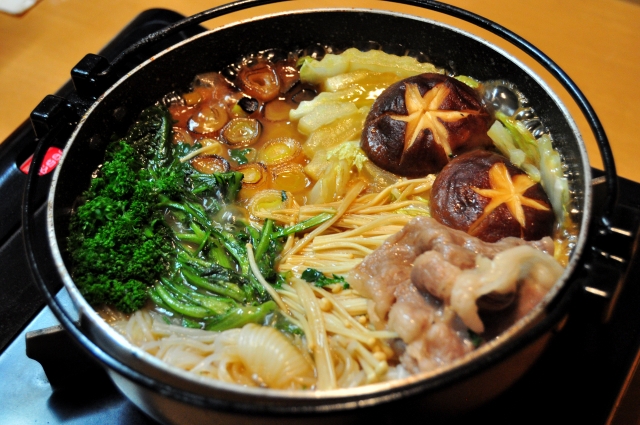 Sukiyaki is a dish consisting of meat, grilled tofu, shirataki, shiitake mushrooms, and leeks baked together and simmered in a soy sauce and sugar based sauce with an irresistible sweet and salty flavor. Once the ingredients are cooked, they are often dipped into a beaten raw egg and eaten. In Japan, sukiyaki is known as a standard feast dish and is often eaten on celebrations and happy occasions. There are many restaurants that specialize in making sukiyaki in Japan, so it is recommended to taste the specialty of these restaurants.
7. Yudofu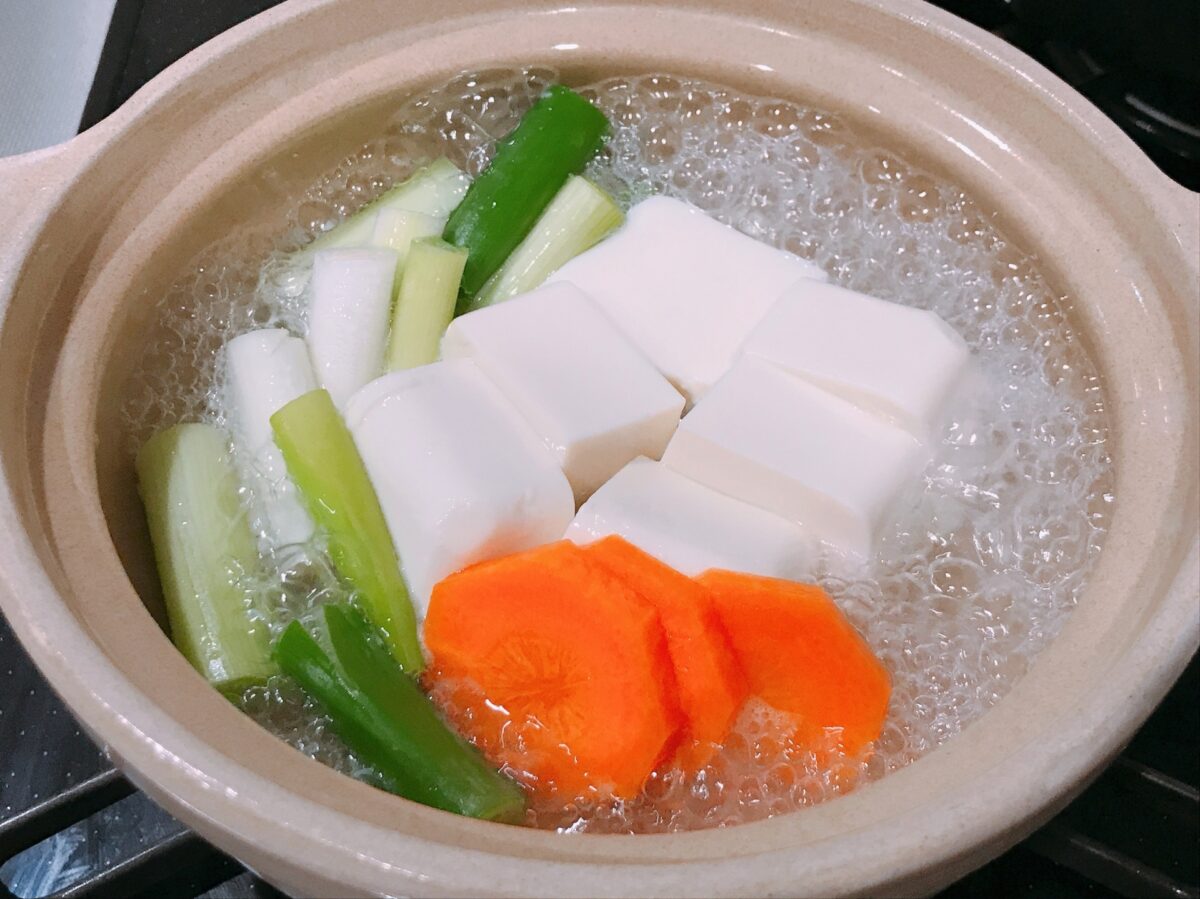 Yudofu is a nabe dish that is recommended for vegetarians and vegans, as it is said to have originated near Nanzenji Temple in Kyoto and does not contain any meat or fish. Yudōfu is based on the Buddhist concept of "Shojin ryori", which abstains from meat and fish. Tofu, the main ingredient, is placed in a pot of water and boiled. It is the ultimate simple nabe dish served with ponzu. The sweetness of the tofu and the flavor of the ponzu work in perfect harmony.
8. Millefeuille nabe
One of the most beautiful looking pots in Japan is the mille-feuille pot. Originally, millefeuille is a delicious French cake made of layers of pie crust and custard cream. The Japanese millefeuille nabe was inspired by this appearance. The preparation is completed by filling the pot with alternating layers of Chinese cabbage and pork belly, and adding just the right amount of Japanese granulated dashi broth. Adding a lot of water is not necessary, as the Chinese cabbage provides enough water. The richness from the pork belly and the flavor of the Chinese cabbage make for a wonderful combination.
9. Oden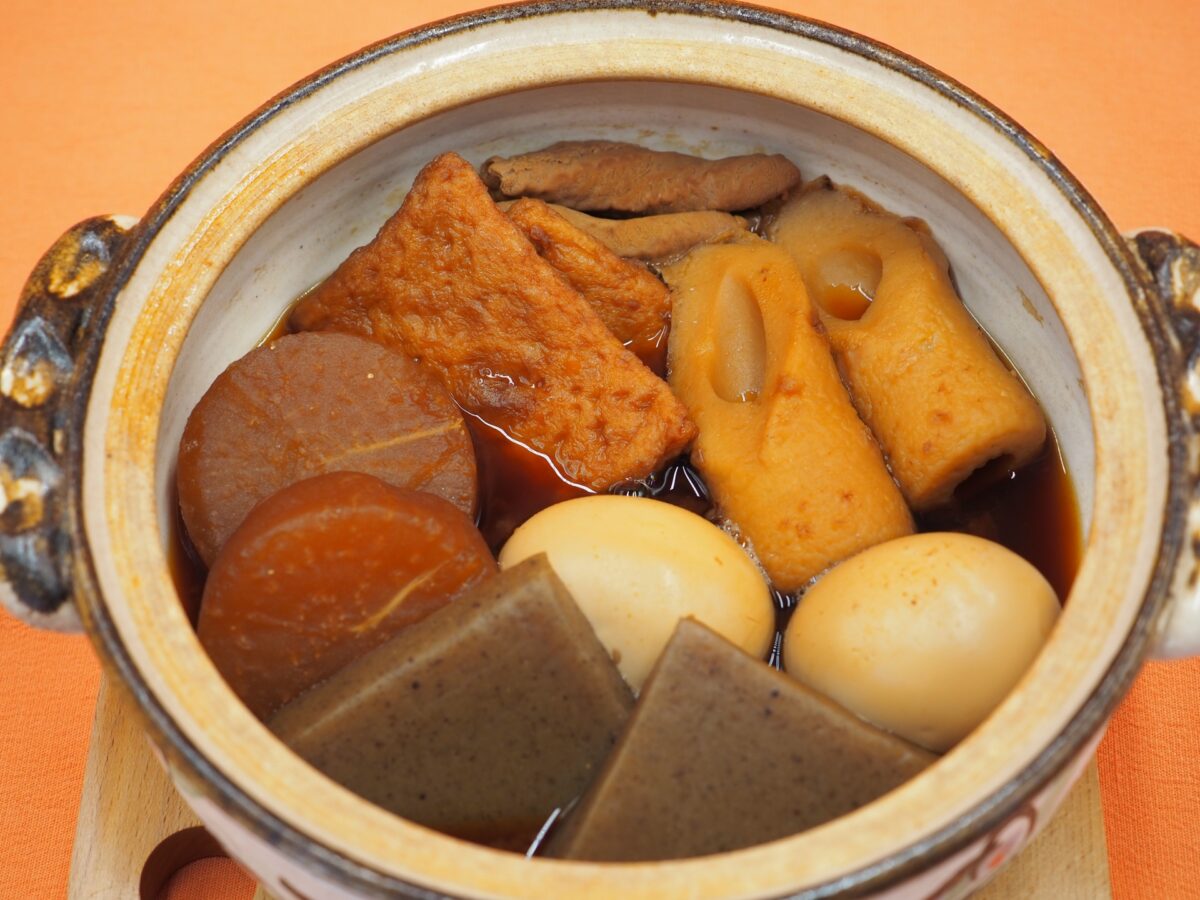 Oden, often sold at food stands and convenience stores, is a classic Japanese winter nabe dish. It is a dish in which fish paste, daikon radish, and potatoes are added to a kelp-based dashi broth and slowly simmered to infuse them with flavor. Standard oden ingredients include daikon radish, hanpen, chikuwabu, ganmodoki, and many others. Oden and sake go very well together, and the mild broth flavor of oden will fill your mouth with flavor.
10. Kimchi nabe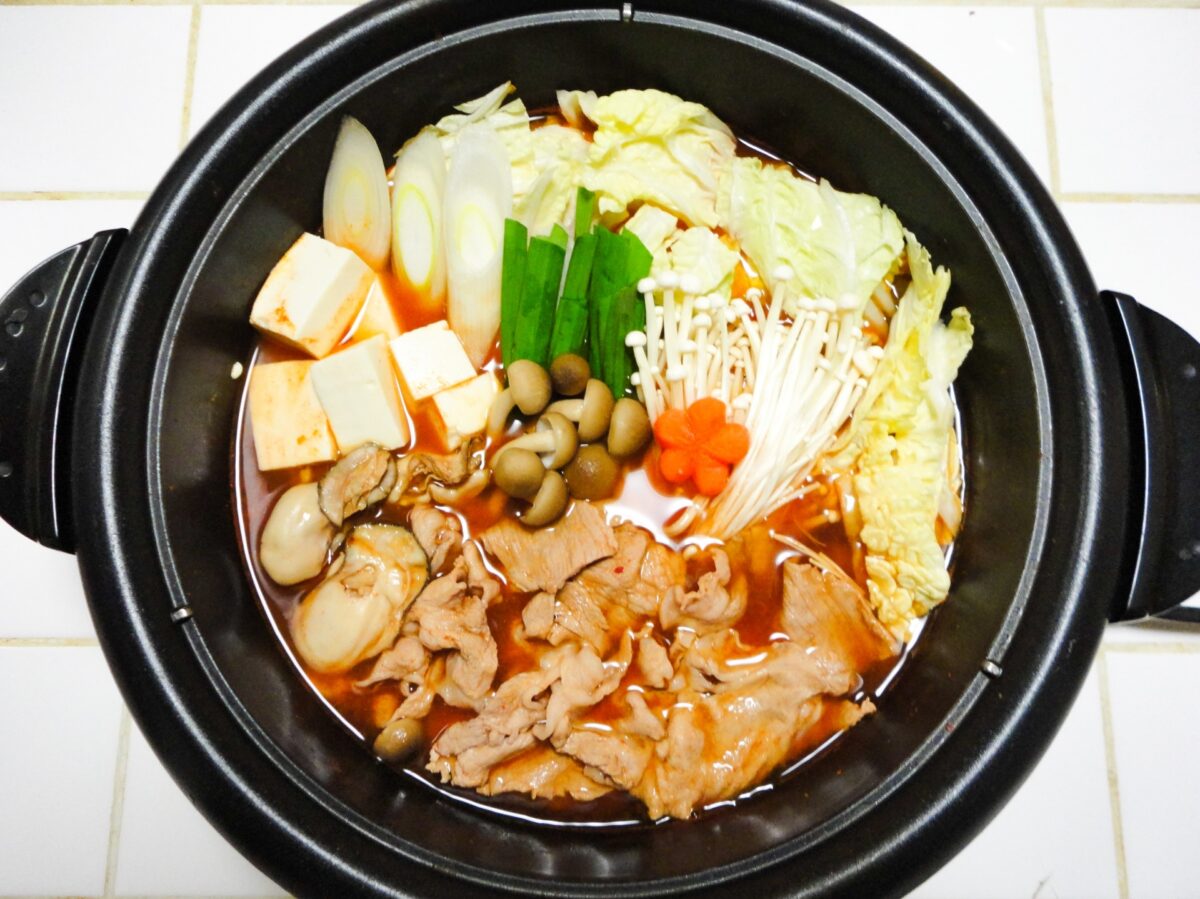 The last one on the list is kimchi nabe. Kimchi nabe is a hot pot based on kimchi, a typical Korean spicy pickle, and is widely eaten in Korea. In Japan, kimchi nabe stock is sold and stewed with Chinese cabbage, Japanese leek, garlic chives, etc., as well as codfish and pork belly. The spiciness of the broth makes it a delicious hot pot that quickly warms up a cold body.
We have introduced 10 nabe dishes that are commonly eaten in Japan, but we hope that there is something you would like to try! If you have a large pot, a portable stove, and the ingredients for a nabe dish, you can enjoy it anytime. This ease of preparation is one of the reasons why nabe dishes are so popular in Japan. The delicious broth that melts the flavor of the vegetables and meat makes it one of the best soups in the world. Of course, the best way to end a meal is to add rice or udon noodles to the nabe. It would be a great loss if you don't savor the taste of rice and udon noodles that have absorbed the rich dashi broth. This winter, let's get over the bitter cold by eating some nutritious nabe!
Japan Wonder Travel Food Tours
Japan Wonder Travel is a travel agency that offers guided tours throughout Japan. 
From private walking tours to delicious Food and Drink tours, we can help organize the best tours just for you! If you want to explore Japan and learn more about the history and backstories of each area you are traveling in, our knowledgeable and friendly guides will happily take you to the best spots! 
In addition, we can provide you with any assistance you may need for your upcoming trip to Japan, so please feel free to contact us if you have any questions or need some help! 
Follow us on Instagram, Facebook, Twitter, and TikTok for more travel inspiration. Or tag us to get featured!
Happy traveling!
Other articles you might be interested in