The traditional Japanese writing of kanji is called shodo, literally meaning the way of writing. Kanji find their origin in China and were first introduced in Japan via Korea about 1,500 years ago. Kanji is one of the three writing styles of the Japanese language, together with hiragana and katakana. The later were introduced in the 9th century and consist of 46 signs each. The signs are basically kanji but simplified over the centuries.
In the Japanese writing, you will see kanji, hiragana and katakana used within the same sentence, sometimes even within one word. You can write almost all Japanese words using hiragana, but most people will use it only for grammatical endings. Katakana is used for loan words (English words) and names that cannot be written in kanji (e.g. hotel ホテル and beer ビール). Kanji are Chinese characters adapted for the Japanse language and each kanji has its own meaning(s).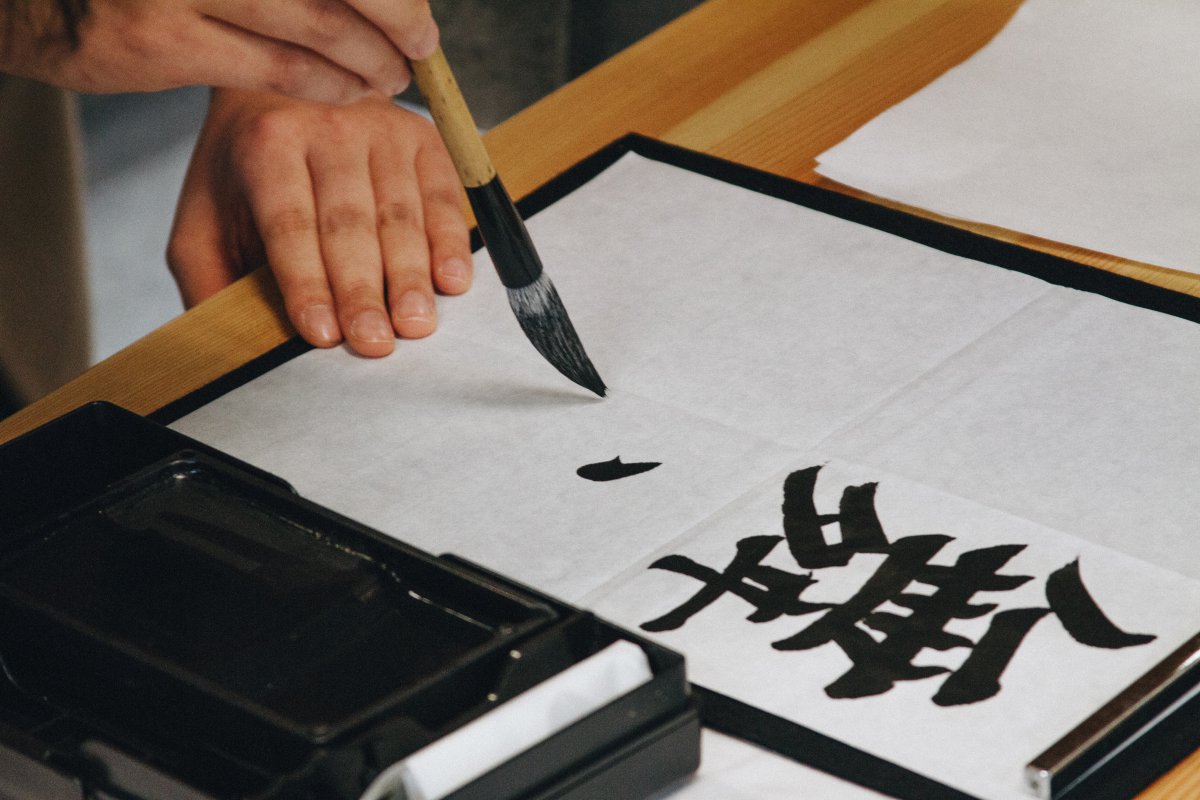 The three basic writing styles of shodo are:
Kaisho – regular, block-style script;
Gyosho – semi-cursive script; and
Sosho – cursive script
The basic tools needed for shodo are: a brush, some paper, an inkt stone and Indian ink. During a shodo calligraphy class your sensei (teacher) will explain you more and will also introduce you to the different stroke orders and styles. The stroke order is actually very important, with over 2,000 kanji the meaning can be hard to understand. Knowing the stroke order can give you a better understanding of the kanji.
Calligraphy is a popular art to express your emotions and mind and a great way to experience the culture of Japan. To make the correct and most beautiful shodo, you will need to be thoughtless and have a peaceful mind. With a shodo workshop, you will learn how to write your favourite word, a great unique souvenir to take home! How about a relaxing moment, creating your own name or favourite word while finding some inner peace?
Asakusa Jidaiya (Asakusa)
Asakusa Jidaiya offers several traditional Japanese experiences including shodo. Learn the basic writing technique by using ink, brush and washi paper, and experience calligraphy by writing Kanji, Hiragana, Katakana which you can choose your favourite letter or words. Finally you can even bring your work as a gift.
ASAKUSA JIDAIYA (click on Traditional Experience)
Duration 50 minutes
¥5,000 per person (min. 2 pax)
*Minimum age is 6 years old
Yanesen Tourist Infomation & Culture Centre
Yanesen is one of the oldest places in Tokyo as this place was not destroyed during the World War II. During the war about 80% of the city was destroyed so it's pretty special this area still exists, a special place to visit! At the tourist info centre in this old neighbourhood, private calligraphy lesson are given in English. The instructor will help you to write your name in Kanji and you can take it home as a souvenir. It is also possible to make your own Kanji T-shirt!
Yanesen Tourist Information & Culture Centre
Duration 60 minutes
¥4,640 per person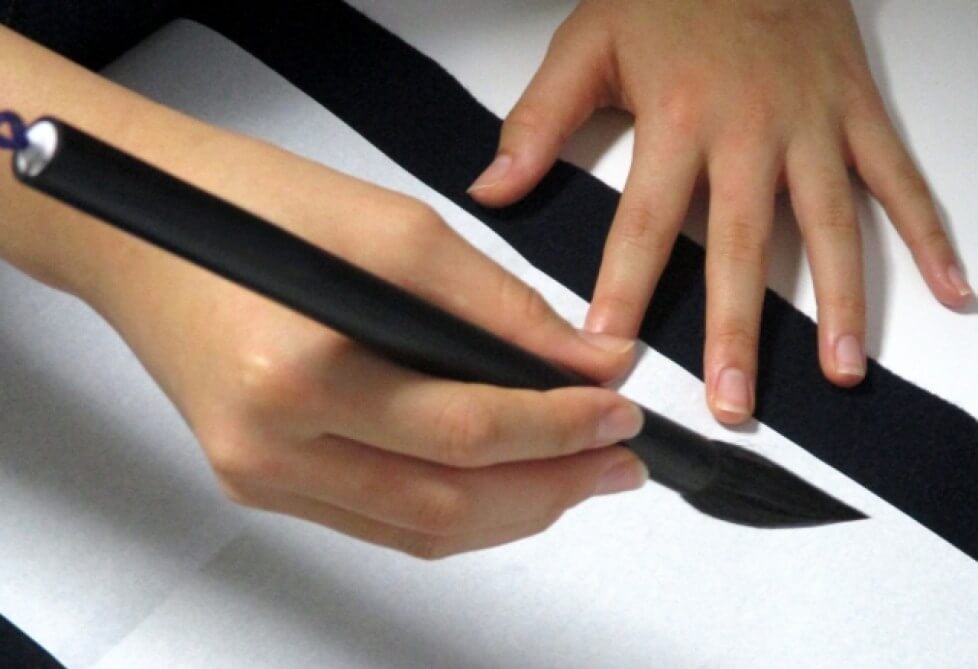 Voyagin – Yunagi
The instructor, Yunagi-san, is a licensed calligraphy teacher who has been practicing shodo since she was 5 years old. Next to calligraphy lessons at her house, she does large-scale calligraphy performances using over-sized brushes and large-scale canvases. She and her sister have also been featured on Japanese television.
Voyagin – Yunagi
Duration 60 minutes
From ¥3,000 (depending on your wishes).
Asakusa Culture Tourist Information Center
At the Tourist Information Office in Asakusa, they offer calligraphy classes free of charge. Kabuki calligraphy called Kanteiryu, which is a traditional culture in Edo and this class is starting from April 2018. Please have a try if you have time to meet their schedule.
Every 2nd and 4th Wednesday of the month, start from 1pm – 4pm
Free of charge
2-18-9 Kaminarimon, Taito-ku, Tokyo
Kanji House
This is a different experience: instead of calligraphy lesson, they will make a kanji for you to go with your personality. The host will ask you several questions about your personality, interests and hobbies and next a fitting kanji will be written down. The shodo will be then framed and wrapped in a Japanese traditional cloth, together with an explanation of the written kanji.
Kanji House
¥7,629 per person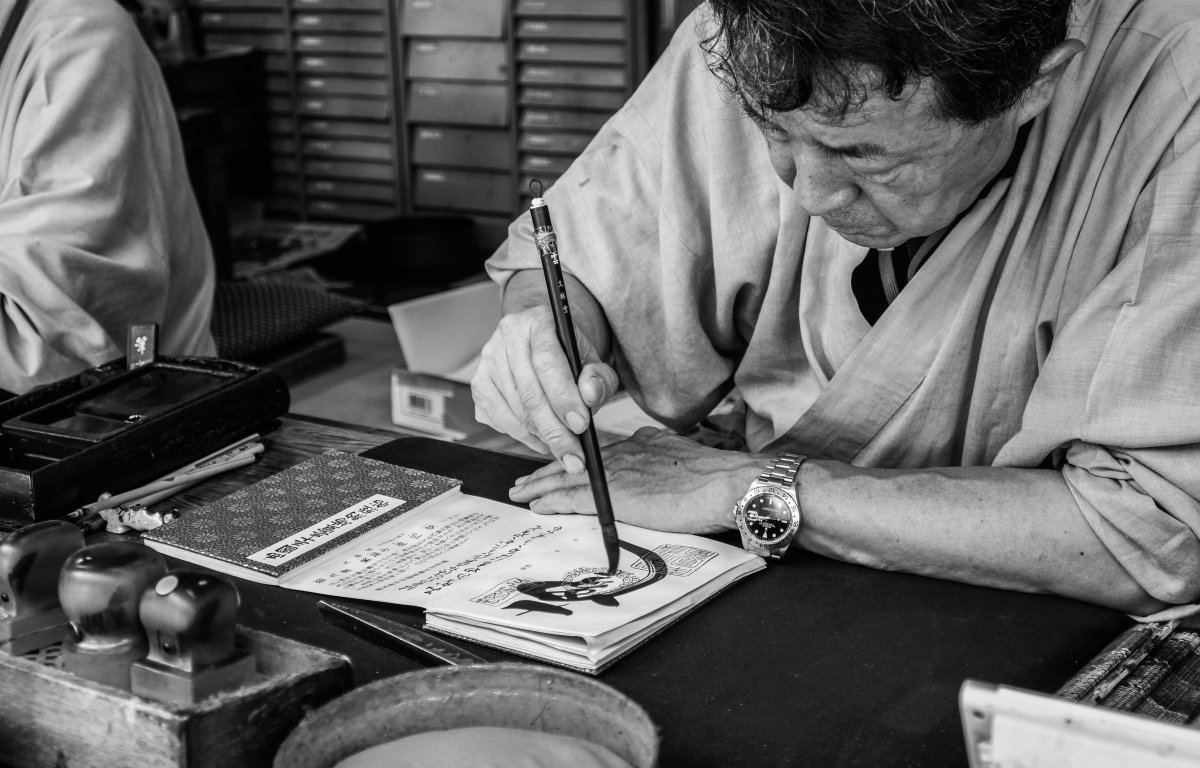 Japanese Calligraphy Shibuya & Shinjuku Tokyo
Miyazaki-san has studied calligraphy since the age of 10 and worked overseas as a calligraphy instructor. He gives calligraphy classes in his two studios in Shibuya and Shinjuku.
Japanese Calligraphy Shibuya & Shinjuku Tokyo
Duration 90 minutes
¥4,600 per person
Ota City Tourist Information Centre
At the tourist information centre in Ota, they offer several traditional Japanese experiences such as Flower Arrangement, Sado Japanese Tea Experience and also a Shodo Calligraphy Workshop. The workshop is offered in Japanese, English, Chinese and Korean.
Ota City Tourist Information
Duration 60 minutes (reservation required)
¥2,500 per person
If you are interested in other traditional Japanese experience, you have many options. From Kimono wearing to Japanese Tea Ceremony, you have options all over. We are happy to arrange a special day for you during which you experience different aspects of the Japanese culture. If you would like to get more information about guided tours in Tokyo or other parts of Japan, please visit our website. We hope you have a good time in Japan! Follow us on Instagram or Facebook for more travel inspiration. Or tag us to get featured!
Happy travelling!
---
This post contains some affiliate links. When you click through and make a purchase we may receive some commission, at no extra costs to you.