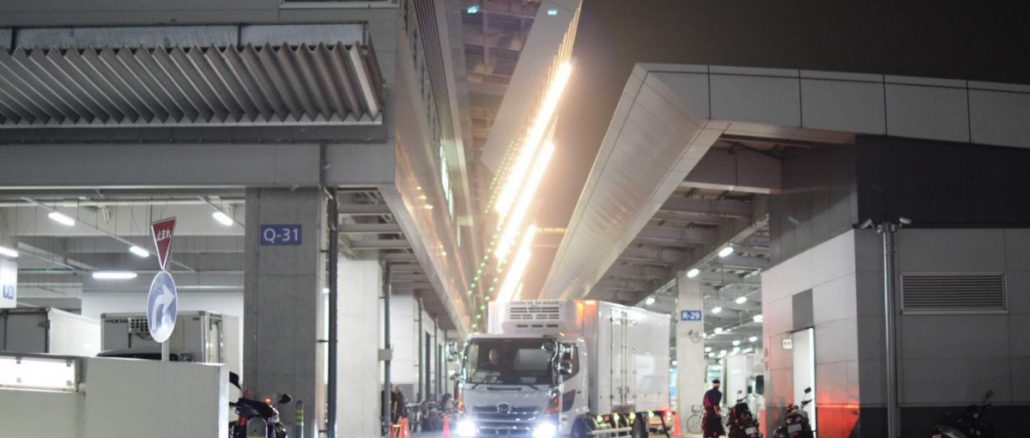 Tsukiji inner market was moved and Toyosu market opened on 11th Oct. 2018!
Now there is less information about Toyosu market.
We have visited 3 times in first three days!
So here is a report of Toyosu market information for tourists!
Conditions are in a state of flux. We will update this. So please keep in touch.
What's moved from Tsukiji
We should mentioned about "What is moved from Tsukiji"
Many people ,even if Japanese, think all of Tsukiji market was moved.
Strictly speaking, it's wrong.
In Tsukiji, they had 2 market. And only Tsukiji inner market was moved.
-Tsukiji inner market (fish, vegetable and fruits wholesale market / restaurants and goods  shop for wholesaler/professional)
-Tsukiji outer market (mini wholesale market / many restaurants and goods shop for also tourists)
Tsukiji outer market is remained.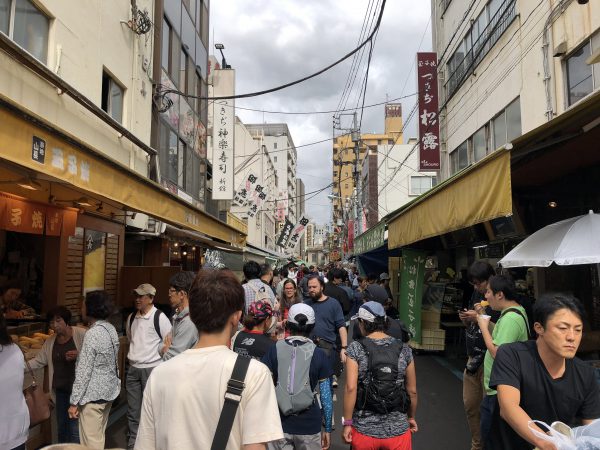 In 2018, we couldn't enter wholesale market area of Tsukiji inner market until 11:00am because it's business area and tourists are not welcomed.
After 11:00am we could enter but many shops were closed already. So we couldn't see bustling market area in Tsukiji. And it's same or worse in Toyosu.
Many tourists enjoyed fresh and variety of food in Tsukiji outer market before.
So it's not so much change for tourists though many people think Tsukiji is moved.
Please don't expect too much in TOYOSU market.
Still we recommend Tsukiji "outer" market.
Where is Toyosu market
Toyosu is not popular place for tourists.
Toyosu is water front area located south east Tokyo.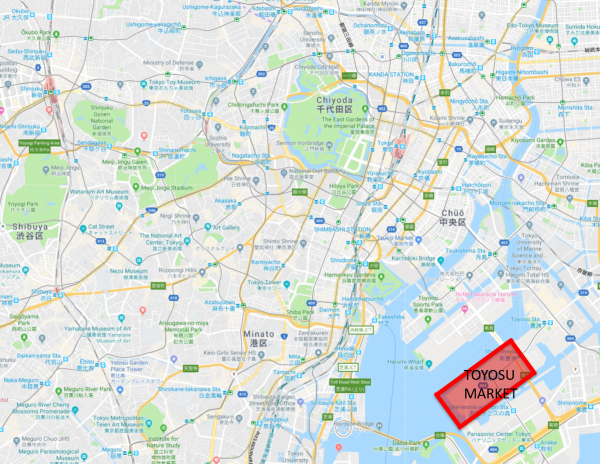 Tsukiji is really easy to access from center of Tokyo but Toyosu is NOT easy to access.
That's why many intermediate wholesaler don't want to move.
In Toyosu market, there are 3 parts.
-Block5: Fruit and Vegetables Wholesale Market
-Block6: Fisheries Intermediate Wholesale Market
-Block7: Fisheries Wholesale Market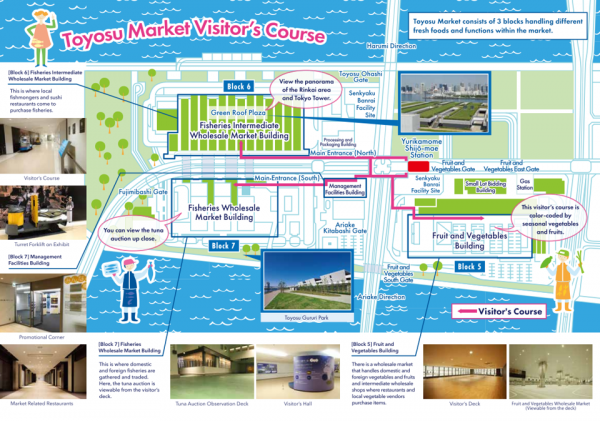 Source:http://www.shijou.metro.tokyo.jp/toyosu/kenngaku/
In Tsukiji, there is restaurants and goods area.
In Toyosu, restaurants are separated to 3 blocks and goods shop are located 4F of block 6.
(FYI: Sushi dai is located 3F of block6, Daiwa sushi is located 1F of block5)
Access information to Toyosu market
Nearest station: Shijo-mae station (Yurikamome line)  Google map
Address: 6-5-1 Toyosu, Koto, Japan
#0ption1. Go Shinbashi station and transfer to Yurikamome line to Shijo-mae station (27 mins)
#option2. Go Toyosu station and transfer to Yurikkamome line to Shijo-mae station (3mins)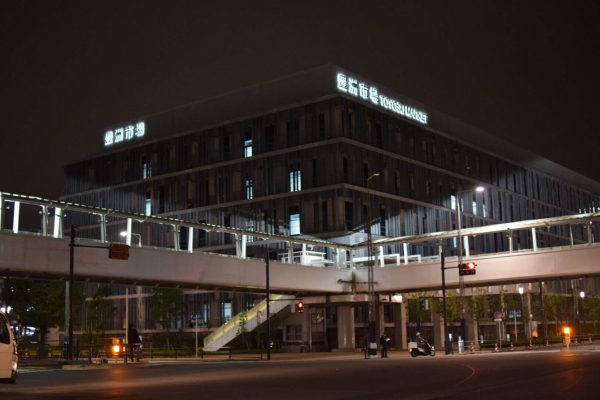 What you can see or/and do in Toyosu
There is limited to see or/and do in Toyosu.
In Tsukiji visitors could enter intermediate wholesale market area after 11:00am,
but in Toyosu, visitors could NOT enter intermediate wholesale market area all day.
Instead of that, there is  visitor's course and observation deck.
BUT! We are really disappointed about that.
This is visitor's course of intermediate wholesale market where many people wanted to visit in Tsukiji.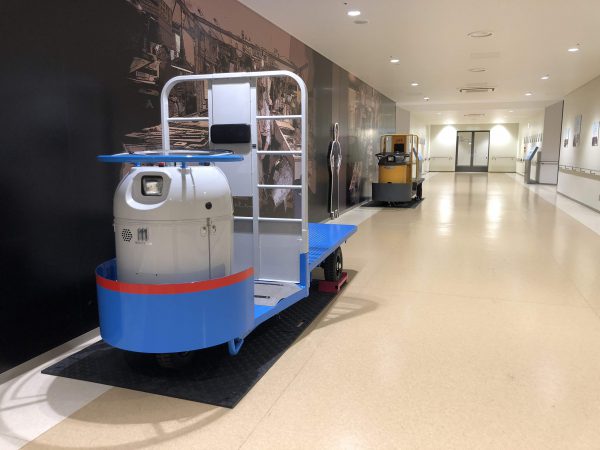 There is good explanation.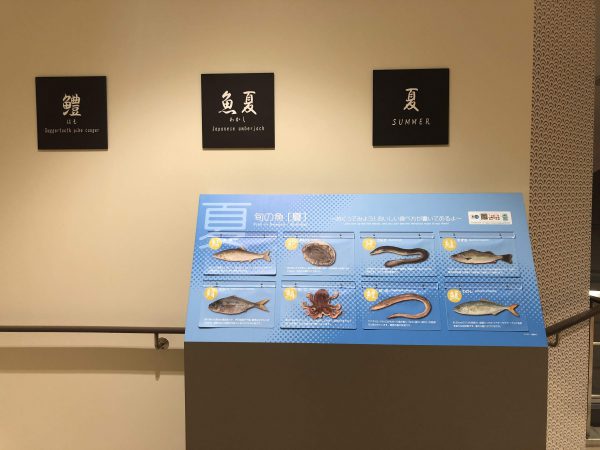 BUT this is the observation window.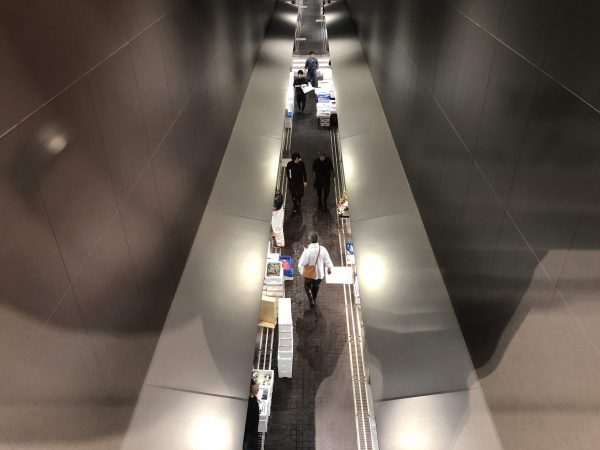 We couldn't see the market at all, but just only roof of the shops.
Another shop have sticker on the roof. They are smart.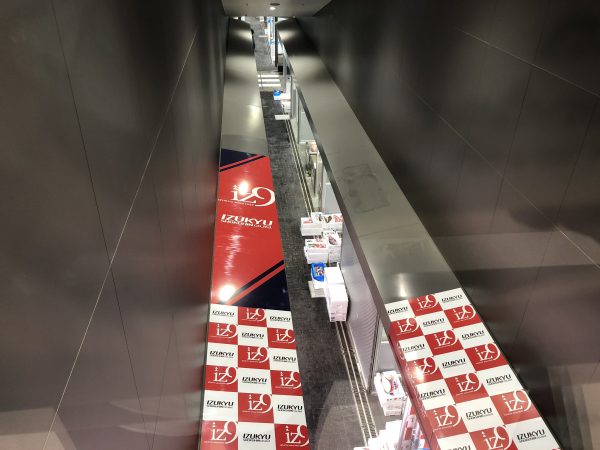 We don't know what was happened but that's all.
It's better to visit Tsukiji outer market "Uogashi yokocho" to feel the atmosphere of intermediate wholesalers.
Some intermediate wholesalers make branch in Tsukiji outer market mini wholesale market.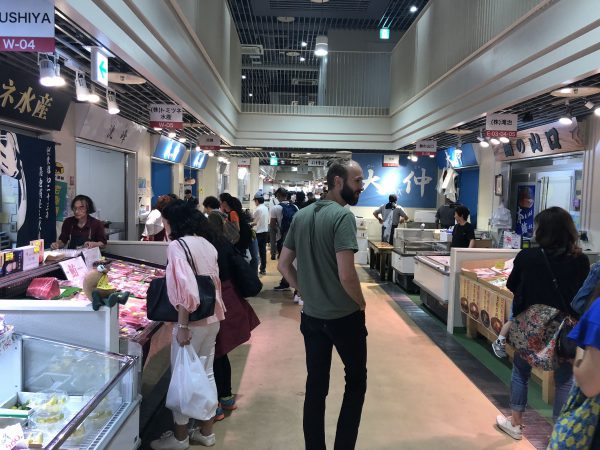 Many people also wanted to see tuna auction.
In Toyosu, tuna auction is held at Fisheries wholesale market building (Block7).
They have much better observation deck. But it's second floor and there is glass between observation deck and auction floor.
So there is no smell and no sound.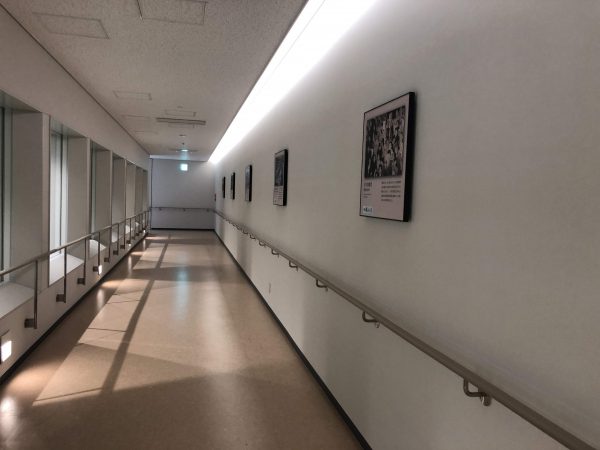 Around 6:00am, you can see so many tunas! It's good.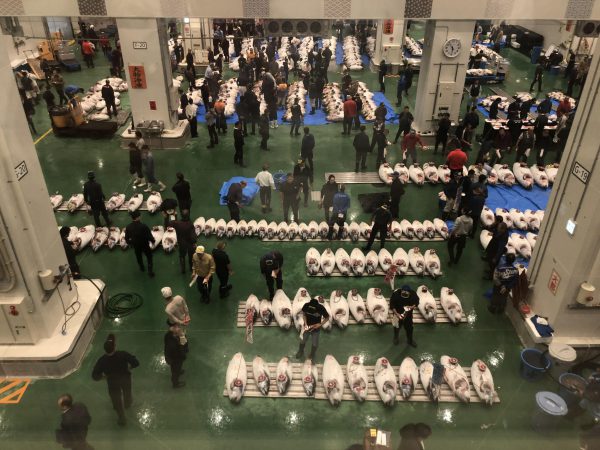 About 7:00am, already finished and there is not so much tuna.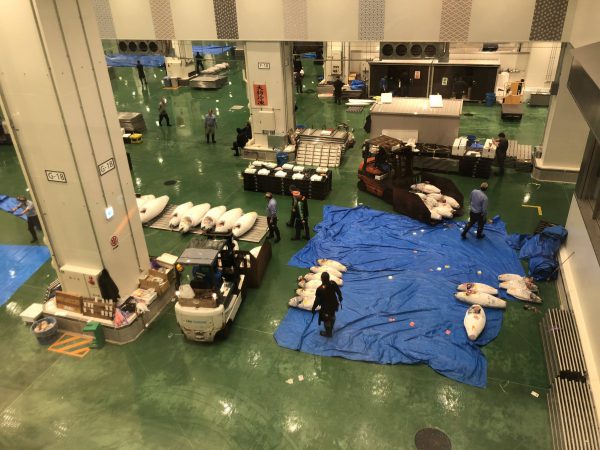 About 9:00am, there is nothing. Be careful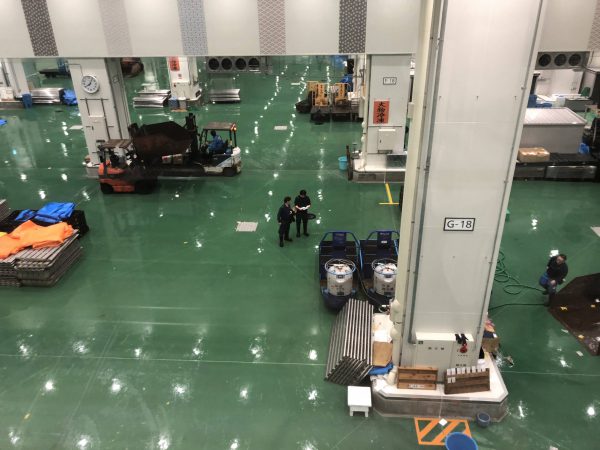 They have also explanation with pictures on observation deck in Block7.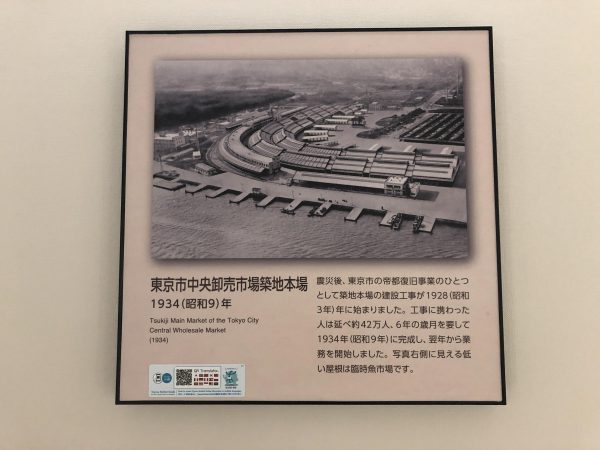 Please be assured they have translater QR code.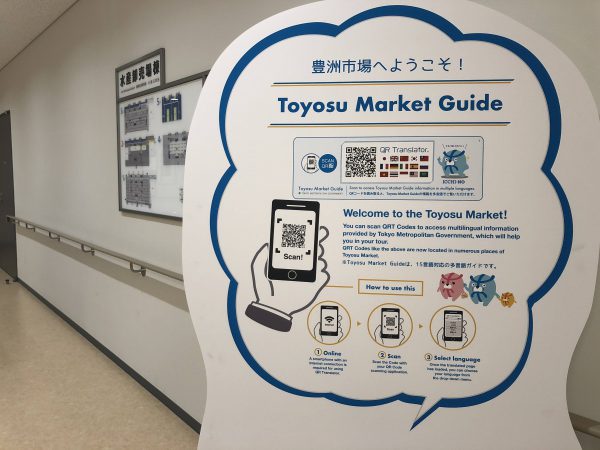 By the way, the most attractive point we think is restaurant.
Almost of all restaurants which had shops in Tsukiji inner market was moved to here.
Sushi dai is one of the most famous Sushi restaurant in Japan. (you need to wait 3-4 hours)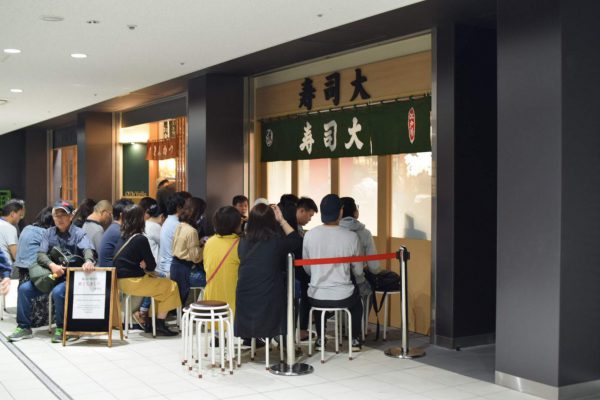 Oedo is famous "Kaisendon" (sashimi on rice) restaurant.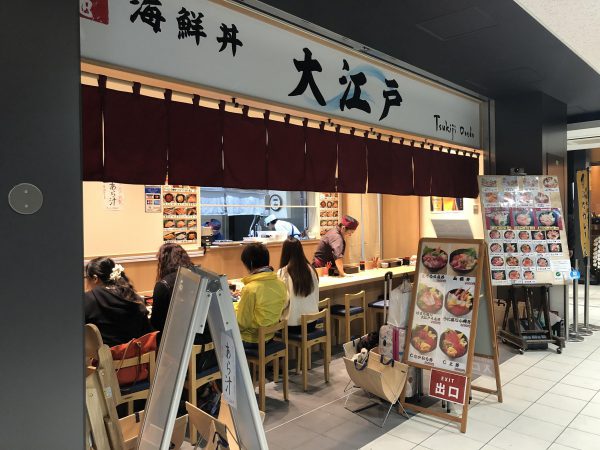 Not only seafood restaurants but also ramen, curry, beef bowl restaurants are there.
What time is best time to go Toyosu
So just now our recommendation is to go Toyosu around 6:00am and have a breakfast at there!
After 9:00am, there is less value to visit Toyosu market.
Because it's not easy to access and there is less to see and do.
So we recommend Tsukiji outer market.
Tours in Toyosu
We don't find official tours in Toyosu yet.
Some tour operator (including us) will visit Toyosu but basically we couldn't enter intermediate wholesale market area.
Everybody don't have special permission.
Tuna auction in Toyosu
Tokyo metropolitan government said tuna auction visit will be started in 15th January 2019.
(We think you can see tuna auction closer than from the observation deck.)
Check the articles to know about tuna auction
Also you could check this tour as well.
Japan Wonder Travel will help you to make your trip better, by guided tour
▼Pics of Toyosu market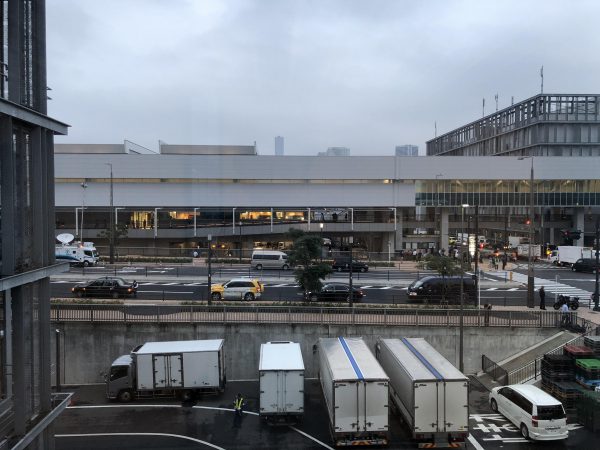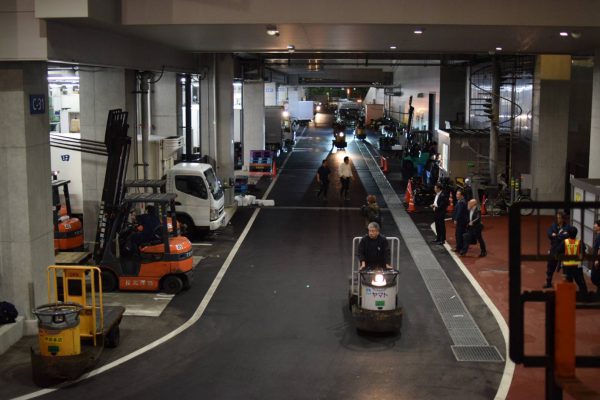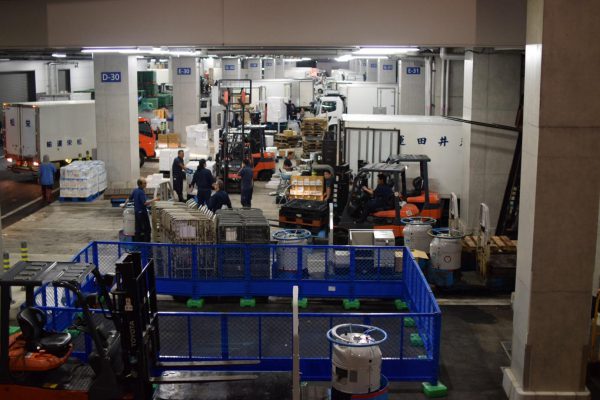 What hotel is closest to Toyosu market
You may also like below articles
Tuna auction visit in Toyosu "new Tsukiji" fish market, TOKYO
Book a hotel in Japan
[PR]