Are you looking for a true local experience in Tokyo? Then you should definitely go to one of the many izakaya alleys! An izakaya is Japanese style dining bar where Japanese people enjoy drinking and eating. It gets quite busy with locals at dinner time, especially on Friday, and you can experience the famous Japanese drinking culture there. Here are the 5 best izakaya alleys you should go during your stay in Japan!
If you like beer, check out the best craft beer places in Tokyo
1. Omoide Yokocho (Shinjuku)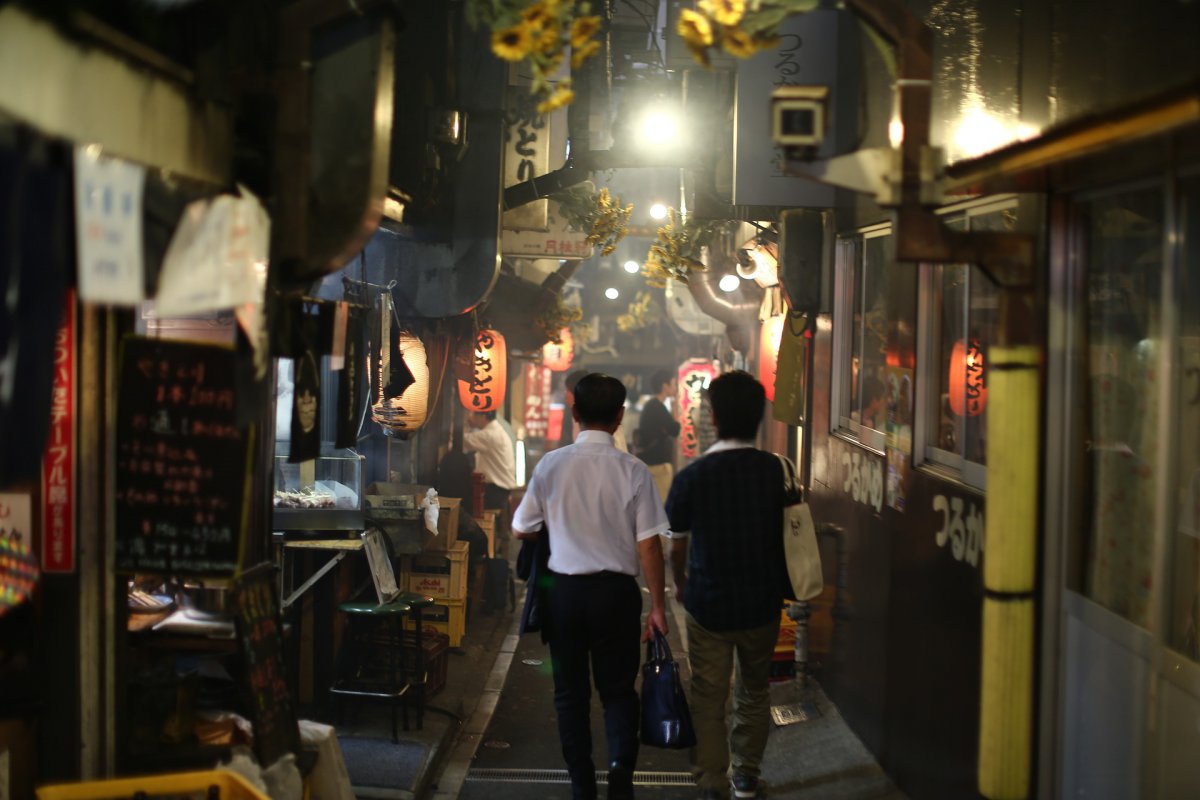 Omoide Yokocho (memory Lane in English) is a maze of small alleys, 3 minutes walk from Shinjuku west exit. When you walk into the alleyway, you will get some nostalgic feelings from it. This Izakaya alley opened around 1946 and there are numerous small restaurants and food stalls that offer typical izakaya food like yakitori. Some shops were replaced to more new, trendy food and drinks shops like bubble tea shop but still, you can find many good old izakaya style restaurants. Try yakitori and beer on Izakaya Hopping Tour in Shinjuku which allows you to know local's recommendations and the best food to try! The place is also great for taking amazing pictures.
Kikuya
It is said to be the popular alcohol drink called "highball" first appeared in this Izakaya! You should try the original highball which is made of shochu, plum juice and sparkling water. Order Kushiyaki, grilled skewers which makes a great pair with highball too. Enjoy some good foods and alcohol with nostalgic feelings here!
2. Ebisu Yokocho (Ebisu)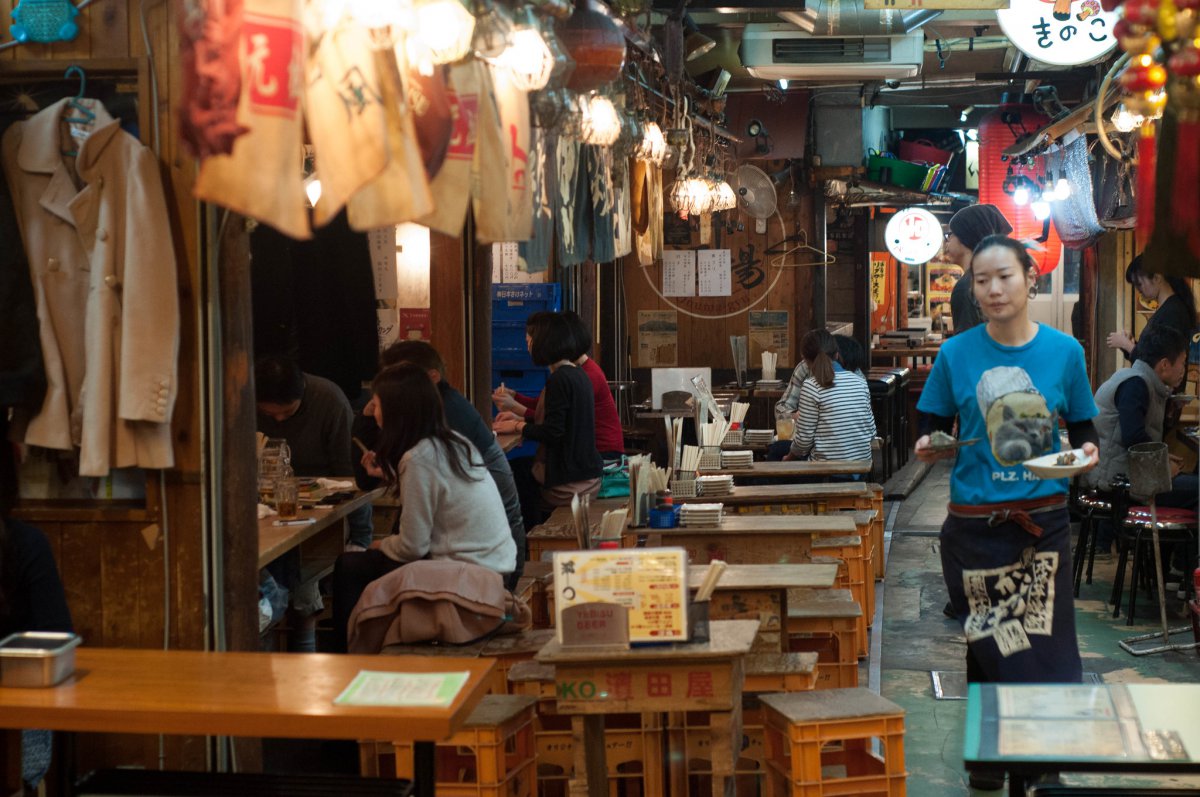 A stone's throw away from Ebisu station, 20 unique izakayas will welcome you at Ebisu Yokocho. The indoor alley was constructed from an old shopping mall and people opened Izakaya with a hope to get people back together. There are different restaurants like Yakiniku (Japanese BBQ), Oden (Japanese stew) and mushroom place etc. You can enjoy hopping among these Izakaya all night and get connected to local people!
Kato shoten Nikuzushi
Have you heard of meat sushi? Kato Shoten Nikusushi is the world's only place which specialized in meat sushi. You can even get a horse meat sushi here! It would make your Japanese food experience much deeper. It opens until 5am so you can enjoy the night life to the fullest before ending the night at this famous place.
3. Hoppy Dori (Asakusa)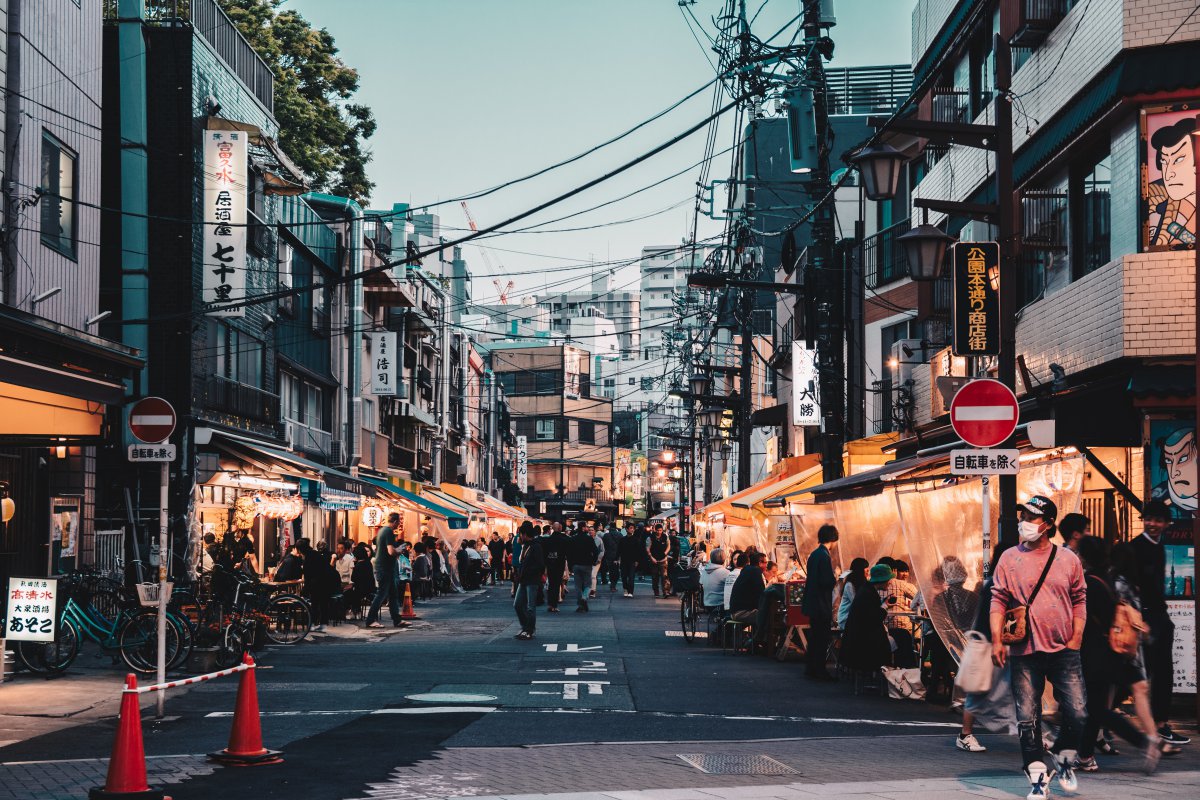 After you had sightseeing around Asakusa, you should go to Hoppy Dori (Hoppy Street)! Hoppy Dori was named after the drink called Hoppy; a non-alcoholic drink that tastes like beer. It was invented back in early 1920s, around that time, beer was considered as luxury item so Hoppy got very popular around Japan.
The street to the west of the famous Sensoji temple, is packed with izakayas that have the typical old-school charm of Tokyo. You will see many people sitting down on outside seats and enjoy drinking from the afternoon at Hoppy Dori.
Daikatsu
If you go to Daikatsu, you should get stewed beef tendons with Hoppy!
Check out our Asakusa Local Food Bar Hopping Tour when you plan to visit the area!
4. Shibuya Niku Yokocho (Shibuya)
This is the best destination for all the meat lovers! There are 28 izakaya that are all meat specialised places. They have not only Japanese food, but also Korean BBQ, Brazilian churrasco and Thai food etc. Shibuya Niku Yokocho is also popular for meeting people. Here you will have a great opportunity to meet some local Japanese people and have fun together!
Nikutennokuni
Nikutennokuni means Meat Heaven in English. They serve meat tempura and meat sushi. The most popular menu is Uniku, rolled meat rice ball with sea urchin. Many young people order them to take pictures because of their gorgeous look. Of course, they taste delicious too!
5. Hobo Shinjuku Noren Gai (Yoyogi)
Hobo Shinjuku Noren Gai in Yoyogi opened in 2017 as a izakaya district which consists of renovated Japanese traditional style houses. They converted 7 kominka (Japanese traditional style houses) into izakaya and they have both nostalgic and new atmosphere. It is only one minute walk from Yoyogi Station but you will find it in a quiet neighborhood. So this is a great place to chill, relax and enjoy the night!
Kaiyaki Sakaba Kaifornia
When you're here, try the fresh seafood, mostly "kai" (shellfish) at Kaiyaki Sakaba Kaifornia! There's a grill at the table in front of you and you can have shellfishes right after they're ready. Enjoy some big Japanese oysters!
Fun fact: this izakaya is renovated from a car garage. You can still spot some tire marks inside of this izakaya.
Bar Hopping Tours in Tokyo
Do you prefer walking around Tokyo at night with a friendly local guide? If so, we offer some best tours for you! Join us for the most amazing and fun evening drinking tours where we take you to the locals favorite bars, and tell you the background stories of the area.
Join our Asakusa local food & bar hopping tour and enjoy the local snacks, refreshing drinks and te local atmosphere. Or let us guide you around the Shinjuku Golden Gai!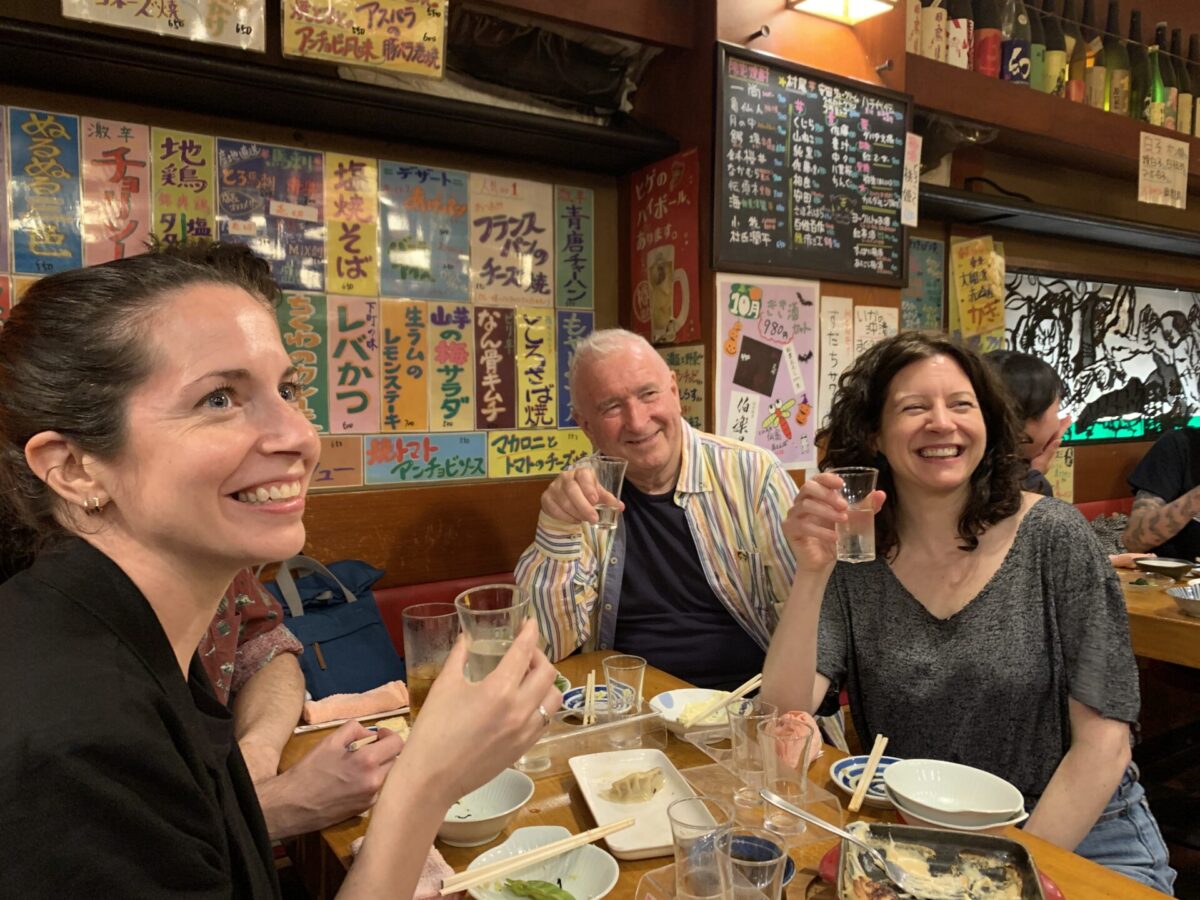 Nothing beats an evening out drinking and eating with your friends with a great atmosphere. When you visit Tokyo, make sure you visit one of the many izakaya alleys and have a real local experience! Maybe even make some new friends. It will be such a great experience that you will never experience in the other countries!
Follow us on Instagram, Facebook and Twitter for more travel inspiration. Or tag us to get featured!
Stay informed of the best travel tips to Japan, the most exciting things to do and see, and the top experiences to have with the Japan Wonder Travel Newsletter. Every week we will introduce you to our latest content.
Read more about Tokyo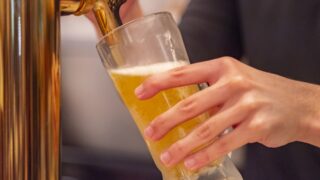 What is Nomihodai? All You Can Drink in Japan
Nomihodai is the ultimate form of party in Japan and cannot be missed!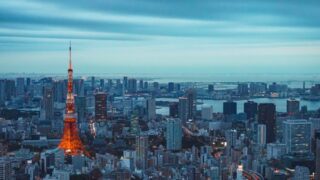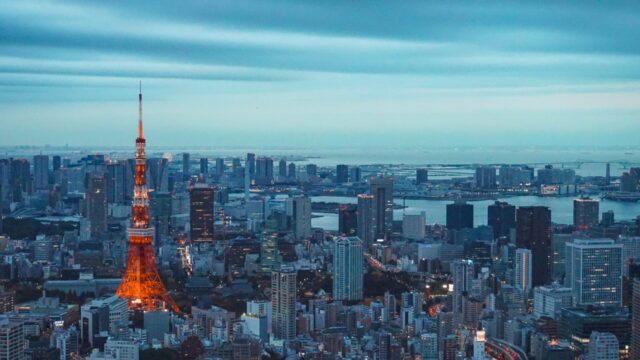 30 Best Things To Do in Tokyo 2023
Plan the ultimate itinerary in the world's biggest city with this list of 30 best things to do in Tokyo!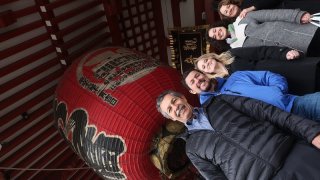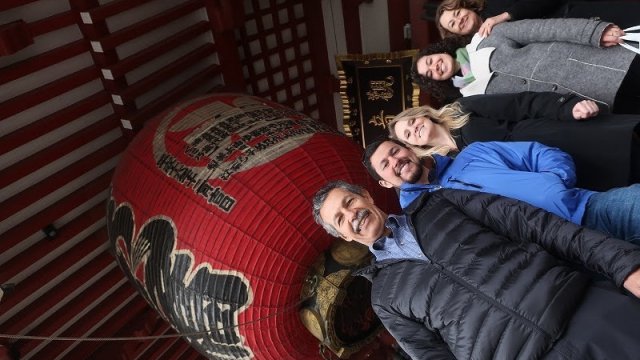 10 Best Tokyo Food Tours You Must Take on Your Japan Trip
Here we listed up the best Tokyo food tours for you. From Tsukiji Fish Market tours to Izakaya bar hopping tour at night, we have listed a variety of Tokyo food tours you can enjoy during your stay in Japan.
---
This post may contain some affiliate links. When you click through and make a purchase we may receive some commission, at no extra costs to you