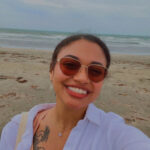 Writer's Profile
Crystal Kleminsky is currently an intern from the United States. She will graduate from the University of Memphis in August of 2023 and plans to attend graduate school for a Masters of Science in Marketing soon after. In her free time, Crystal enjoys playing video games, practicing yoga, hiking, and spending time with friends and family. As Crystal is an international business major, she hopes to travel frequently and work abroad in the future.
Street food in Tokyo is popular because of its quick accessibility while on the go. There are so many things to do while traveling the city, such as attractions and cultural activities. So, why waste precious time trying to get a table at a packed restaurant? Instead, stop at a street food stall and get back to your itinerary because you don't want to miss out on all the things Tokyo has to offer!
▼Try some of the best street food in Tokyo on our Tsukiji Fish Market Tour!

1. Tamagoyaki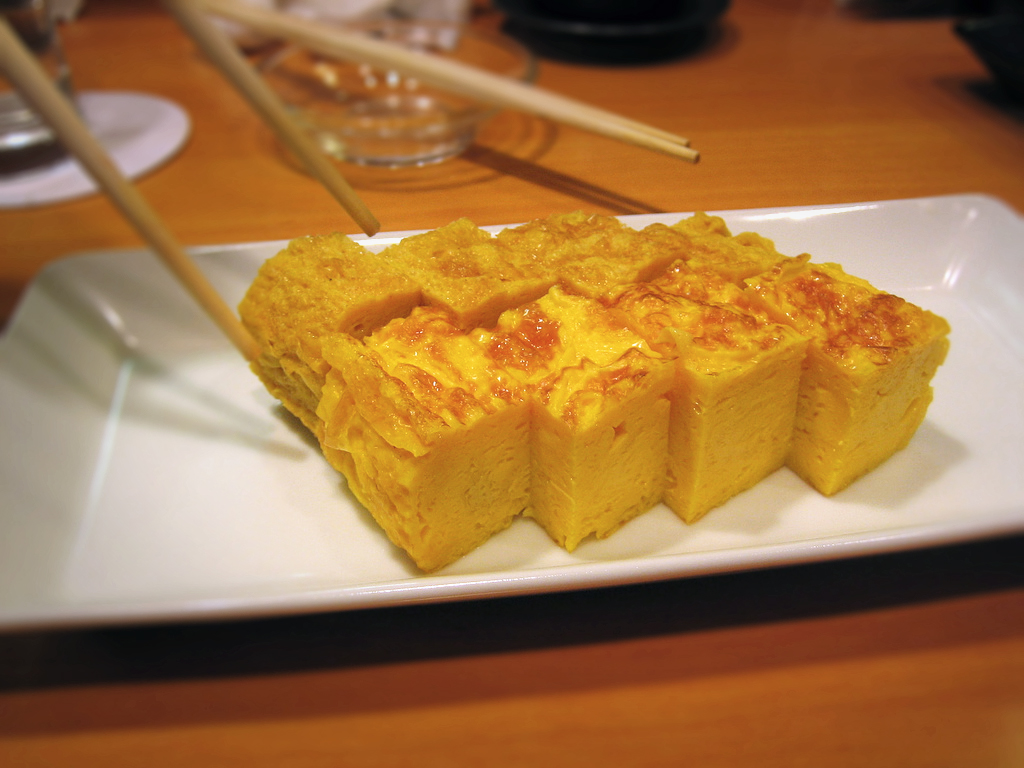 Tamagoyaki, a rolled omelette dish that gained popularity in the 50s, can be found at Tsukiji Market which is one of the largest fish markets in Japan. The usual seasonings for this street food can include soy sauce, sugar, mirin, and dashi. With its fluffy texture and sweet taste, it makes for a great snack while exploring the bustling streets. As you venture through the market, stop at Tsukiji Shoro to enjoy some tasty tamagoyaki.
2. Dango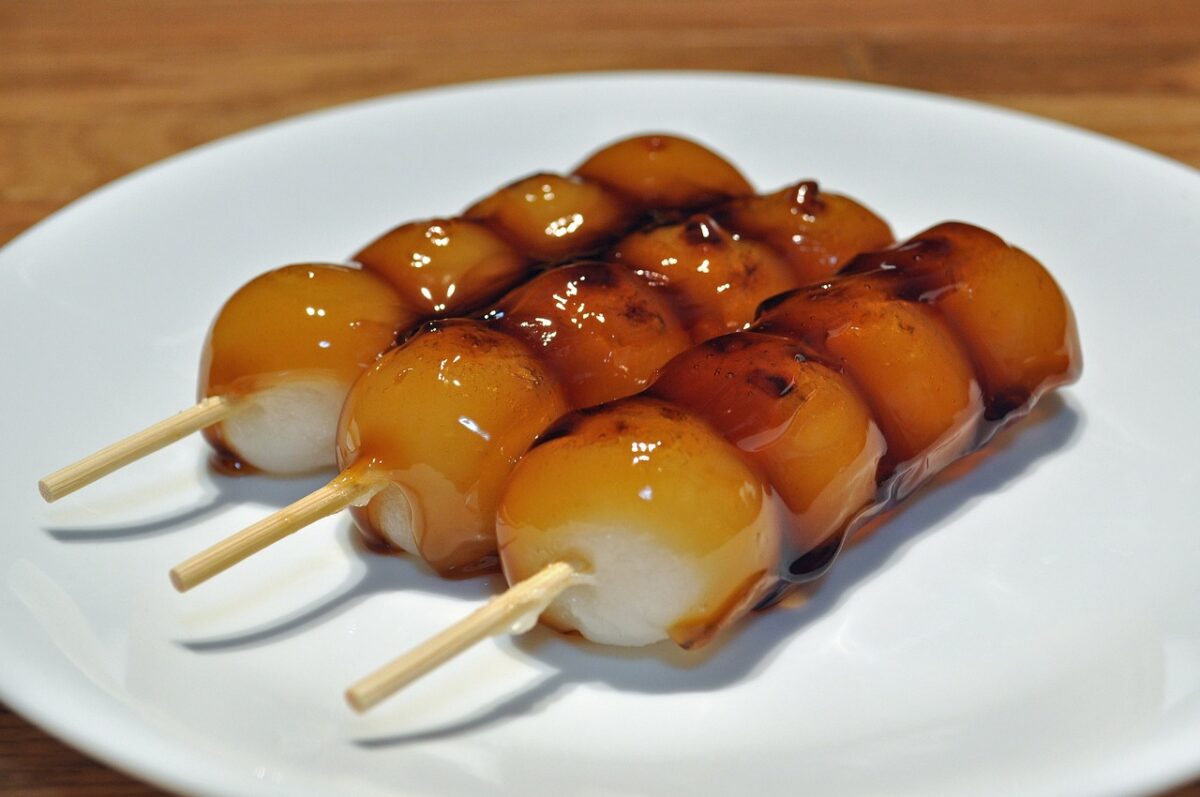 Have you ever seen that emoji with the pink, white, and green balls on a stick? That's dango. It's a type of wagashi, a traditional Japanese confectionery, that is similar to mochi. Imagine a sweet, chewy dumpling treat that goes perfectly with a cup of refreshing green tea. While most varieties of dango are sweet, some can also be made savory. Such toppings can include salty soy sauce glaze, sweet red bean paste, roasted sesame seeds, and creamy walnut sauce. You don't want to miss out on this tempting treat when you come to Tokyo!
3. Unagi Skewer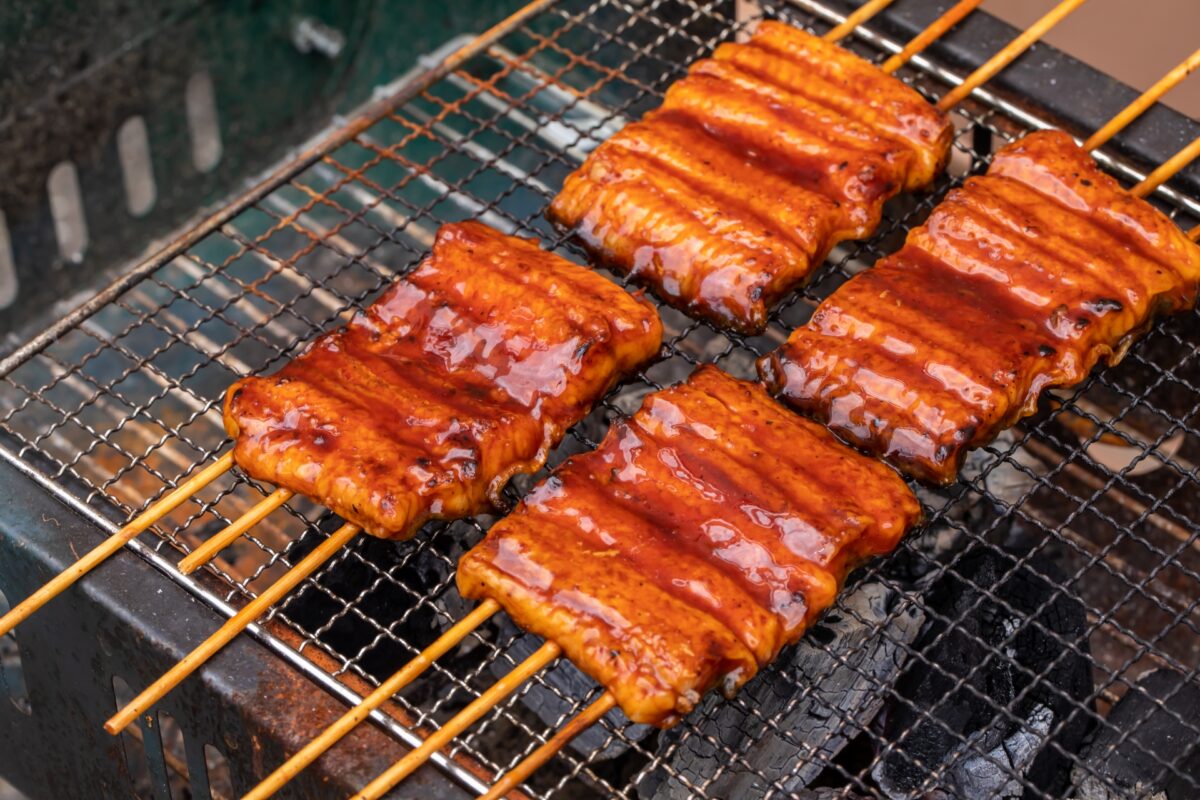 Unagi skewers can be found all throughout Tokyo because of their appealing and savory flavor. This street food, prepared in kabayaki style, is a filet of eel typically marinated in a sweet and salty sauce called "tare" which is then grilled right in front of you. As eel is known to have health benefits, this has become a very popular snack in Tokyo. Celebrate Doyo no Ushi no Hi (eel day) on July 30th this year by trying some succulent unagi skewers.
4. Menchi Katsu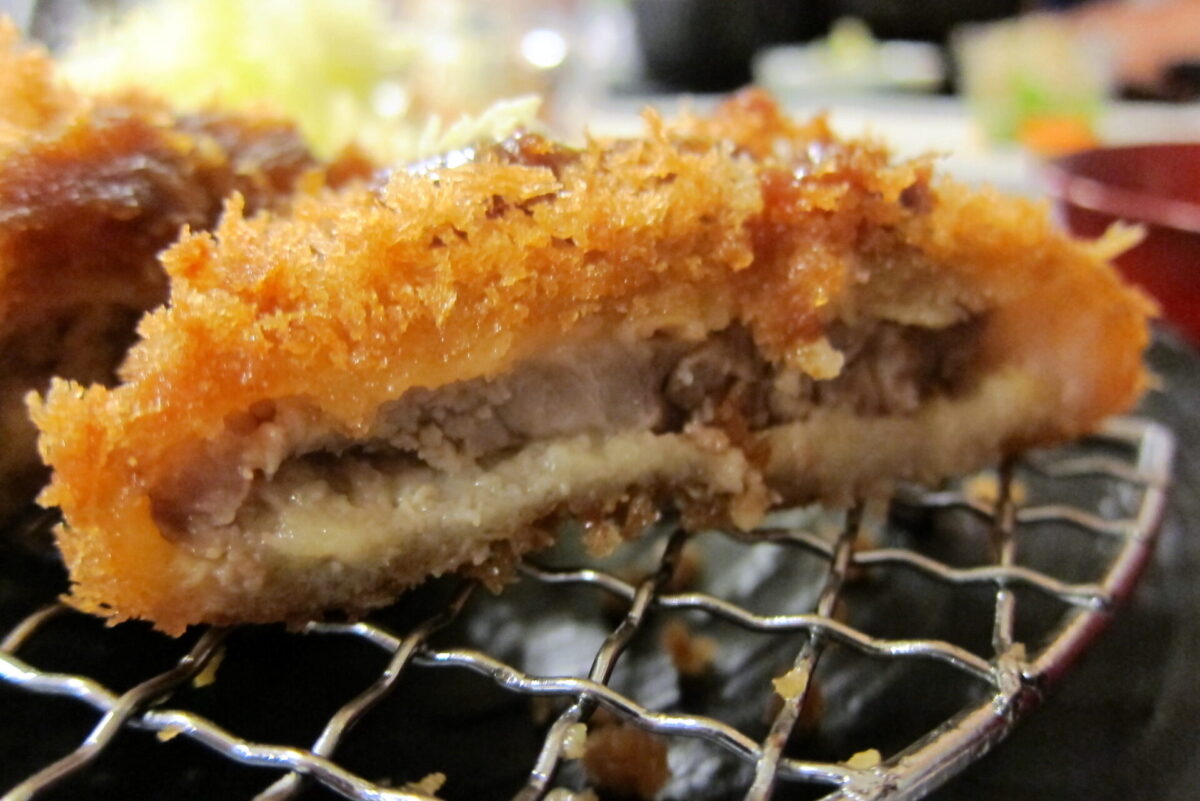 Menchi katsu, originating in Tokyo over 100 years ago, is a dish made of minced beef or pork that is breaded with panko crumbs and deep-fried until golden. This tasty snack can also be found in Tsukiji and has become a favorite part of our Tokyo Fish Market Tour. While pork and beef are the most popular styles of this savory treat, some other fillings include cheese, chicken, and miso. If this sounds like your kind of treat, come try our favorite menchi katsu at the Tsukiji Market!
5. Ichigo Daifuku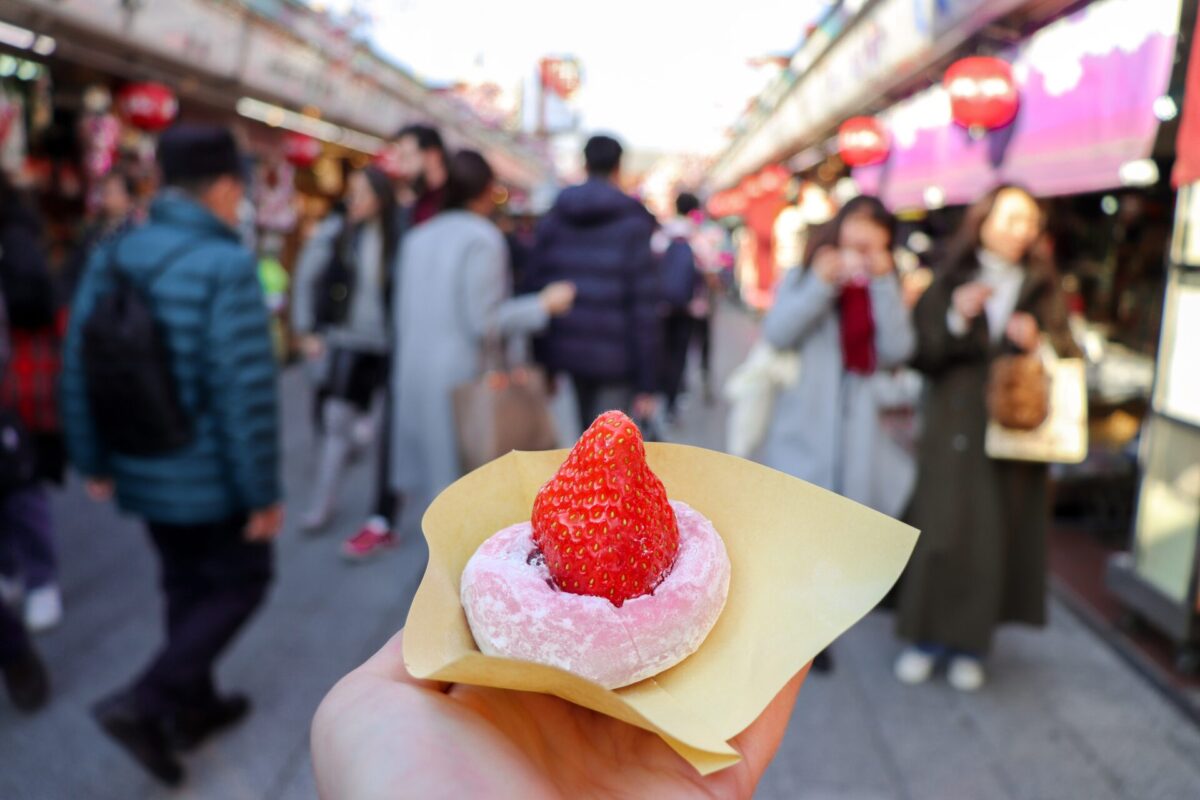 Ichigo daifuku, a popular wagashi, is a dessert you don't want to miss if you love mochi. As you might guess, ichigo daifuku is a strawberry-flavored mochi treat that is stuffed with red bean paste and topped with a juicy strawberry; although this is the most common type, other variations such as matcha, sweet potato, and custard cream can also be found. Since daifuku literally means good luck, why not test yours by tasting this delectable sugary street food in Tokyo?
6. Okonomiyaki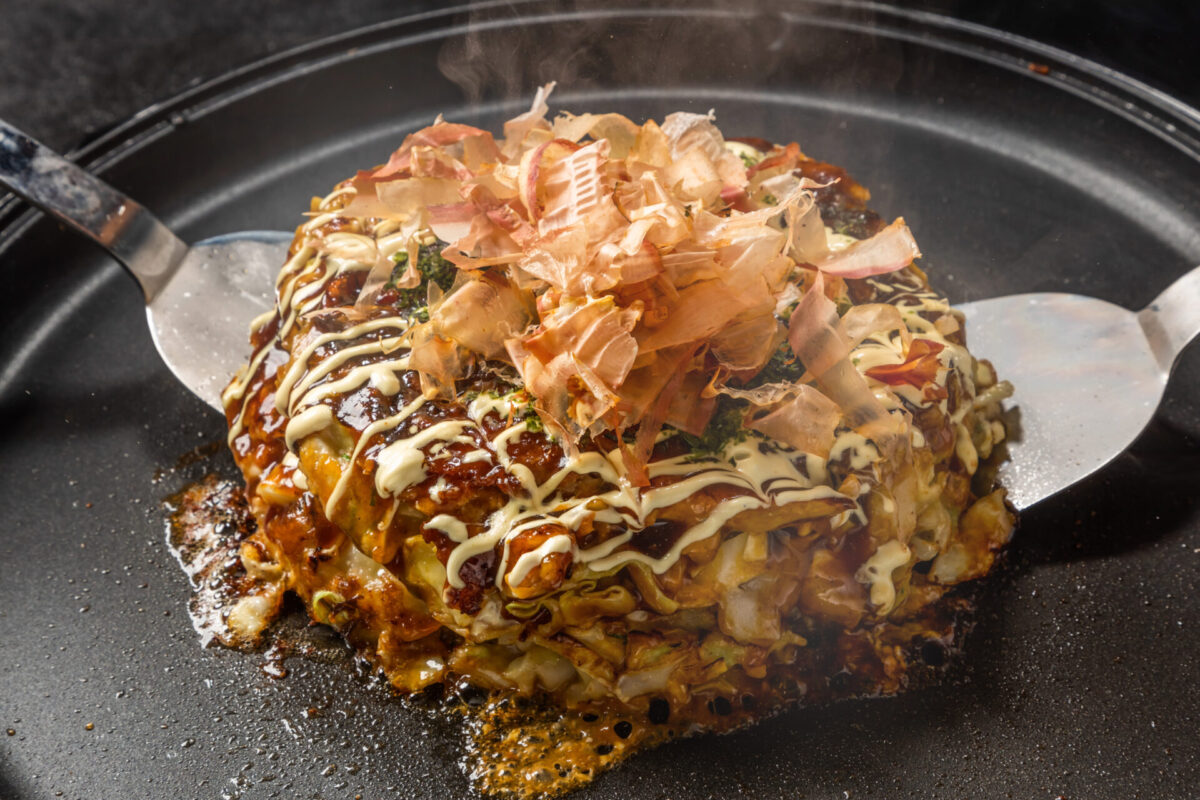 Okonomiyaki originated in Osaka, the food capital of Japan, and has spread all over the nation due to its captivating flavors. Filled with fresh green cabbage and your protein of choice, this omelette/pancake style dish can suit most people's pallets, as it is customizable to your preferences. Top it off with Japanese mayonnaise, bonito flakes, dried seaweed, and pickled ginger and you have the ideal mid-day snack to energize your travels around Tokyo.
7. Kakigori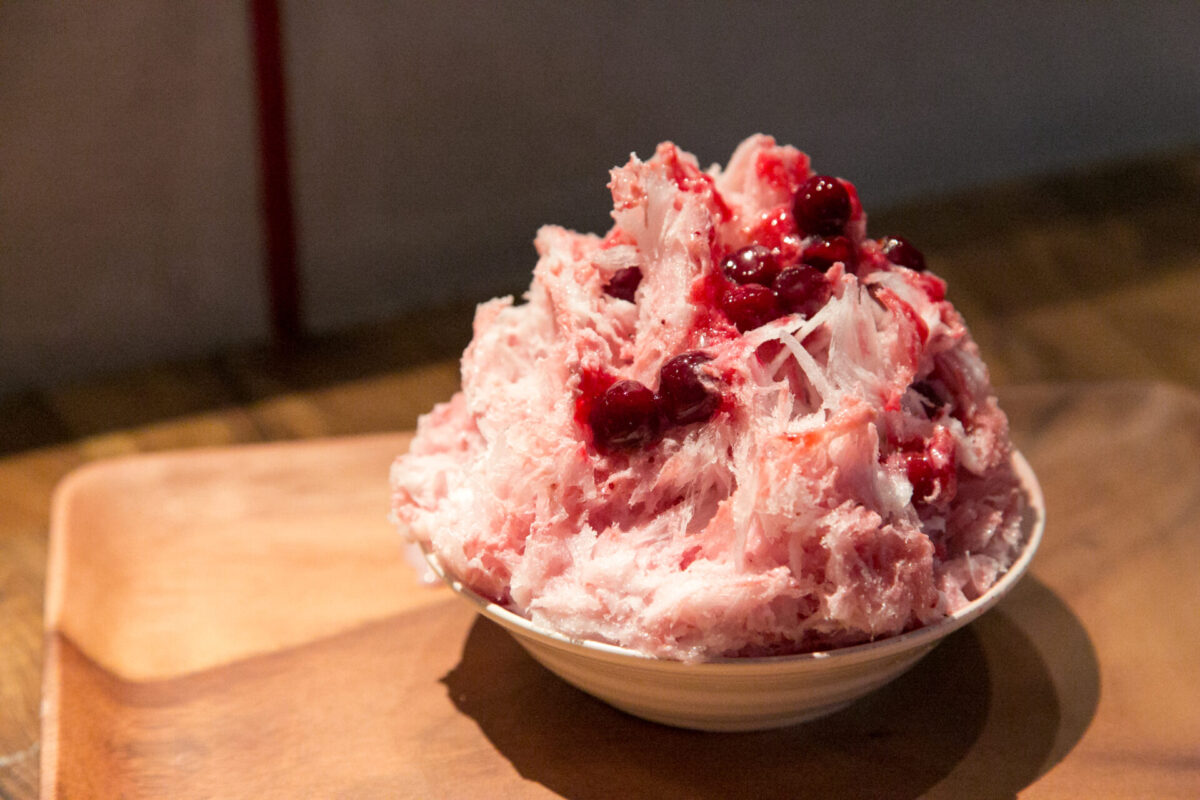 With summer approaching, the temperature is rising quickly in Japan. Stay cool under the hot sun with this refreshing treat that will soothe your sweet tooth! Kakigori is made with shaved ice, rich creamy sauces, sugary syrups, fresh juicy fruits, and even jellies or candies. Try varieties such as rich matcha and sweet red bean, strawberries and cream, or creamy milk tea. As you venture around Tokyo's bustling city streets, be sure to make a pit stop to pick up some flavorful and creative kakigori treats.
8. Maguroyaki
Have you ever heard of taiyaki? Well, maguroyaki is a very similar pancake-style dessert. While taiyaki resembles a sea bream fish, maguroyaki instead favors a tuna fish. Maguroyaki, like taiyaki, is typically filled with either red bean paste or custard. As the Tsukiji fish market was the original home to the largest tuna auction in the world, the maguroyaki dessert was made as an homage to this special experience. So, when you visit the Tsukiji Market, stop and grab this unique snack!
9. Takoyaki
Although the name sounds very similar to taiyaki, this delectable treat is not a dessert. Not only is Takoyaki delicious but it's also fun to watch the cooking process. Watch as each ball of crispy goodness is turned to grill every side of the pancake-like ball to perfection and then garnished with mayo, green onions, pickled ginger, and tempura. Do you think you could handle cooking around 35 of these diced octopus-stuffed snacks at once? Thankfully, we have the many Takoyaki experts of Tokyo to turn to for a craving of one of these mouth-watering delicacies.
10. Kushikatsu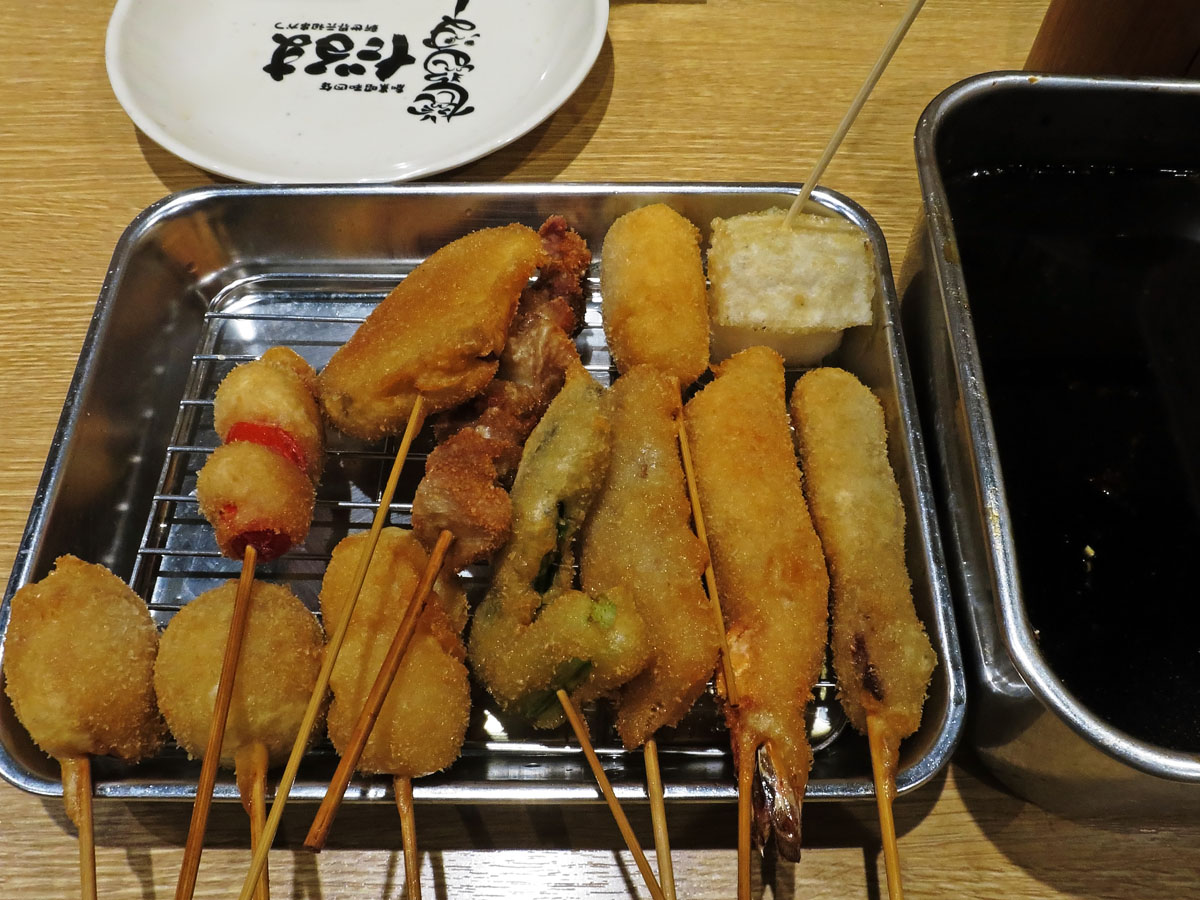 Kushikatsu is a battered and deep-fried street food that is similar to tempura. The main difference between the two is that the batter for kushikatsu contains breadcrumbs, giving the dish a lighter crispier texture. These treats are typically made with flavorful meats such as shrimp, pork, and chicken or fresh vegetables including sweet potato, mushroom, and green peppers. They also can be served with a savory sauce for dipping. Since these fried delicacies are served on a skewer, it is easy to snack on while exploring the city. Try these out on your next visit to Tokyo!
Best Street Food Tour in Tokyo
Are you looking to try some of the foods from our list above but don't know exactly where to start? Look no further and eat your way through Tsukiji Fish Market on our food tour where you will try a number of the best street foods that Tokyo has to offer. Your guide will take you to all of the most delicious shops and you'll even get to see some action behind the scenes! This is a tour you don't want to miss out on.
Tokyo Fish Market Tour @Tsukiji - Enjoy Local Food and Drink
JoinourTsukijiFishMarketTourforanauthentictasteofJapanesecuisineinTokyo.Indulgeinstreetfoodandsavordelicioussushiatalocalrestaurant,allwhilelearningaboutJapanes...
In this article, we discussed the ten best street foods around the vibrant city of Tokyo. After you try our top picks, you can rest assured that you tasted a little bit of everything. Next, you can discover what the best things to do around the city are!
Japan Wonder Travel Food Tours
Japan Wonder Travel is a travel agency that offers guided tours throughout Japan. 
From private walking tours to delicious Food and Drink tours, we can help organize the best tours just for you! If you want to explore Japan and learn more about the history and backstories of each area you are traveling in, our knowledgeable and friendly guides will happily take you to the best spots! 
In addition, we can provide you with any assistance you may need for your upcoming trip to Japan, so please feel free to contact us if you have any questions or need some help!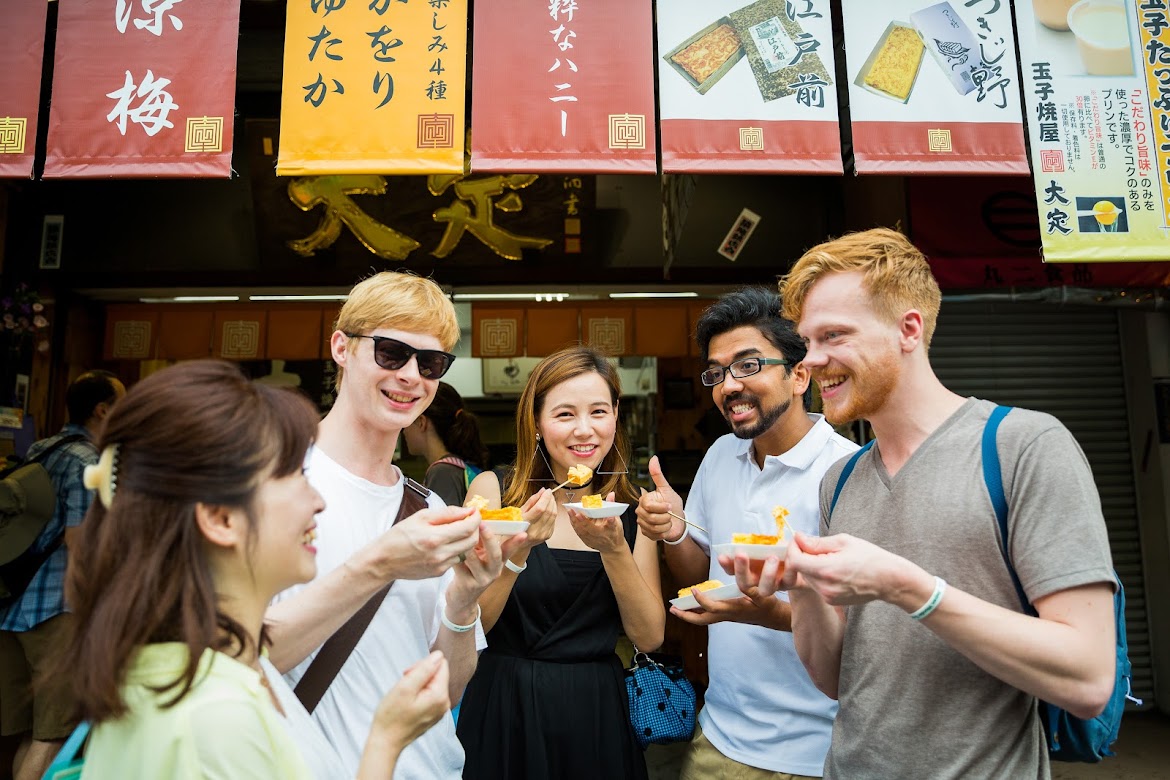 ▶Tokyo Local Street Food and Drink Tour @Sunamachi
This food tour will take you to one of the lesser-known areas of Tokyo, that is Sunamachi Ginza. You will walk through the shop filled street with your guide and be able to try some of the delicious local street foods including tempura, inari sushi, oden, among others!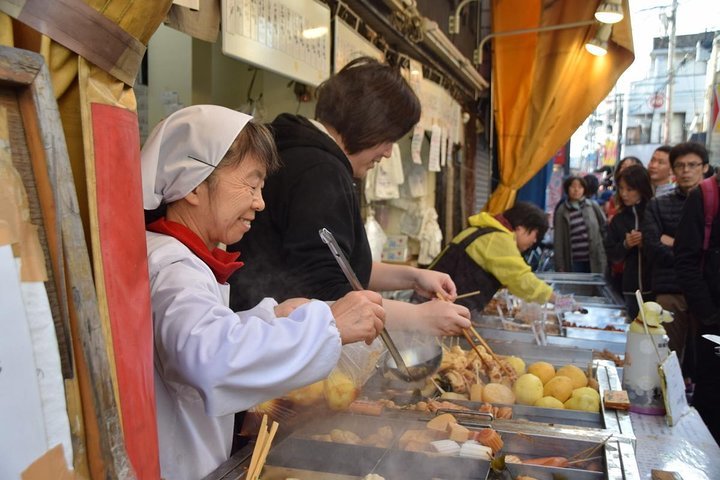 ▶Kyoto Food and Drink Tour @Nishiki Street & Gion
If you're looking to learn more about the culture and the local cuisine of Kyoto, this is the perfect tour for you! Take part in this Kyoto food and drink tour and explore the 400-year-old market and the famous Gion district.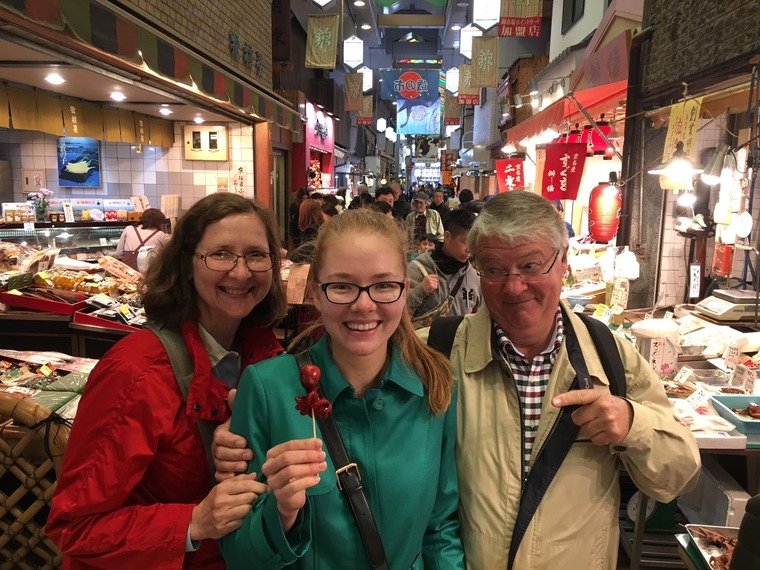 Follow us on Instagram, Facebook, Twitter, and TikTok for more travel inspiration. Or tag us to get featured!
Happy traveling!
Stay informed of the best travel tips to Japan, the most exciting things to do and see, and the top experiences to have with the Japan Wonder Travel Newsletter. Once every two weeks we will introduce you to our latest content.
Other articles you might enjoy