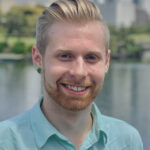 Writer's Profile
Bryce was born in California, and raised near Seattle, Washington! He's been living in Japan for about 5 years now, the first 3 spent studying at Temple University Japan. His main passion in life is writing and producing music, more specifically EDM if anyone is curious! He is very fond of snowboarding, cooking, traveling, playing video games; all of which he'd ideally enjoy with the company of his great friends.
This post may contain some affiliate links. When you click through and make a purchase we may receive some commission, at no extra cost to you.
Welcome to Fukuoka, the capital city of Fukuoka Prefecture located in the north of the Kyushu region of Japan. Known for its laid-back atmosphere, delicious street food, historical temples, and shrines, Fukuoka is a must-visit destination when exploring Japan. Kyushu in general is an absolutely amazing place, and if Fukuoka interests you, check out the other prefectures like Kagoshima and Miyazaki! If you're a foodie, then you should know that Fukuoka, maybe Hakata in specific, is very well known for Ramen and Gyoza. Ramen is a popular dish throughout Japan and you can find excellent quality noodles almost anywhere, but by nature, it is always unique, so it's a great idea to see all the variations; so much goes into it!. Fukuoka is one of Japan's major cities, but its laid-back atmosphere can be very nice in comparison to some other major cities, like the ever-bustling Tokyo! Here is a two-day itinerary to help you make the most out of your trip to Fukuoka.
▼Check out our Fukuoka 1-Day Highlights tour!
Fukuoka 1–Day Highlight Private Walking Tour (Customizable, 7 Hours)
FukuokaislocatedonthewesternsideofJapanandistheentrancegateofKyusyuisland.Itisfamousfordeliciousfood(themostpopularonebeingitsRamen!).Thisareahasalongandrichhis...
How to get to Fukuoka
Due to the fact that Fukuoka is way down in the southern island of Kyushu, it isn't exactly just a quick train ride away like some other cities. However it's still pretty easy to get down to. If you're coming from Tokyo, you have a few options. The quickest way down there is to fly, and you can find pretty cheap round trip flights if you book far enough in advance. You can also take the Tokaido/Sanyo Shinkansen(bullet train) all the way down there, but it will take you about 5 hours total. There is also the cheaper option of taking a bus down there, but as you can imagine, it takes quite a while and may be a bit of a waste of your precious time here in Japan.
Day 1: Tenjin, History, and Street Food
Explore Tenjin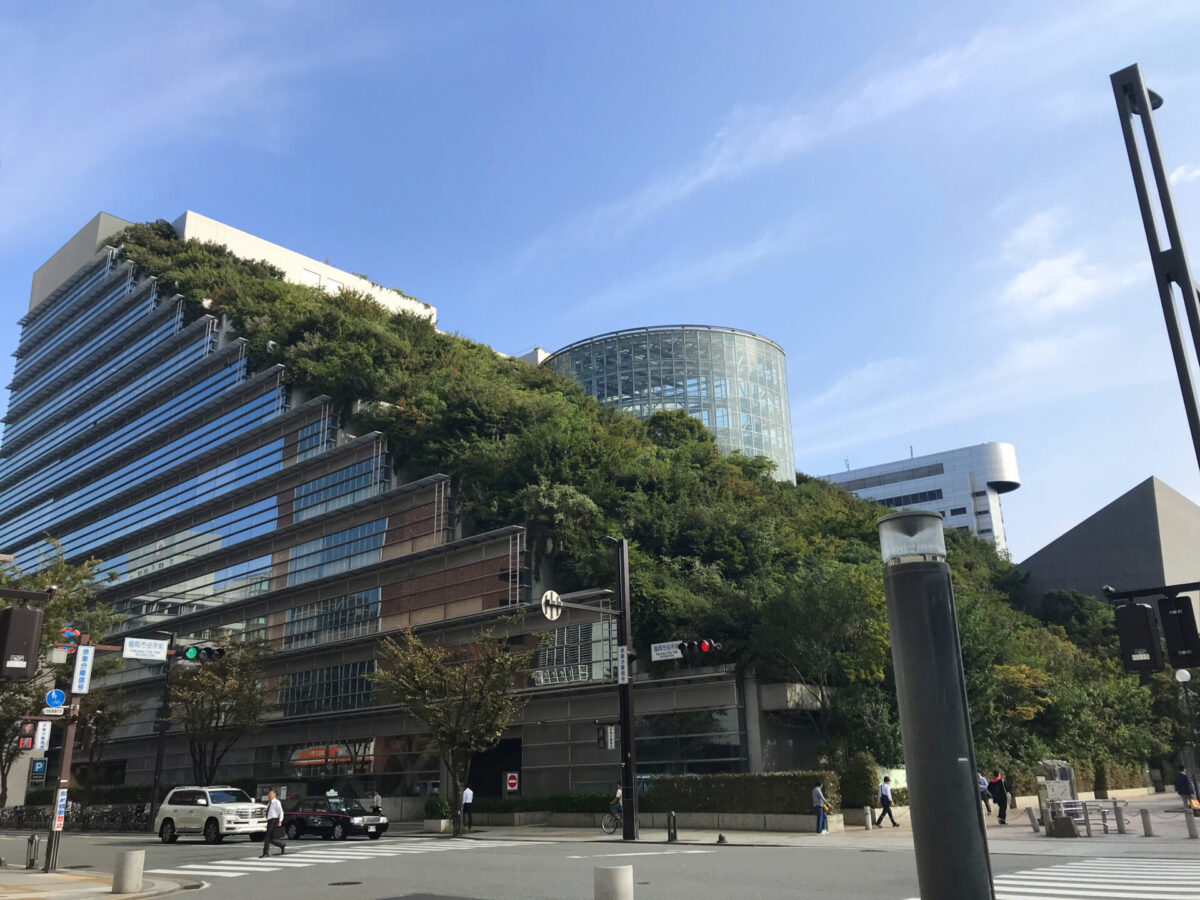 After arriving in Fukuoka, head over to Tenjin, the city's main shopping district. With a plethora of shopping malls, department stores, and local boutiques, you'll find everything from the latest fashion trends to traditional Japanese souvenirs. Tenjin is also considered to be the fashion capital of Kyushu as well as a gourmet city. Another impressive feature is its extensive underground shopping area called Tenjin Chikagai, a European style road with 150 shops! Take a stroll around the area and discover the hidden gems of Fukuoka's unique culture.
Tochoji Temple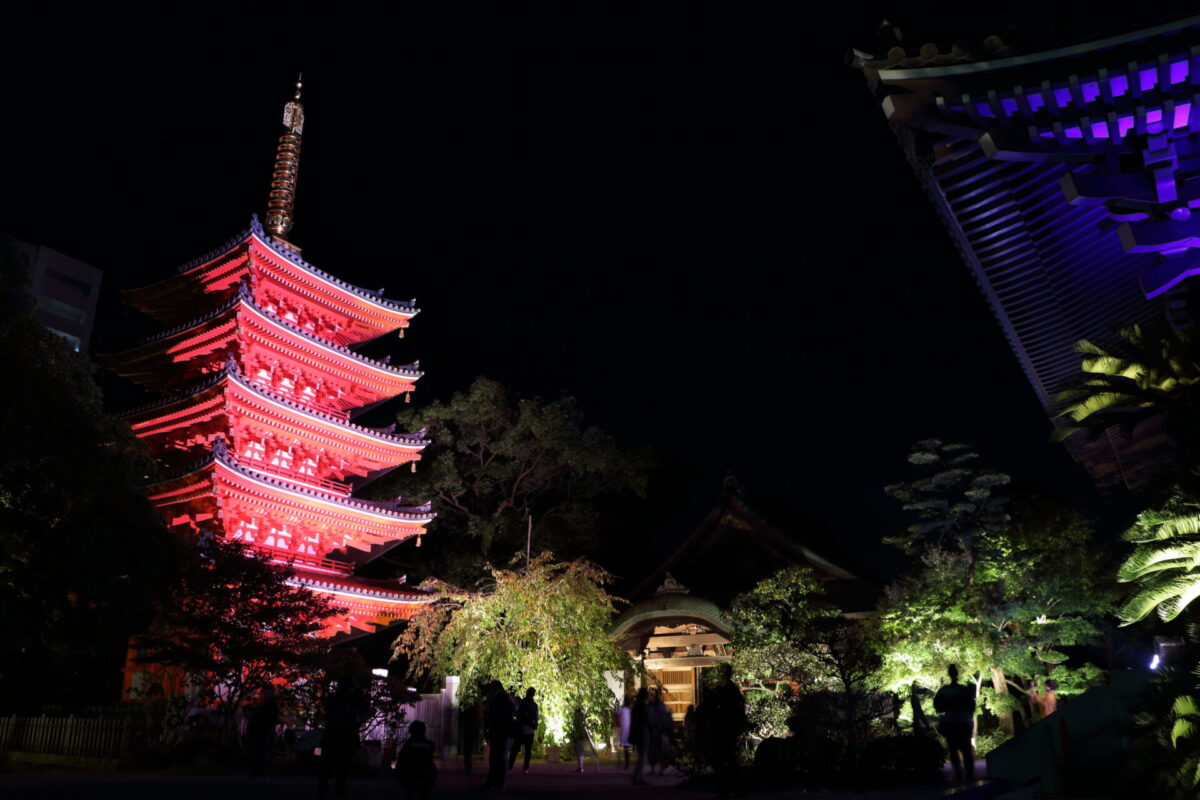 Once you've had your fill of shopping, make your way over to Tochoji Temple, one of the city's most iconic landmarks. It's one of Japan's oldest temples and was set up by the famous monk Kobo-Daishi, also known as Kukai. If you're interested in Shingon Buddhism, be sure to check it out. Here, you can marvel at the stunning five-story pagoda and get up close and personal with the largest seated wooden Buddha statue in Japan. If you're a fan of Pagodas, be sure to check out this list of them we've created; there are some spectacular ones throughout Japan! Take a moment to enjoy the peaceful atmosphere and soak in the beauty of this historical temple.
Kushida Shrine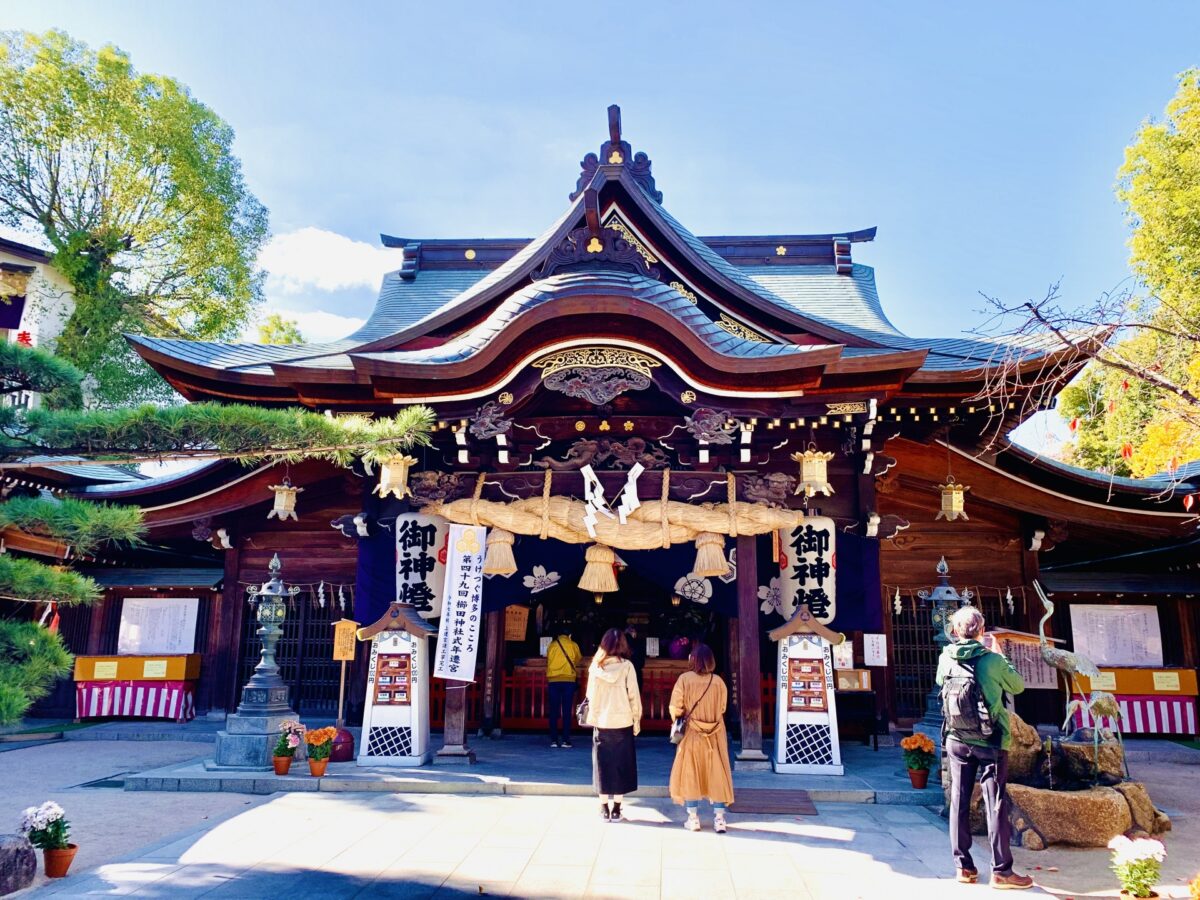 Next up, head over to Kushida Shrine, a Shinto shrine located in the heart of Fukuoka. For any of you who are fascinated with Japanese lore or mythology, this shrine is dedicated to the gods of Ohatanushi No Mikoto, Amaterasu Omikami, and Susanowo No Mikoto. As you explore the shrine's grounds, you'll come across beautiful traditional architecture, serene gardens, and cultural artifacts. Be sure to check out the beautiful floats that are used in the famous Yamakasa festival, which takes place every July.
Eat along Nakasu River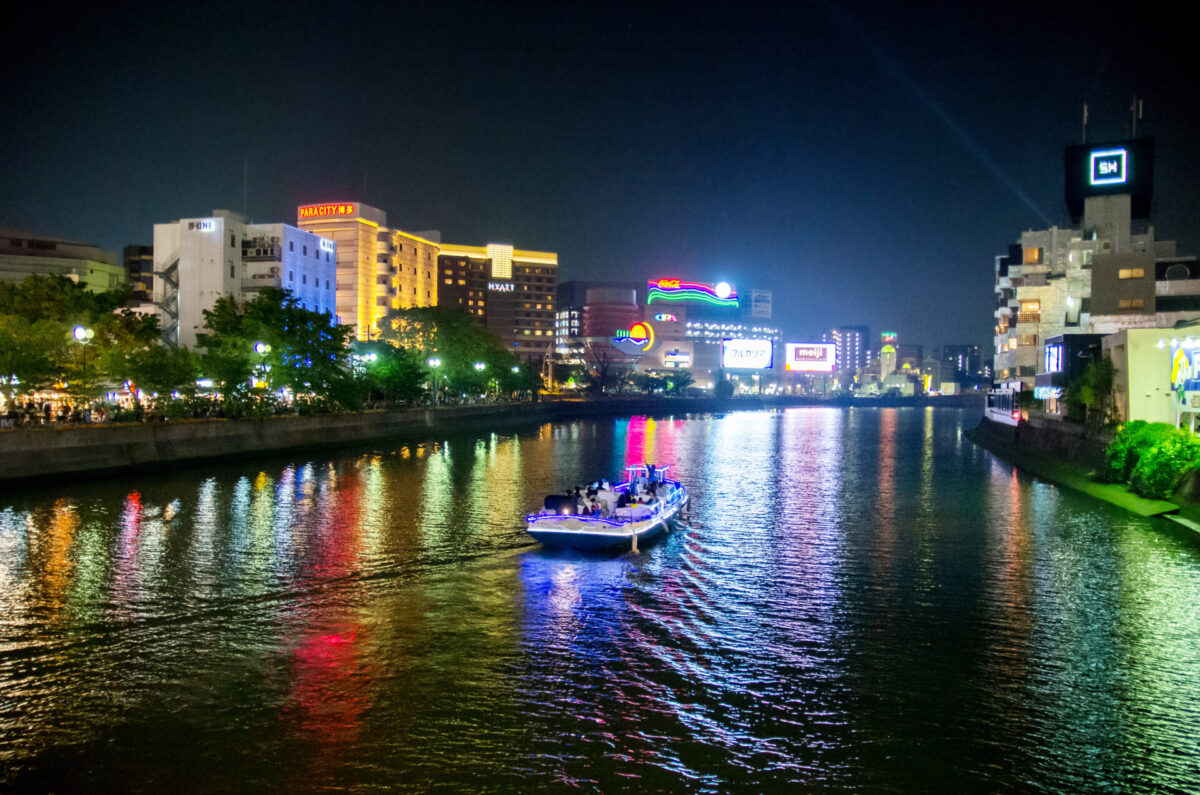 As the day turns into night, head over to Nakasu River, where you'll find rows of colorful food stalls called Yatai. Here, you can indulge in Fukuoka's famous street food such as Hakata ramen, Yakitori, and Oden. Enjoy your meal while taking in the breathtaking views of the Nakasu River, a perfect way to end your first day in Fukuoka. If youre really feeling the river vibe, there is even a boat cruise you can take in the evening to experience not only the Nakasu river but a variety of other places, like Canal City, which we'll talk more about later.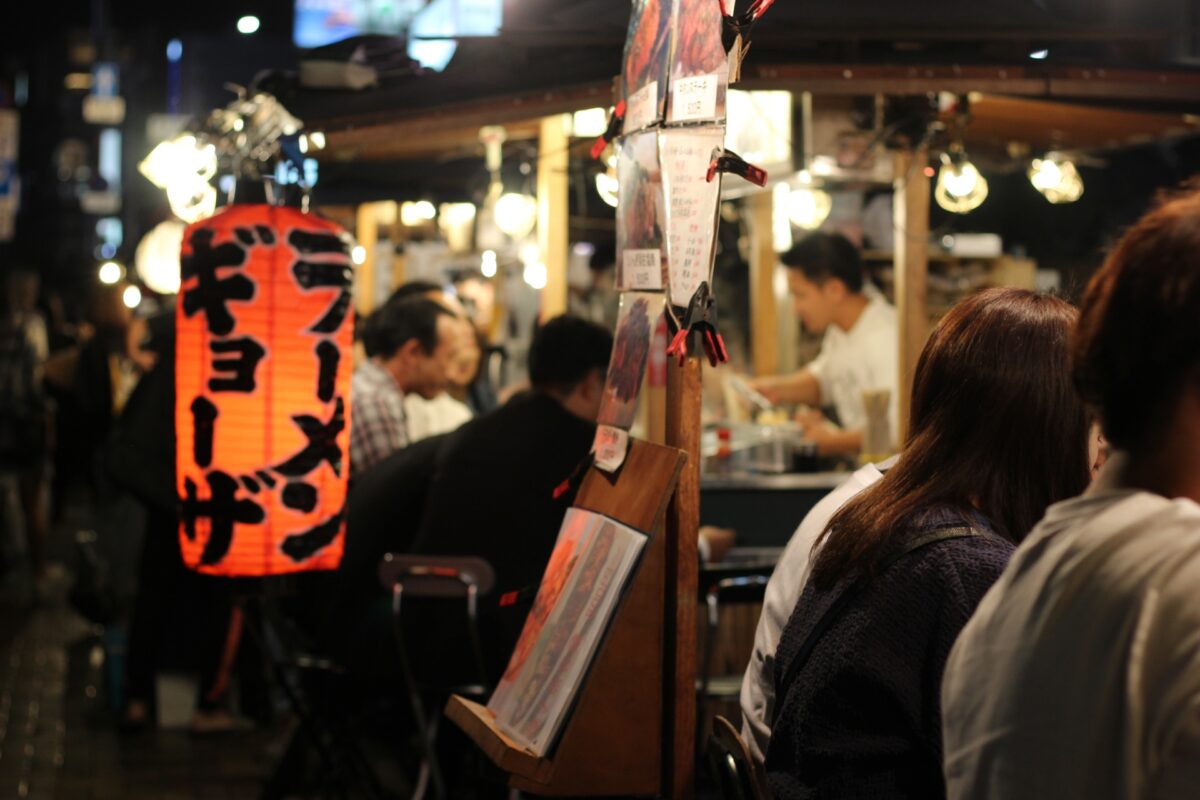 Day 2: Sky-high views, A Beautiful Shrine, and Shopping
Fukuoka Tower or Ohori Park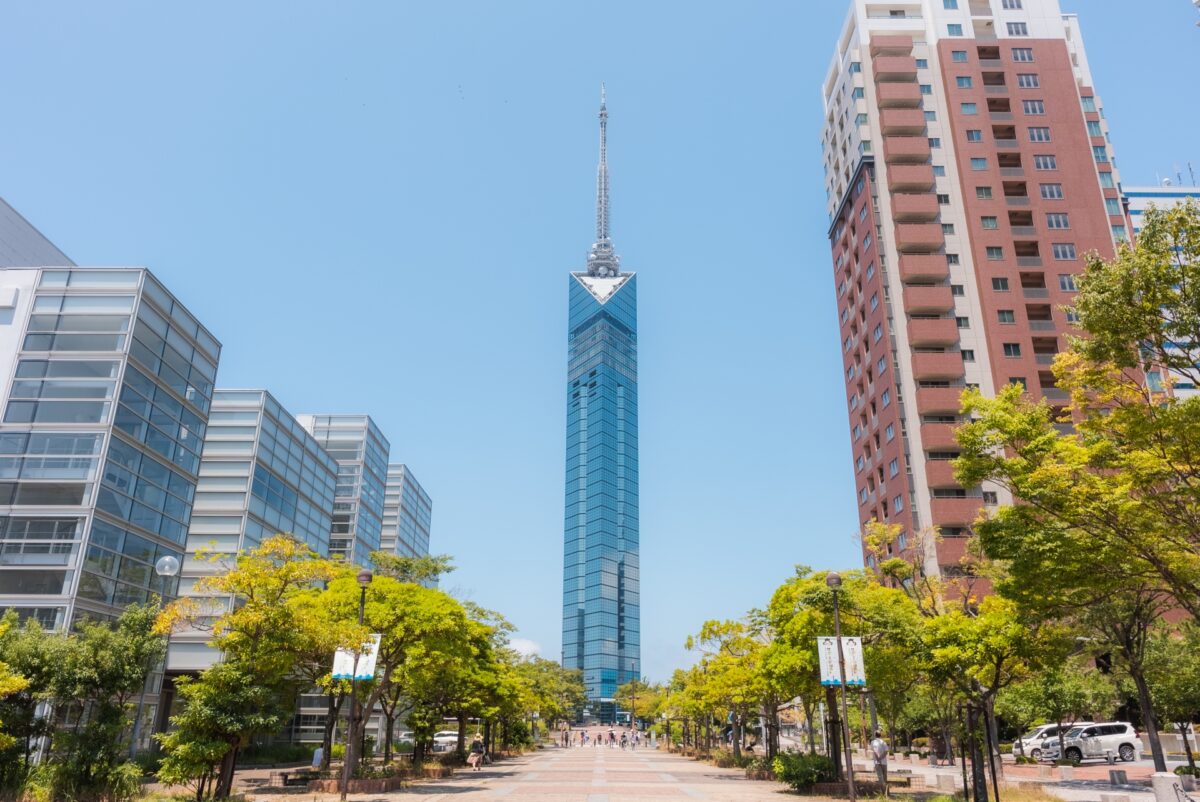 Start your day with a visit to either Fukuoka Tower or Ohori Park. Fukuoka Tower, standing at 234 meters tall, is the tallest seaside tower in Japan. Take the elevator to the top for a 360 degree panoramic view of the city and the sea. The tower is also nicknamed the "Mirror Sale" for its sky-scraper-like appearance due to the multitude of mirrored windows. Alternatively, if you're looking for a more tranquil start to your day, head over to Ohori Park. This beautiful park is a popular spot among locals for morning jogs or peaceful walks. You can also rent a paddleboat and take a leisurely ride around the park's large pond. There is a nearby Japanese garden that's worth checking out too!
Dazaifu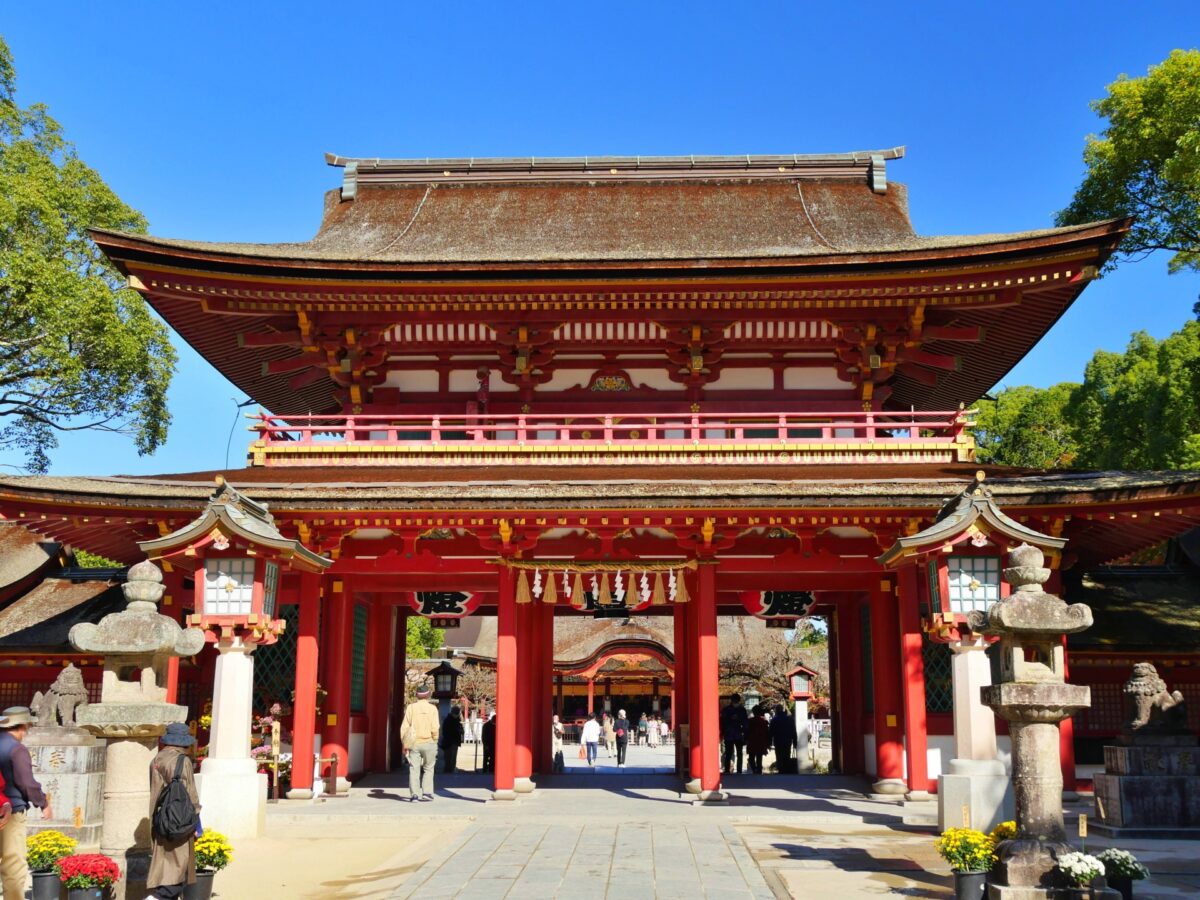 After your morning activity, head over to Dazaifu, a small town located just a short train ride away from Fukuoka. This town is famous for its historical sites, such as Dazaifu Tenmangu Shrine and Kyushu National Museum. Dazaifu Tenmangu Shrine is dedicated to the god of learning and is said to be the birthplace of Japanese mathematics. A memorable part of the shrine are the massive trees sprawling out over the ponds! The Kyushu National Museum houses an impressive collection of artifacts, including pottery, swords, and ancient Japanese texts. There is also a very impressive Starbucks location there that was designed by a famous architect- it's very picturesque.
Canal City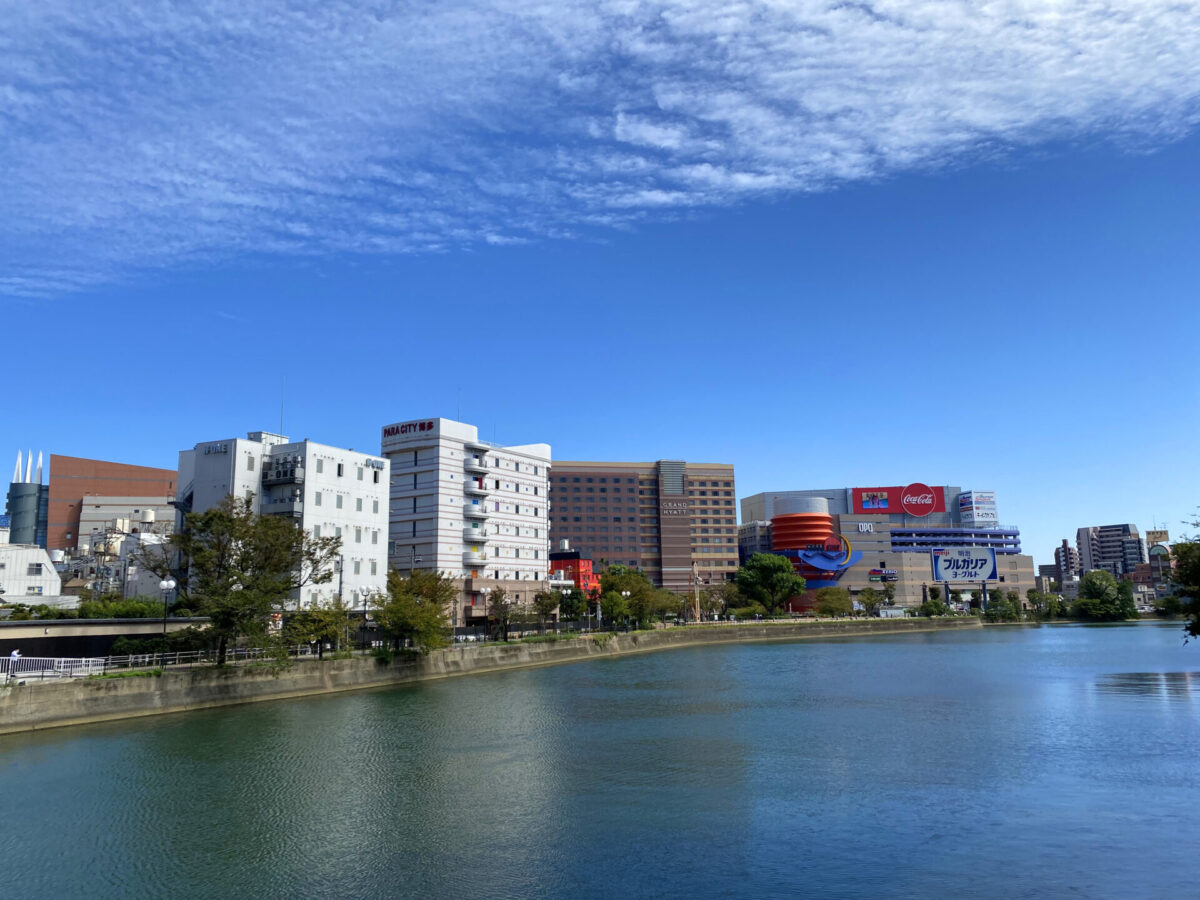 As the day draws to a close, head back to Fukuoka and check out the bustling neighborhood of Hakata. Here, you'll find Canal City, a large shopping and entertainment complex. Canal City features a variety of shops, restaurants, and even a movie theater. If you missed out on ramen before, now is another chance to snag some of the most famous Ramen in Japan! Hakata Issou is a great choice, but be prepared for a long line! There are plenty of lists out there on the internet claiming to know the best Ramen, but take a look and decide for yourself! The complex also has a unique water show that is sure to dazzle you. Take a stroll around the area and immerse yourself in the energy of this lively city.
Leave Fukuoka
And that's a wrap! Your two-day itinerary in Fukuoka has come to an end. There are plenty of things to do around Fukuoka, and if you're there for longer than 2 days be sure to check out the rest of Kyushu, it's incredible. There is also plenty more to do around Fukuoka as well, so be sure to check it all out if you can. Whether you're a foodie, a history buff, or just looking for a new adventure, Fukuoka has something for everyone, especially those who enjoy the city without the crazy crowds. We hope you can create the best plan for your Fukuoka adventure and fully experience the beauty of this charming city.
Recommended Tours in Fukuoka
Fukuoka 1–Day Highlight Private Walking Tour (Customizable, 7 Hours)
FukuokaislocatedonthewesternsideofJapanandistheentrancegateofKyusyuisland.Itisfamousfordeliciousfood(themostpopularonebeingitsRamen!).Thisareahasalongandrichhis...
Follow us on Instagram, Facebook, Twitter, and TikTok for more travel inspiration. Or tag us to get featured!
Happy traveling!
Stay informed of the best travel tips to Japan, the most exciting things to do and see, and the top experiences to have with the Japan Wonder Travel Newsletter. Once every two weeks we will introduce you to our latest content.
Other Articles you Might be Interested in