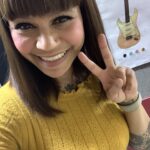 Writer's Profile
Misty Fujii is a Canadian who moved to Osaka, Japan in 2019 and married her Japanese sweetheart. In 2022 they had a baby and moved to Fukui for the clean country air. She is a DJ who teaches English part time and writes in order to share Japan with the world. She gets excited about collecting vintage vinyl records, food of all countries, travelling and renovating her traditional Japanese house.
This post may contain some affiliate links. When you click through and make a purchase we may receive some commission, at no extra cost to you.
What is a festival without food? Every year, Japan celebrates over 20,000 festivals for seasonal, historical, and religious purposes. One common element of these festivals is the presence of a variety of tasty festival foods. There will usually be yatai (food stalls) set up at the festival site, providing an excellent opportunity to try some traditional Japanese snack foods or regional delicacies at low prices. Here are 10 of the best and most common festival foods, which are enjoyed by locals and visitors alike.
1. Takoyaki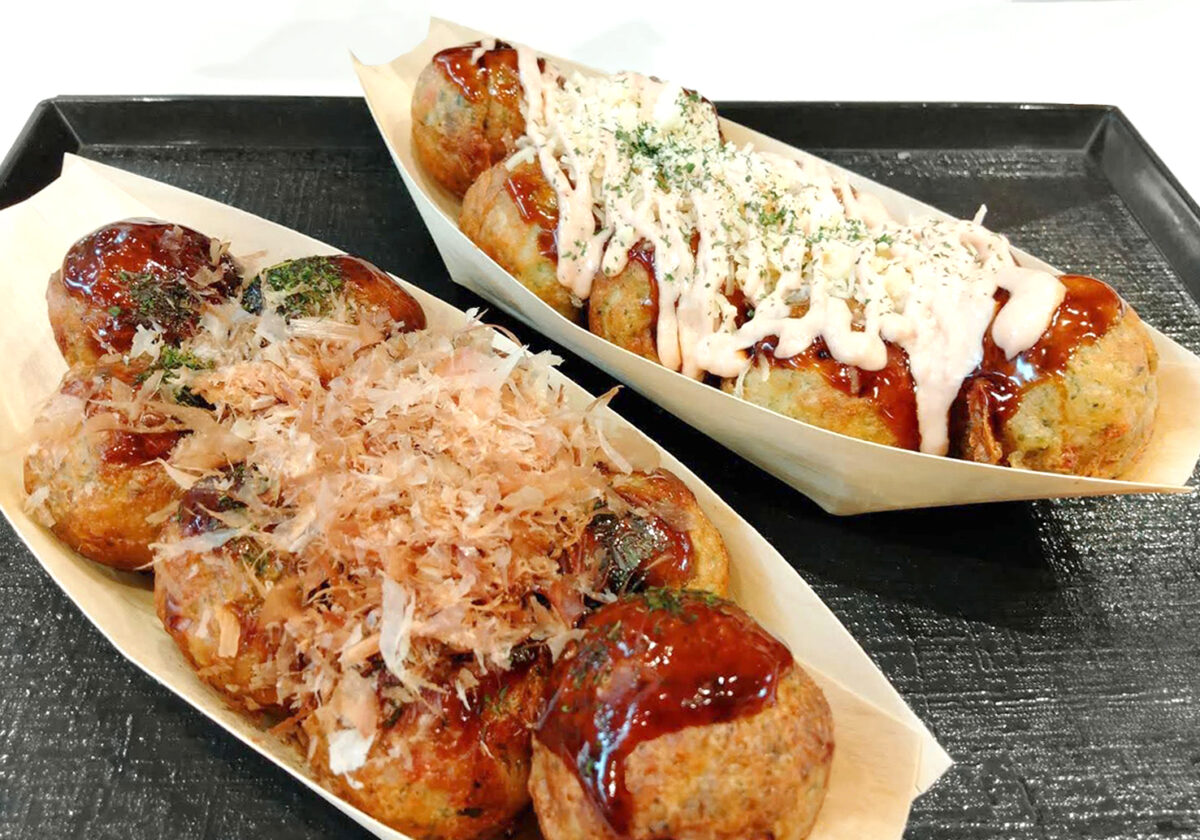 A quintessential Japanese fast food – takoyaki – is not only one of the country's most famous street foods, but also a festival favorite. So, what is it exactly? Crispy on the outside, soft and gooey on the inside, takoyaki are ball-shaped treats made from a batter containing dashi, and stuffed with small pieces of succulent octopus (tako). They're best eaten piping hot and slathered with takoyaki sauce, mayonnaise, seaweed, and katsuobushi (bonito flakes).
2. Yakitori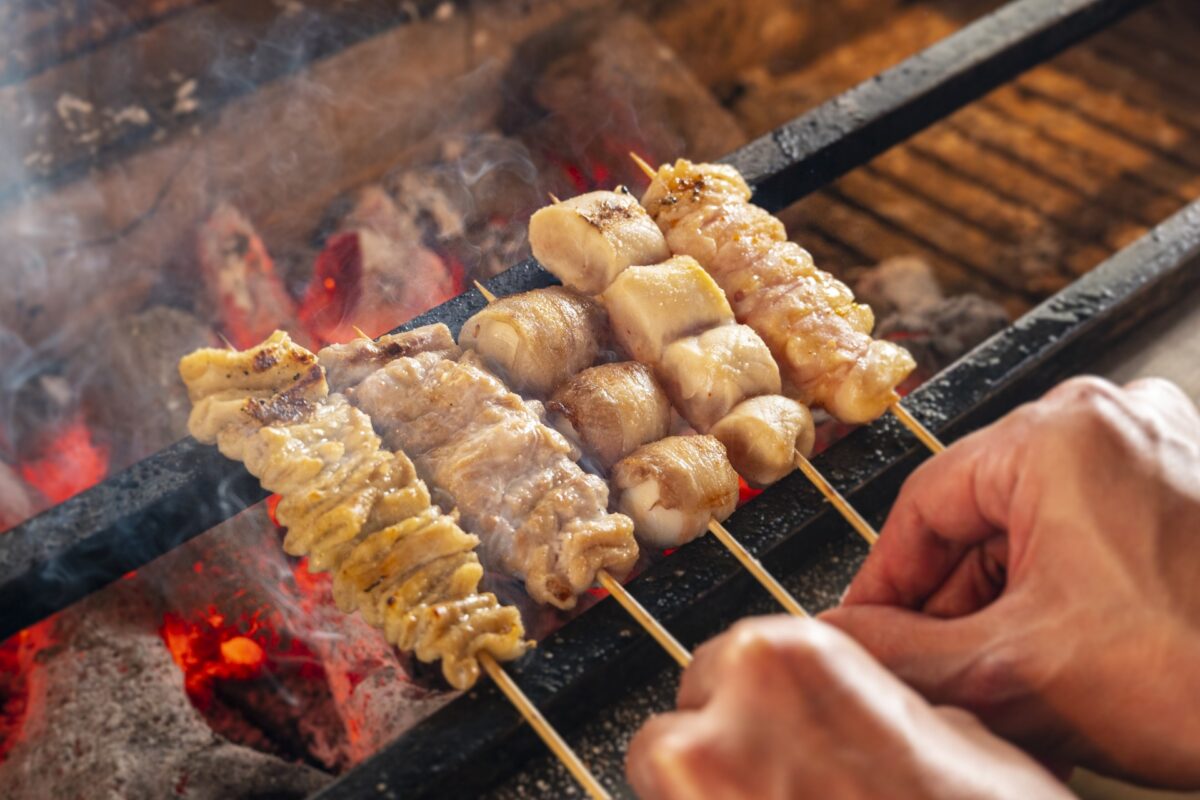 Yakitori is the perfect festival food: cheap, tasty, and easy to eat while on the move. Skewers of tender chicken are grilled over a charcoal fire and served up hot. They pair well with beer (and also with non-alcoholic drinks) and are easy to eat because they only require one hand to hold the skewer, which leaves one hand available for holding said beer. The chicken is usually seasoned with either salt (shio) or a savory-sweet sauce (tare). Yakitori is a much-loved Japanese staple – and once you have some, you'll quickly see why.
3. Okonomiyaki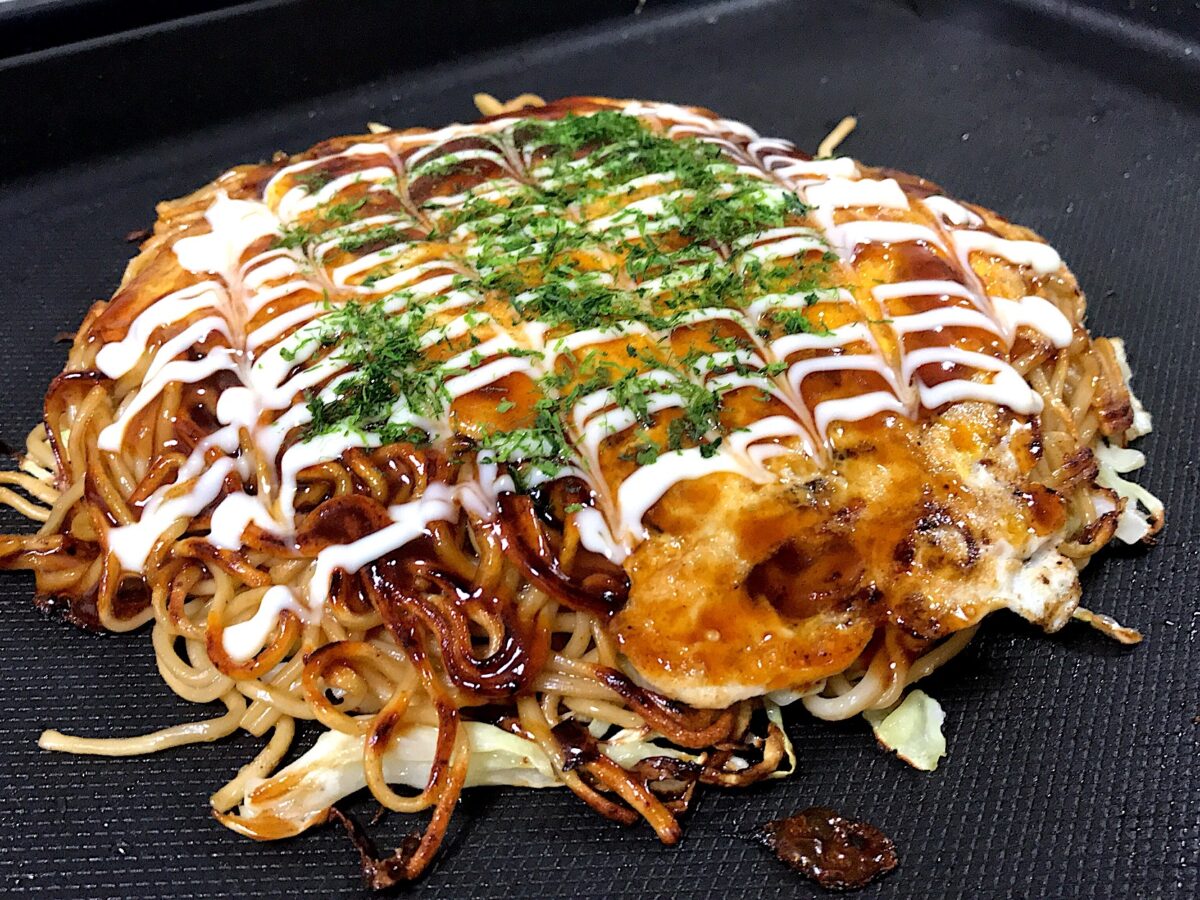 Another Japanese specialty, okonomiyaki, is absolutely delicious. It's Japan's take on a savory pancake and is full of complex flavors and textures. It's also surprisingly healthy despite being considered a fast food. It consists of a wheat flour batter mixed with other ingredients such as cabbage, egg, meat, and seafood, then baked and topped with okonomiyaki sauce, mayonnaise, seaweed, pickled ginger, and katsuobushi. When this dish is served hot, the paperthin fish flakes will sway back and forth as if they were dancing, making for quite a unique topping.
4. Wata-ame (cotton candy)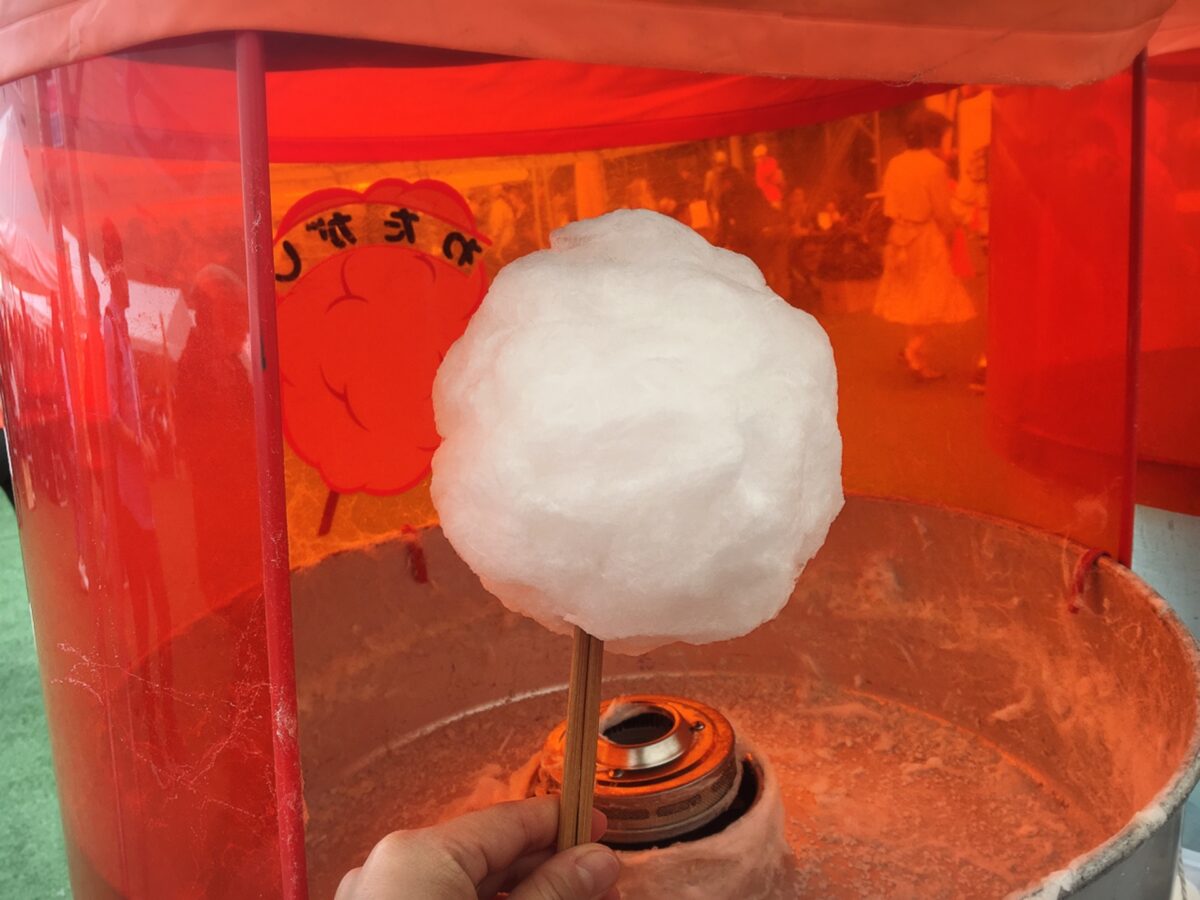 Here's a festival treat that transcends cultures – cotton candy! Known in Japan as wata-ame, this colorful, fluffy candy is very popular with kids. At festivals, it's mainly found in clear plastic bags decorated with anime characters, but you may also see it being made on the spot and served in Insta-worthy shapes like flowers or rainbows. The sweet wata-ame will melt in your mouth and leave you with a sugar rush.
5. Kakigori (shaved ice)
The best Japanese summer refreshment is without a doubt kakigori. Similar to a snow cone, this treat is served in cups. Made of shaved ice and sweetened with condensed milk and fruity syrup, it's just the thing to cool down with in the summer heat. Believe it or not, this tasty dessert goes back to the 11th century when it was sweetened with sap from plants. Today you'll find it topped with flavors like strawberry, mango, blue Hawaiian, melon, and many more. Kakigori is popular with children and adults alike and goes hand in hand with fireworks, festivals and yukata-wearing.
6. Taiyaki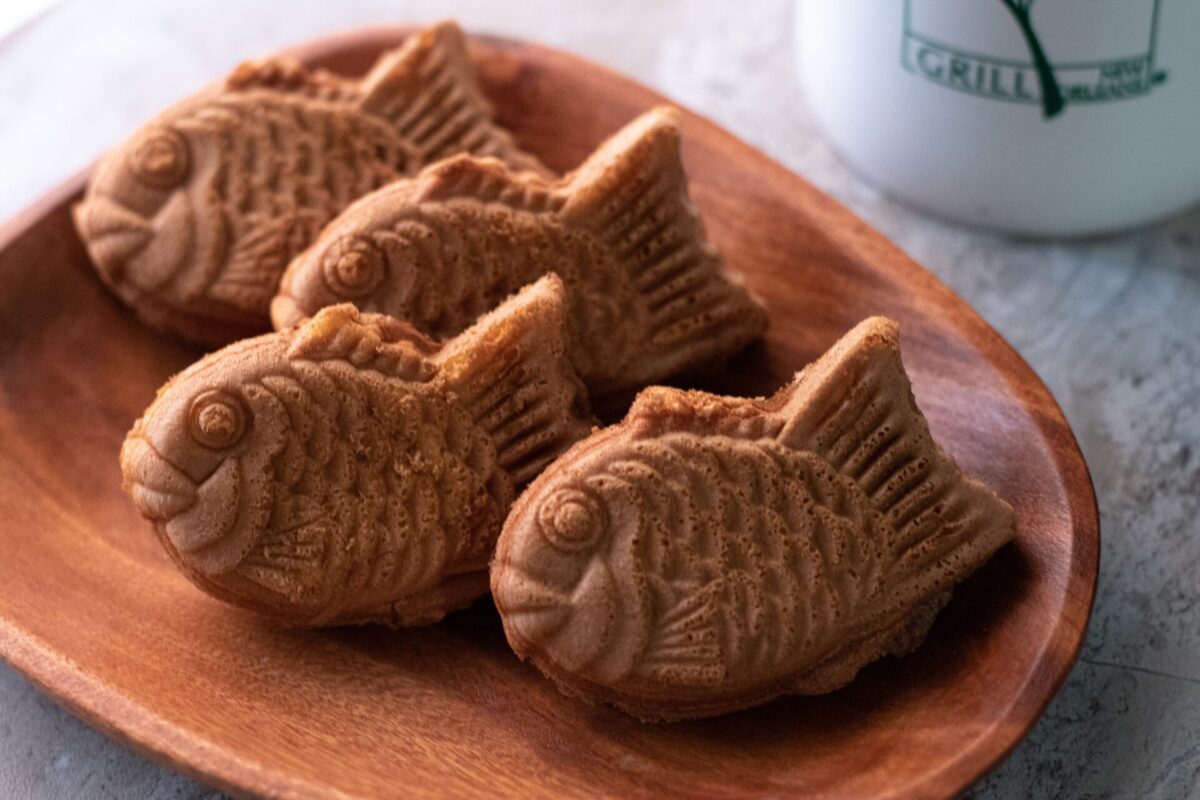 You may have already spotted this sweet, waffle-like snack served in the shape of fish. Named after the tai fish(sea bream) it resembles, taiyaki do not taste like fish at all! The outer layer is made with pancake or waffle batter and has a subtle hint of vanilla. The inside has a delectable filling, the most popular being sweet azuki (red bean) paste. You'll also find ones with other flavors, like custard, chocolate, matcha, and cheese. It's said that eating taiyaki brings good luck, making it a popular festival snack, but regardless if that's true or not, taiyaki sure is delicious!
7. Yakisoba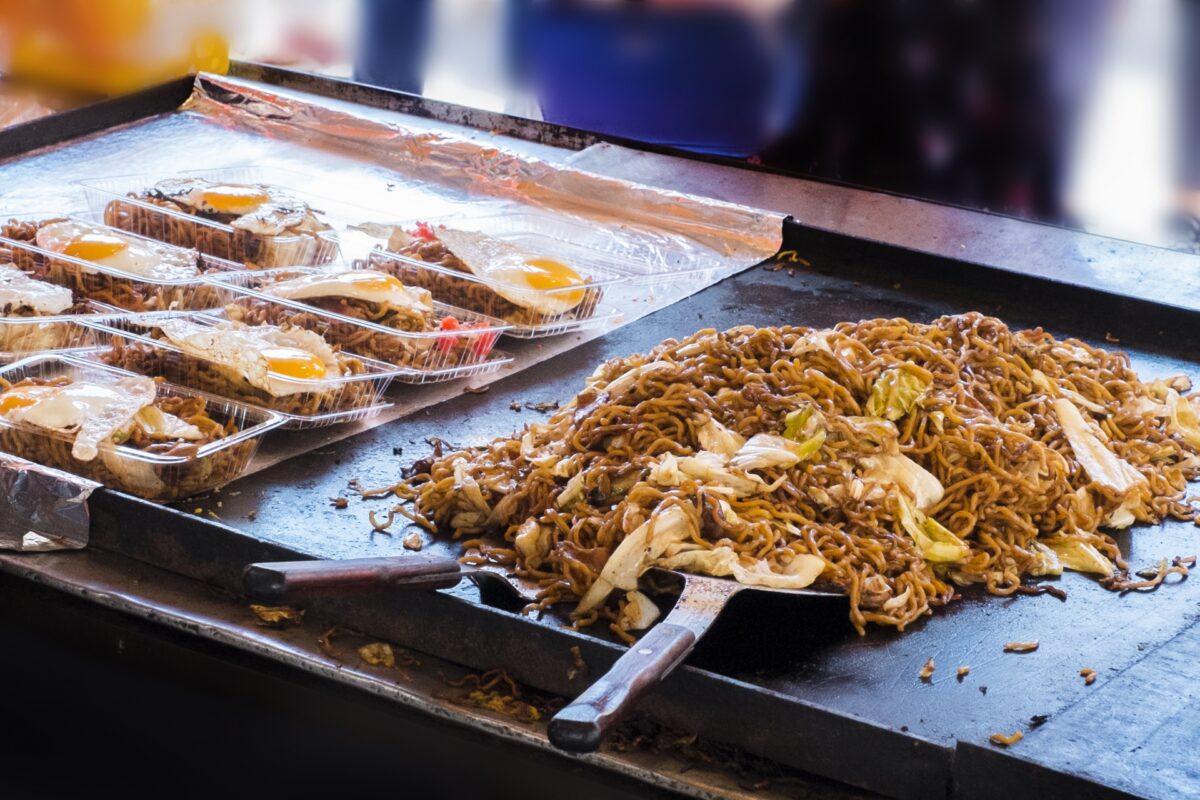 You'll be able to smell the tempting aroma of yakisoba before you even see it. Noodles cooked on an iron griddle are the main ingredient in this dish, but despite the name, the noodles used are actually not soba noodles. Instead, you'll find Chinese-style noodles fried and flavored with a tangy, savory sauce. This classic festival food contains ingredients such as pork, cabbage, and other veggies like carrots, onions, bean sprouts, and peppers. You may even find regional-specific versions. For example, Osaka's take on the dish is called modanyaki, which is basically yakisoba crossed with okonomiyaki, and in Hiroshima you'll find that they layer the ingredients. No matter which version you come across, make sure you try it when you see it!
8. Karaage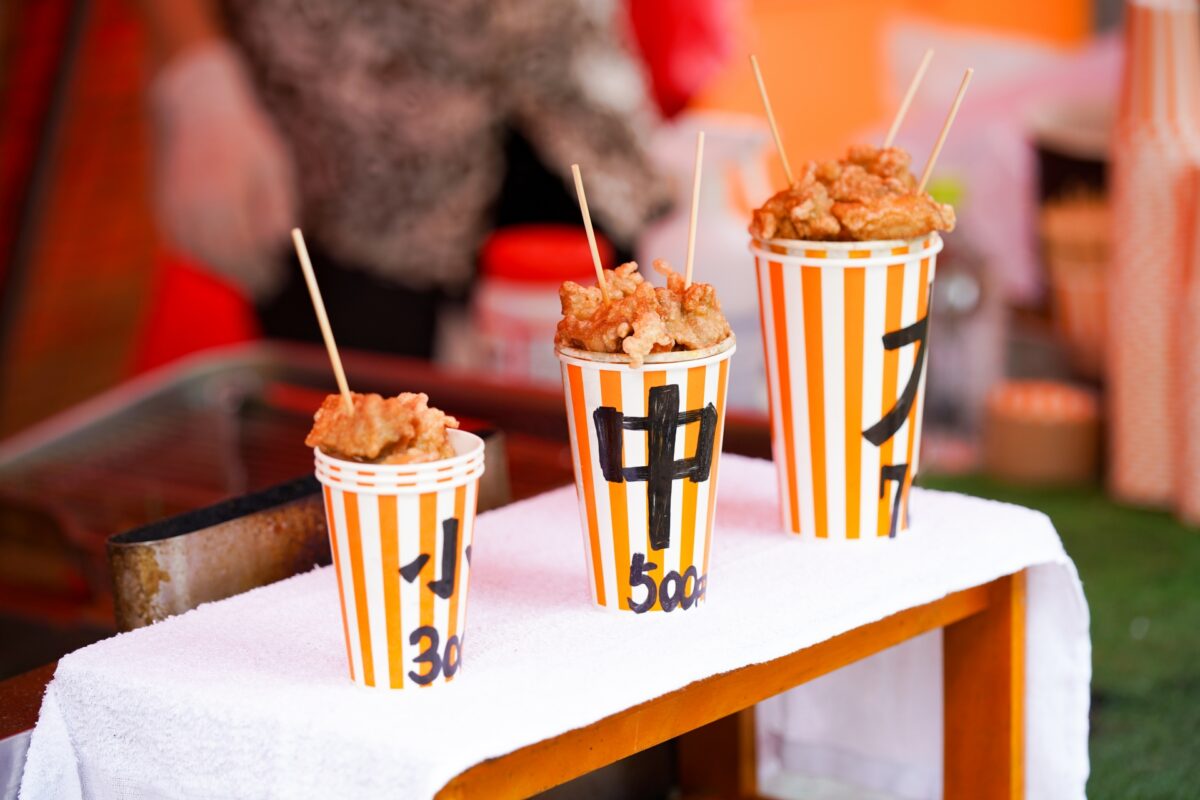 Chicken karaage is incredibly popular, and when you try the crunchy yet juicy bite-sized pieces, you'll immediately see why. Fried up on the spot and often served in cups with toothpicks for easy eating, karaage goes perfectly with beer or sake. What sets karaage apart from your basic fried chicken is that it's cooked in a potato starch batter instead of flour, and then double- or triple-fried to make it extra crunchy. The chicken is marinated in a mix of soy sauce, ginger, garlic and sake, which helps keep the meat tender. It's nearly impossible to eat just one piece without immediately wanting more.
9. Chocolate bananas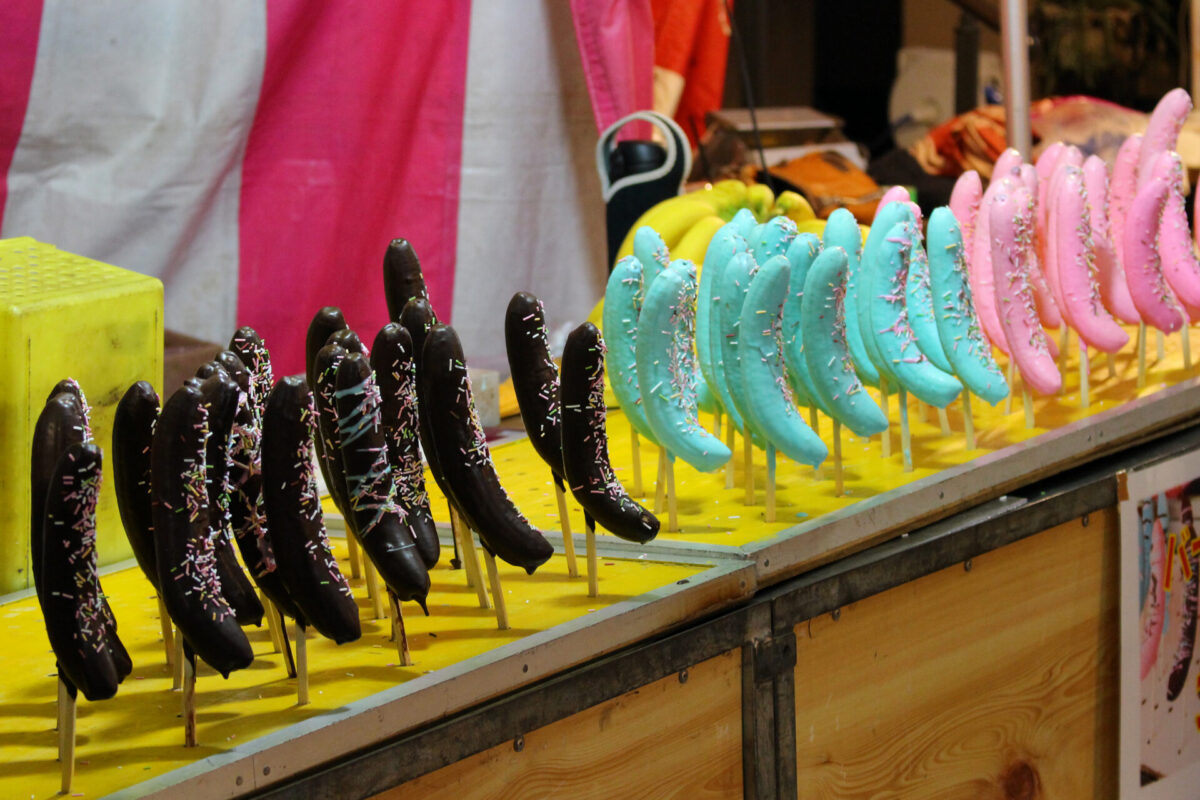 Another one to satisfy your sweet tooth, this seemingly simple snack is anything but. You will notice the eye-catching displays of colorful bananas on skewers, coated in chocolate and usually decorated with sprinkles or nuts as well. You may even see some bananas decorated to look like famous cartoon characters, or featuring different colors of chocolate. The bananas are frozen, making them a nice cool treat at hot summer festivals.
10. Yakitomorokoshi (grilled corn on the cob)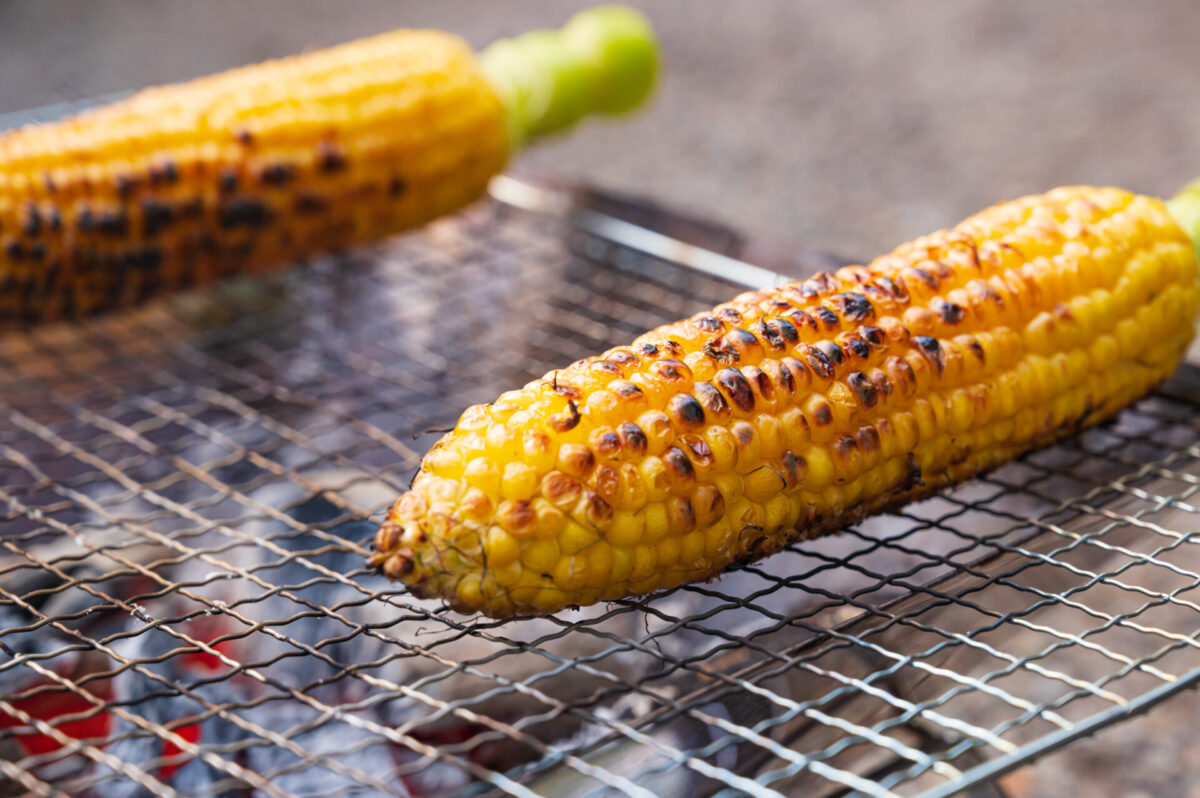 If all this delicious food left you craving something healthier, look no further than yakitomorokoshi, or grilled corn on the cob. While barbequed corn may not be exclusively Japanese, it's the soy sauce added to the salty-sweet corn which makes it extra tasty. The husk of the corn is removed and tied on the end, making a handle. This method makes it very easy to eat while wandering around and enjoying the festival. Don't miss this smoky, flavorful take on a classic corn on the cob!
You'll find many of these delicious foods at just about any festival in Japan. It's said that the gods love a lively atmosphere, which is one of the reasons why so many festivals line up a lot of food stalls enticing people to come and celebrate. With so many tempting things to choose from, it can be hard to decide what to eat! Thankfully there are plenty of festivals throughout the year, so hopefully, you'll be able to try them all. Which one do you want to eat first?
Japan Wonder Travel Food Tours
Japan Wonder Travel is a travel agency that offers guided tours throughout Japan. 
From private walking tours to delicious Food and Drink tours, we can help organize the best tours just for you! If you want to explore Japan and learn more about the history and backstories of each area you are traveling in, our knowledgeable and friendly guides will happily take you to the best spots! 
In addition, we can provide you with any assistance you may need for your upcoming trip to Japan, so please feel free to contact us if you have any questions or need some help!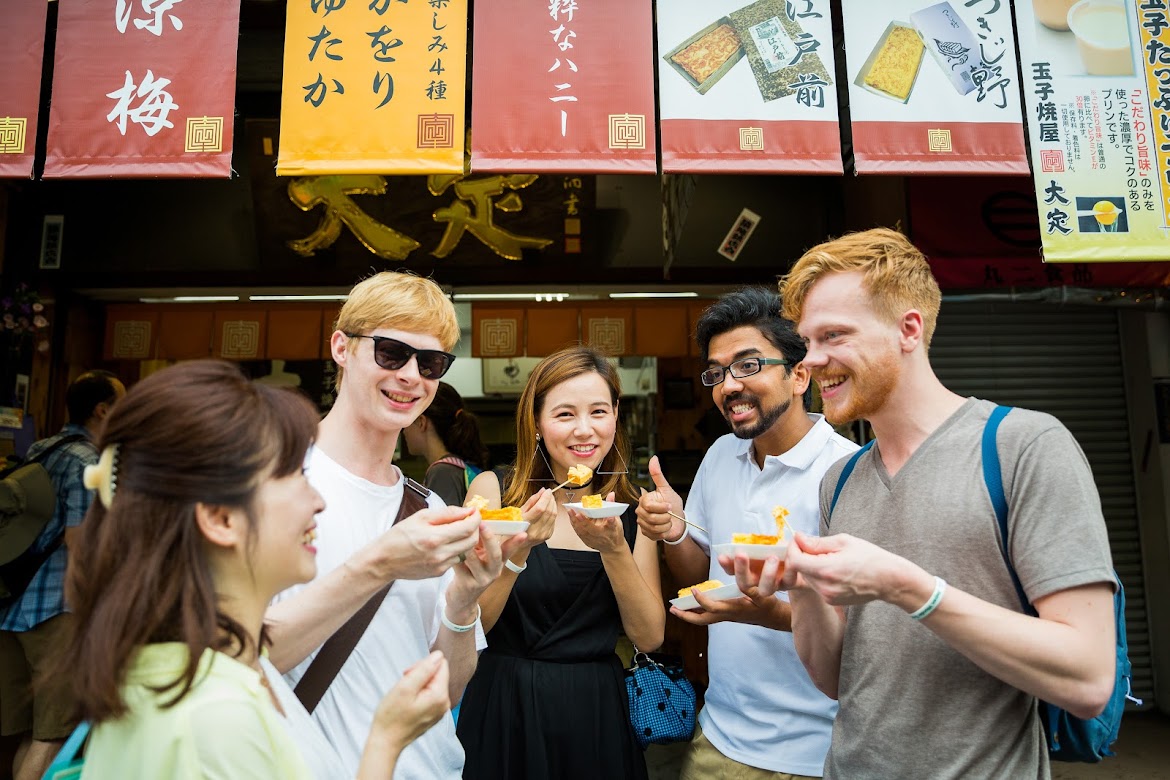 ▶Tokyo Local Street Food and Drink Tour @Sunamachi
This food tour will take you to one of the lesser-known areas of Tokyo, that is Sunamachi Ginza. You will walk through the shop filled street with your guide and be able to try some of the delicious local street foods including tempura, inari sushi, oden, among others!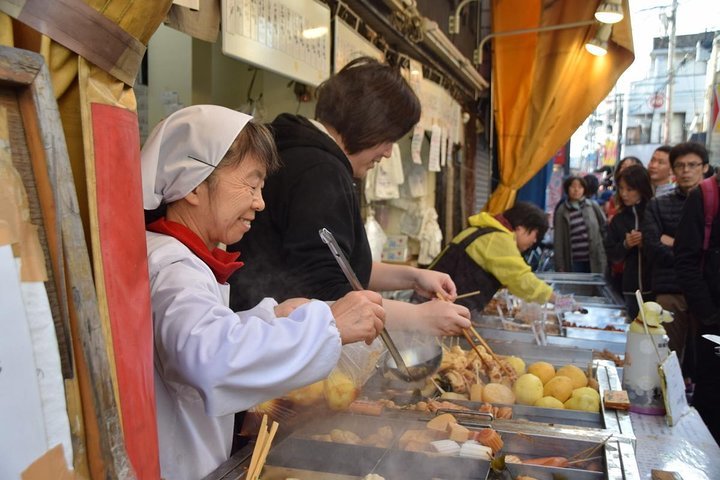 ▶Kyoto Food and Drink Tour @Nishiki Street & Gion
If you're looking to learn more about the culture and the local cuisine of Kyoto, this is the perfect tour for you! Take part in this Kyoto food and drink tour and explore the 400-year-old market and the famous Gion district.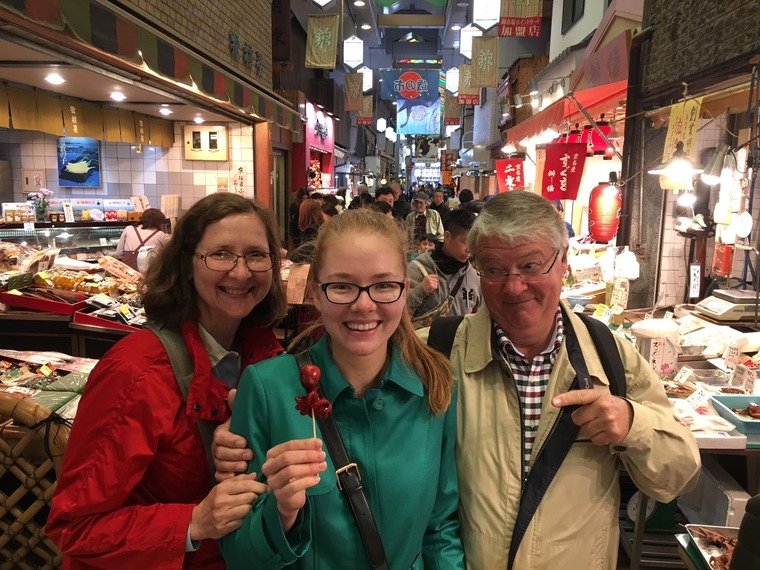 Follow us on Instagram, Facebook, Twitter, and TikTok for more travel inspiration. Or tag us to get featured!
Happy traveling!
Stay informed of the best travel tips to Japan, the most exciting things to do and see, and the top experiences to have with the Japan Wonder Travel Newsletter. Once every two weeks we will introduce you to our latest content.
Other articles you might be interested in