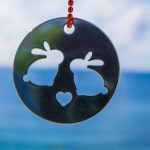 Writer's profile
Miho Shimizu is a Japanese freelance writer settled in Shizuoka with her husband and two rabbits. Fascinated with traveling at the age of 18, she has spent most of her long holidays exploring incredible spots around Japan. She also loves to listen to music, draw, and read novels over a cup of green tea.
This post may contain some affiliate links. When you click through and make a purchase we may receive some commission, at no extra cost to you.
Tokyo is somewhere that offers something to everyone. Whether you are looking for an exciting experience watching a sumo tournament or discovering Tokyo's izakaya culture, a deeper understanding of the long history of Edo, or want to visit some beautiful art, Tokyo has got you covered.
Every time you visit the mega-city full of world-famous tourist spots, you will be fascinated by the wide range of unforgettable experiences this metropolis has to offer. The world's largest city is home to an intriguing modern townscape created by skyscrapers mixed with traditional structures dating back centuries, busy streets packed with crowds and lively shops, and captivating hidden nature spots.
Visiting each tourist attraction introduced below will enable you to make the most of your time in Tokyo with different experiences. As always, we suggest you join our guided tours to make the most out of your visit to Tokyo. A local guide can tell you everything you want to know and take you to the best places around. Here is the ultimate list of the top 20 tourist attractions in Tokyo that you shouldn't miss!
Book this month's most popular tour in Tokyo!
▼Tokyo 1-Day Highlights Private Walking Tour
Tokyo 1-Day Highlights Private Walking Tour (Customizable, 8-Hour)
Explore the city highlights on our Tokyo private walking tour! We'll take you to the lively Tsukiji Fish Market, traditional Asakusa, historical Meiji Jingu Shr...
1. Shibuya Crossing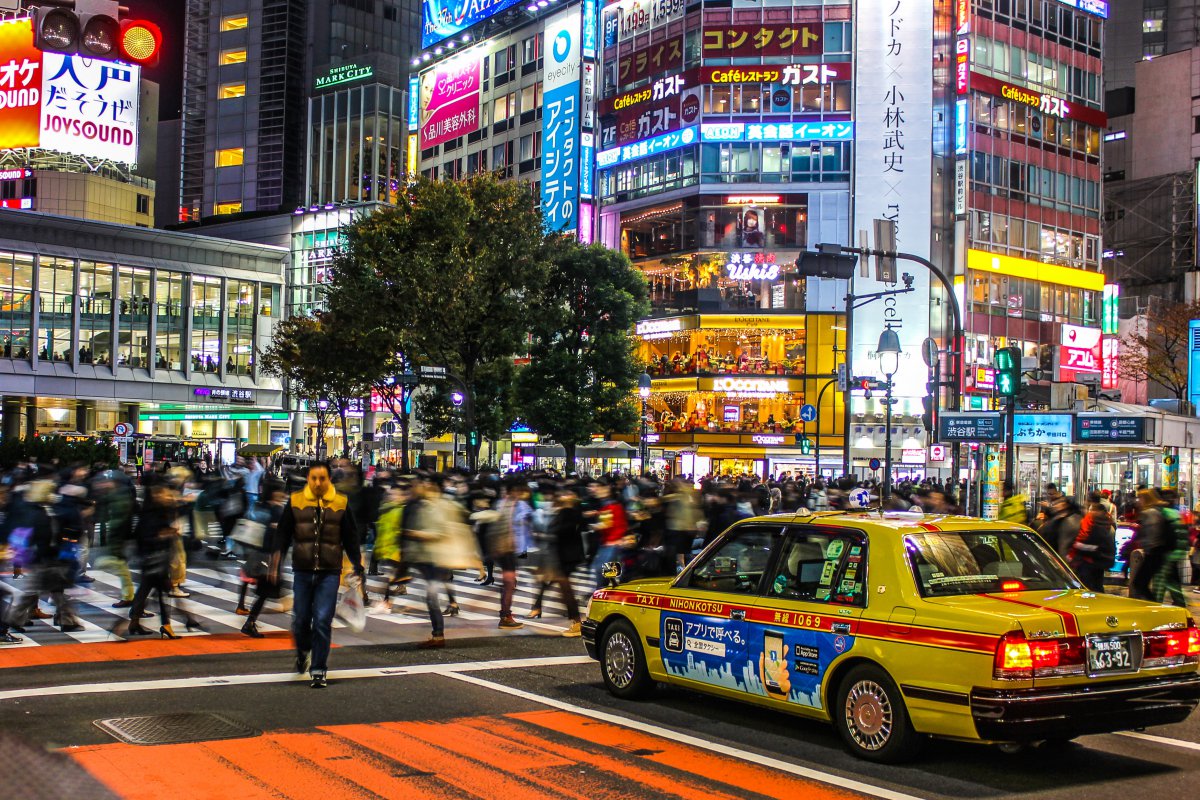 If you are looking for a "real Tokyo experience", without a doubt Shibuya (渋谷) will never disappoint! The central hub is a shopping heaven for everyone and boasts a number of giant shopping complexes such as Shibuya109 (super popular especially among young girls) and Shibuya Hikarie. But Shibuya is of course mostly known for its crosswalk, Shibuya Crossing – the busiest scramble crossing in the world with about 3,000 people crossing it at a single time during the peak of rush hour! Shibuya is a place where you can easily spend a couple of hours and won't get bored.

We recommend you combine Shibuya with a visit to Harajuku and Omotesando and get to Shibuya Crossing around 4pm and visit the Shibuya Scramble Square. From the observation deck you can enjoy a panoramic view of the iconic crossing at a height of about 230m. Watching the sunset behind Mt. Fuji and the neon lit buildings of Shibuya taking over the scenery is just amazing! Visiting Yoyogi Park after a long day will enable you to unwind and take a refreshing stroll in nature. Meiji Jingu Shrine is the world-famous sacred shrine which was established in 1920 and was dedicated to the spirit of the late emperor Meiji and his wife.
Location: Shibuya Crossing
Recommended Shibuya article: 7 Places to See the Best View of Shibuya Crossing
2. Shinjuku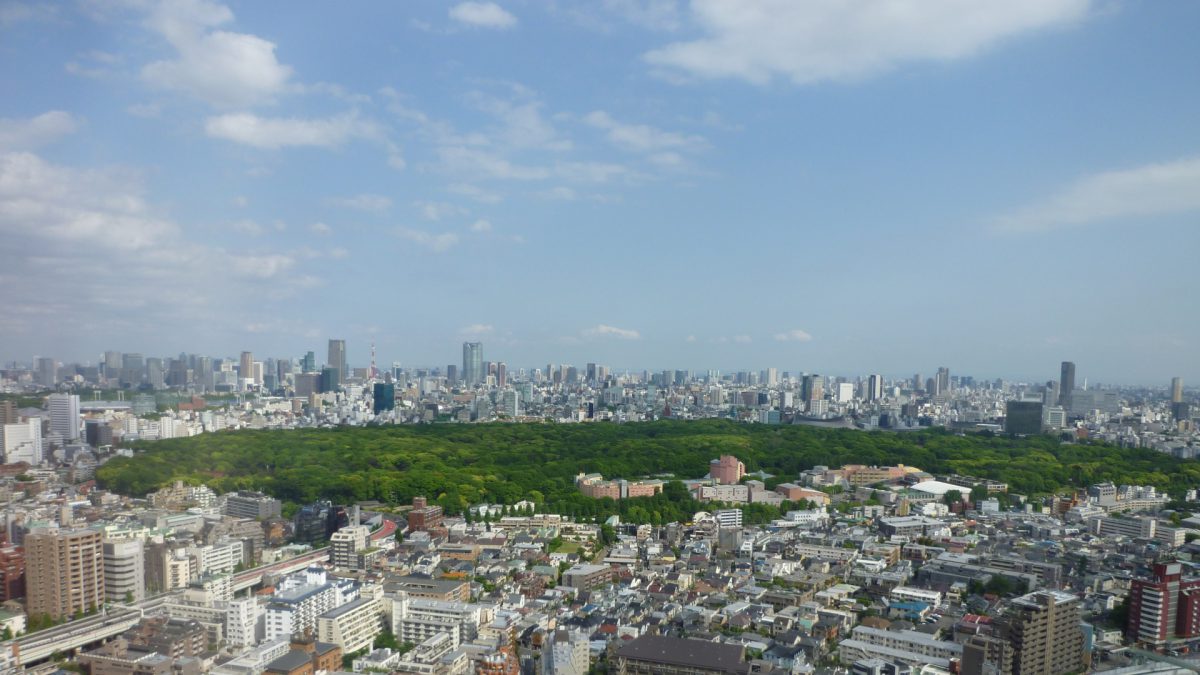 Tokyo's Shinjuku (新宿) is an area located at the heart of the metropolis and full of interesting places to visit. Shinjuku is heaven for those who are interested in nightlife and izakaya bar culture in Japan! Head to Kabukicho or Shinjuku Golden Gai where you'll find countless numbers of small but cozy and vibrant izakaya bars. You can also find a wide range of entertaining spots such as movie theaters and Karaoke bars which are open around the clock. If you want to enjoy Shinjuku during the daytime, visit Shinjuku Gyoen, a peaceful park featuring seasonal flowers and lovely dining spots such as restaurants and cafes in nature. Shinjuku Gyoen is an excellent place for you to watch the cherry blossoms in spring and have your very own hanami. Enjoy shopping at Isetan Shinjuku Store, or spend a romantic evening with your partner at Tokyo Metropolitan Government Observatories which offers stunning views of the entire city of Tokyo for free!
Location: Shinjuku Gyoen
▼Want to get the full Shinjuku experience? Book our Izakaya Hopping tour!
Shinjuku Bar Hopping Tour: Experience Tokyo's Nightlife in Izakaya
Explore Shinjuku on this bar-hopping tour with a professional bilingual guide! Shinjuku is the biggest drinking town in Tokyo, and our bar-hopping tour will tak...
3. Harajuku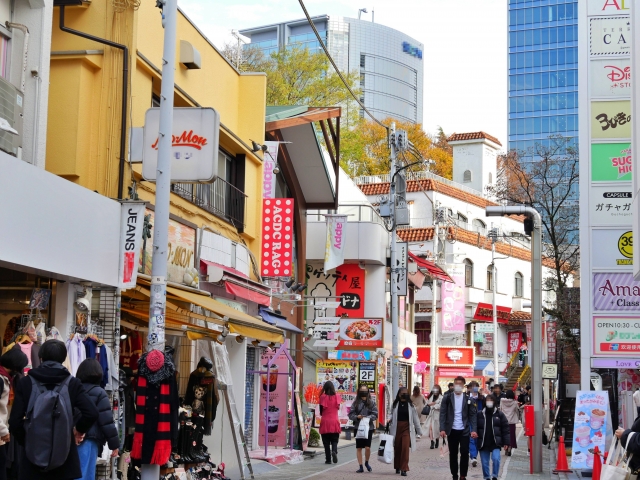 Located in between Shibuya and Shinjuku, Harajuku (原宿) is often described as the very center of Japan's kawaii culture and trendy spots. Takeshita Street is the most popular shopping street in Harajuku with a large number of trendy shops and modern facilities lining the narrow street. Harajuku is known for its thrift shops and eccentric clothes and you'll easily spot the famous Harajuku Girls style all around. Try fluffy, colorful cotton candy at TOTTY Candy Factory, or spend hours exploring lovely items and fashionable clothing at Cute Cube Harajuku or Laforet Harajuku. If you want to visit some historic spots, it is about a 13 min walk from Harajuku station to the hidden Togo Shrine which enshrines Togo Heihachiro, a Japanese naval hero back in the Showa Period (1926-1989).
Location: Harajuku
4. Akihabara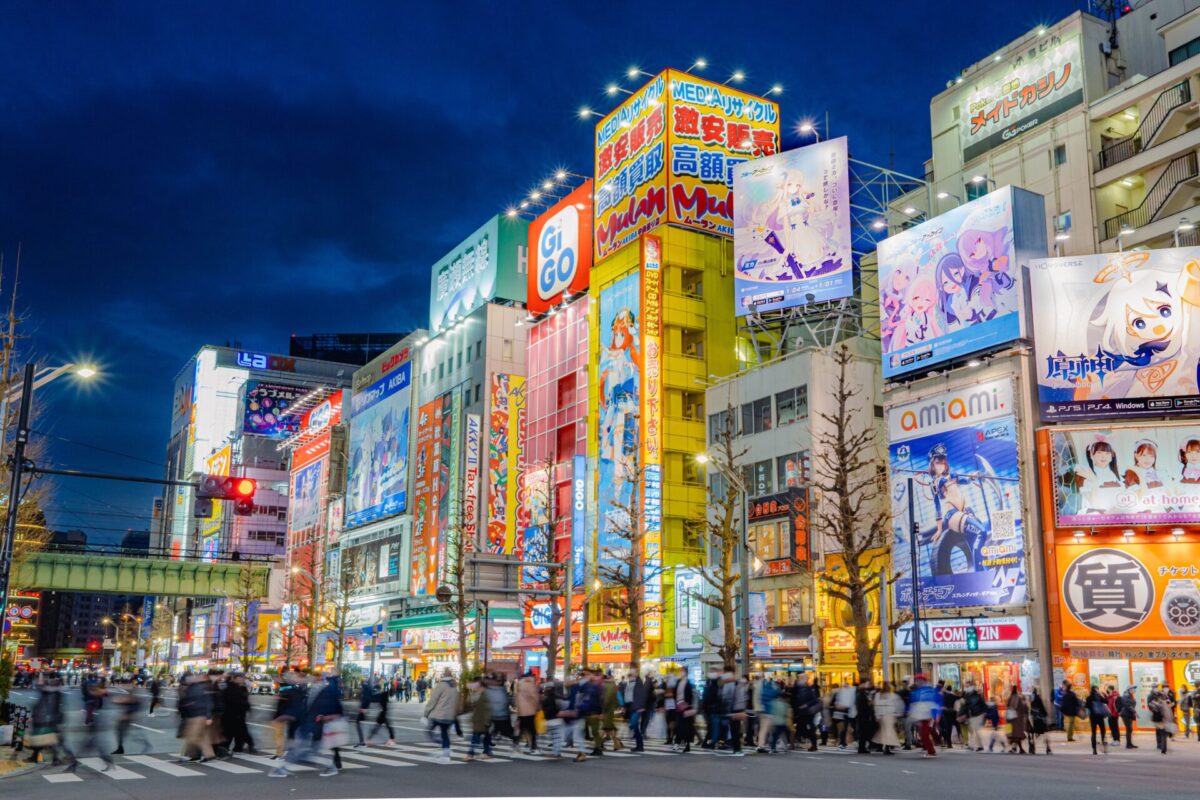 Akihabara (秋葉原) is a must-visit for anime and manga lovers. This unique district in northeast Tokyo features popular electronics stores as well as intriguing otaku spots (otaku means geek in Japanese). Yodobashi Akihabara is a giant shopping complex specializing in electronics, home appliances, cameras, PCs, and other gadgets. Explore the endless arrays of classic Japanese video games at Super Potato, or visit Radio Kaikan to immerse yourself into the otaku world full of anime-related merchandise. The buzzing shopping district is also home to a number of themed cafes like Japan's famous maid cafes and animal cafes. On this Akihabara Anime Tour, you will visit the shops we introduced above to find all the anime-related merchandise and arcades where you can play fun video games!
▼Book our Akihabara Anime and Gaming Tour to Discover the Best Spots!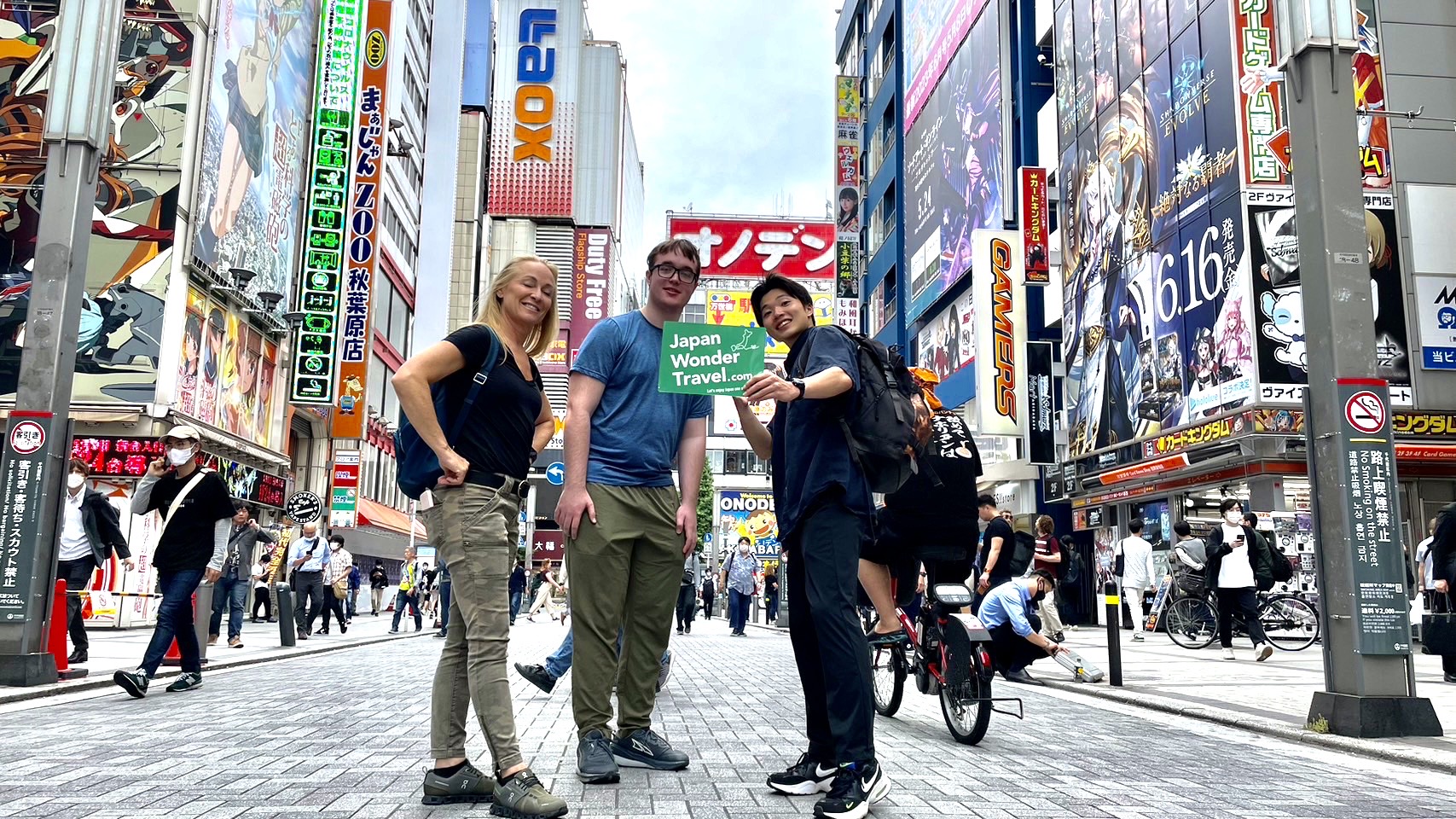 Akihabara Anime Tour: Explore Tokyo's Otaku Culture
Explore the center of anime, manga, and gaming culture on our Akihabara anime tour. Your guide will show you the best spots to buy all the electronics, gadgets,...
Location: Akihabara
5. Tokyo Skytree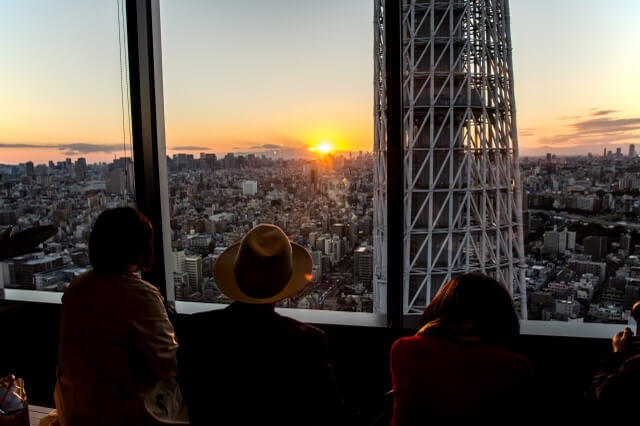 Since its opening in 2012, the iconic Tokyo Skytree has been a popular attraction that can be seen from afar. The 634m-tall broadcasting tower features a wide variety of facilities and tourist attractions including Sumida Aquarium and a romantic planetarium known as Tenku. Tokyo Solamachi is a popular shopping spot nestled at the base of the Skytree with over 300 shops and restaurants. On a sunny day, make your way up to the two observation decks, at 350m and 450m, for stunning views of Tokyo. If you are lucky, you will be able to see Mt. Fuji, the tallest and most sacred mountain in Japan in the distance!
Location: Tokyo Skytree
6. Roppongi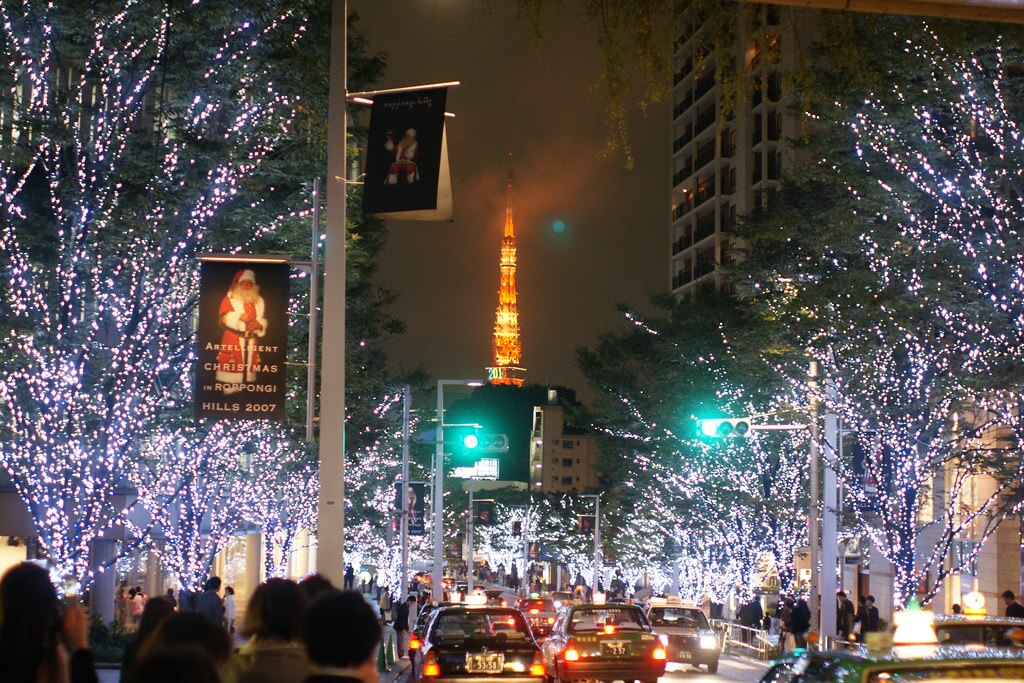 Roppongi (六本木) is home to a number of luxury shopping spots, fancy restaurants, world-famous art museums and much more. The lively entertainment district offers a number of nightclubs and bars where international djs and artists frequently come to perform. Head to Mori Art Museum where you can observe impressive contemporary art and works displayed on the 53rd floor of Roppongi Hills Mori Tower.

Also a great place to enjoy Tokyo's impressive size from the observation deck located at 250 m high. The National Art Center Tokyo and SUNTORY Museum of Art are also popular among international tourists. Take a refreshing break at Mori Garden peacefully nestled between Roppongi Hills and TV Asahi headquarters which is widely famous for popular animations such as Doraemon. Roppongi Hills and Tokyo Midtown are two huge shopping complexes, conveniently located and in December beautifully illuminated with thousands of Christmas decorations.
Location: Roppongi
7. Ginza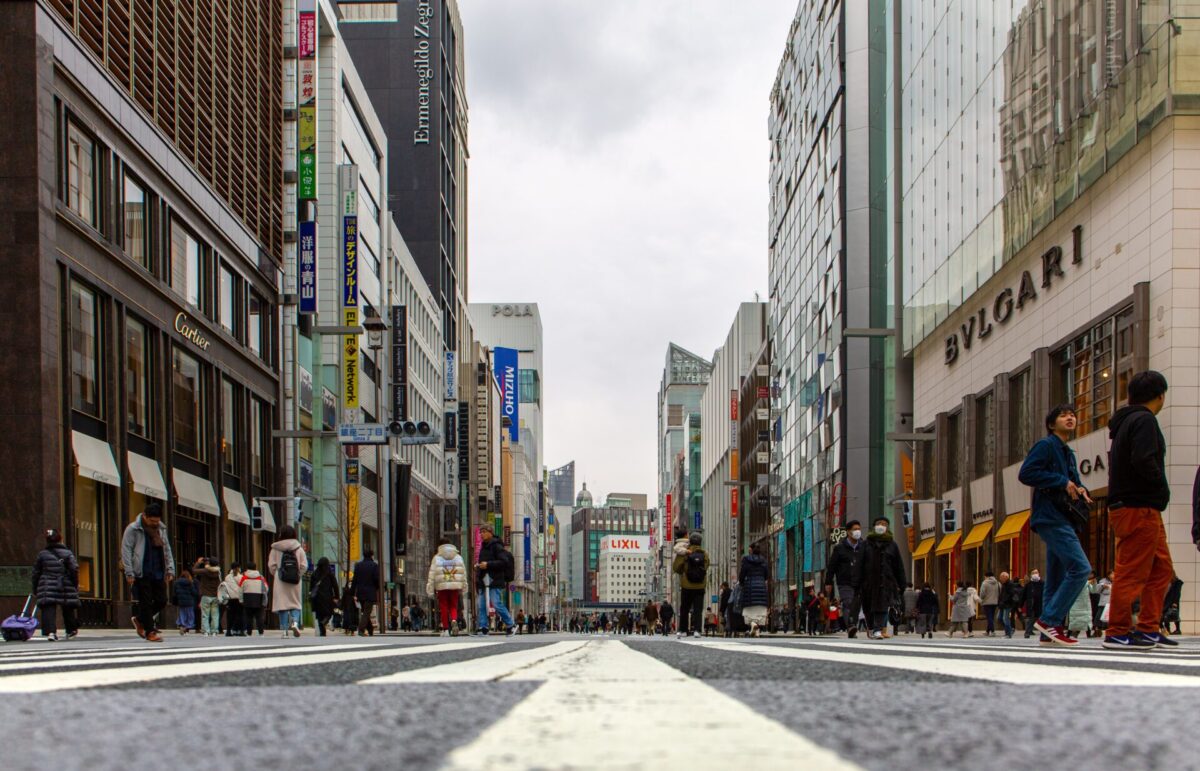 One of the city's most sophisticated shopping districts, Ginza (銀座) offers luxury shopping complexes and boutiques selling both famous Japanese brands and international high-end brands. Ginza is located on a former mint site, and today offers a very interesting architectural landscape. The best time to visit Ginza is in the afternoon during the weekend when the main street (Chuo-dori) is closed off for traffic.

If you are interested in checking out a traditional Japanese play, Kabukiza, there is a kabuki theatre located in this part of town. Kabukiza is the most foreigner-friendly theatre for watching a kabuki play with a rental monitor that has English subtitles. Take the Tokyo Metro Ginza Line and check out Nihonbashi, a peaceful neighborhood with a traditional Japanese atmosphere like back during the Edo period!
Location: Ginza
8. Tokyo Tower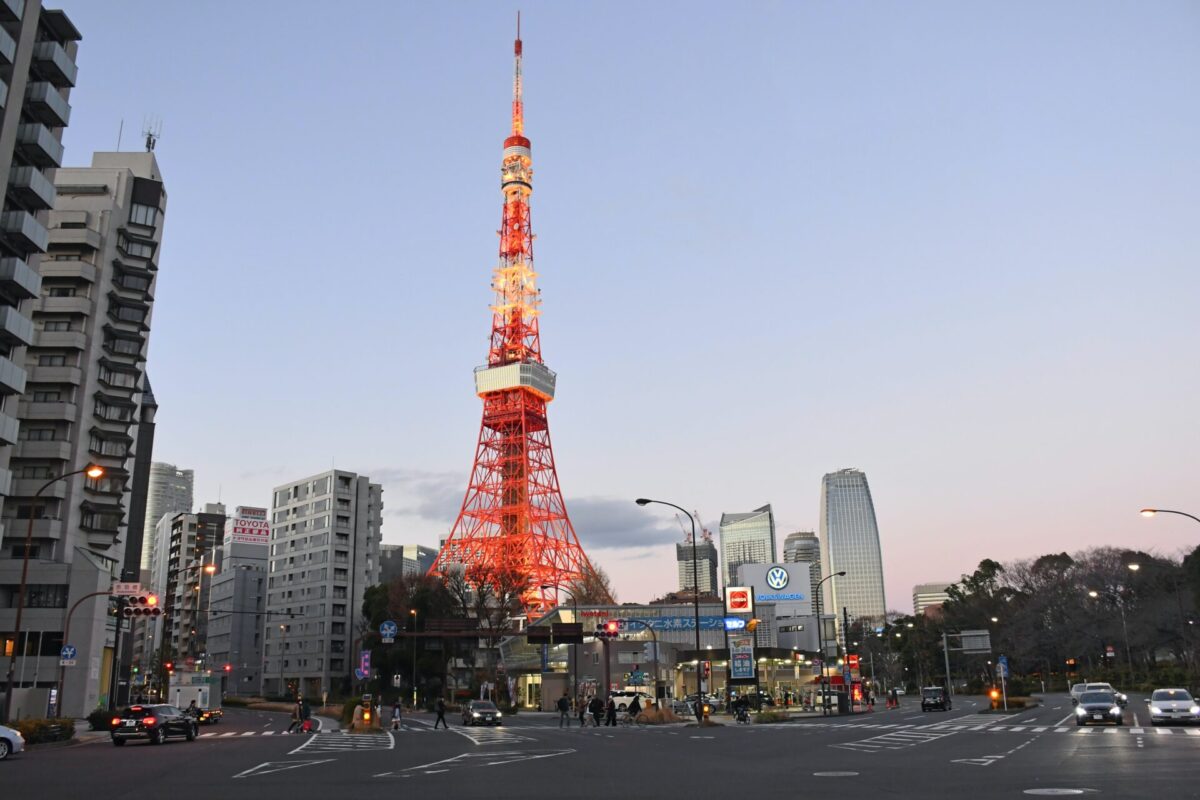 The other iconic landmark dominating the skyline of Tokyo is the red and white Tokyo Tower, adding a touch of French flair to the streets of Tokyo. The 333m tall broadcasting tower has thousands of visitors every year since its completion in 1958. It has two observation decks, the main deck at 150m and the top deck at 250m. Join their popular everyday event 'Open-air Outdoor Stairs Walk' which allows you to climb up 600 steps around the tower which will lead you to the 150m observation deck. The lower floors, known as Foot Town, are packed with dining spots and souvenir shops selling a large selection of items including original merchandise that you can only get there!
Location: Tokyo Tower
9. Sensoji Temple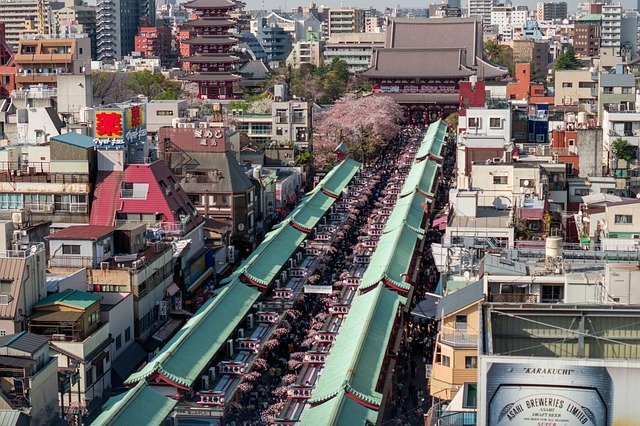 One of the best places to get a sense of the traditional atmosphere of Japan in Tokyo is Asakusa, which is a must-visit attraction for anyone. The impressive Sensoji Temple is a world-famous Buddhist temple that attracts more than 30 million people every year and has a long history dating back over 1,300 years. The main approach to the temple, Nakamise Dori, is one of Japan's oldest shopping streets. You can enjoy walking around the lively street lined with shops selling a large collection of souvenirs and food. However it makes the whole experience better if you're dressed up in a beautiful traditional kimono! Have a look below for the best kimono rental plans in Asakusa.
▼Rent the best kimonos in Asakusa below!▼
From the tourist office of Asakusa, located opposite of the Kaminarimon Gate, the famous gate with the huge red lantern, you have a great aerial view of the historical heart of Tokyo. Take your kids to Hanayashiki, the oldest amusement park in Japan with 20 different kinds of exciting rides and attractions!
Location: Sensoji Temple
▼See more of Asakusa with our Bar Hopping tour!
Asakusa Local Food and Bar Hopping Tour [Evening Tour]
On this Asakusa Bar Hopping Tour in Tokyo, our friendly guide will share their knowledge of the area, delicious food, and sake at izakaya and local bars. Let's ...
10. Odaiba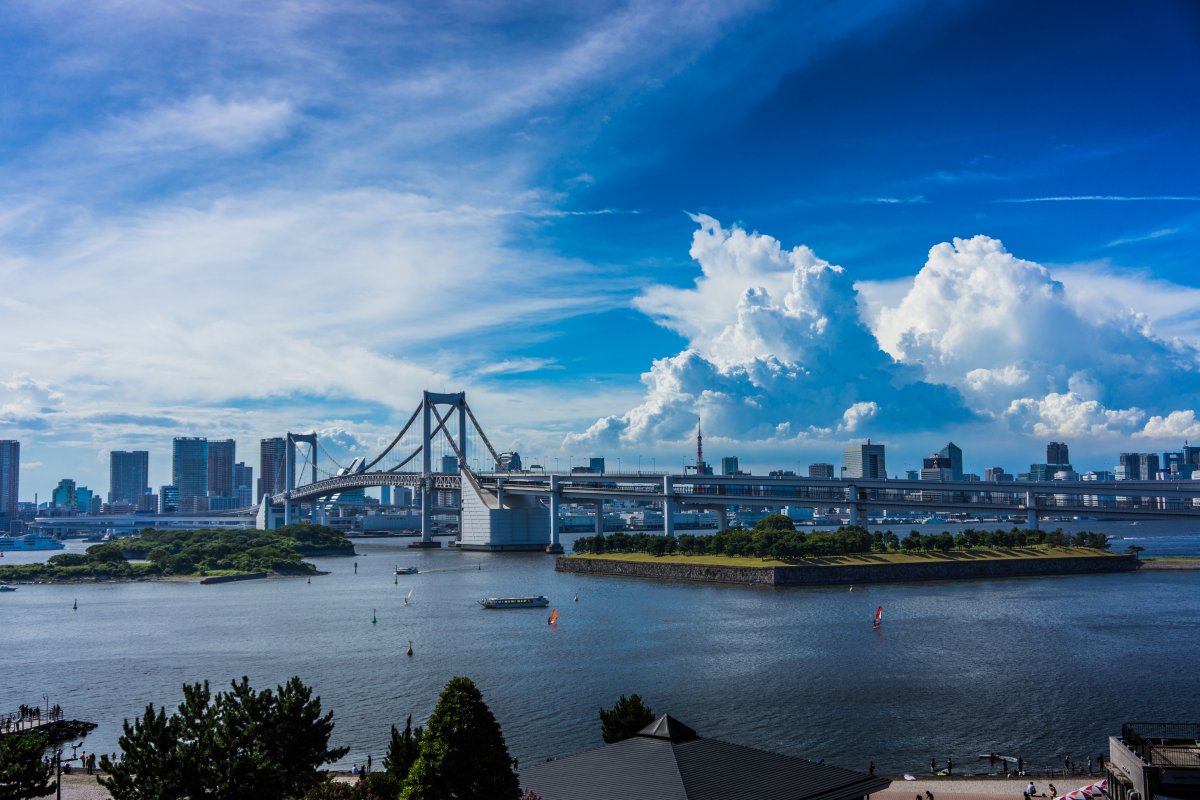 Odaiba (お台場) is a modern entertainment district located on a man-made island in Tokyo Bay. Getting to the island is a fun experience itself, you can ride the unmanned yurikamome train that crosses Rainbow Bridge or board a boat from Asakusa and enjoy the bay area from the water. Odaiba Marine Park offers great views of symbolic landmarks around, including the replica of the Statue of Liberty and the Rainbow Bridge which are both brightly lit up at night. Taking a refreshing stroll at the sandy beach, or trying activities such as windsurfing will also be a perfect way to spend a memorable day in the hot Tokyo summer. In case of a rainy day on your trip, one of the most popular museums of Tokyo, MORI Building DIGITAL ART MUSEUM teamLab Borderless offers a great indoor activity. The fascinating world created by colorful 3D digital art installations is absolutely amazing. Diver City Tokyo Plaza is a massive shopping hub which welcomes you with a giant full-scale Gundam Statue displayed outside the mall!
Location: Odaiba
11. Koenji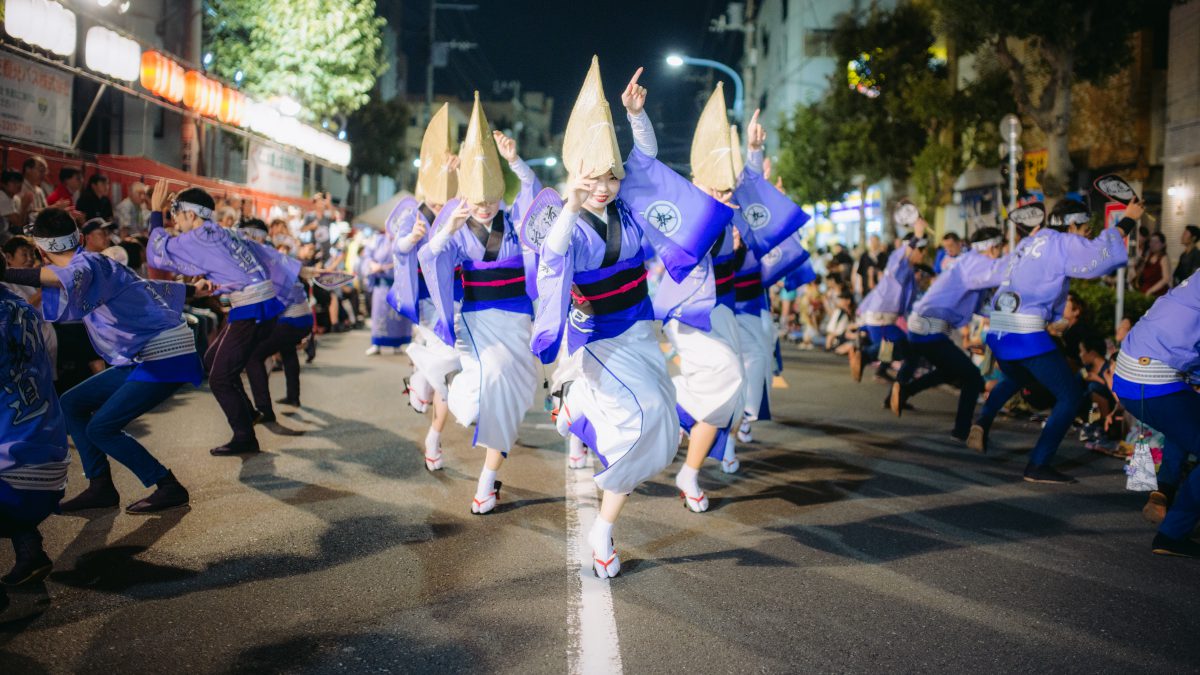 If you want to spend a relaxing weekend away from busy streets and are looking for some local Tokyo, Koenji (高円寺) could be a perfect spot for you! This peaceful neighborhood is home to a number of small vendors, second hand clothing stores, cozy cafes, izakaya, and much more. The bohemian neighborhood is a center of alternative youth culture and not frequently visited by the large tourists crowds. Head to Koenji Junjo Shopping Street which boasts about 200 shops, including traditional ones dating back to the 1930's. In summer, this quiet area is the center stage of the famous Koenji Awa-Odori festival, a dance festival that attracts a million visitors! There are also a number of traditional shrines and temples to visit such as the Hikawa Shrine or Kisho Shrine dedicated to the god of weather!
Location: Koenji
12. Tsukiji Fish Market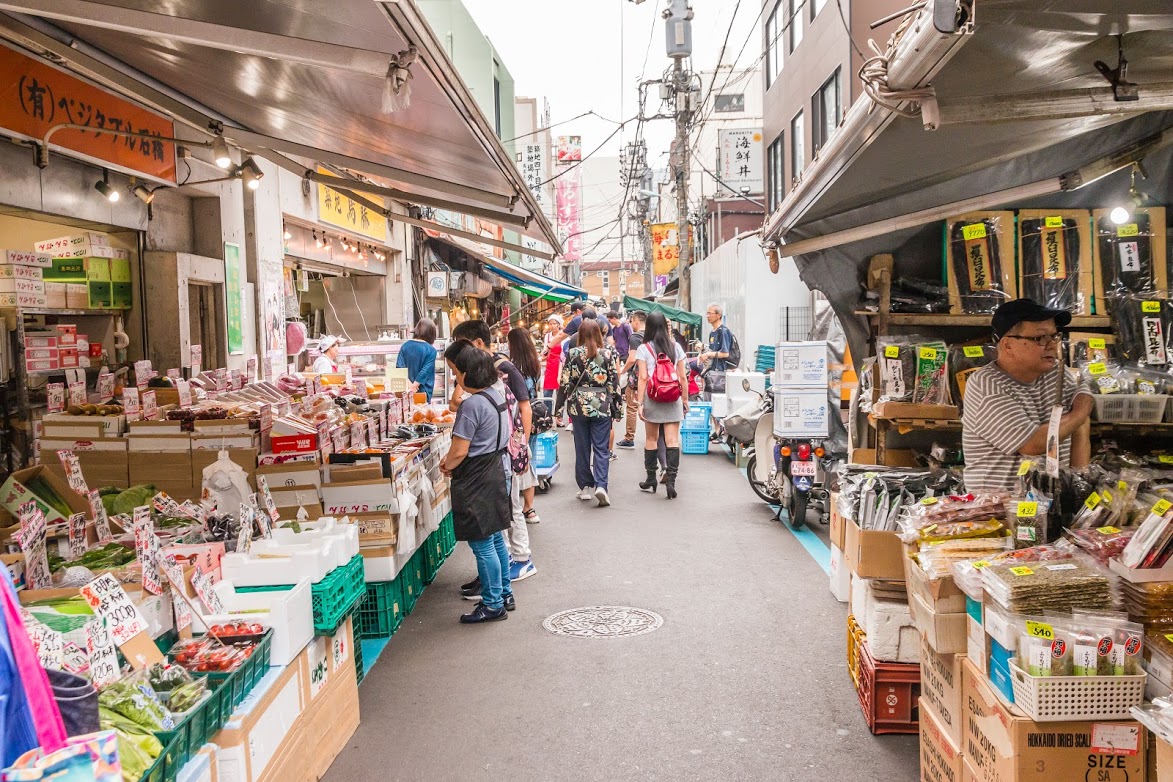 If you want to try fresh, high-quality seafood, Tsukiji Fish Market (築地市場) is a place you can't miss in Tokyo! One of the most popular fish markets in Japan and in the world for that matter, Tsukiji Market welcomes numerous visitors even after the inner market was officially closed in 2018. Despite what many people think, you can still visit the outer part of Tsukiji Market, but most of the wholesale vendors have moved to the new Toyosu Market. The outer market is still packed with lively shops and restaurants serving a wide range of seafood dishes. It is one of the best places to try some fresh sushi or sashimi. Don't forget to visit the Tsukiji Honganji, a beautiful Buddhist temple which dates back to 1617. This temple is only a 3 minute walk from the market and is also the starting point of our popular Tsukiji Food and Drink tour!
Location: Tsukiji Fish Market
▼Book our Tsukiji Fish Market Food and Drink tour!
Tokyo Fish Market Tour @Tsukiji - Enjoy Local Food and Drink
Join our Tsukiji Fish Market Tour for an authentic taste of Japanese cuisine in Tokyo. Indulge in street food and savor delicious sushi at a local restaurant, a...
13. Kichijoji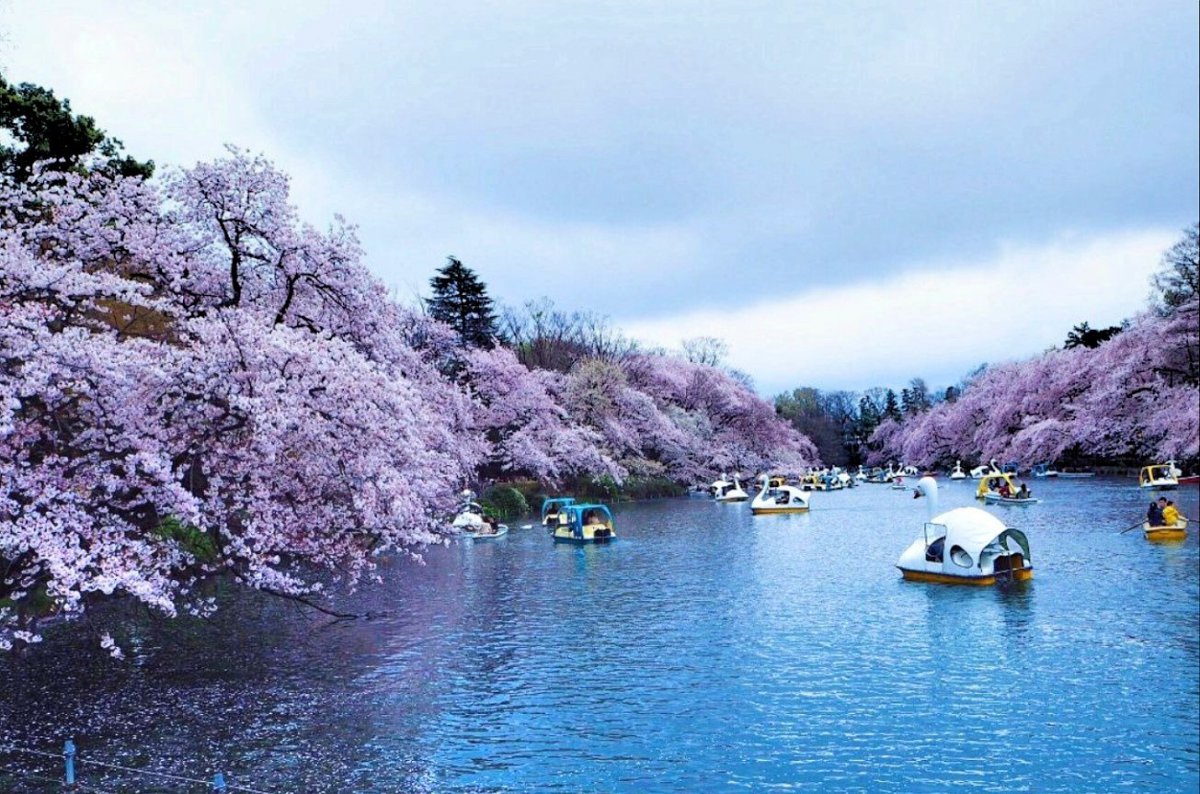 On the west side of Tokyo, Kichijoji (吉祥寺) offers a range of both modern and traditional experiences. Visit the large Inokashira Park, the first suburban park in Japan with beautiful seasonal flowers and lush greenery in a laid-back atmosphere. In spring this is a popular sakura spot where you can rent swan boats and get on the water. Without a doubt, the most popular spot that draws the most visitors to the area is the incredible Ghibli Museum. A must-visit for anyone who enjoys watching the Ghibli movies! Coppice Kichijoji is a great shopping spot which is only about a 4min walk from JR Kichijoji station. Enjoy an unforgettable nightlife experience at Harmonica Yokocho Alley, a narrow street packed with local bars and restaurants.
Location: Kichijoji
14. Ikebukuro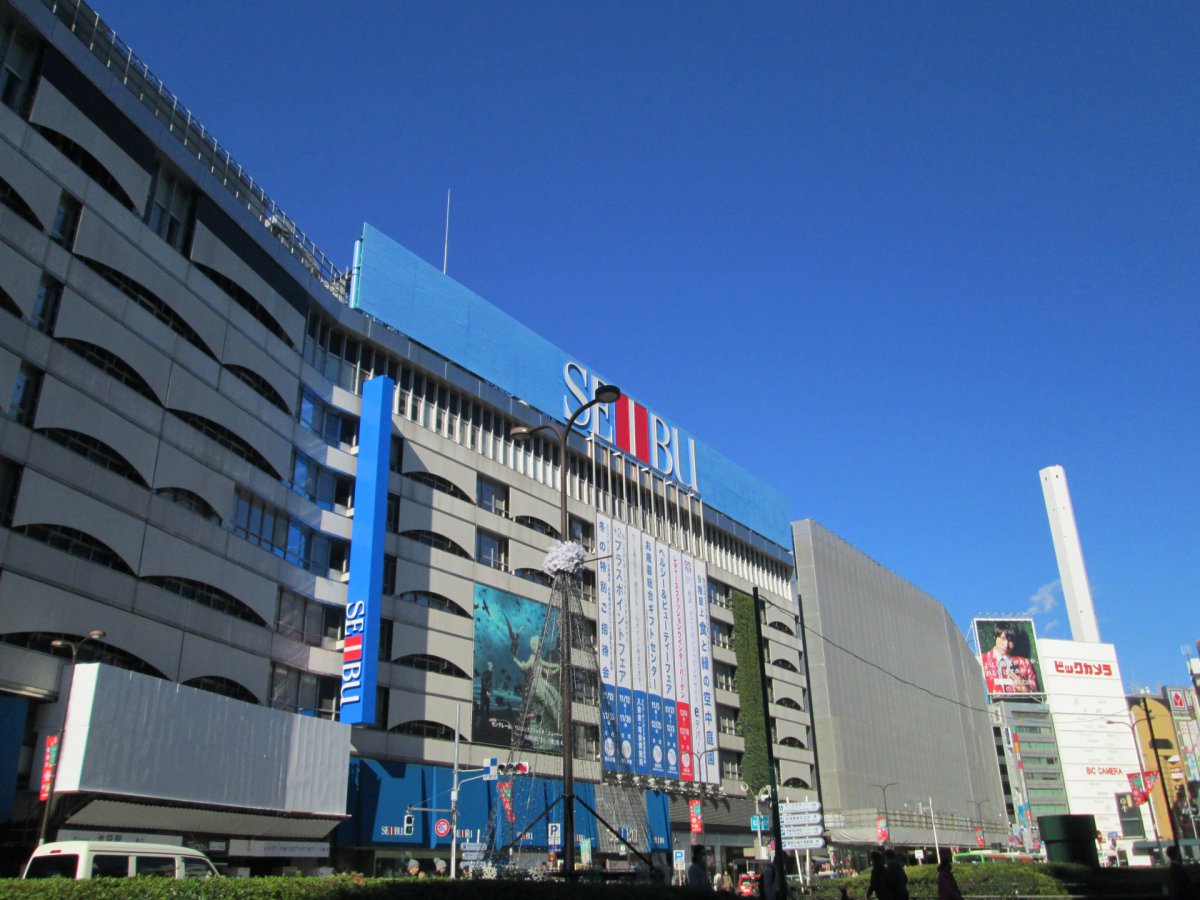 If you are looking for somewhere to take your kids on the weekend in Tokyo, Ikebukuro (池袋) might be a great destination for you! Ikebukuro Station is the gateway to the neighboring Saitama Prefecture and is one of the busiest stations in all of Tokyo. Sunshine City is a huge complex comprising a range of entertaining facilities as well as dining options. Visit Sunshine Aquarium where you will be able to encounter the diverse marine life as well as enjoy adorable performances by animals such as penguins and sea lions in the heart of metropolitan city.

Pokemon Center MEGA TOKYO is literally a heaven for Pokémon fans where you can find a large selection of original merchandise featuring cute Pokémon characters! Located on the 60th floor of Sunshine 60 building, Sky Circus Sunshine City 60 Observatory provides a panoramic view along with thrilling VR experiences! If you need to unwind in nature away from the busy and crowded streets, head to Rikugien a beautiful traditional Japanese-style garden completed back during the Edo period.
Location: Ikebukuro
Best Places to Visit in Ikebukuro – for anime, cosplay and gaming fanatics!
15. Mt. Takao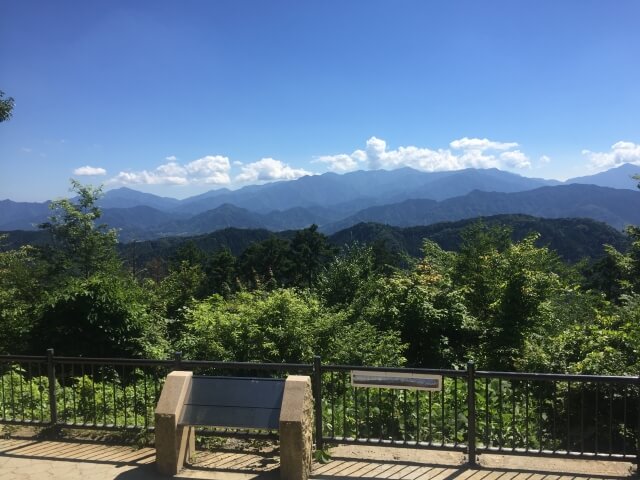 Did you know you can actually hike a mountain in Tokyo? Mt. Takao is a perfect hiking spot which is accessible from the heart of Tokyo in less than 1.5 hours by train! Officially selected by the Michelin Guide as a three star hiking spot, this 599m mountain attracts more than 3 million visitors every year. It offers a range of scenic hiking trails for everyone from beginners or families with kids to advanced hikers. For people who just want to enjoy the view from the top, the Mt. Takao Cable Car conveniently takes you to the midpoint of the mountain. Pay a visit to Yakuo-in, a symbolic Buddhist temple established in 744, or enjoy a relaxing hot spring experience at Gokurakuyu!
Location: Mt. Takao
16. Ueno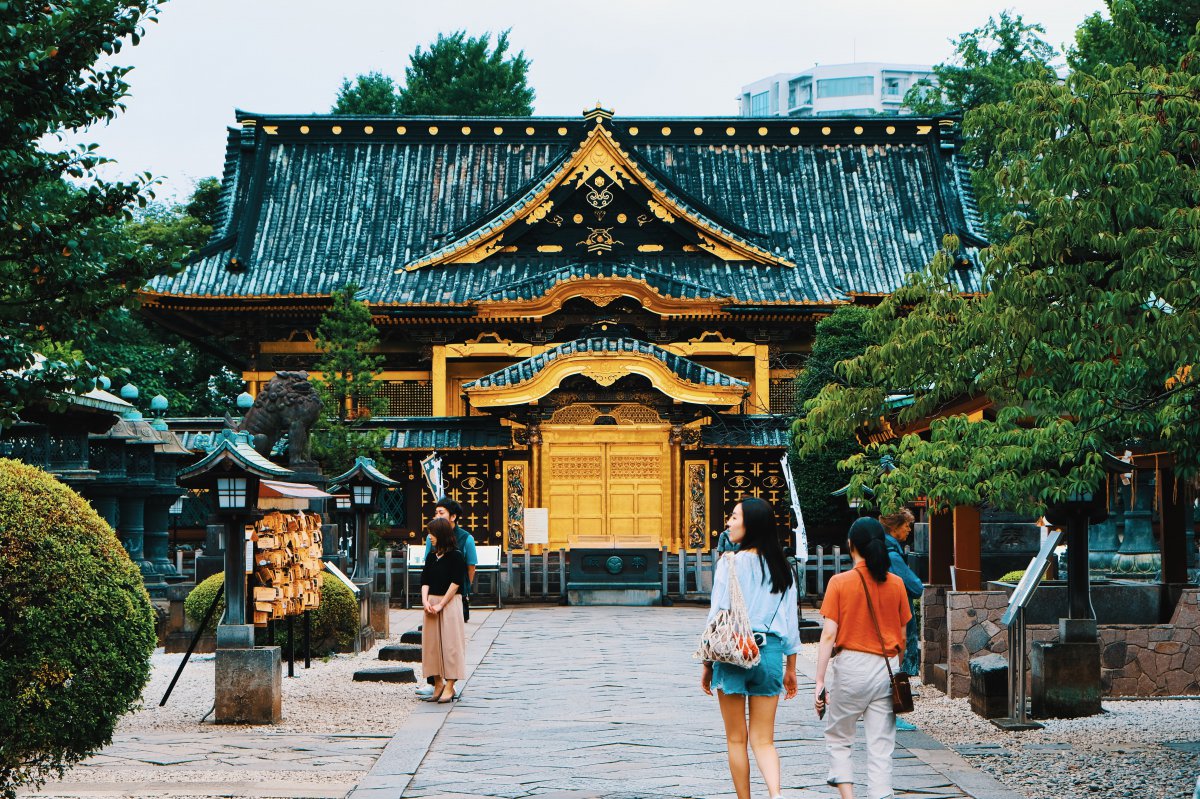 Ueno offers several fun places to visit. Ueno Park is one of the largest parks in Tokyo, and you'll find the famous Ueno Zoo, art museums, temples and shrines at the site. In spring, the park is one of the busiest and most popular cherry blossom viewing spots in Tokyo which attracts huge amounts of people. Ueno Park is also home to many museums; Tokyo National Museum, National Museum of Nature and Science, National Museum of Western Art, Tokyo Metropolitan Art Museum, The Ueno Royal Museum and so on. If you are an art lover, you can't get enough time to visit all the museums in one day!

After exploring Ueno Park, head to Ameya Yokocho, also known as Ameyoko, which is a vibrant shotengai, shopping streets, where many small restaurants and shops are lined up. You can enjoy different sides of Ueno by visiting both the relaxing Ueno Park and exciting Ameyoko combined!
Location: Ueno
17. Shimokitazawa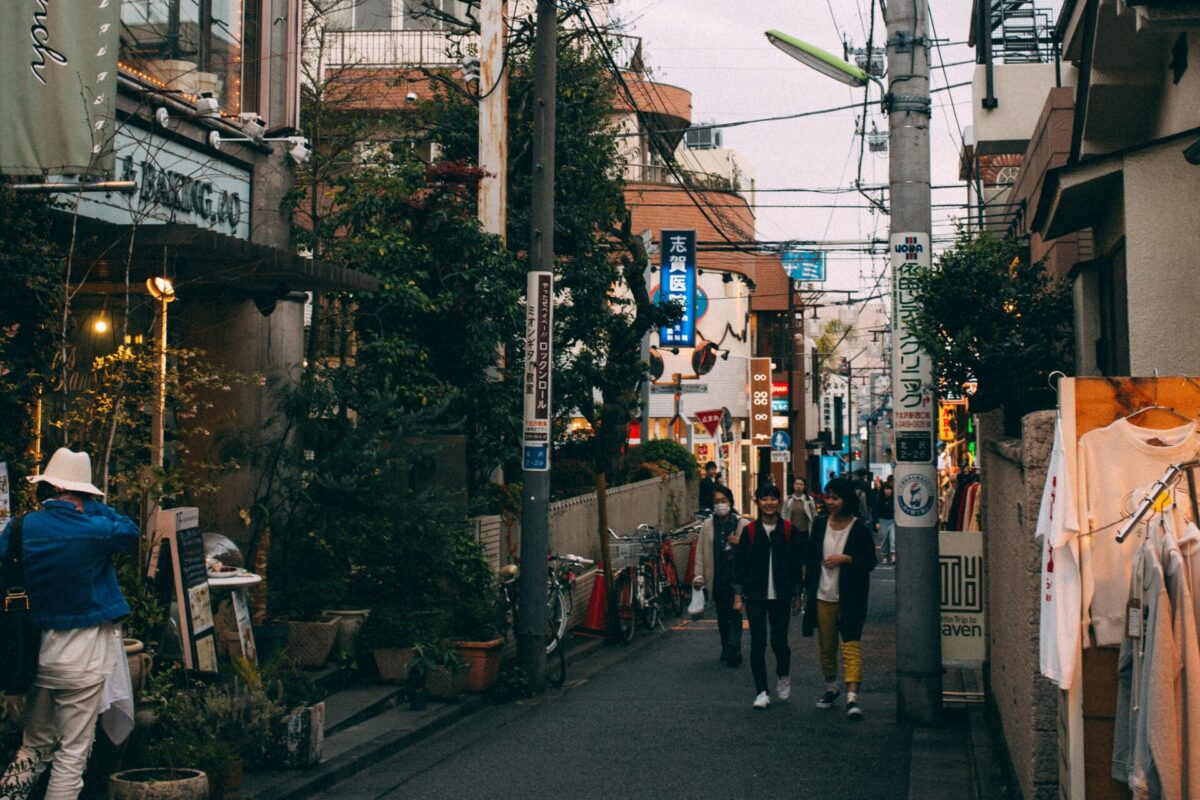 Shimokitazawa is a unique neighborhood located in a quiet town of Setagaya which is easily accessible from Shibuya and Shinjuku. It's a popular spot for thrift shopping, live music, theater play and local Izakaya hopping. It's the center of Tokyo's hipster culture with a more calm atmosphere than pop culture central places like Harajuku or Shibuya. Walk around the small neighborhood where you can find many hidden shops, and grab a delicious cup of coffee.
Location: Shimokitazawa
18. Ryogoku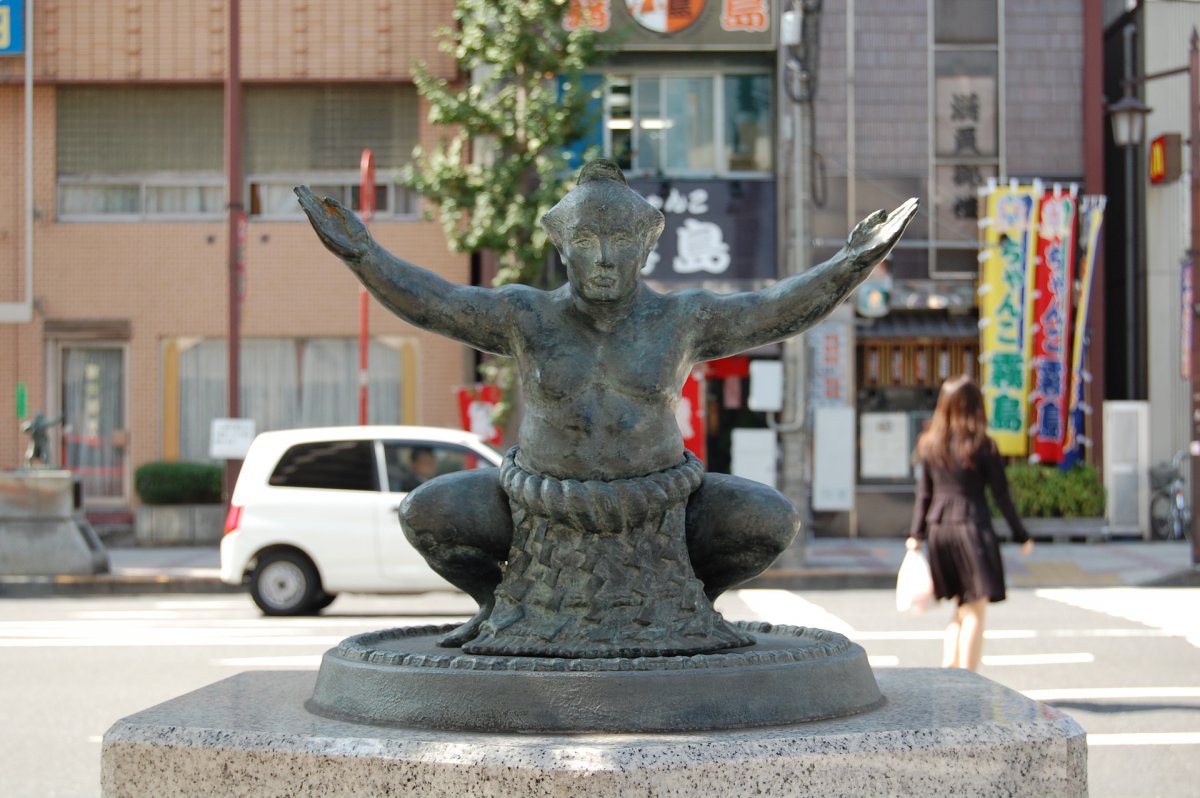 Ryogoku is home to sumo, when you get out from JR Ryogoku station, you already see large portraits and handprints of famous sumo wrestlers. Close to the station, there is Kokugikan, a sumo arena where The Grand Sumo Tournament takes place. Many sumo stables are located in the area too, so you may encounter some sumo wrestlers and trainees when you walk around or even at the convenience store in the area! You can also spot the small sumo statues on the streets, and don't forget to try out the famous sumo wrestler food chanko-nabe (hot pot).
If you are in Tokyo in January, March or September, you can watch the Grand Sumo Tournament in Tokyo. We offer a fun guided tour! There's no better way to watch sumo than watching it with a sumo enthusiast aka a knowledgeable guide!
Also, outside of the tournaments, we offer tours at the sumo stable where you can watch the wrestler's daily morning practice. Check out our special sumo tours below!
Location: Ryogoku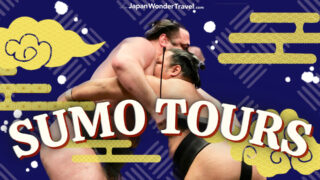 Sumo Tours by Japan Wonder Travel
Discover the fascinating world of sumo wrestling with our special exciting tours! We offer the Grand Sumo Tournament Tour in Ryogoku and the Morning Practice Tour at the sumo stable in Tokyo. Don't miss this unique chance to immerse yourself in the captivating world of sumo!

19. Tokyo Imperial Palace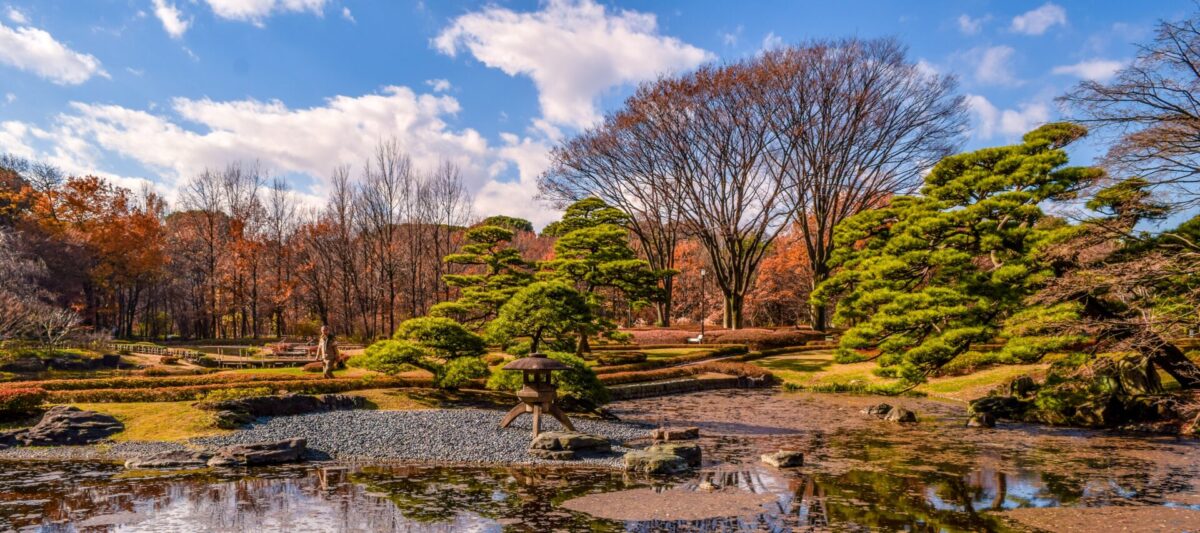 Tokyo Imperial Palace is the residence of the Imperial Family where some parts of the quarters are open to the public as a beautiful garden and park that was built on the former Edo Castle grounds. The Imperial East Gardens is a beautiful Japanese garden where you can see historical structures including impressive stone walls, remains of the castle tower and turrets from the Edo period.

It's about a 10-minute walk from the bustling Tokyo Station, and you can spend a nice quiet time walking around the area surrounded by green, castle remains and a moat. It's also a popular place to go running, and you'll see many people running around the palace especially in the morning or the evening.
Location: Tokyo Imperial Palace
20. Okutama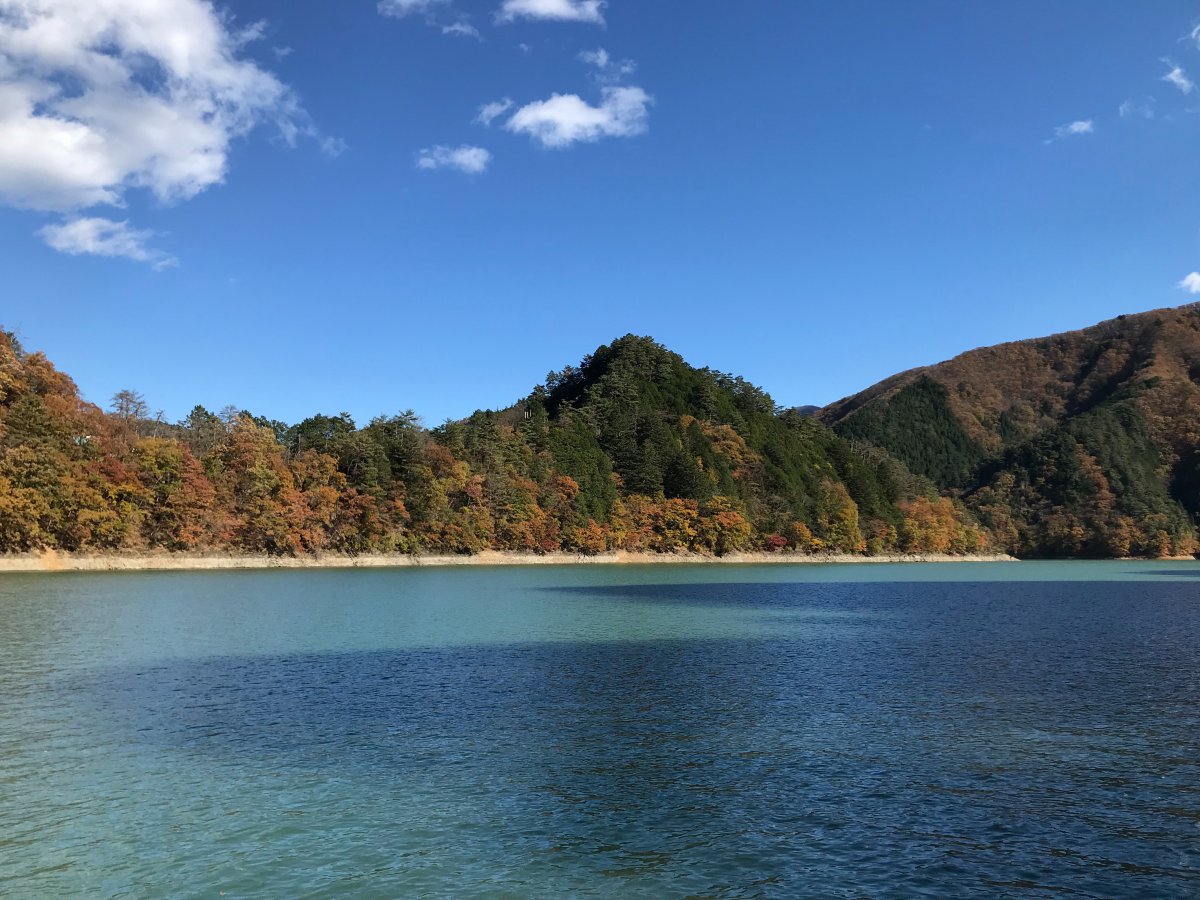 Okutama is located on the outskirts of Tokyo, about 2 hours away from the center. There you can enjoy outdoor activities out in nature. Lake Okutama is a man-made lake lying on the dam. There are a number of hiking trails ranging from beginner to more advanced. Watersports are also popular activities that you can do in the Okutama area such as kayaking and river rafting. The Okutama area is home to beautiful mountains which makes it a perfect place to visit during autumn for some beautiful fall leaves.
Location: Okutama
How to Get Around Tokyo
Traveling in Tokyo is great because there are so many convenient ways to get around, but it can also be a bit confusing with the subway, trains, buses and other forms of public transportation. Learning how to use the different types of transport can make your trip all the better and smooth. Have a look at our article below for everything you need to know about public transport in not only just Tokyo but all of Japan!
We hope you enjoyed reading our recommendations for the best tourist attractions in Tokyo. At all of these places, you can easily spend a couple of hours and enjoy the versatility of Tokyo. Sometimes it is hard to pinpoint just one specific spot as the whole area is an attraction itself! Can't decide which will be best? Visit them all! Since the public transportation system in Tokyo runs frequently and is well-connected, you can visit multiple destinations easily and conveniently in a day.
Find out the top 10 tours in Tokyo▼
Japan Wonder Travel Tours in Tokyo
Japan Wonder Travel is a travel agency that offers guided tours throughout Japan.
From private walking tours to delicious Food and Drink tours, we can help organize the best tours just for you! If you want to explore Japan and learn more about the history and backstories of each area you are traveling in, our knowledgeable and friendly guides will happily take you to the best spots!
In addition, we can provide you with any assistance you may need for your upcoming trip to Japan, so please feel free to contact us if you have any questions or need some help!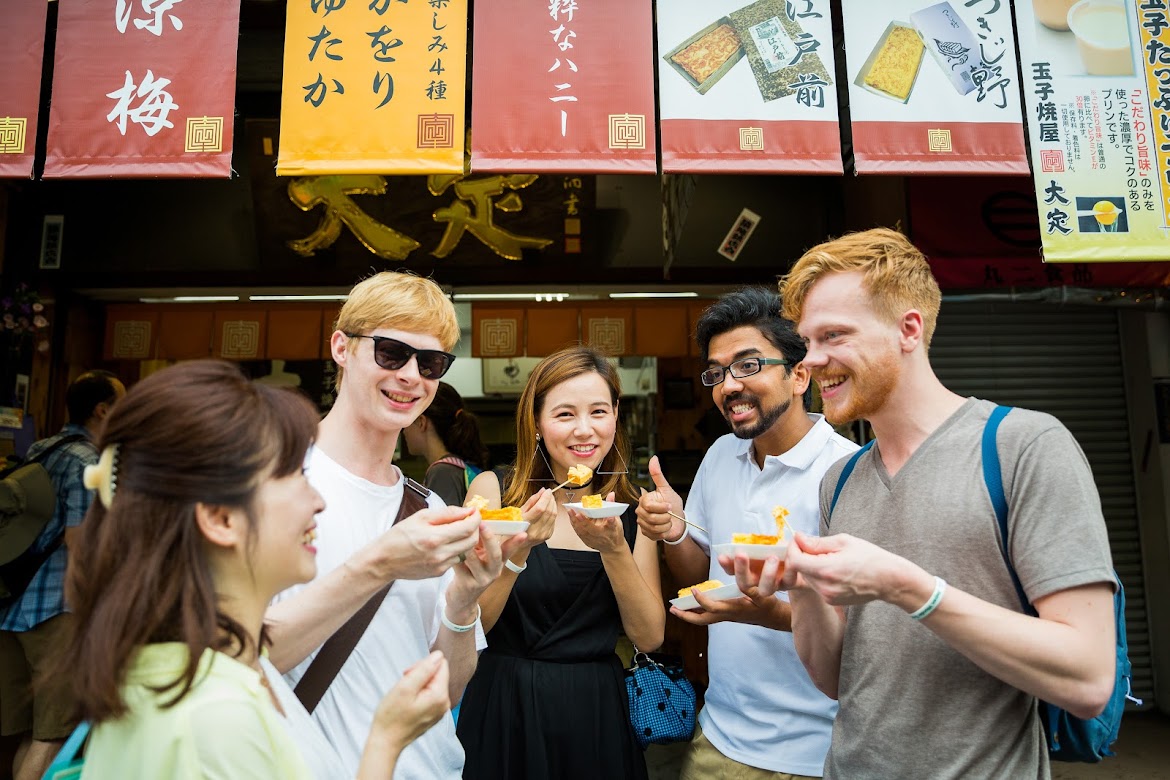 ▶Tokyo 1–Day Highlights Private Walking Tour (8 Hours)
There's no better way to explore an area than taking a tour with a knowledgeable local guide. You will have the chance to learn about the history and interesting background stories of Tokyo, as well as discover some hidden gems which can be hard to do without a guide.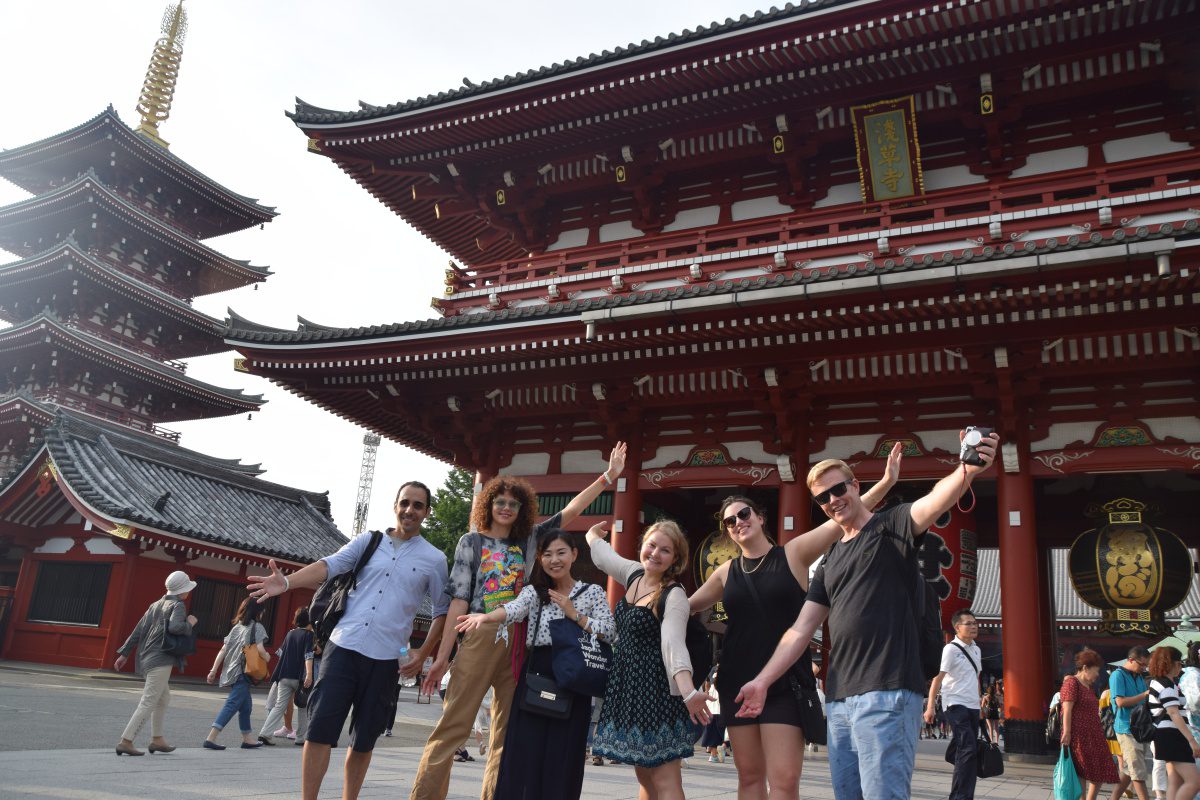 ▶Shinjuku Bar Hopping Tour: Experience Tokyo's Nightlife in Izakaya
Check out the best spots in Shinjuku while bar hopping through the lively and vibrant area. Try some delicious local food and drink as you explore the narrow yet photogenic alleys that the town has to offer. Experience Japanese izakaya culture and drink in Shinjuku like the locals!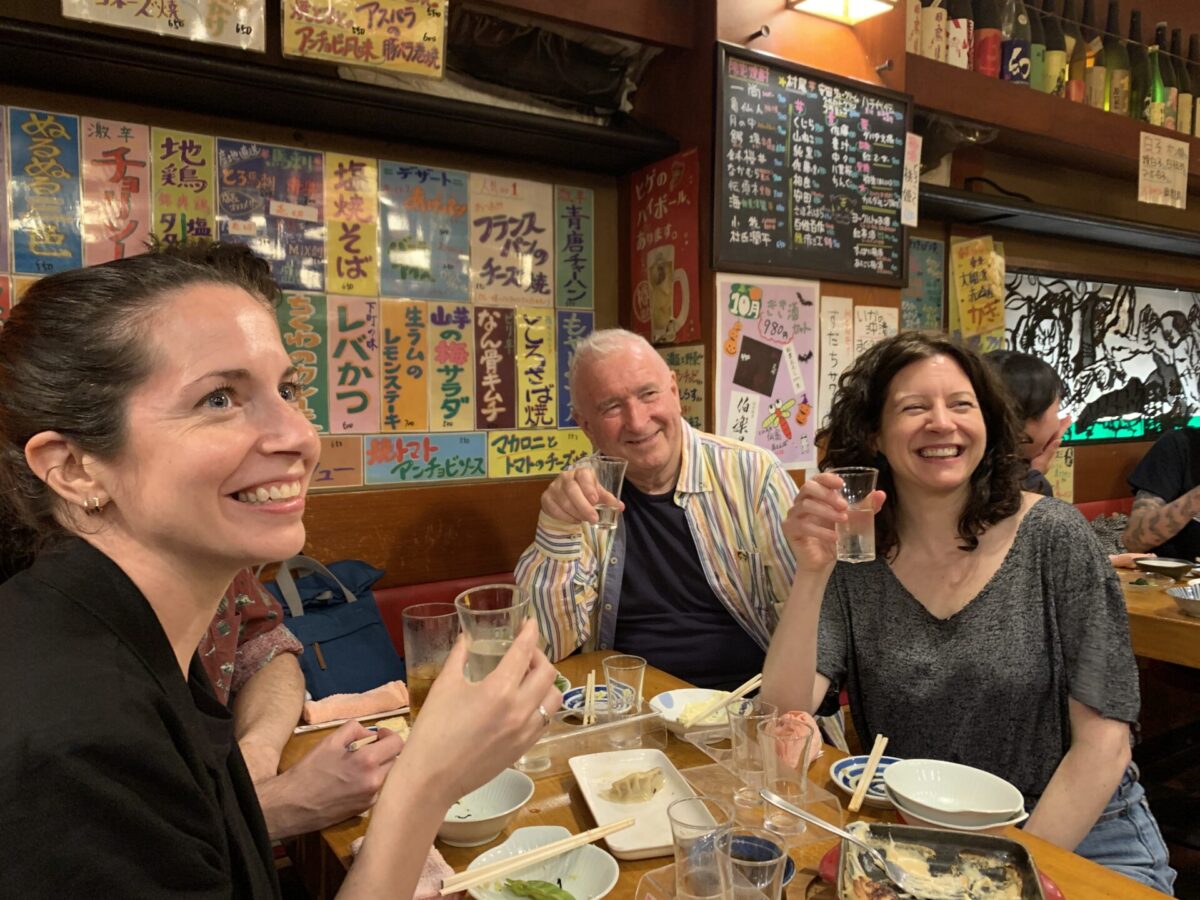 Find the Other Tours
▶Tour Packages
If you want to make travel easier, we suggest you look into tour packages.There are a wide range of tour packages out there to suit the accomodate for each traveler needs. Click the button below to find the best tour package from various Tour Operators!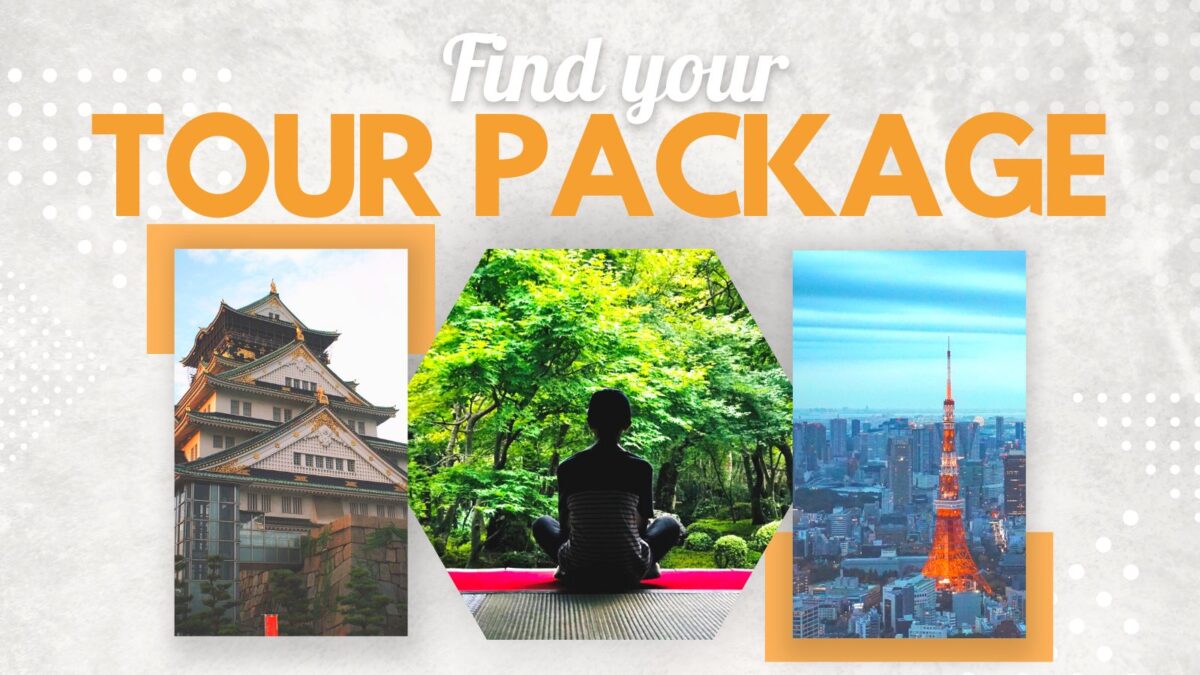 Where to Stay in Tokyo
Follow us on Instagram, Facebook, Twitter, and TikTok for more travel inspiration. Or tag us to get featured!
Happy traveling!
Stay informed of the best travel tips to Japan, the most exciting things to do and see, and the top experiences to have with the Japan Wonder Travel Newsletter. Once every two weeks we will introduce you to our latest content.
Other articles you might like
---