The Japanese government has launched the Go To Travel Campaign to encourage people to travel around Japan from July 22nd, 2020 onwards. This is a great opportunity to travel cheap in Japan! This campaign is not for international travelers but only for residents in Japan. So if you already live in Japan, why not go for a trip around Japan with the Go To Travel Campaign? In this article, we will explain what the Go To Travel Campaign is and how to travel cheap with it!
What is the Go To Travel Campaign?
The Go To Campaign consists of 4 different campaigns which will support the industries which have been severely affected by COVID-19 such as travel, food and entertainment industries etc. Go To Travel Campaign is one of these campaigns and the government will cover half of the domestic travel costs up to ¥20,000 per person per day (up to ¥10,000 for a day trip) by issuing coupons which are worth 15% of travel costs (up to a total of ¥6,000 per day) and giving 35% off discount on the travel package.
There is no limit for the number of traveling with the campaign, so you can repeatedly travel at a half price in Japan during the campaign.
Current situation of Go To Travel Campaign 2021
It's been suspended since March 2021, but the government is now considering resuming the campaign in the process of introducing the vaccine/ test package. The government plans to start the vaccine/test package in November in 2021 that allows it to lift some restrictions such as traveling between prefectures. If the Go To Travel Campaign resumes, you will likely need to get this vaccine/test package to apply for it.
The government initially announced that they would likely resume the campaign from the middle of January to February and would last until Golden Week in May, but it was postponed due to the surge of COVID-19. (As of January 14th)
It might be resumed in June 2022 at the earliest, but the exact date or plan hasn't been announced yet.(As of April 19)
At the moment, what we expect for the new campaign is as follows;
More discounts may be applied to the trip to the disaster area?
More discounts may be applied on weekdays than weekends?
Require the vaccination/ negative test certificate?
Go To Travel campaign will be resumed as GoTo 2.0 when it's ready, and the discount rate is likely to change. The discount rate is originally 35 percent of the trip cost (up to 14,000 yen) and comes with local coupons that is 15% worth of the whole travel costs (up to 6,000 yen). ▶See how it works
GoTo 2.0, however, will give a 30% discount (up to 10,000 yen) with 3,000 yen (weekdays) or 1,000 yen (weekends) coupons.
And good things will continue even after the new Go To Travel campaign!
After Golden Week, the special prefectural campaign will begin which will give you up to 20% discount (max. 8,000 yen) with up to 3,000 yen coupon. It will last until the peak season in summer.
We'll update the latest information accordingly when the official announcement is made.
Meanwhile, you can use the prefectural discount on prefectures under stage 2, giving you a discount on travel packages and a coupon ticket for local restaurants. It gives you a maximum of 7,000 yen in total for both a travel package and a coupon ticket (5,000 yen for accommodation + 2,000 yen for coupons). This discount is valid until the end of December 2021, and you can use this discount only in the prefecture you live in.

Prefectures that you can currently use (or resume in October 2021):
Iwate, Miyagi, Akita, Yamagata, Fukushima, Ibaraki, Tochigi, Gunma, Niigata, Nagano, Toyama, Fukui, Tottori, Shimane, Yamaguchi, Tokushima, Saga, Nagasaki, Oita
*Please make sure to check the latest updates on each prefecture
For example, for the Aichi prefecture residents, Aichi trip e-money campaign started on October 8th. You can use this campaign on accommodation in Aichi prefecture. It will cover 50% (Maximum 5,000 yen) of the accommodation fee and reimburse maximum 2,000 yen with electric money if you shopped or dined at the registered stores/ restaurants on the campaign. It will be valid until December 31st.
How does the Go To Travel Campaign work?
It is basically a package deal, and the campaign will cover half of the travel costs up to ¥20,000 per person per day. About 70% of reimbursement is actual discount on the package and about 30% of it is with coupons that you can use for gift shops, restaurants, amusement parks and transportation.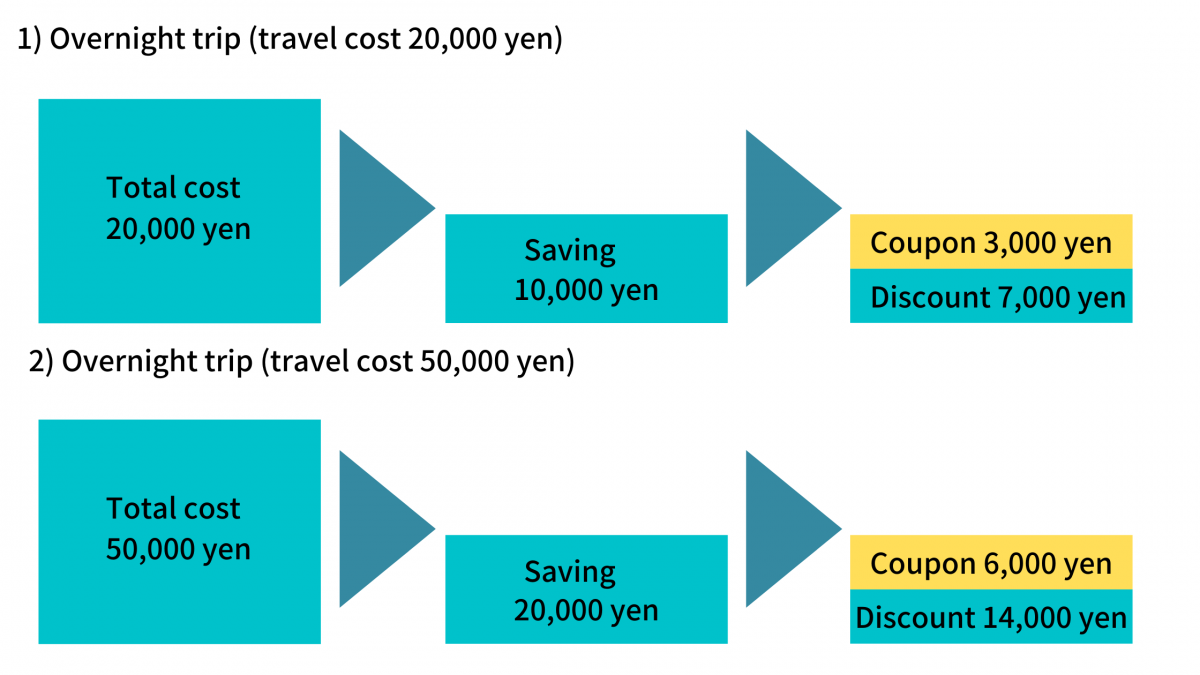 Here's how it works;
If your travel package costs ¥20,000, you can save half of the cost which is ¥10,000 with the campaign. You will pay ¥13,000 for your trip but you will get coupons with a total value of ¥3,000. With that, you can save ¥10,000 in total.
If your travel cost is ¥50,000, a half of the costs will be ¥25,000, however, the reimbursement is up to ¥20,000 per day. So you will pay ¥36,000 of the total costs and will get coupons with a total value of ¥6,000. With the coupons, eventually you can save ¥20,000 in total.
How to use Go To Travel Coupons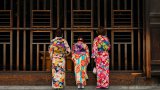 Everything You Need to Know About Go To Travel Campaign Coupons
From October 1st, travel coupons will start distributing which worth 15% of the total travel cost. You can use the coupons at your travel destination, but you might be wondering how it works and what you can do with them. So here we explain everything you need to know about the Go To Travel Campaign coupons!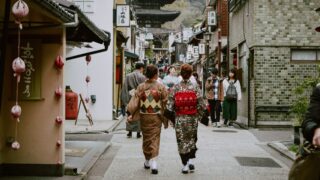 Best Way to Use Go To Travel Campaign Coupons in the Popular Destinations
When you decide to travel cheap with Go To Travel Campaign, you may wonder what is the best way to use coupons and how to use it. So, we will explain the exampl...
How to apply for the Go To Travel Campaign
Book a package via travel agencies or book the accommodation directly.
If you book a package via travel agency, accommodations and transportation (trains, highway fee, airplane, bus etc.) will be included but if you book accommodations directly, transportation will be excluded from the discount. But either way, you will get coupons.

The discount is not only valid for the accommodation but also if you book overnight transportation such as a cruise ship, the overnight ferry or a sleeper train (excluding overnight transportation that only offers seats), you can get a discount for those too. If you want to go on a day trip, the campaign will cover your transportation fee + food or activities.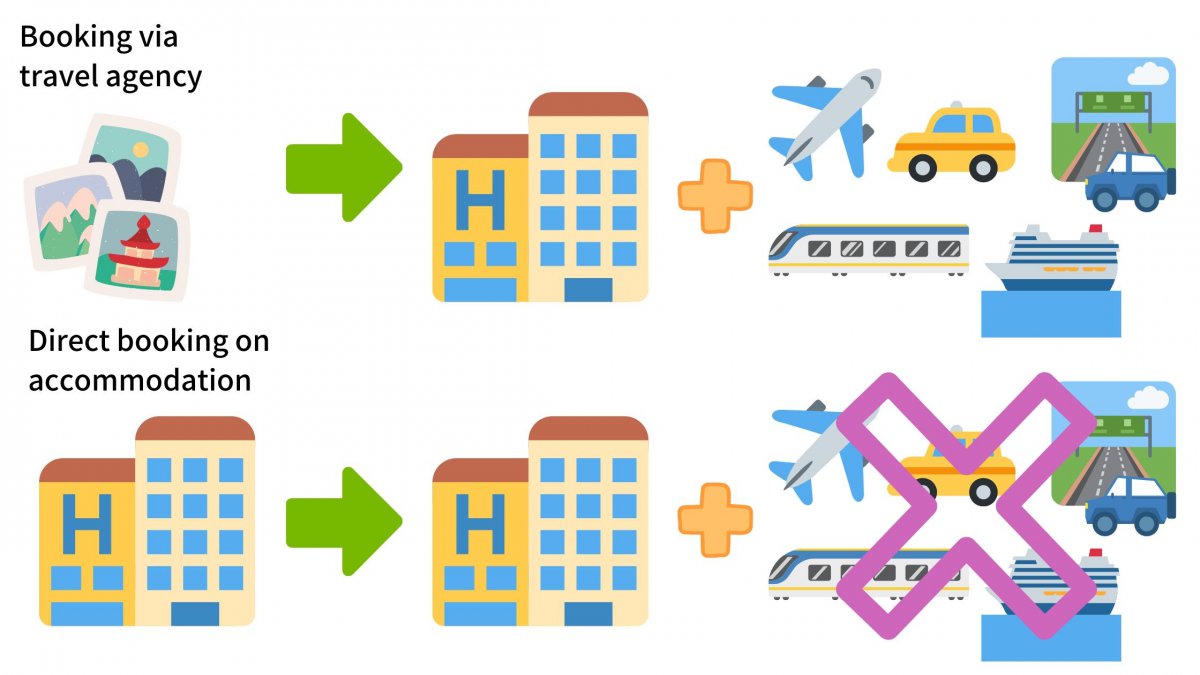 Website you can book Go To Travel Campaign:
We (Japan Wonder Travel) are not currently operating the service.
The websites you can book Go To Travel Campaign are as follows,
JTB(in Japanese)
Jalan net(in Japanese)
PCR test
If you have any plans for traveling or business trips, taking a PCR test beforehand is recommended. There's an English service that allows you to get a test quickly and easily in Tokyo and Osaka. You can choose the test type between swab and saliva. There's an option to receive the negative result certificate on the same day as well, so if you are in a rush, this will be very useful!
▶ Book PCR test from here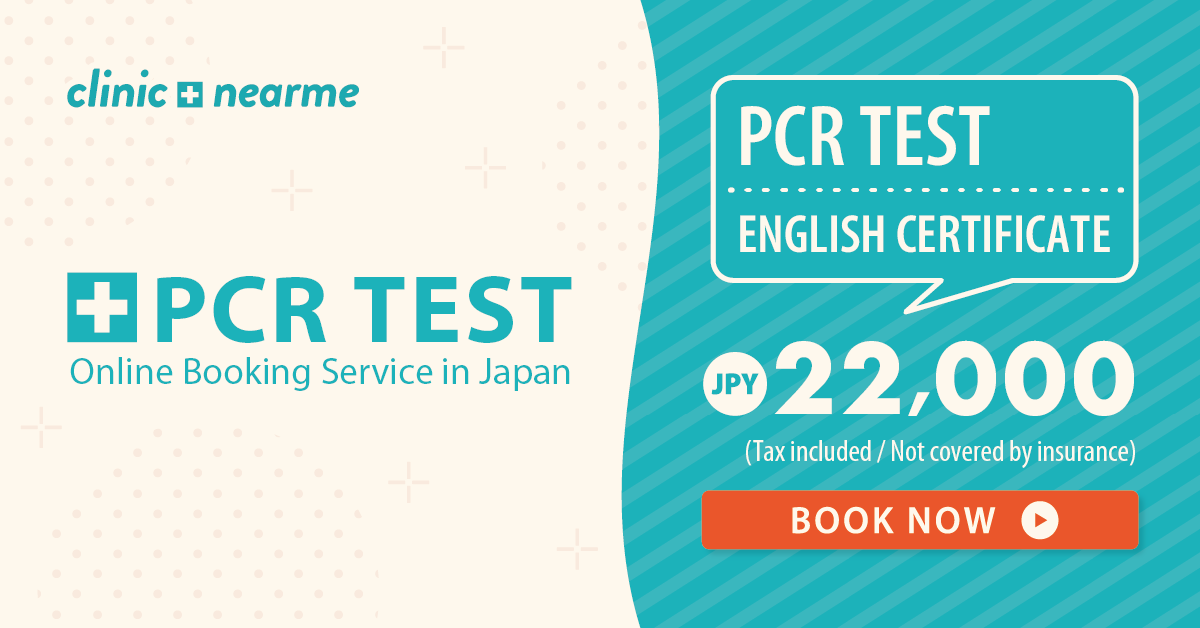 FAQ
If you have any questions about coupons, please read these articles first!
–Everything you need to know about Go To Travel Campaign Coupons (General)
–The best way to use go to Travel Campaign Coupons in the popular destinations
Q. Is the hotel for the quarantine also included for the Go To Travel Campaign?
It can be used for the quarantine hotel if you are a resident visa holder. Basically only the Japan resident can use the Go To Travel Campaign. But not every hotel accepts the quarantine, so please check with the hotel before you make a booking.
If you are an international traveler and look for the quarantine hotel, please check this website for more information (Self-Isolation Japan.com)

Q. How can we get coupons?
Please check this article! (Where can you receive the coupons?)
Q. If I want to stay for a couple of nights at my friend's house, can I still use the Go To Travel Campaign?
As long as you stay at the hotel on the same day of your arrival, your trip can be applied partly for the Go To Travel Campaign. For example, if you go on a trip for 3 nights 4 days and you stay at the hotel for the first night and stay at your friend's house for the rest of your trip, it's considered as a 1 night 2 days trip for the Go To Travel Campaign and you will get the discount for it. However, if you only stay at your friend's house, it is not applicable for the Go To Travel Campaign at all.
Follow us on Instagram, Facebook and Twitter for more travel inspiration. Or tag us to get featured!
Happy travelling!
Decide your travel destinations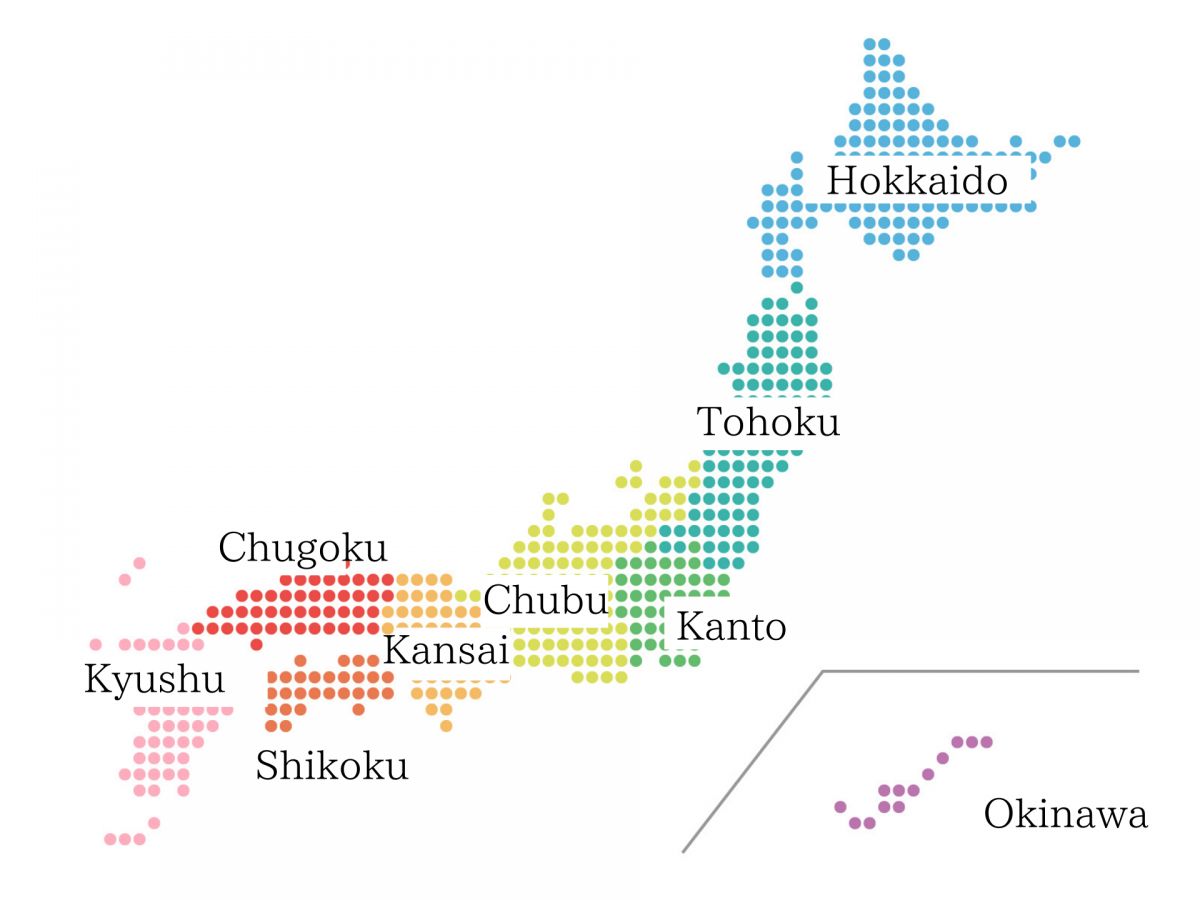 Hokkaido | Tohoku | Kanto | Chubu | Kansai | Chugoku | Shikoku | Kyushu | Okinawa
Other articles you may enjoy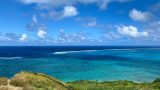 My Go To Travel Experience to Ishigaki
In oktober I travelled to Ishigaki with the Go To Travel campaign, using the services of Japan Wonder Travel. Here I will share my experiences.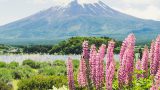 20 Most Beautiful Places in Japan
We have selected our favourite places in Japan for you to discover the most beautiful places Japan has to offer. Happy traveling!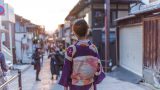 25 Popular Tourist Attractions in Japan
There are many places which attract a number of tourists from all over the world. Sapporo, Shibuya, Nikko etc, here we listed up 25 popular tourist attractions in Japan.
Stay informed of the best travel tips to Japan, the most exciting things to do and see, and the top experiences to have with the Japan Wonder Travel Newsletter. Every week we will introduce you to our latest content.