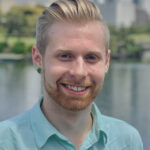 Writer's Profile
Bryce was born in California, and raised near Seattle, Washington! He's been living in Japan for about 5 years now, the first 3 spent studying at Temple University Japan. His main passion in life is writing and producing music, more specifically EDM if anyone is curious! He is very fond of snowboarding, cooking, traveling, playing video games; all of which he'd ideally enjoy with the company of his great friends.
This post may contain some affiliate links. When you click through and make a purchase we may receive some commission, at no extra cost to you.
Get the most out of your evenings on your trip to Japan with all these great tours! Feeling a bit worried you'll end up doing what all the tourists are doing for dinner? Well don't, you've found just the right collection of tours to avoid just that. All these tours will take you to the best joints around that guarantee a great local experience. So be sure to have a look and fit one or more into your itinerary!
1. Shinjuku Bar Hopping Tour: Experience Tokyo's Nightlife in Izakaya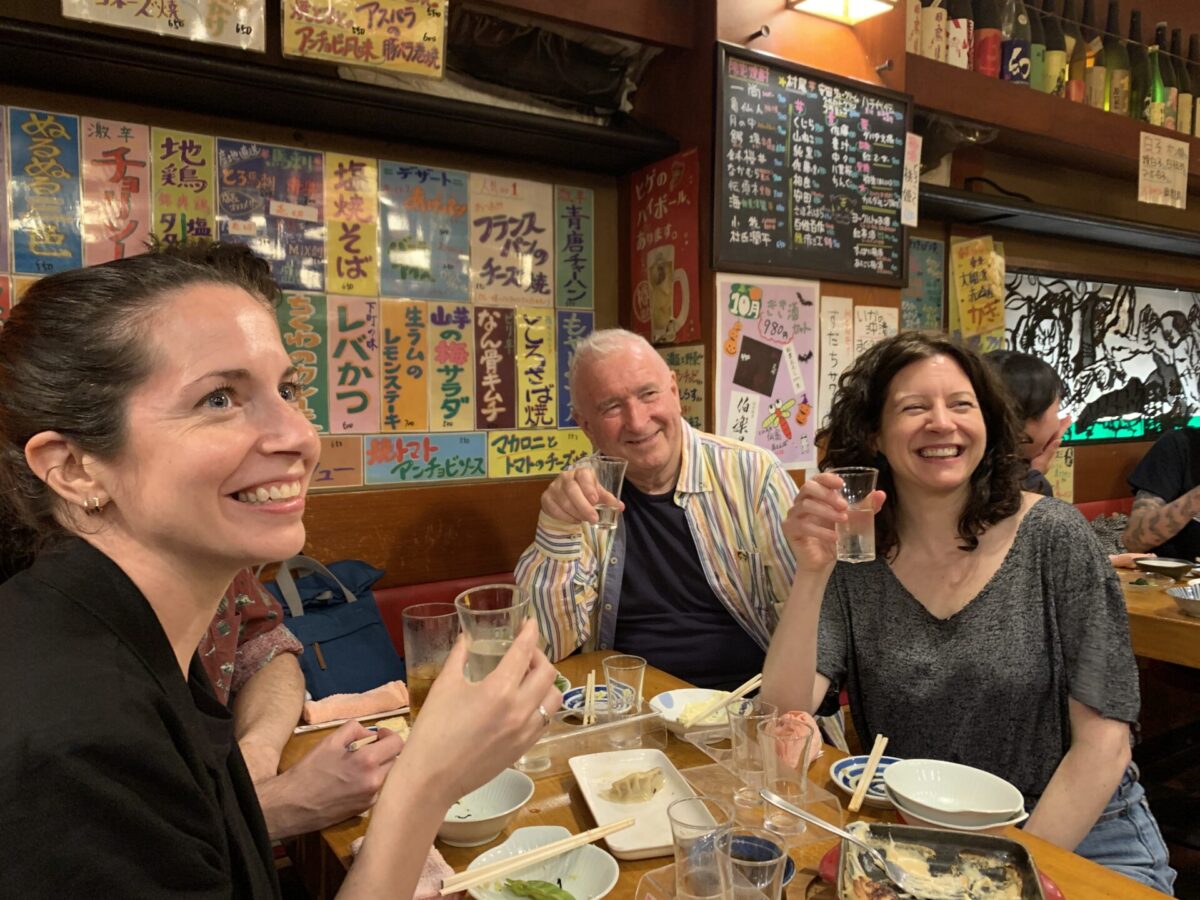 Welcome to Shinjuku, one of largest drinking towns and business areas in Tokyo! As soon as the workday ends, businessmen and women flock to the vibrant district to unwind with colleagues and business partners over delicious drinks and food. Our tour will take you on a cinematic journey through Shinjuku. We'll explore places like Omoide-Yokocho for some savory chicken skewers, Golden Gai for some tasty drinks at dive bars, as well as walk through the red-light district and go to an Izakaya! There's plenty to enjoy so let's have a good time.
Shinjuku Bar Hopping Tour: Experience Tokyo's Nightlife in Izakaya
ExploreShinjukuonthisbar-hoppingtourwithaprofessionalbilingualguide!ShinjukuisthebiggestdrinkingtowninTokyo,andourbar-hoppingtourwilltakeyoutothebestspotstoenjo...
2. Asakusa Local Food Bar Hopping Tour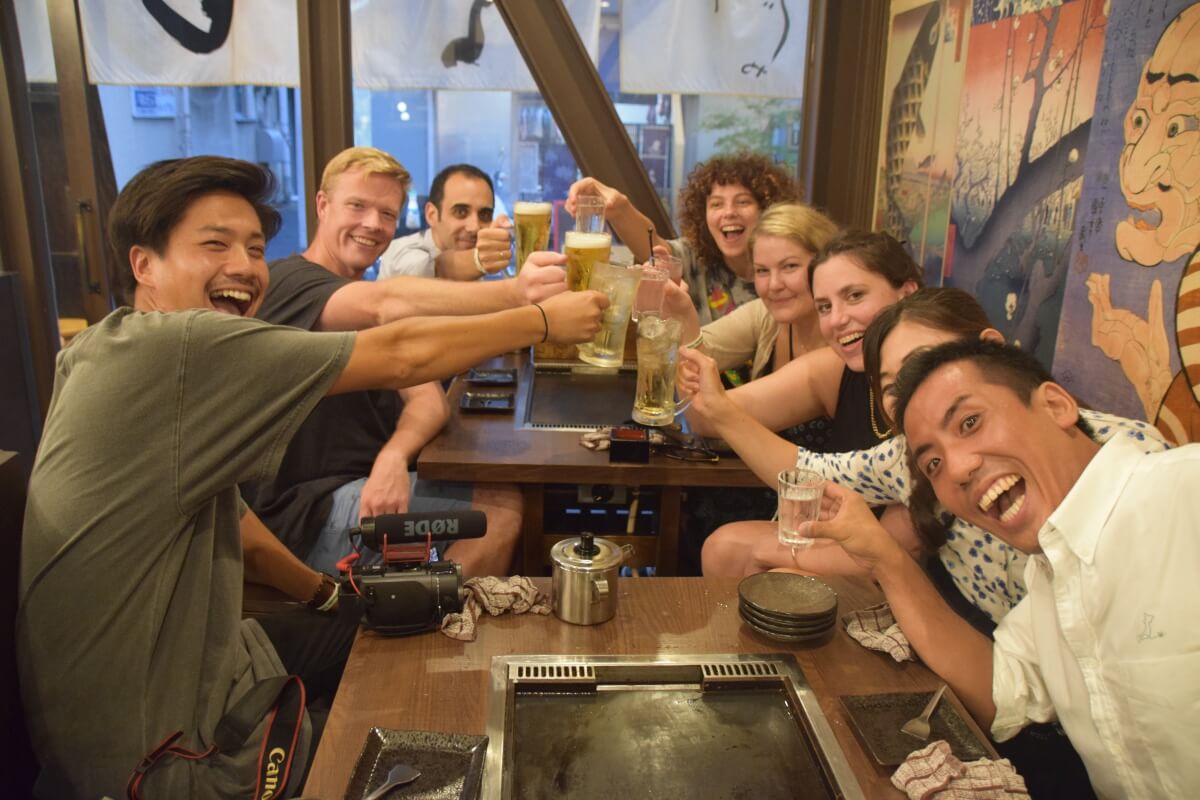 Experience authentic Tokyo nightlife by joining our Asakusa evening tour, designed to offer a perfect blend of fun and education. As the number of tourists dwindles, the locals come out to play, making it an ideal opportunity to mingle with them and taste some of the finest local foods and drinks. The tour kicks off with an introduction to the rich culture and history of Sake, where you'll learn about the different types of Sake in Japan and indulge in some "tasting". Take a leisurely stroll around the serene and enchanting Sensoji Temple at night time, which provides a stark contrast to the bustling daytime atmosphere. The tour takes you to a couple of buzzing hotspots, including a traditional Japanese Izakaya bar and a Monjayaki (savory pancake) restaurant! Join in and shout Kanpai ("Cheers" in Japanese) and immerse yourself in the fascinating Tokyo culture with newfound friends.
Asakusa Local Food and Bar Hopping Tour [Evening Tour]
OnthisAsakusaBarHoppingTourinTokyo,ourfriendlyguidewillsharetheirknowledgeofthearea,deliciousfood,andsakeatizakayaandlocalbars.Let'sKanpai(cheers)togetherforame...
3. Osaka Bar Hopping Night Walking Tour in Namba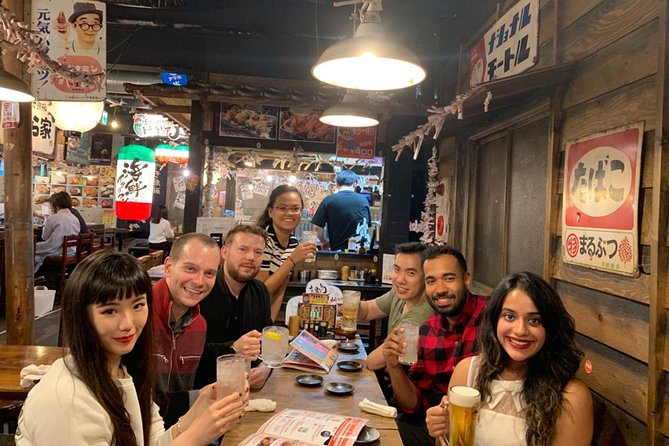 Are you ready to experience the nightlife of Osaka? Join this exciting tour in one of the great downtown areas of Namba! Your knowledgeable guide will take you to hidden bars that are off the tourist trail, giving you a unique perspective on the city's nightlife scene. They'll also take pictures for you and help you order delicious food! Sip on Sake (included in the tour), and enjoy the lively atmosphere of popular Izakaya. This tour is perfect for friends or couples looking for a fun and memorable night out in Osaka.
4. 3 Hours Kyoto Insider Sake Experience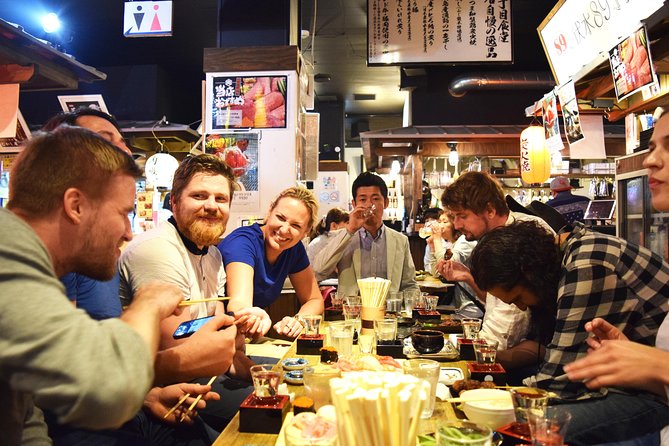 Indulge in a tantalizing taste of Japan's rich and flavorful history of Sake with this experience! Explore the Fushimi Sake District, where you'll discover the secrets of Sake production at the renowned Gekkeikan Okura Sake Museum, one of the largest breweries in the area. You'll learn the basics of Sake and sample a variety that ranges from dry to sweet and fruity, including some that can only be found in Japan. To truly enhance your tasting experience, Japanese snacks have been selected to complement each type, giving you a true taste of the local cuisine.
5. Kyoto Night Foodie Tour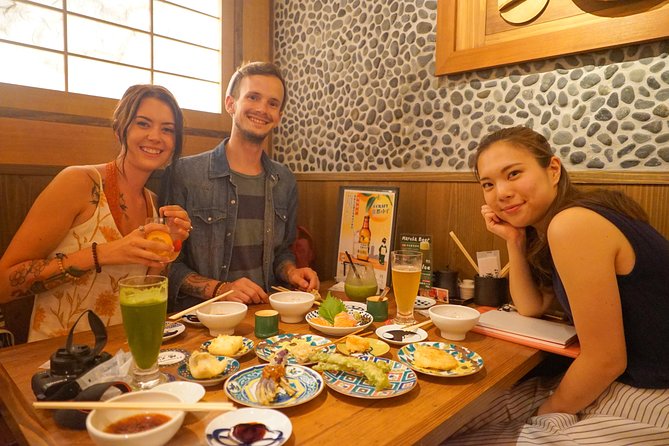 Check out this Kyoto Night Foodie Tour, where you'll dive headfirst into the exquisite world of Japanese cuisine. Join the expert guide as you wander through the enchanting districts of Gion and Pontocho, where you'll visit hidden gems that are off the beaten path yet a favorite for locals. Discover the magic of traditional drinks and food, as you indulge in 4-5 different tastings and 3 refreshing drinks. Your guide will also teach you plenty of things about the area and the history it has!
6. Eat and Drink Like a Local: Restaurant, Tavern & Ramen Tour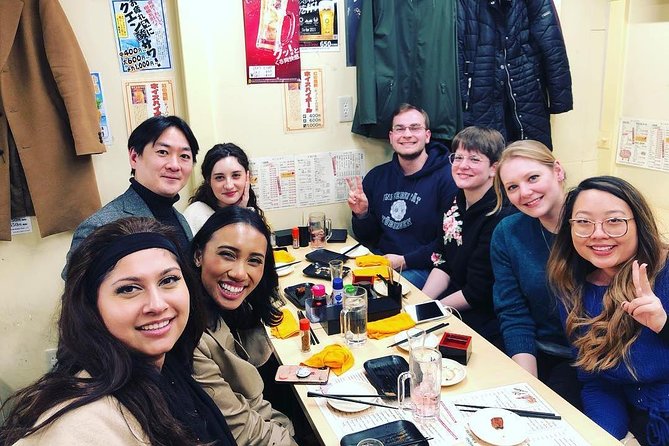 This tour in Ueno is perfect for first-time visitors who want to avoid the commonly toured areas and experience authentic tastes of Japan. The guide will take you to some of the best places that you may not find on your own! You'll also get to learn about the types of food and drinks that locals enjoy, giving you a true taste of the local culture. One of the highlights of this tour is the chance to try delicious Ramen, a must-try in Japan. Your guide will make sure to ease the language barrier and to get you your perfect dish! All you'll need to worry about is finishing the tasty food! Though, that should be no problem.
7. Hiroshima Bar Hopping Food Tour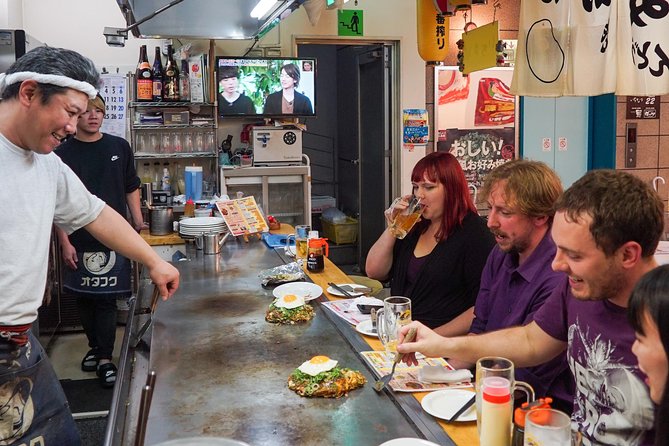 Visit Hiroshima, a place vital to WW2 history, where you'll discover the city's hidden gems of Izakayas and other bars that only the locals know about. Take a leisurely stroll through the streets, stopping at various destinations to enjoy drinks and maybe conversations with some friendly locals. But, this tour isn't just about the drinks and locals – it's also about the food! You'll have the opportunity to sample some delicious local dishes, such as Okonomiyaki (savory pancake). You'll even be treated to some Sake! Get the authentic feel of Hiroshima with this robust tour!
8. Tokyo by Night: Japanese Food and Drinks Experience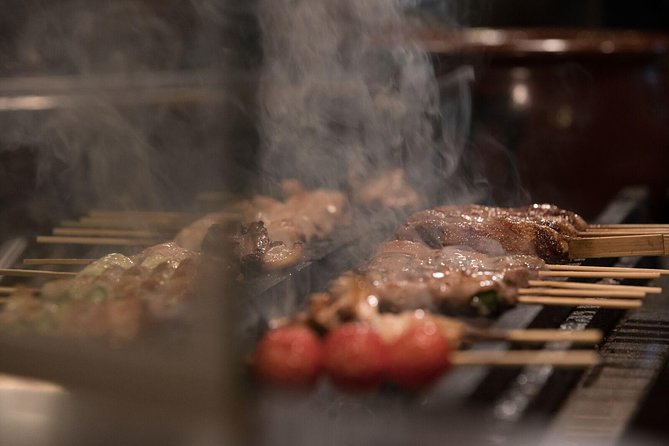 Experience the bustling city of Tokyo after dark with this one! Join a 3-hour culinary adventure where you will be guided through Tokyo's most popular bars and restaurants. Sample succulent yakitori, sweet cakes, refreshing sake, and learn about Japanese culinary and cultural traditions. The local guide will take you to three eateries that few visitors know about, where you can try favorites such as Yakitori (chicken skewers), Monjayaki (cousin of Okonomiyaki), and Wagashi (traditional sweets). Wash it all down with refreshing sake or even some beer, and discover the best of Tokyo at night!
9. Osaka Backstreet Night Tour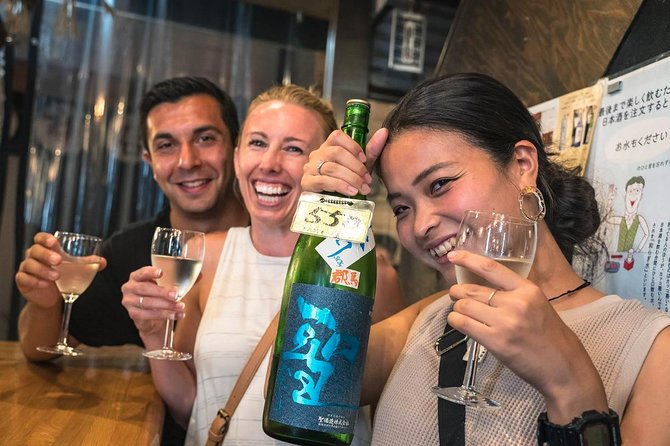 Here's another great drinking tour in Osaka! Look no further than the Osaka Backstreet Night Tour! You'll have the chance to meet some friendly locals and explore the city's hidden gems as you eat and drink your way through Namba, Shinsaibashi, and Amemura. The guide will take you to Izakayas and backstreet bars that only the locals know about. Try Yakitori, Takoyaki (fried batter balls with octopus in the center), and other Japanese pub specialties, and wash it all down with a refreshing drink included in the tour price. Additionally, with the Osaka Pub Passport, you'll receive discounts of up to 3000 Yen to use on your future travels. Ask the guide for info about it!
10. Shibuya Bar Hopping Night Food Walking Tour in Tokyo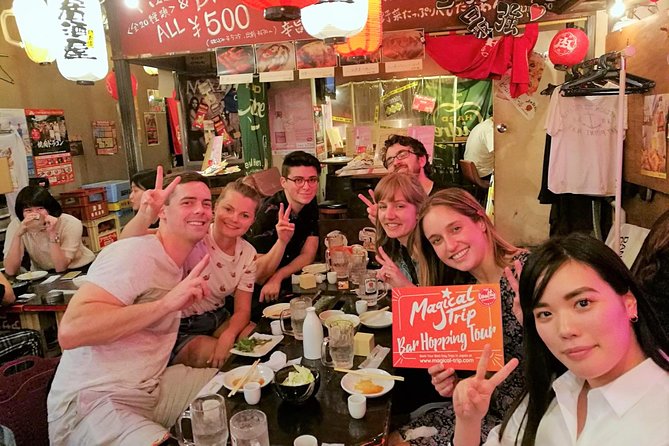 Are you ready to explore the exciting Shibuya nightlife but feeling a little lost? Fear not, because this guided tour is here to take you to the best Izakayas in town. With multiple stops and drinks and local dishes at each, you'll get to soak up the authentic, youthful local atmosphere and avoid the tourist traps. Discover hidden gems that you'd never stumble upon alone, and receive valuable tips from your knowledgeable guide on where to venture next. With the signs written in Kanji, finding the perfect spot for a drink can be a challenge. But with our tour, you'll be sipping like a local in no time.
Japan Wonder Travel Food Tours
Japan Wonder Travel is a travel agency that offers guided tours throughout Japan. 
From private walking tours to delicious Food and Drink tours, we can help organize the best tours just for you! If you want to explore Japan and learn more about the history and backstories of each area you are traveling in, our knowledgeable and friendly guides will happily take you to the best spots! 
In addition, we can provide you with any assistance you may need for your upcoming trip to Japan, so please feel free to contact us if you have any questions or need some help!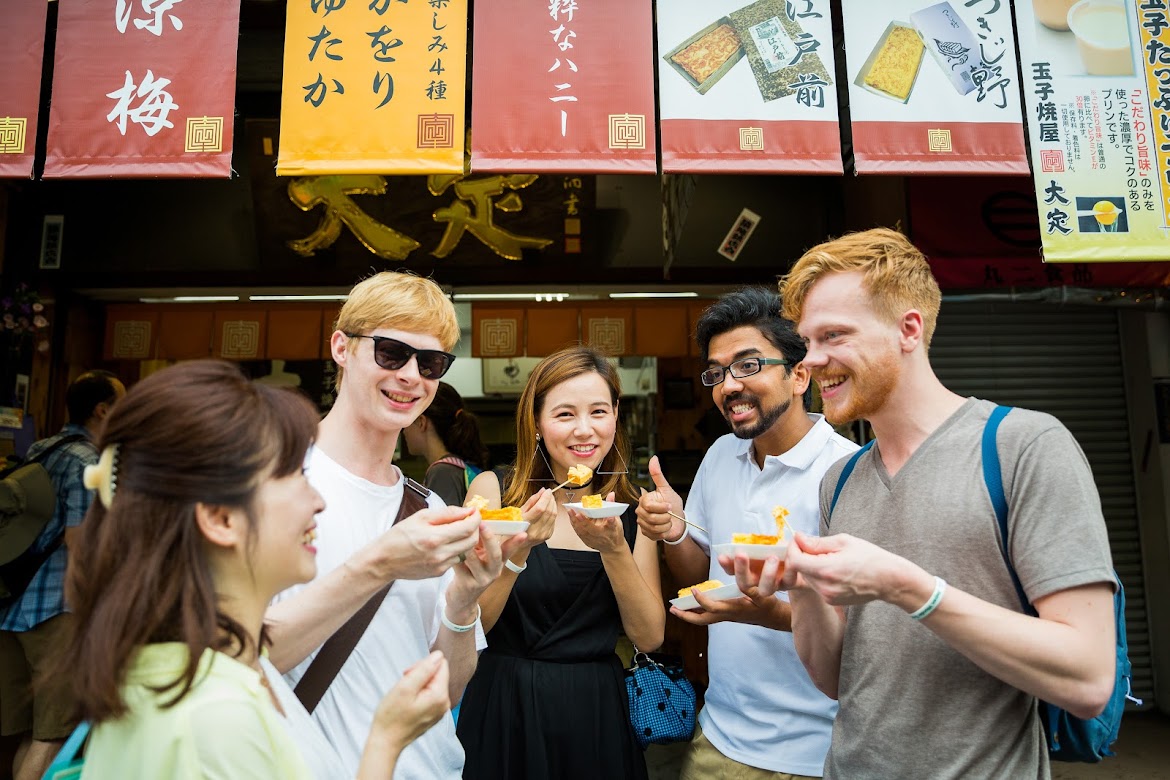 ▶Tokyo Local Street Food and Drink Tour @Sunamachi
This food tour will take you to one of the lesser-known areas of Tokyo, that is Sunamachi Ginza. You will walk through the shop filled street with your guide and be able to try some of the delicious local street foods including tempura, inari sushi, oden, among others!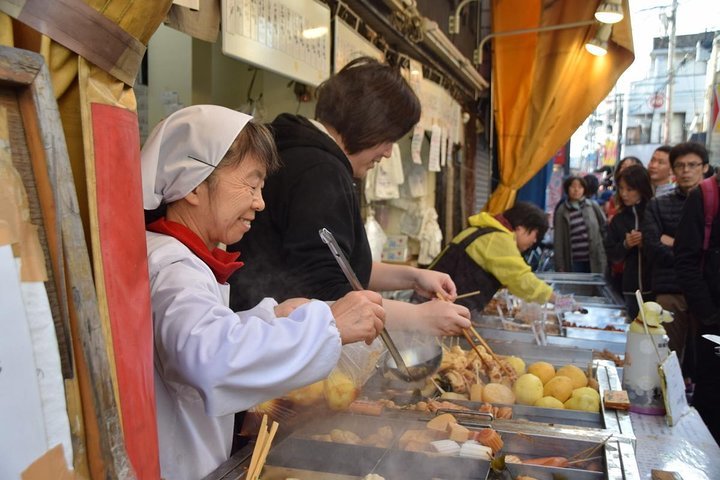 ▶Kyoto Food and Drink Tour @Nishiki Street & Gion
If you're looking to learn more about the culture and the local cuisine of Kyoto, this is the perfect tour for you! Take part in this Kyoto food and drink tour and explore the 400-year-old market and the famous Gion district.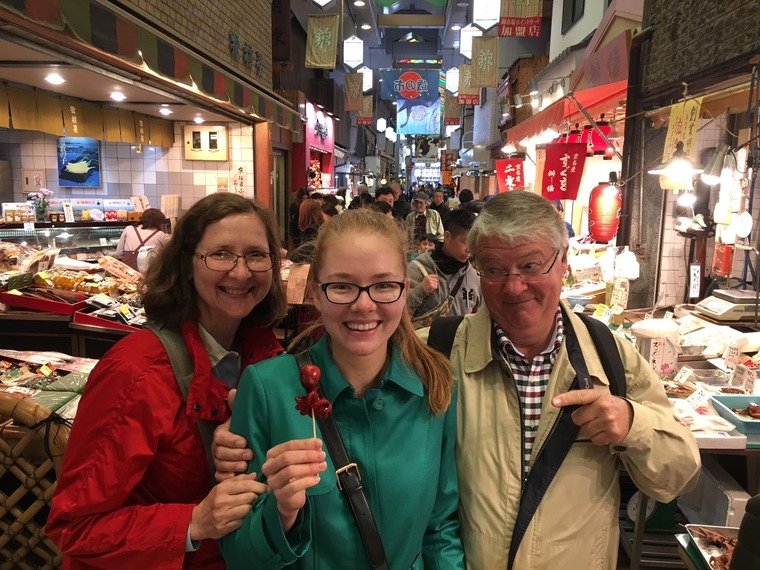 Follow us on Instagram, Facebook, Twitter, and TikTok for more travel inspiration. Or tag us to get featured!
Happy traveling!
Stay informed of the best travel tips to Japan, the most exciting things to do and see, and the top experiences to have with the Japan Wonder Travel Newsletter. Once every two weeks we will introduce you to our latest content.
Other Articles you Might be Interested in