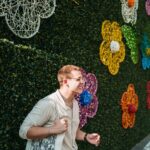 Writer's Profile
Sam (サム) Buhl is a student from Madison, Wisconsin, who is studying at Boston College in Boston, Massachusetts. Currently, he is working towards a Bachelor of Science degree in Neuroscience, with a minor in Management and Leadership. His objective is to apply his understanding of psychology to organizational transformation and hopes to work in an international and diverse professional environment. During his free time, he enjoys taking long walks (occasionally on the beach), visiting coffee shops, practicing mindfulness, art, listening to music, and staying physically fit. Sam is passionate about exploring the outdoors, going on adventures, and challenging himself to step outside of his comfort zone whenever possible.
Kyoto is often considered the storied cultural heart of Japan. Food plays a quintessential role in the culture of any place, and Kyoto is no exception. Essential to this culture is Nishiki Market! The Market is a 400-year-old retail market featuring over 130 shops and stalls all along a narrow five-block long street.
The market started as a wholesale fishing district with shops first opening in the 14th century. Since then the market has expanded and changed with a larger variety of shops and cuisine moving onto the street. Some of these shops have been in the same families for generations! In the modern era, the market still functions as an important cultural and community touchstone for both locals and tourists alike. Planning on stopping in at the market? Unsure what to keep an eye out for? Well you're in luck, here are 10 of Nishiki's markets' best foods to try on your day in Kyoto!
▼Want the full Nishiki Market experience? Have a look at our tour below!
Kyoto Food and Drink Tour @Nishiki Market
KyotoFoodTourtakesyoutotheNishikiMarketandwillintroduceyoutoKyoto'sstreetfoodculture.Wewillalsovisittheplacesdeeplyrootedinthelocal'sdailylives.Diveintothehisto...
1. Soy Milk Donuts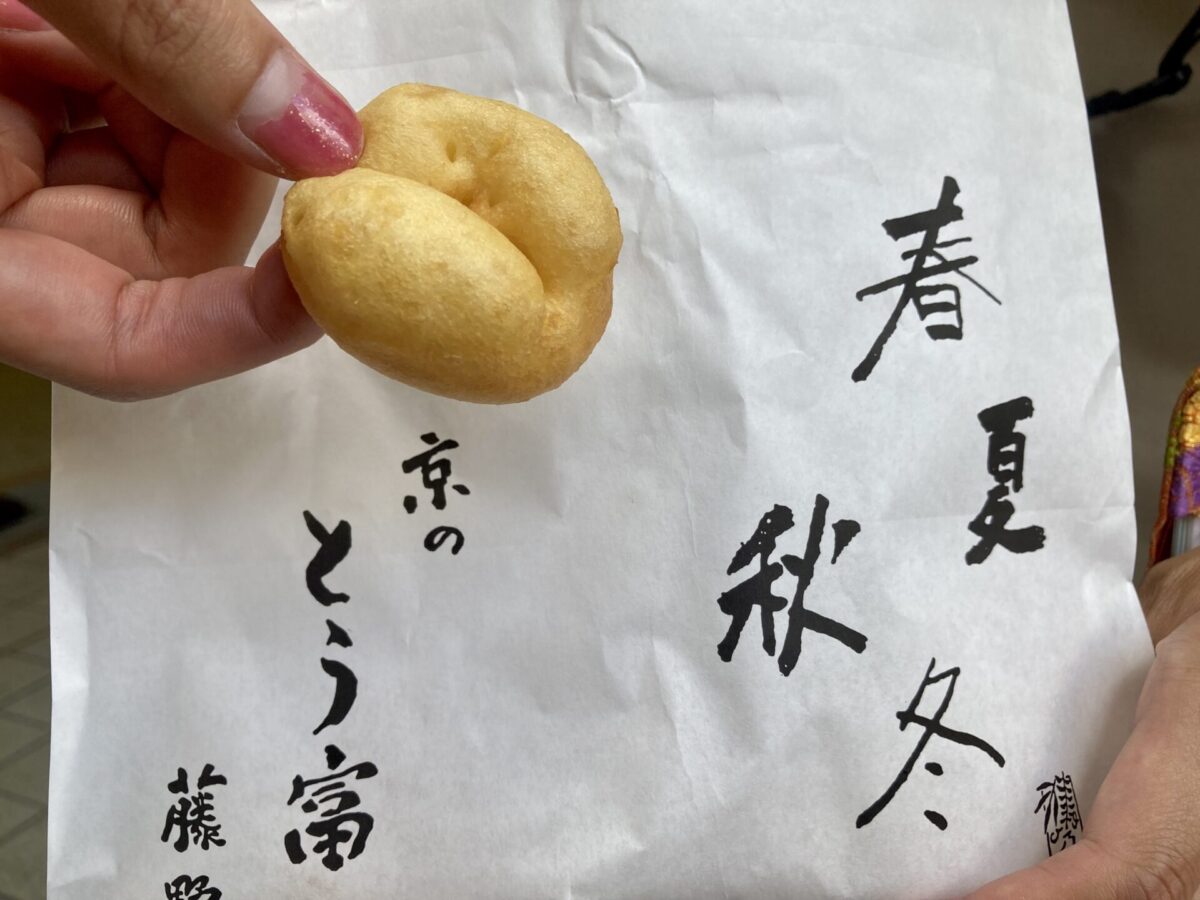 Love all things dough? If so you have to try some Soy Milk Donuts, a Nishiki Market staple! These donuts pair a slightly crunchy outside with an inside that is a bit more chewy than your typical donut. Slightly sweet and typically eaten hot, Soy Milk Donuts are a staple of the cooler months in Kyoto! Our recommendation: Try to get these straight out of the oil to eat them as fresh as possible (don't burn your mouth though!), if not you can always reheat them to properly enjoy this classic Kyoto treat.
Recommended shop: Konnamonja
2. Beef Croquette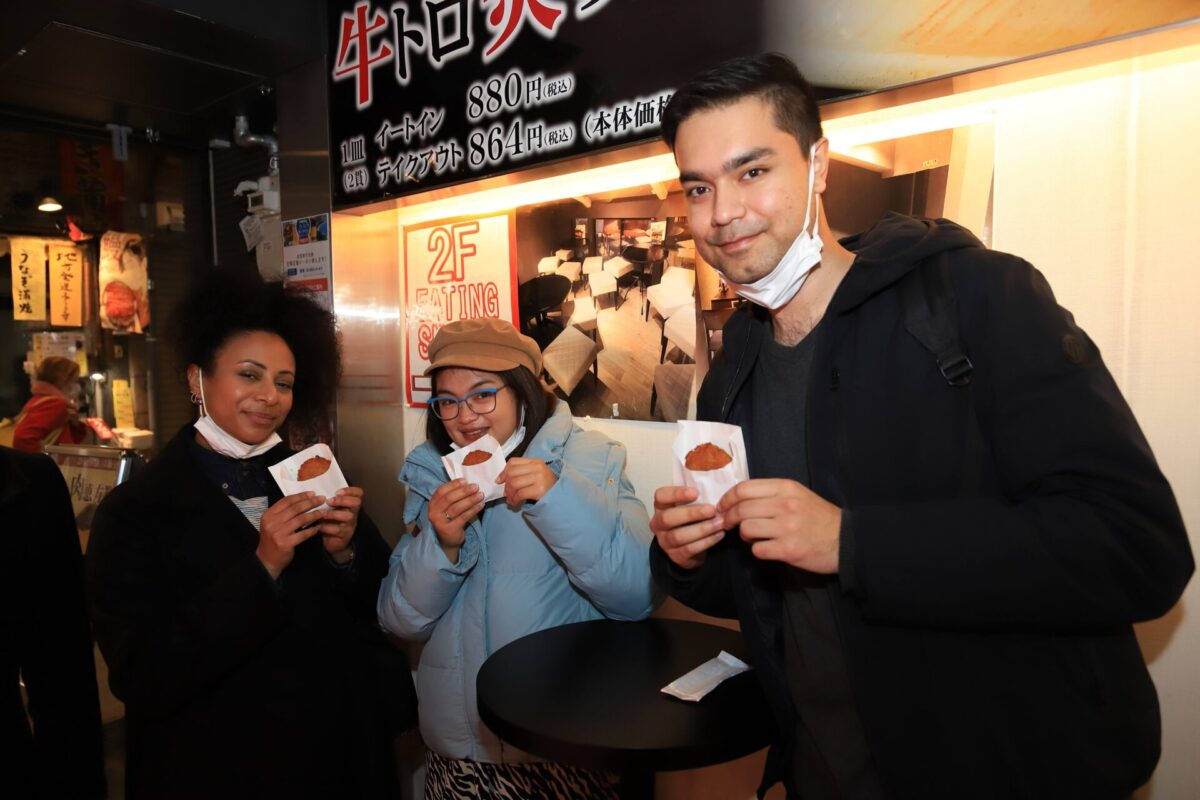 If savory is more your calling – A beef croquette or two will surely satisfy your craving. Croquettes are a Yoshoku or "Western-style" of Japanese food that uses mashed potatoes to maximize the dense yet fluffy characteristics of snacks. These savory snacks are usually filled with protein and deep-fried, resulting in a delicious taste with a hint of sweetness and umami flavors. Hiro Beef Kyoto in Nishiki Market specializes in this kind of tasty snack, making delicious beef croquettes that do not skimp on the ratio of beef to potato!
Recommended shop: Hiro Beef Kyoto
3. Dashimaki (Japanese style rolled omelet)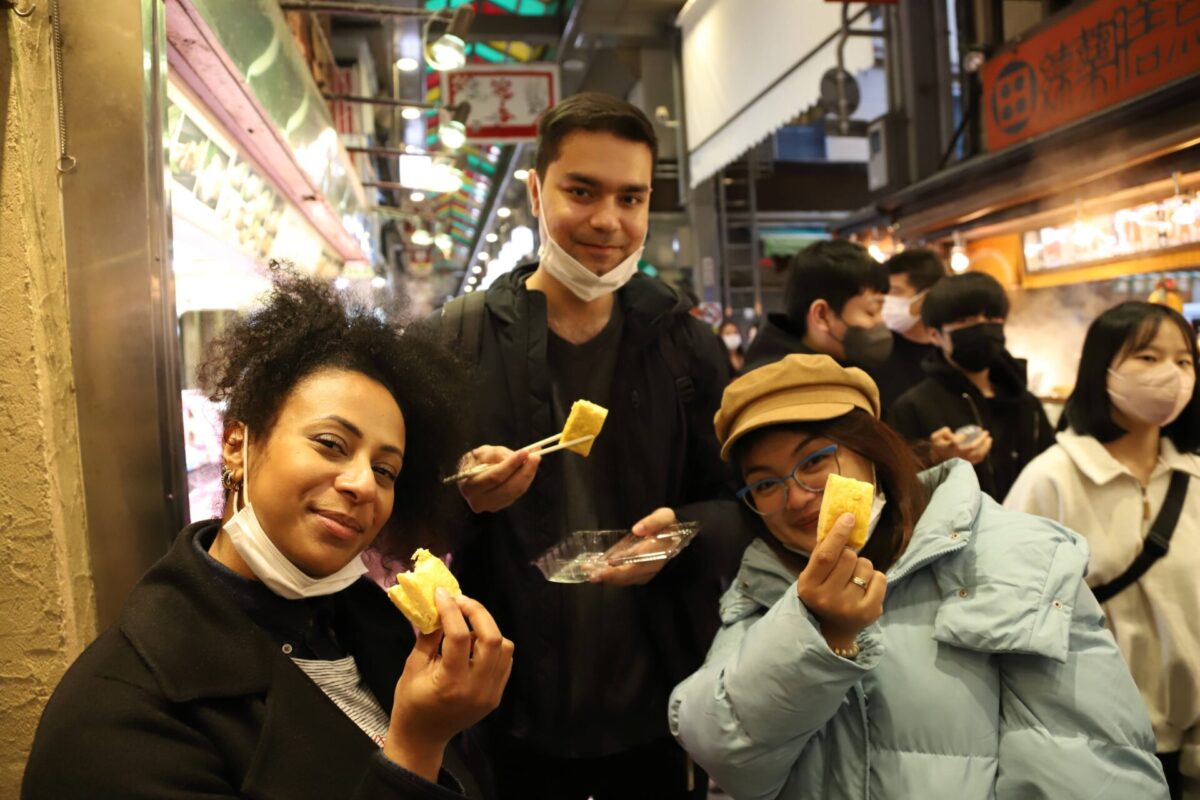 Have you ever tried dashimaki? Dashimaki is a staple breakfast dish in many Japanese households, and is a type of omelette made by delicately rolling paper-thin layers of cooked egg into a rectangular shape. Although it is known to be slightly sweet when made in places like Tokyo, dashimaki in Kyoto is often made with lots of dashi and without any sugar, giving it more of an umami savory flavor. When visiting Nishiki Market make sure to stop by Tanaka Keiran. This shop is renowned for using only soup stock and eggs in their dishes, resulting in a simple yet deep taste imparted by their 87-year-old dashimaki technique.
Recommended shop: Tanaka Keiran
4. Soft Rice Cracker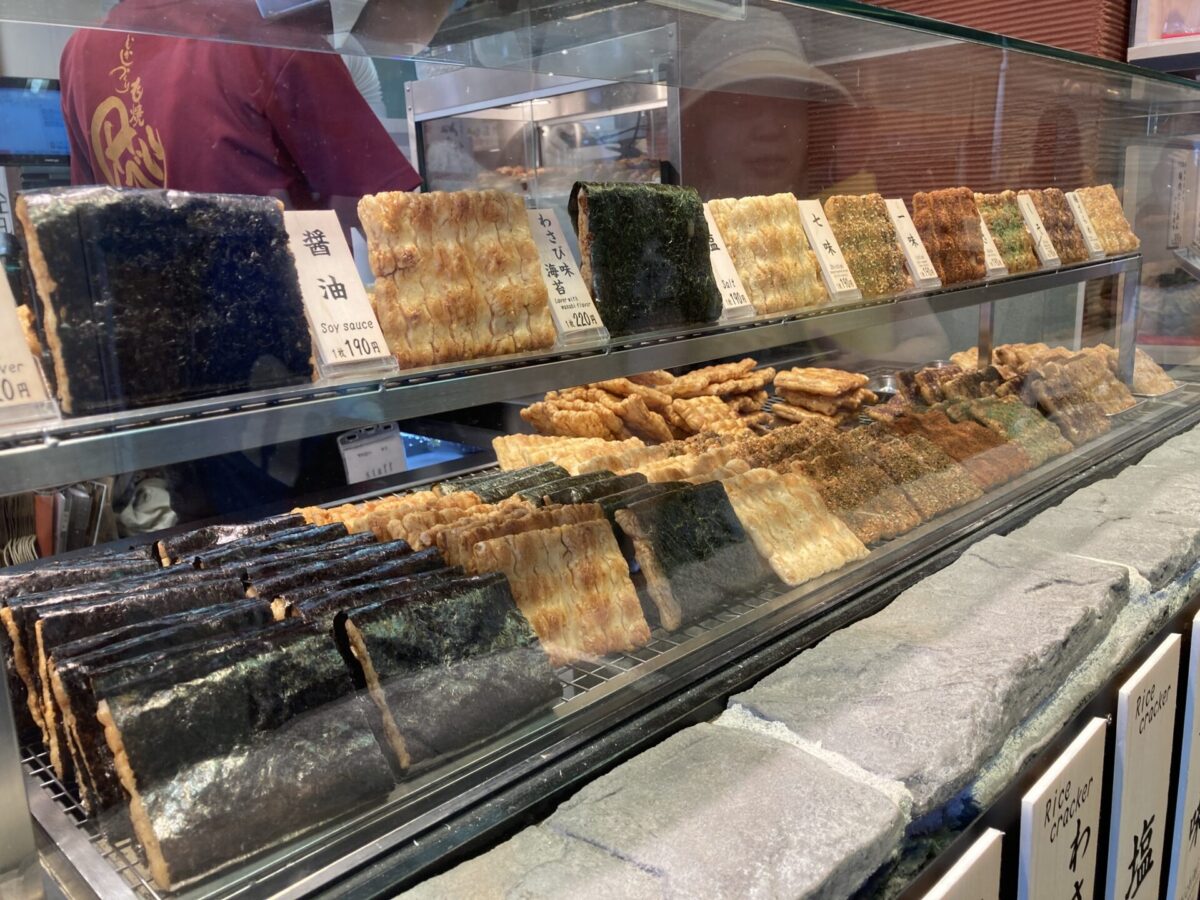 While most forms of Senbei rice crackers are known for their crisp texture and crunch there are some exceptions! Soft rice crackers or Nure Senbei/Nure Okaki are made by steaming domestic glutinous rice, which is then pounded in a pestle to make a mochi dough. With typical senbei, this dough is dipped in a secret soy sauce and then baked or grilled. The Nure variety of crackers has a unique method of applying soy sauce. Unlike other varieties, the Nure crackers are dunked in soy sauce immediately after being grilled, which softens the dough. If you want to try this rare specialty stop by Terakoya Honpo at Nishiki Market!
Recommended shop: Terakoya Honpo Nishiki
5. Hamo Tempura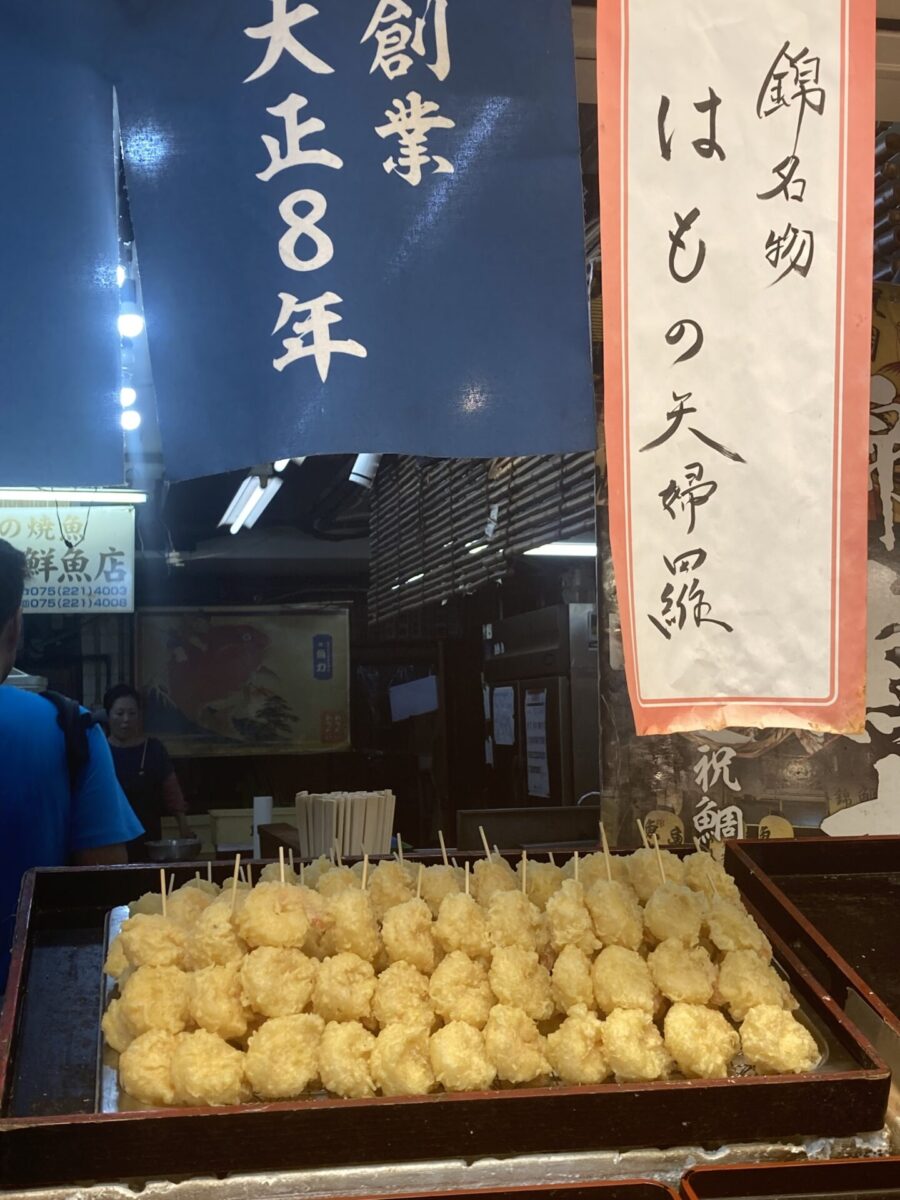 Have you had tempura before? We wouldn't be surprised! This Japanese method of lightly coating proteins and vegetables with batter and frying them to a crispy texture is widely loved in Japan and around the globe. However, when visiting Nishiki market we recommend you try Hamo Tempura! Hamo Tempura is a dish made using the flesh of the pike conger eel or Daggertooth pike conger. Using a special bone cutting technique, the entire fish's bones are finely cut up giving it a notably buttery texture and ensuring that you don't feel the bones when eating it. When looking for a delicate and crispy bite order the Hamo tempura from Nishiki Uoriki!
Recommended shop: Nishiki Uoriki
6. Kyo Ra-yu Furikake
If you're looking to spice up your everyday meals, pick up some Kyo Ra-yu Furikake at Nishiki Market. Furikake is a dry condiment made of nori (dried seaweed), sesame seeds, sugar, salt, and sometimes dried bonito flakes. It is typically sprinkled on top of many Japanese dishes. If you're looking for an extra kick, stop by Ochanokosaisai to try the Kyora Abura Variety, a spicy chili oil version that will "make you want to eat more rice". However this delicious furikake goes well not only on rice, but also on other foods such as grilled chicken, pizza, and even pasta!
Recommended shop: Ochanokosaisai
7. Takotamago (Baby octopus with boiled quail egg)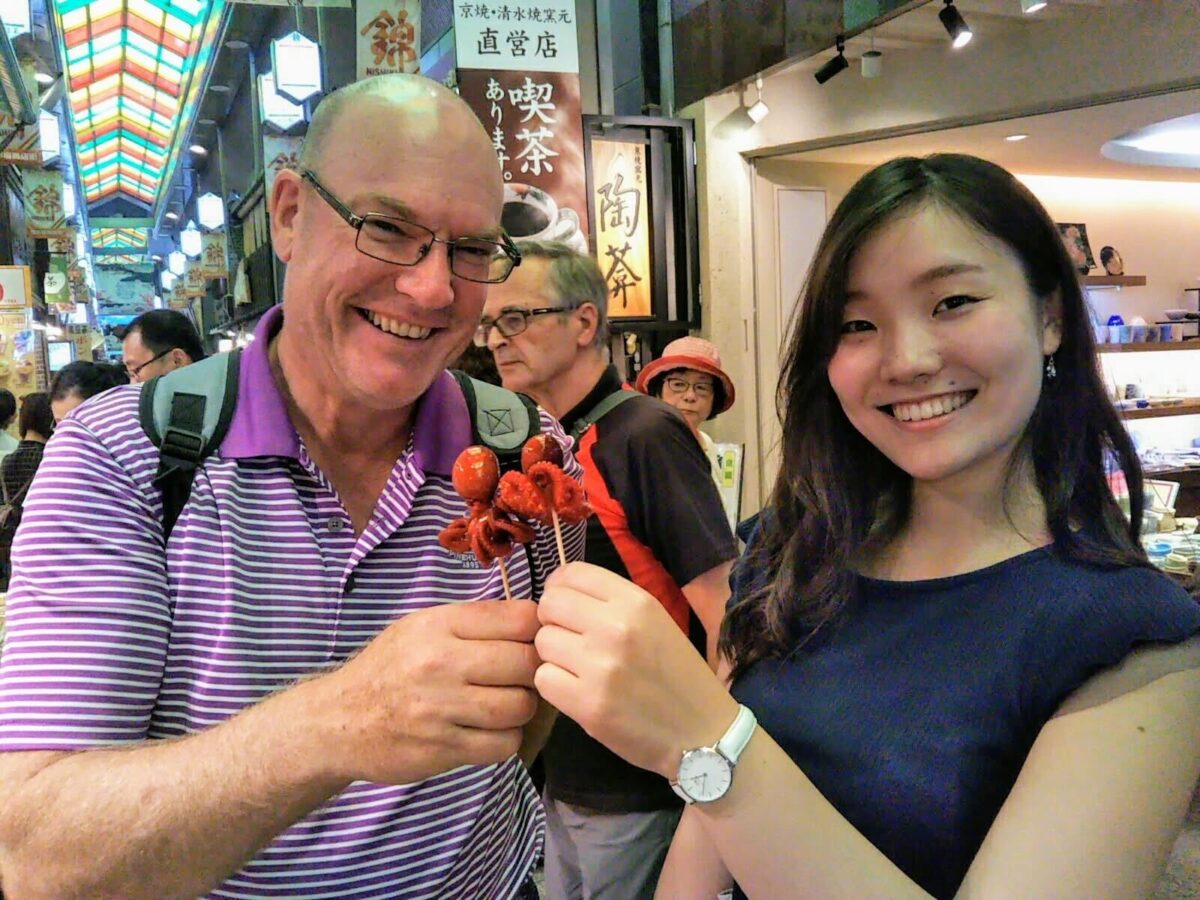 Takotamago is a truly unique Japanese delicacy found at Nishiki market. Consisting of a candied baby octopus stuffed with a boiled quail egg which is Simmered in soy sauce till glazed; you won't find this eye-catching snack anywhere else! You only live once so try it when you stop by Nishiki Market!
Recommended shop: Kai
8. Pickled Cucumber & Seasonal Pickled Vegetables
Pickling is an ancient technique used worldwide to bring out natural flavors and preserve food for long periods of time. Pickled vegetables and fruits are a historied and quintessential part of the Japanese diet with multiple varieties of techniques that can vary from region to region. Curious about pickles? We highly recommend visiting Mori, a shop located in Nishiki Market that specializes in Kyoto-style pickles. Not only can you indulge in the delicious taste of their pickles, but you can also rest assured that their vegetables are locally grown in Kameoka, Kyoto.
Recommended shop: Mori
9. Taiyaki Fumanju
Taiyaki is a Japanese fish-shaped cake; a unique sweet, the cake imitates the shape of a Tai or red sea bream. Notably, Tai are considered good luck and fortune in Japan! Commonly sold as street food, Taiyaki are a quintessential snack with many different batter ingredients and flavors of fillings; sometimes they even contain ice cream! Kyoto has a specialty form of this confection called Taiyaki Fu Manju, and unlike regular Taiyaki, they are made with Fu(a light wheat-gluten bread), giving it a more springy and doughy texture that goes well with the red bean paste filling. Try this special treat at Fuuka located in Nishiki market!
Recommended shop: Fuuka Nishiki
10. Shichimi 7 Spices Soft Serve Ice Cream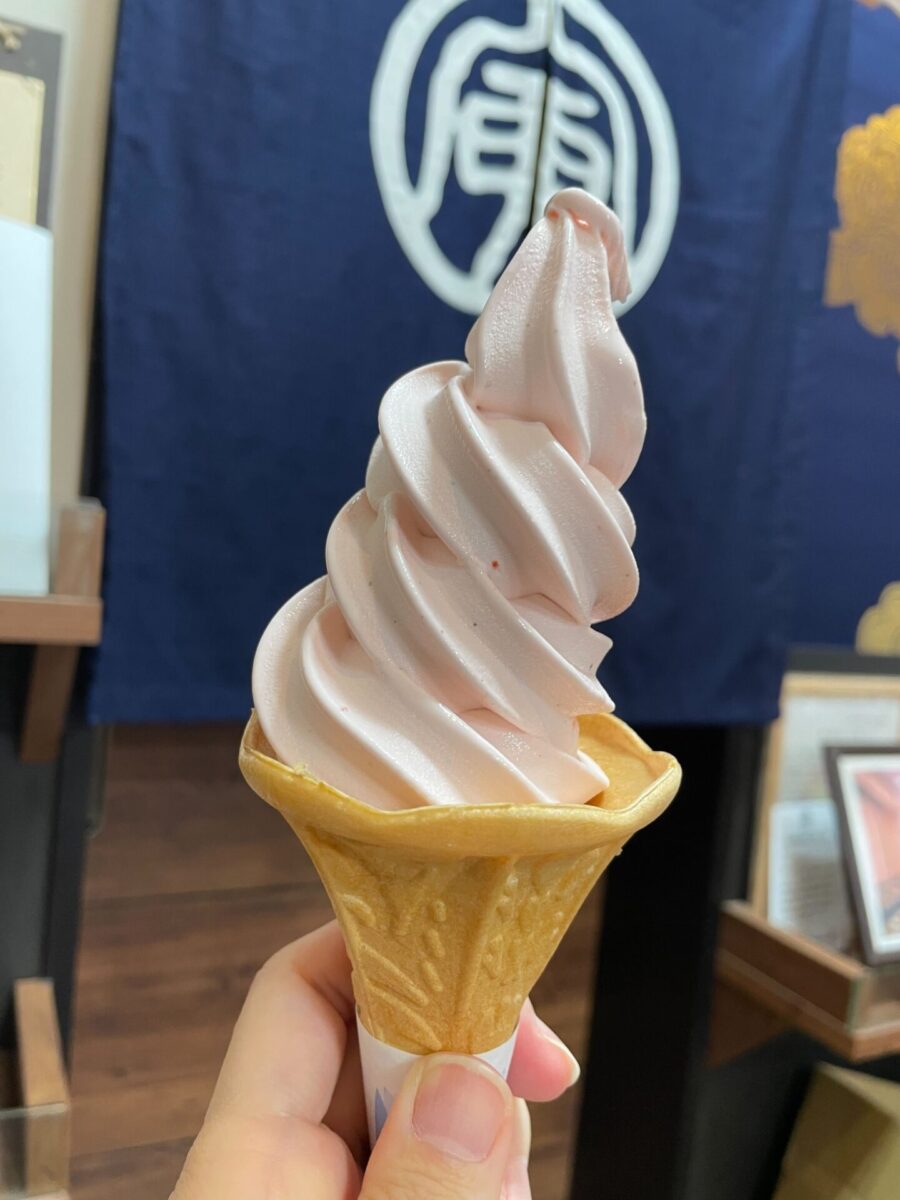 I scream! you scream! we all scream for Shichimi Ice Cream! A specialty of Nishiki Market, Jintora's unique soft serve is flavored with shichimi; a seven-ingredient spice used to add some heat to ramen noodles and grilled meals. This light pink ice cream combines the decadent sweetness of vanilla ice cream with the spicy heat of shichimi to provide a sweet treat distinctive to Nishiki Market.
Recommended shop: Jintora
Kyoto Food and Drink Tour at Nishiki Market and Gion
Did any of these foods catch your eye? Do you want to introduce yourself to the food culture of Kyoto, the storied cultural heart of Japan? Explore the local cuisine of Kyoto on the Kyoto Food and Drink Tour @Nishiki Market & Gion! Stroll through the 400-year-old Nishiki market with over 130 food shops to behold, tasting local dishes along the way; a true foodies dream! Then, rest your appetite by visiting a nearby shrine dedicated to the God of Education. Stroll through the vibrant shopping districts of Teramachi, Shinkyogoku, and Shijo Street, immersing yourself in modern Kyoto culture before meandering down the enchanting Pontocho Alley along the Kamogawa River. Finally cross the iconic Shijo Bridge, exploring the largest Geisha district, Gion, unveiling the traditions and culture of Geishas. This intriguing, fun, and cultural adventure offers a glimpse into Kyoto's heart, leaving you with cherished memories of the delectable street foods and hidden treasures of Japan!
Kyoto Food and Drink Tour @Nishiki Market
KyotoFoodTourtakesyoutotheNishikiMarketandwillintroduceyoutoKyoto'sstreetfoodculture.Wewillalsovisittheplacesdeeplyrootedinthelocal'sdailylives.Diveintothehisto...
Japan Wonder Travel Tours in Kyoto
When you are visiting Kyoto and you need some help organizing your trip, you came to the right place. We're happy to help you make your trip to Kyoto the best trip ever. We can advise you on where to go or even better, show you around with a local, English speaking guide. Let us help you create safe, comfortable, and unforgettable memories in Kyoto!
▶Kyoto Private Full-Day Walking Tour
On this full-day private tour of Kyoto, you will be able to see the highlights of Kyoto in just one day and at the same time develop a deeper understanding of both the culture of the area and Japan as a whole.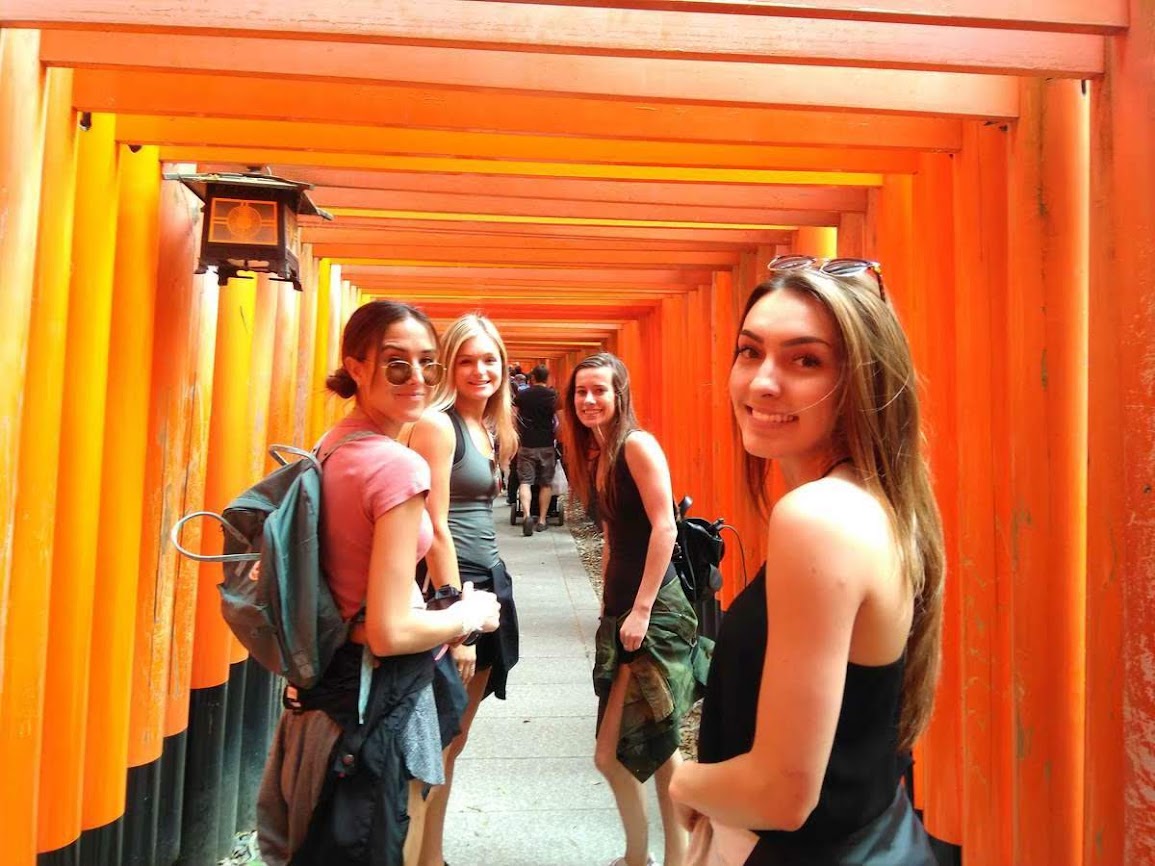 ▶Total Kyoto Experience
If you only have a day or two in Kyoto, we offer a full-day tour of the city, enabling you to immerse yourself in and fully enjoy the entire city of Kyoto in just 10 hours!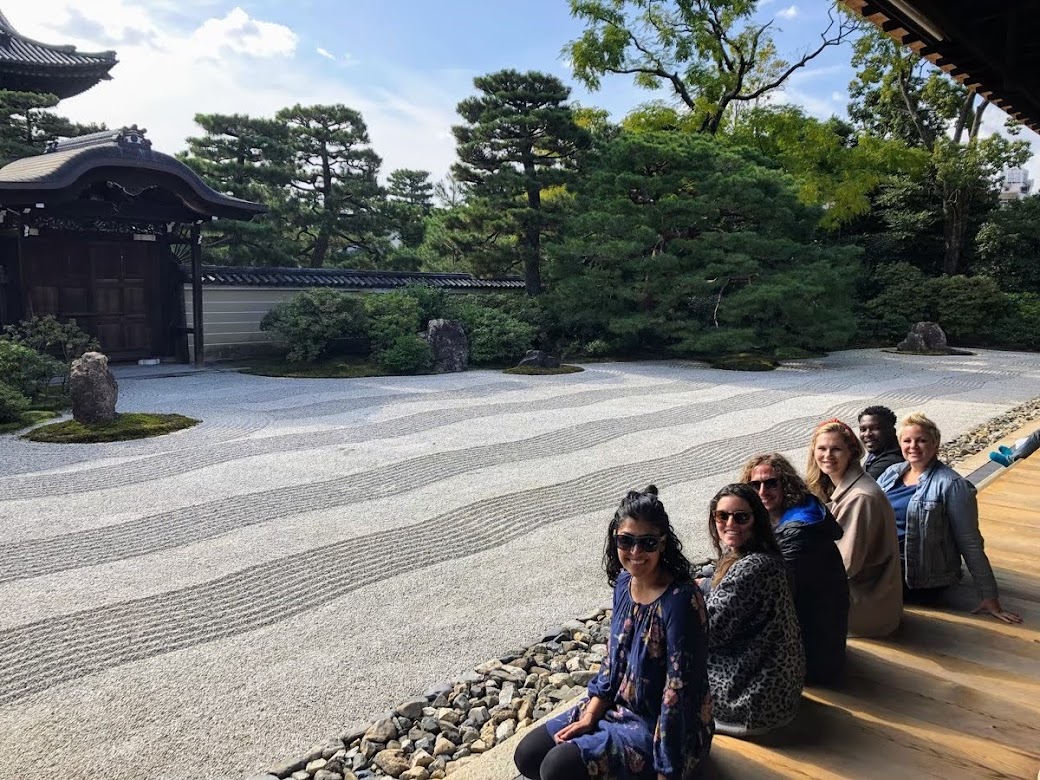 ▶Kyoto Food and Drink Tour @Nishiki Street & Gion
If you're looking to learn more about the culture and the local cuisine of Kyoto, this is the perfect tour for you! Take part in this Kyoto food and drink tour and explore the 400-year-old market and the famous Gion district.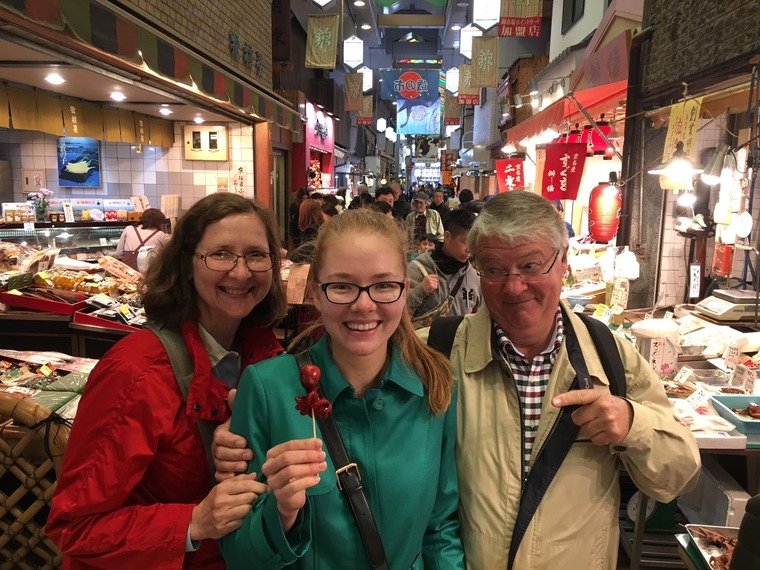 Find the Other Tours
▶Tour Packages
If you want to make travel easier, we suggest you look into tour packages.There are a wide range of tour packages out there to suit the accomodate for each traveler needs. Click the button below to find the best tour package from various Tour Operators!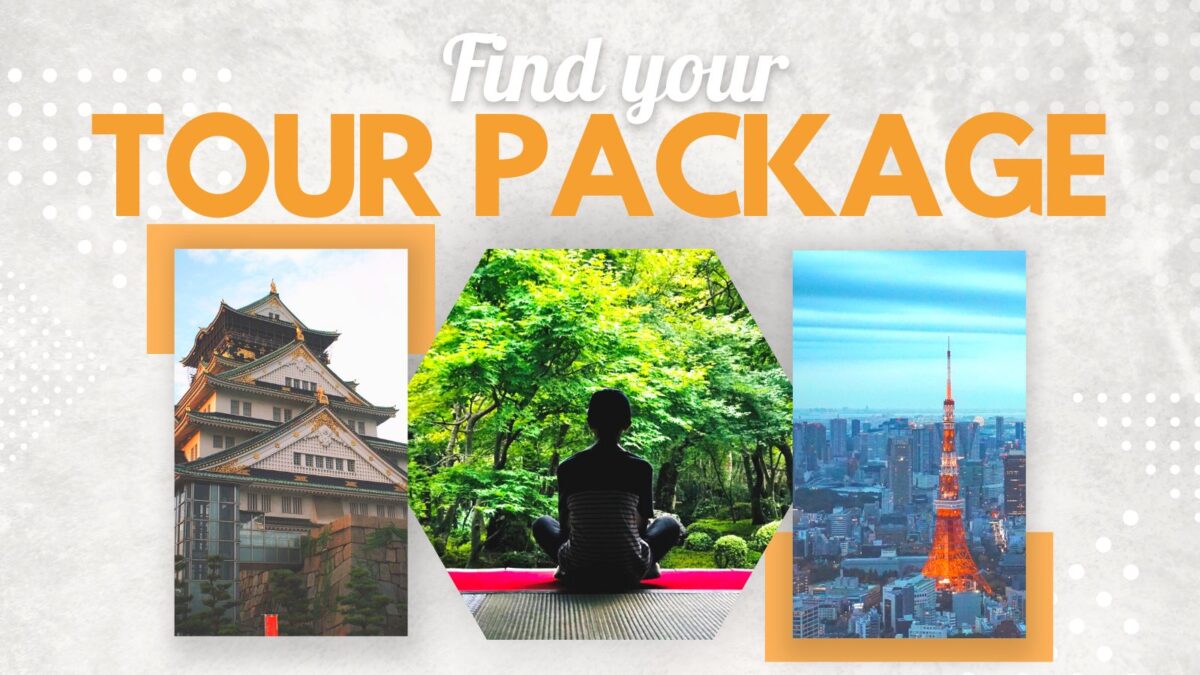 Follow us on Instagram, Facebook, Twitter, and TikTok for more travel inspiration. Or tag us to get featured!
Happy traveling!
Stay informed of the best travel tips to Japan, the most exciting things to do and see, and the top experiences to have with the Japan Wonder Travel Newsletter. Once every two weeks we will introduce you to our latest content.
Other articles you might be interested in