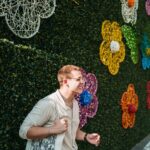 Writer's Profile
Sam (サム) Buhl is a student from Madison, Wisconsin, who is studying at Boston College in Boston, Massachusetts. Currently, he is working towards a Bachelor of Science degree in Neuroscience, with a minor in Management and Leadership. His objective is to apply his understanding of psychology to organizational transformation and hopes to work in an international and diverse professional environment. During his free time, he enjoys taking long walks (occasionally on the beach), visiting coffee shops, practicing mindfulness, art, listening to music, and staying physically fit. Sam is passionate about exploring the outdoors, going on adventures, and challenging himself to step outside of his comfort zone whenever possible.
Everyone knows Mount Fuji is a must-see destination on your trip to Japan. However, it can be tough to know where, when, and how to find the perfect view of the mist-covered peak. If this is your situation don't worry! Experience breathtaking views of Mount Fuji and the Fuji Five Lakes area on our 10-hour day trip from Tokyo! It should be noted that the mountain's weather can be fickle, with clouds and weather patterns changing rapidly at the summit. However, if Fuji-san (as it is affectionately called by locals) is feeling shy that day this tour will still be worthwhile with plenty of other areas of interest highlighted on the itinerary. With luck, you will still catch a glimpse of the famous peak!
Tour Itinerary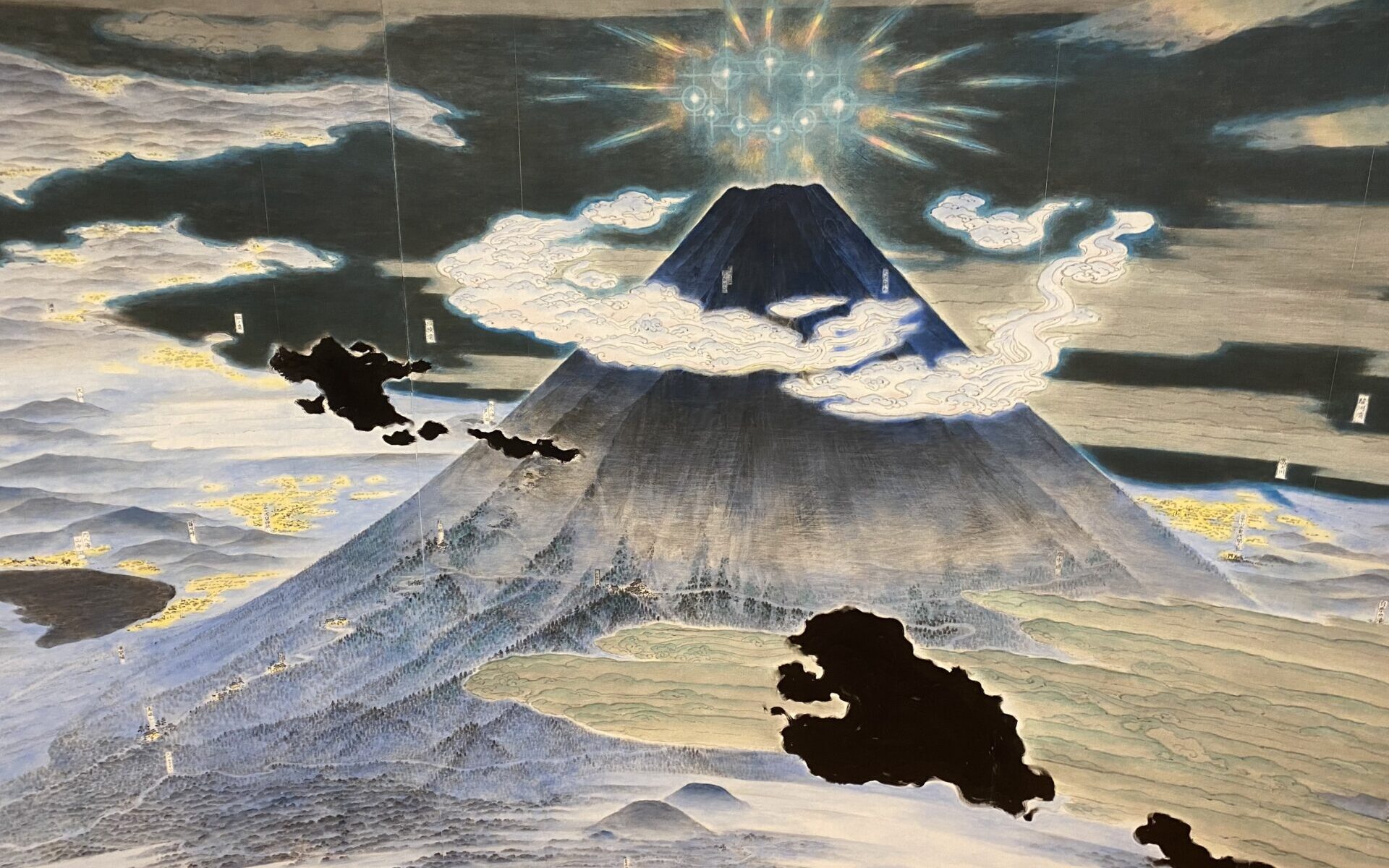 The tour begins in the heart of bustling Shinjuku, just to the west of the train station. After boarding and setting off one of our experienced tour guides will bring you up to speed on the history of Mount Fuji, the Shinto traditions based around its peaceful yet volatile nature, and the significance it holds in Japan today.
The tour will then take you to the Fuji Five Lakes area to take in the tranquil nature that surrounds the mountain. Over the course of the 10 hours, you will witness the Shinto tradition associated with the mountain at a famous pagoda nestled in the mountains of Arakurayama Sengen Park, learn about the historied culture associated with Mount Fuji at the Fujisan World Heritage Center and Iyashi No Sato; a reconstructed village on the shores of Lake Saiko. Venture into the Fugaku Fuketsu Wind Cave; one of many lava tubes found within the dense Aokigahara Forest, made long ago by the underground movements of magma as Mount Fujibecame a stratovolcano. Take in the mountain air and peruse local produce at Oishi Park and even stop for a hearty lunch of Houtou Noodles local to Yamanashi prefecture!
It's important to note that due to the uncertain nature of the weather some of these outdoor areas may be passed over in favor of more suitable indoor destinations such as the breathtakingly tranquil Itchiku Kubota Art Museum where you can see the masterwork creations of Kubota-San; a textile artist who painstaking revived a forgotten kimono dyeing technique in the modern era.
Interested in learning more about the tour and its stops? Keep reading!
▼Mt. Fuji Day Trip from Tokyo Bus Tour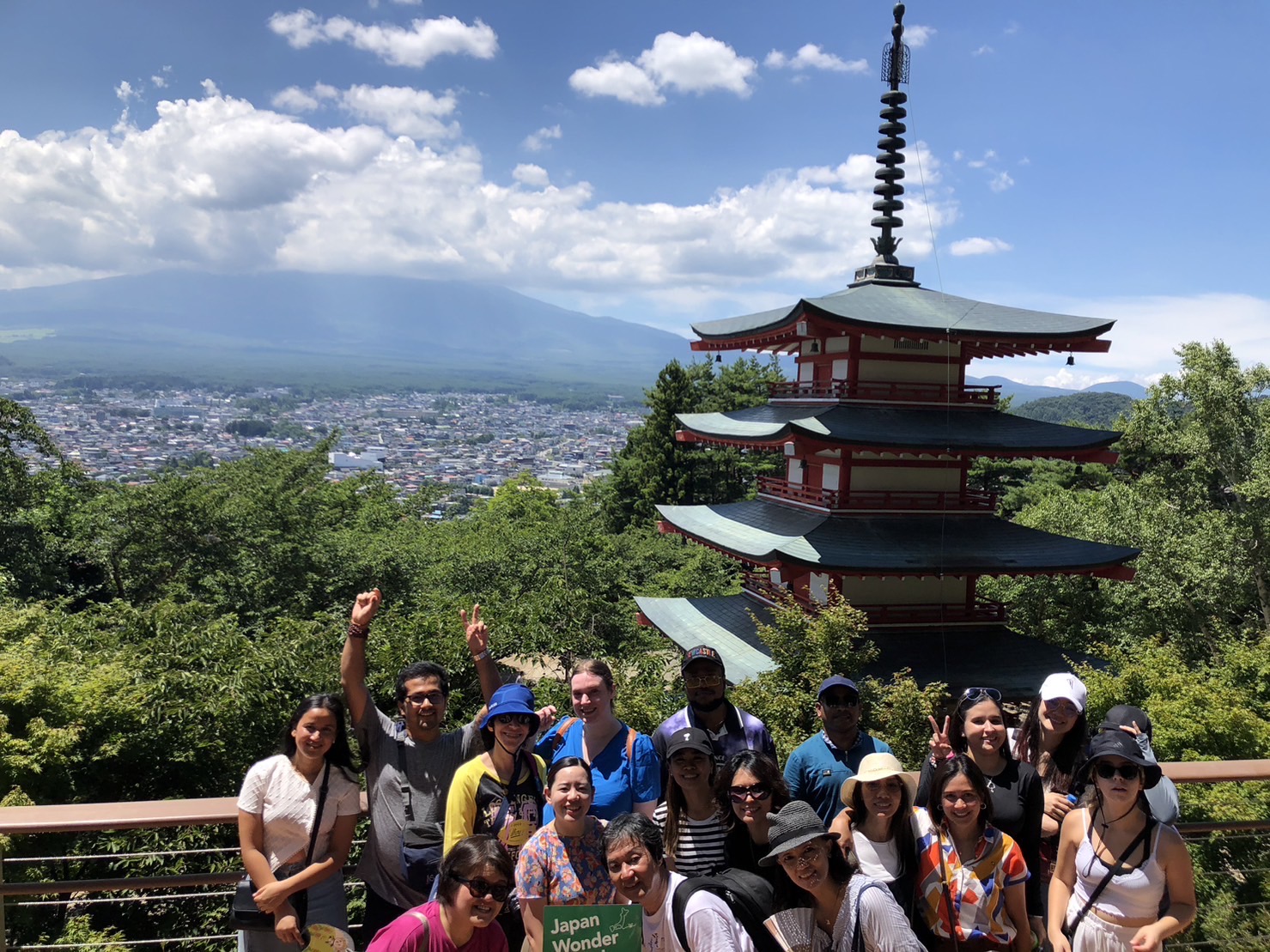 Mt. Fuji Day Trip Bus Tour from Tokyo
Joinusonaone-dayMt.FujitourfromTokyotodiscoverthemust-seehighlightsofMt.Fuji.ExperiencethebreathtakingviewsofMt.Fujiwhiletravelingcomfortablytoeachspotbybus.
Tour Highlights
Arakurayama Sengen Park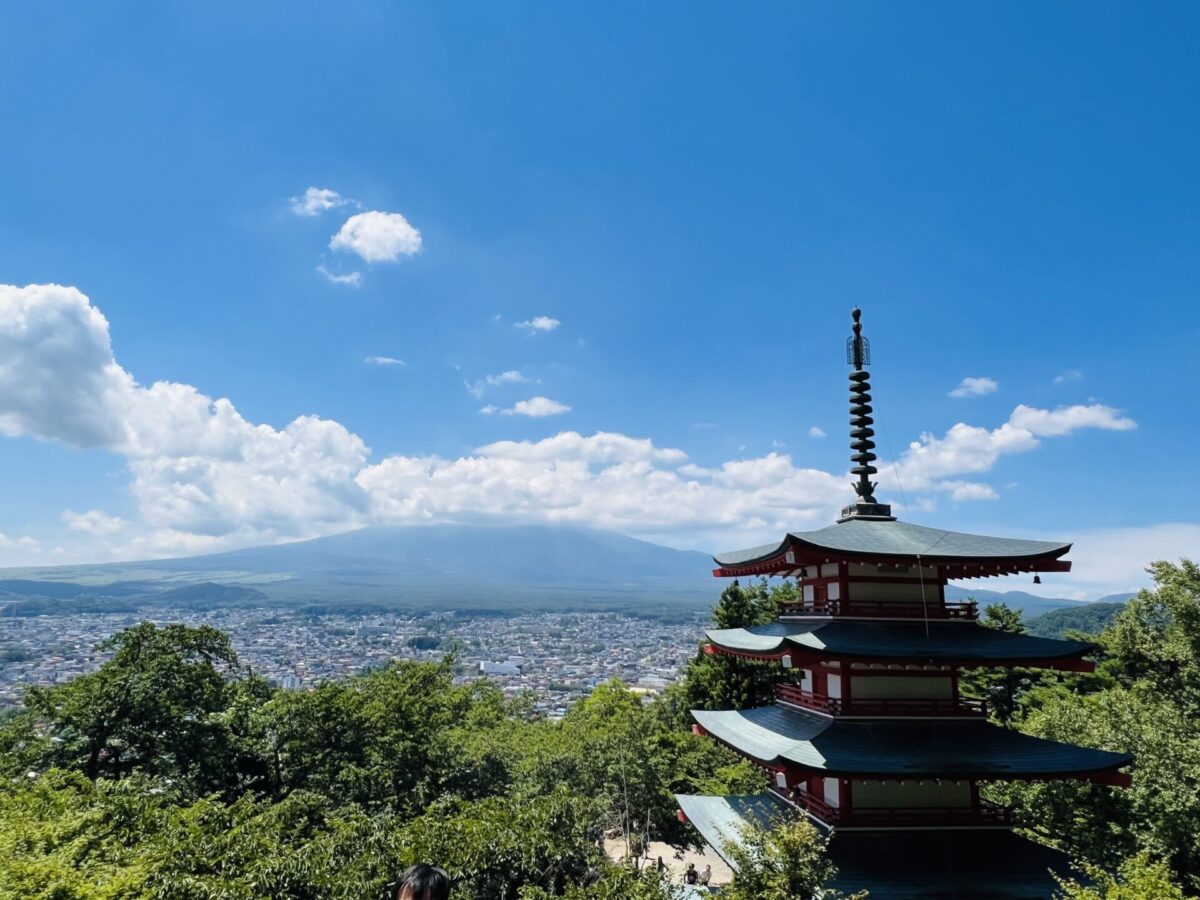 Arakurayama Sengen Park is a particularly noted area due to its iconic scenery and is known to be one of the best spots for viewing Mount Fuji in the Kanto region. Climb 398 stairs to reach the small Shinto shrine and the famous five-tiered Chureito pagoda at the top. This overlook offers an incredible panoramic view of Fujiyoshida city and, on clearer days, you can see Mount Fuji resting just behind the city. Spring is a notable time in the park due to its cherry blossom season. If you're lucky enough to visit at this picturesque time you can witness the park's 650 Cherry blossom trees at full bloom!
Official Website: Arakurayama Sengen Park
Fujisan World Heritage Center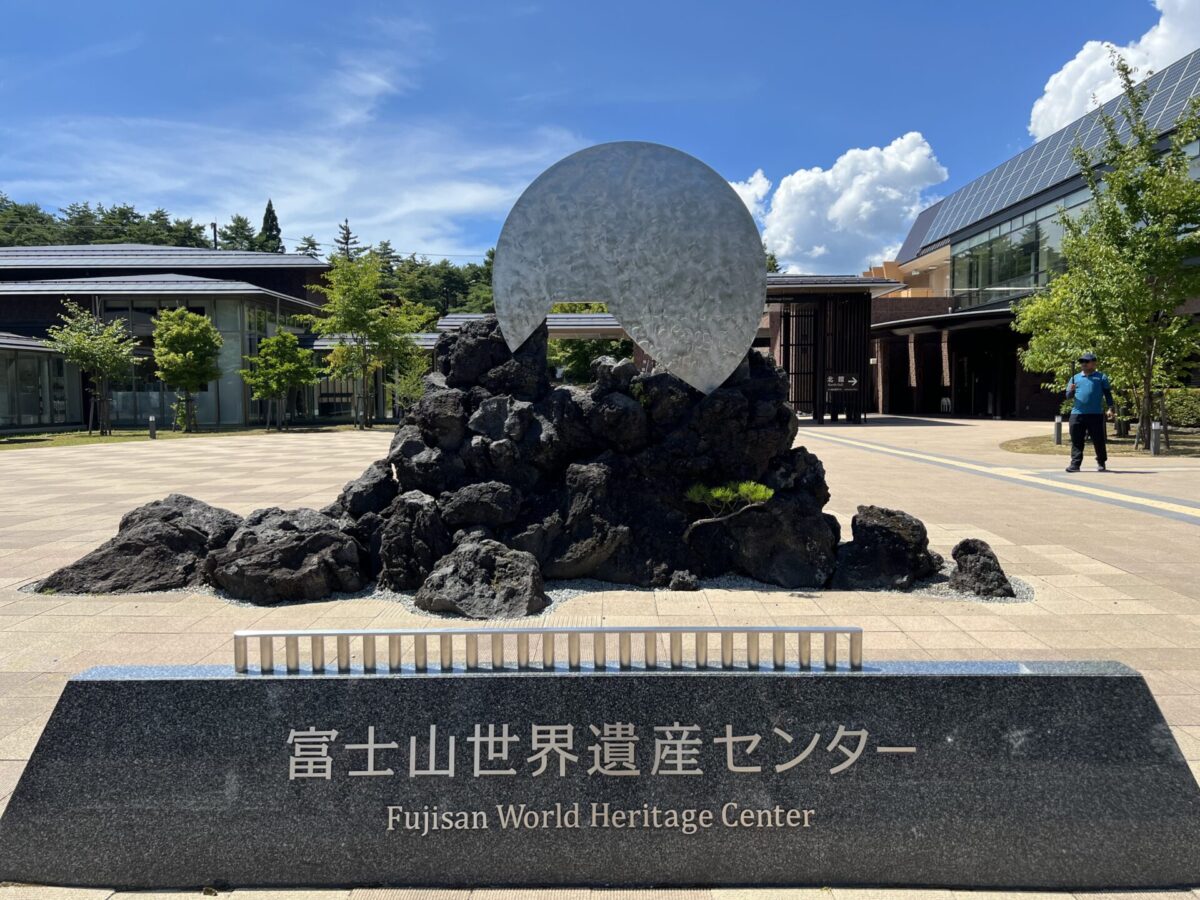 The Fujisan World Heritage Center is an environmentally friendly information center created with the goal of introducing visitors to the mountain's role in human culture as well as its seismology.
The facility is split between a North and South hall each featuring multimedia exhibits pertaining to the mountain. The North Hall features an information desk with details of climbing conditions, attractions around the mountain, as well as information about Yamanashi Prefecture in general. The South Hall is home to an impressive multimedia exhibit featuring movies, dioramas, and augmented reality headsets. To top it off the exhibit is crowned by a 15-meter wide washi paper model of Mount Fuji complete with dynamically changing weather conditions. Stop here on your tour to learn more about the history, culture, and nature of Mount Fuji, and maybe pick up a gift or two for those back home!
Official Website: Fujisan World Heritage Center
Hoto Noodle Lunch at Hoto Fudo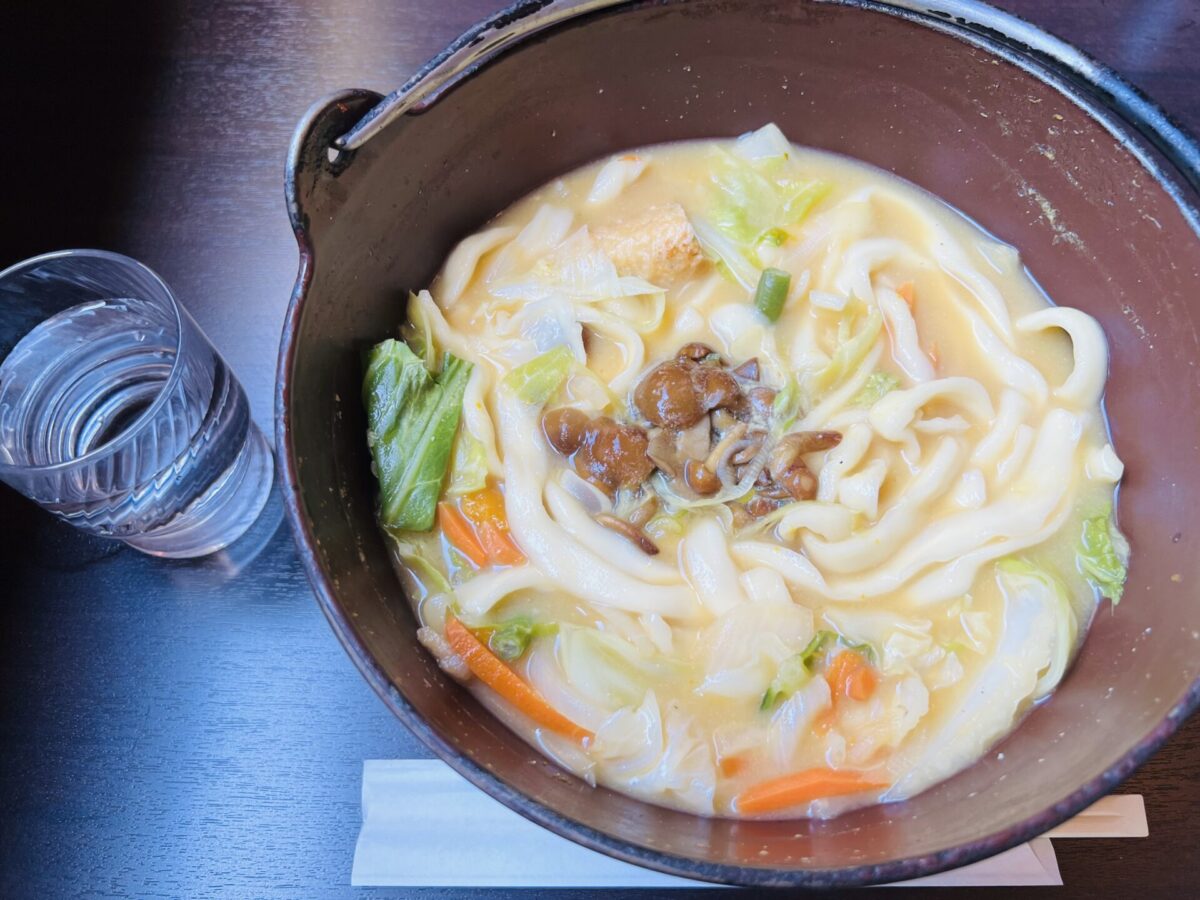 For lunch, your tour will stop at Hoto Fudo, a local restaurant near Lake Kawaguchi that hand-makes its Hoto noodles with a recipe distinctly local to the Fuji Five Lakes area. Hoto is a noodle soup made by boiling extra thick udon noodles, pumpkin, and other seasonal vegetables in miso broth. While it's technically an udon variant, locals vehemently disagree with this as the preparation of the noodles is more similar to dumplings than noodles. Served in a big metal pot, this hearty meal is the perfect way to give you an energy boost to finish off the rest of your trip to the Fuji Five Lakes area.
Iyashi No Sato
Iyashi No Sato is a reconstructed traditional thatched roof village on the shores of Lake Saiko. The original village was destroyed by a typhoon in 1966 and was later renovated and reopened in 2016 as an open-air museum. With more than 20 thatch-roof houses, all overlooking Mount Fuji, the village is a notable historic site with each building offering something different for visitors to learn about the culture of the 5 lakes area. Each stop provides a distinct experience of cultural aspects, including traditional craft-making activities, museums, local products, teatime, and meals made from local ingredients. The experience of cultural charm and antiquity at Iyashi No Sato is not something to miss.
Official Website (Japanese only): Iyashi No Sato
Fugaku Fuketsu Wind Cave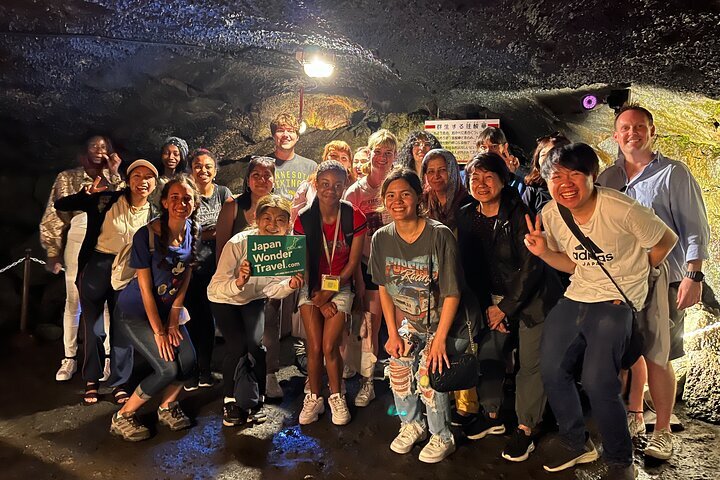 Situated within the dense Aokigahara Forest, also known as the "sea of trees" is the famous Fugaku Fuketsu Wind Cave. The cave is a lava tube, essentially carved by ancient magma flows as Mount Fuji formed into a full stratovolcano (a composite of multiple smaller volcanos) over the past 2.6 million years. Inside the cave, you can marvel at the remarkable geological formations of lava shelves, rope-like formations, and unmelted ice pillars. One of the many lava tubes found throughout the forest, this cave spans 201 meters and takes you around 15 minutes to walk through its chilly passageways. The temperature here stays at an average of 3 degrees Celsius and can cool you off during the intense summer heat. Interestingly, caves such as these were historically stacked with ice to refrigerate food, seeds, and silkworm eggs!
Official Website: Fugaku Fuketsu Wind Cave
Oishi Park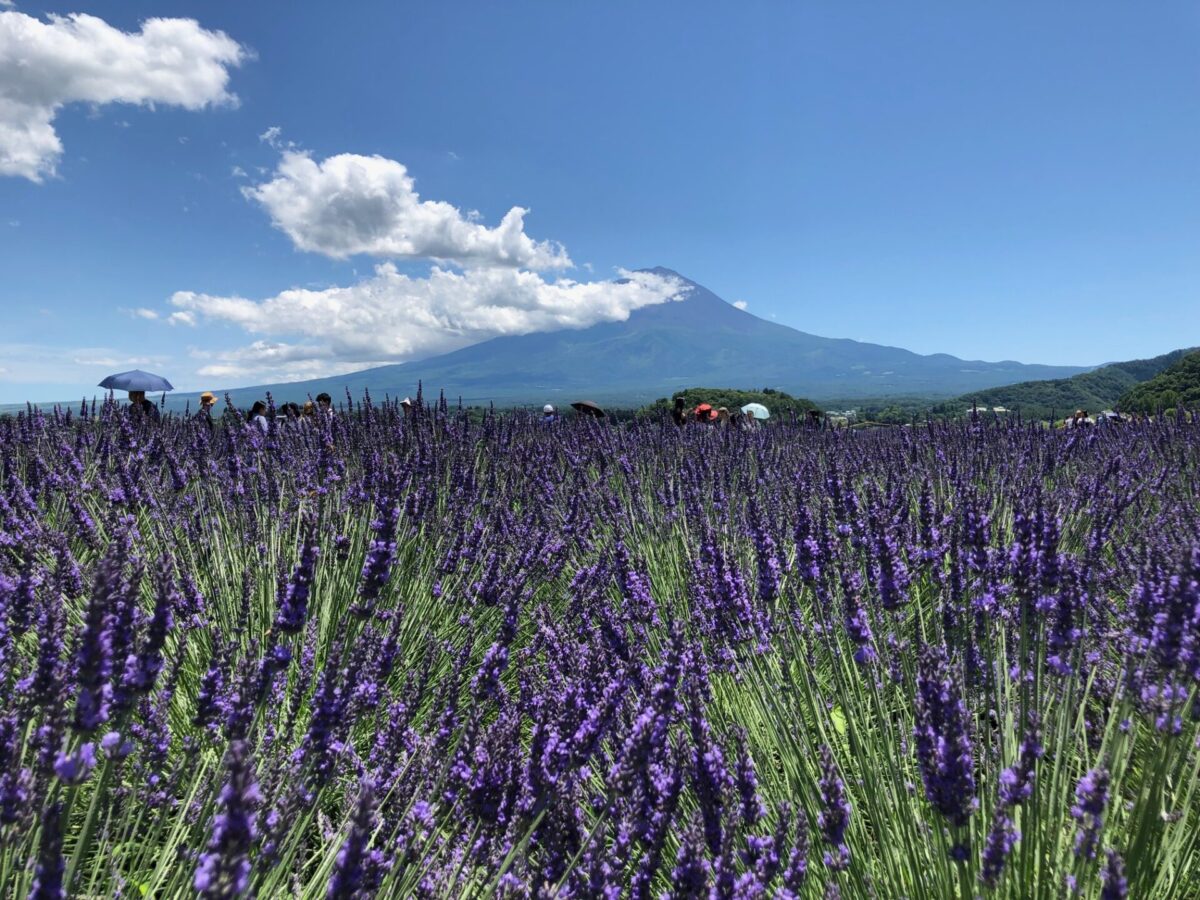 Oishi Park is a lake-side promenade situated on the north shore of Lake Kawaguchi, offering a splendid view of the lake and Mount Fuji all at once. This park is notable for the massive range of flowers and plants it contains in its manicured gardens and walkways. Notably, the park features a 350-meter "flower street" filled with multiple types of seasonal blooming flowers, including a huge lavender field making it a popular spot for photographers year round.
The area is not only noted for its stunning views but for its delectable produce and fruits. In the parking lot, vendors sell locally grown fresh fruit available for reasonable prices. We specifically recommend trying the area's grapes or peaches as the prefecture is famous for both. Additionally, Oishi Park features a souvenir store and a cafe overlooking some of the flower fields. This store features fragrance-related goods, while the cafe offers a variety of fruit-flavored ice creams. We recommend trying one of their most popular flavors – blueberry ice cream. This serene park is a perfect way to relax and take in the mountain air and views of the Fuji Five Lakes area!
Website: Oishi Park
Itchiku Kubota Art Museum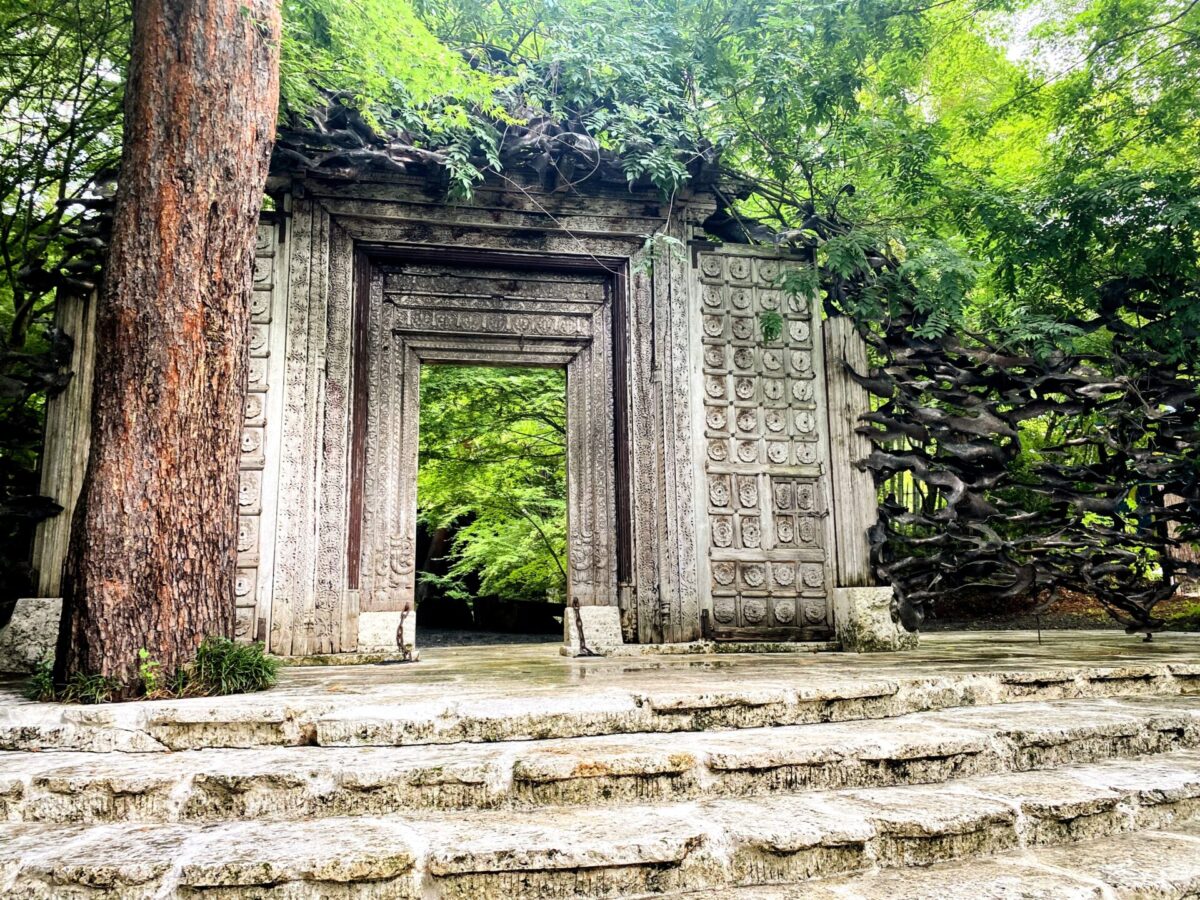 Sometimes if Fujisan's weather does not permit outdoor viewing the tour will skip an outdoor location and replace it with something more weather permitting instead. For example on a particularly rainy day, the tour may take to you to the Itchiku Kubota Art Museum near the shore of Lake Kawaguchi. The museum, which overlooks Mount Fuji was designed by Itchiku Kubota himself, building his own workshop into the museum. This workshop space now also serves as a teahouse with an idyllicly tranquil forest view. Itchiku Kubota's work is extremely revered due to his resurrection of the lost art of Tsujigahana or Japanese fabric dyeing and his masterwork collection of the Symphony of Light Itchiku Tsujigahana Kimonos. While Kubota-San was only able to finish half of the 80-piece collection, the masterwork pieces depict beautiful natural scenes that capture the beauty of the surrounding natural world. Whether or not your tour stops here this museum is well worth the trip into the mountains.
Booking The Mount Fuji Tour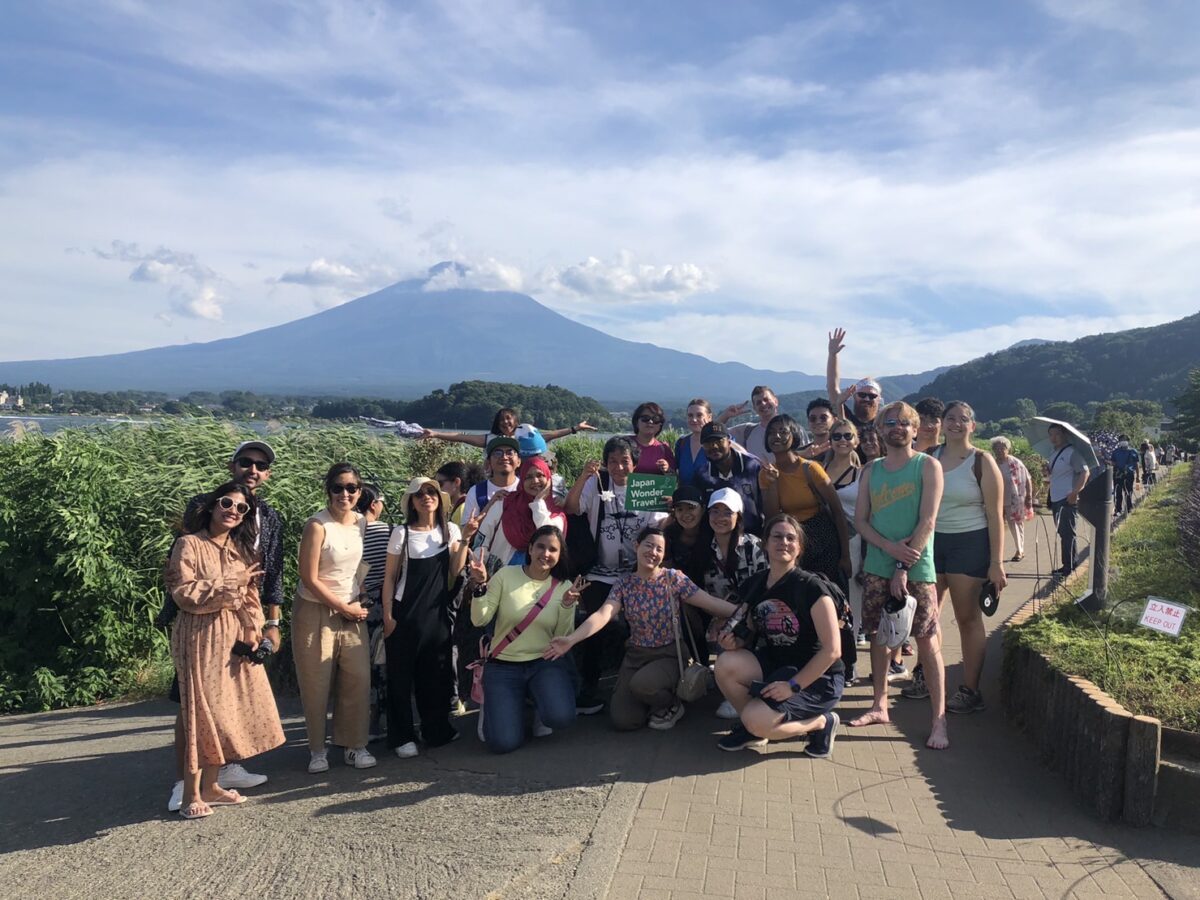 This 10-hour day tour is an unforgettable way to fully experience the Mount Fuji Five Lakes area. It's perfect for those looking to learn about the history of Mount Fuji and experience beautiful sightseeing spots in a stress-free and easily accessible manner. While Fujisan's weather can be at times temperamental this tour is well worth the experience even on a cloudy day!
Experience breathtaking views and gain an in-depth cultural perspective of Mount Fuji and the Fuji Five Lakes area on our 10-hour day trip from Tokyo!
If you're interested in booking, check our website for available dates!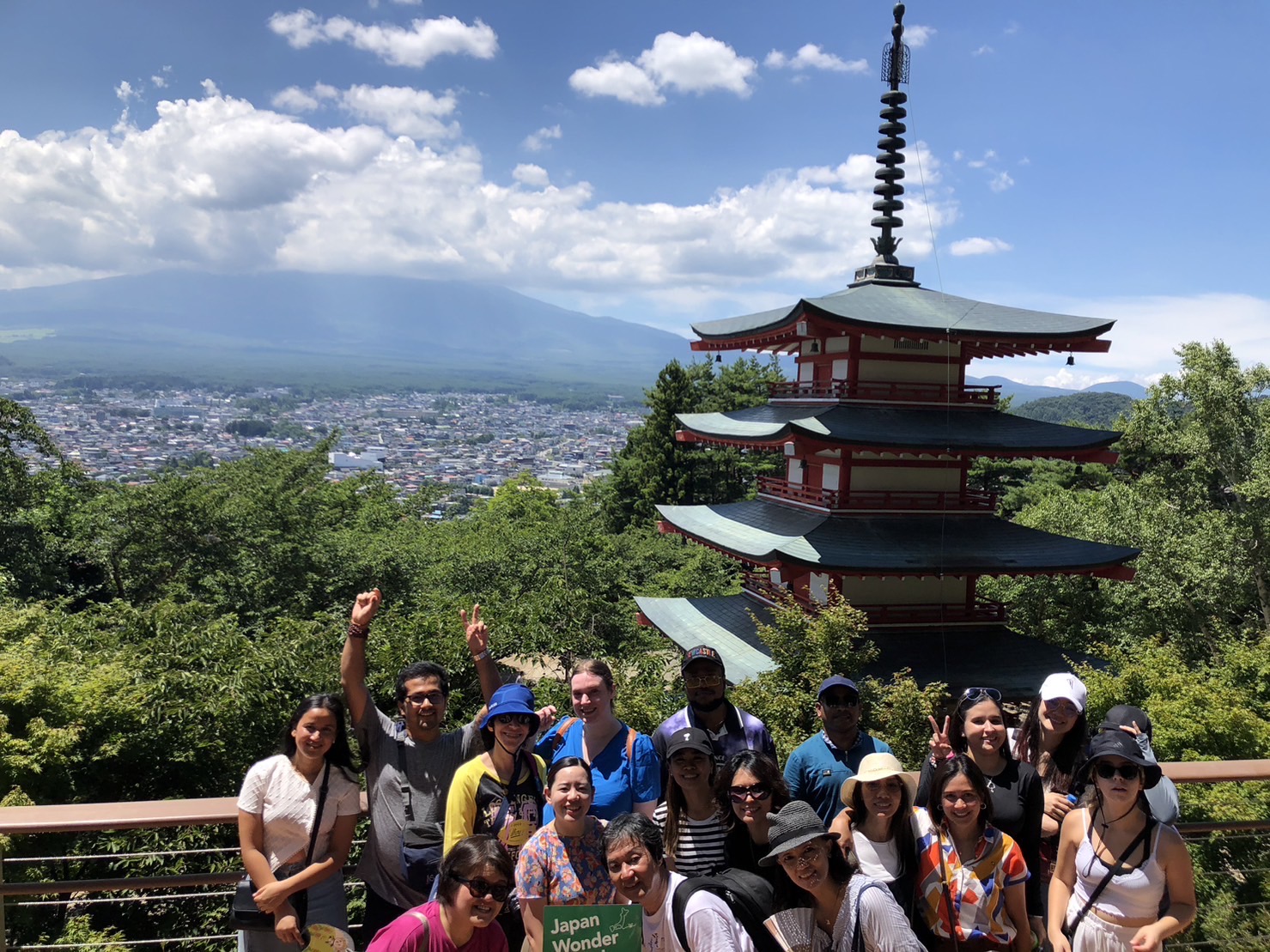 Mt. Fuji Day Trip Bus Tour from Tokyo
Joinusonaone-dayMt.FujitourfromTokyotodiscoverthemust-seehighlightsofMt.Fuji.ExperiencethebreathtakingviewsofMt.Fujiwhiletravelingcomfortablytoeachspotbybus.
Follow us on Instagram, Facebook, Twitter, and TikTok for more travel inspiration. Or tag us to get featured!
Happy traveling!
Stay informed of the best travel tips to Japan, the most exciting things to do and see, and the top experiences to have with the Japan Wonder Travel Newsletter. Once every two weeks we will introduce you to our latest content.
Other articles you might be interested in