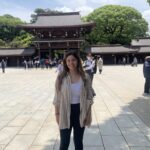 Writer's Profile
Tristyn (こころ) Perrin is a Japanese American student who was born and raised in Little Rock, Arkansas in the United States. She attends the University of Arkansas at Little Rock where she is a Donaghey Scholar majoring in Applied Communications and Graphic Design. She enjoys writing and being able to connect with others through conversation. She has a passion for art and taking pictures. She likes to play soccer and hang out with her friends during her free time as well as explore nature.
Mt. Fuji is one of the most iconic landmarks of Japan. One of the towns near Mt. Fuji is Fujikawaguchiko, located in southern Yamanashi Prefecture. Fujikawaguchiko offers beautiful views, especially near Lake Kawaguchiko. Lake Kawaguchiko is one of the Fuji Five Lakes that surround Mt. Fuji. When visiting Mt. Fuji, there are quite a few restaurants worth visiting, offering a taste of delicious traditional and locally grown foods. In this list, we will go over ten worth-visiting restaurants located in the Fujikawaguchiko area. Enjoy!
Recommended Tour around Mt. Fuji: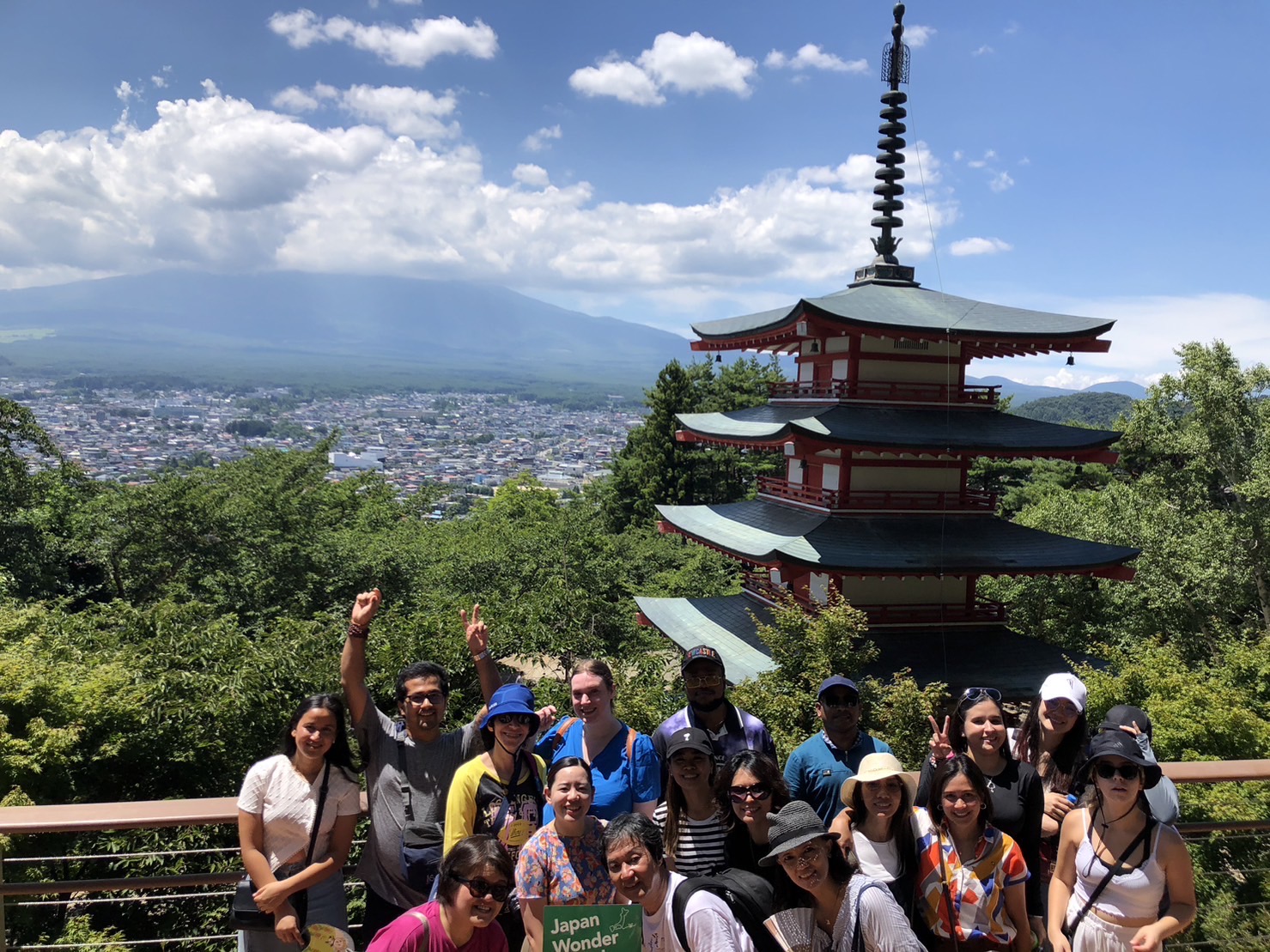 Mt. Fuji Day Trip Bus Tour from Tokyo
Joinusonaone-dayMt.FujitourfromTokyotodiscoverthemust-seehighlightsofMt.Fuji.ExperiencethebreathtakingviewsofMt.Fujiwhiletravelingcomfortablytoeachspotbybus.
1. Sanrokuen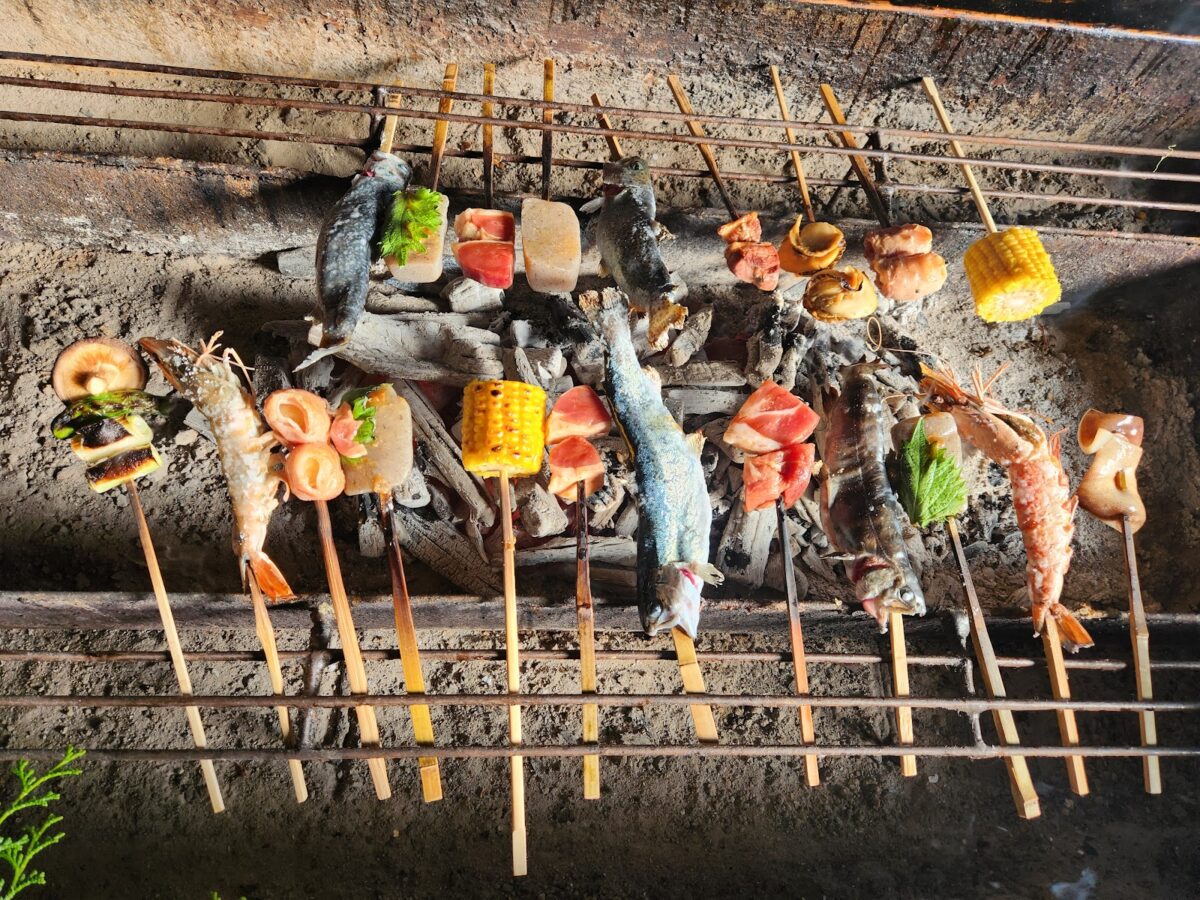 This Japanese style barbeque (also known as Robata-yaki) restaurant is located in Fujikawaguchiko-machi. The house that Sanrokuen is located in is over 150 years old. Sanrokuen offers a unique experience. They have small barbeque grills sunken into the floor where customers sit on the ground and cook their own food in a traditional manner. They offer foods like meats, seafood, and vegetables. They even have a fortune teller tree located in the restaurant.
Website: Sanrokuen
Make reservations here
2. Sangenchaya Honten
Sangenchaya Honten has two different main locations. One, Asama Chaya Fujiyoshida, is located near the Kitaguchi Hongu Fuji Sengen Shrine. The second one, Sengenchaya Lake Yamanaka, is located near Lake Yamanaka. At these restaurants, they serve traditional dishes of houtou and Yoshida udon. Houtou is a miso-based soup that is filled with seasonal and local vegetables. After enjoying a meal at either one of the two locations, you can walk around the area that offers a lot of sightseeing.
Website: Sengenchaya
3. Fuji Tempura Idaten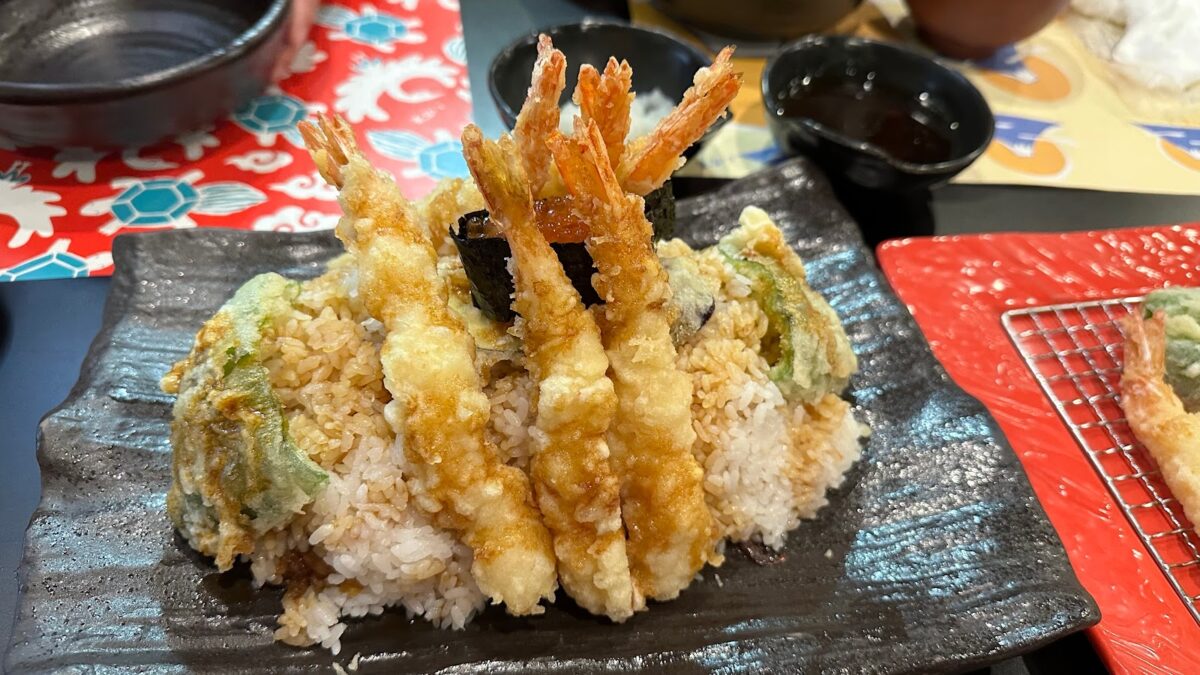 Fuji Tempura Idaten serves freshly fried tempura made with seasonal Yamanashi ingredients. They offer a variety of tempura dishes that are made up of shrimp tempura or assorted vegetables tempura, squid tempura and tempura steak box. They also offer a couple noodle dishes like udon and soba. Fuji Tempura Idaten is reasonably priced where no item costs over 5,000 yen. Sometimes, you can even enjoy fireworks that can be seen from inside the restaurant as well as live music.
Website: Fuji Tempura Idaten
Make reservations here
4. Hotokura Funari – Kawaguchiko
Funari is known for its houtou, which is a regional noodle soup originating from the area. Houtou has a high nutritional value. It is said that the ingredients used to make houtou are full of the blessings of nature due to the region the food was grown. Funari is more specifically known for their golden houtou, which is made with miso with pumpkin paste. There are also goodies that you can buy from this restaurant. They have different golden houtou sets that can be purchases such as a golden houtou set for three (¥4,860) or a single set (¥1,512), a golden houtou set without meat (¥1,296), a golden houtou light pack (¥810), and a special spicy miso (¥648).
Website: Hotokura Funari
5. Fujisan Pancake
Fujisan Pancake, also known as Mt. Fuji Pancake, is located in Kawaguchiko town. Their specialty is pancakes! The pancakes are made in special kilns that are made of lava from Mr. Fuji. The lava kilns allow the pancakes to be baked at a high temperature in a short period of time, keeping the moisture from evaporating, creating a wonderful fluffy texture. Fujisan Pancake also offers other dishes such as curry, steak, and pizza.
Website: Fujisan Pancake
6. Kappa Nanakusa
At Nanakusa, you can get a variety of beautifully assorted foods, known as kaiseki. There are a couple recommended sets such as the sea bream chazuke mini kaiseki and the Fuji Mabushi mini kaiseki. Nanakusa also has a specialty dish called Nanakusa fried mochi that has various flavors like mushrooms, carrots, bamboo shoots, and kelp. In addition to the food, there is also a variety of drinks that are available both alcoholic and non-alcoholic. At the restaurant, there are three private rooms and the restaurant can accommodate up to 40 people. Businesses have held banquets here before.
Website: Nanakusa
7. Konami
Konami is located on the banks of Lake Kawaguchiko in Fujikawaguchiko town. This restaurant serves a dual purpose of feeding people and providing rental boats. There is a very nice view at the restaurant, creating an authentic atmosphere. There are seating tables with tatami mats. The restaurant is located in a good fishing spot where catches of black bass, rainbow trout, smelt, and carp have been made. You can enjoy houtou here as well. Other dishes are offered such as various set meals of local freshwater fish, udon noodles, and drinks.
Website: Konami
8. Jukai
Jukai is known as a New York style restaurant, offering a Japanese and Western feel. Jukai is located in Fujiyoshida City in the Yamanashi prefecture, only ten minutes away from Fukiyuko Mt. Fuji station (if walking). This restaurant uses freshly picked ingredients that make up the majority of their dishes. On the menu there are different sashimi dishes, hot pots, beef steak, fish of the day, and other items such as duck and octopus. For the pet lovers out there, Jukai is a pet friendly restaurant where you can dine outdoors with your pets.
Website: Jukai
9. Amanoya Bakery
Located at the Mt. Fuji 5th station, Amanoya sells Mt. Fuji melonpan in the shape of a mountain. The shop is located at the back of the first floor of the large log cabin known as the "rest house" at the 5th station of Mt. Fuji. You can buy a cute souvenir box that holds three Mt. Fuji melonpans. The melonpans cost 260 yen which is about two US dollars. You can also buy Japanese pancakes that are branded with "I ♡ Mt. Fuji". The pancakes have two types of dough, plain and matcha, with different fillings like anko (sweet bean paste), chocolate, cream cheese, and custard. There are other goods available such as steamed corn, buttered potatoes, and shingen pork buns.
Website: Amanoya Bakery
10. Yougan
At Yougan, you can enjoy both delicious foods and a relaxing public bath. The Yougan Inn uses lava rocks to cook their food on. The lava rock's far-infrared is able to penetrate the meat in a way that keeps the meat plump and juicy. Some of the foods offered are A5-ranked Wagyu beef, 200g of Japanese black beef sirloin steak, and houtou. Lava from Mt. Fuji is also used for their baths and walls. The lava has beneficial qualities that positively affect the body. When coming to Yougan, you can experience the blessings of Mt. Fuji's lava that brings healing to the body.
Website: Yougan
Book our Mt. Fuji Bus Tour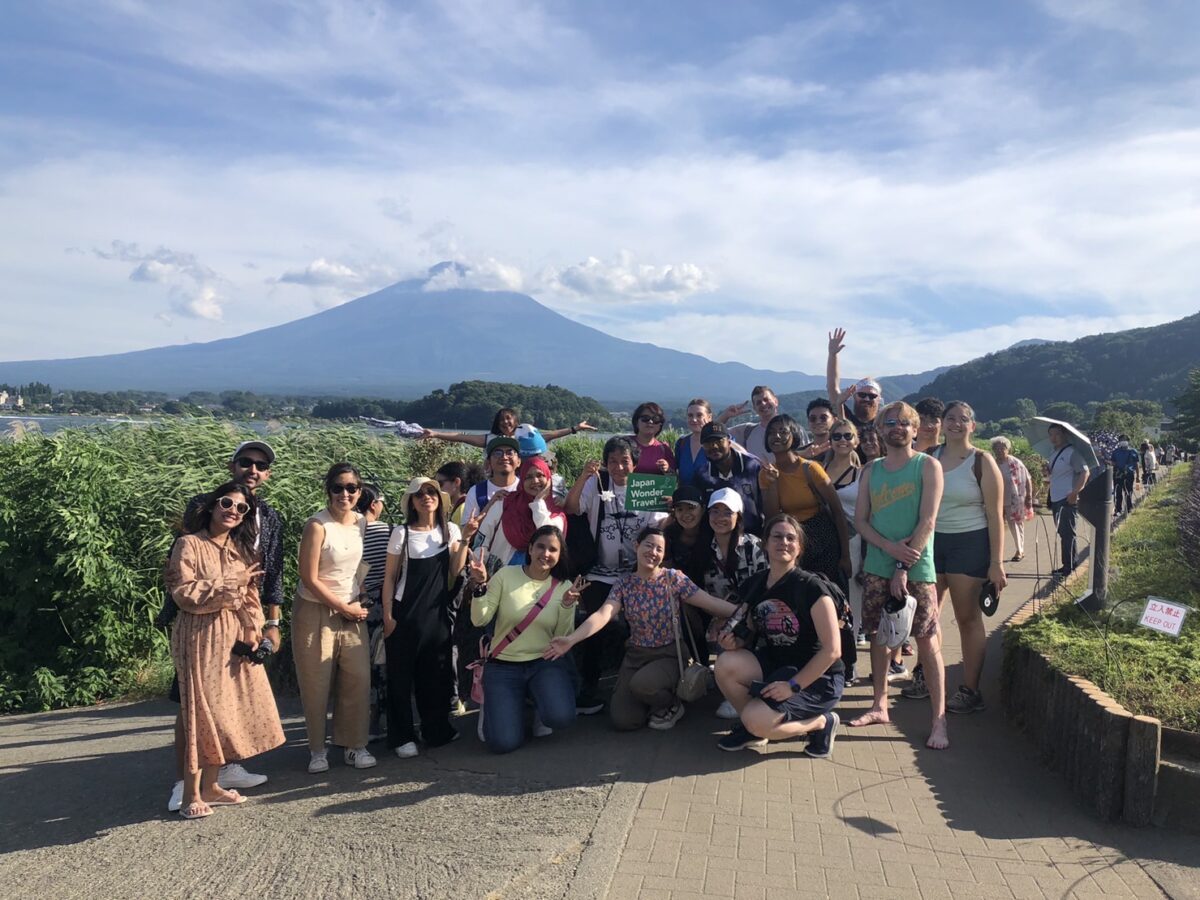 On this Mt. Fuji Day Trip Bus Tour from Tokyo, you can visit highlights of the Mt. Fuji area! Departing from Shinjuku in central Tokyo, you can travel comfortably to all of the best spots in the area by bus. If you're looking for a day trip tour from Tokyo that covers the must-see sights of Mt. Fuji, then this day trip bus tour is the perfect choice for you!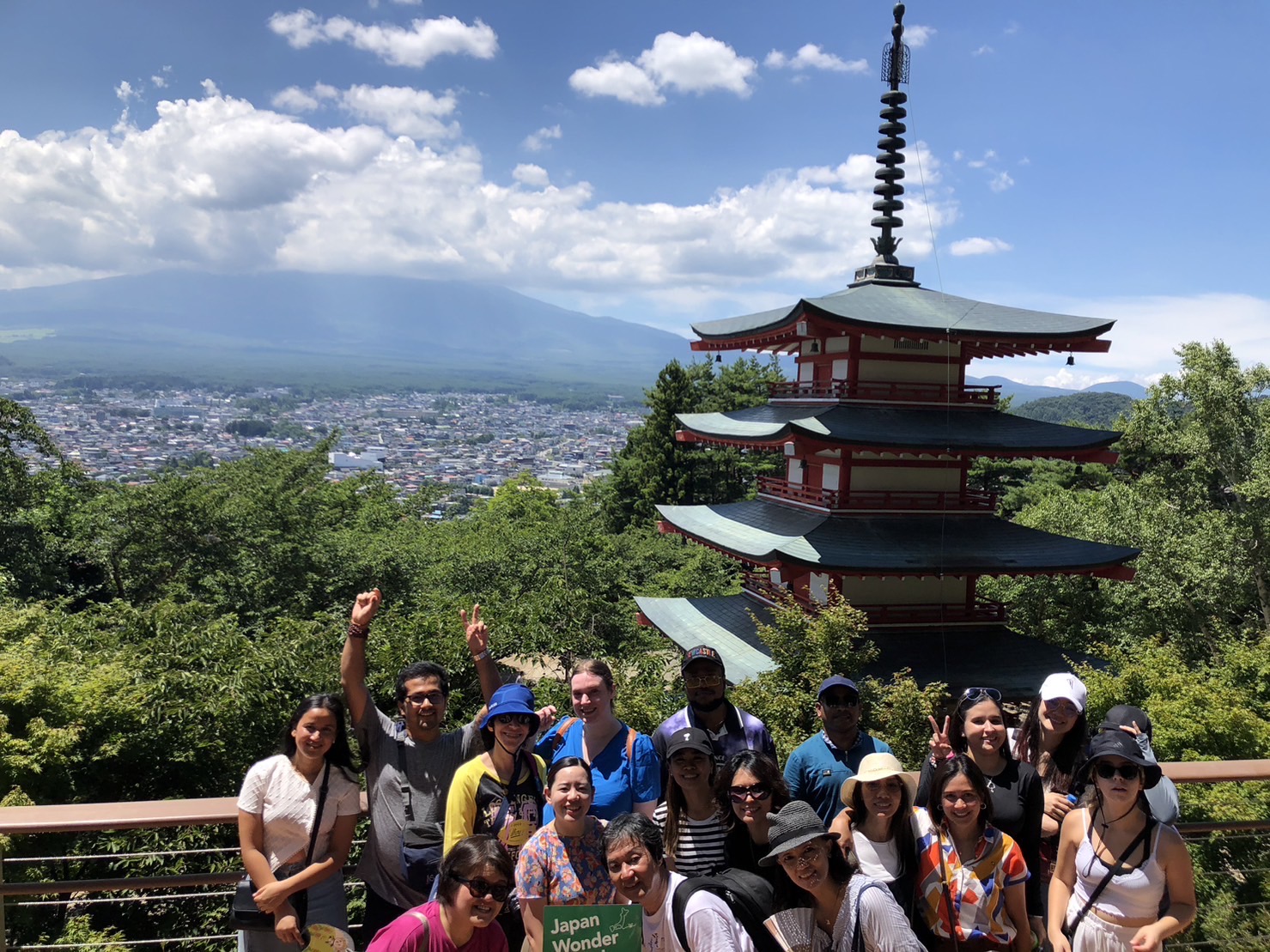 Mt. Fuji Day Trip Bus Tour from Tokyo
Joinusonaone-dayMt.FujitourfromTokyotodiscoverthemust-seehighlightsofMt.Fuji.ExperiencethebreathtakingviewsofMt.Fujiwhiletravelingcomfortablytoeachspotbybus.
In this article, we have gone over ten restaurants that are worth visiting when in the Fujikawaguchiko area, being able to have a taste of dishes that have a long history in Japan. We hope that this list is useful to you and your time in Japan!
Follow us on Instagram, Facebook, Twitter, and TikTok for more travel inspiration. Or tag us to get featured!
Happy traveling!
Stay informed of the best travel tips to Japan, the most exciting things to do and see, and the top experiences to have with the Japan Wonder Travel Newsletter. Once every two weeks we will introduce you to our latest content.
Other Articles You Might Find Interesting