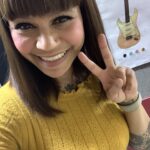 Writer's Profile
Misty Fujii is a Canadian who moved to Osaka, Japan in 2019 and married her Japanese sweetheart. In 2022 they had a baby and moved to Fukui for the clean country air. She is a DJ who teaches English part time and writes in order to share Japan with the world. She gets excited about collecting vintage vinyl records, food of all countries, travelling and renovating her traditional Japanese house.
This post may contain some affiliate links. When you click through and make a purchase we may receive some commission, at no extra cost to you.
Step into the world of the kimono, Japan's iconic traditional attire. These elegant garments have gracefully evolved from daily wear to special occasions, adorning weddings, tea ceremonies, and festivals. The right style and hue of the kimono you wear can harmonize with the event, your age, and even your marital status, creating a display of cultural expression. And guess what? The allure of the kimono isn't only for the locals! Tourists are diving into this captivating experience through rental services that go above and beyond.
Visualize yourself strolling through the historical Sensoji Temple in Asakusa or becoming part of an enchanting tea ceremony, all while enveloped in the timeless beauty of a kimono. Tokyo's set the stage for you, so let's look at 5 of the best kimono experiences in Tokyo. Bring your traditional Japanese fashion fantasies to life and build your connection with this captivating culture.
1. Kimono Rental with Wargo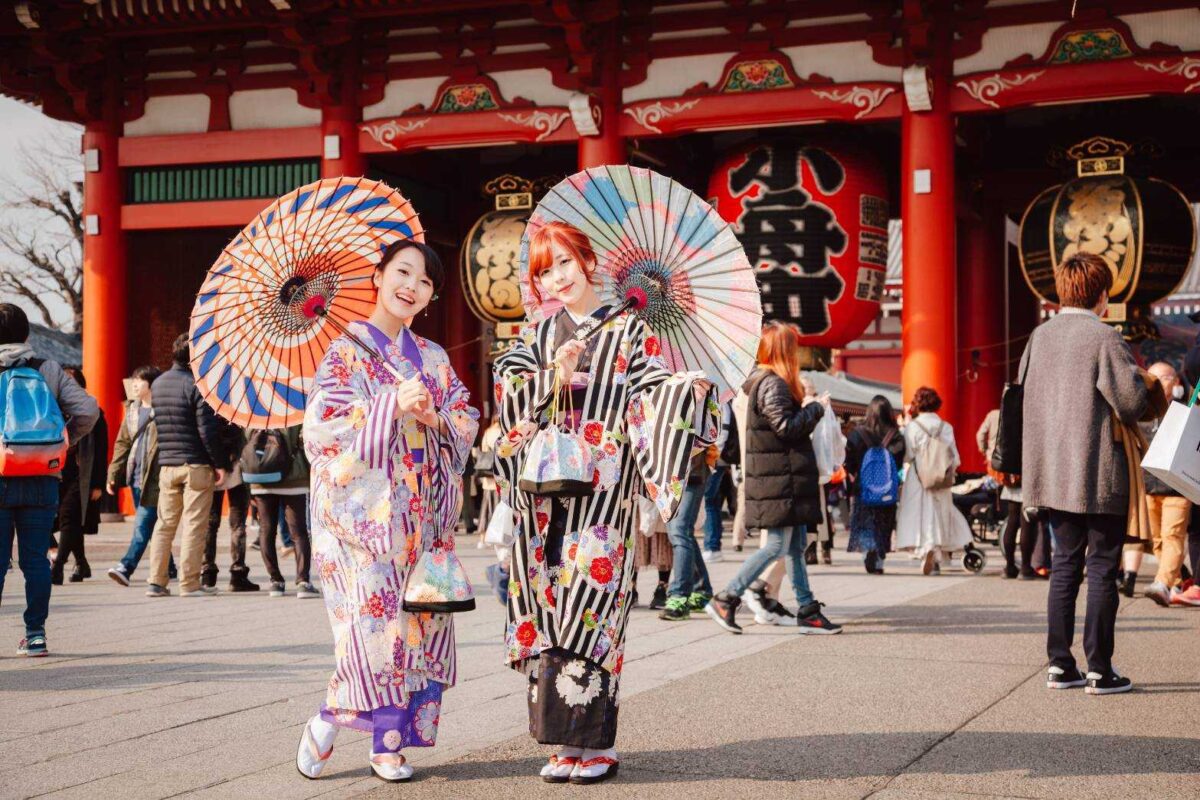 Get ready to rock Tokyo like a celebrity, strutting through its vibrant streets draped in a luxurious silk kimono or yukata! The Kimono Rental experience with Wargo is your golden ticket to sophistication and capturing those picture-perfect moments with your partner, friends or the whole squad.
Unlock the enchanting world of Japanese traditional clothing with an unforgettable kimono experience. From the moment you step into the kimono rental shop in Asakusa, seasoned professionals extend their warm hospitality, who are probably more excited to see you in a Kimono than you are, making you feel like an honored guest.
With a wide selection of Kimonos and Yukatas, your journey begins with choosing the attire that resonates with your taste and the occasion. As experts assist you in the dressing process, you will witness the art of Kimono preparation, a tradition steeped in history and precision. Complete your transformation with carefully chosen accessories including Ornate Obi Belts, Settas, Hairpins and more. Each detail is considered to enhance your authenticity.
But wait, the adventure doesn't stop there! Of course after you chose your attire, you are free to go to the famed places in the area with gorgeous backdrops like Senso-Ji Temple, Tokyo Skytree or Sumida River to capture that iconic moment with your camera.
This experience definitely transcends fashion; its an opportunity to immerse yourself in Japanese culture heritage and to create forever lasting memories!
Book your rental here!
2. Ride a Rickshaw Wearing a Kimono in Asakusa!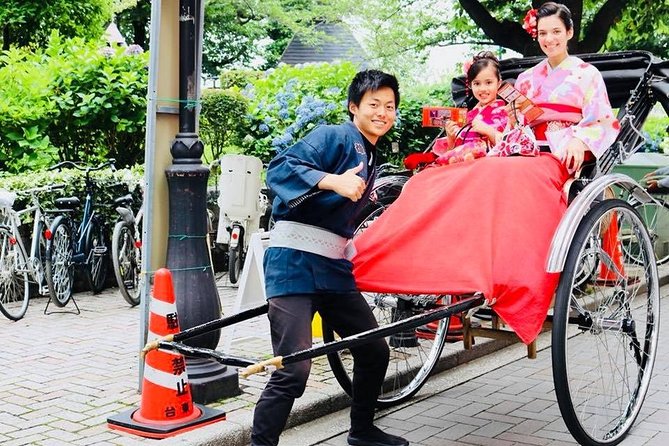 Pull up at Asakusa's kimono hub, HANA, and watch the magic happen in just half an hour as you transform into a living embodiment of cultural grandeur. Hair artistry and charming ornaments included, you're about to dive headfirst into the heart of Japanese tradition. Take your pick of the most stunning kimonos and dial up your style, matching it with an experience that's anything but ordinary.
But wait, there's more! The crowning glory? It's a rickshaw ride that'll whisk you through time. Your rickshaw captain, a pro in tourist tales, won't just show you around Asakusa; they'll dish out historical nuggets to enrich your adventure. And take the chance to immortalize these moments with a keepsake snapshot during your ride!
After an exhilarating 12-minute rickshaw spin, hit the ground running and explore Asakusa on foot. Saunter around the captivating Kaminarimon and Sensoji Temple, where history and culture meld seamlessly. The clock's on your side until 6:00 p.m., allowing you to savor sights, flavors, and shutter-clicks galore. Your Asakusa escapade calls, and it's the pinnacle of style and allure, unlike anything you've seen before.
Book here!
3. Studio Kimono Photo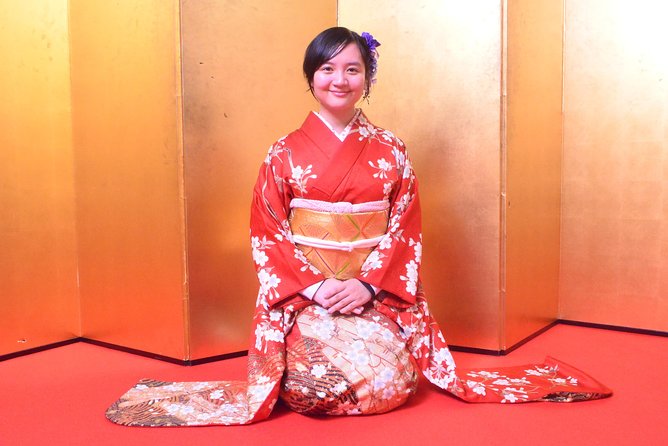 Discover Tokyo's best-kept secret in Asakusa, a Studio Kimono Photo session. In just 20 minutes, transport to the heart of Japanese culture, wrapped in stunning traditional garments.
Step into Yumenoya Studio, and the metamorphosis begins! Guided by an expert assistant, choose your attire: kimono elegance, 'hakama' allure, or samurai fierceness. The center stage is yours as you enter the photography set. Against a backdrop of enchanting decor, you'll capture the spirit of Japan. Every click immortalizes poses that resonate with generations past, while the studio's infectious energy turns each snap into perfection.
The whirlwind session concludes, leaving you with an SD card of cherished memories. Whether shared on social media or revisited with friends, these images are the ultimate souvenir. Short on time, but wanting a kimono souvenir? Seize tradition, style, and beauty in the blink of an eye!
Book here!
4. Let's Make a Kimono(the Kimono is a Gift For You)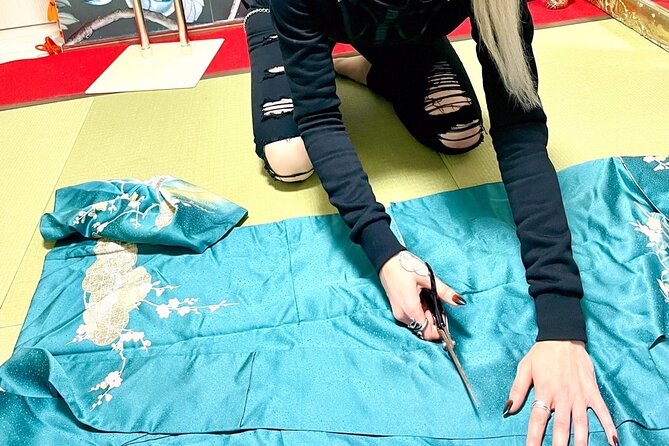 Hey, trendsetters! Get set for a Japan-inspired style fusion at this fun kimono workshop where culture meets creativity. The hardest part of kimono wearing is putting it on. But now, it's no sweat because this hands-on class modernizes the classic kimono for easy wear. Update an antique kimono for a ready-to-wear look anytime you want! The kimono will be yours to keep, and you can even elevate your look with hassle-free Obi belts for purchase, upping your style game while keeping comfy.
The guide, a kimono virtuoso, weaves her expertise into every stitch. Her mom, a kimono master, unveiled the magic of this timeless tradition to eager enthusiasts, melding Eastern allure with Western charm. Take your pick from 300+ antique kimonos, categorized by elegance and price. Then, it's time to dive in and get creative! Master ironing and sewing belt loops, turning your kimono into a modern masterpiece. Pair with a breezy obi, obiage, and obijime to channel historical Japanese allure.
Style pioneers, the world of kimono crafting beckons. Ready to redefine your journey? Gear up, step out, and shine with your very own kimono.
Book here!
5. PRIVATE Kimono Tea Ceremony in Tokyo Maikoya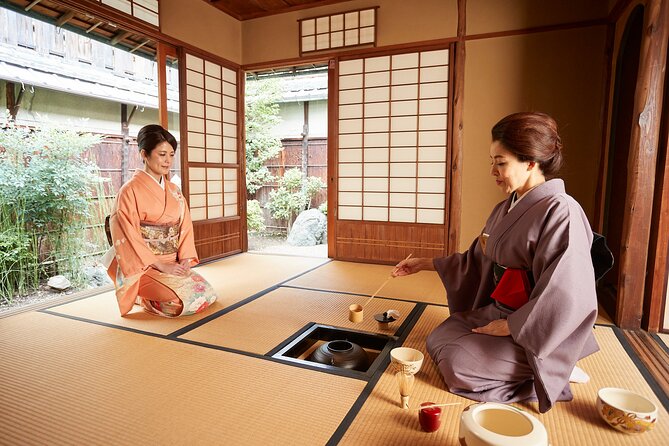 The Japanese tea ceremony is a timeless art. And guess what? You'll be experiencing it dressed in a splendid traditional kimono! Get comfortable in a serene classroom adorned with traditional Japanese aesthetics. Here, you're not a spectator; you're a participant.
Dive into the Japanese tea ceremony world with a passionate instructor who will delve into the history and rituals that have echoed through centuries. Let your senses awaken as you savor every moment, from the aroma of the traditional matcha tea to the delectable Japanese sweets that harmonize perfectly with the ritual. Engage with the utensils used for generations, adding an authentic touch to your experience.
But that's not all. This occasion isn't just about watching; it's about doing! As part of a private class, you'll have the opportunity to perform the sacred ritual yourself. Feel the sense of tranquility and mindfulness as you engage in the ceremony, cherishing every gesture and sip. This private kimono tea ceremony is an exclusive experience tailored to your presence alone. Capture memories and the elegance of the moment with the freedom to take as many photos as you desire.
This isn't just a tea party; it's a fusion of culture, meditation, harmony, and matcha. Slip into a kimono that resonates with tradition and your personal style. Sip on exquisite green tea and savor Japanese sweets while embracing the ambiance of an artful Samurai Showroom. Get ready to immerse yourself fully, captivated by the beauty of ancient rituals, the allure of a kimono, and the tranquility of a tea-filled moment.
Book here!
Japan Wonder Travel Tours in Tokyo
Japan Wonder Travel is a travel agency that offers guided tours throughout Japan.
From private walking tours to delicious Food and Drink tours, we can help organize the best tours just for you! If you want to explore Japan and learn more about the history and backstories of each area you are traveling in, our knowledgeable and friendly guides will happily take you to the best spots!
In addition, we can provide you with any assistance you may need for your upcoming trip to Japan, so please feel free to contact us if you have any questions or need some help!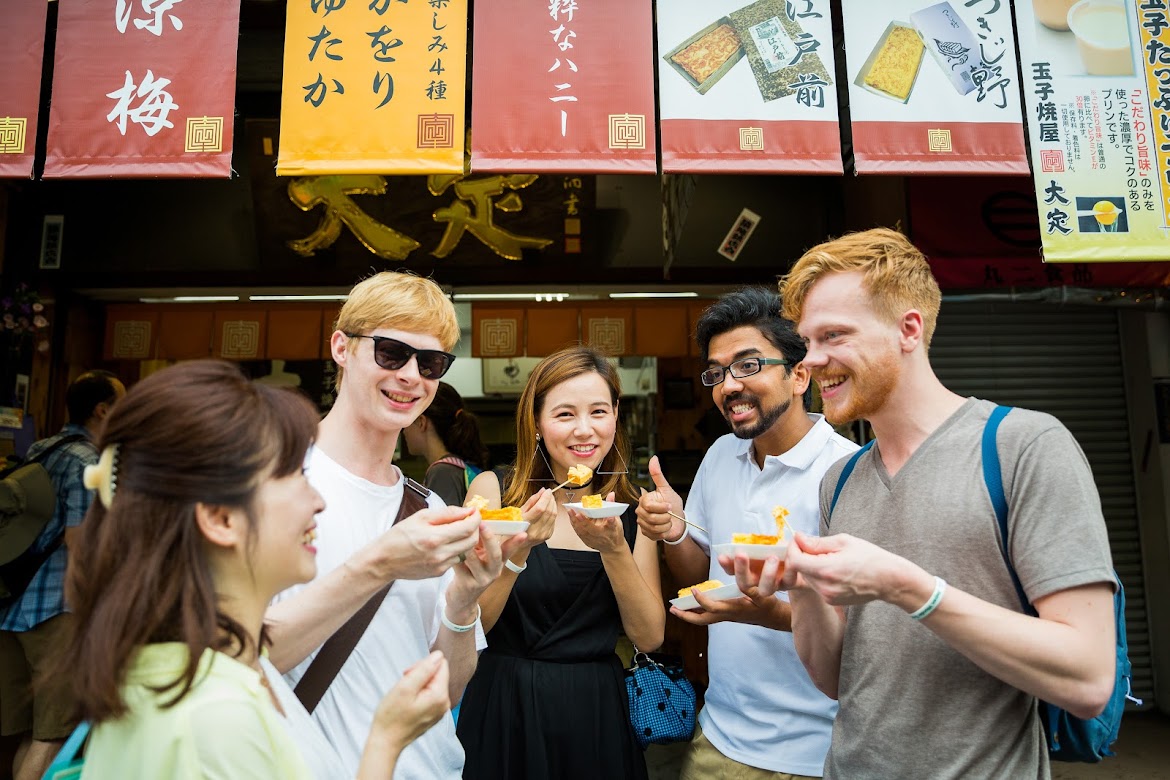 ▶Tokyo 1–Day Highlights Private Walking Tour (8 Hours)
There's no better way to explore an area than taking a tour with a knowledgeable local guide. You will have the chance to learn about the history and interesting background stories of Tokyo, as well as discover some hidden gems which can be hard to do without a guide.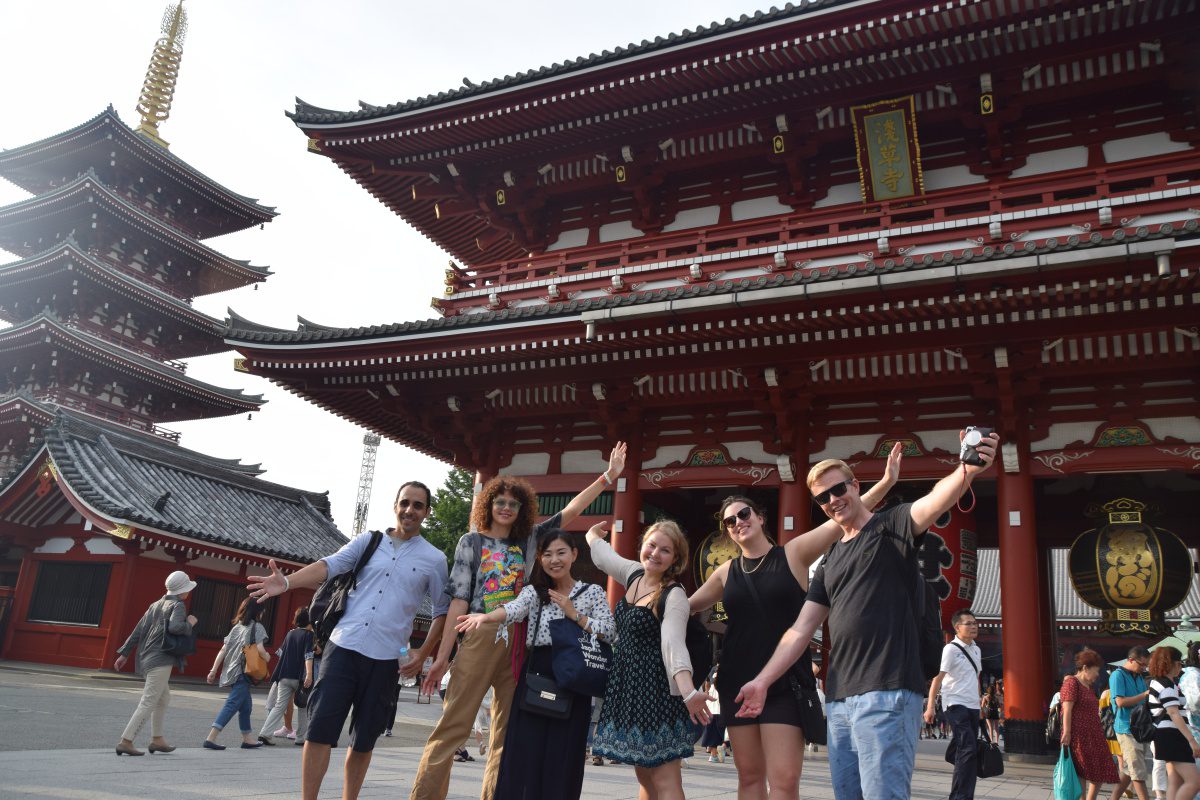 ▶Shinjuku Bar Hopping Tour: Experience Tokyo's Nightlife in Izakaya
Check out the best spots in Shinjuku while bar hopping through the lively and vibrant area. Try some delicious local food and drink as you explore the narrow yet photogenic alleys that the town has to offer. Experience Japanese izakaya culture and drink in Shinjuku like the locals!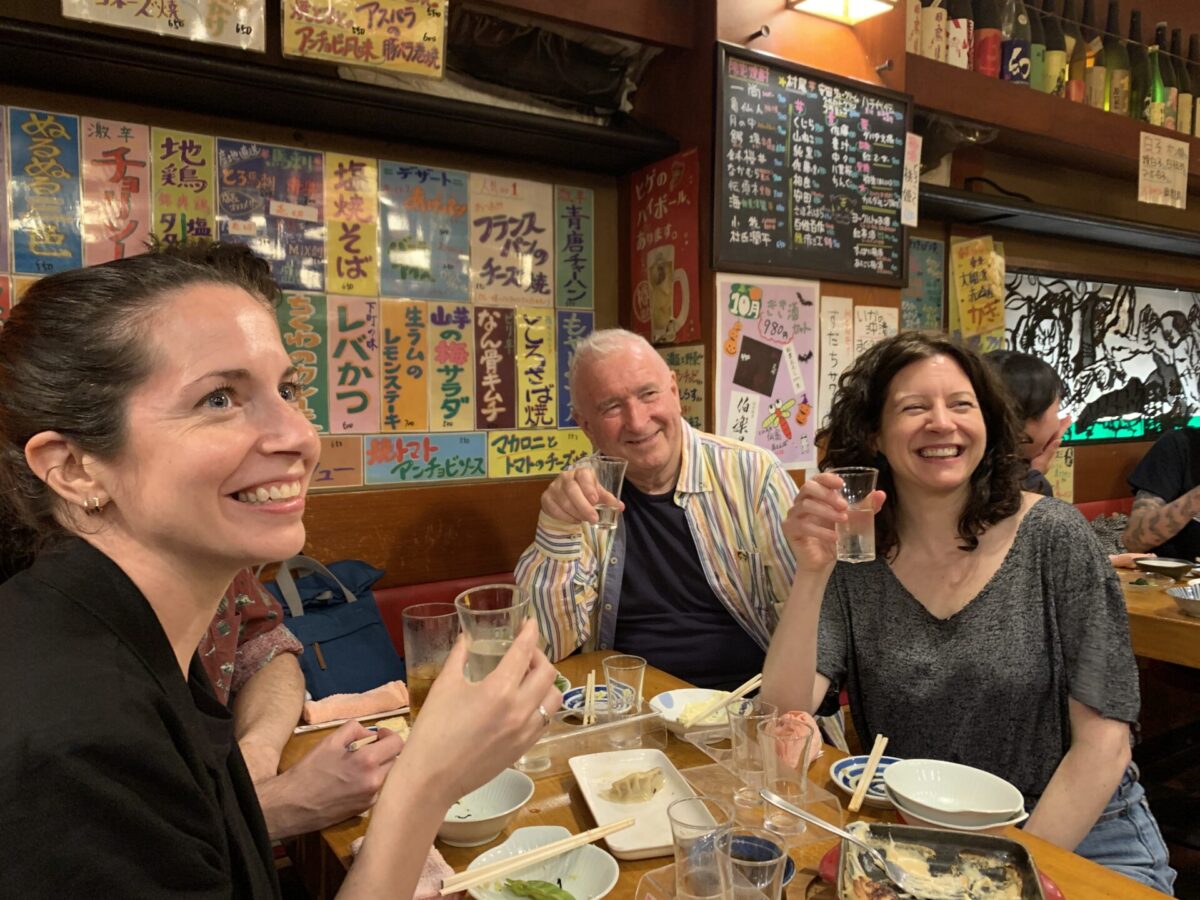 Find the Other Tours
▶Tour Packages
If you want to make travel easier, we suggest you look into tour packages.There are a wide range of tour packages out there to suit the accomodate for each traveler needs. Click the button below to find the best tour package from various Tour Operators!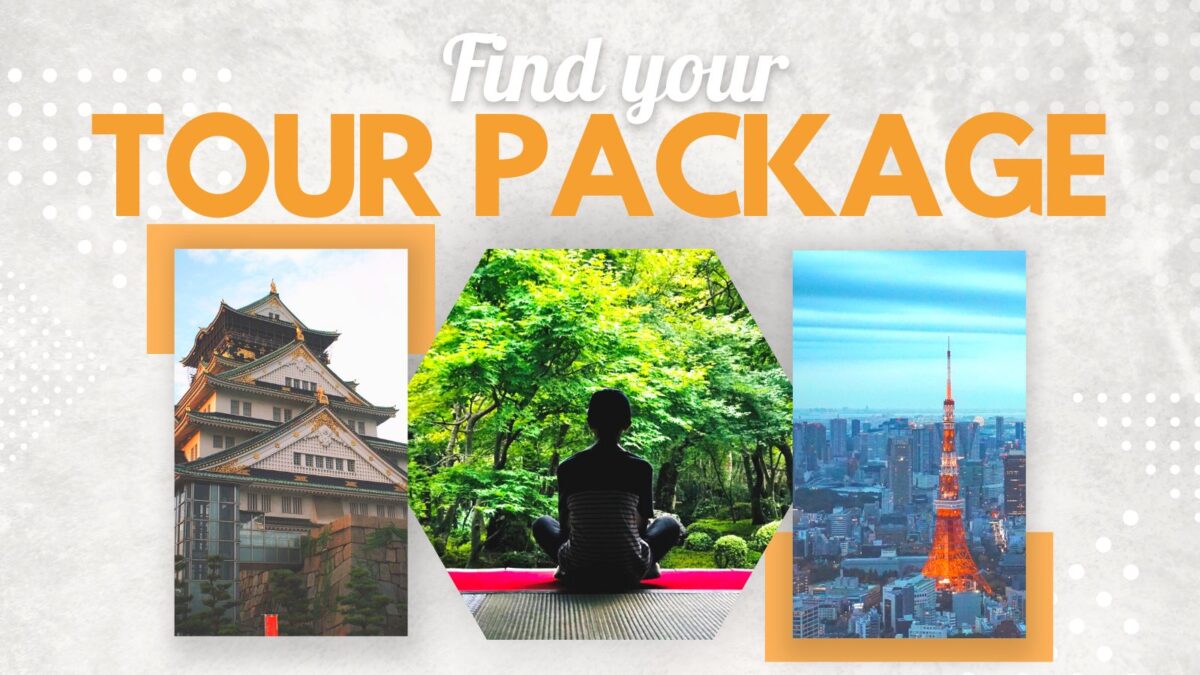 Follow us on Instagram, Facebook, Twitter, and TikTok for more travel inspiration. Or tag us to get featured!
Happy traveling!
Stay informed of the best travel tips to Japan, the most exciting things to do and see, and the top experiences to have with the Japan Wonder Travel Newsletter. Once every two weeks we will introduce you to our latest content.
Other articles you might be interested in