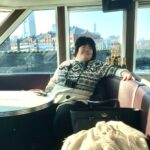 Writer's profile
Mao Goto is a Japanese freelancer who was born in Hayama, Kanagawa prefecture, and raised in Tokyo. Since 2016 she lives in the Taito Ward, home to a lot of Japanese culture hotspots such as Asakusa, Akihabara, and Ueno. She has been interested in the field of English education in Japan and got her Master's degree in March 2020. A lover of photography, travel, sweets, and cross-stitch. Contact her via Facebook.
This post may contain some affiliate links. When you click through and make a purchase we may receive some commission, at no extra cost to you.
Japanese summers are usually spent in the highlands or on the coast in search of cooler weather, but how about spending this summer in Kyoto? Kyoto is one of Japan's leading tourist cities, and is home to many cultural and historical monuments unique to the ancient capital. What we will introduce here is "kawayuka," restaurants set up along the Kamogawa River flowing in Kyoto City. Other river terraces throughout Kyoto and Japan are known as Kawadoko. This article will feature in detail what a kawayuka is and what makes them so charming.
1. What are Kawayuka?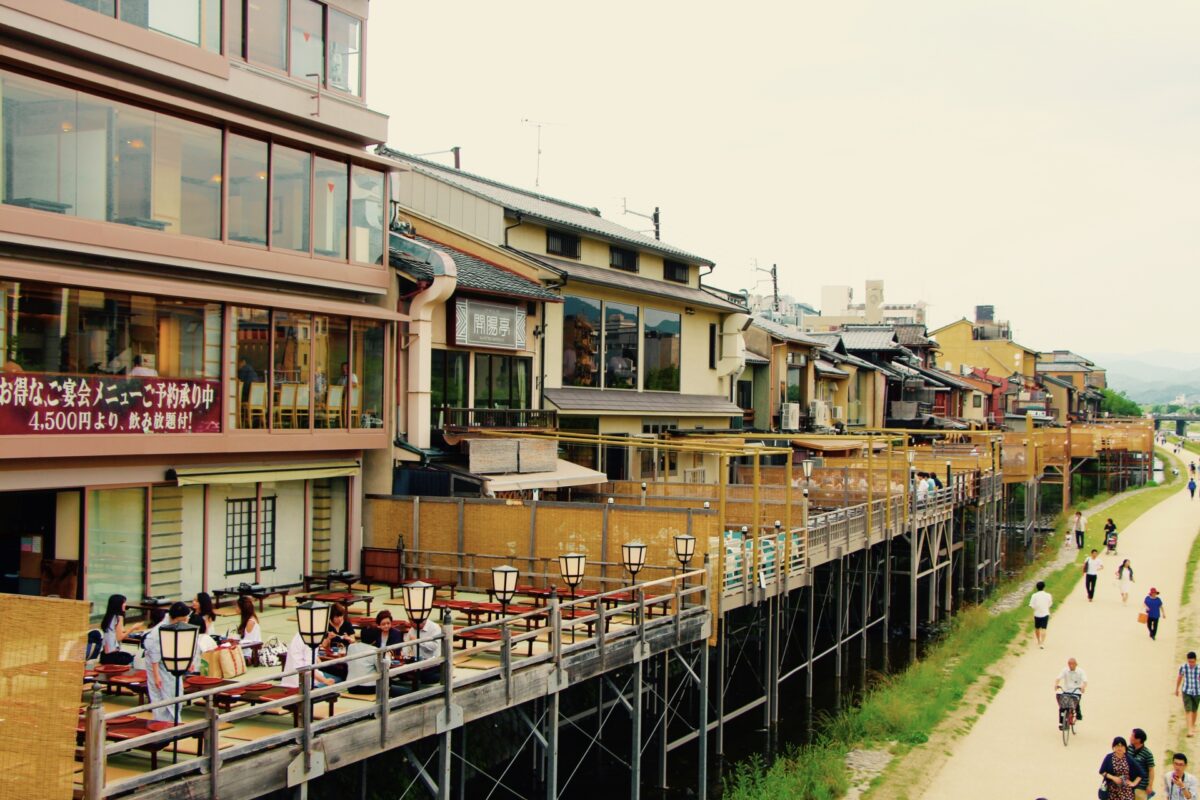 "Kawayuka (川床)" are one of Kyoto's most popular summer dining experiences. Many restaurants offer seating on the clear Kamo River or outside with a clear view of the river, where diners can enjoy their meal while feeling the cool breeze. At kawayuka, you can enjoy dishes made with fresh local river fish and seasonal vegetables. Sake and a variety of alcoholic drinks are also served. While many people tend to conjure up Kawayuka as the image of authentic Japanese or Kyoto cuisine being served, these days, diners can enjoy dishes from around the world, such as French and Italian cuisine, along with the beautiful murmuring of the river in Kyoto. The atmosphere of Kawayuka varies between day and night, so we recommend visiting a kawayuka during both.
2. When Are Kawayuka Open in 2023?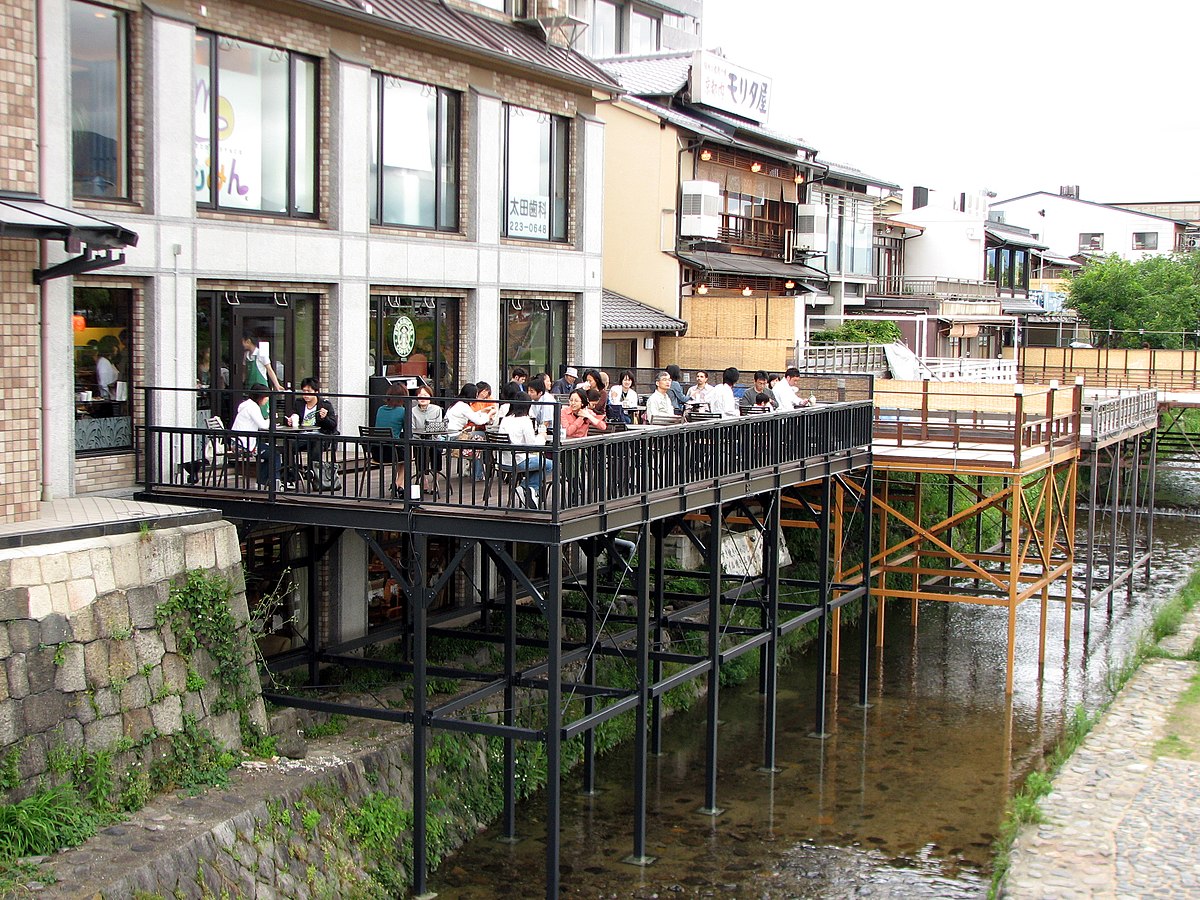 Kawayuka in Kyoto are usually open for use from May 1 to September 30 every year, but kawadoko in Kifune and Takao can be enjoyed even after October. In particular, kawadoko in Takao are open until November, where you can enjoy the unique autumn colors of the leaves. Kyoto's kawayuka are often expensive, but for those who want to enjoy kawayuka at a reasonable price, we recommend "Kamogawa Noryoyuka (鴨川納涼床)", which are near the Kamogawa River and open from May through September. Kawayuka are available not only for dinner, but also for lunch, so you can enjoy them at a more reasonable price than at night.
3. Recommended Kawayuka Restaurants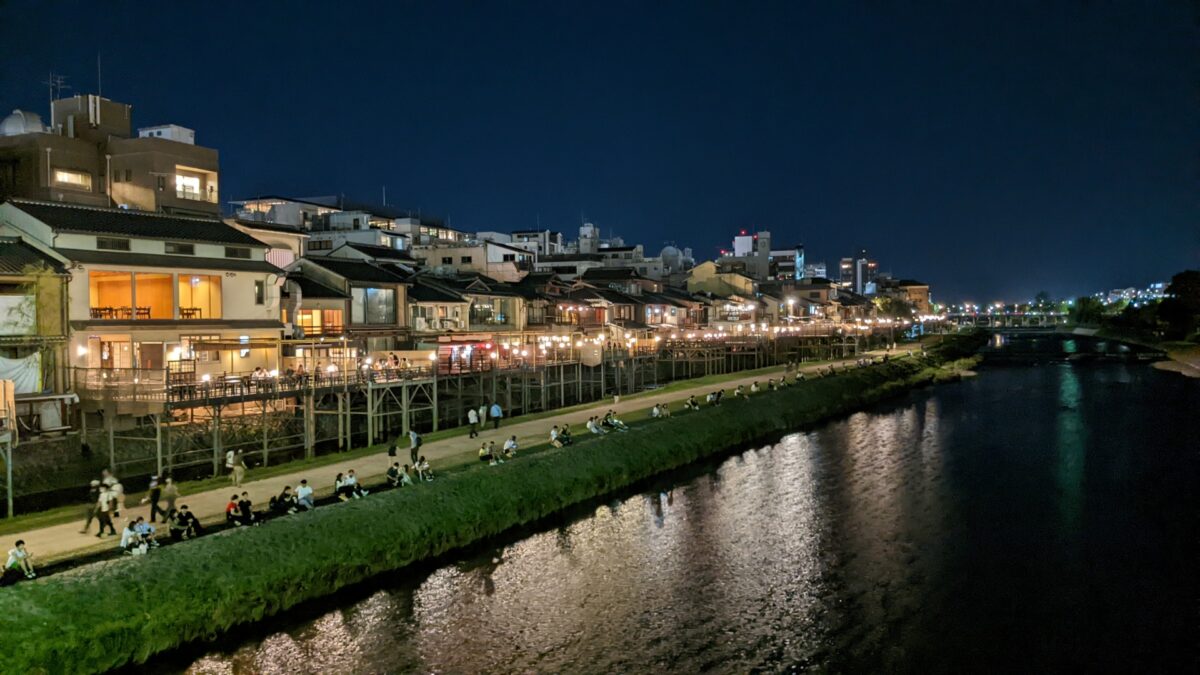 Here are five different restaurants in Kyoto where you can experience kawayuka. In addition to Japanese cuisine, several international restaurants also offer kawayuka seating. We hope you will find them useful in planning your future trips to Kyoto.
Takeshima Ichigo
Kyo-ryori Takeshima ICHIGO is a ryotei restaurant located a 5-minute walk from Sanjo Station, and boasts Kyoto cuisine using fresh vegetables from Kyoto and seafood from the local areas. The Kyoto cuisine course, which is served with sake, is carefully selected by the chef to match the delicious dishes, and is truly exquisite. They offer courses at reasonable prices because they want young people to know the excellence of Kyoto cuisine. In addition to Kawayuka seats, tables and counter seats are also available, so those who do not like cold weather can also enjoy themselves.
Official Website: Takeshima Ichigo (Only in Japanese)
Amore Kiyamachi
With the Italian word "amore" in the restaurant name, Amore Kiyamachi is a restaurant where you can enjoy authentic Italian cuisine at a kawayuka. Their Italian cuisine is based on southern Italian cuisine from places like Naples and Sicily, and the interior of the restaurant is a modern Japanese space that is a perfect fusion of European and Japanese design. The kawayuka seats here are wooden chairs and tables. At night, the candles on the tables are lit creating a very romantic atmosphere, making it perfect for a summer dinner with your sweetheart.
Official Website: Amore Kiyamachi
Kyoto Yakiniku Hiro
Kyoto Yakiniku Hiro, a yakiniku restaurant that serves carefully selected, delicious Japanese beef and offal, has seven restaurants in Kyoto. Among these seven restaurants, only the Sanjo-Kiyamachi restaurant offers yakiniku on a kawayuka. This is the only place in all of Kyoto where you can enjoy delicious yakiniku on the kawayuka along the Kamo River. Kyoto Yakiniku Hiro purchases all of its beef by the cow, and the meat is carefully selected by professional meat connoisseurs based on the desire to provide a delicious meat experience for customers. Enjoy the sweet flavor of the melt-in-your-mouth meat along with the elegant scenery of the Kamo River.
Official Website: Kyoto Yakiniku Hiro
Pontocho Hyakuren
Ponto-cho Hyakuren, with the atmosphere of a popular diner, is a Kawayuka restaurant run by a pickle shop and has a good reputation for offering both Japanese and Western cuisine. The menu offers a variety of dishes using Kyoto ingredients, including obanzai, yudofu, sashimi, and steak. Of course, you can't miss the Kyoto pickles, the specialty of the pickle shop. If you are looking for a casual and reasonably priced kawayuka experience, this is the place to go.
Official Website: Pontocho Hyakuran (Only in Japanese)
LE UN Funatsuru Kyoto Kamogawa Resort
Located along the Kamo River, LE UN Funatsuru Kyoto Kamogawa Resort is a French modern dining restaurant, reborn in the modern age from a long-established ryotei ryokan built in 1870. While retaining the qualities of the purely Japanese-style building from that time, the restaurant is well-received by visitors for its perfect blend of Japanese and Western atmospheres. The French cuisine available here is Kyoto-style, modern French cuisine using Kyoto ingredients. The perfect fusion of Kyoto ingredients and French cuisine has delighted the palates of many people.
Official Website: LE UN Funatsuru Kamogawa Resort
Kurama and Kibune Private Tour
For those who are hoping to not only experience Kawayuka and Kawadoko in Kyoto, but also want to see some less traveled and beautiful parts of the city, this is a great tour for you. You will have the chance to explore the nature in Kurama and Kibune, as well as stop for a refreshing lunch along the river to feel the real Kyoto atmosphere.
Kurama & Kibune Private Trekking Tour in the Sacred Forest
ComewithusonaKuramaandKibunePrivateTrekkingTourtoexplorethestunningMt.Kuramawhichhasbeenreveredbythelocalssinceancienttimes.Duringthehike,you'llcomeacrossnumero...
In this article, we introduced what kawayuka are and what kind of kawayuka restaurants are available, but were any of them of interest to you? Kawayuka are one of Japan's unique summer traditions, and one that you should definitely experience when you visit Kyoto in summer. We recommend making reservations in advance for kawayuka, as it is a popular seating option to cool off during the summer in Kyoto. You can savor delicious food and drinks made with local Kyoto ingredients, and spend a luxurious time listening to the cool murmur of the river. Enjoy the view of the Kamo River, feel the cool breeze, and make the most of your summer on your trip to Kyoto!
Japan Wonder Travel Tours in Kyoto
When you are visiting Kyoto and you need some help organizing your trip, you came to the right place. We're happy to help you make your trip to Kyoto the best trip ever. We can advise you on where to go or even better, show you around with a local, English speaking guide. Let us help you create safe, comfortable, and unforgettable memories in Kyoto!
▶Kyoto Private Full-Day Walking Tour
On this full-day private tour of Kyoto, you will be able to see the highlights of Kyoto in just one day and at the same time develop a deeper understanding of both the culture of the area and Japan as a whole.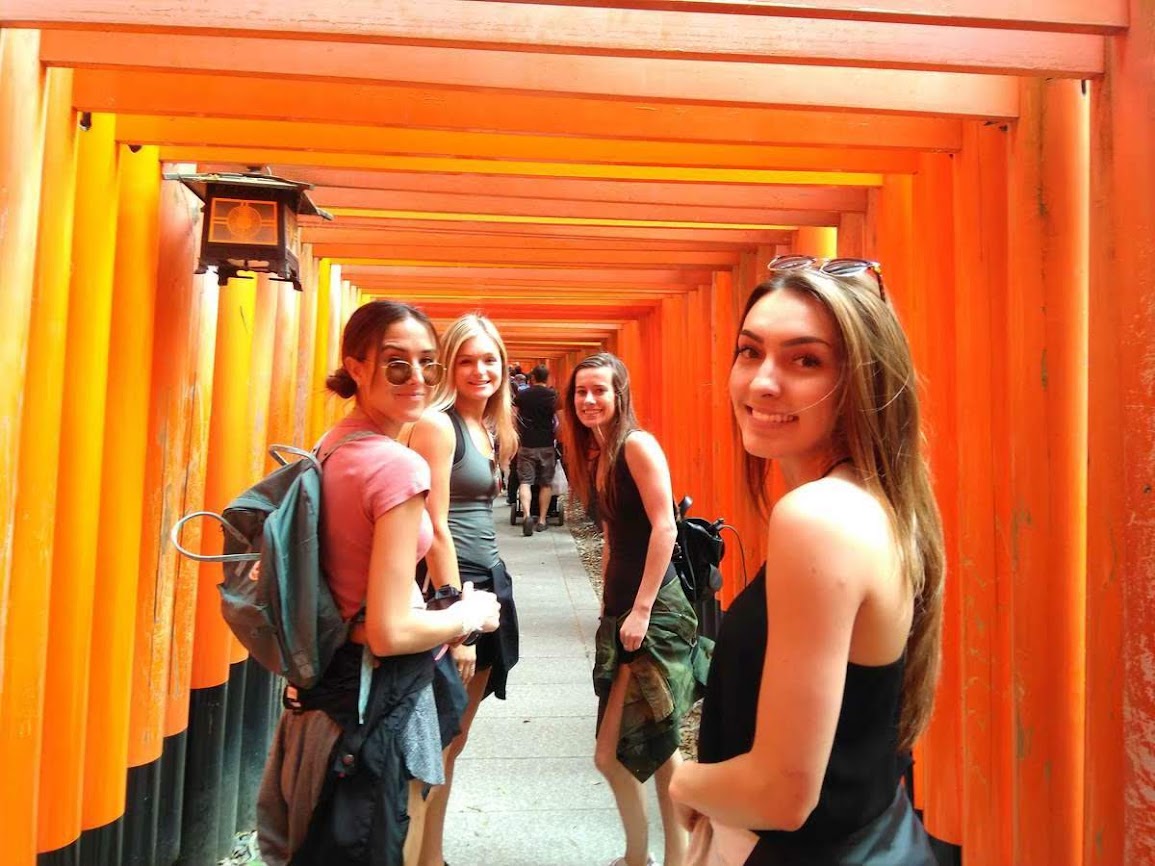 ▶Total Kyoto Experience
If you only have a day or two in Kyoto, we offer a full-day tour of the city, enabling you to immerse yourself in and fully enjoy the entire city of Kyoto in just 10 hours!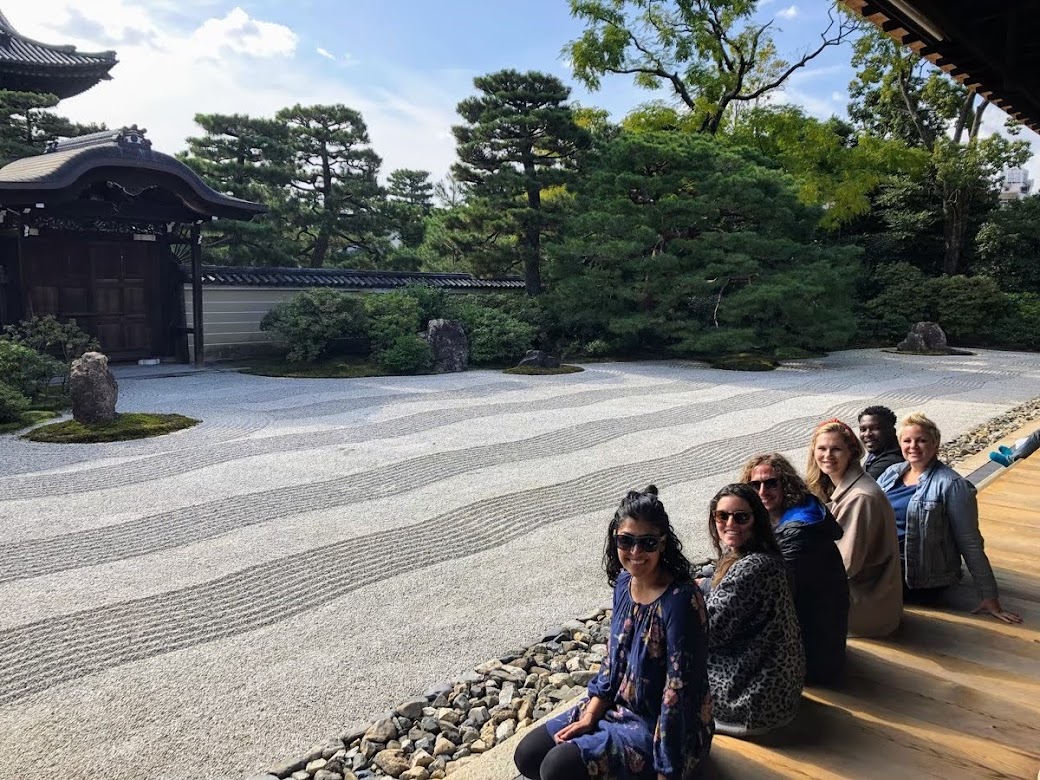 ▶Kyoto Food and Drink Tour @Nishiki Street & Gion
If you're looking to learn more about the culture and the local cuisine of Kyoto, this is the perfect tour for you! Take part in this Kyoto food and drink tour and explore the 400-year-old market and the famous Gion district.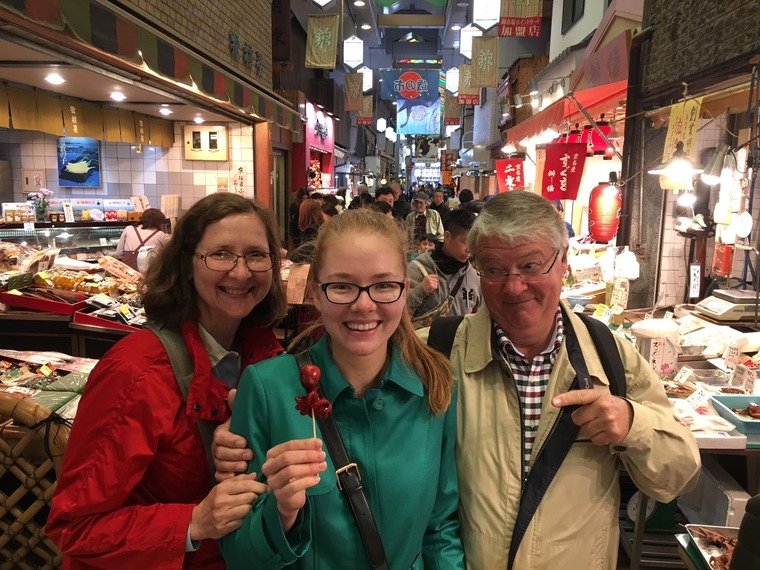 Find the Other Tours
▶Tour Packages
If you want to make travel easier, we suggest you look into tour packages.There are a wide range of tour packages out there to suit the accomodate for each traveler needs. Click the button below to find the best tour package from various Tour Operators!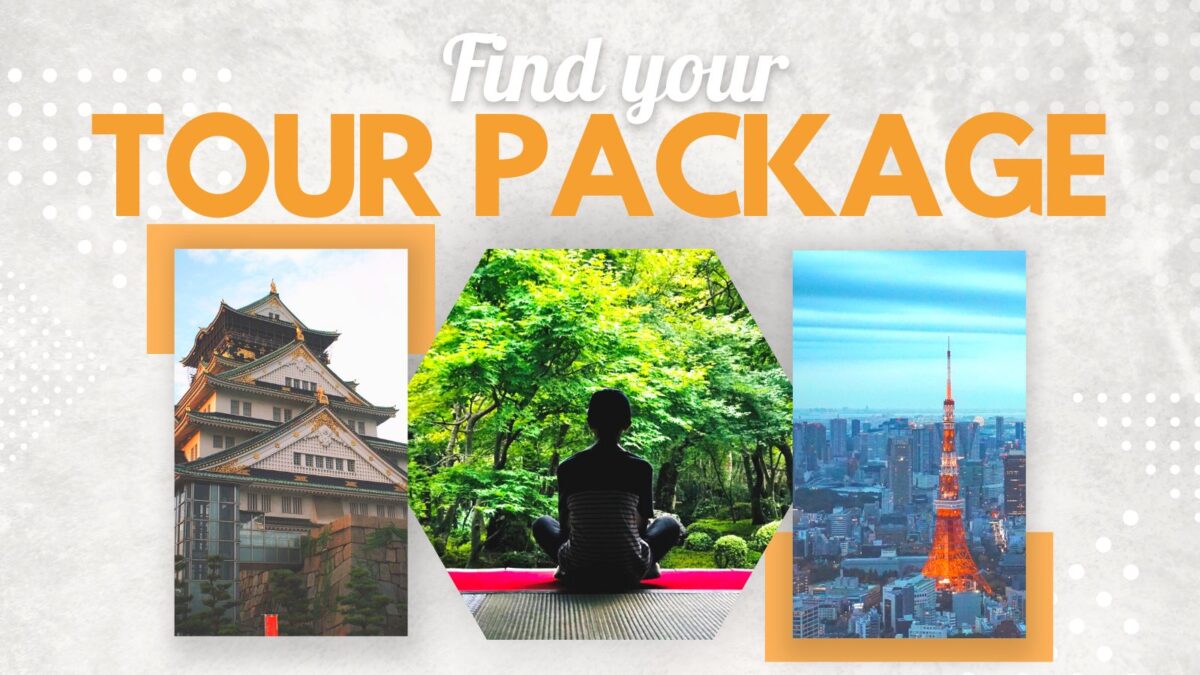 Follow us on Instagram, Facebook, Twitter, and TikTok for more travel inspiration. Or tag us to get featured!
Happy traveling!
Stay informed of the best travel tips to Japan, the most exciting things to do and see, and the top experiences to have with the Japan Wonder Travel Newsletter. Once every two weeks we will introduce you to our latest content.
Other articles you might like