This post may contain some affiliate links. When you click through and make a purchase we may receive some commission, at no extra cost to you.
Tokyo is a shopping heaven where anything and everything can be found. From giant shopping complexes to small local shops, it offers great shopping experiences for everyone. Tokyo is also home to a wide range of local markets packed with lively shops, restaurants, stalls, and vendors selling a large selection of items and food options. Visiting these markets allows you to spend a memorable time while splurging on world-class goods that can't be found anywhere else. Here, we have prepared the ultimate list of the best markets in Tokyo that you should visit!

1. Tsukiji Market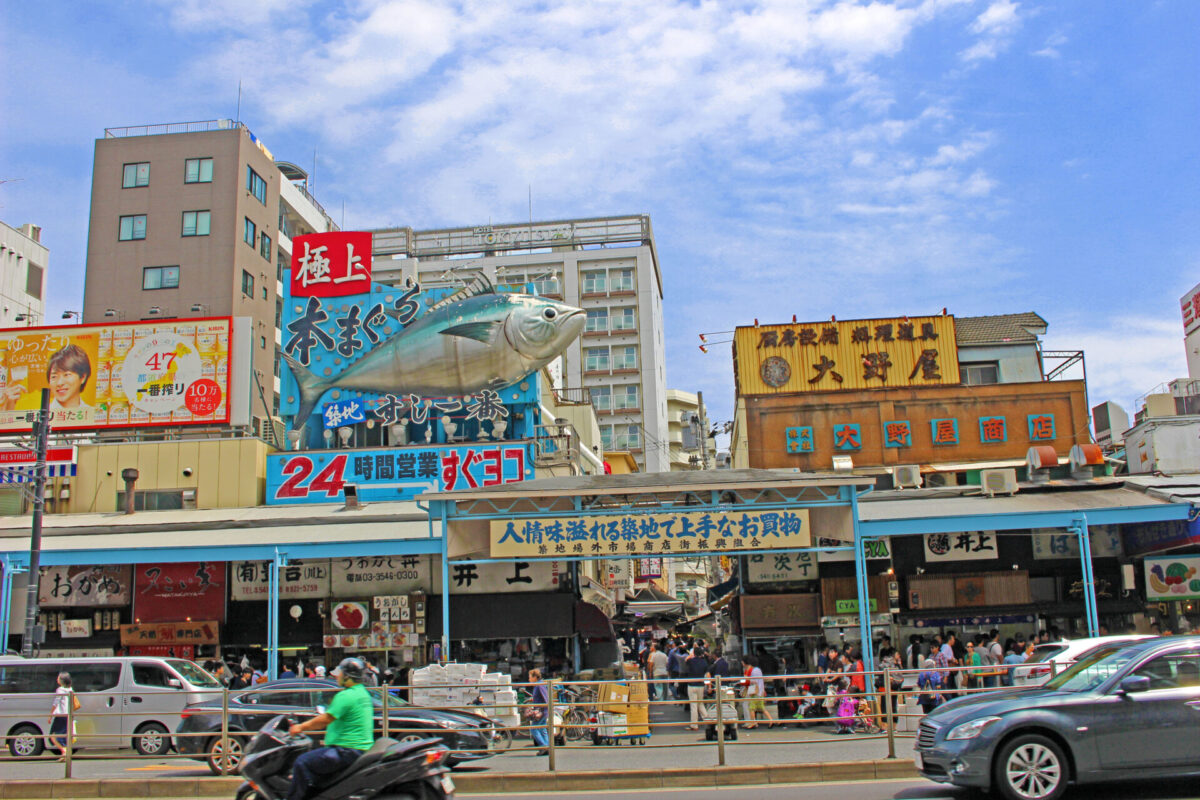 Tsukiji is probably one of the most popular and famous markets in Tokyo. It is widely recognized as one of the biggest fish markets in the world with a history stretching back over 80 years. It is comprised of two different markets: the inner market and the outer market. The inner market was officially moved to a new site known as Toyosu in 2018, but the outer market still remains open and attracts numerous visitors from every corner of the world with over 460 shops and restaurants.
As one may imagine, it is a perfect spot to enjoy fresh, high-quality seafood. Try sashimi, seafood bowls, and sushi which are all served at reasonable prices. Morning is the best time of the day to go and enjoy their best quality seafood while avoiding the crowds. If raw fish isn't your thing, you can try other food options, including famous ramen shops as well as specialties such as Tamagoyaki (Japanese rolled egg omelet) sold at friendly vendors! It's not only a hub for foodies, but it is also a great spot to explore the variety of souvenirs and useful products such as kitchenware that are sought after even by professional chefs!        
Highlights at Tsukiji Fish Market
The Outer Market is packed with460 shops and restaurants
High-quality seafood, local specialties, and refreshing drinks
Exciting Tuna cutting demonstrations by professional chefs
Join our Tsukiji Fish Market tour!
We offer special walking tours in Tsukiji Fish Market! Let's explore the Tsukiji outer market with our friendly English guide where you can try the best quality seafood as well as a variety of other food options. You will also be able to get to know Japan's culinary culture, or even take a memorable sushi-making class with the help of a professional sushi chef!
Check below for more details:
▶Tokyo Fish Market Tour @Tsukiji – Enjoy Local Food and Drink
▶Tokyo Sushi Making Experience+ Tsukiji Fish Market Explore Tour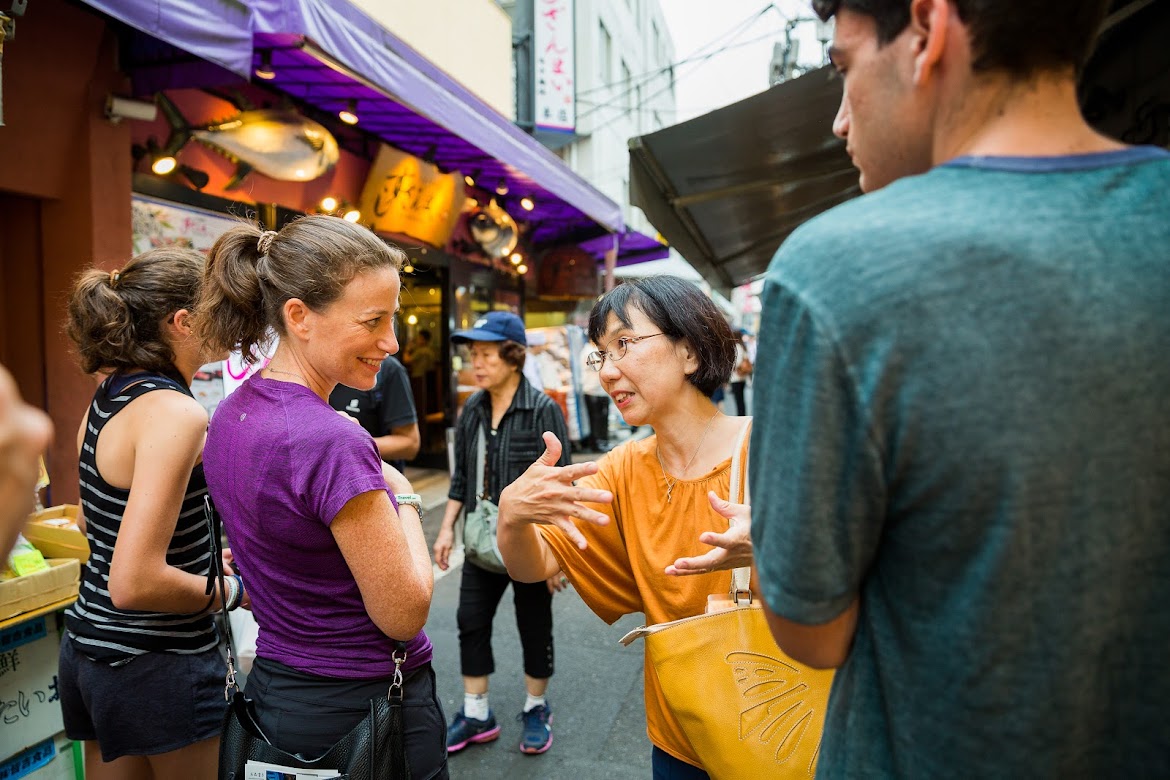 2. Nakamise Dori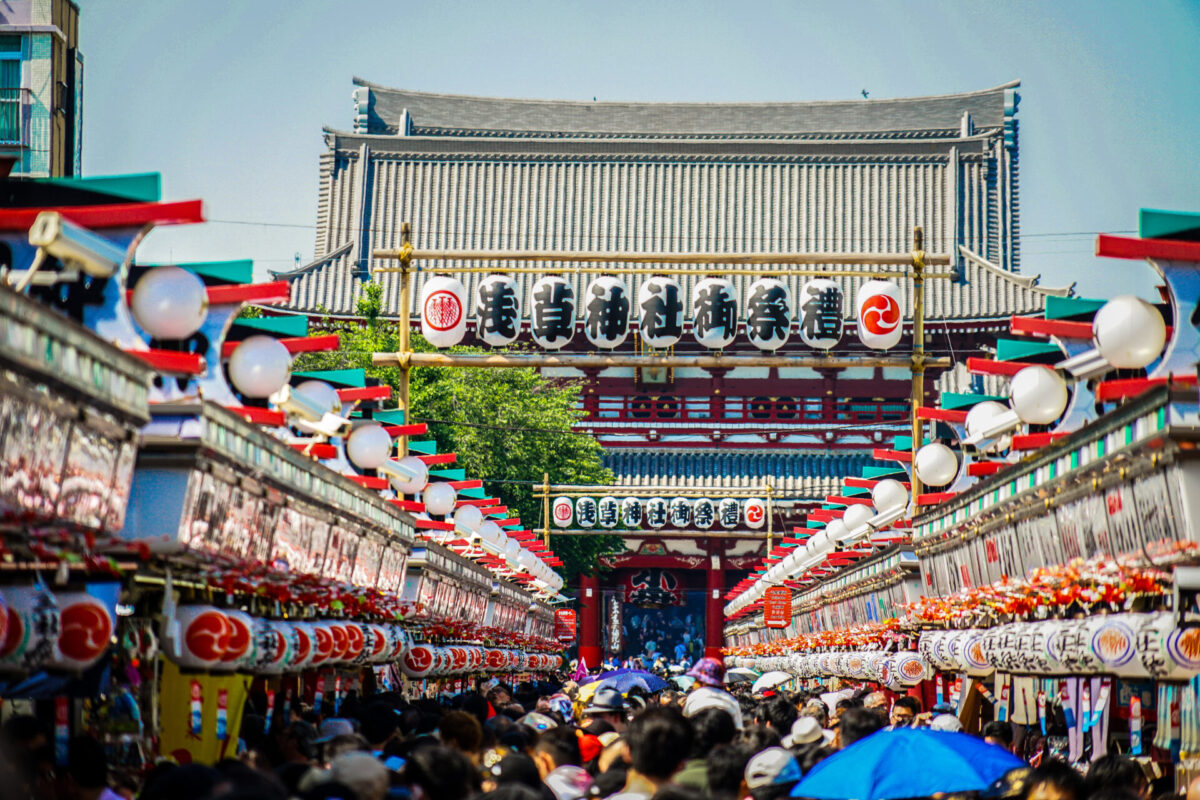 Nakamise Dori is a lively shopping street located in the Asakusa area of Tokyo. It is one of Japan's oldest shopping streets which stretches approximately 250 meters back and leads up to the Senso-ji Temple, the oldest Buddhist temple in Tokyo. It is home to about 90 shops and stalls that sell a variety of products ranging from traditional handcrafts to small key chains perfect for souvenirs. You can also find an endless array of food options such as Japanese traditional snacks and sweets which have been loved as locals' favorites for many years.
Note that opening hours may vary depending on the shop you visit. (Most of them open around 8 – 9am). Some shops may be irregularly closed without notification in advance. Most shops take credit cards, but it is highly recommended that you bring cash in the form of Japanese yen with you just in case. Take-out menus are also available at some shops!
Highlights at Nakamise Dori
Feel the sacred atmosphere of the oldest Buddhist temple and shopping street in Tokyo
Try traditional Japanese snacks and get memorable souvenirs
Other tourist attractions such as Hanayashiki and Tokyo Skytree can be found nearby
Join our Asakusa Food & Drink tour!
▶Tokyo Food and Drink Tour @ Tsukiji and Asakusa
▶Asakusa Local Food and Bar Hopping Tour
3. Ameya Yokocho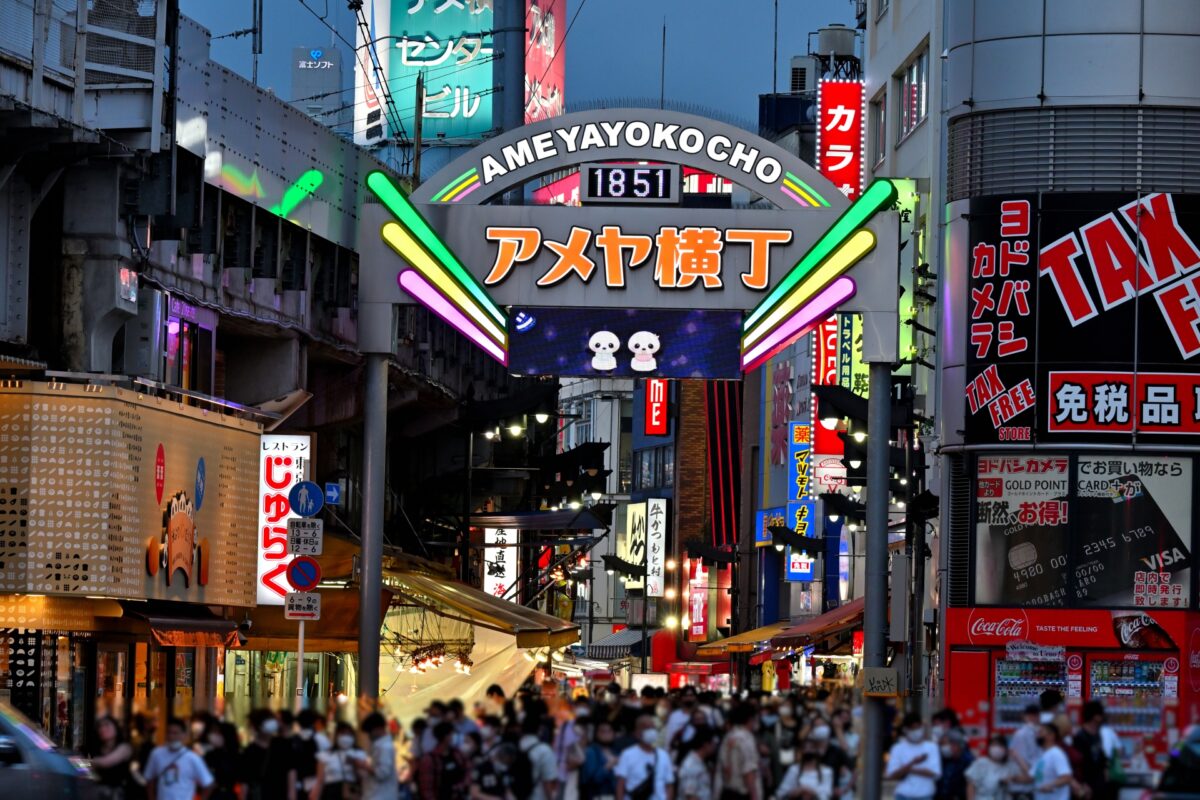 Ameya Yokocho is a bustling shopping street located next to the JR Yamanote Line running between JR Ueno to Okachimachi Station. This shopping hub can be easily found within a short walk from the Shinobazu Exit of JR Ueno station. It originally started as a black market where daily necessities were secretly imported from the U.S. and were sold after World War II. Today it attracts numerous visitors from every corner of the world with a wide range of shopping experiences.
Enjoy walking around the lively street packed with small shops selling fresh seafood, fruits, clothes, accessories, electronics, cosmetics, snacks, and much more. At many shops, you can enjoy great deals and bargains, or it is also worth it to try haggling for a discount with chatty vendors. It is also a great spot to try a diverse food culture, including ethnic dishes from other Asian countries such as India, China, Thailand, and Turkey!
Highlights at Ameya Yokocho
Over 400 shops selling a wide variety of items and food options
Perfect spot to enjoy great deals as well as interaction with local vendors
Ueno Zoo, Ueno Park, and Tokyo National Museum can be found nearby
4. Boroichi Street Market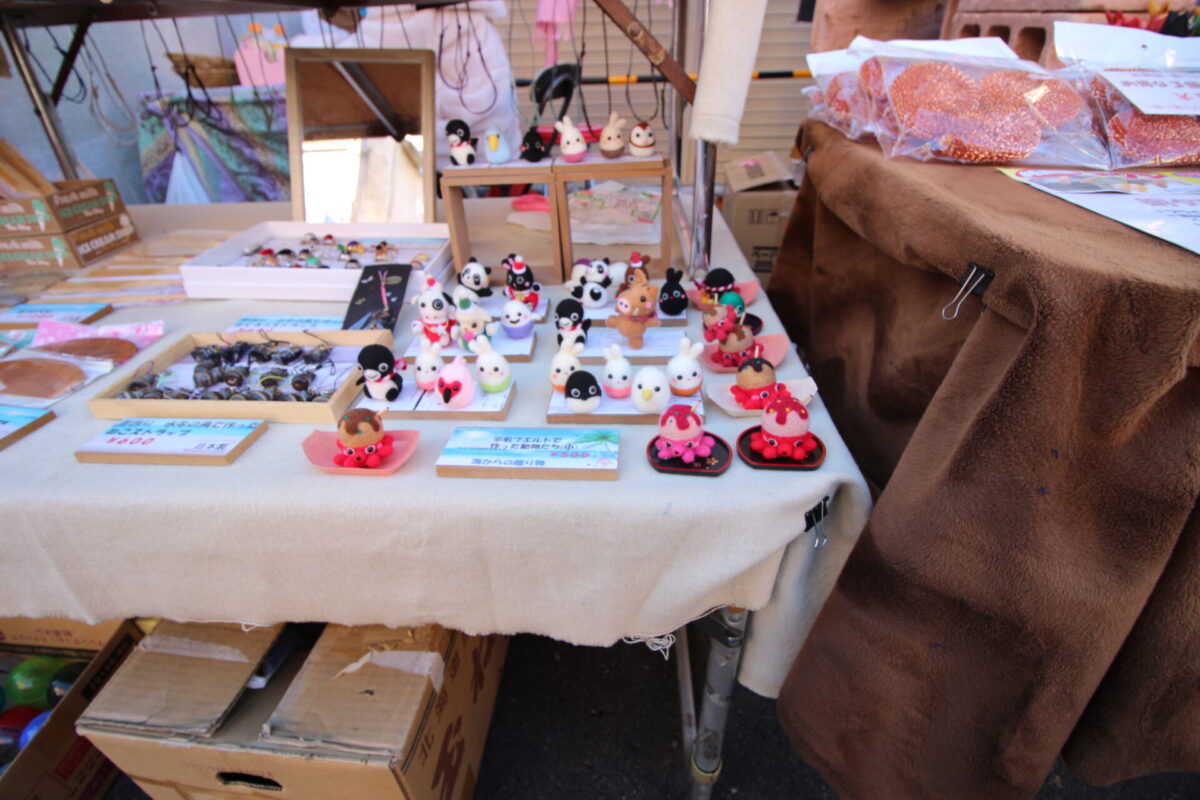 Boroichi Street Market is a traditional and famous outdoor market that can be found in Setagaya-ku, Tokyo. It is held from December 15th – 16th, and January 15th – 16th every year. It has a long tradition and has been enjoyed by locals for over 400 years.
You can enjoy browsing a huge range of antiques, collectibles, pre-loved clothes, second-hand books, and much more sold at 700 stalls lining up along narrow streets. Daikan-mochi is a rice cake that is a specialty that can be enjoyed only here. (The store is always packed with a long line, but it is definitely worth the wait!) Make sure to bring a thin coat as it might take a couple of hours to explore the huge open-air market on a winter day!
Highlights at Boroichi Street Market
Traditional flea market that takes place December 15th -16th and January 15th – 16th
Perfect spot for hunting valuable antiques, and collectibles as well as great deals and bargains
Try Daikan-mochi (traditional rice cake) or other great food options & drinks
5. Oedo Antique Market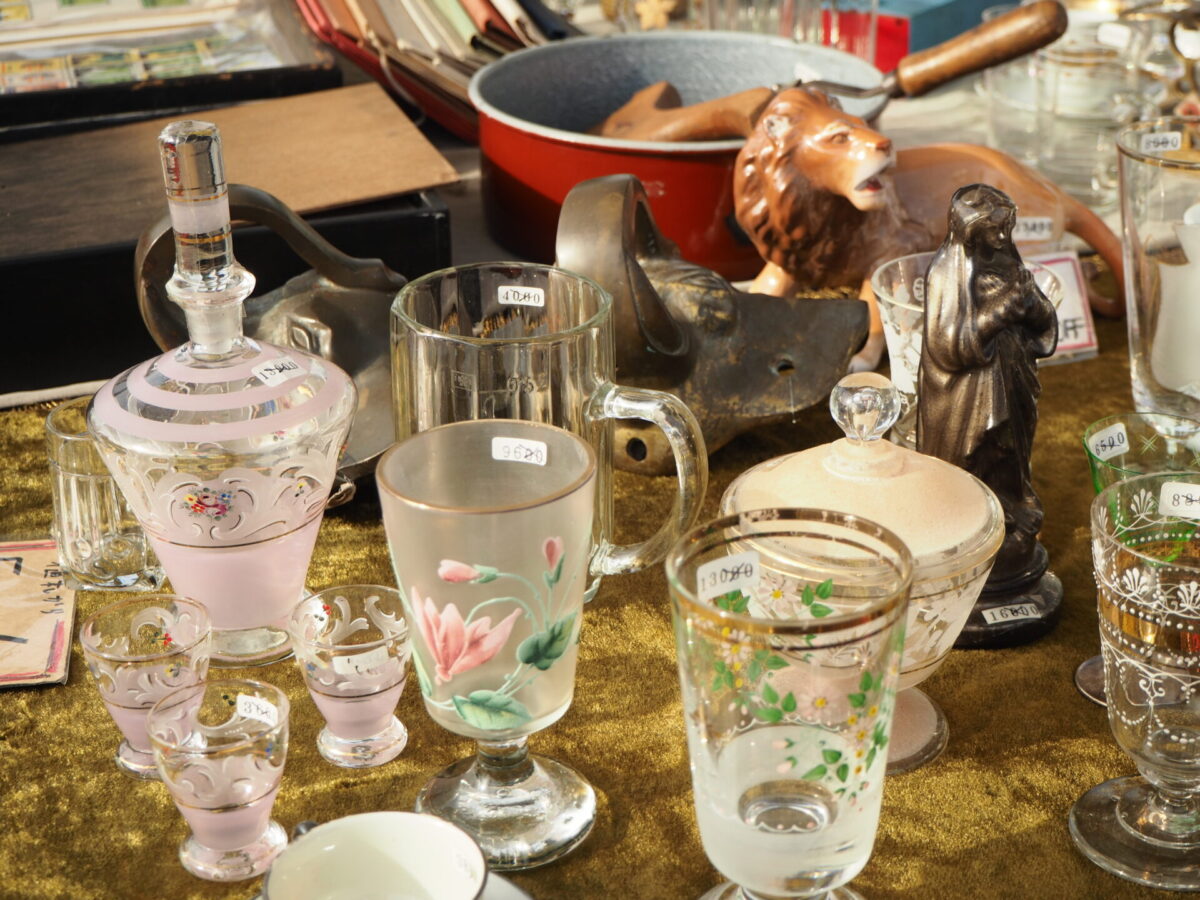 Oedo Antique Market is probably one of the most famous antique markets in all of Tokyo. It takes place outside of Tokyo International Forum, which is easily accessible in a short walk from JR Yurakucho station (It is also conveniently connected to Tokyo station by an underground pathway).
This open-air market is generally held every first and third Sunday of the month with about 250 stalls selling a wide range of goods and items that draws quite the crowd. Enjoy hunting for a variety of antique collectibles and vintage items, including traditional Japanese clothes, ceramics, paintings, bags, jewelry, and tableware. If you don't have anything to buy in your mind, just enjoy browsing around the vibrant outdoor market and taking in the atmosphere!
Highlights at Oedo Antique Market
One of the largest outdoor antique markets in Japan
Great location close to JR Yurakucho and Tokyo station
Enjoy shopping around at around 250 stalls selling a variety of antique wares
6. Toyosu Market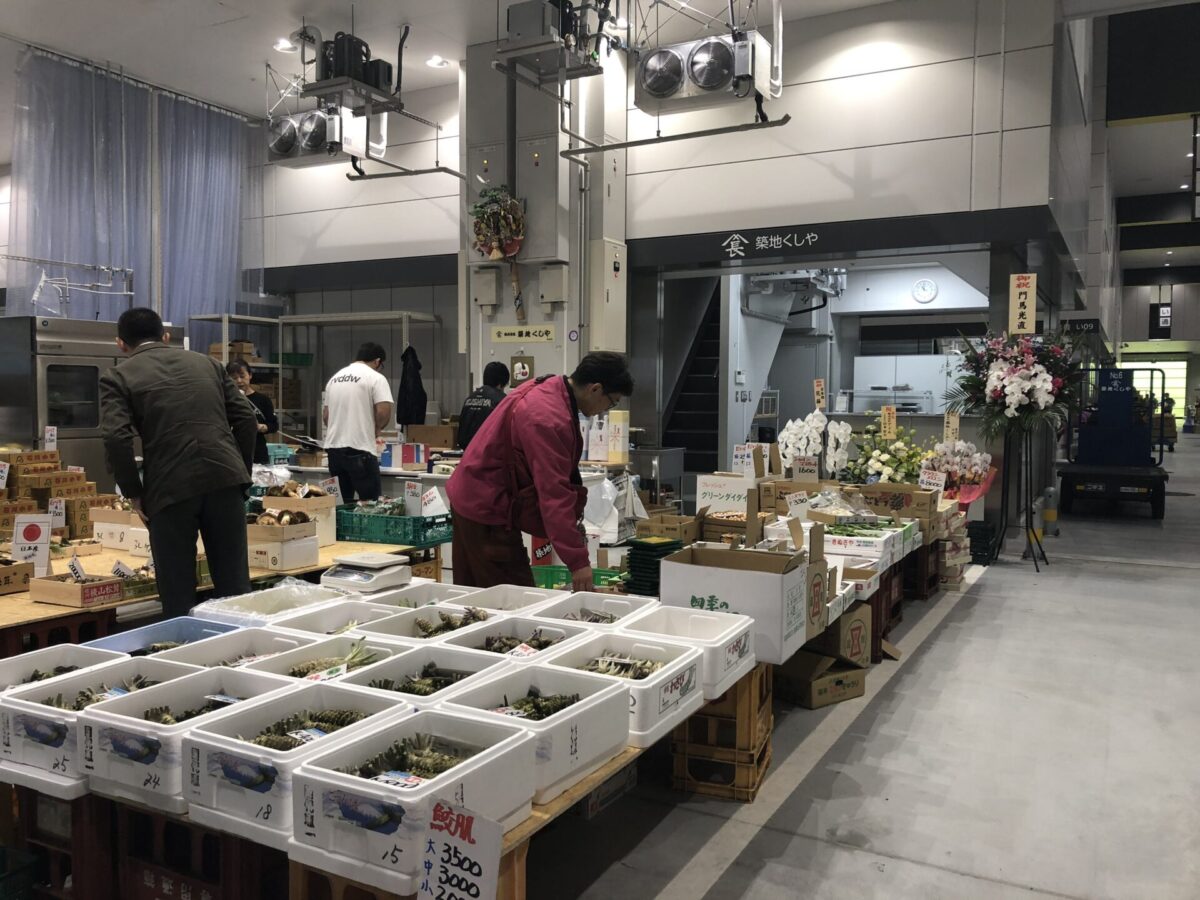 Toyosu Market is a must-visit destination for those interested in Japanese culinary culture. Opened in 2018, it replaced the inner market in Tsukiji, famous for its tuna auction. To witness this exciting event, make sure to book the auction tour ticket beforehand and arrive early as the auction starts at 5 am. You can view the auction from the special deck and then explore the wholesale market, which offers a range of fresh seafood and other ingredients. Don't miss out on the opportunity to dine at some of the famous sushi restaurants like Sushi Dai and Daiwa Sushi, which are located nearby.
Highlights at Toyosu Market
Lively tuna auction in the early morning
See unique ingredients from all over Japan at the wholesale market
Famous sushi restaurants to taste the freshest sushi crafted by skilled chefs
Join our Toyosu Market tour!
On this tour, you will visit Toyosu wholesale market with a knowledgeable guide and see a variety of ingredients in season to learn Japanese culinary culture. After browsing all the fresh seafood, it's time to learn how to make sushi! A professional sushi chef will teach you how to make good sushi at the workshop.
▶Toyosu Wholesale Market Explore and Sushi Making Workshop
7. Farmer's Market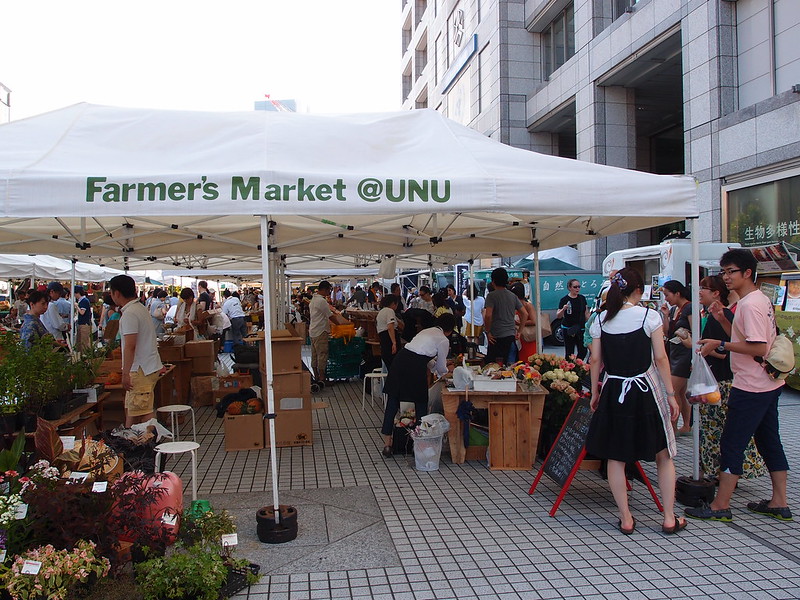 If you're looking for fresh, locally sourced produce, the farmer's market in front of the United Nations University in the Aoyama district is the perfect place to visit. It's an open-air market where you can find a variety of fruits, vegetables, baked goods, and flowers. There are also food trucks that offer unique cuisine, depending on the day. The market hosts occasional fun events, so be sure to check its website before you go.
Highlights at Farmer's Market
Organic and fresh vegetables and fruits
Food trucks for light meals and coffee
Trendy neighborhood
8. Tokyo City Flea Market
The Tokyo City Flea Market is one of the largest flea markets in Japan and is held randomly on weekends at Oi Racecourse, also known as Tokyo City Keiba boasts 300 stores. Here you can find all sorts of treasures, from vintage clothes and furniture to home appliances and even old cars! It's a great place to hunt for unique and interesting items. Whether you're a collector, a bargain hunter, or simply seeking one-of-a-kind finds, this market is the perfect destination to indulge in your passion.
Highlights at Tokyo City Flea Market
It boasts about 300 shops
The treasure trove of unique and interesting items
A perfect place for thrift shopping and vintage lover
9. Tennoz Harbor Market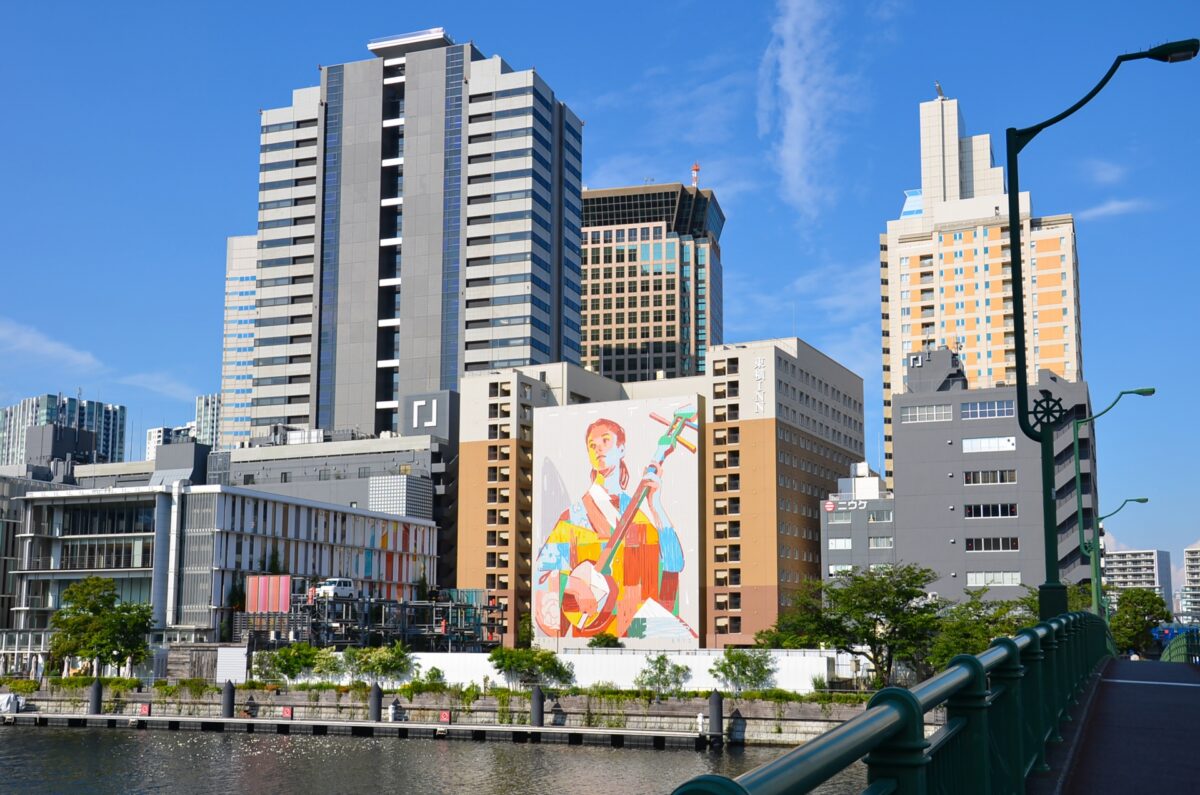 Tennoz Harbor Market is another fun weekend market that takes place twice a month in the fashionable area of Tennoz Isle, near Shinagawa. The market's theme is to inspire visitors with great lifestyle ideas, so you can find a range of items, including vintage clothes, antiques, used books, flowers, and plants.
Highlights at Tennoz Harbor Market
The fashionable area near Shinagawa with a waterfront view
Find d a range of items such as vintage clothes, antiques, used books, flowers, and plants
Inspiration for great lifestyle ideas
10. Sunamachi Ginza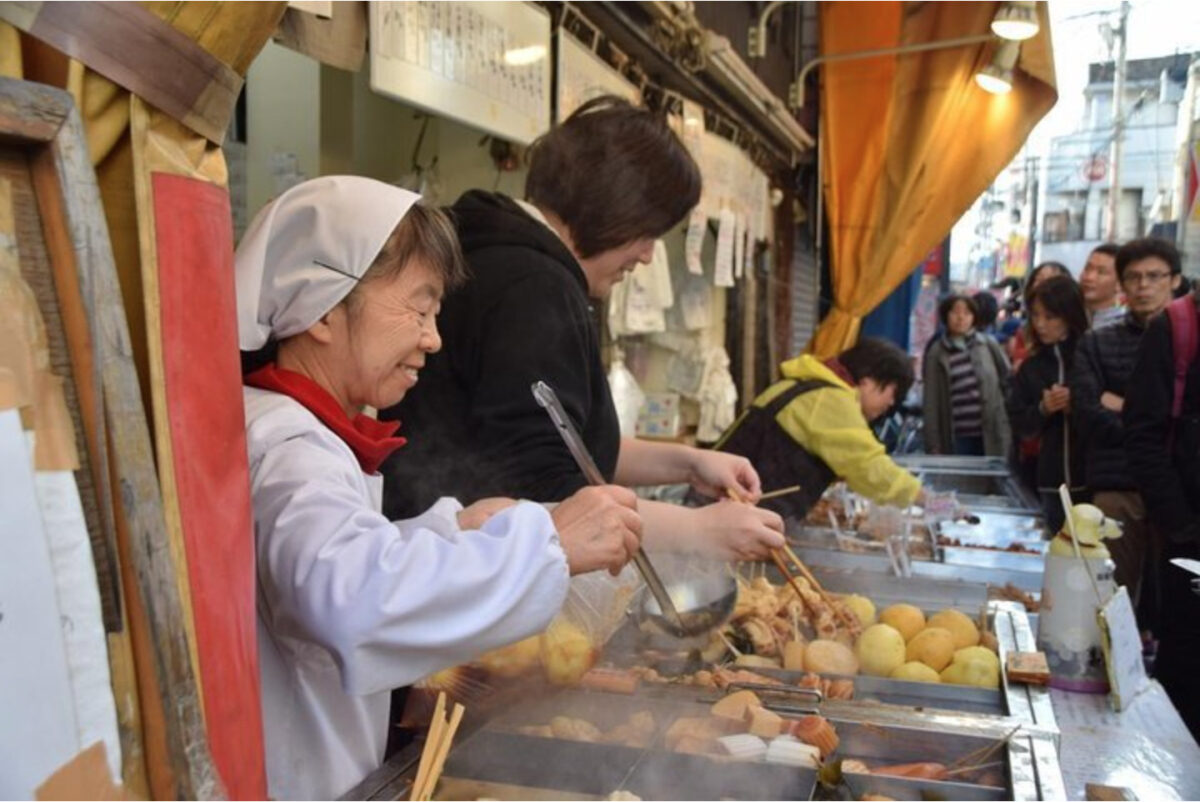 For a taste of old Tokyo, head to Sunamachi Ginza, a small shopping street that's been passed down through generations of friendly family-run shops. You can stroll along the street, savoring local delicacies, and shopping for souvenirs. If you're interested in discovering the hidden gems and delicacies of this area, we highly recommend joining our Sunamachi food tour! Our guide will help you experience Tokyo one step deeper, beyond the popular tourist spots.
Highlights at Sunamachi Ginza
Enjoy strolling around the friendly and traditional neighborhood
It boasts about 180 shops and restaurants
Try some delicious finger food and Japanese sweets
Join our Sunamachi Food & Drink tour!
On this tour, the guide will help you discover local hidden gems and delicacies. If you want to experience Tokyo one step deeper outside of the popular tourist spots, we highly recommend this tour!
▶Tokyo Local Street Food and Drink Tour @Sunamachi
Visiting the markets above will bring you a unique shopping experience that can't be replicated at modern shopping complexes. Enjoy spending a peaceful afternoon browsing a wide range of shops and stalls as you create precious memories. It will also be fun to have a conversation with friendly vendors or other customers!
Japan Wonder Travel Tours in Tokyo
Japan Wonder Travel is a travel agency that offers guided tours throughout Japan.
From private walking tours to delicious Food and Drink tours, we can help organize the best tours just for you! If you want to explore Japan and learn more about the history and backstories of each area you are traveling in, our knowledgeable and friendly guides will happily take you to the best spots!
In addition, we can provide you with any assistance you may need for your upcoming trip to Japan, so please feel free to contact us if you have any questions or need some help!
Find the Other Tours
Other articles you might be interested in