This post may contain some affiliate links. When you click through and make a purchase we may receive some commission, at no extra cost to you.
During the month of April, Japan is usually filled with tourists roaming the cities, taking in the beautiful scenery of cherry blossoms flowing through the wind during the prime season of spring. This has not been the case since 2020 due to the pandemic, but as Japan has reopened to the rest of the world, this year we can expect April to be one of the most hectic months for tourism. With many people planning to visit Japan, we decided to give everyone a helping hand as to what kind of fun you could get into during your visit, more specifically in Tokyo, during the month of April!
1. Bunkyo Azalea Festival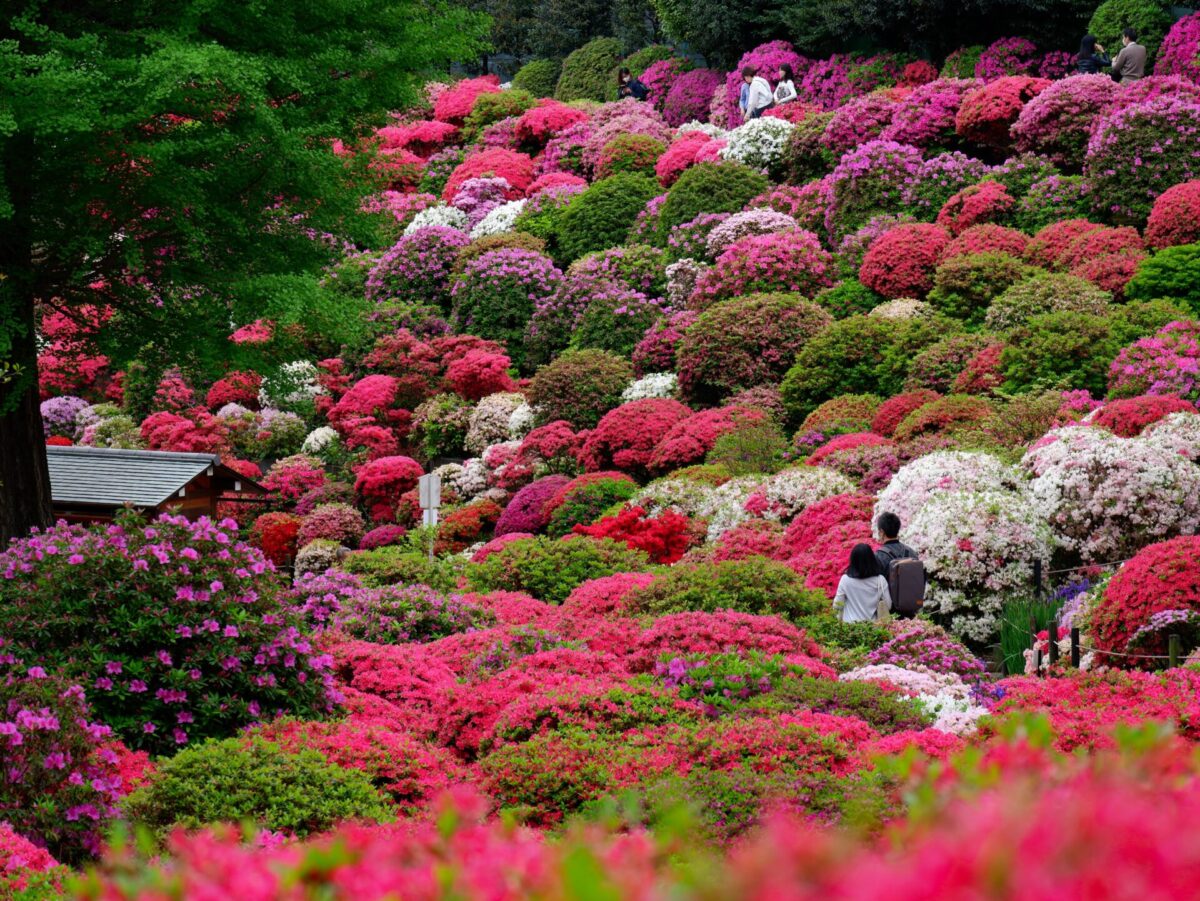 While cherry blossoms are the be-all, end-all for most tourists coming to Japan during the spring, Tokyo has a variety of different festivals related to other kinds of wildlife as well, one of which being the Bunkyo Azalea Festival. At the Azalea festival, you can see over 3000 azalea flowers that have over 100 different varieties, and best of all they bloom at the beginning of April. There are also various types of performances throughout the day, as well as a cafe near the pond, so you can enjoy delicious food whilst viewing the flowers. We couldn't think of a place more suited to the term "wanting a change of scenery" as you bask in the relaxing atmosphere of the Azalea festival!
When: Runs throughout April (9:00 AM-4:00 PM, 650 yen admission fee)
2. Yoyogi Park Wanwan Carnival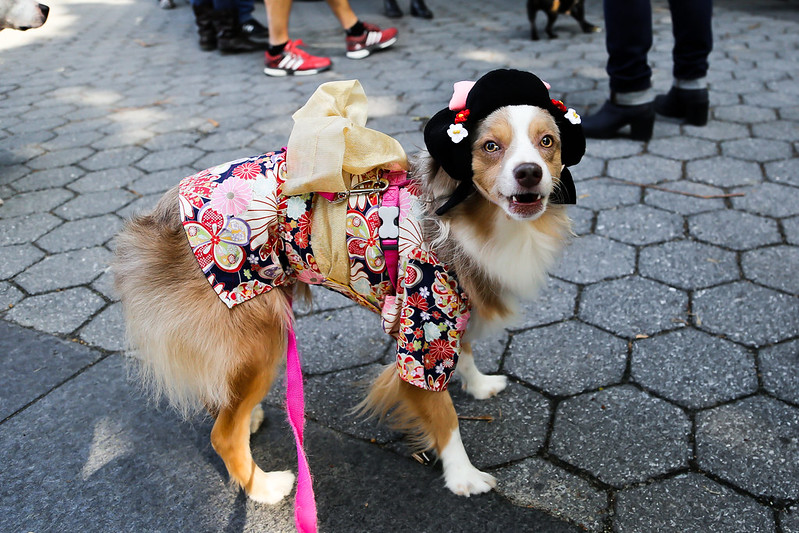 Cat-lovers beware! Shield your eyes as you might get swayed by the perpetually better world of being a dog-lover at this one of a kind carnival (Yes, I'm biased. But I'm also allergic to cats so don't blame me). The Yoyogi Park Wanwan Carnival is a festival catered to all things dogs, as you'll get the chance to see professional dog photoshoots, dog grooming, food trucks (both for people and dogs) and contests to showcase your doggos capabilities. There are even on-site veterinarians to give your dog a check-up, free of charge! If you're in the Tokyo area and are missing your little ones back home, swing by the Wanwan carnival and meet some new furry friends.
When: April 9th – 10th
3. Forest Beer Garden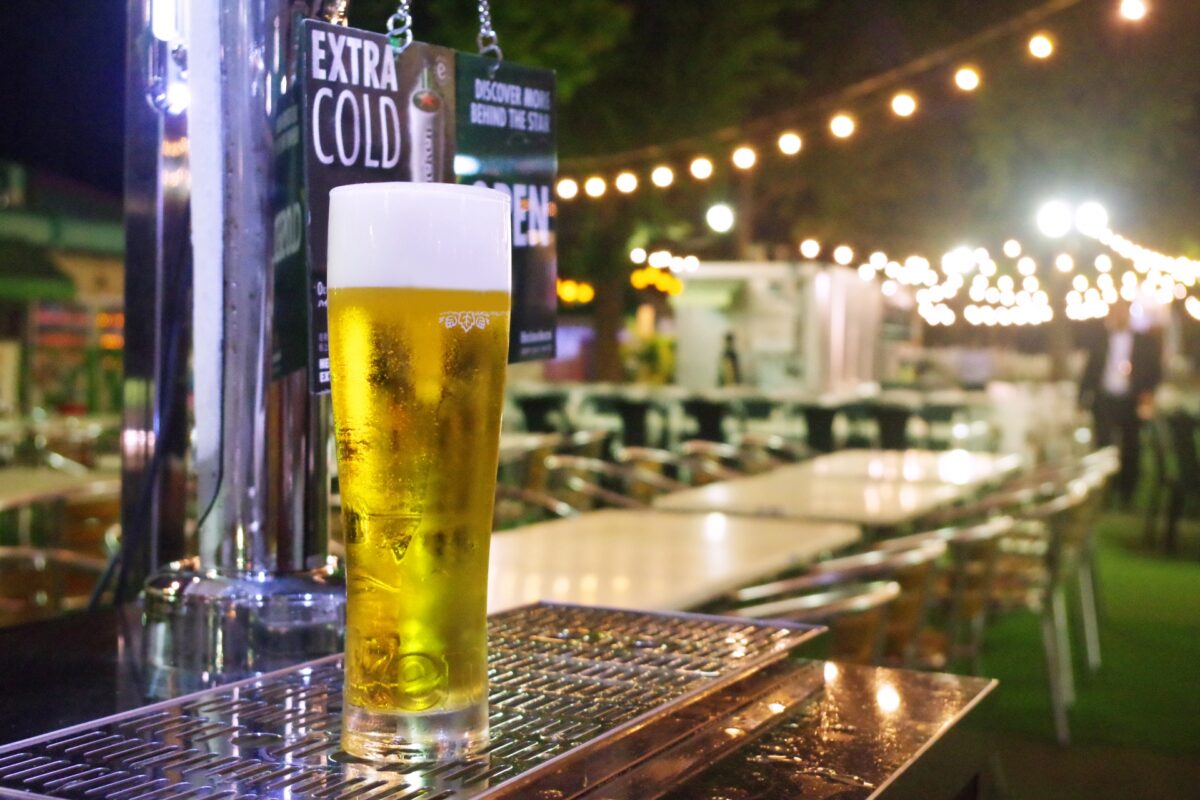 For those wondering what beer gardens are, beer gardens are extremely social environments designed to connect strangers. It's a place where you can find yourself surrounded by trees and vegetation, while enjoying delicious food and freshly served beers. Sounds tempting, right? Well, the good news for you is that Forest Beer Garden in Shinjuku offers just that, a nice place to eat and drink, and have memorable encounters with friends and locals alike. Forest Beer Garden usually opens around the middle of April and is located at Meiji Jingu Gaien outer gardens. The most popular food option here is the all-you-can-eat (and drink) for 2 hours and it only costs ¥4,800! If you're looking for a nice night out with friends or family during the spring, check out the Forest Beer Garden.
4. Tokyu Kabukicho Tower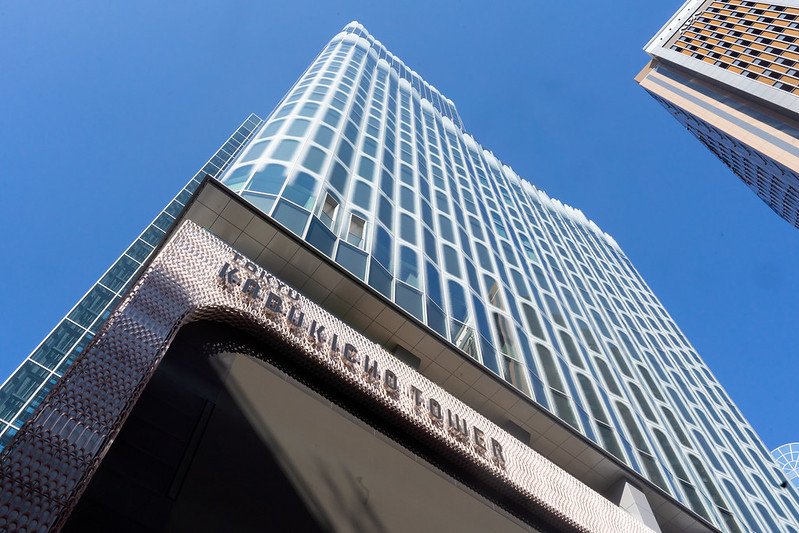 While Tokyu Kabukicho Tower won't be exclusive only in April, we felt it'd be best to mention it, considering it opens its doors to the public for the first time this April. Kabukicho Tower is said to be Japan's largest hotel and entertainment complex, with the entire building being up to 48 stories high, with five additional levels built underground. Let me give you a lay of the land real quick, starting with the basement levels, which will house multiple concert venues, then moving up to the second and third floors, home to an entertainment food hall and a Bandai Namco amusement center respectively.

Oh, you think we're done? No, no, I was just getting started, as we move up a few floors to the Theatre Milano-Za, which can fit over 900 people, and the 109 Cinemas Premium Shinjuku, a movie theater on the 9th and 10th floor. By the way, there are two luxurious hotels past the 18th floor. So, if you want to find somewhere to stay in Tokyo during the month of April, albeit most likely pricey, I don't think you can find a place with more entertainment value than Kabukicho Tower.
Kabukicho Tower is set to open on April 14th, 2023!
5. Cherry Blossoms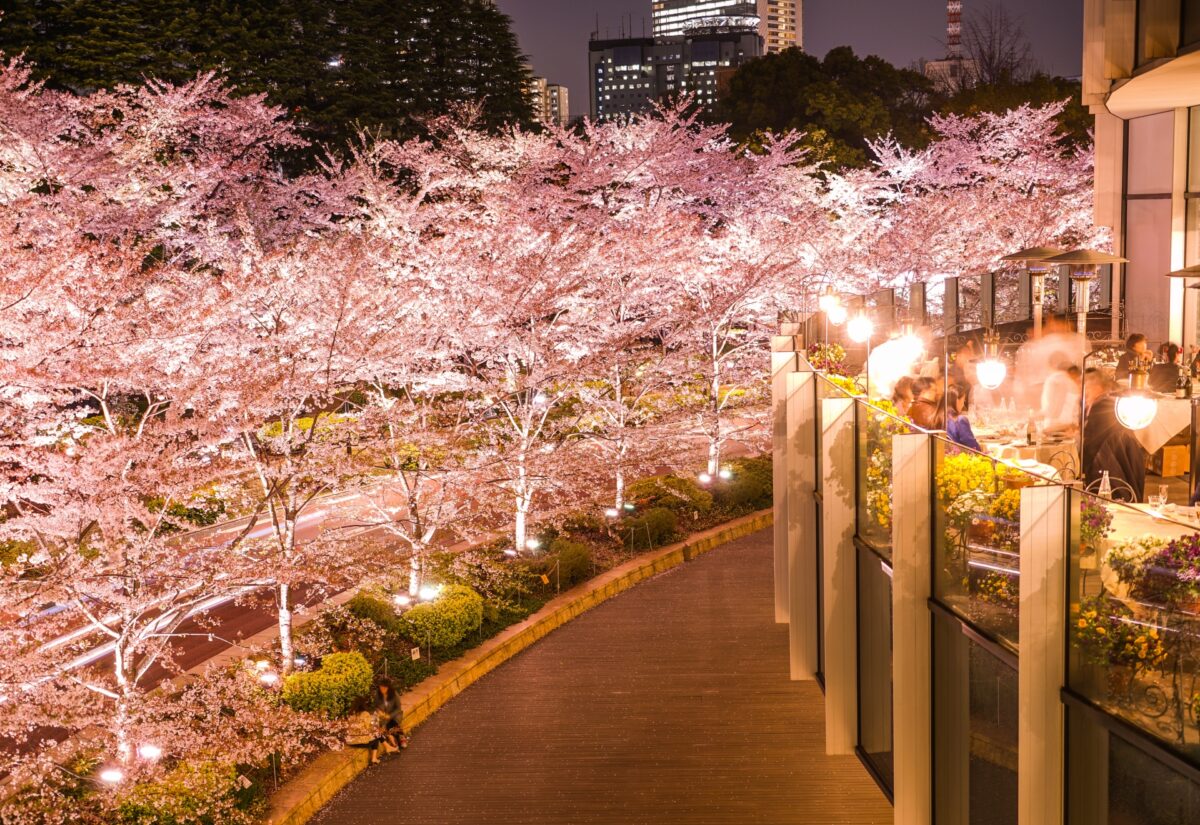 Well, we were bound to mention them at some point, right? To use a sports analogy, Cherry blossoms are the Lionel Messi of tourist attractions here in Japan. Meaning they are the marquee, the main event, and the reason people came to the show in the first place! And because of its stardom, there are an absurd amount of viewings and festivals related to cherry blossoms in Tokyo during the months of March and April. Just in Tokyo alone, you can find amazing cherry blossom viewing areas, such as Tokyo Midtown, and festivals like the Nakameguro Cherry Blossom Festival. With all the choices out there, we decided it was impossible to narrow it down to just one cherry blossom viewing or festival. Still, if you're in Tokyo during April, you should definitely check out one of these events!
If you want to find out more about cherry blossom season in Japan this spring, check out our article down below!
6. Catch a Baseball Game at Tokyo Dome
Springtime rolling around can only mean one thing in the world of sports here in Japan, baseball season! If you didn't know, one of Japan's most beloved sports is baseball and the beginning of the season is always a sight to behold. When talking about baseball, one would be remiss if they didn't mention the Tokyo Dome, quite possibly THE stadium for baseball here in Japan. The Tokyo Dome is home to the Yomiuri Giants, not just one of the most popular teams, but also arguably the most successful teams in the NPB (Nippon Professional Baseball). So, if you want to experience the passion for baseball here in Tokyo, we recommend catching a glimpse of the magic at Tokyo Dome!
7. EVO JAPAN 2023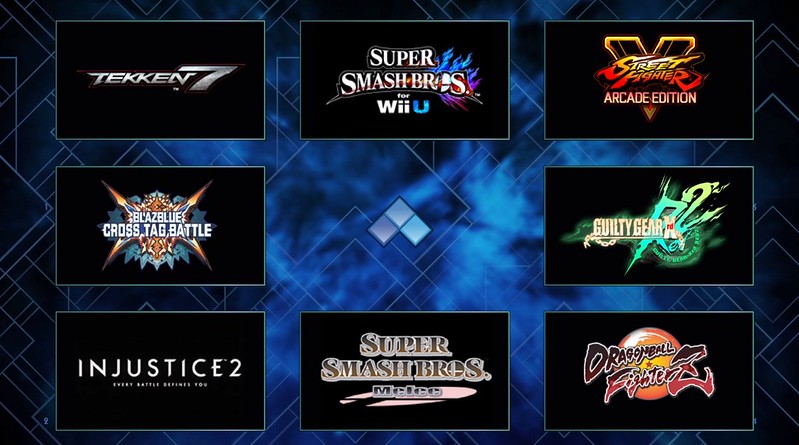 Sticking with sports, let's talk about the most rigorous of all sports.. that's right, video games! After 3 long years, EVO has finally returned to Japan. For those who don't know, EVO is the biggest event when it comes to competitive fighting games. The best players from around the world compete in this three-day event, consisting of the most popular fighting games (TEKKEN 7, Street Fighter V, Virtua Fighter V, etc.), and with fans being allowed back into these events, we can only expect the best atmosphere. If you're a fan of games but completely suck at them, why don't you check out EVO and see how these games were truly meant to be played!
When: Tokyo Big Sight from March 31-April 2
8. Sumo at Yasukuni Shrine
While the big sumo tournament in spring won't take place until May, you can still get the chance to experience sumo free of charge at Yasukuni shrine! Every year, sumo wrestlers of all levels devote their matches to this shrine, something that has been a tradition since the shrine opened back in 1869. Throughout the event, there are an abundance of food stalls that you can find serving various types of food, one of which being traditional Japanese hot pot, and you can even get a serving similar to what a sumo wrestler would typically eat! The sumo itself begins early in the morning, around 9 a.m., and the event will usually last well into the afternoon, so be sure to get there early as the best seats tend to fill up fast!
When: April 17
Do you like sumo? Also check out our sumo tours!:

9. Nakizumo Crying Baby Festival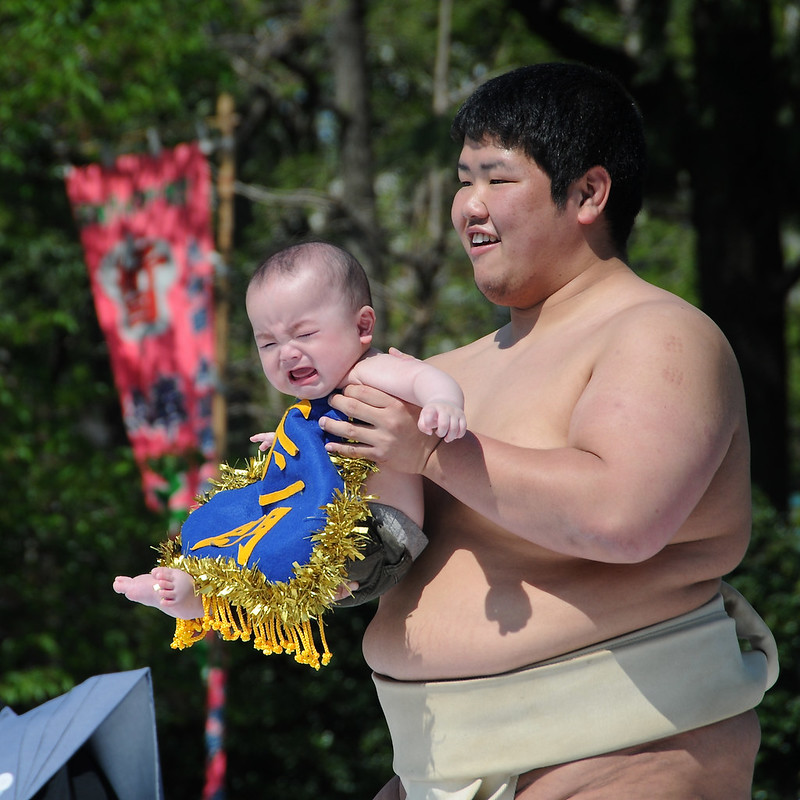 Yes, your eyes are not deceiving you; this is actually a festival that is held here in Tokyo during April (and it's not even the most intriguing one). The Nakizumo crying baby festival has been going on for over 400 years, and the significance of the festival actually has a greater meaning than one would have anticipated. In Japanese culture, it is said that when babies cry it allows them to grow faster, encourages good health, and rids them of any evil spirits. While this festival is held in multiple cities here in Japan, the biggest one is located at Asakusa, with a plethora of families eagerly wanting to participate, so much so that raffles are even held as only 100 babies are allowed to enter. If you're in Asakusa and want to experience something you probably won't get anywhere else, then go forth and witness sumo wrestlers driving the evil spirits out of children.
When: mid-April (differs depending on the location)
10. Kanamara Festival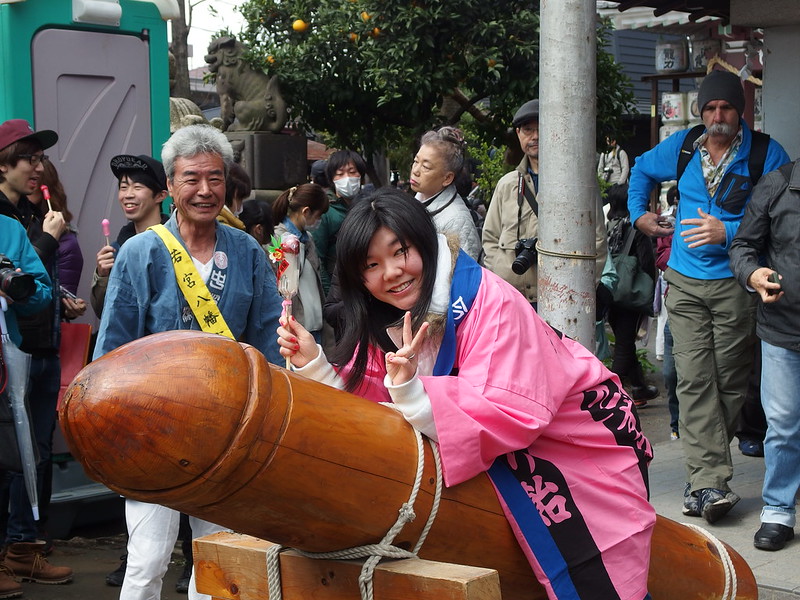 Yeah, remember when I said that there's an even more intriguing festival held in Japan during the month of April? Welp, here it is, and to quote the show How I met your Mother, "That's a penis!". I know what you're thinking, the concept of a festival like this has to be a "phallacy" (Okay, I'll stop), but tis true as the Kanamara Festival, similar to the Nakizumo festival, has an interesting backstory. It is said that the gods of the Kanayama shrine healed the Shinto goddess, Izanami, after she gave birth to a fire god. Because of this, many sex workers around the local teashops would begin to pray at the shrine for protection against STDs. Nowadays, people have gone to the shrine to pray for good fortune in marriage, fertility and childbirth. While technically, the Kanamara festival is just outside of Tokyo (Kawasaki), it's still an event that I would recommend attending. I mean, where else would you see people proudly showcasing their shiitake mushrooms.
When: April 2nd
We hope you enjoyed reading about some of the events in Tokyo during April. We know there are probably other events around Tokyo that may have been left out but fret not, as we may mention them in a future article, especially if they're interesting! If you're in Japan during the month of April, make sure to check out some of these popular and unique events that Tokyo has to offer!
Japan Wonder Travel Tours in Tokyo
Japan Wonder Travel is a travel agency that offers guided tours throughout Japan.
From private walking tours to delicious Food and Drink tours, we can help organize the best tours just for you! If you want to explore Japan and learn more about the history and backstories of each area you are traveling in, our knowledgeable and friendly guides will happily take you to the best spots!
In addition, we can provide you with any assistance you may need for your upcoming trip to Japan, so please feel free to contact us if you have any questions or need some help!
Find the Other Tours
Follow us on Instagram, Facebook, Twitter, and TikTok for more travel inspiration. Or tag us to get featured!
Happy traveling!
Other articles you might be interested in