This post may contain some affiliate links. When you click through and make a purchase we may receive some commission, at no extra cost to you.
If you're traveling across the wonderfully culinary diverse country of Japan, you simply cannot miss the opportunity to savor one of Japan's most cherished culinary delights – Soba! Made from wholesome buckwheat flour, these slender, nutty noodles are a symbol of Japanese culture and an experience you'll treasure forever. Seeing as it's a traditional dish, there must be a plethora of options, right? Right. Well, that's where we come in; we've inspected every strand of soba noodles from every region of the nation to bring you this ultimate list of restaurants…! (okay, maybe not all the strands, but a lot). Anyways, fasten your chopsticks, folks, as we embark on a gastronomic journey to discover the 10 best Soba restaurants in this noodle-loving nation!
1. Kanda Yabu Soba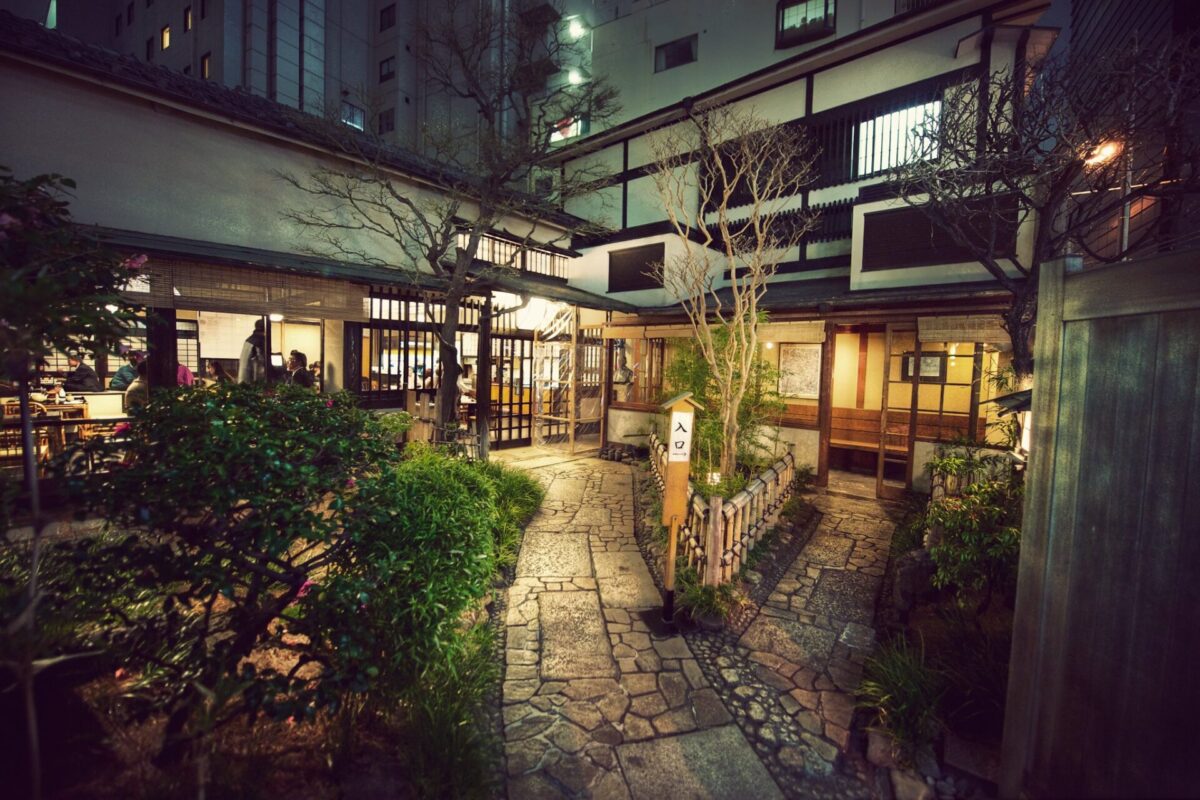 Located in Tokyo's bustling Kanda district, Kanda Yabu Soba serves some very elegant, astute looking dishes for a very reasonable price. Despite suffering a tragic fire that burned down the building and caused them to rebuild entirely, they still offer the same great menu. Their signature dishes, Ten-Seiro Soba and Kamo-Nanban soba are must-tries, along with Kaki Soba in the winter. Each dish features silky noodles swimming in a delectable soy-based broth topped with various items to match each dish. Don't miss out on their variety of side dishes as well!
2. Kuginoan
If you find yourself in the wonderful region of Kyushu, head to Kumamoto for some excellent Soba! Located in Minamiaso, just around the crater of the famous volcano, Kuginaoan is remarkable as it grows its own special type of buckwheat called "Kugino" which is native to the region, that has apparently been passed down since ancient times. Rest assured you'll be enjoying an incredibly authentic and refined dish! Don't miss out on their buckwheat dumplings, either!
3. Naru
Head to Hammamtsu, Shizuoka for a minimalist experience at Naru, where the dishes are simple, beautiful and true to the heritage of Soba. The aesthetic here is very contemporary and modern, possibly since it was only founded in 2008. While that may not be exactly recent, it still is quite a fresh addition to the very traditional scene of Soba noodles. Either way, youll be able to enjoy a well prepared, stylishly presented plate of noodles at this seaside spot!
4. Jiyuan Asakawa
Venture off the beaten path in Nagano in the Azumino district to discover the hidden gem of Jiyuan Asakawa. Continuing the theme of minimalism and simplicity, this reliable restaurant serves a delicious variety of Soba noodles. Located in a lush area next to a river, you'll be able to enjoy the sounds of flowing water as you enjoy your meal. You'll also be able to enjoy traditional decor inside, matching the traditional energy perfectly. This is a great place to enjoy if you're in Nagano in the summer!
5. Teuchi Soba Tagata
Head back down to Shizuoka for one of the most incredible plates of Soba you'll be able to find. This michelin-starred establishment pressures the standards of modern Soba making. Enjoy hand-made noodles from a rare and protected strain of buckwheat called "Oonozairai". The chef used to be a salaryman, and after taking on soba making as a hobby at 27, decided to leave his sales job at 33 to pursue a career in Soba. It's clear in the taste at this restaurant that he's dedicated his life to making soba!
6. Ryan
While Tokyo is bustling with hidden culinary gems, none quite compare to Ryan, a chic Soba bar where tradition meets innovation. Part of a restaurant conglomerate with reputable names like T.Y. Harbor and Smokehouse, Ryan is appealing to food adventurers seeking an unforgettable experience in Tokyo's vibrant food scene. No, the restaurant was not named after some guy named Ryan who is really good at making soba or something, it's actually a Japanese word that would normally be spelled "Raian". But we're not here to judge; their Soba is to die for and the presentation is immaculate. For a stellar, modern Soba experience, definitely give Ryan a try.
7. Truffle Soba Watanabe
Calling all truffle lovers! Truffle Soba Watanabe in Osaka has perfected the art of fusing earthy truffle aroma with the subtle nuttiness of Soba. Their truffle Soba is a culinary masterpiece, boasting generous shavings of black truffle atop luscious Soba noodles, creating a harmony of flavors that is simply divine. As you savor each bite, you'll appreciate the dedication of the chefs who are redefining the way Soba is enjoyed. Not to mention, the appearance of the restaurant is immaculate and stylish- great for an occasion of any kind.
8. Kenzo Soba
Have a truly "home-made" meal at Kenzo Soba in the Fukui prefecture! Ran out of a private home, Kenzo Soba serves up an incredibly reputable style of Soba. The chef has won a competition 2 years in a row for Soba making, and the quality clearly shines through with every dish. Enjoy their broth that is made with a spicy radish juice, a perfect balance with the flavor of the noodles.
9. Araki-ya
Specializing in Soba for a whopping 240 years (as far back as the Edo period!), you have to know you'll be getting a refined edition of the dish from Araki-ya in Shimane. Their soba is a slightly darker color than normal due to its milling process, and results in a unique taste. The atmosphere is very traditional and you will deeply feel the essence of Japanese culture. Take in the aroma of the noodles while sitting on tatami floors at Araki-ya.
10. Sobanomi Yoshimura
Our last stop takes us to Kyoto, an area filled with the heritage of Japan. Sobanomi Yoshimura is much like Araki-ya in that it is classy, traditional, and refined. Though, perhaps a bit more modern and forward thinking. The process of the noodles being made is visible to customers and is definitely a focal point and source of pride in the restaurant. Being such a hub of traditional elements and experiences, Kyoto is the perfect spot for such an epic Soba restaurant!
Japan Wonder Travel Food Tours
Japan Wonder Travel is a travel agency that offers guided tours throughout Japan.
From private walking tours to delicious Food and Drink tours, we can help organize the best tours just for you! If you want to explore Japan and learn more about the history and backstories of each area you are traveling in, our knowledgeable and friendly guides will happily take you to the best spots!
In addition, we can provide you with any assistance you may need for your upcoming trip to Japan, so please feel free to contact us if you have any questions or need some help!
Follow us on Instagram, Facebook, Twitter, and TikTok for more travel inspiration. Or tag us to get featured!
Happy traveling!
Other Articles you Might Enjoy: