This post may contain some affiliate links. When you click through and make a purchase we may receive some commission, at no extra cost to you.
There's something special about dining with a view! From a high vantage point, Tokyo is a vast metropolis stretching as far as the eye can see. Skyscrapers, office buildings, and apartment complexes dominate the skyline, punctuated by occasional green spaces and temples. From the ground, you can focus on details like breathtaking gardens and the beauty of each season. But no matter what level, a jaw-dropping view can enhance any meal or drink.
Among the skyscrapers are plenty of restaurants where you can enjoy an epic view alongside an excellent meal. Here are ten top picks to help you narrow down where to go.
1. New York Grill
Stylish and sophisticated, the New York Grill sits high on the 52nd floor of the Park Hyatt Hotel in Shinjuku. Set as the perfect backdrop for many scenes in Sofia Coppola's film Lost in Translation, you'll have stunning city views from the restaurant's floor-to-ceiling windows. The ambiance of the restaurant is sleek and modern, with nightly live jazz performances enhancing the upscale vibe. The menu focuses on high-quality grilled beef and an extensive wine selection that pairs perfectly. The New York Grill is considered legendary and the perfect start to a night on the town. 
Website: New York Grill
2. Cé La Vi Tokyo
When you want panoramic views of Tokyo, including the iconic Tokyo Tower, head to this rooftop restaurant in Shibuya. Cé La Vi takes over the 17th and 18th floors of the Tokyo Tokyu Plaza, where there is no shortage of good views. Famed for its restaurant in Singapore, the Tokyo location is sure to impress too. The menu offers Asian fusion cuisine, and the cocktails are out of this world. The upscale restaurant is popular with tourists and locals looking for a glamorous night out and has seating options both indoors and outside.
Website: Cé La Vi Tokyo
3. Hacienda del Cielo
If modern Mexican cuisine calls out to you, Shibuya is the destination. Meaning "house in the sky," Hacienda del Cielo is a casual and colorful rooftop patio overlooking the city. With eight-meter-high ceilings and decorated with a Mexican motif, the restaurant feels reminiscent of a faraway resort. You can expect staples like classic tacos, al pastor, and guacamole on a rich menu of traditional and delicious dishes and drinks.
Website: Hacienda del Cielo
4. The Tavern – Grill & Lounge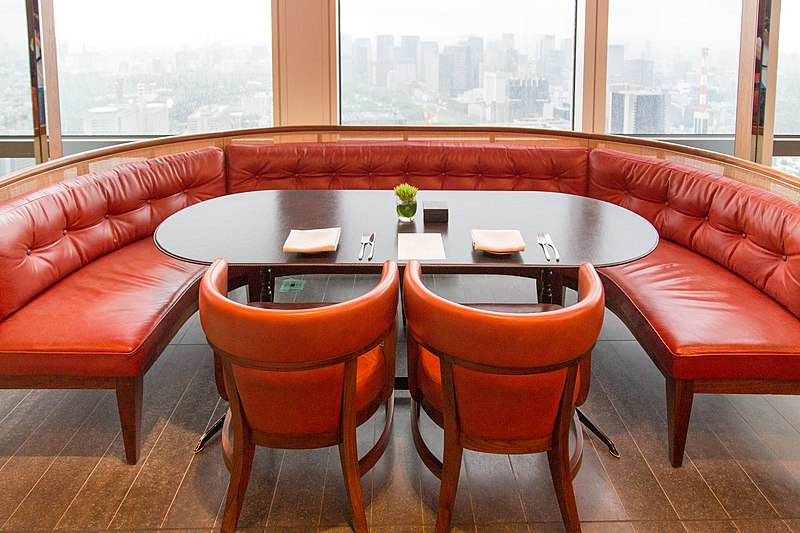 High up in the Andaz Tokyo Hotel is an easy choice for one of the best restaurants with a view. Grilled meat like Wagyu beef is the main dish here, but guests will also find international fare like pasta, seafood, and more, along with a complete wine list. The feast for your eyes is the real star, with sweeping views above Tokyo Tower. Add in the chic decor and live jazz for a truly memorable experience. The restaurant is on the 51st floor; head up one more level for a low-key lounge.
Website: The Tavern – Grill & Lounge
5. Restaurant Luke with Sky Lounge
Views of Tokyo Tower, Tokyo Skytree, and the twinkling lights of the biggest city in the world set the stage at Restaurant Luke with Sky Lounge. Conveniently located near Tsukiji, Ginza, and Tokyo train stations, this is a prime location! The restaurant looks and feels like dining inside a New York City skyscraper loft with 13-meter-high ceilings, massive windows, and two open terraces. The food is French-inspired with signature dishes like sautéed lobster and lamb roti with eggplant tapenade, all made with fresh, seasonal ingredients. The best part is at Restaurant Luke with Sky Lounge, parties of 2-4 can request to book a private room for a truly intimate and exclusive experience. 
Website: Restaurant Luke with Sky Lounge
6. Two Rooms Grill Bar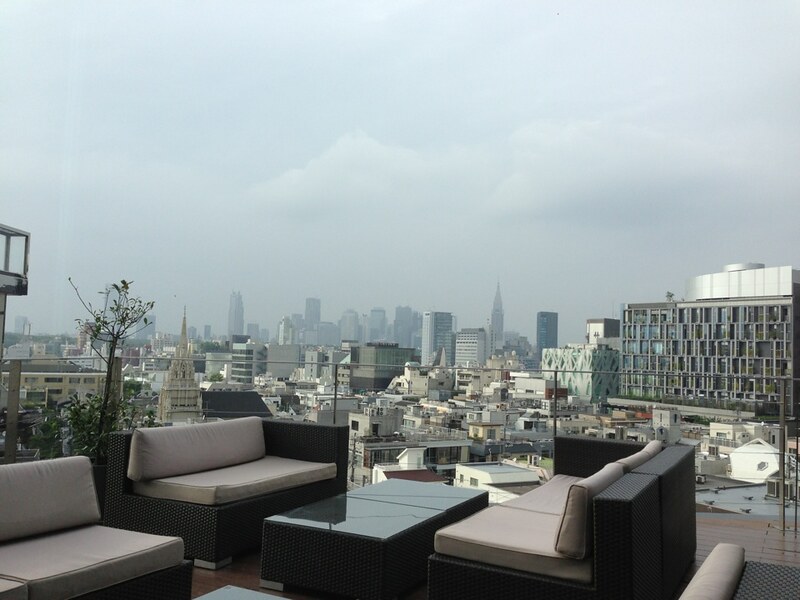 What's better than a restaurant with one room? A restaurant with two! Add incredible food and views, and you've got yourself a place for a great experience. Right in the heart of Aoyama, Tokyo's fashion district, Two Rooms Grill Bar is a real treat starting with the massive walk-in wine cellar. The restaurant is only five floors up but feels higher with the panoramic views. The menu has modern dishes, and the interior has a classy and sophisticated ambiance. Nightly DJs and swanky cocktails bring a trendy vibe to the mix, making this a hip destination.
Website: Two Rooms Grill Bar
7. Ryotei Kinsui (Hotel Chinzanso)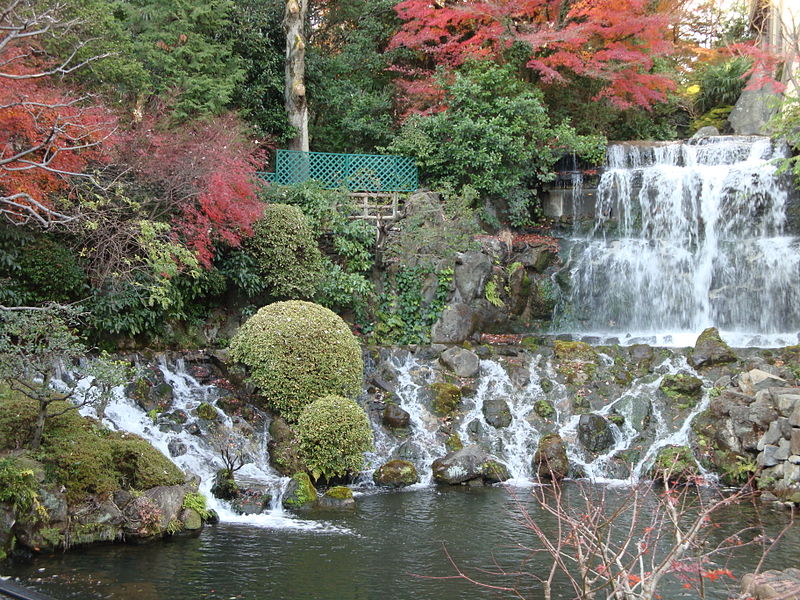 While most of the restaurants mentioned so far focus on views that overlook Tokyo's massive metropolis, here is one with a more down-to-earth perspective. Ryotei Kinsui in the Hotel Chinzanso is a step back to a traditional Tokyo with classic Japanese elements overlooking one of Tokyo's most exquisite gardens. The restaurant has private rooms where guests can enjoy tatami mats, shoji screens, low tables, and the stunning landscape outside. Dine on Japanese food made with halal-certified ingredients, and forget that you're in the middle of a busy city as you surround yourself with tranquility. 
Website: Ryotei Kinsui (Hotel Chinzanso)
8. Pigneto
Gaze over the Imperial Palace and Tokyo's endless cityscape on the rooftop of the Four Seasons in Chiyoda City. With an indoor dining room and an outdoor terrace, the restaurant sees rave reviews for its view. Also highly reviewed is the food, with a menu based on Naples in Italy. Pigneto's authentic Naples-style pizza is the main dish. Still, chef-recommended plates like the ravioli and steamed clams also look delicious. If you get bored looking outside, the restaurant's open kitchen lets guests watch the chefs at work.
Website: Pigneto
9. Fish Bank Tokyo
As the name says, Fish Bank Tokyo offers seafood, and it comes straight from Toyosu Market. But the main reason it's on the list? A jaw-dropping and up-close view of Tokyo Tower. The landmark is a stone's throw from the restaurant in the Shiodome and Ginza area. The menu features set courses and a la carte options to enjoy while gazing out the 13-meter-high window. Up on the 41st floor, Fish Bank Tokyo is an impressive option that is certain to please.
Website: Fish Bank Tokyo
10. Hinokizaka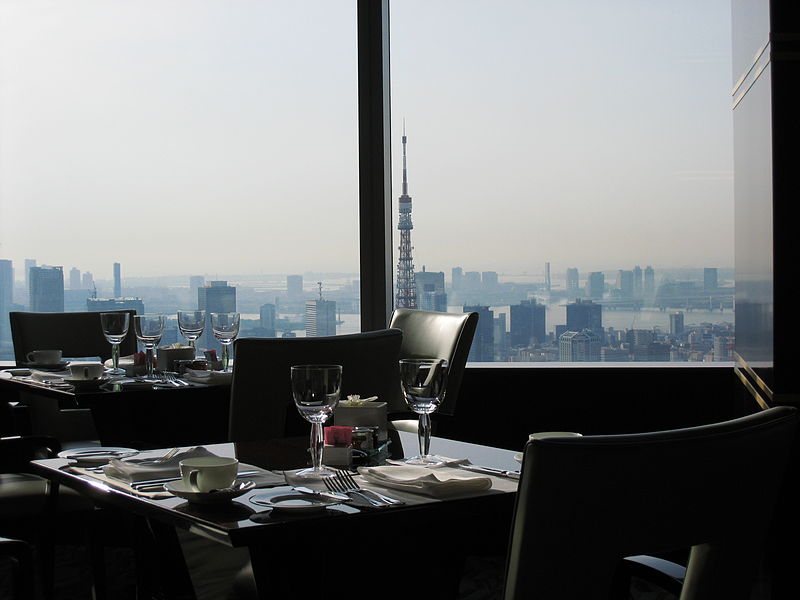 Last but certainly not least is Hinokizaka, a highly regarded Japanese restaurant in the Ritz-Carlton Tokyo Hotel. Look no further if you want a lavish setting with a unique dining experience. The Michelin-starred restaurant devotes its space to four different areas serving kaiseki, sushi, tempura, and teppanyaki, each with its unique decor and view. While the tempura section may only allow you to observe the chef prepare the crispy bites, the best seats are in the kaiseki and sushi sections, letting you peer out at Tokyo from the 45th floor.
Website: Hinokizaka
Japan Wonder Travel Food Tours
Japan Wonder Travel is a travel agency that offers guided tours throughout Japan. 
From private walking tours to delicious Food and Drink tours, we can help organize the best tours just for you! If you want to explore Japan and learn more about the history and backstories of each area you are traveling in, our knowledgeable and friendly guides will happily take you to the best spots! 
In addition, we can provide you with any assistance you may need for your upcoming trip to Japan, so please feel free to contact us if you have any questions or need some help! 
Follow us on Instagram, Facebook, Twitter, and TikTok for more travel inspiration. Or tag us to get featured!
Happy traveling!
Other articles you might be interested in