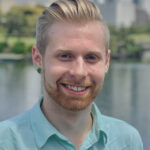 Writer's Profile
Bryce was born in California, and raised near Seattle, Washington! He's been living in Japan for about 5 years now, the first 3 spent studying at Temple University Japan. His main passion in life is writing and producing music, more specifically EDM if anyone is curious! He is very fond of snowboarding, cooking, traveling, playing video games; all of which he'd ideally enjoy with the company of his great friends.
This post may contain some affiliate links. When you click through and make a purchase we may receive some commission, at no extra cost to you.
Welcome to Tokyo, a city of incredible depth and incredible balance between old fashioned and modern. If you enjoy this unique blend of eras and vibes, you simply cannot miss out on the charming neighborhood of Sangenjaya. The name means "3 tea houses", however these 3 tea houses have since closed unfortunately due to causes such as war and fire. Fortunately, the area has grown to be a wonderful, diverse area. Nestled in Setagaya ward, this delightful district offers that blend of old and new, as well as traditional and trendy. From hidden gems to local hangouts, Sangenjaya has it all. Not to mention, it's the home of the college, Temple University, that your favorite author has graduated from! So, know that you're getting only the best recommendations. Without further ado, let's see what "Sancha" has to offer!
1. Sankaku Chitai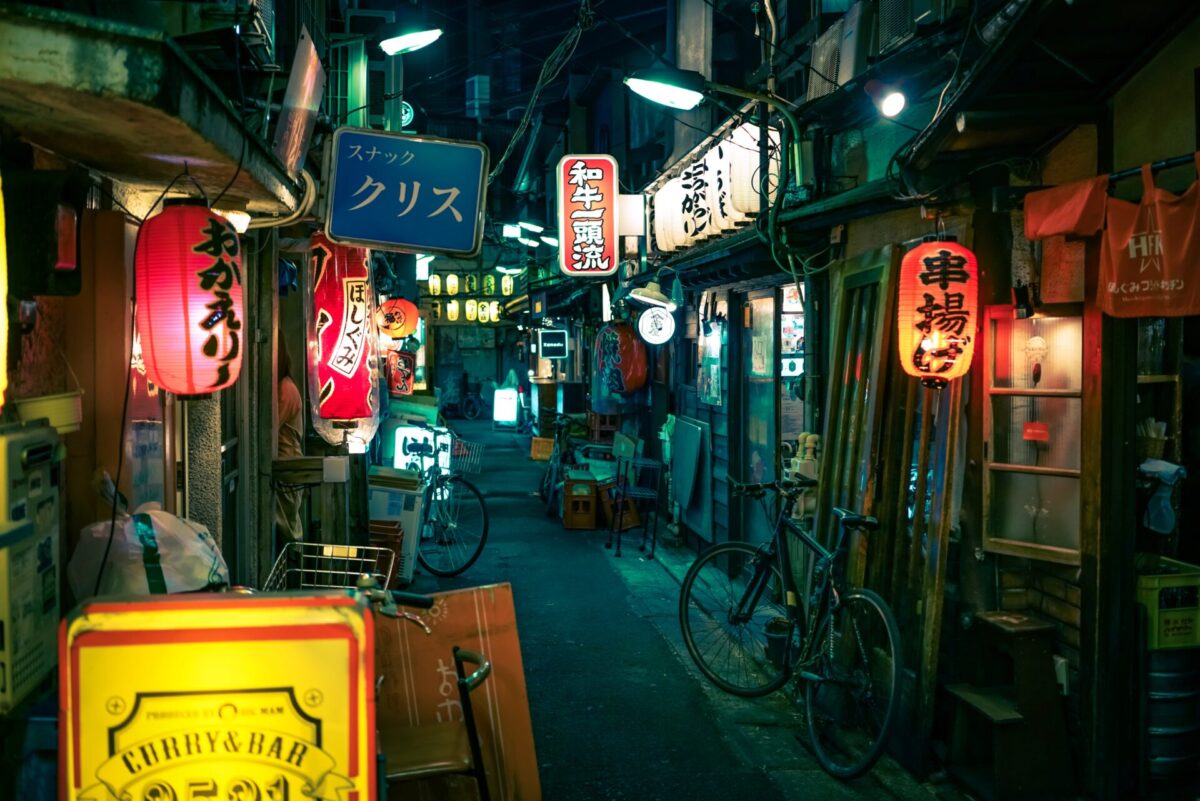 Prepare to get lost (or found) in the labyrinthine streets of Sankaku Chitai. This buzzing part of Sangenjaya is the place to be after work (or class) with its dynamic assortment of establishments. Wander through the narrow alleys and you'll stumble upon a treasure trove of vintage boutiques, quirky cafes, and vibrant Izakaya. Even during the daytime it's a nice little adventure! Don't be afraid to explore the hidden nooks and crannies—the best experiences often lie off the beaten path. So, get lost in Sankaku Chitai and let your spontaneous spirit guide you!
2. Sky Carrot (Carrot Tower)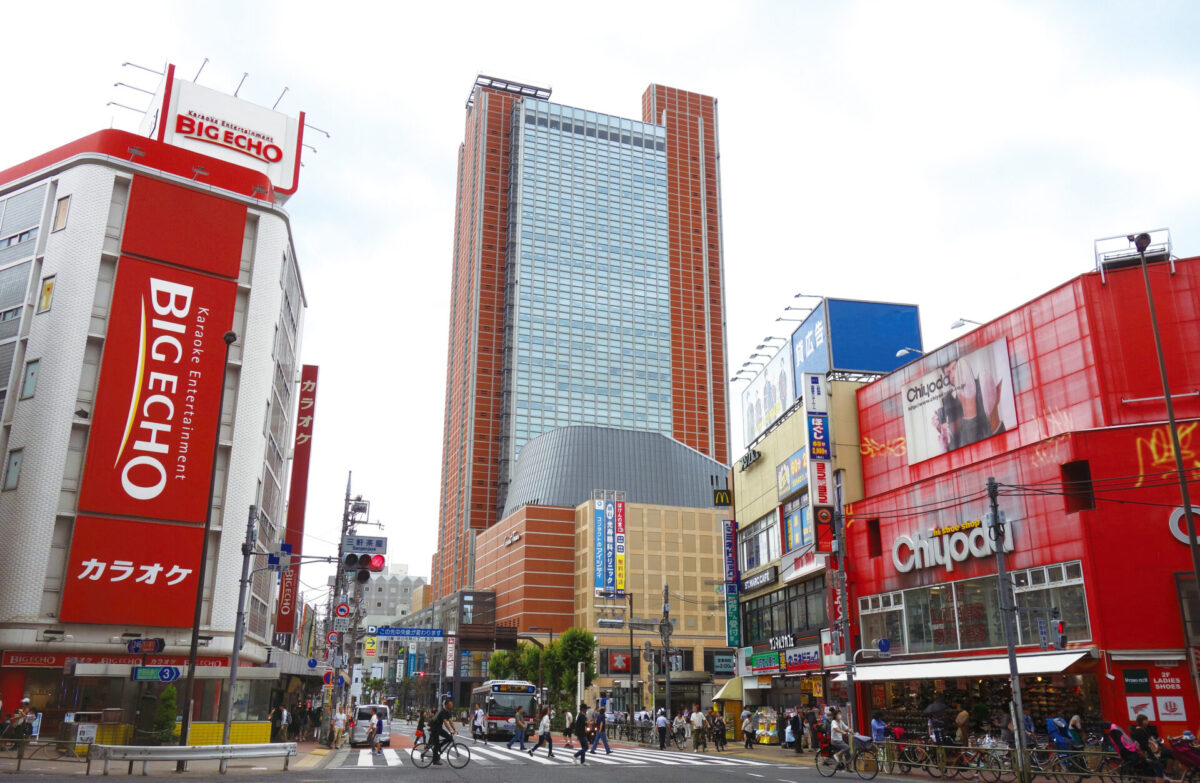 For a breathtaking panoramic view of Sangenjaya and beyond, make your way up to the Sky Carrot observation deck in Carrot Tower. This towering skyscraper not only offers a fantastic view but also houses various shops, cafes, and even a theater. Capture the perfect Instagram-worthy shot of Tokyo's skyline, sip a cup of joe at a trendy cafe, or catch a show for some entertainment. Sky Carrot is your gateway to a soaring experience in Sangenjaya!
3. Find the Gorilla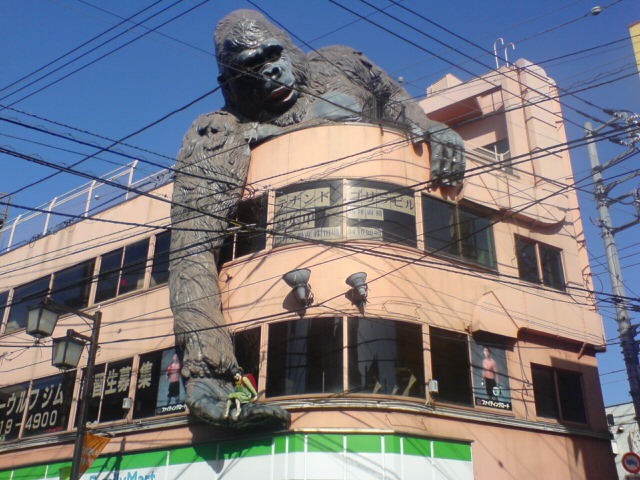 Feeling a little adventurous? Go on a gorilla hunt in Sangenjaya! No, not a real gorilla, but rather a "hidden" (it's quite large) gorilla statue. This quirky statue is perched atop a building, silently watching over the neighborhood. The challenge is to find it, it's more fun than you'd think! As you meander through the streets, keep your eyes peeled for this unexpected primate surprise. Spotting the gorilla is like finding a hidden gem and will undoubtedly add a touch of whimsy to your Sangenjaya adventure. It also served as an indicator that a personal favorite, but now closed, hamburger restaurant was nearby. However, we will talk about that a little later!
4. Setagaya Park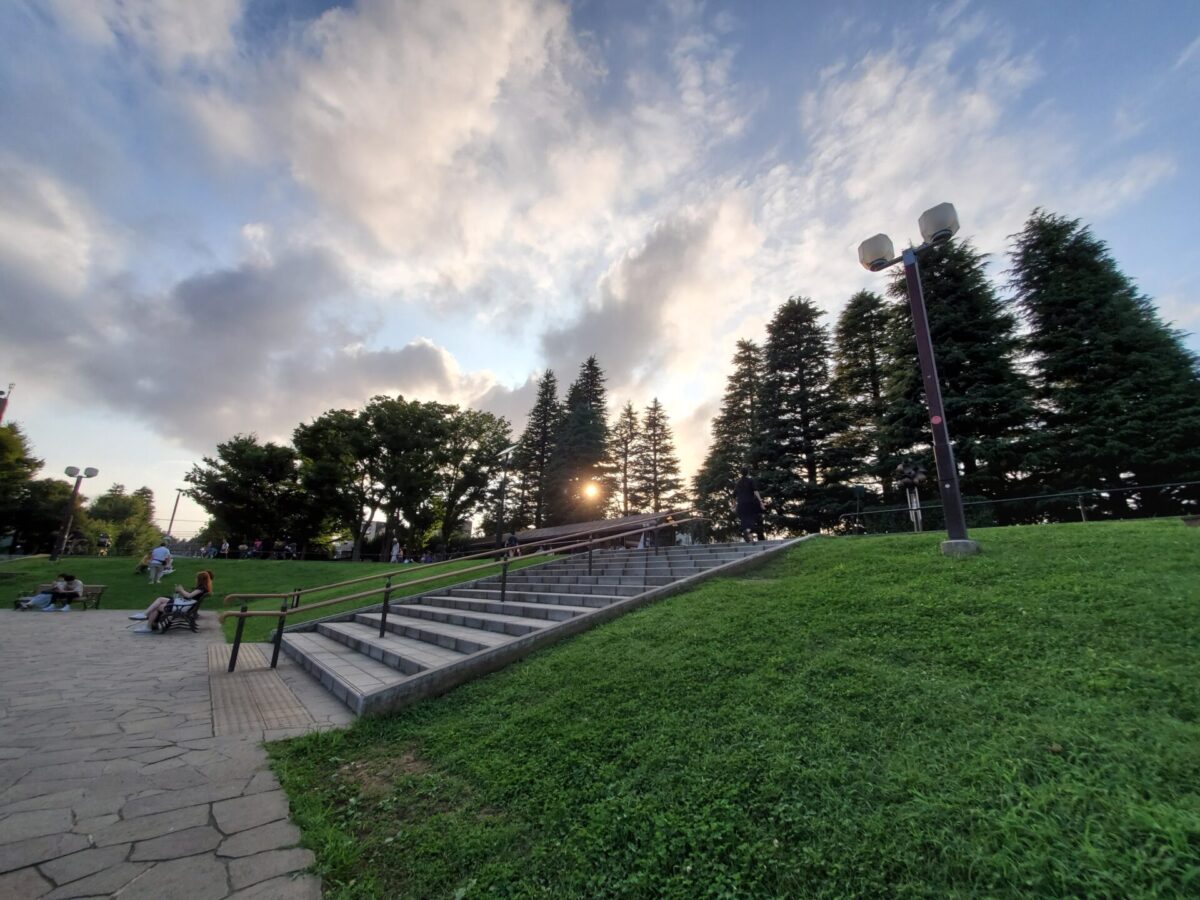 Escape the bustling city streets and unwind in the tranquil oasis of Setagaya Park. Take a leisurely stroll through the picturesque gardens, breathe in the fragrant blooms, and let the peaceful atmosphere wash over you. But the real highlight? A pleasant ride on the mini locomotive that chugs its way through the park. Hop aboard and let your inner child rejoice as you enjoy the scenic views and the nostalgic charm of a mini train ride. It's a delightful experience for travelers of all ages!
5. Grab a Delicious Burger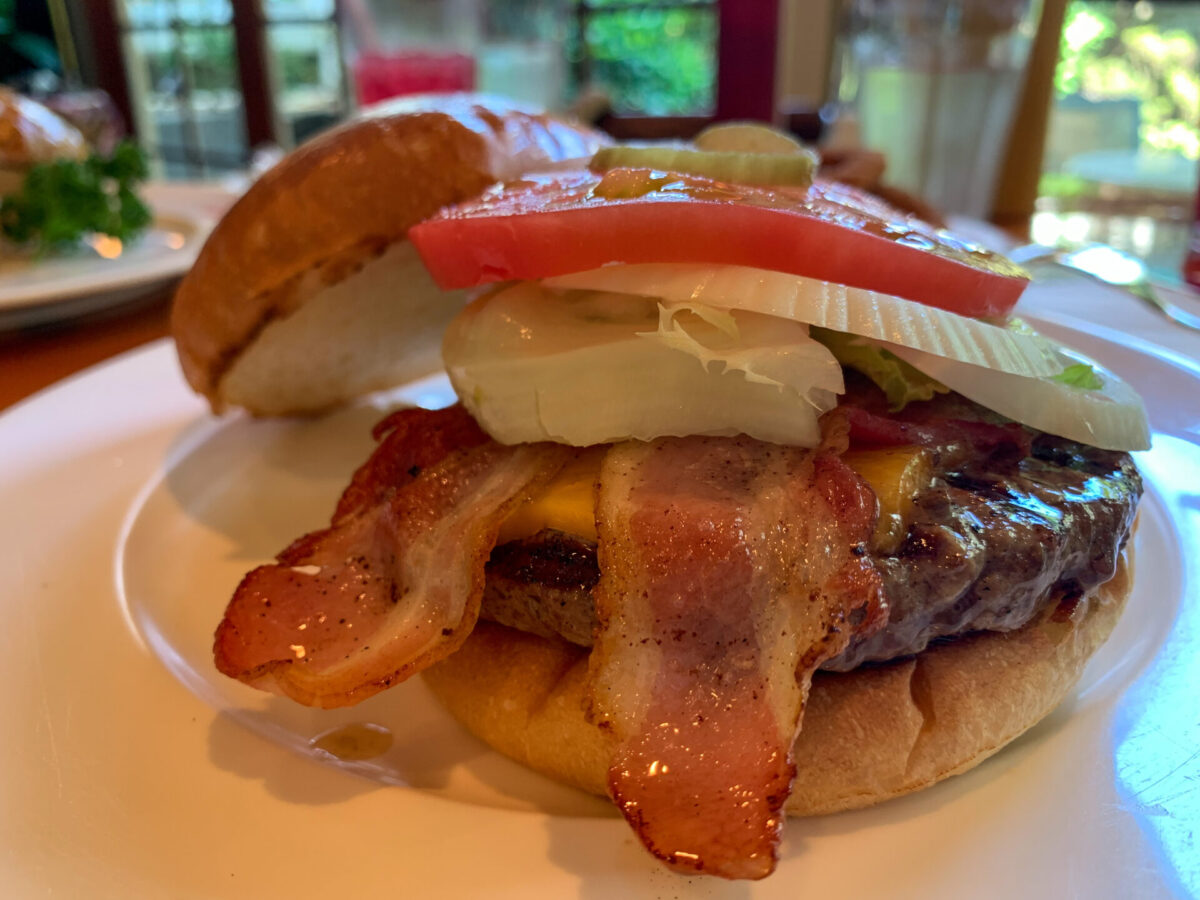 Burgers in Japan? You would be surprised! Sangenjaya has no shortage of delectable dining options, but if you're craving a juicy burger, head straight to one of the local burger joints. Sink your teeth into a mouthwatering creation that blends Japanese flavors with classic American-style burgers. Whether you prefer a towering masterpiece with all the fixings or a minimalist approach, these burger havens have got you covered. It's the perfect fusion of culinary cultures that will leave your taste buds cheering for more! "Homemade" was a personal favorite (the one near the gorilla) but the next best option is "Ten Fingers"- be sure you have a good grip!
6. Suzuran Dori Street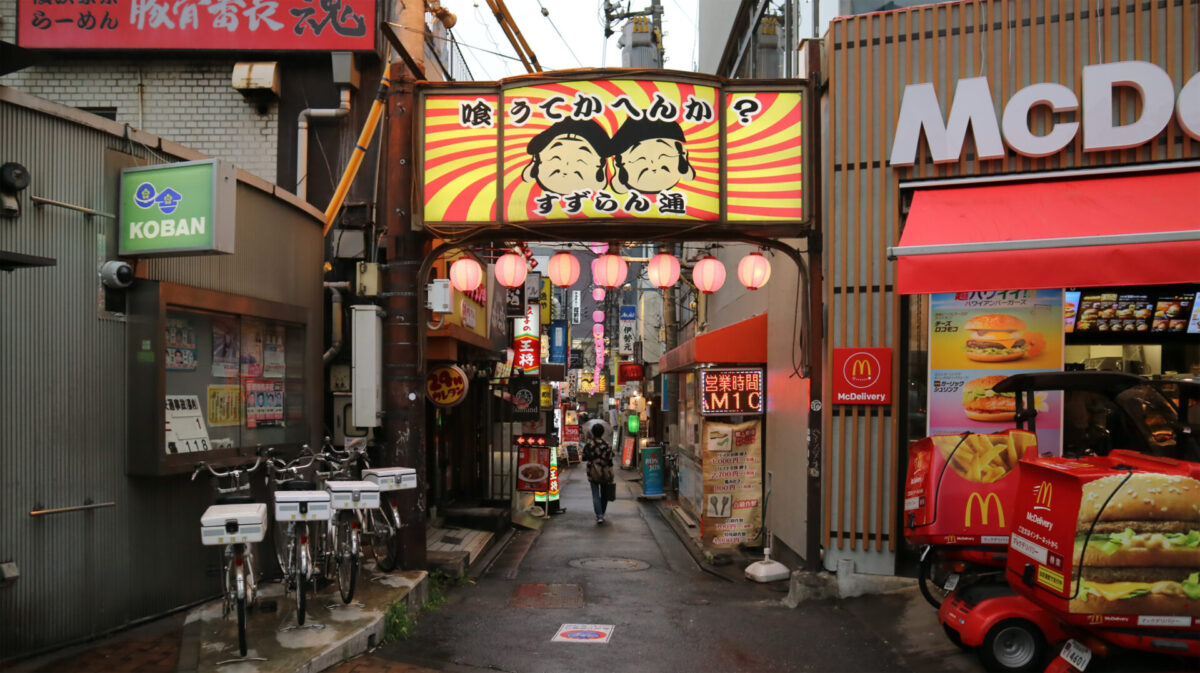 This is another vibrant area that might be compared to the Sankaku Chitai area we talked about before; it's got a bunch of shops and Izakaya, as well as other establishments. It's definitely a place to check out at night or in the early evening and grab some bites and drinks! Its iconic red and yellow sign hanging above the entrance is a surefire way to know you're in the right spot.
7. Saishoji Temple
Immerse yourself in the serenity of Saishoji Temple, a hidden gem tucked away in Sangenjaya. This Buddhist temple exudes tranquility and offers a respite from the city's hustle and bustle. Take a moment to admire the elegant architecture and explore the peaceful gardens. This temple is also known as Kyogakuin and Meao Fudo, and is one of five Fudo temples from the Edo period. Be sure to check it out if you go to the Sky Carrot!
8. Kissaten Seven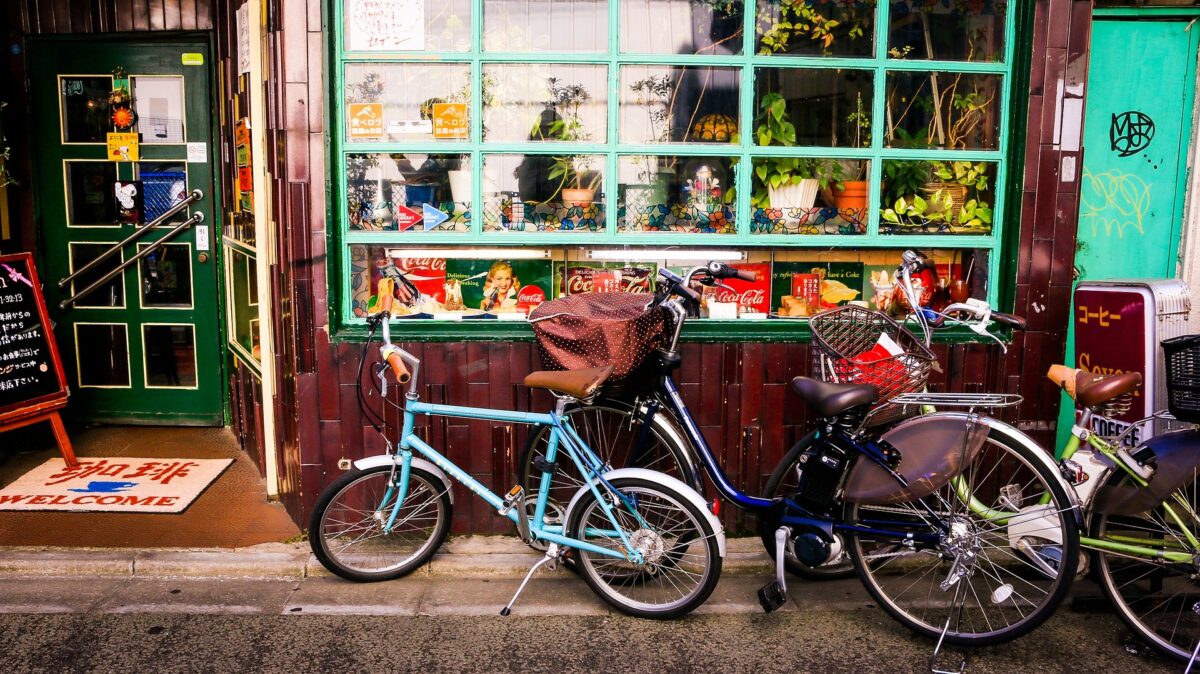 Indulge in a quintessentially Japanese experience at Kissaten Seven, a traditional Japanese-style coffee shop. Step inside and you'll be transported to a bygone era, with retro decor and the smell of fresh coffee filling the air. Savor a meticulously brewed mug, paired with a delectable pastry or a light snack. Take your time, relax, and enjoy the laid-back atmosphere of this charming establishment. Kissaten Seven is the perfect spot to unwind and recharge before continuing your Sangenjaya exploration.
9. Taishido Hachiman Shrine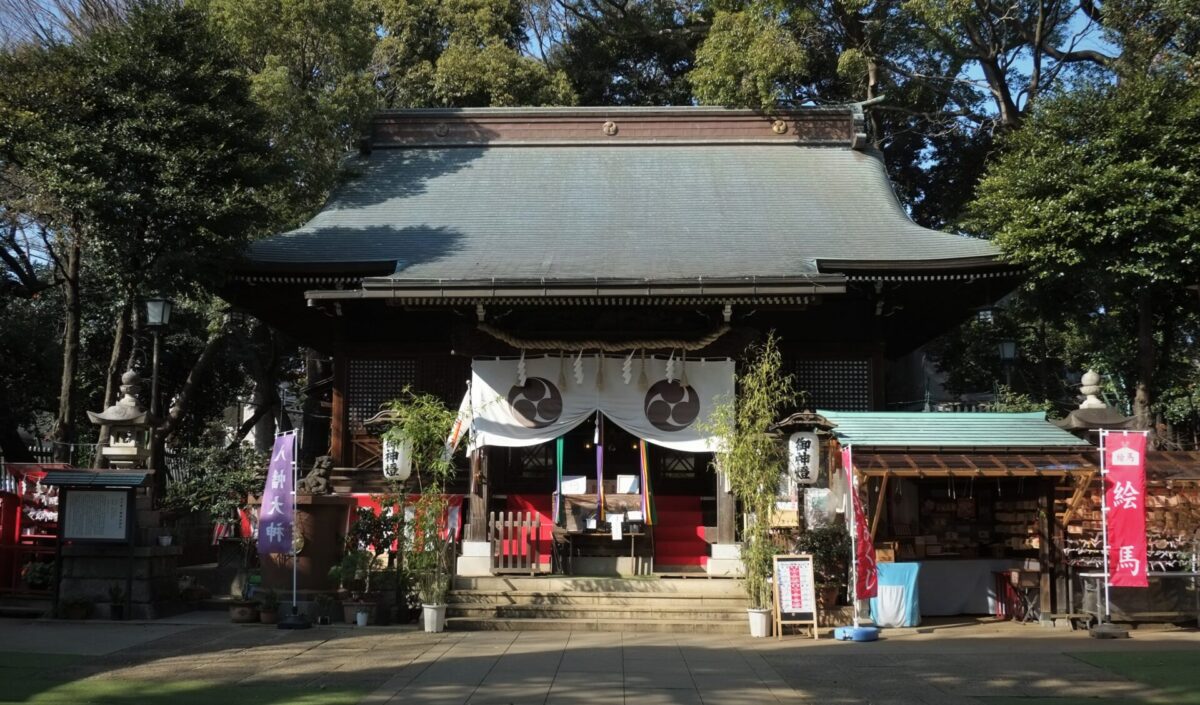 Discover the rich spiritual heritage of Sangenjaya at Taishido Hachiman Shrine. This Shinto shrine holds great significance for the local community and offers a glimpse into Japan's ancient beliefs. Marvel at the intricate shrine architecture, explore the peaceful grounds, and if you're lucky, you might witness a traditional ceremony or festival taking place.
10. Gyoza Shack
Last but certainly not least, satisfy your cravings for delicious dumplings at the iconic Gyoza Shack. This humble eatery is a local favorite, serving up mouthwatering Gyoza (pan-fried dumplings) that will leave you wanting more. Choose from a variety (14 different types!) of fillings, each bursting with flavor, and savor these delectable bites alongside a refreshing beverage. The friendly atmosphere and the scrumptious Gyoza make Gyoza Shack a must-visit spot for any food lover in Sangenjaya.
Japan Wonder Travel Tours in Tokyo
Japan Wonder Travel is a travel agency that offers guided tours throughout Japan.
From private walking tours to delicious Food and Drink tours, we can help organize the best tours just for you! If you want to explore Japan and learn more about the history and backstories of each area you are traveling in, our knowledgeable and friendly guides will happily take you to the best spots!
In addition, we can provide you with any assistance you may need for your upcoming trip to Japan, so please feel free to contact us if you have any questions or need some help!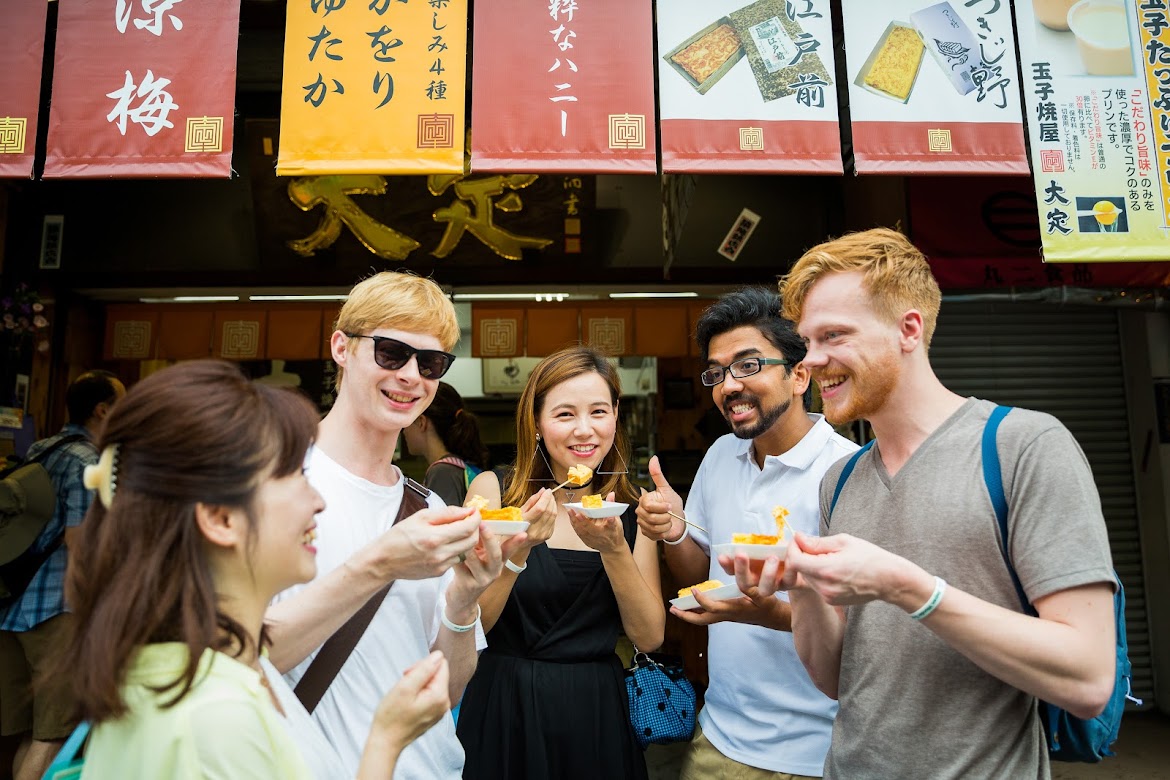 ▶Tokyo 1–Day Highlights Private Walking Tour (8 Hours)
There's no better way to explore an area than taking a tour with a knowledgeable local guide. You will have the chance to learn about the history and interesting background stories of Tokyo, as well as discover some hidden gems which can be hard to do without a guide.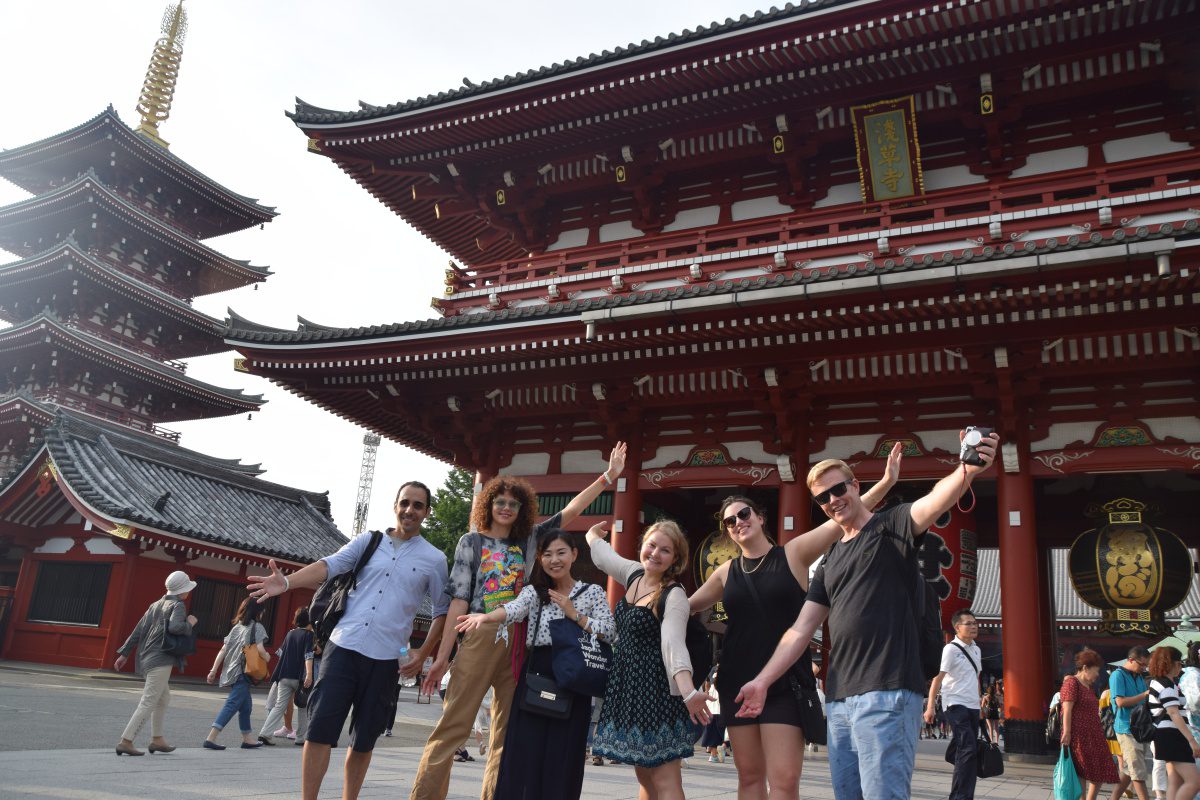 ▶Shinjuku Bar Hopping Tour: Experience Tokyo's Nightlife in Izakaya
Check out the best spots in Shinjuku while bar hopping through the lively and vibrant area. Try some delicious local food and drink as you explore the narrow yet photogenic alleys that the town has to offer. Experience Japanese izakaya culture and drink in Shinjuku like the locals!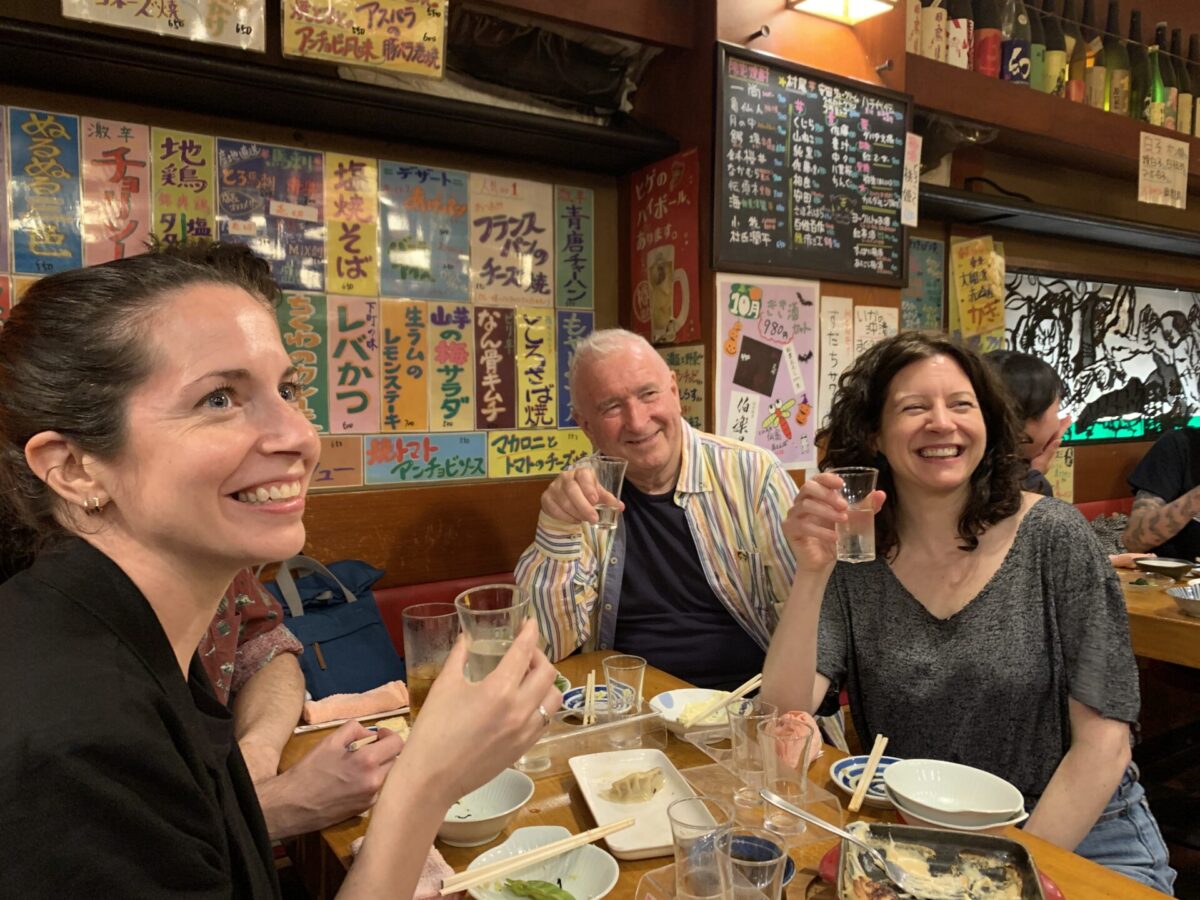 Find the Other Tours
▶Tour Packages
If you want to make travel easier, we suggest you look into tour packages.There are a wide range of tour packages out there to suit the accomodate for each traveler needs. Click the button below to find the best tour package from various Tour Operators!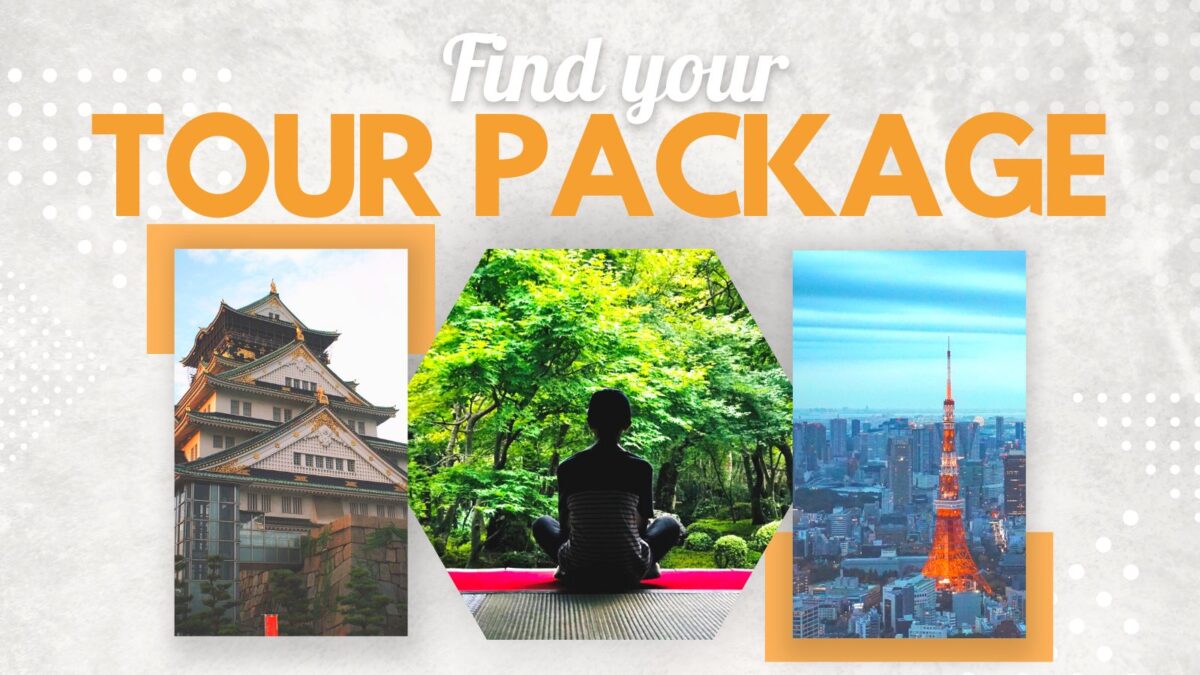 Follow us on Instagram, Facebook, Twitter, and TikTok for more travel inspiration. Or tag us to get featured!
Happy traveling!
Stay informed of the best travel tips to Japan, the most exciting things to do and see, and the top experiences to have with the Japan Wonder Travel Newsletter. Once every two weeks we will introduce you to our latest content.
Other Articles you may be Interested in