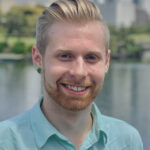 Writer's Profile
Bryce was born in California, and raised near Seattle, Washington! He's been living in Japan for about 5 years now, the first 3 spent studying at Temple University Japan. His main passion in life is writing and producing music, more specifically EDM if anyone is curious! He is very fond of snowboarding, cooking, traveling, playing video games; all of which he'd ideally enjoy with the company of his great friends.
This post may contain some affiliate links. When you click through and make a purchase we may receive some commission, at no extra cost to you.
Japan is often regarded as a highly futuristic country with incredible implementation of technology into its infrastructure, services, products, and much more. Tokyo is an exceptional example of this and can be more or less explained by its astonishing population density; more people in a smaller area calls for extensive efficiency. The density not only lies within the population but also physical features. Tokyo may be the one of the only cities in the world where you can find a 400 year old shrine on the same street as a restaurant with robots as servers. Thus, places like Yanaka can exist in this massive concrete jungle. If you love the well preserved, old fashioned places in Japan, then you can't miss all of the nostalgic elements in this part of Tokyo. Head back in time and enjoy the character of the 40s and 50s with the best things to do in Yanaka that include unique food, shopping, and long standing architecture!
1. Go Shopping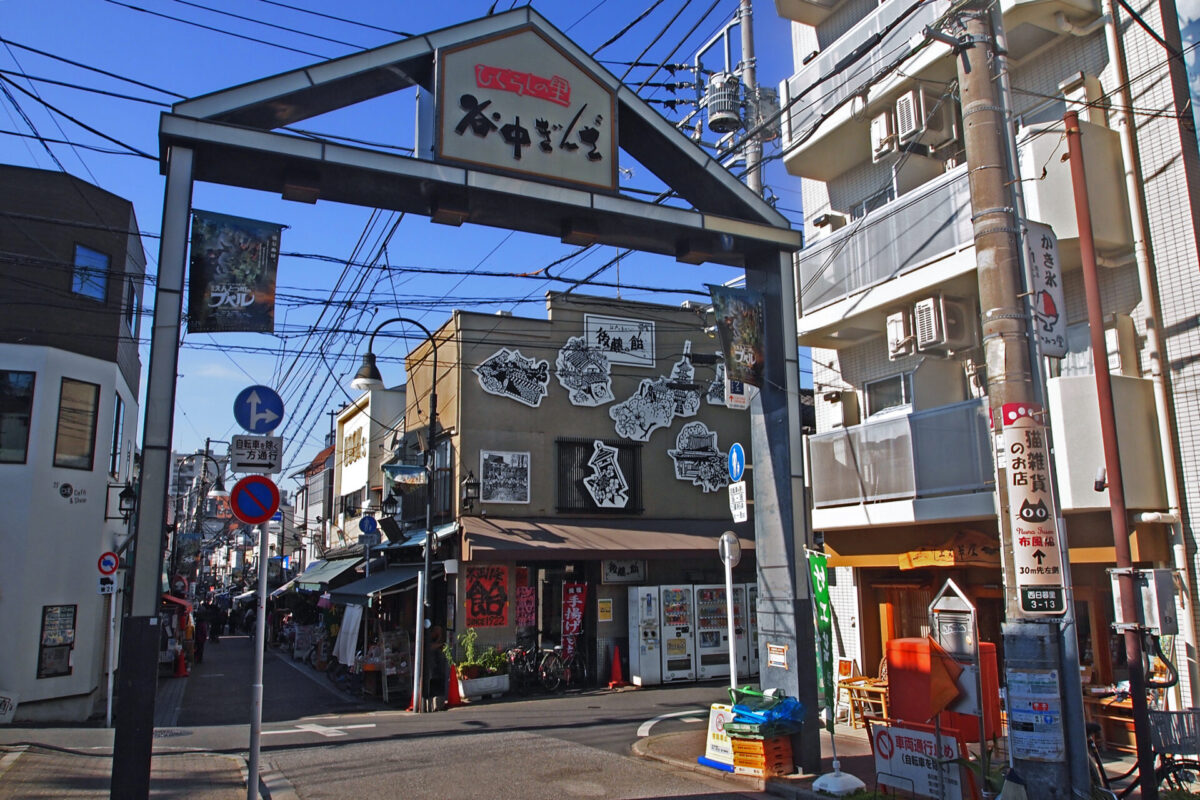 The Yanaka Ginza area is a classic shopping area filled with old-school vibes. The area is as lively and functional as it is preserved. This rustic atmosphere lends itself to both locals and visitors alike. Throughout Japan places like this that retain a kind of traditional, nostalgic vibe are frequented by people around the world, but are sometimes a cliche among residents. This is one place where locals often enjoy the fun and gather with their friends and neighbors to sustain those lively and rustic vibes. There are lots of things you can buy here from clothes to trinkets to handcrafts.
2. Yanaka Beer Hall – Old House Turned Bar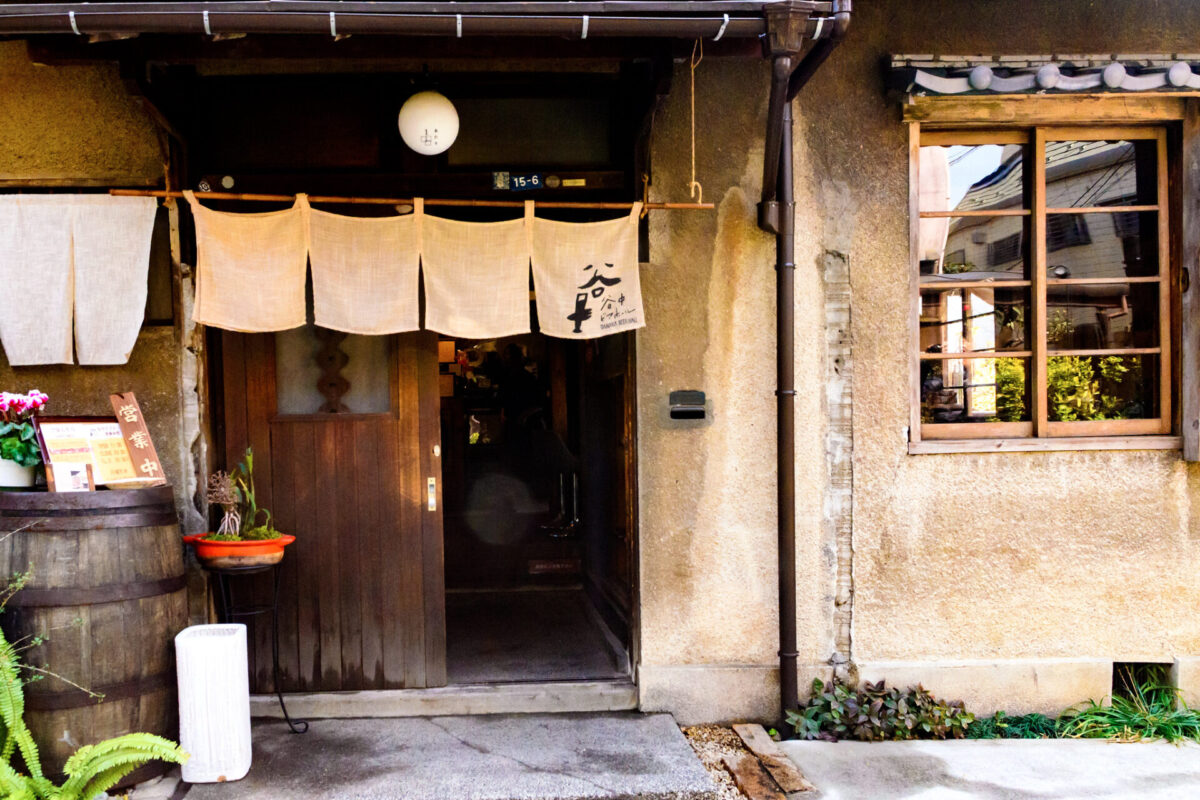 Keep those good vibes going with some fresh beer! The Yanaka Beer Hall offers their own brand in various styles of craft beer, perhaps considered "Ji-beer", in a building very much in line with the atmosphere of Yanaka Ginza. Grab a fresh one from the tap at the wooden counter on the first floor or go to the second floor to enjoy it on some Tatami mats. The building actually used to be just a normal home built in 1938, and though it has since been repurposed as Yanaka Beer Hall, it still retains its traditional elements immaculately. 
3. Take Some Memorable Pictures at Yuyake Dan Dan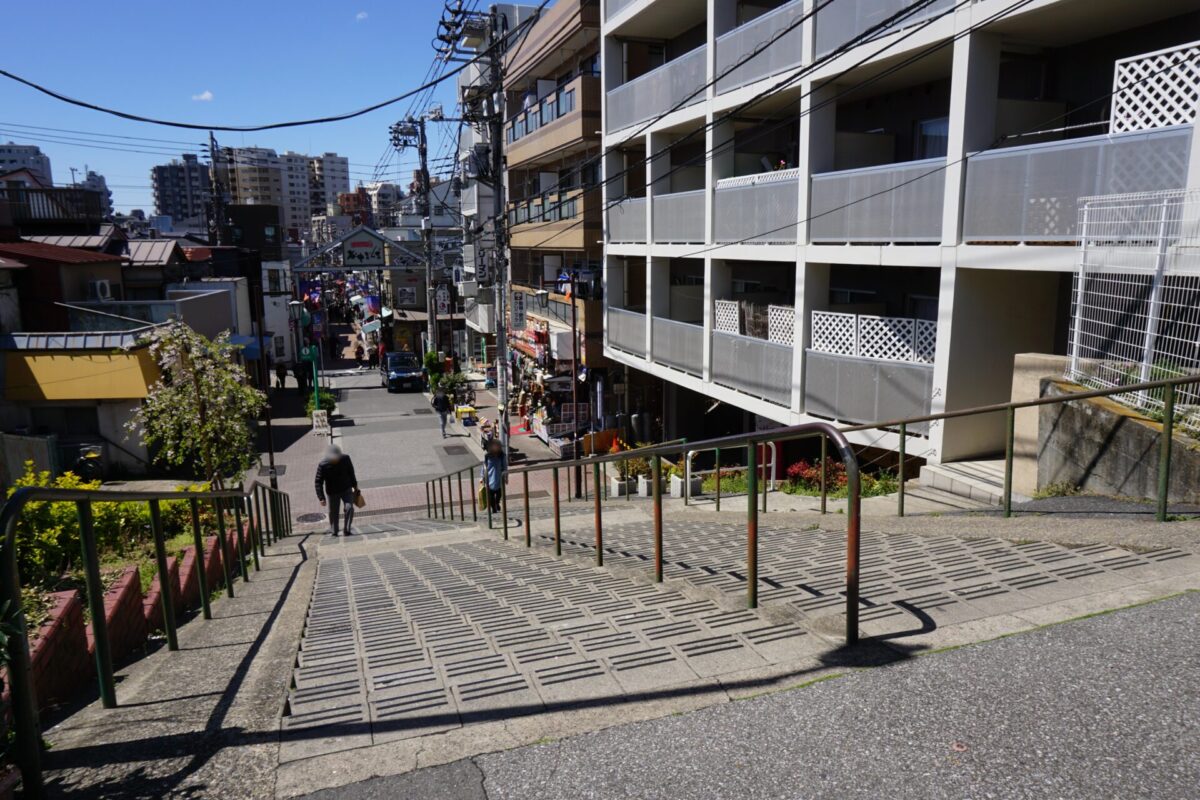 Literally "Sunset Staircase", this vantage point called Yuyake Dan Dan is the perfect way to snap a great picture to show everyone not only what a cool place you went to, but also to capture a great example of how the old fashioned and futuristic vibes coincide. The Tokyo skyline in the background with the humble yet bustling shopping street at the bottom of the staircase is surely a memorable picture, especially at sunset, hence the name.
4. Enjoy the Lush Nezu Shrine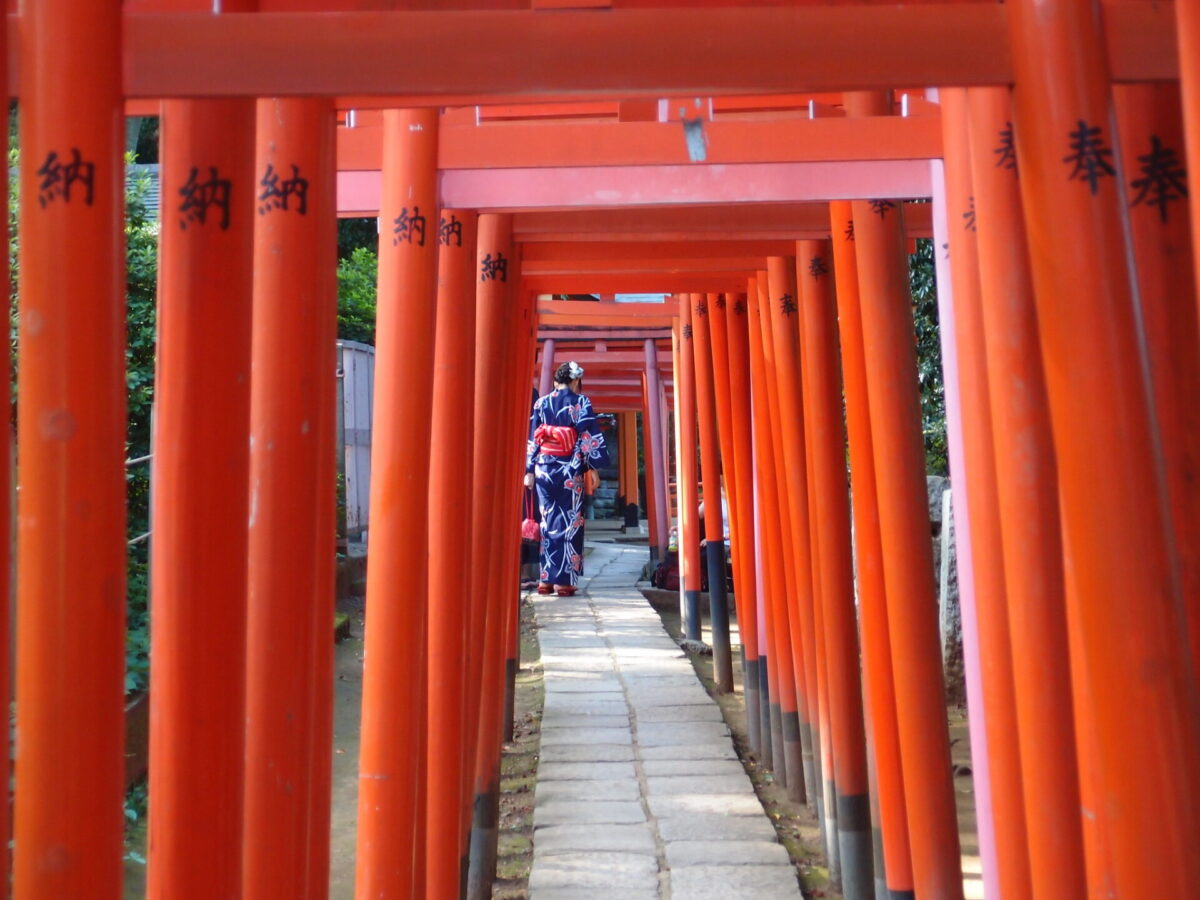 One of Japan's oldest shrines is also in the area and is a great stop for anyone that admires shrines or Japanese history. Not only has the shrine been around for a very long time, it is also beautifully lush and vibrant considering its location in such a metropolitan area. The shrine combines its array of foliage with ponds filled with fish to create a serene atmosphere. It also hosts a quite popular Azalea festival that boasts over 3,000 plants in a variety of styles.
5. Come Hungry and Grab Some Street Food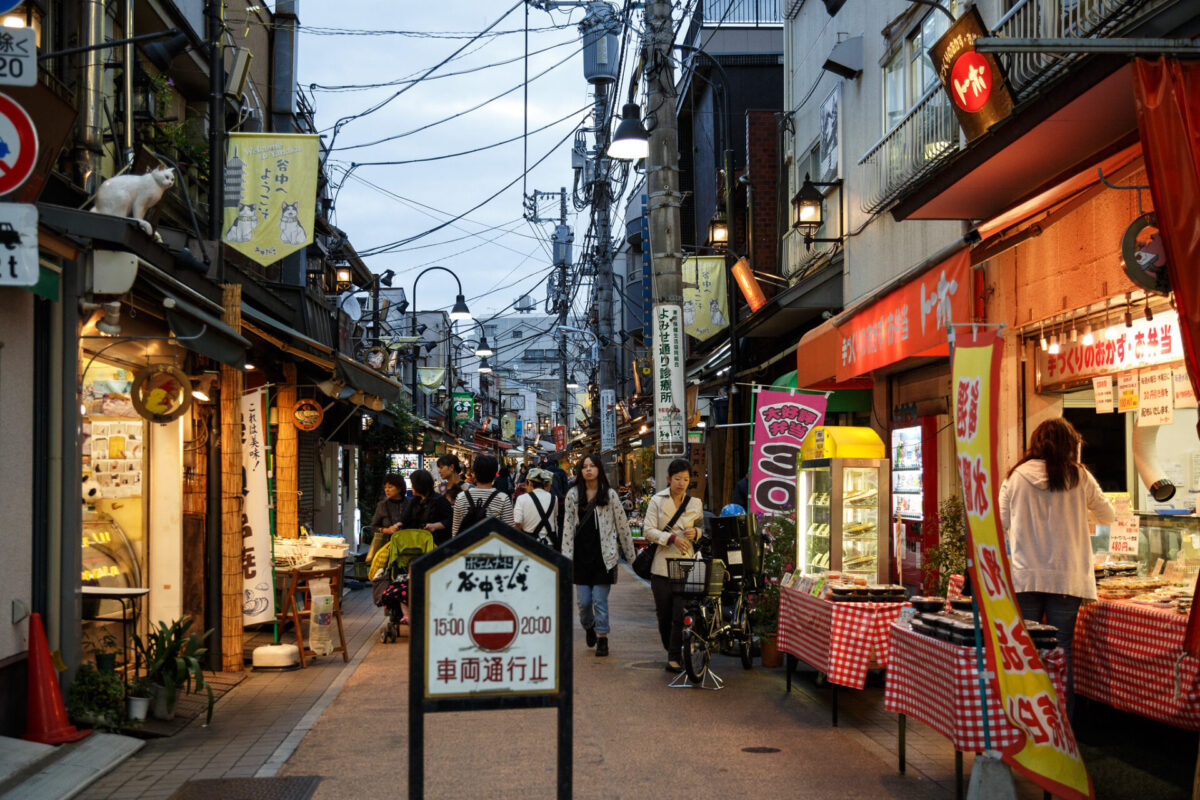 Yanaka is a great place to go on an empty stomach. There are plenty of things to try, especially street food, available here. Some notable snacks are Senbei, or rice crackers, and Imagawayaki, Taiyaki's older sibling (a sort of filled pancake type of sweet snack). Other foods include the meat croquettes at Niku no Suzuki, the grilled rice balls at Hokkodo, or the Takoyaki at Takoba, to name a few. You'll certainly have no trouble finding something to enjoy. Make sure you stop by Echigoya for some beer and Sake too!
6. Find Peace and Quiet in the Cemetery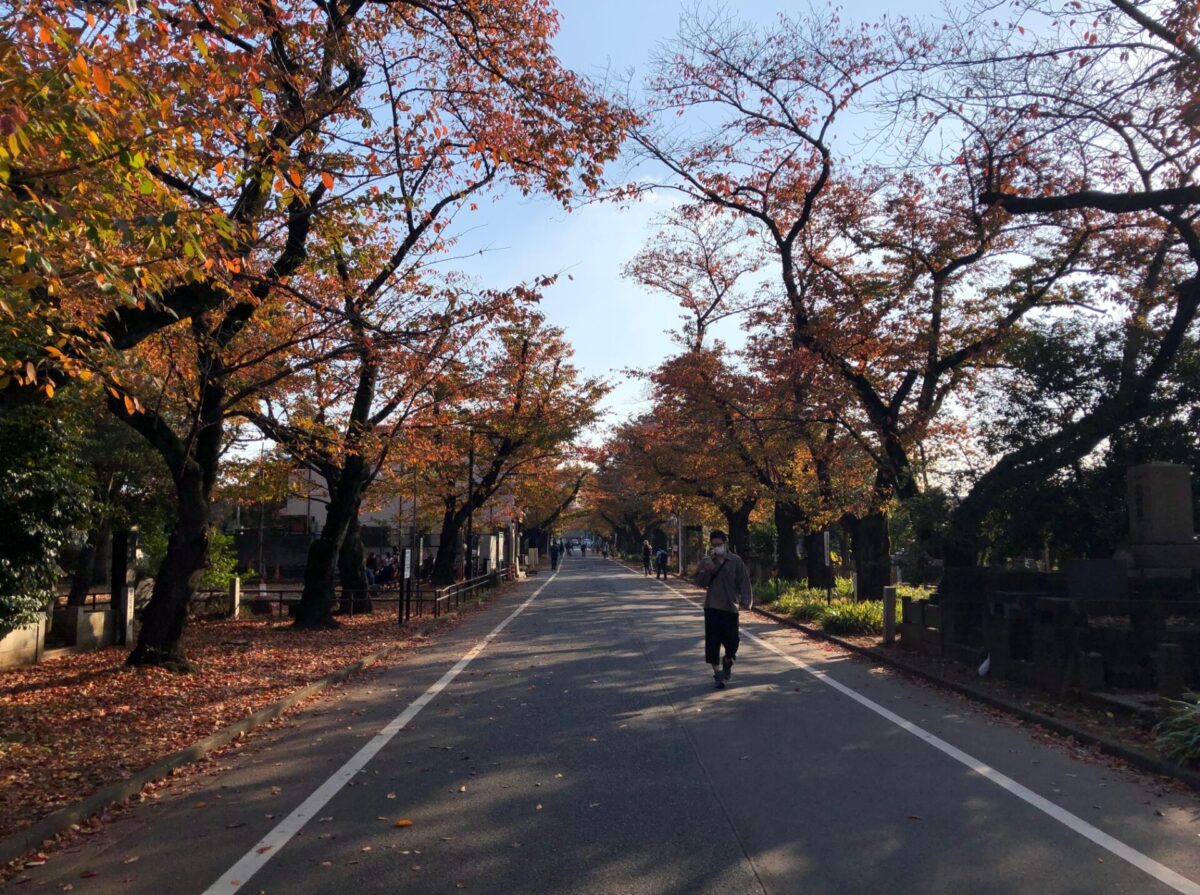 Similar to Nezu Shrine, the Yanaka Cemetery also boasts an unmissable amount of lush foliage. The combination of cherry blossoms as well as Ginkgo trees makes this a great place to visit in both the autumn and the spring. While it may be quite botanical and beautiful, you'll never forget that it is a cemetery with around 7,000 graves. If you're looking for peace and quiet, the size of the cemetery can almost guarantee you won't be running into many others!
7. Himitsudo – Shaved Ice to Remember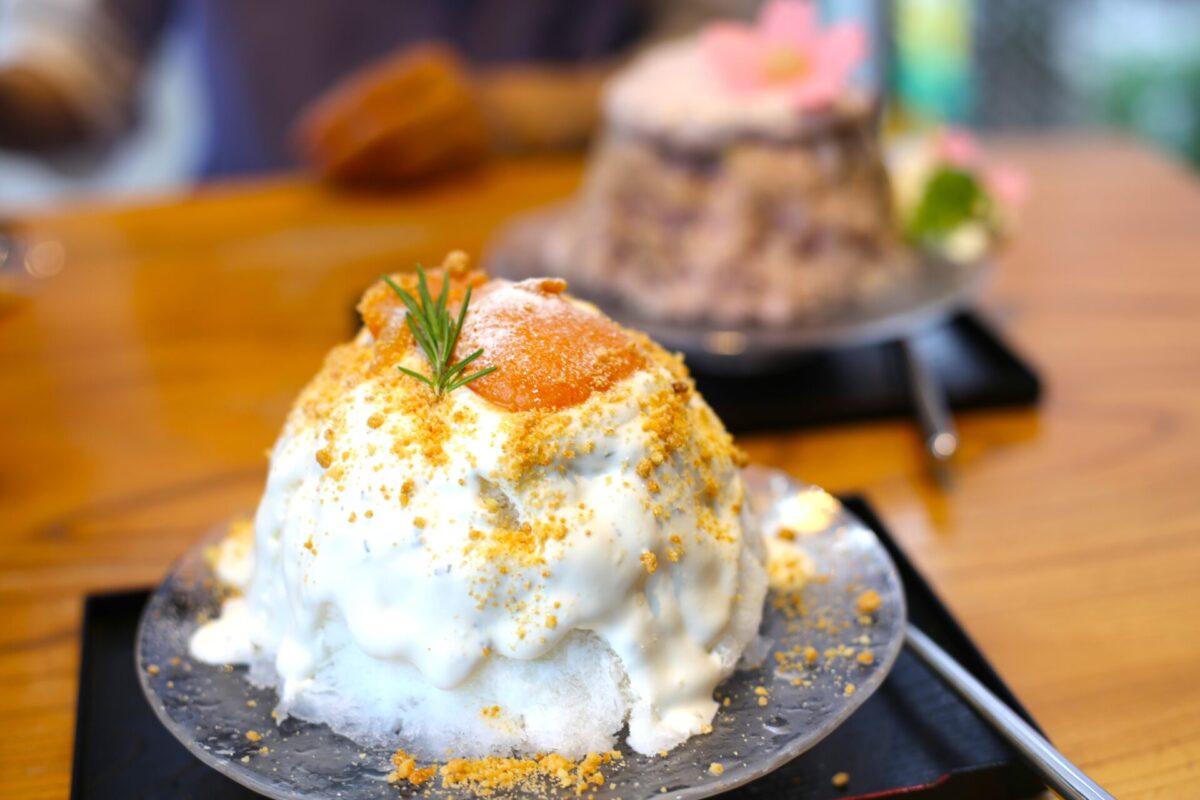 Shaved ice is quite the delicacy in Japan, which may be a little surprising to some. If you're around in late spring or the summer, you'll notice an abundance of shaved ice vendors- or at least signage, sprouting up in various places. As with nearly anything you'll find in Japan, there is at least one store that is absolutely dedicated to specializing in it. Himitsudo has its stake in shaved ice, that's for sure! Visit this unique store in Yanaka to get ice shaved by a traditional machine and topped with a seasonal topping of the 132 that are rotated throughout the year.
8. The Quintessential Kissaten: Kayaba Coffee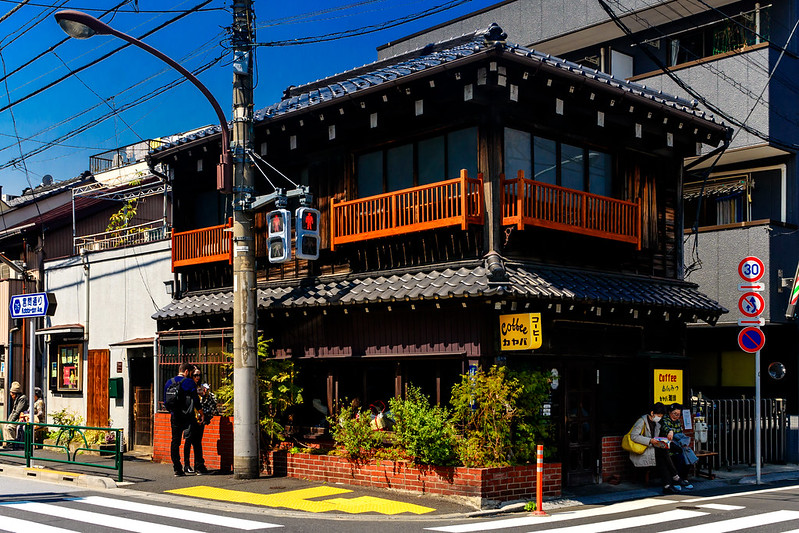 If you're studying Japanese and you've come across "Kissaten" in your vocabulary assignments and have been led to believe that it simply means "cafe" like some others, then you'll be surprised to know that there are some critical differences! If you're not really into coffee then it may not matter too much… but if you are, it's good to know that a Kissaten is more of a retro, traditional experience. They often offer a much different variety of coffee preparation styles and foods than your modern cafe. Kayaba is a great example of a Kissaten and offers some great treats! It actually closed in 2006 and was petitioned to reopen by the public, resulting in its reopening in 2008.
9. SCAI the Bathhouse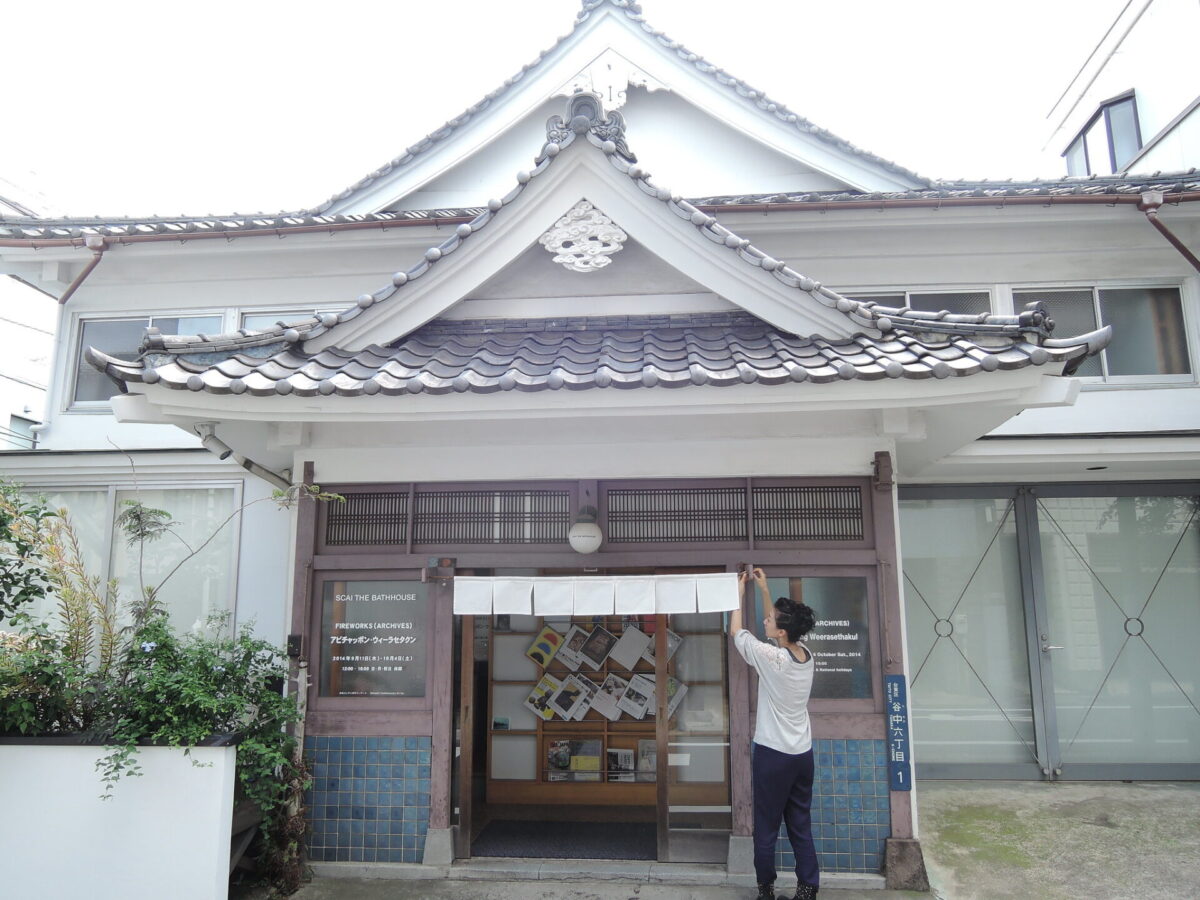 Maybe a little tired of all the old fashioned stuff? Well actually there is a pretty remarkable art gallery nearby! Of course, it's not a complete escape from the old fashioned vibes as it's inside a 200 year old bathhouse, but it does feature some pretty incredible contemporary art! It's undeniably a cool place to check out while you're in the area.
10. Asakura Museum of Sculpture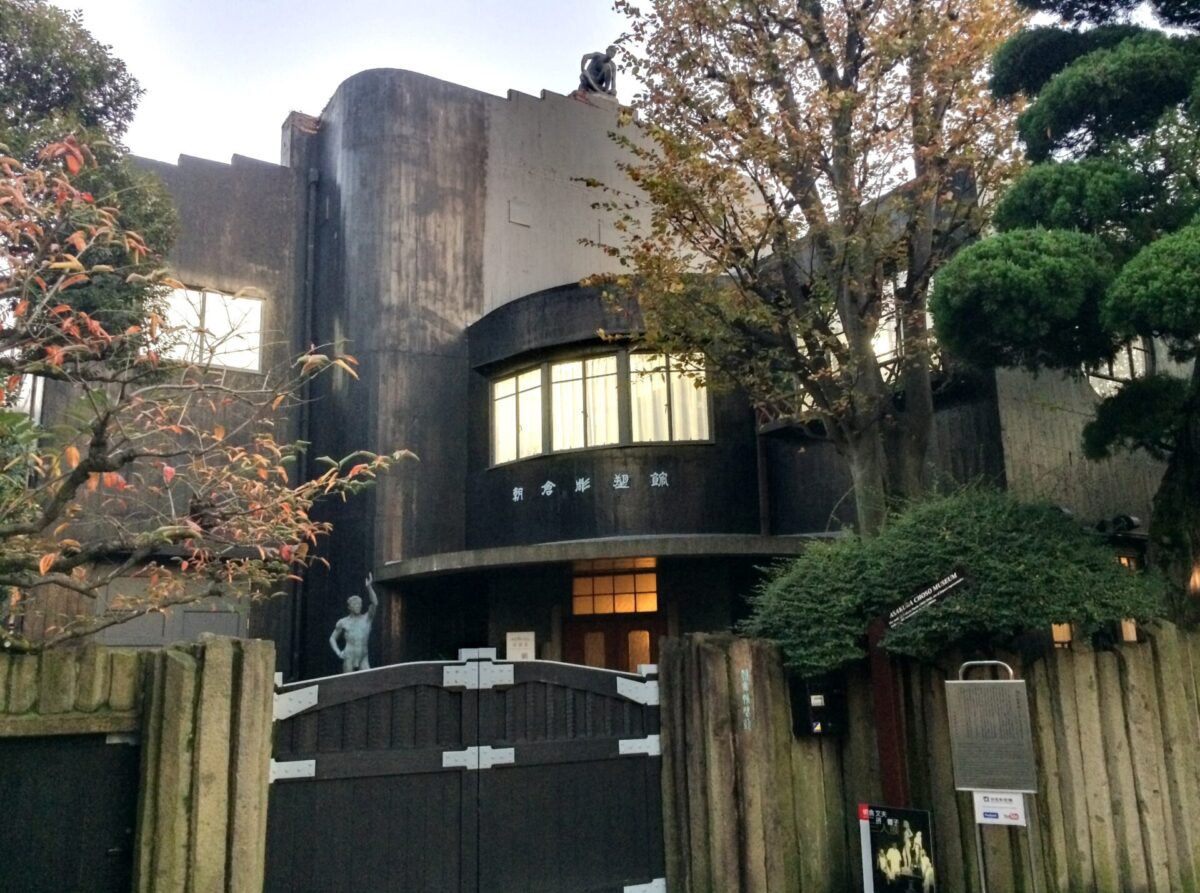 Enjoying the art more than you thought you would, or want to just look at another kind of art? No problem there, actually the Asakura Museum of Sculpture is nearby! This 3 story establishment is dedicated to all sorts of sculptures. The estate used to be the residence of a famous studio sculptor named Fumio Asakura and is now repurposed to display his art. He lived from 1883 to 1964 and established the studio in 1908. Complete with gardens, ponds, and some work from other artists, there is plenty to check out.
Japan Wonder Travel Tours in Tokyo
Japan Wonder Travel is a travel agency that offers guided tours throughout Japan.
From private walking tours to delicious Food and Drink tours, we can help organize the best tours just for you! If you want to explore Japan and learn more about the history and backstories of each area you are traveling in, our knowledgeable and friendly guides will happily take you to the best spots!
In addition, we can provide you with any assistance you may need for your upcoming trip to Japan, so please feel free to contact us if you have any questions or need some help!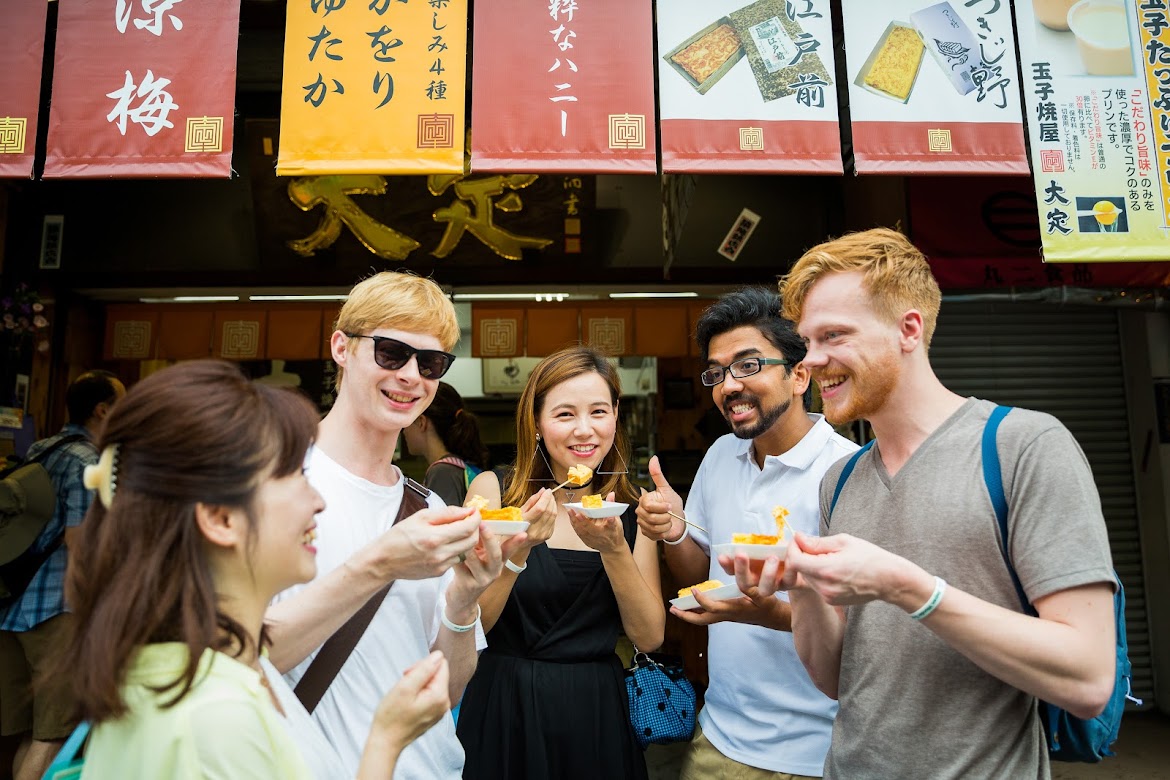 ▶Tokyo 1–Day Highlights Private Walking Tour (8 Hours)
There's no better way to explore an area than taking a tour with a knowledgeable local guide. You will have the chance to learn about the history and interesting background stories of Tokyo, as well as discover some hidden gems which can be hard to do without a guide.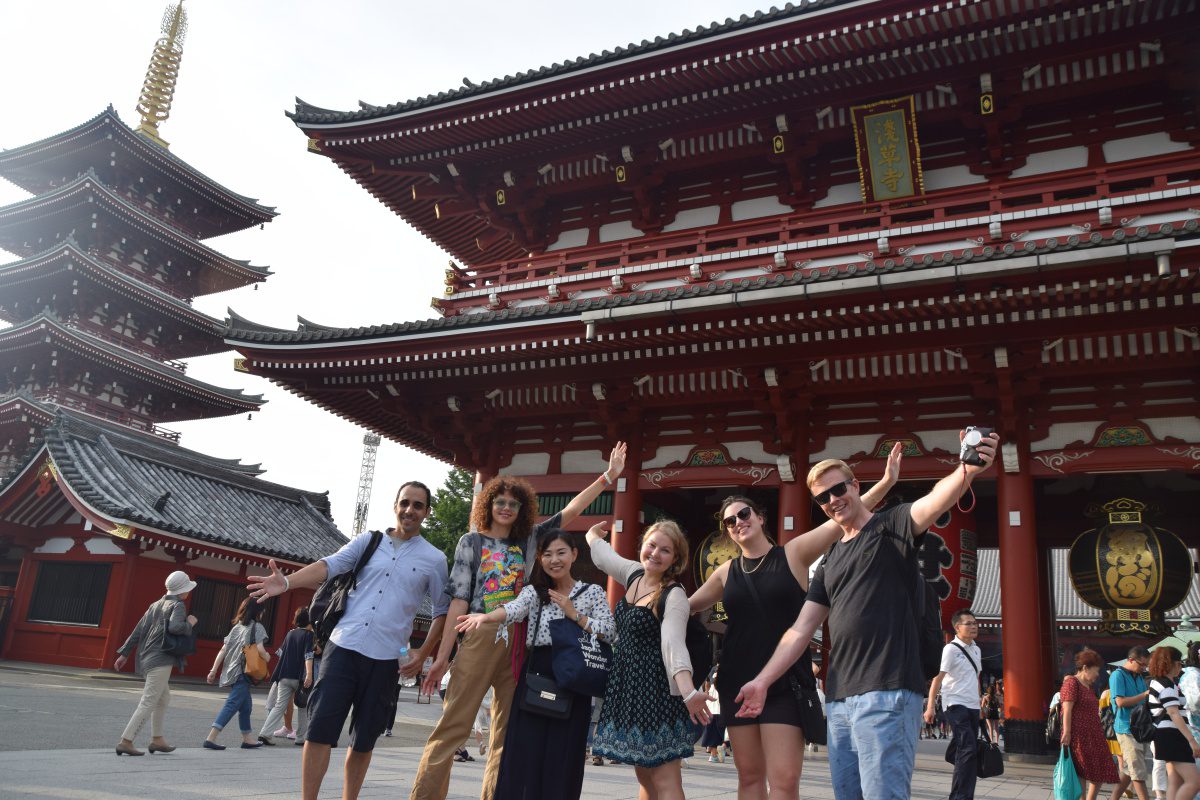 ▶Shinjuku Bar Hopping Tour: Experience Tokyo's Nightlife in Izakaya
Check out the best spots in Shinjuku while bar hopping through the lively and vibrant area. Try some delicious local food and drink as you explore the narrow yet photogenic alleys that the town has to offer. Experience Japanese izakaya culture and drink in Shinjuku like the locals!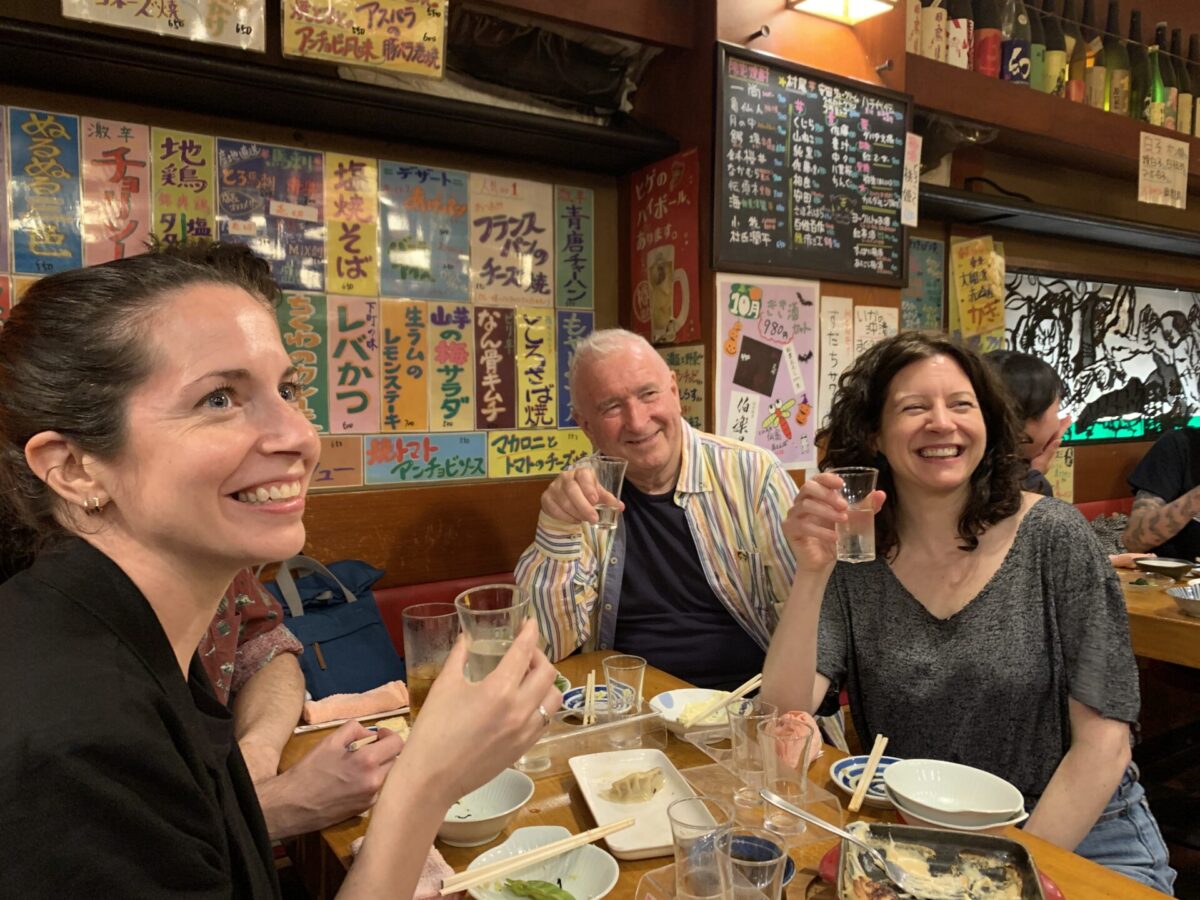 Find the Other Tours
▶Tour Packages
If you want to make travel easier, we suggest you look into tour packages.There are a wide range of tour packages out there to suit the accomodate for each traveler needs. Click the button below to find the best tour package from various Tour Operators!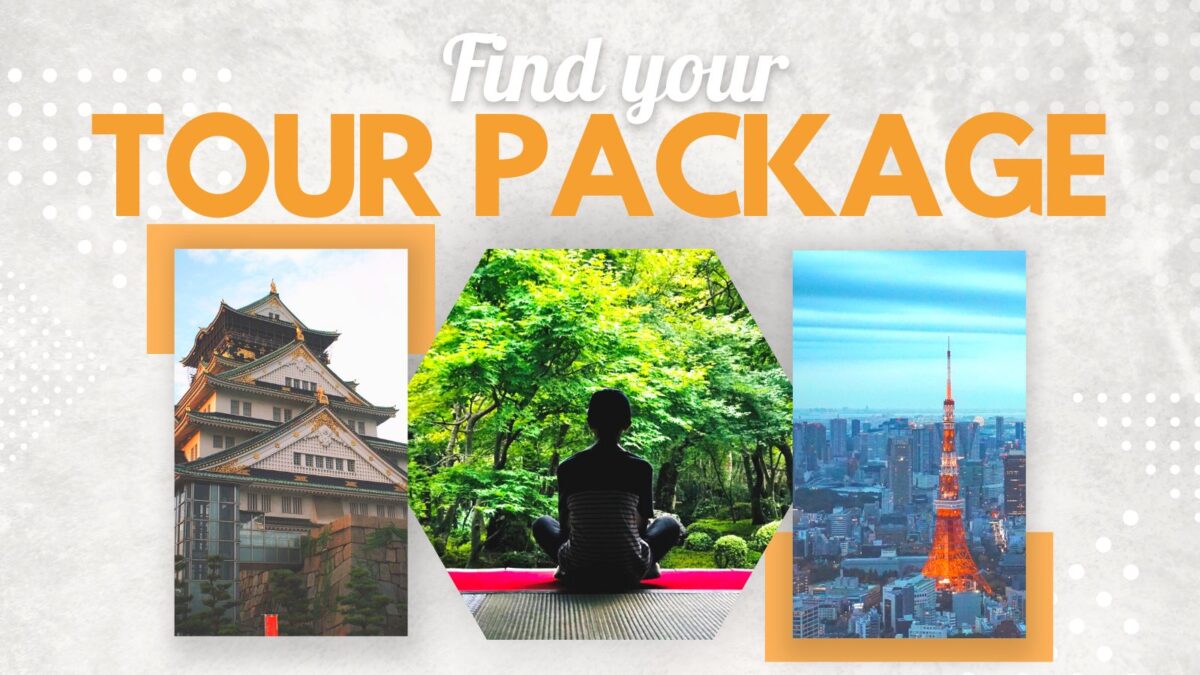 Follow us on Instagram, Facebook, Twitter, and TikTok for more travel inspiration. Or tag us to get featured!
Happy traveling!
Stay informed of the best travel tips to Japan, the most exciting things to do and see, and the top experiences to have with the Japan Wonder Travel Newsletter. Once every two weeks we will introduce you to our latest content.
Recommended Articles