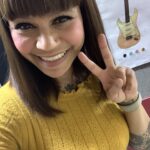 Writer's Profile
Misty Fujii is a Canadian who moved to Osaka, Japan in 2019 and married her Japanese sweetheart. In 2022 they had a baby and moved to Fukui for the clean country air. She is a DJ who teaches English part time and writes in order to share Japan with the world. She gets excited about collecting vintage vinyl records, food of all countries, travelling and renovating her traditional Japanese house.
This post may contain some affiliate links. When you click through and make a purchase we may receive some commission, at no extra cost to you.
Imagine you're sitting in a cozy little bar in Tokyo, surrounded by locals who are all sipping on a mysterious, milky-white liquid. Suddenly, the bartender slides a tiny cup in front of you and pours in something that smells faintly of rice. You take a sip, and BOOM. Your taste buds explode with flavors you never knew existed. You've finally experienced sake! And when it comes to libations, few beverages can rival the elegance and complexity of Japanese sake.
Beyond a drink, sake is a journey into the heart of Japanese culture, cuisine, history, and craftsmanship. Sake's popularity stems from the fact that it is versatile, pairs well with various foods, and can be enjoyed both warm and cold. This brings us back to a bar in Tokyo, where you're about to try sake as it's intended. Where do you begin? We've scoured the city to bring you our picks for Tokyo's 10 best sake bars. Let's go!
1. Junmaishu Yata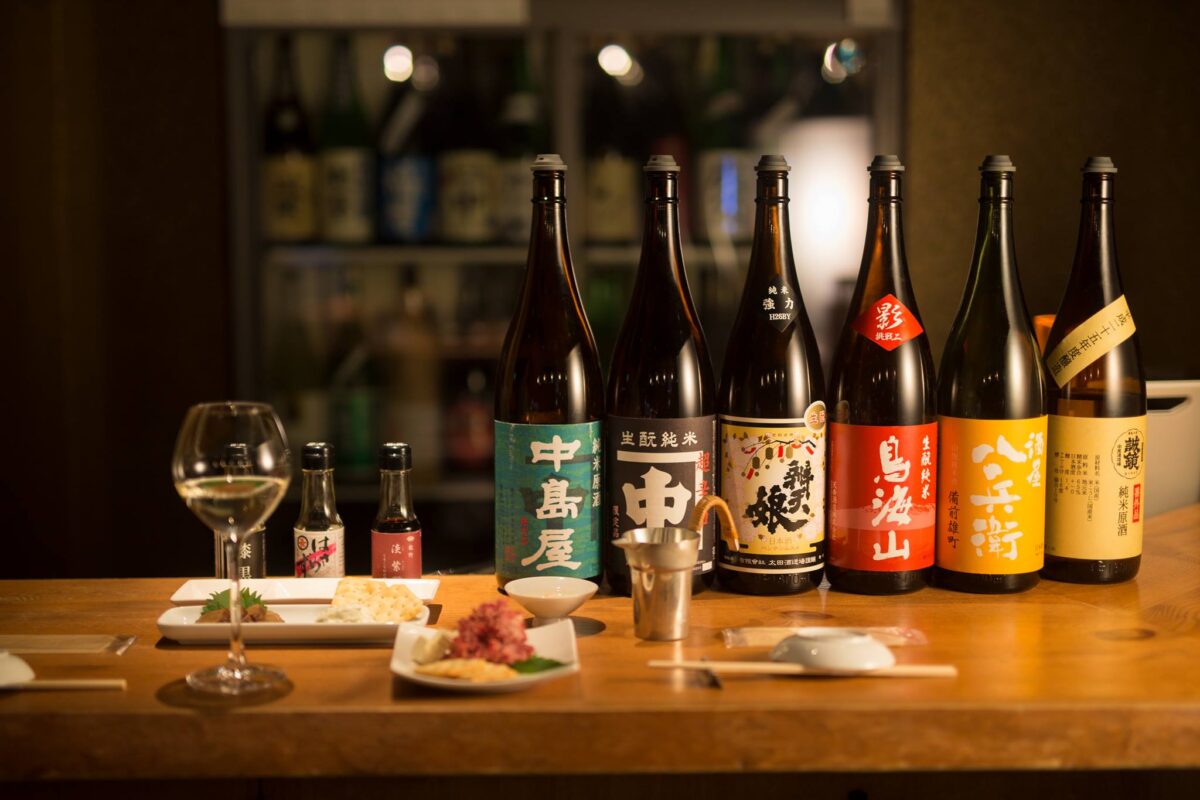 We start with a modern and classy sake-standing bar with three outposts in Tokyo and locations in Nagano, where this bar was born. This cozy establishment is a haven for all things sake with its impressive selection of junmai sake, a type of premium sake made with only the purest ingredients. Order by the glass or as an all-you-can-drink set, and the knowledgeable staff will guide you through an extensive selection of brews from all over Japan, each one more delicious than the last. Like many traditional standing bars, what is nice about Junmaishu Yata is that it is perfectly acceptable to come here alone; that's what many people do! Along with affordable and tasty snacks, Junmaishu Yata is an ideal place for an authentic sake experience in Tokyo, whether in Shinbashi, Shinjuku, or Shibuya.
Website: here
2. Kubota Sake Bar (未来日本酒店)
A fascinating encounter between Artificial Intelligence and sake awaits at Kubota Sake Bar. The bar's "Yummy Sake" service employs advanced analysis to pair your palate with the perfect sake. While some may question the lack of a personal touch, it's a remarkable opportunity for tech enthusiasts or anyone feeling shy. With a sleek and modern atmosphere and an adjoining sake store, this bar ensures you can continue to savor your favorite sake after you've left.
Website: here
3. Nihonshu Stand Moto (Kayabacho)
Located in the bustling Kayabacho district of Tokyo, Nihonshu Stand Moto is a cozy little bar with a wooden interior and a charmingly casual atmosphere. But don't be fooled by the relaxed vibe because this place is serious about its sake. With a wide selection of sake from various regions in Japan, including rare and limited edition bottles, Nihonshu Stand Moto is a paradise for sake enthusiasts or new drinkers. As the name implies, Nihonshu Stand Moto is a classic standing bar with space inside and outdoors to imbibe sake and snacks.
Website: here
4. Sake Bar Amanogawa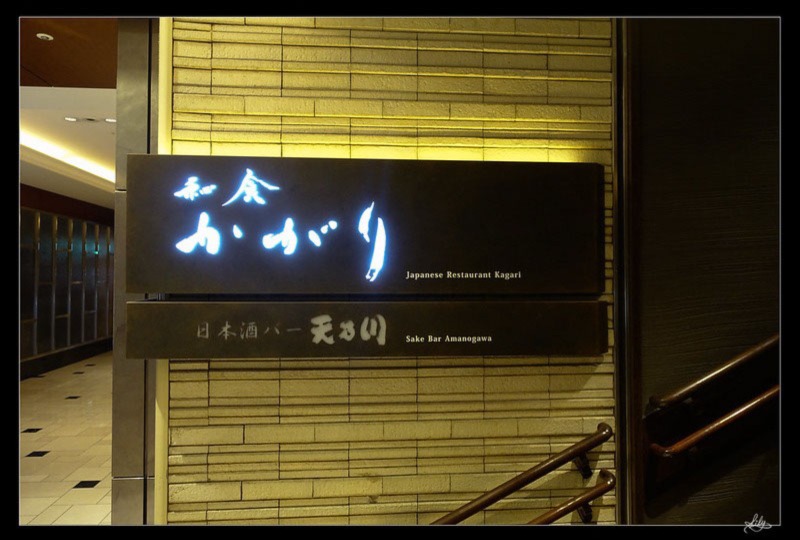 Sake Bar Amanogawa is a popular bar in Tokyo's Shinjuku district, set inside the Keio Plaza Hotel. Keep an ear open for the shouts of "kanpai!" from within the Japanese Cuisine Kagari restaurant, where you'll find an upscale and intimate bar with ten seats. This bar epitomizes classy coolness and is the perfect spot to indulge in some top-notch sake. Speaking of sake, there are dozens of varieties to choose from, and the expert sommelier will easily recommend the best ones to go with any of their meals or perfectly paired snacks.
Website: here
5. Sake Bar Kiraz
Here's a unique take on a restaurant and bar that matches Japanese sake with Spanish cuisine. The bar owner, Kana Mamiya, comes from a long line of sake brewers. Still, when it came to taking over the family business, she decided to do things her way, and Sake Bar Kiraz was born. Using the finest Japanese ingredients, dishes like the venison roll with cream cheese, strawberries, and fig compote are paired with sake from Mamiya's family brewery. The bar is rustic and comfortable, opting for tables over the typical counter seating. Thanks to Sake Bar Kiraz, you can have an excellent opportunity to step out of the box and taste just how good sake can be with non-Japanese food.
Website: here
6. Kanda Sake Bar Shushu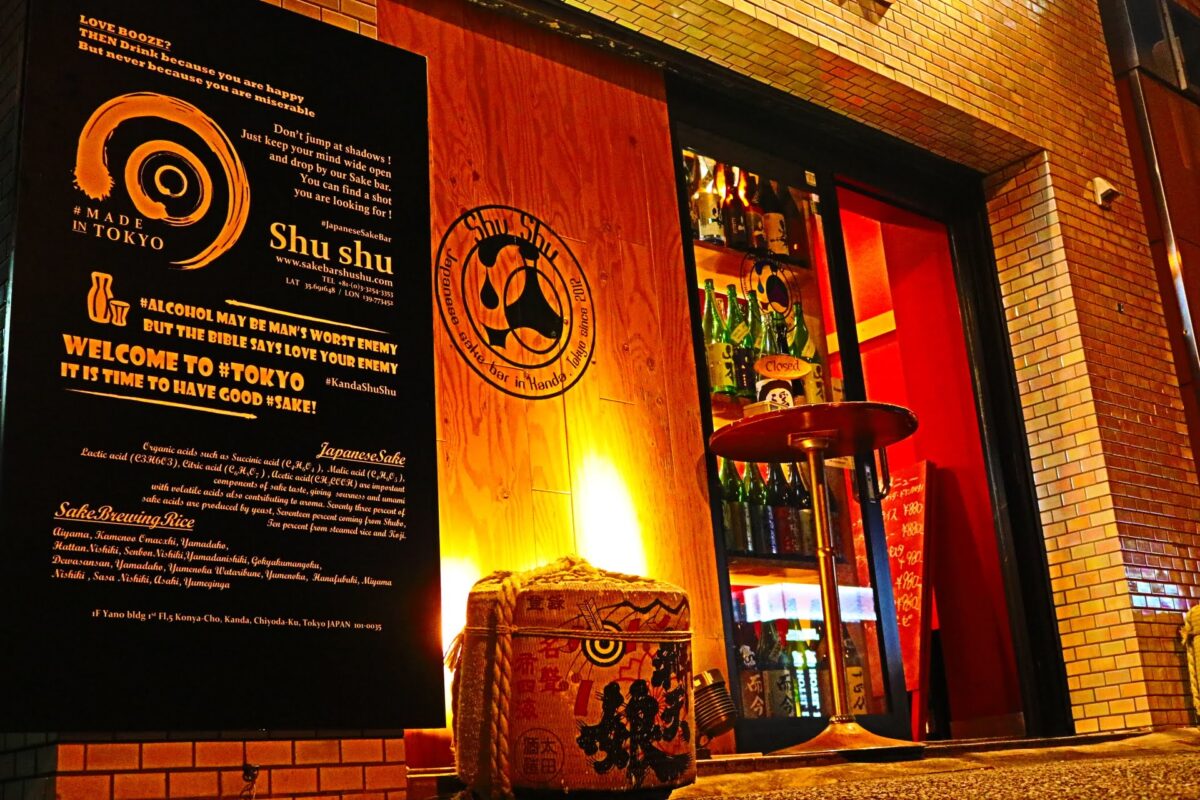 If you want to continue your global sake adventure, go to Kanda station, where your destination will be very close. As you push open the giant wooden door emblazoned with the bar's logo, you'll feel like you've stepped into a small corner of Europe. The backlit bar is a sight to behold, showcasing the impressive selection of sake available. And with shareable tapas plates of tasty bites, this place is perfect for a night out with friends or a romantic date. Kanda Sake Bar Shushu gets its share of international visitors, so don't hesitate to ask the staff in English for some of their recommendations.
Website: here
7. Kuwaharashoten (Kuwabara Shoten)
Kuwabara Shoten is a mind-blowingly hip, sake-standing bar, bottle shop, and art gallery in the Gotanda area of Tokyo. But don't let the bar's trendiness intimidate you; this warm and welcoming family business has been operating since 1915. The bar's ability to remain current is a testament to the lasting power of sake, as a new generation imbibes. You'll find a menu of rotating sake here to try, and of course, you can buy a bottle of your favorite to bring back home. You'll also find craft beer, Japanese snacks, and sake-flavored ice cream. So if you're looking for a spot blending hip with heritage, this is it.
Website: here
8. Shusaron (Ginza)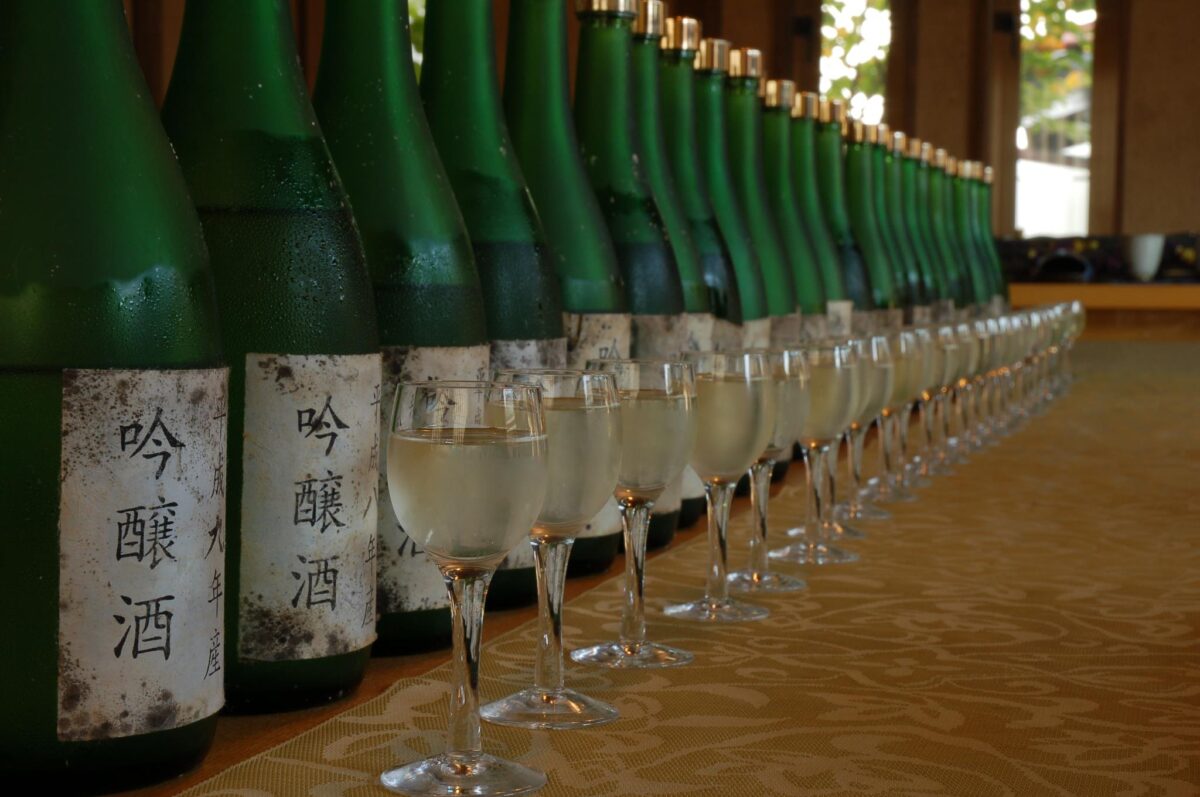 Sip on some serious history at Shusaron – the legendary izakaya rumored to be the best place to drink aged sake in Tokyo. This place is a treasure trove of koshu – long-aged sake that dates back from 1970. And the stories that come with these glasses of liquid gold are just as delicious as the sake itself. The bar owner is a true connoisseur of aged sake, having literally written the book on the subject. His passion is infectious, and you'll find yourself hanging on his every word as you swirl and sip your way through the carefully curated selection. And while the bar may not be the shiniest and newest spot, there's an air of refined class that's impossible to ignore. With at least 100 varieties of sake on the shelf, no two visits to Shusaron will be alike.
Website: here
9. Toyama Bar (Nihonbashi)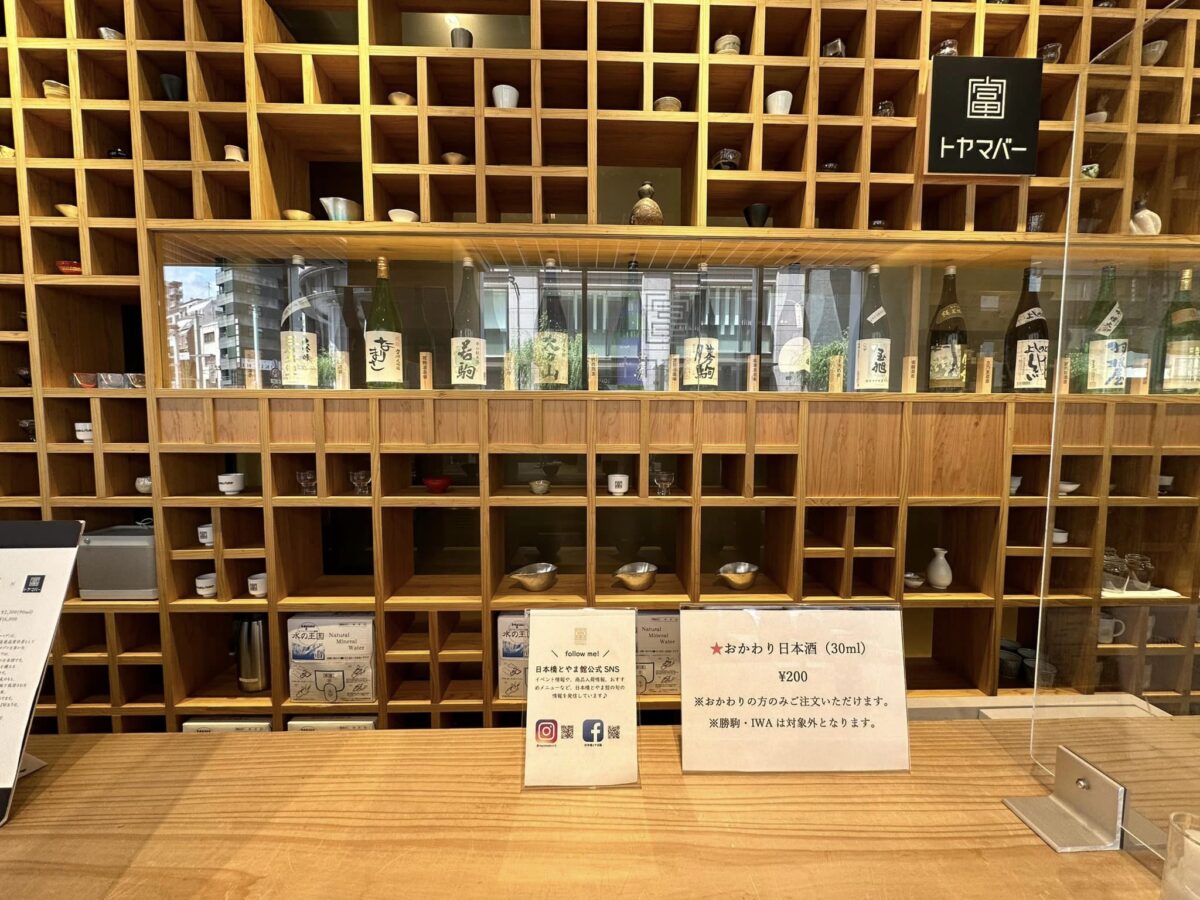 Immerse yourself in the essence of the Toyama prefecture right in the heart of Tokyo at Nihonbashi Toyama—a captivating hub encompassing a shop, restaurant, tourist information space, special event area, and the ultimate cherry on top: a bar. Feel the warmth envelop you as the lattice walls pay homage to the majestic Tateyama mountain range, constructed from locally sourced materials. Head into the bar to indulge your taste buds, sampling the finest offerings from Toyama's 17 distinctive breweries. Whether you're yearning to explore the Hokuriku region or simply seeking a memorable experience, this is the perfect stop.
Website: here
10. Nihonshu Genkasakagura
Want to drink sake (and lots of it!) without breaking the bank? Head to Nihonshu Genkasakagura in Shinjuku. This izakaya's name means "sake at cost price," so you can try as many of the 50+ varieties available as you'd like for cheap. And if you're feeling extra thirsty, don't worry – their all-you-can-drink plan will keep the sake flowing all night. In true izakaya fashion, you can grab some bites like tasty yakitori or salt-dried mackerel to go with your drinks. It's the perfect way to explore the nuances of sake and find your new favorite!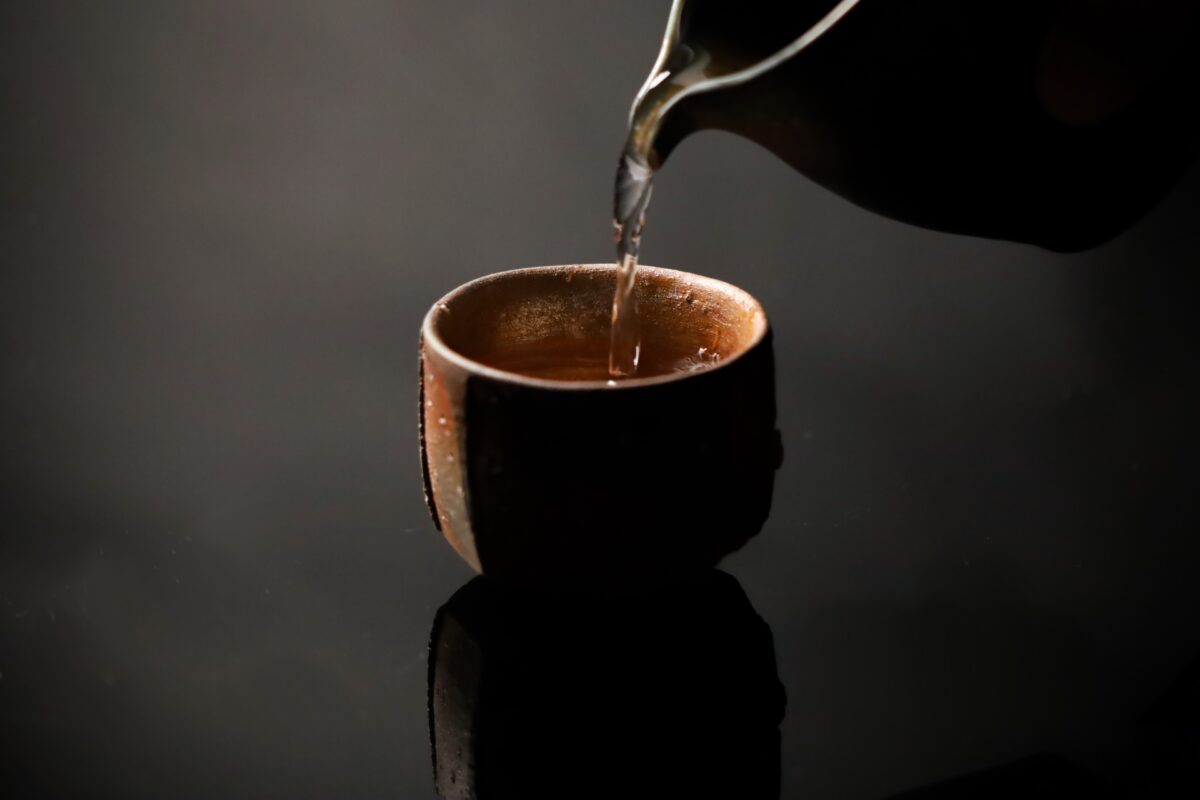 Where would you like to go first? And if you want to dive into the world of sake, you can explore with a sake expert who will take you much deeper. So grab a glass, raise a toast, and explore sake!
Japan Wonder Travel Food Tours
Japan Wonder Travel is a travel agency that offers guided tours throughout Japan. 
From private walking tours to delicious Food and Drink tours, we can help organize the best tours just for you! If you want to explore Japan and learn more about the history and backstories of each area you are traveling in, our knowledgeable and friendly guides will happily take you to the best spots! 
In addition, we can provide you with any assistance you may need for your upcoming trip to Japan, so please feel free to contact us if you have any questions or need some help!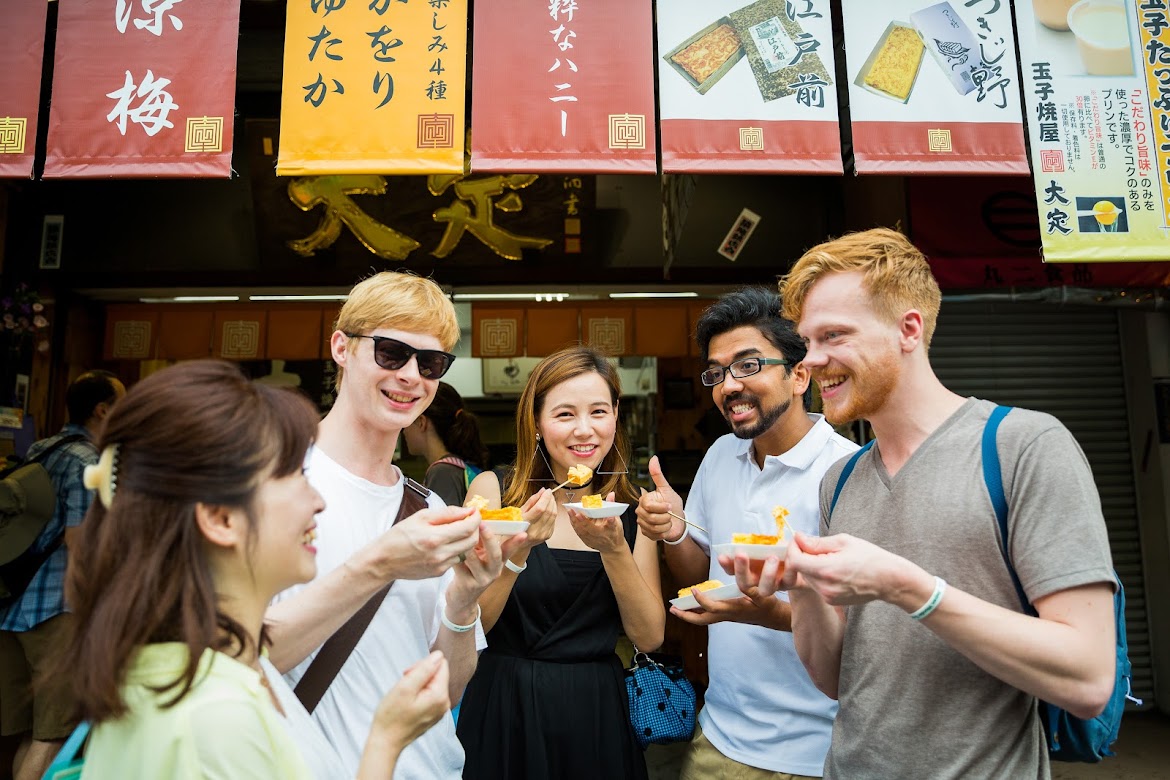 ▶Tokyo Local Street Food and Drink Tour @Sunamachi
This food tour will take you to one of the lesser-known areas of Tokyo, that is Sunamachi Ginza. You will walk through the shop filled street with your guide and be able to try some of the delicious local street foods including tempura, inari sushi, oden, among others!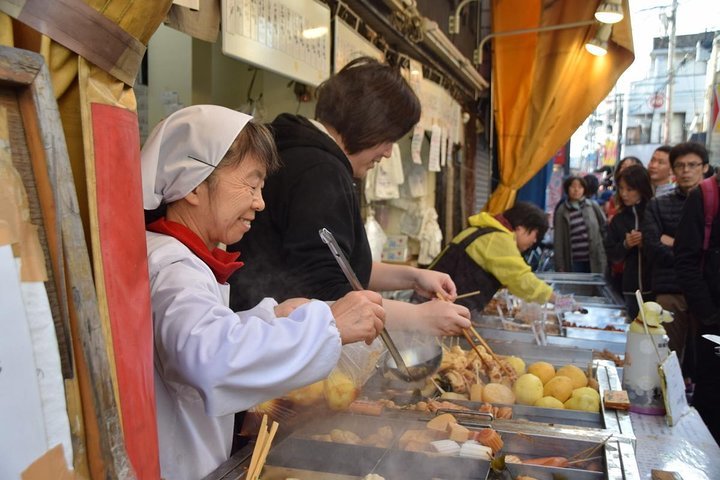 ▶Kyoto Food and Drink Tour @Nishiki Street & Gion
If you're looking to learn more about the culture and the local cuisine of Kyoto, this is the perfect tour for you! Take part in this Kyoto food and drink tour and explore the 400-year-old market and the famous Gion district.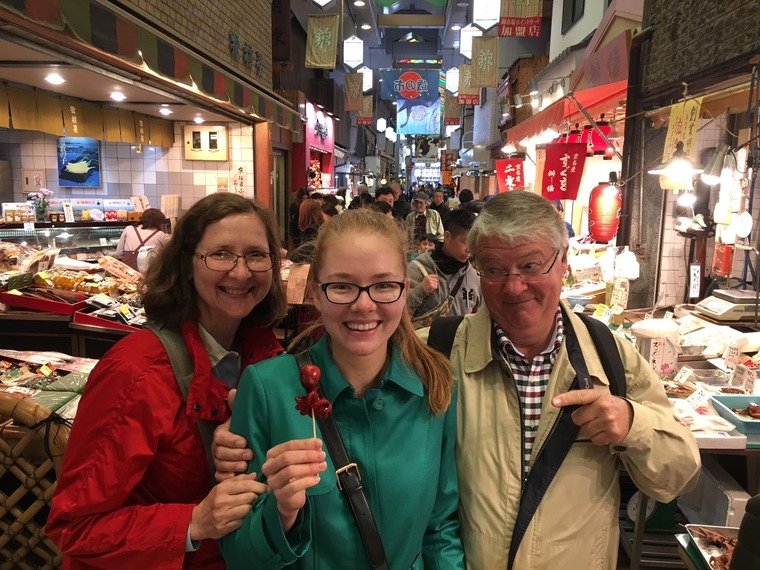 Follow us on Instagram, Facebook, Twitter, and TikTok for more travel inspiration. Or tag us to get featured!
Happy traveling!
Stay informed of the best travel tips to Japan, the most exciting things to do and see, and the top experiences to have with the Japan Wonder Travel Newsletter. Once every two weeks we will introduce you to our latest content.
Other articles you might be interested in